Jhene Aiko Quotes on Creativity, Self Care and More
From poetry to music, singer-songwriter Jhene Aiko is a multi-hyphenate creative that inspires fans worldwide, as you will see with the Jhene Aiko quotes.
Learn more about the influential singer and share your favorite Jhene Aiko quotes with us in the comment section below.
What's your favorite Jhene Aiko lyric?
Born in Los Angeles, CA, Jhene Aiko began her professional musical career as a frequent collaborator with the boy band B2K.
After her label scrapped her unreleased debut album in 2003, Aiko asked to be released to continue her education.
Her resurgence into the music industry came in 2011 when she released her critically acclaimed debut mixtape: Sailing Souls.
Since releasing her influential creative project, she has released three studio albums and collaborated with artists such as Drake, Kendrick Lamar, and Summer Walker.
Check out the quotes below to dive into Jhene's upbringing, creative process, and more.
If you like this article, we suggest you explore our most popular quotes article, a list of short inspirational quotes for daily encouragement.
Read more related content on our inspirational quotes category page.
Relatable Jhene Aiko quotes
1. "I just like being a regular person." – Jhene Aiko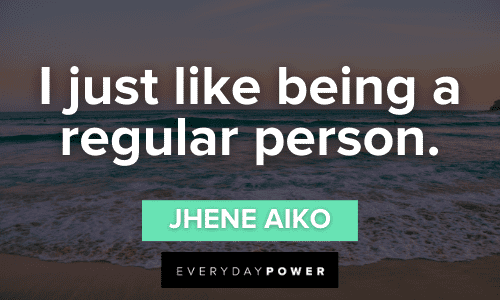 You will also enjoy our article on NBA YoungBoy quotes.
2. "I belong to the world. I'm in a relationship with the world." – Jhene Aiko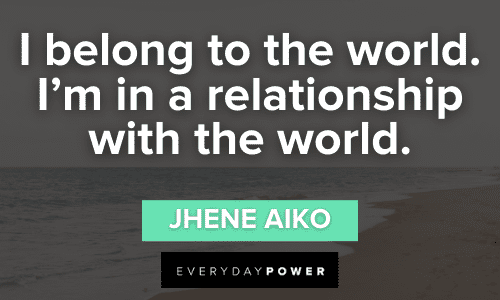 3. "I share about one percent of my whole being with the internet" – Jhene Aiko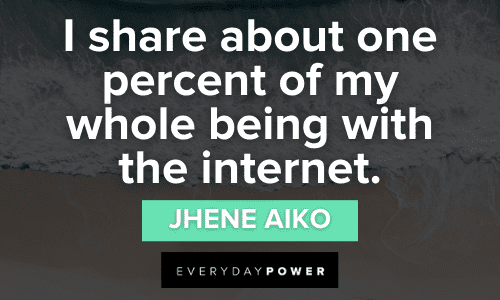 4. "I'm a homebody for sure, I love to stay at home." – Jhene Aiko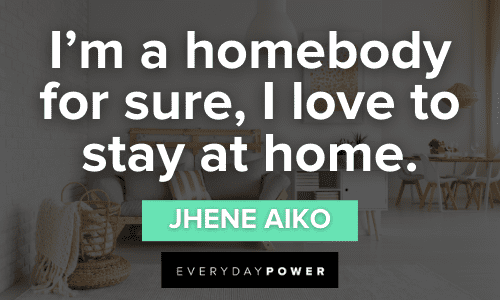 5. "I am a sailing soul, a free spirit. I don't think I could ever be tied down." – Jhene Aiko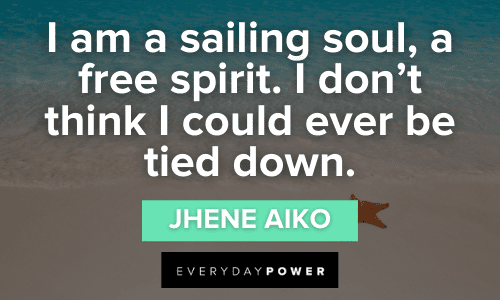 6. "I just love to have a clear mind." – Jhene Aiko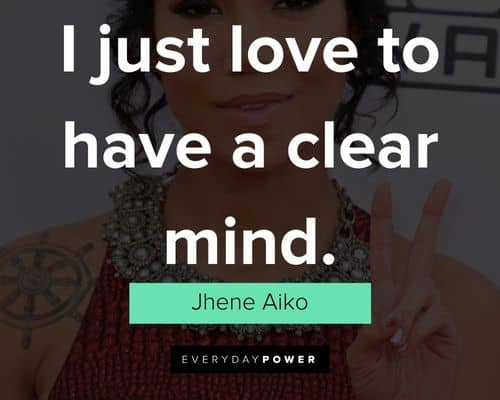 7. "I've always been an over-sharer to the point where I'll meet someone and just start talking and telling them everything about my life. " – Jhene Aiko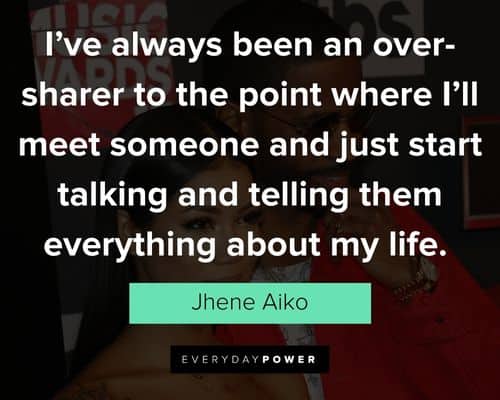 8. "I don't think I have a sad life. I just talk about all my feelings and emotions." – Jhene Aiko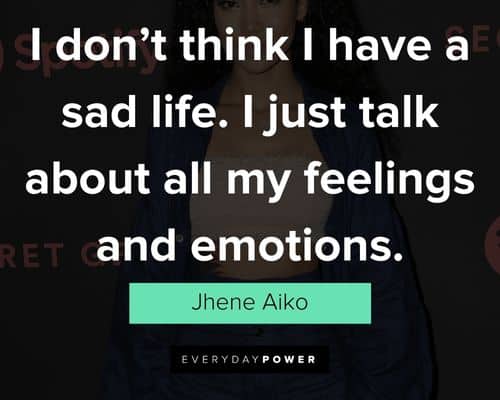 Inspirational Jhene Aiko quotes
9. "I think we all are battling evil thoughts. I think it's important to not ignore them but to try to understand where they are coming from and get through them instead of suppressing them." – Jhene Aiko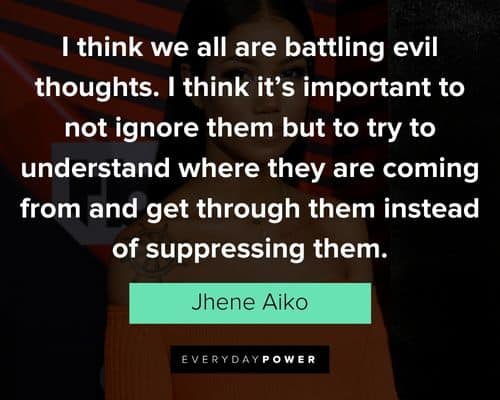 10. "I think the journey is the reward, I think that it's about being on the right path, the path for you. That's what I felt I had to get back to because I was being nudged here and thereby not really listening to myself and not being in tune." – Jhene Aiko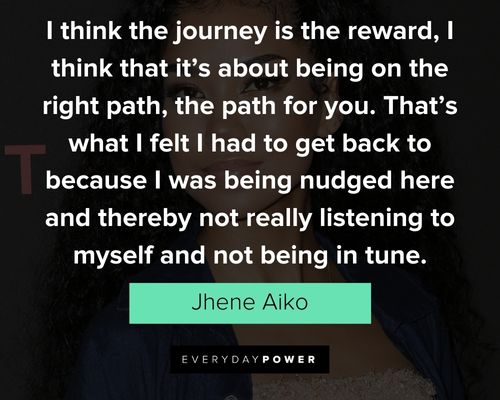 11. "I definitely think that people confuse their ego with their spirit. Your ego is always there telling you to "be better and work harder," not telling you that you're already enough. You need to silence your ego to hear your spirit and that's what I had to do." – Jhene Aiko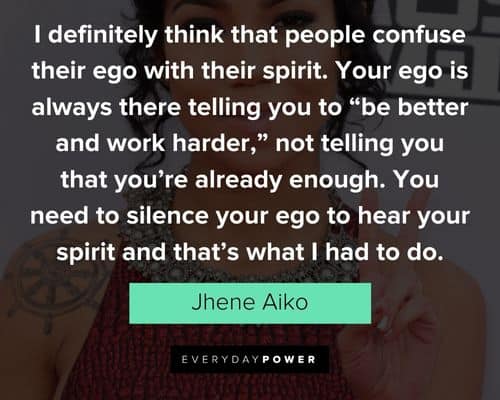 12. "You have to realize that you are everything and more just on your own." – Jhene Aiko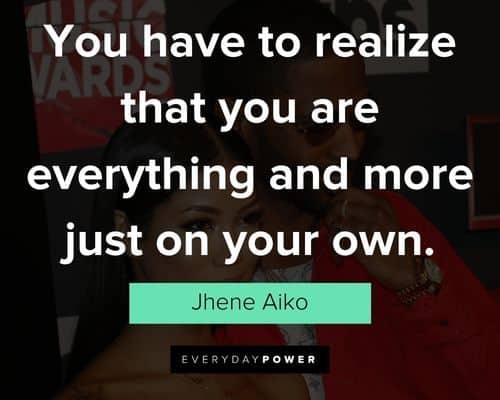 13. "My advice for women who are feeling insecure is to get off of social media and stop comparing yourself. That's the one thing that definitely affects everyone. We're always comparing ourselves and being told that one type of beauty is the best type of beauty." – Jhene Aiko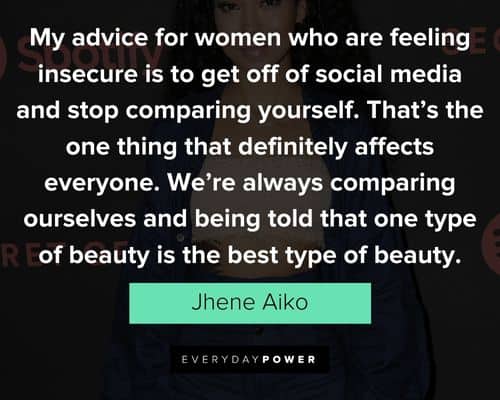 14. "The internet has made everyone aware of their opinion. As many people as there are in the world, that's how many opinions there are. If you let that many opinions affect your own opinion, and your own way of looking at things, you're going to be so confused." – Jhene Aiko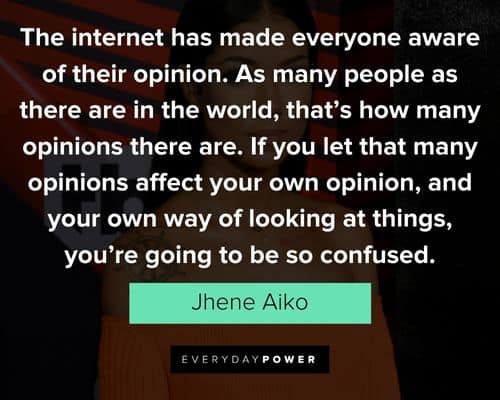 15. "A lot of times we talk about what we are going through and our problems, but now we need to focus on resolving the issues and how can we help each other get through this life." – Jhene Aiko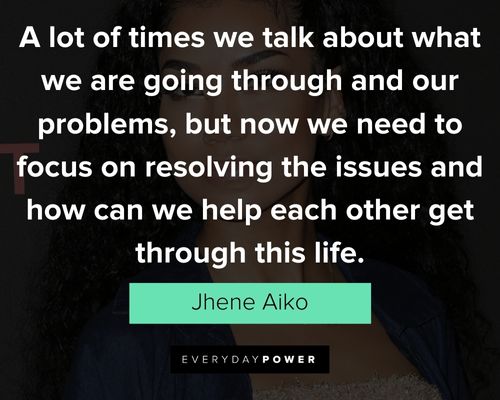 Jhene Aiko quotes on music
16. "You know how a lot of people say, 'I lose myself in music,' or 'I like to escape,' but I want my music to be more of an awakening. I want it to make people to be aware of life; I don't want my music to be a distraction. I want to light a path." – Jhene Aiko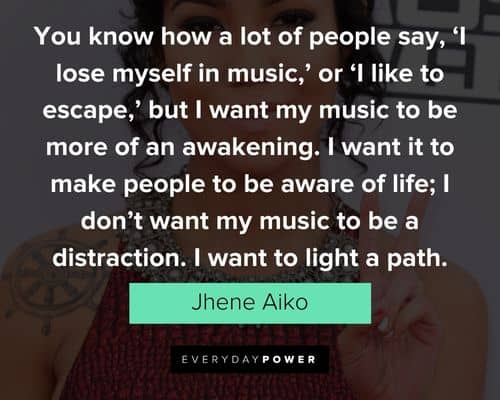 17. "I think that's really really important, you can't get in the industry, because you want to make money because number one, I don't think money should be motivation for anything because I don't believe that it has any value." – Jhene Aiko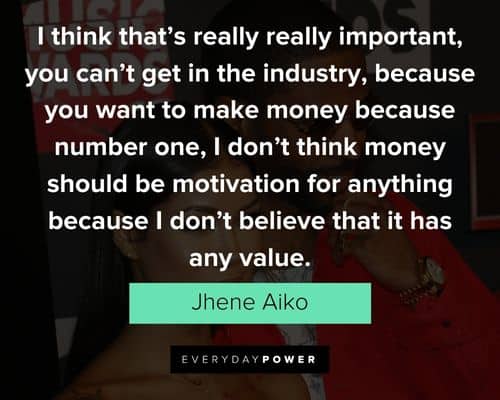 18. "In a sense, I am like a volcano and this album is an eruption." – Jhene Aiko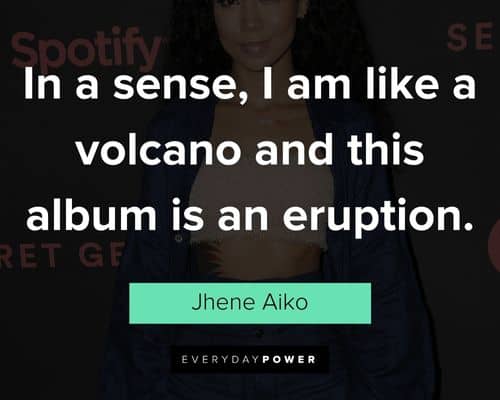 19. 'Chilombo' is a word that means 'wild beast'; they're strong, confident, and graceful. Beasts are also beautiful." – Jhene Aiko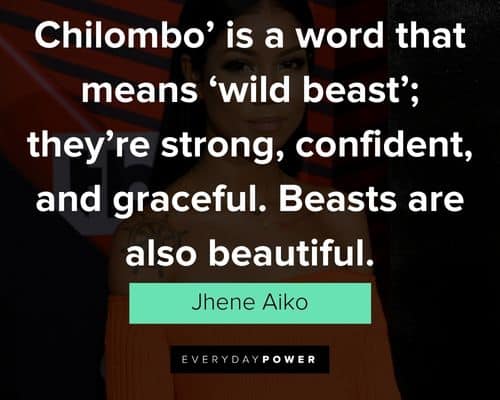 20. "I am not writing this music from a place where I want to be famous or popular or to make money – this is what I am feeling. There is a higher purpose." – Jhene Aiko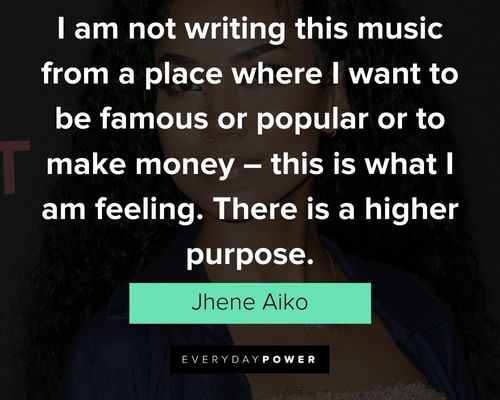 21. "I make music for healing purposes, for myself. It's like journaling or when people paint. It's sort of an escape. It's turning pain or frustration into something; into art. Sharing it is also therapeutic because when people express to you that they are relating to it, you're like, 'Oh, I'm not alone in what I'm going through.'" – Jhene Aiko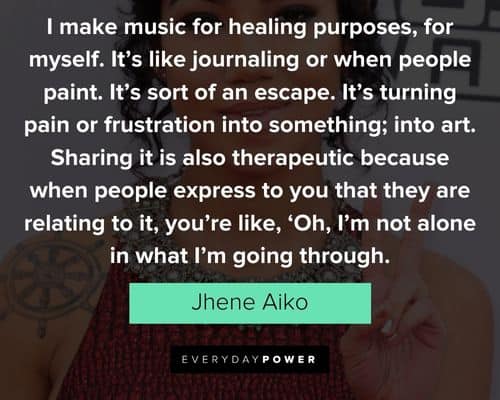 22. "I sing songs to express myself, so if it's someone's else's words, then it's not really me telling my story. At that point I'm just like an actress, and I'm not an actress." – Jhene Aiko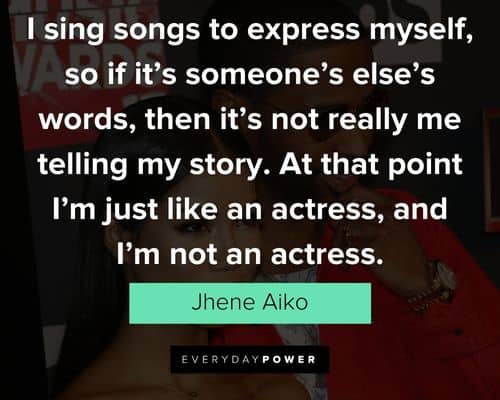 Jhene Aiko quotes on upbringing
23. "As I got older, I really got into Tupac's poetry, his books and just learning about his life and what he was into." – Jhene Aiko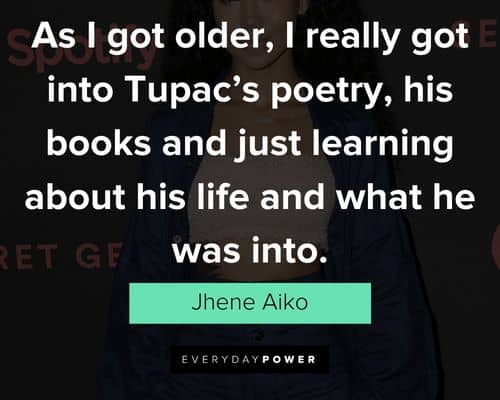 24. "I always say the person who taught me how to sing indirectly because I listened to her all the time was Brandy. I fell in love with her voice when I was six years old. I always loved Brandy." – Jhene Aiko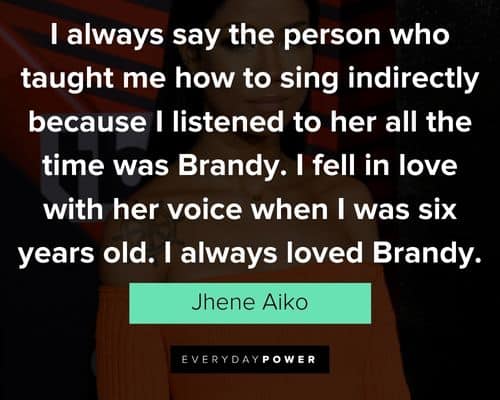 25. "Growing up, I was always self-conscious and dealt with a lot of self-esteem issues. I don't know, I just never liked my face. That was one of the things I dealt with when I was younger. I couldn't look at pictures of myself." – Jhene Aiko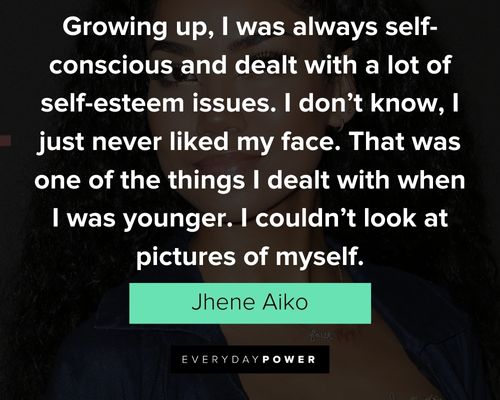 26. "When I became a teenager, I started reading about things like Buddhism, which made me find inner peace. John Lennon was like a spokesperson for world peace, so I just fell in love with him and Yoko's relationship. They were always in pictures together, and you could just feel the love. That was something I really admired, because people are so afraid to admit when they're in love with someone." – Jhene Aiko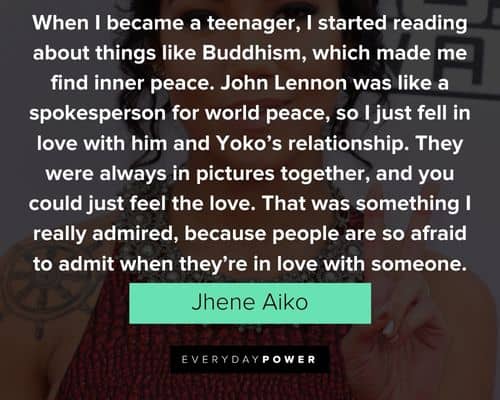 27. "I am the youngest of five and growing up my dad always had an interest in being a musician—he played the guitar and wrote songs. So, he converted our garage into a studio. He instilled that musical interest in us when we were very young." – Jhene Aiko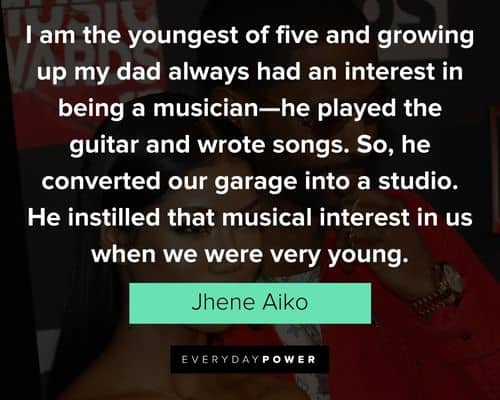 28. "For me, I started writing poetry, or even journaling about it, when I was in elementary, and then I eventually started writing poetry. It was my way of expressing it and getting it out so that it wouldn't be bothering me so much on the inside." – Jhene Aiko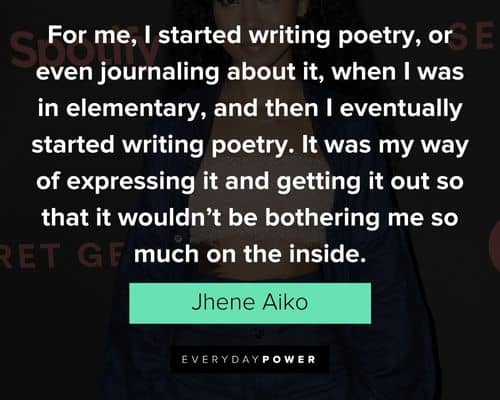 29. "I love to sit outside in silence, breathe, focus on a flower or look at the sky. These are things that I've done since I was a child because I was home-schooled and had a lot of time to sit and think before even realizing that was a form of meditation." – Jhene Aiko
30. "When I was younger, I didn't really have the chance to express myself, as I was just singing other people's songs and singing their stories. At that time, around 20, 21, I had been through so much that I already had all these things to sing about. Now, we're here and life is only getting crazier. I have more things to express." – Jhene Aiko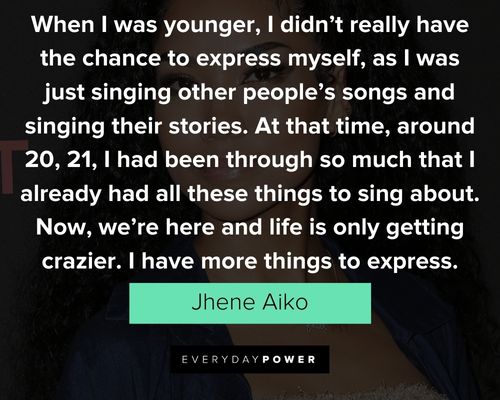 Jhene Aiko quotes on creativity and self-care
31. "With my career, everything I do is me. There's no one that handles telling me what I should be about or how I should dress or anything. I'm hands on with absolutely everything." – Jhene Aiko
32. "A lot of people ask me if I meditate, and to me meditation isn't taking five minutes out of the day to sit by yourself in solitary. I've found that it's really a state of being. It's more about mindful living and making sure that you're constantly checking up on breath and breathing deeply." – Jhene Aiko
33. "What you create for you, no one can take from you." – Jhene Aiko
34. "When I'm writing, I'm not trying to save the world, I'm just trying to help myself, but it's a plus that people can relate to it." – Jhene Aiko
35. "I've been taking time to put my phone down and focus on where I'm at and who I'm with at the moment. It's as simple as allotting a certain amount of time away from your phone. Like, for one hour per day I'm going to leave my phone in another room, and give it a break." – Jhene Aiko
36. "Oblivion is kind of like nirvana, where you become nothing and you don't have to suffer over and over again. You're free to just be nothing." – Jhene Aiko
37. "That's what's so beautiful about art is that you can just throw paint on a blank canvas, and do something crazy and that's your release. You didn't hurt anyone, you know?" – Jhene Aiko
38. "I have crystal bowls made of precious gems, and I'm building my collection. My in-house studio is now filled with all these bowls. They all work with your chakra system, which is healing on a cellular level. If I have a headache, I'll go in my studio and play my bowl in a certain key, which represents the 'crown chakra,' and it'll start to resonate in my head, and actually helps my headaches go away." – Jhene Aiko
Jhene Aiko quotes from songs
39. "So go head tell your baby mama you're gon' be with me tonight." – Jhene Aiko, "Bed Peace"
40. "It ain't perfect, but everything's beautiful now." – Jhene Aiko, "Magic Hour"
41. "If you don't get a hold of yourself, then you will end up with no self" – Jhene Aiko, "Sailing Not Selling"
42. "I decided that what you give is what you're given" – Jhene Aiko, "Stay Ready (What a Life)"
43. "I love me enough for the both of us." – Jhene Aiko, "From Time"
44. "I want better for you movin' forward, what's better for you than me?" – Jhene Aiko, "None of Your Concern"
45. "I am not perfect. I would never let you think I was more than this" – Jhene Aiko, "Wading"
46. "Don't you know there's a line for my love? And you be out here lying on us." – Jhene Aiko, "Selfish"
47. "I'm black I'm strapped with magic, bro. I'm nothing you have had before. " – Jhene Aiko, "Blak Majik"
48. "I'm not being difficult, I just see things differently." – Jhene Aiko, "10k Hours"
49. "I do not depend on nothing or no one." – Jhene Aiko, "The Worst"
50. "We were both numb, never had anything real between us." – Jhene Aiko, "Never Call Me"
51. "You have gotta lose your mind just to find your peace of mind." – Jhene Aiko
More Jhene Aiko quotes
52. "Cause nothing really is and everything really isn't." – Jhene Aiko
53. "Life only gets harder, but you gotta get stronger." – Jhene Aiko
54. "You have got to trust the signs. Everything will turn out fine." – Jhene Aiko
55. "I stopped looking at people's opinions. It's easy to get caught up in what other people think." – Jhene Aiko
56. "Suffering is optional. You're gonna have some pain, but it doesn't have to make you suffer." – Jhene Aiko
57. "Love side, hate side, never in between." – Jhene Aiko
58. "I'm probably my biggest critic. There's nothing anyone can ask of me that I haven't already asked of myself." – Jhene Aiko
59. "Nothing really came, everything was like inspired by something." – Jhene Aiko
60. "I think if a woman is feeling aggressive, she should be aggressive and not hold back." – Jhene Aiko
Jhene Aiko quotes that are super relatable
61. "Change is inevitable. Why hold onto what you have to let go of?" – Jhene Aiko
62. "Shame on you for staying the same." – Jhene Aiko
63. "Every other day's a different game that you just can't win." – Jhene Aiko
64. "The way you feel is not my problem." – Jhene Aiko
65. "We are all slaves of desire, controlled by the things we think that we need." – Jhene Aiko
66. "There's no place quite like here, there's no better time than now." – Jhene Aiko
67. "There's no slowing down as the globe spins around and around. You gotta keep going." – Jhene Aiko
68. "Sometimes, you gotta work through the darkness to get to the light." – Jhene Aiko
69. "Loving you was nice, but it's a new day, a new season." – Jhene Aiko
70. "I'm an acquired taste—not for everybody, but for the ones that get me—I will give you all of me, all the time." – Jhene Aiko
Do you have a healthy emotional outlet?
For Jhene Aiko, her emotional outlet is writing and creating music.
"When I'm writing, I'm not trying to save the world."
Jhene Aiko says above, "I'm just trying to help myself, but it's a plus that people can relate to it."
Having a healthy emotional outlet can give you a way to work through negative emotions and stressful situations.
Making time for activities that bring you happiness is an integral part of self-care.
If you don't know what would work best, don't be afraid to explore new hobbies.
For example, you could try yoga, journaling, painting, exercise, or writing like Jhene.
Which of these Jhene Aiko quotes and sayings is your favorite?
Who's the next celebrity Everyday Power should showcase?
Let us know below!