25 Inspirational Naruto Quotes About Life, Success And Relationships
If you're a fan of the Japanese manga series, then you'll enjoy these Naruto quotes.
Naruto is a popular Japanese manga series written and illustrated by Masashi Kishimoto.
It follows the story of a boy who is training to be a ninja.
Tell us your favorite Naruto quote using the comment section below.
You may also enjoy our article on:
What are the benefits of reading these Naruto quotes?
He has big goals, and his story is told from his preteen years through his teenage years.
Naruto has sold 250 million copies worldwide, making it one of the best-selling manga series in history.
It has had a long run and was even turned into a show that was featured on Disney XD for a period of time.
Naruto is full of:
Wise words
Lessons
Inspiration
There are a lot of messages that are packed into the story and shared through the characters and their experiences.
Let's dive into our collection of inspirational, wise, and eye-opening Naruto quotes and sayings.
Even if you haven't heard of Naruto before, these quotes are relatable to everyday life situations.
Check out our most popular quote article, a list of short inspirational quotes for daily inspiration.
Check out our inspirational quotes category page for more inspirational life quotes.
Inspirational Naruto quotes
1. "If you don't like the hand that fate's dealt you with, fight for a new one." – Naruto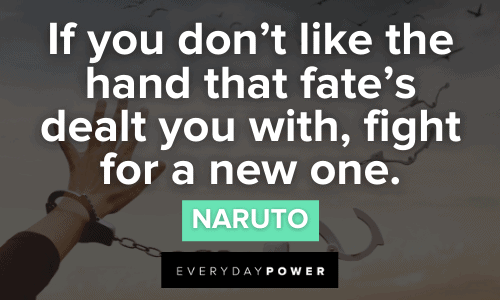 2. "I'm not gonna run away, I never go back on my word! That's my nindo: my Ninja way." – Naruto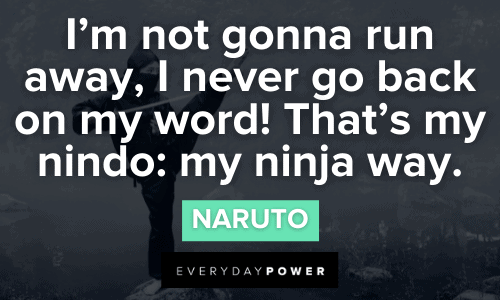 3. "Growth occurs when one goes beyond one's limits. Realizing that is also part of training." – Itachi Uchiha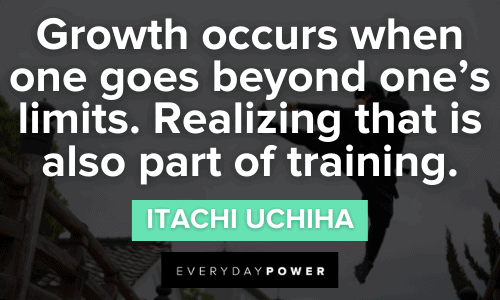 You will also enjoy our article on Rock Lee quotes.
4. "A smile is the easiest way out of a difficult situation." – Sakura Haruno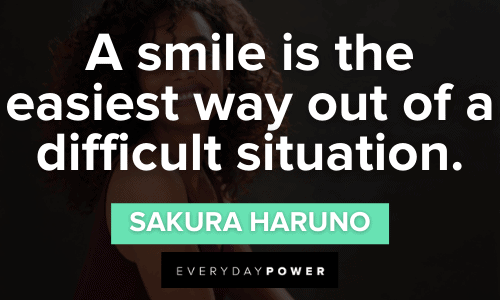 You will also enjoy our article on Jiraiya quotes.
5. "If you don't like your destiny, don't accept it. Instead have the courage to change it the way you want it to be." – Naruto Uzumaki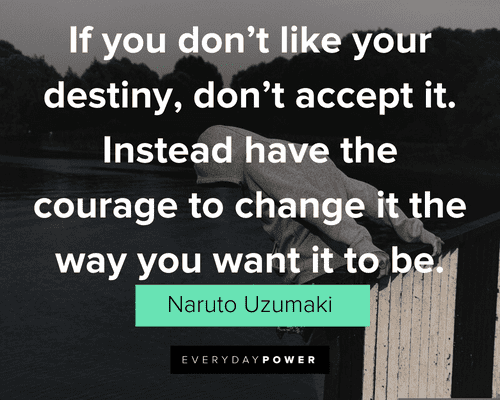 You will also enjoy our article on superhero quotes.
6. "Never give up without even trying. Do what you can, no matter how small the effect it may have!" – Onoki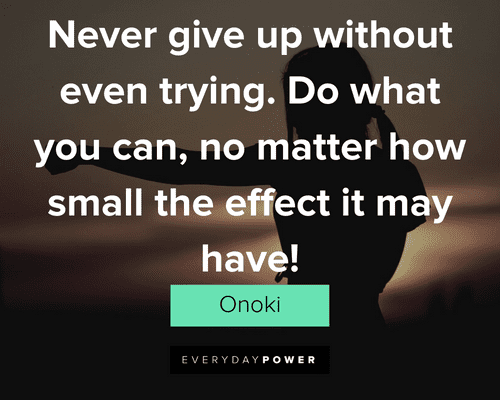 7. "The concept of hope is nothing more than giving up. A word that holds no true meaning." – Madara Uchiha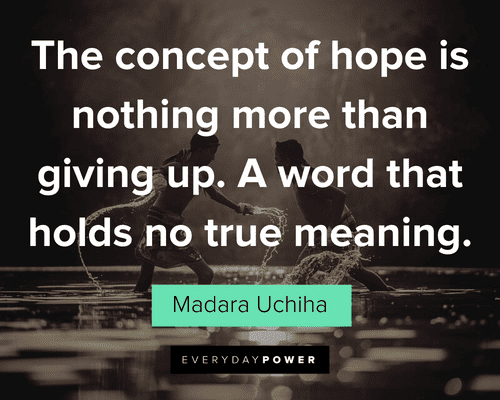 8. "Rejection is a part of any man's life. If you can't accept and move past rejection, or at least use it as writing material – you're not a real man." – Jiraiya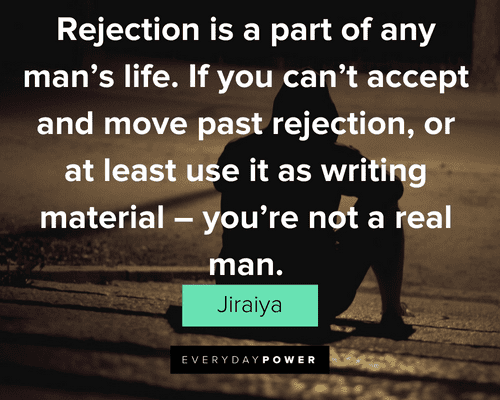 9. "When people are protecting something truly special to them, they truly can become as strong as they can be." – Naruto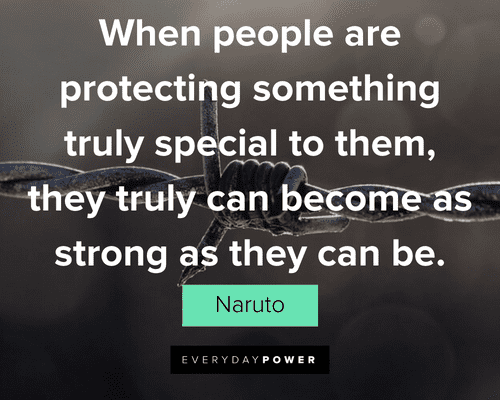 10. "Every one of us must do what's in their power! If we're going to die anyway, then it's better to die fighting than to do nothing!" – Sakura Haruno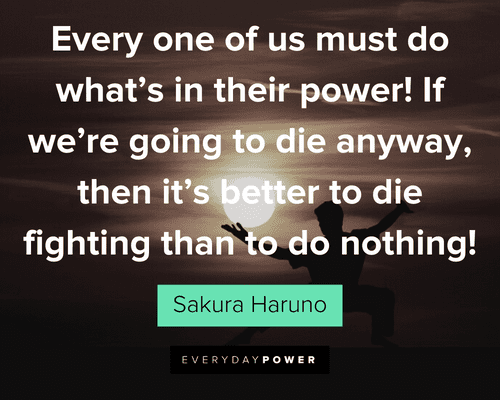 11. "Somebody told me I'm a failure, I'll prove them wrong." – Naruto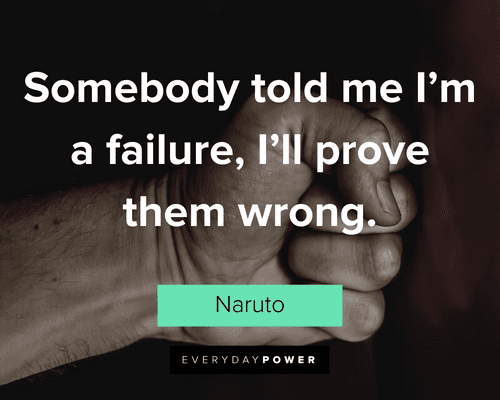 12. "Failing doesn't give you a reason to give up, as long as you believe." – Naruto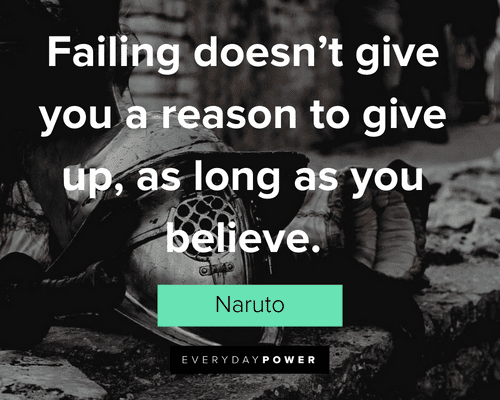 13. "Don't underestimate me! I don't quit and I don't run." – Naruto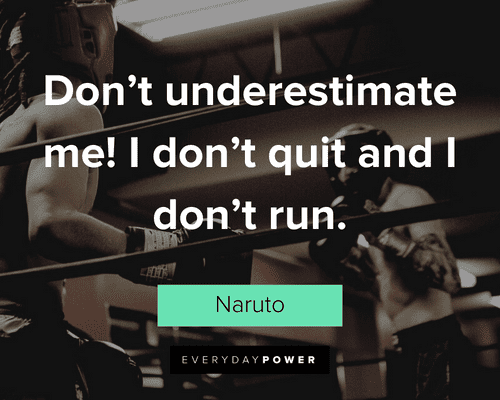 If you enjoy this article, check out our collection of Dio quotes for the Manga fan.
Naruto quotes about relationships
14. "My friends were the first to accept me for who I am." – Naruto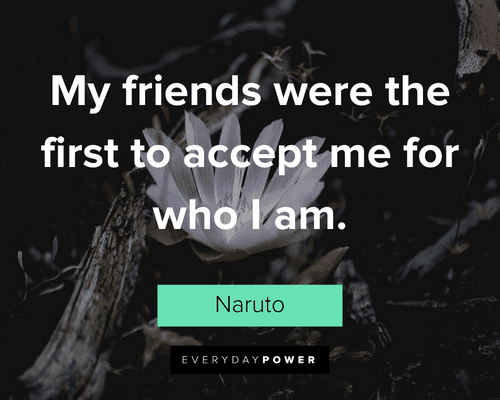 15. "The moment people come to know love, they run the risk of carrying hate." – Obito Uchiha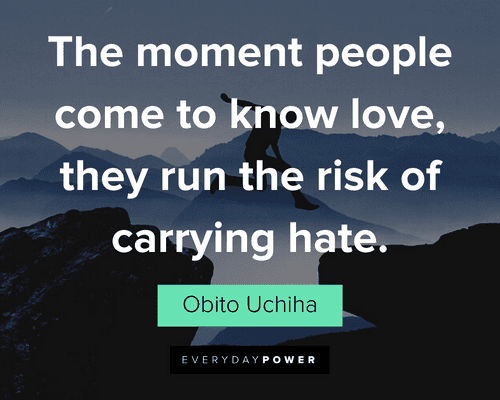 16. "I couldn't understand what a parent's love was like because you guys were never there, so I could only guess." – Naruto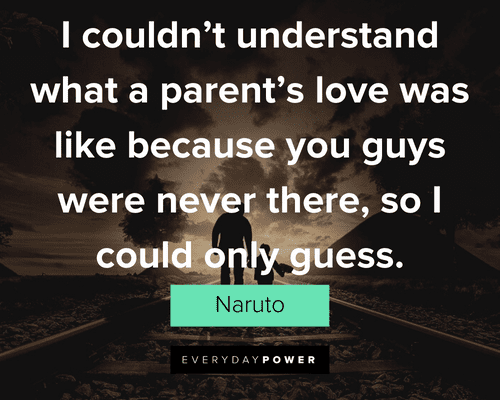 You will also enjoy our article on sacrifice quotes.
17. "Those who forgive themselves, and are able to accept their true nature… They are the strong ones!" – Itachi Uchiha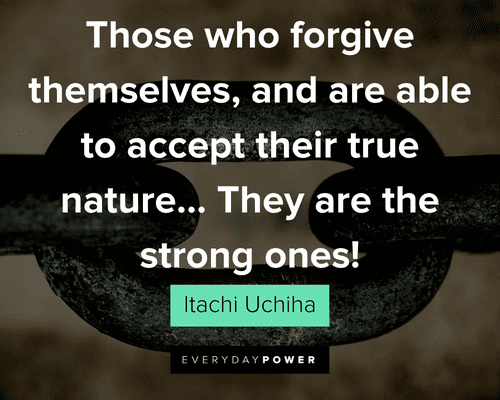 You will also enjoy our article on character quotes.
18. "I want to be with you. From now on, I want to spend all and every single one of my days until I die with you, and only you." – Naruto Uzumaki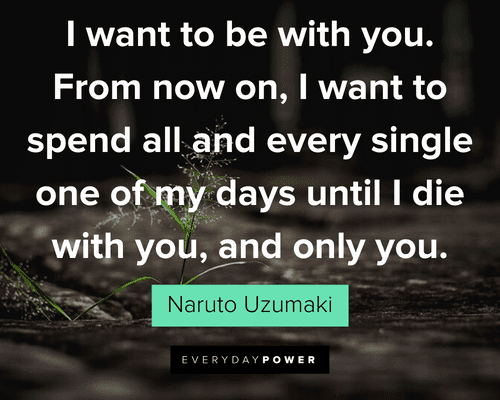 You will also enjoy our article on purple quotes.
19. "Hard work is worthless for those that don't believe in themselves." – Naruto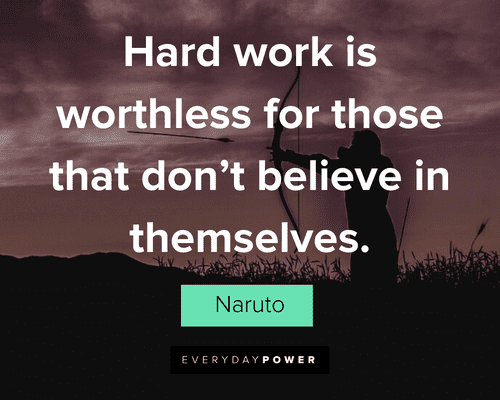 You will also enjoy our article on unforgettable memories quotes.
20. "A place where someone still thinks about you is a place you can call home." – Jiraiya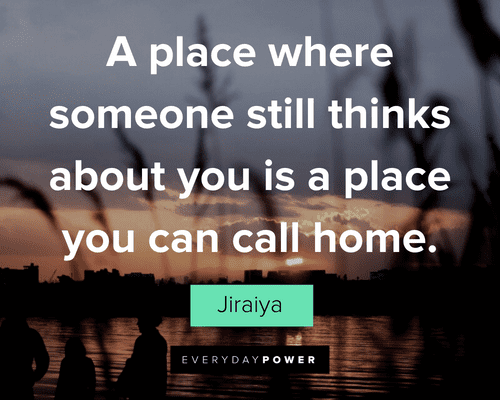 21. "When a man learns to love, he must bear the risk of hatred." – Madara Uchiha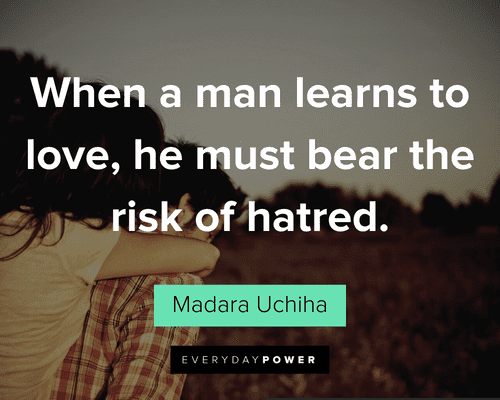 22. "If you don't share someone's pain, you can never understand them." – Nagato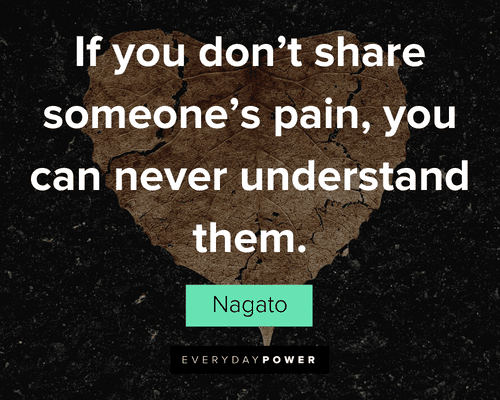 23. "Love breeds sacrifice, which in turn breeds hatred. Then you can know pain." – Naruto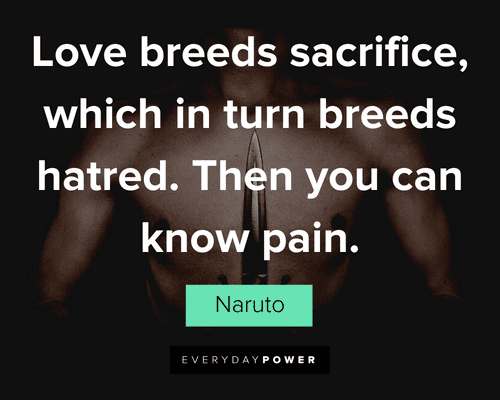 24. "It is only through the eyes of others that our lives have any meaning." – Haku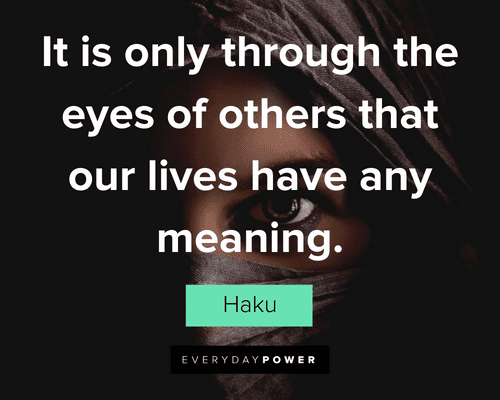 25. "I care more about others than I do myself, and I won't let anyone hurt them." – Naruto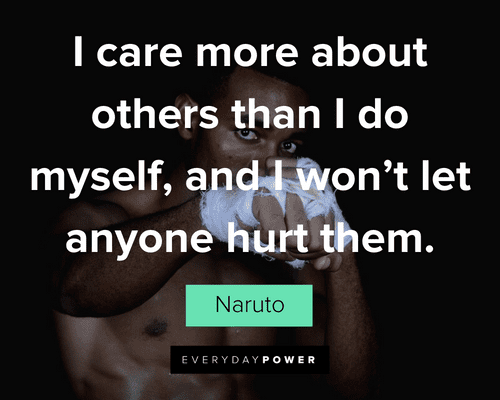 You might also like these amazing Captain America quotes from popular Marvel movies.
Which Naruto quotes are your favorite?
As you read through the quotes above, you're bound to have a few that jump off the screen at you.
It might be that it was from a favorite character or just that they're the words you need to hear.
It could be motivational to keep going through a difficult time or inspiration to pursue something that you've been wanting to do.
Find the verses that speak the most to you and then keep them in your head.
It might seem funny that you can learn so much from a comic or show, but it's true.
Find what works for you and then keep the words fresh in your head so you can recall them anytime you need them.
What's your biggest takeaway from these memorable Naruto quotes?
Do you have any other favorite quotes to add?
Let us know in the comment section below. Don't forget to check out these January quotes to encourage you to welcome this chilly month with open arms.