On My Block Quotes that Take You Back to High School
These On My Block quotes will get you thinking and remembering how high school feels and remind you of the friendships you built along the way.
On My Block is a teen comedy-drama TV series streaming on Netflix that has been making waves since its debut in 2018.
It revolves around the story of teenagers going through the unforgiving life of high school.
It is set in a fictional suburban city in Los Angeles.
The first season was released on Netflix on March 16, 2018, while the fourth and final season premiered on October 4, 2021.
On My Block was created by Lauren Iungerich, Eddie Gonzalez, and Jeremy Haft.
The series features a diverse cast and unique storylines that keep each episode fun and exciting.
It follows Monse, Ruby, Jamal and Cesar's story as they explore themselves and build their identity while going through high school.
The rough life on the block makes this series more interesting and somewhat relatable for most audiences.
Overall, On My Block is a must-watch for anyone who loves a good coming-of-age story.
Enjoy these On My Block quotes!
Check out our most popular quote article, a list of short inspirational quotes for daily inspiration.
Check out our inspirational quotes category page for more inspirational life quotes.
On My Block quotes from Jamal
1. "I'm just the keeper of secrets. Like the Vatican." — Jamal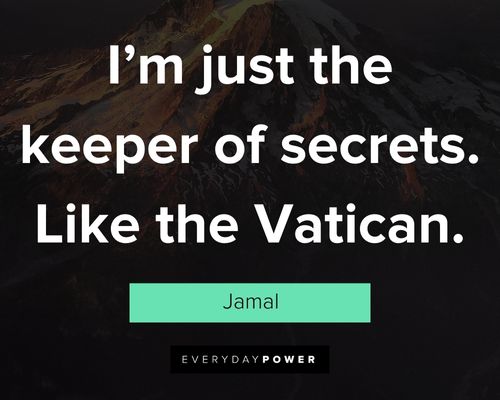 2. "It's all messed up and it's always your fault. And you never get any of the love." — Jamal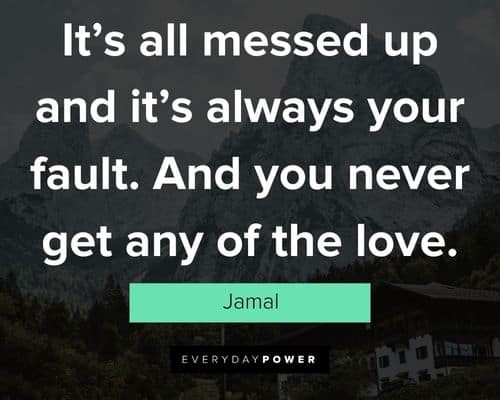 3. "So, it's like this: our friends are like a family, if your family was full of pedophiles." — Jamal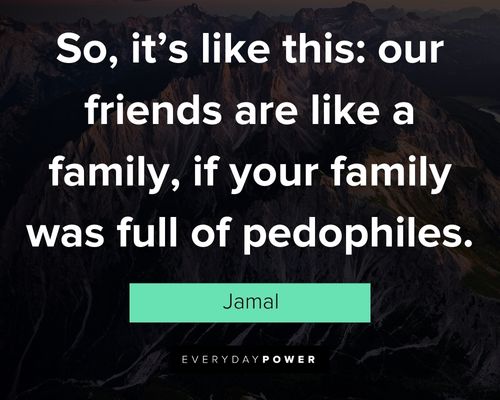 4. "Never underestimate the "I don't give a shititude" of part-time security guards." — Jamal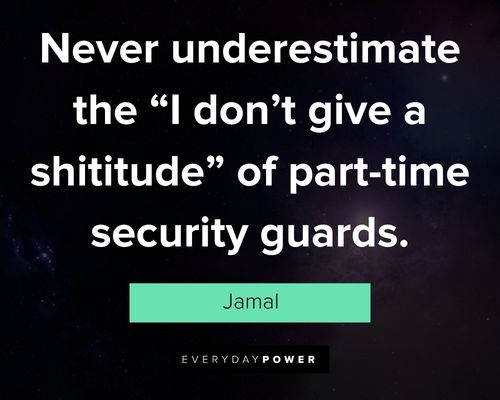 5. "You can get jumped into a gang, but can you get humped in?" — Jamal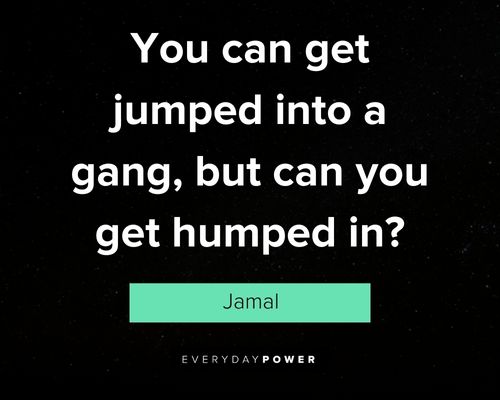 6. "Your name is Spooky, and you're afraid of ghosts?!" — Jamal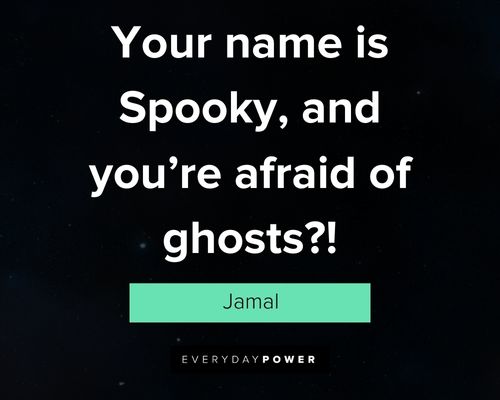 7. "Oh no. Do you think I'm one of those people who can't enjoy sex without love?" — Jamal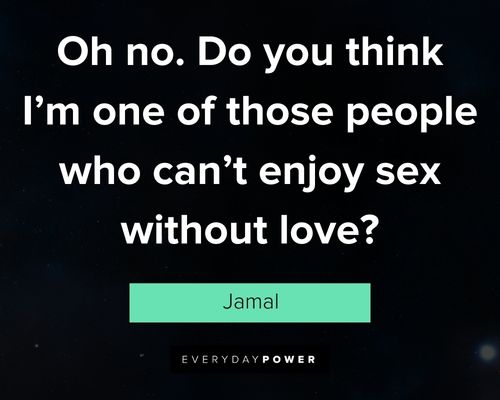 On My Block quotes from Ruby
8. "There's nothing about me that's even remotely intimidating and, actually, on numerous occasions, I've been told that just looking at me makes people laugh." — Ruby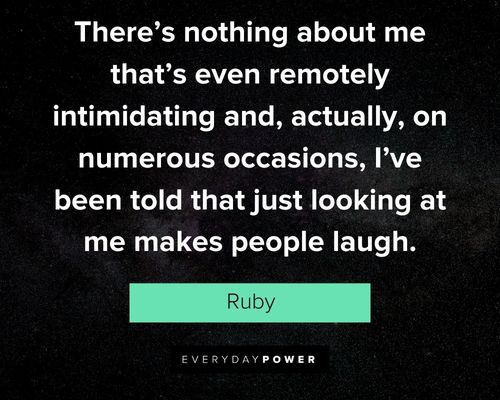 9. " I also don't do anybody any favors by being the smartest person in the room. And no one wants to feel dumb when they can't pick up what I'm laying' down." — Ruby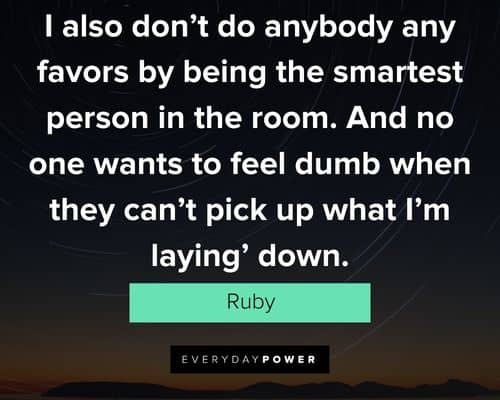 10. "I can't even keep up with myself. But it's who I am." — Ruby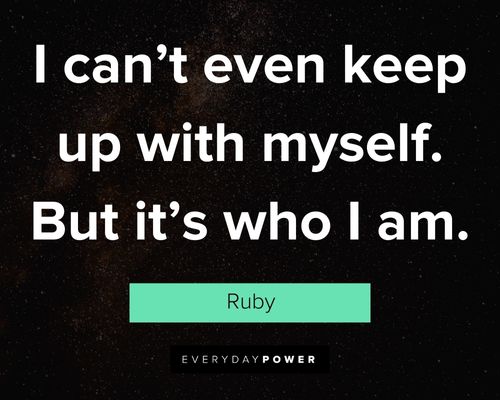 11. "I transcend the universal plane of thought and linger on the precipice of the celestial realm." — Ruby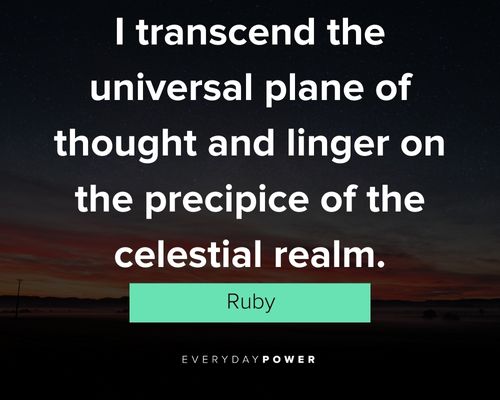 12. "Because you questioning if you're not feeling means you're still feeling something." — Ruby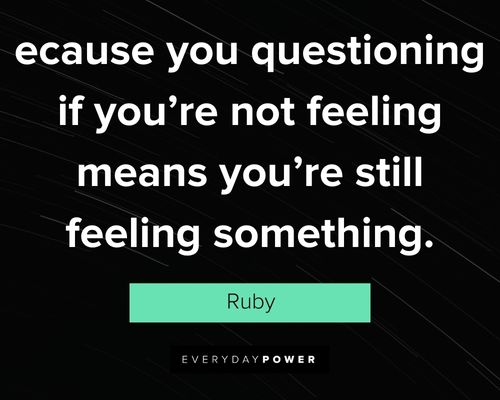 13. "I'm just done with the bullshit and dancing around the truth, and the truth is sometimes I think we're better off dead." — Ruby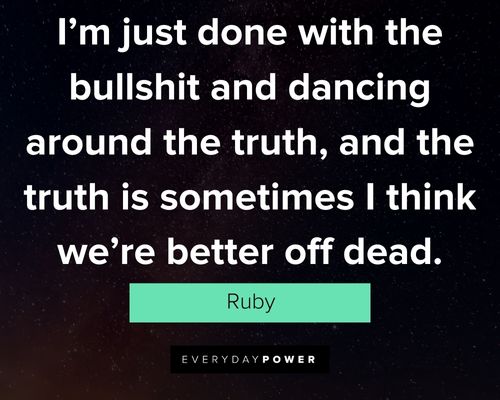 14. "When I come back, I'm going to bring some booty and some boundaries." — Ruby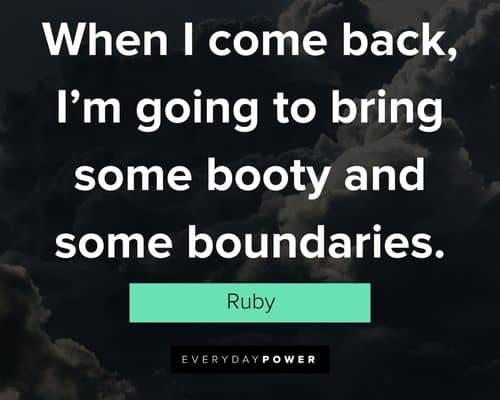 If you enjoy this article, check out our collection of Empire Records quotes to make you want to watch this cult classic.
On My Block quotes from Monse
15. "Promise me nothing is going to change." — Monse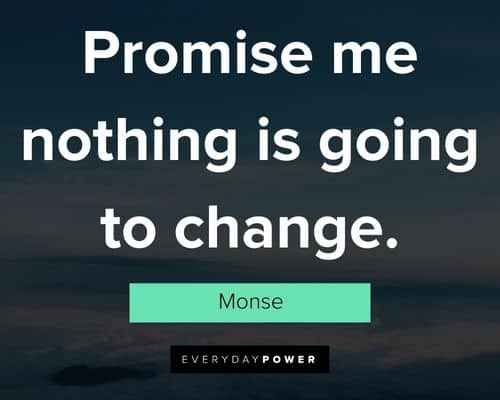 16. "I have no gene for giving a damn." — Monse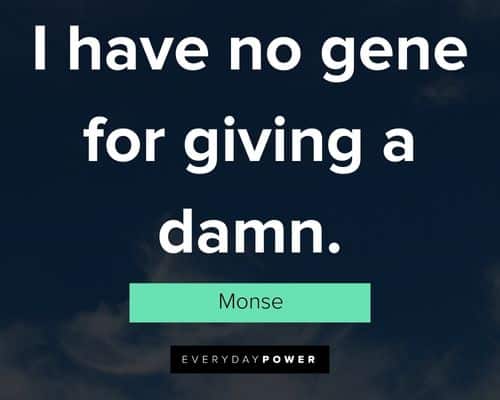 17. If I leave you're going to forget about me. — Monse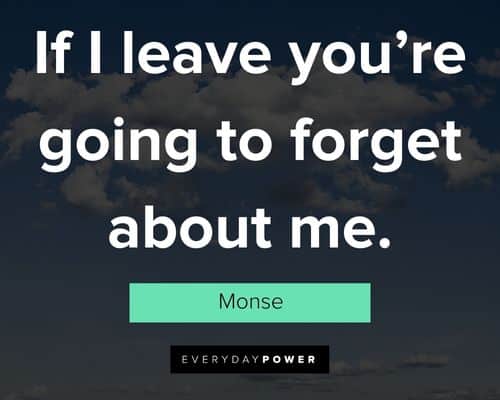 18. "It's Oscar. If anyone can handle it, it's him. I'm not worried." — Monse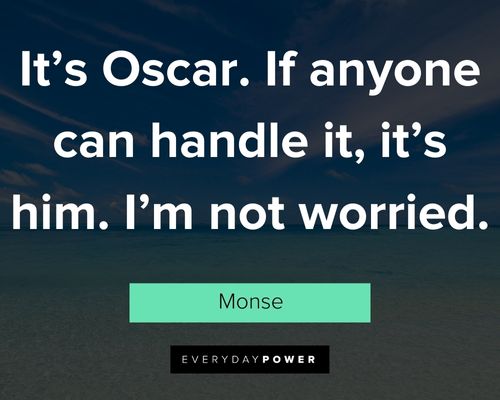 19. "What if I'm totally desensitized to pain and loss? What if I become one of those people who is numb to life. I don't want to be that person." — Monse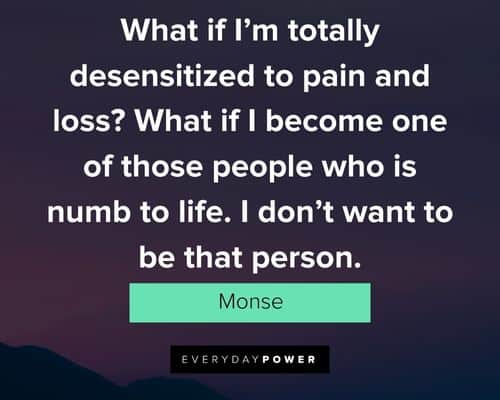 20. "Everything bad that has ever happened is because of you!" — Monse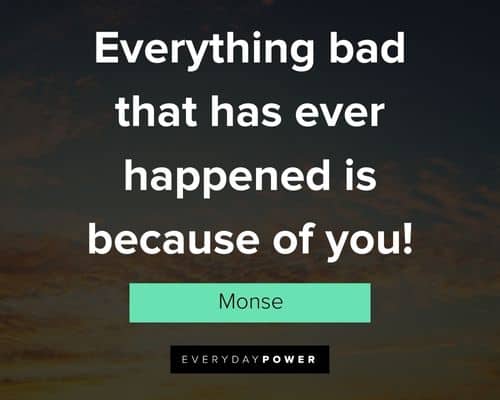 21. " Sometimes I wish I didn't know her, and that I wouldn't miss her so much. I miss her. I really miss her. I wish she was dead." — Monse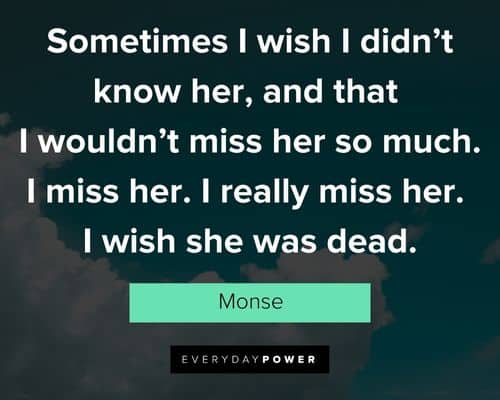 On My Block quotes from Jasmine
22. "We're in an investigation, and I'm going to need you both to be impartial. I'm impartial but totally on Team Monse. Vag before badge." — Jasmine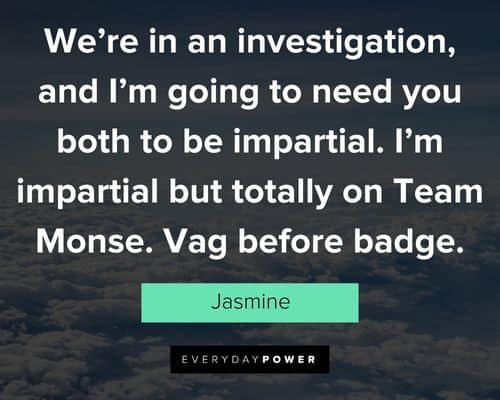 23. "So he has daddy issues, and you have mommy issues, and if you don't stay away, y'all will have baby issues." — Jasmine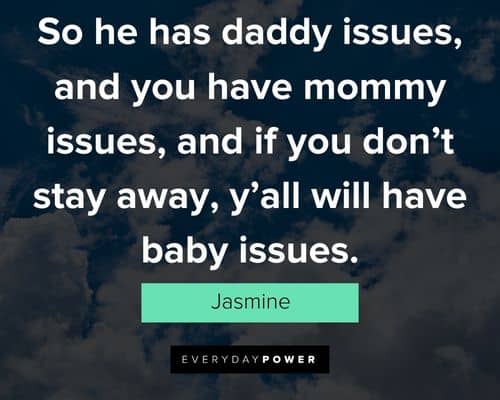 24. "Look, you have every reason to feel triggered, but what you're doing is triggering other people. Everybody's going through their own shit. Okay? You gotta stop. You're bringing down the mood. At a funeral." — Jasmine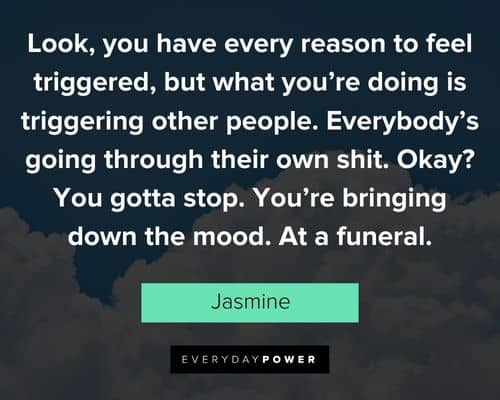 25. "I'm a whole life's love, boo. Not just part of someone's one-eighth life crisis." — Jasmine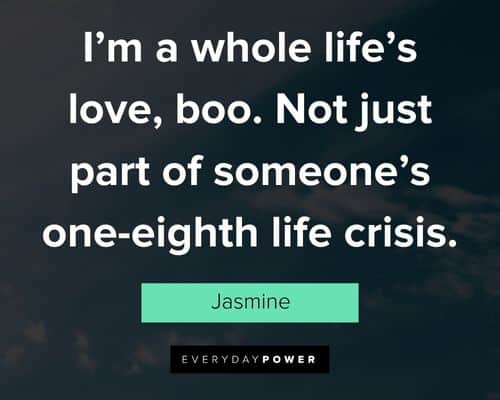 Which of these On My Block quotes is your favorite?
Each cast in this series has a story to tell on their own.
They have their own conflicts and triumph, and as they go live their lives in the suburbs, their lives become more intertwined in a series of adventures and misfortunes that will test their friendships.
This series will remind you how simple yet complicated a teenage life could be.
Each episode is packed with comedy and serious drama that will keep you engaged throughout the series.
Hopefully, you enjoyed reading these On My Block quotes and sayings.
And if these quotes remind you of your friends, share them with them.