20 Rush Limbaugh Quotes from the Outspoken Political Commentator
If you like to hear someone that does not hold back on their opinion then check out these Rush Limbaugh quotes.
Rush Limbaugh is a political commentator best known for his controversial statements.
He was an American conservative who was outspoken about climate change, feminism, LGBT issues, and the democratic party, among other topics.
Rush Limbaugh hosted The Rush Limbaugh Show from 1984 until 2021, when he passed away from complications due to lung cancer.
Among other radio awards, Limbaugh was inducted into the National Association of Broadcasters Hall of Fame and the National Radio Hall of Fame.
Former president Donald Trump also awarded him with the Presidential Medal of Freedom.
Limbaugh was highly successful throughout his career.
The Rush Limbaugh Show was the most-listened-to show on American radio, with 15.5 million listeners in 2019.
In addition, by the end of his career, he earned $85 million a year from his collective works, the second highest earner for radio personalities to Howard Stern.
After reading these Rush Limbaugh quotes you will know why he was such a successful radio personality.
Check out our most popular quote article, a list of short inspirational quotes for daily inspiration.
Explore our complete collection of motivational quotes here.
Straight Talk Rush Limbaugh Quotes
Rush Limbaugh was a straight shooter and whether you liked him or not, you knew where he stood. Check out the quotes below.
1. "I don't think looking at things through the prism of fear is going to accomplish anything." – Rush Limbaugh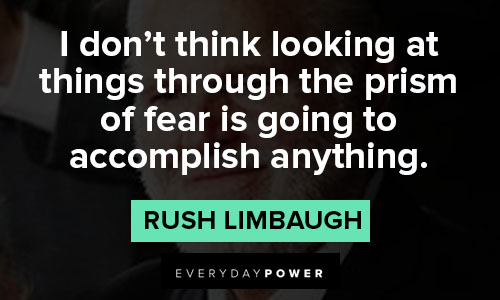 2. "There is a simple way to solve the crime problem: obey the law; punish those who do not." – Rush Limbaugh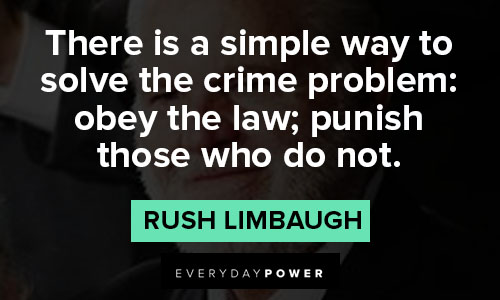 3. "What's the difference between a liberal and a conservative? A liberal will interpret the constitution; a conservative will quote it!" – Rush Limbaugh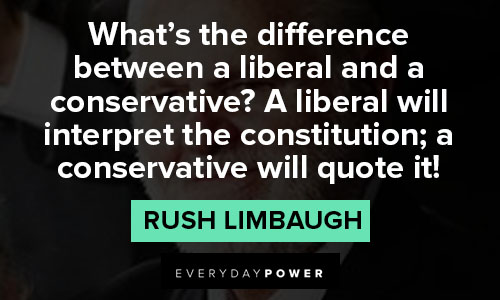 4. "The American dream has now morphed into an expectation. And if it isn't provided, or if it doesn't happen, then people feel cheated." – Rush Limbaugh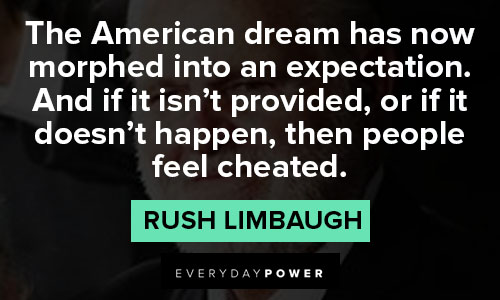 5. "There's nobody who cares more about you than you, and there's nobody better equipped to take care of you than you." –Rush Limbaugh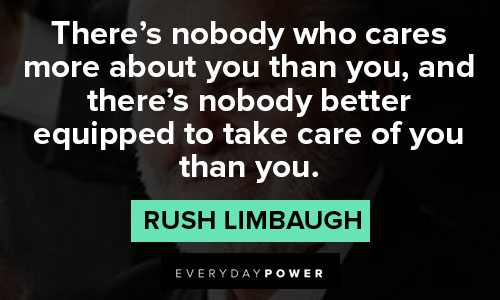 6. "No nation has ever taxed itself into prosperity." – Rush Limbaugh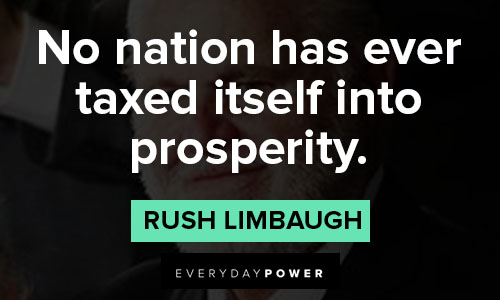 7. "You know why there's a Second Amendment? In case the government fails to follow the first one." – Rush Limbaugh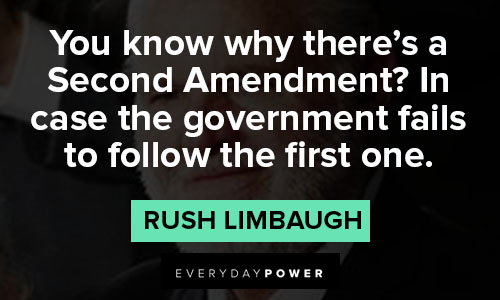 8. "I want anyone who believes in life, liberty, pursuit of happiness to succeed. And I want any force, any person, any element of an overarching Big Government that would stop your success; I want that organization, that element of that person to fail." – Rush Limbaugh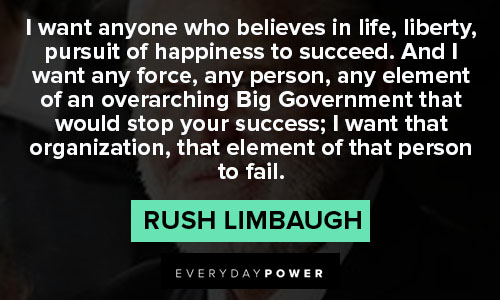 9. "The way liberals are interpreting the First Amendment today is that it prevents anyone who is religious from being in government." – Rush Limbaugh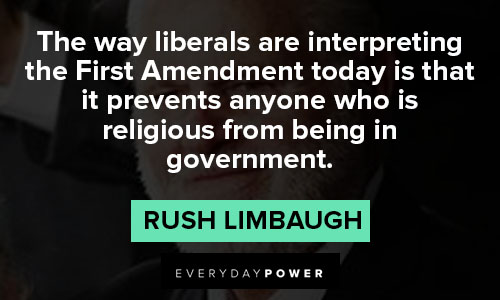 10. "The First Amendment doesn't give anybody the right to be heard. People don't have to listen to you." – Rush Limbaugh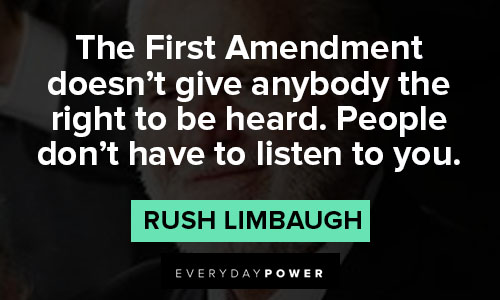 Rush Limbaugh Quotes On Conservatives and Liberals
Rush Limbaugh was definitely a conservative and proud of it. Take a look below to see some of his viewpoints.
11. "Enraging liberals is simply one of the more enjoyable side effects of my wisdom." – Rush Limbaugh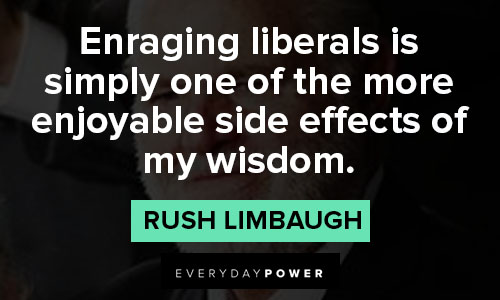 12. "Conservatism solves problems. Liberalism blows 'em up." – Rush Limbaugh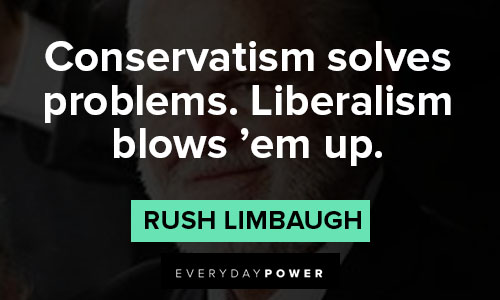 13. "Character matters; leadership descends from character." – Rush Limbaugh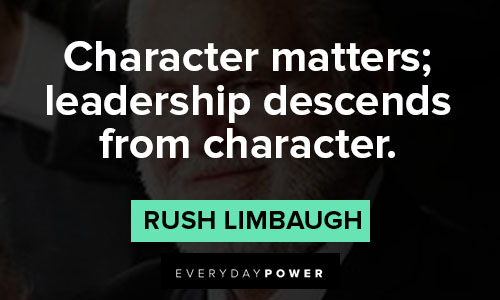 14. "The truth of anything doesn't matter anymore. What's right doesn't matter. What makes economic common sense doesn't matter. I'm blue in the face over it." – Rush Limbaugh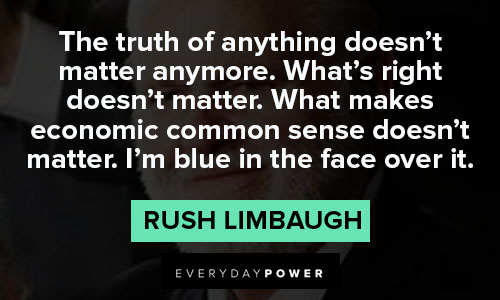 15. "If people are speaking about something passionately, and if they have a level of intelligence about it and if they're sufficiently informed, it's going to be like a magnet to people." – Rush Limbaugh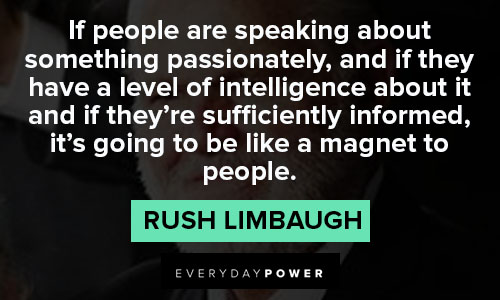 16. "Everything about the left is perception, manipulation, and lies. Everything. Everything is 'Wag the Dog.' Everything is structured deception." – Rush Limbaugh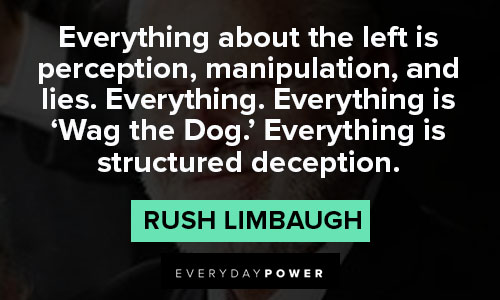 17. "I must be honest. I can only read so many paragraphs of a New York Times story before I puke." – Rush Limbaugh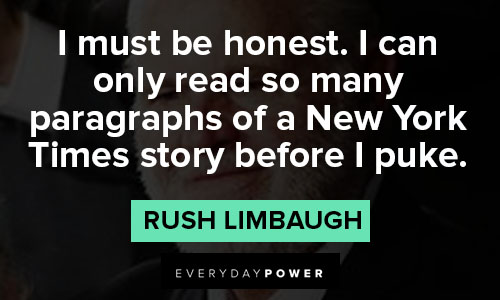 18. "Poverty is not the root cause of crime." – Rush Limbaugh
19. "It is freedom that allows ordinary people to do extraordinary things." – Rush Limbaugh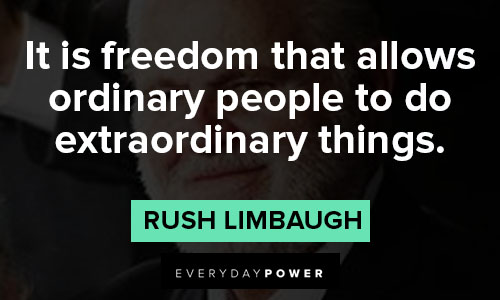 20. "We want everybody to succeed. You know why? We want the country to succeed, and for the country to succeed, its people – its individuals – must succeed." – Rush Limbaugh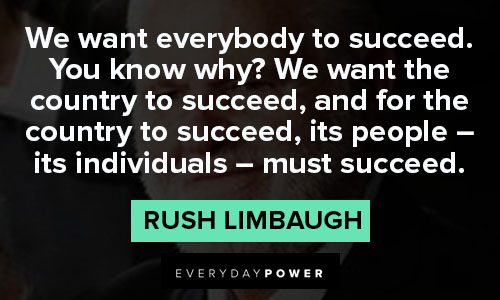 Did You Agree With Most Of The Rush Limbaugh Quotes?
In addition to his work on the radio, Rush Limbaugh wrote seven books throughout his career.
Two of his books were on The New York Times Best Seller list.
He was also a guest on many television shows, including The Pat Sajak Show, Late Show with David Letterman, The Drew Carey Show, and he made appearances on Fox News.
Limbaugh's polarizing opinions led him to make controversial statements about things like race and sexual consent, among others.
He didn't use writers for his show and shared his own opinions on topics being covered in the news.
Websites like Politifact claimed that many of Limbaugh's facts were false.
Additionally, Limbaugh was involved in charity work.
He raised money and donated to the Leukemia and Lymphoma Society, Marine Corps-Law Enforcement Foundation, and Tunnel to Towers Foundation.
Did you agree or disagree with the Rush Limbaugh quotes?
Share with your friends and post comments below to keep the conversation going.