70 Separation Quotes For When You Are Struggling To Feel Connected
Separation is something that humans deal with daily in one form or another, and these separation quotes will hit home if you are missing someone.
You may also enjoy our article on:
There are several ways that we experience separation, and they each make us feel different.
First, there are the hours when people are at work, physically separated from their partners and family.
Most of us can handle the few hours a day that we are not in the same room as our families, although young children and pets often experience separation anxiety.
However, not all separation is this short and commonplace, though.
Loved ones are often separated by things like work trips or other commitments that cause brief separations.
Even worse are those who are separated because of military deployments or other long-distance situations that last longer than a week.
These separation quotes for lovers touch on each of these topics.
Then there are more permanent separations, like breakups and divorces.
Sadly, death is the ultimate separation from those we love.
There are some separation quotes about endings and loss on this list as well.
Hopefully, if you are dealing with this right now, they can bring you a little peace.
Don't forget to also check out these letting go quotes for finally moving on.
If you like this article, we suggest you explore our most popular quotes article, a list of short inspirational quotes for daily encouragement.
Check out more inspirational quotes on our motivational quotes category page.
Short Separation Quotes
1. "Ocean separates lands, not souls…" ― Munia Khan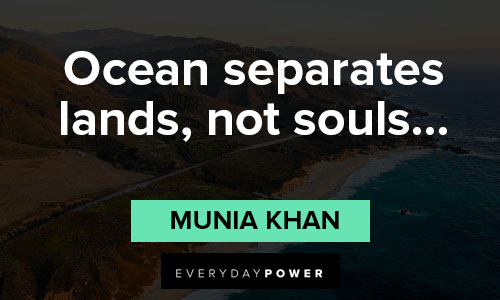 2. "Death is the separation of soul from body." ― Chrysippus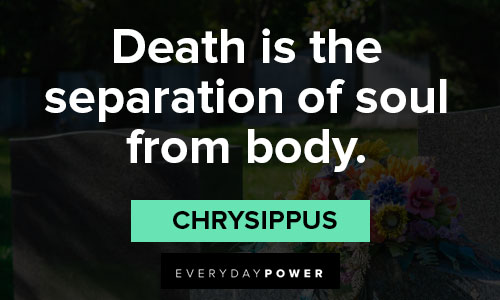 You will also enjoy our article on quotes about losing a loved one.
3. "Whenever a separation is made between liberty and justice, neither, in my opinion, is safe." ― Edmund Burke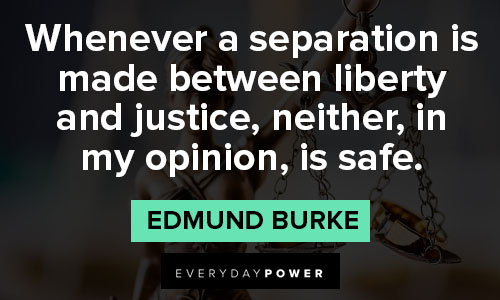 You will also enjoy our article on long distance relationship quotes.
4. "Equality and separation cannot exist in the same space." ― Jason Mraz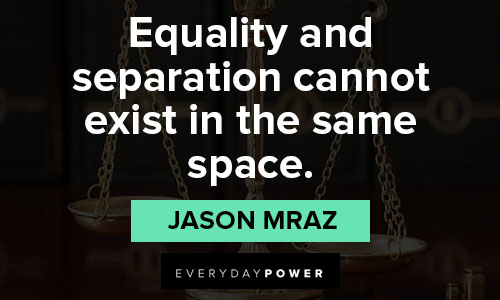 You will also enjoy our article on bad relationship quotes.
5. "Nothing is separate from anything." ― Bert McCoy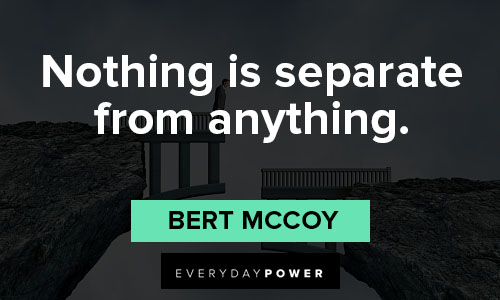 You will also enjoy our article on grief quotes.
6. "Judgment… is one of the ego's tools to foster separation through comparison." ― Peter Santos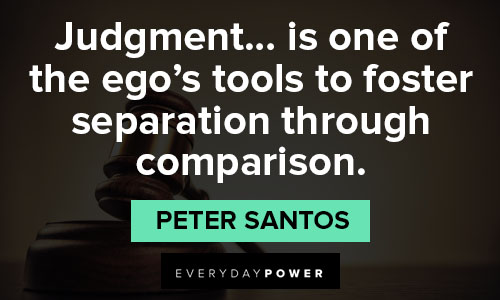 You will also enjoy our article on sad love quotes.
7. "Hell mostly just means being separated from God." ― A.D. Aliwat, In Limbo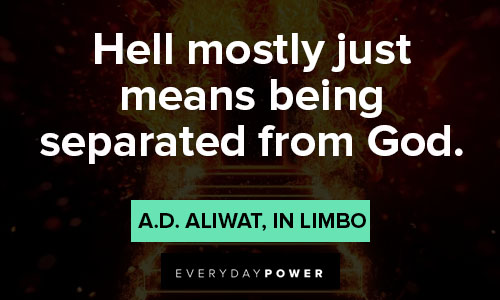 You will also enjoy our article on moving away quotes.
8. "How shall I unwind me from the spool of you?" ― Jill Alexander Essbaum, Heaven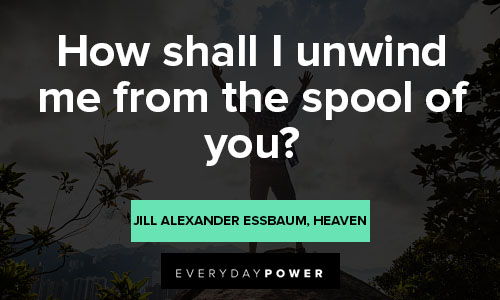 You will also enjoy our article on co parenting quotes.
9. "separation is not a salubrious state of affairs, isolation is preferably an insane affair." ― P.S. Jagadeesh Kumar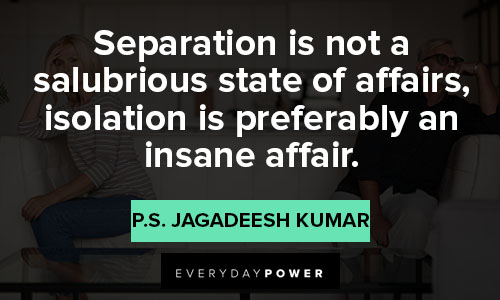 You will also enjoy our article on i miss you quotes.
10. "Love is more powerful than separation, but the latter is more lasting." ― Joseph Brodsky, To Urania: Poems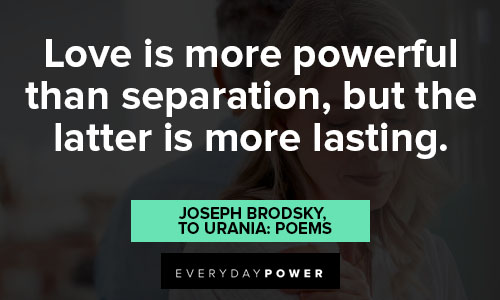 You will also enjoy our article on break-up quotes.
Separation Quotes For Lovers And Friends
11. "And ever has it been known that love knows not its own depth until the hour of separation." ― Khalil Gibran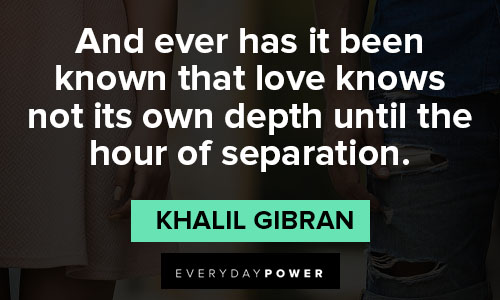 You will also enjoy our article on quotes on change growth.
12. "In a separation, it is the one who is not really in love who says the more tender things." ― Marcel Proust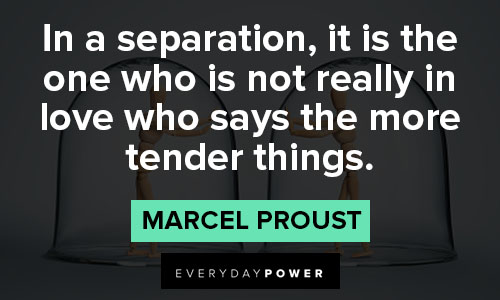 You will also enjoy our article on moving quotes.
13. "You can then feel the same life deep within every other human and every other creature. You look beyond the veil of form and separation. This is the realization of oneness. This is love." ― Eckhart Tolle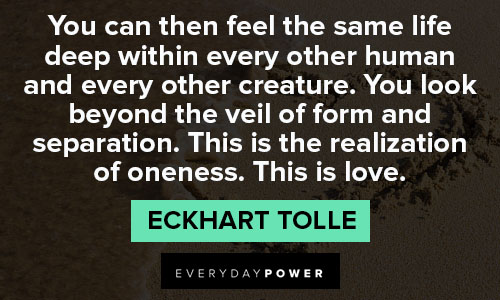 You will also enjoy our article on quotes about new beginning.
14. "Absence is to love what wind is to fire; it extinguishes the small, it inflames the great." ― Roger de Bussy-Rabutin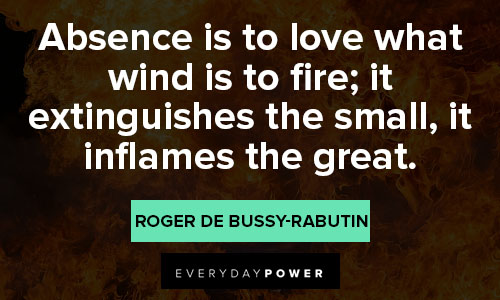 You will also enjoy our article on pet loss quotes.
15. "I fell in love with her when we were together, then fell deeper in love with her in the years we were apart." ― Nicholas Sparks, Dear John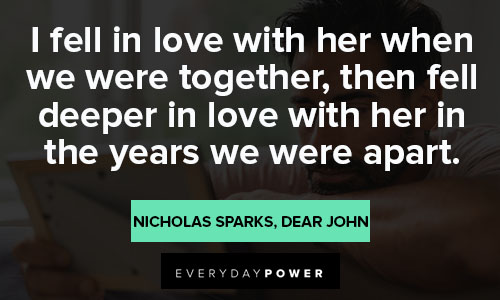 16. "Physical absence does not always mean emotional absence, many times more physical absence means more emotional presence." ― Bangambiki Habyarimana, Pearls Of Eternity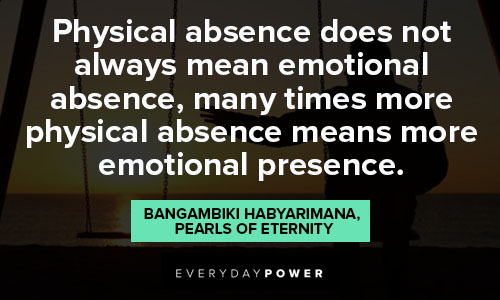 17. "We love because we can lose. If there was no threat of separation, no death to shake us to our core, we probably wouldn't love much at all." ― Donna Lynn Hope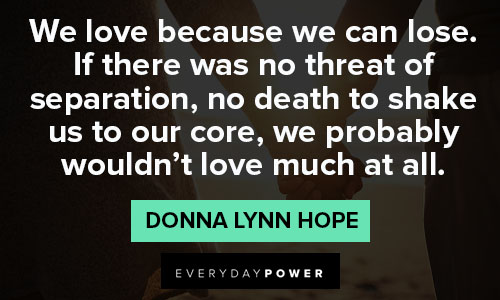 18. "I didn't want to kiss you goodbye—that was the trouble—I wanted to kiss you good night, and there's a lot of difference." ― Ernest Hemingway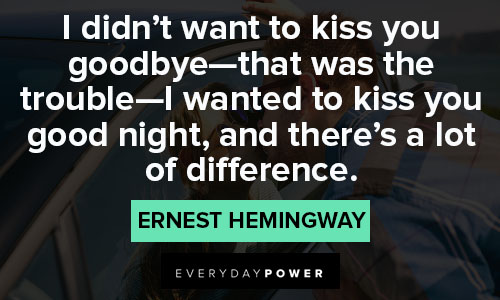 19. "For when two beings who are not friends are near each other there is no meeting, and when friends are far apart, there is no separation." ― Simone Weil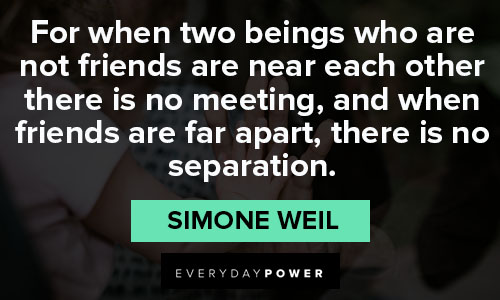 20. "Relationships are eternal. The 'separation' is another chapter in the relationship. Often, letting go of the old form of the relationship becomes a lesson in pure love much deeper than any would have learned had the couple stayed together." ― Marianne Williamson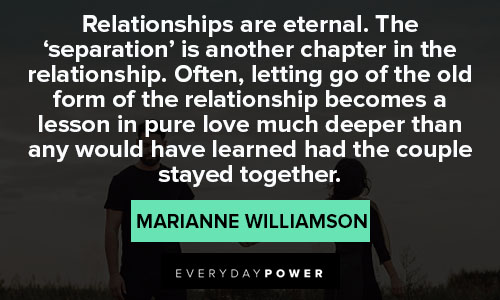 You will also enjoy our article on ex quotes.
Separation Quotes About Endings And Loss
21. "The marriage didn't work out, but the separation is great." — Liz Smith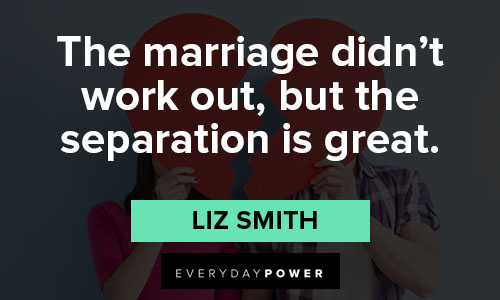 22. "The value of what's part of us can't be measured until it's already lost." ― Danny Castillones Sillada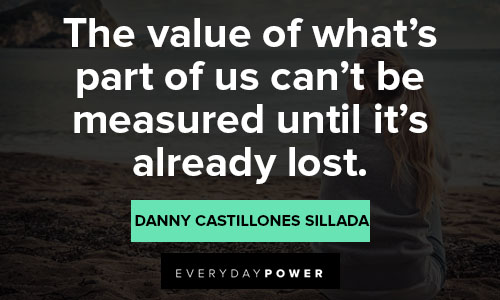 23. "Even after the most tragic death, the meanest divorce, and the worst breakup, it is possible to heal over time." ― Itayi Garande, Shattered Heart: Overcoming Death, Loss, Breakup, and Separation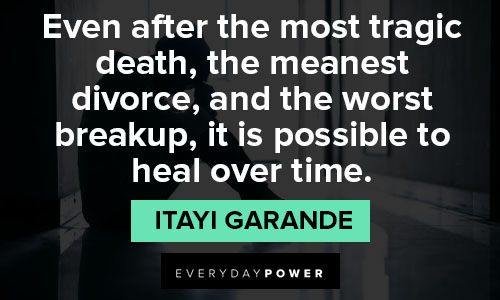 24. "It is mostly the farewells that unite us, and last in our memory forever, even more than the first meeting." ― Mimi Novic, Guidebook To Your Heart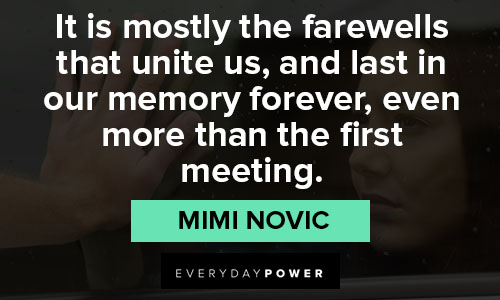 25. "Any intense relationship, be it of love or hate, displaces you from your body-mind. Everything becomes about that person. When they are gone, you feel lost." ― Shunya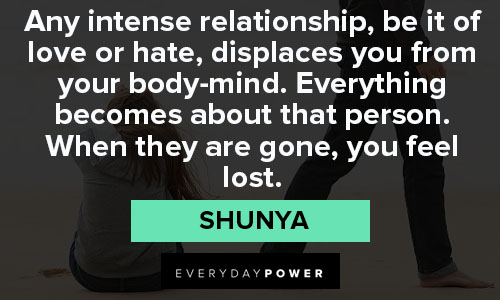 26. "That is why separation is so painful; it is not so much two hearts separating, but one being torn asunder." ― Fulton J. Sheen
27. "Once you do embark upon the separation or divorce process, it is very important to remember three key things: Be kind, be reasonable, be brief." — Laura Wasser
28. "Placing 'amicable' and 'separation' together creates an oxymoron – we don't usually decide to end a partnership until the very sight of our soon-to-be-ex fills us with disgust, misery, agony, or a combination of all three." — Mariella Frostrup
29. "You see the separation of life as very arbitrary. You are not alone in this assumption. You have far more connection than you are even vaguely aware of. You will not lose the love that is yours." ― Donna Goddard, Waldmeer
30. "No one escapes unscathed. Every story of separation is different, but I think we all understand that basic, wrenching emotion that comes from saying goodbye, not knowing if we'll see that person again – or perhaps knowing that we won't." — Luanne Rice
Separation Quotes About Nature, Humans, And The Earth
31. "In the separation of the human species from nature, life goes awry." — Michael Frome
32. "In nature, there is no separation between design, engineering, and fabrication; the bone does it all." — Neri Oxman
33. "Fear, separation, hate, and anger come from the wrong view that you and the Earth are two separate entities. The Earth is only the environment." — Thich Nhat Hanh
34. "There's a natural separation that kids have to go through with their parents, but then when you put that on top of actually having a career, it gets even more painful." — Adrianne Lenker
35. "There's no separation between self and other, and everything is interconnected. Once you are aware of that, you are no longer caught in the idea that you are a separate entity." — Thich Nhat Hanh
36. "Separation penetrates the disappearing person like a pigment and steeps him in gentle radiance." — Boy George
37. "Honor is the inner garment of the Soul; the first thing put on by it with the flesh, and the last it layeth down at its separation from it." — Akhenaton
38. "I like work/life separation, not work/life balance. What I mean by that is, if I'm on, I want to be on and maximally productive. If I'm off, I don't want to think about work." — Tim Ferriss
39. "We must embrace unity, not separation—sharing, go back to small, caring communities. Unity, not separation, is what has to happen." — Genesis P-Orridge
40. "Our incredible bewilderment (wilderness separation) blinds us from seeing that our many personal and global problems primarily result from our assault of and separation from the natural creation process within and around us." ― Michael J. Cohen, Reconnecting with Nature: Finding Wellness Through Rebuilding Your Bond with the Earth
Separation Quotes About Church And State
41. "But separation of church and state was never meant to separate God and government." ― Roy Moore
42. "Separation of church and state should never mean separation of God and right." ― Tony Evans
43. "I believe in the separation of church and state, but I do not believe in the separation of politics from religion." ― Rick Warren
44. "The purpose of separation of church and state is to keep forever from these shores the ceaseless strife that has soaked the soil of Europe with blood for centuries." ― James Madison
45. "I'm completely in favor of the separation of Church and State. My idea is that these two institutions screw us up enough on their own, so both of them together is certain death." ― George Carlin
46. "The Constitution also establishes the separation of church and state so that the laws we live by our never guided by religious zeal." ― Roxane Gay
47. "The separation of church and state is a source of strength, but the conscience of our nation does not call for separation between men of state and faith in the Supreme Being." ― Lyndon B. Johnson
48. "Kennedy believed in religious liberty and the separation of church and state. He did not believe in the right of elected officials to impose their religious views on others." ― Jack Schlossberg
49. "I strongly believe in a person's right to religious freedom, as well as the separation of church and state." ― Alcee Hastings
50. "The fact that religion plays such a part in how people vote troubles me, troubles me as a minister's daughter. Because I always felt that the separation of church and state was what our forefathers and foremothers really fought for." ― Tori Amos
Separation Quotes To Help You Identify Boundaries
51. "I get very involved in my characters. Sometimes I have a very hard time separating my characters from my life." ― Alexia Fast
52. "It isn't tying himself to one woman that a man dreads when he thinks of marrying; it's separating himself from all the others." ― Helen Rowland
53. "Separating them were two layers of brick, a few inches of plaster, and nine years of silence." ― Paolo Giordano
54. "It's as if they have thinner boundaries separating them from other people's emotions and from the tragedies and cruelties of the world." ― Susan Cain
55. "True peace consists in not separating ourselves from the will of God." ― Thomas Aquinas
56. "I believe that every human being has an understanding of art. What is separating us is smaller than what is unifying us." ― Thomas Hirschhorn
57. "The sea which we think of separating the two islands actually joins them." ― Conor Cruise O'Brien
58. "As simplistic as this may sound, commitment is still the common denominator separating those who live their dreams from those who live in regret." ― Tony Robbins
59. "I think we have a tendency in America to keep dividing ourselves, separating ourselves from each other." ― Eve Ensler
60. "Separating is not divorcing. Please keep that in mind. It is, instead, the second step in seeing if there's a better way to manage your family." ― Carolyn Hax
Marriage Separation Quotes
61. "How does an woman take back her edge after a breakup or divorce? By reconnecting with her sensuality." ― Lebo Grand
62. "You leave me much against my will." ― Edna St. Vincent Millay
63. "I felt weak the second she was gone. I felt dead the moment she was no longer mine." ― Penelope Sky
64. "All division is created in and by the mind." ― Joseph Rain
65. "Separation has nothing to do with distance…" ― Nitya Prakash
66. "Staying separate from those we love hurts." ― Jodi Aman
67. "I had neither departed from you nor apart from you, separation is part of life." ― P.S. Jagadeesh Kumar
68. "You play me with your jazz & leave me with the blues." ― Curtis Tyrone Jones
69. "We shall meet, but as strangers. It is the end of an era. A whole part of my life is torn away." ― Iris Murdoch
70. "We are not strangers. It's a lack of trust that keeps us separated." ― Michael R. French
What Can We Learn From These Separation Quotes?
Were you wondering about what separation anxiety is earlier?
It is a disorder in which a child becomes excessively anxious when separated from parents.
I think parents can also feel this deep anxiety as well!
It is characterized by not being able to think about anything else other than the separation and the fear it causes.
Children who are experiencing this might have nightmares and complain of physical ailments.
It is often self-treatable and self-diagnosable and resolves within a few months, but if it is something you or a child is struggling with, therapy can help.
Another thing we can learn from these separation quotes is a little of history!
Family and loved ones are not the only things separated from one another.
Our nation was founded on the ideas of separation of powers (the three branches of government) and the separation of church and state.
Let us know your favorite separation quotes and sayings or something that helped you through a difficult separation, in the comment section below.