God's Plan Quotes to Inspire Faith
These biblical quotes about God's plan and timing will uplift your spirit.
What is God's plan for my life?
God has a purpose for us all, so it's important to trust the process and have faith.
These Gods plan quotes will inspire you to face every day with love and courage.
Even when situations seem difficult, confusing, or overwhelming, God has a plan for you.
Keeping the faith will remind you that there is nothing to fear in this life.
Let this collection of quotes about God's plan and timing inspire and uplift you.
You are in control of your life every day, but ultimately God has a plan for you and your destiny.
Nourish your faith by reading these Gods plan quotes.
When you accept that God has a purpose for your life, you will be able to reach your full potential.
Share these incredible quotes about trusting God's plan with your religious friends and family.
Don't forget to check out these bible quotes to spread the faith.
God's plan quotes to inspire faith
1. "Sometimes, the plans in your heart aren't God's plan." – Katie Taylor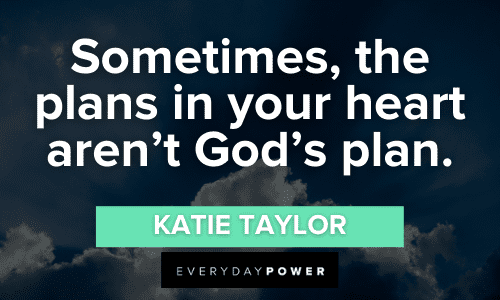 2. "I know God has a plan for me. I don't know what it is." – Benjamin Watson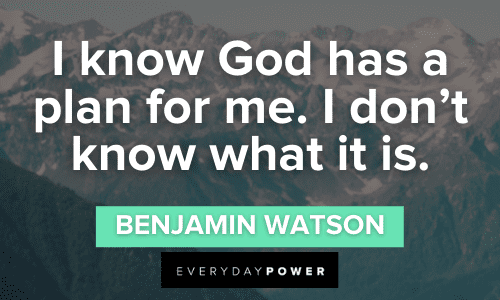 3. "Everything happens within God's perfect plan." – Walter Mercado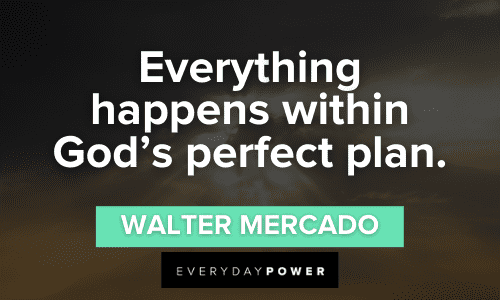 4. "God always has a perfect plan!" – Kim Zolciak-Biermann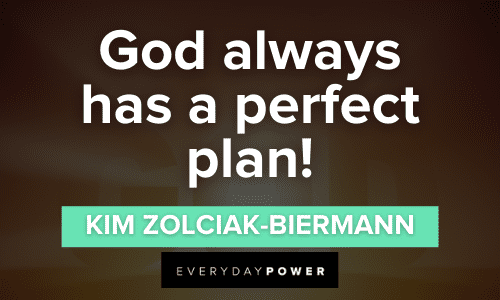 5. "God is a God of systems and predictability and order, and God honors planning." – Andy Stanley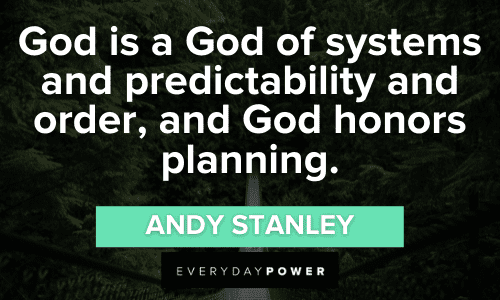 6. "I think God is perfect, all-powerful and has an unstoppable plan for everyone, including those who love him and those who don't." – Kirk Cameron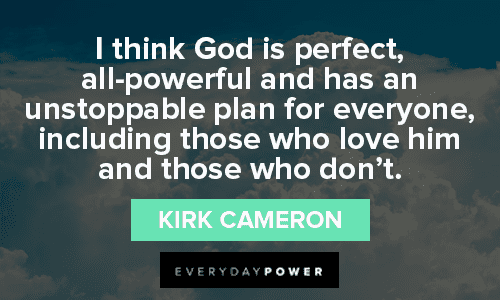 7. "I don't know what God has planned for me or you or anyone, but I do know that in darkness, you discover an indistinguishable light." – Cory Booker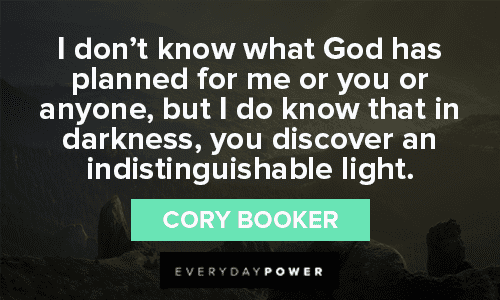 8. "Remember, when God is executing His plan in our lives, He also designs and arranges events which continue to unfold until His purpose is revealed." – T. B. Joshua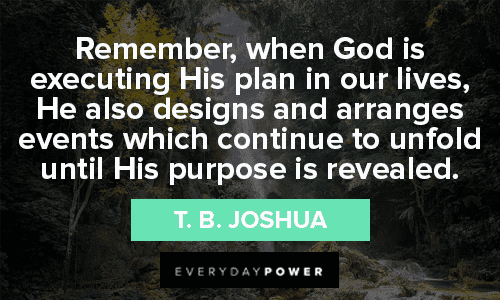 9. "I think I just learned that God has a plan for all of us, and I work hard and do all the things I can, but at the same time, His will is perfect; and me trying to control it, it's not going to work." – Matt Holliday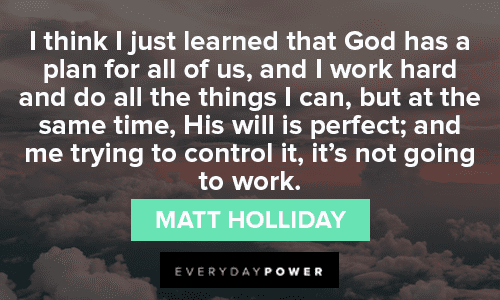 10. "I believe that God has a plan and purpose not only for the human race but for my individual life." – Anne Graham Lotz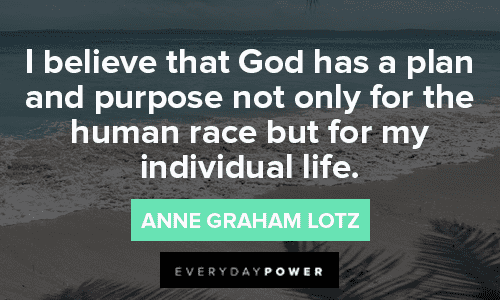 If you're enjoying these quotes, you'll love our collection of God quotes that will help you find direction and purpose.
God's plan quotes that will fill you with hope
11. "What religion a man holds, to what race he belongs, these things are not important; the really important thing is this knowledge: the knowledge of God's plan for men. For God has a plan, and that plan is evolution." – Jiddu Krishnamurti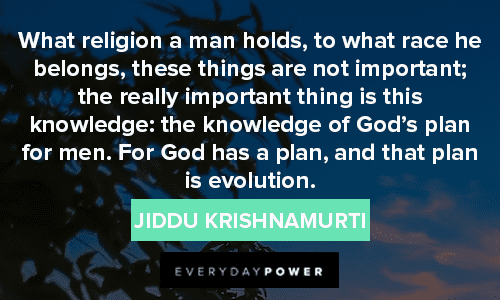 12. "God has a plan for you – I can promise you that. Your life is sacred. There is and always has been a path for your soul, and if you follow that path, it will lead you to the inner utopia that your soul longs to experience in this lifetime." – Debbie Ford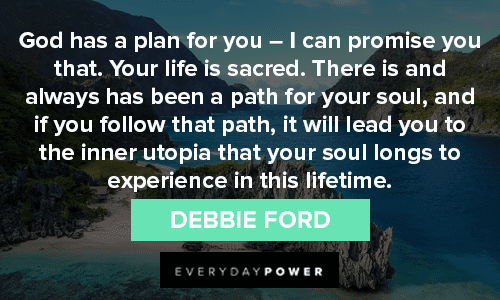 13. "I just hope people see that if God can do something beautiful with my broken pieces, then God truly has a plan for each and every one of us." – Nick Vujicic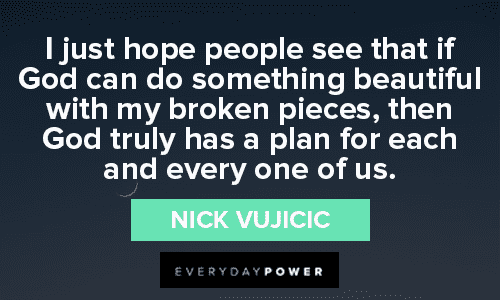 14. "It's good to have plans and dreams, but don't be surprised if God brings you somewhere else." – Anne F. Beiler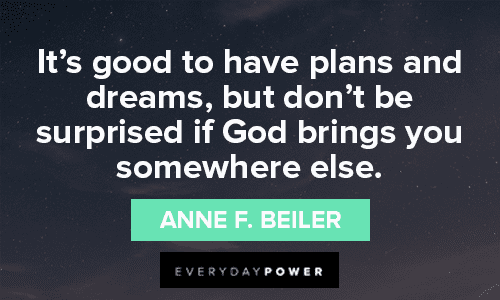 15. "Each of us is a small part of God's plan. I'm a small part. I create paintings that are being used by God." – Thomas Kinkade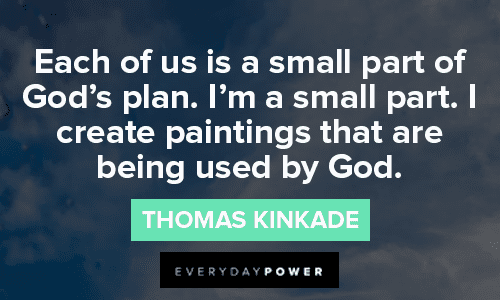 16. "Change makes you find your calling, your legacy, and God's divine plan for your life. Don't run from it." – Iman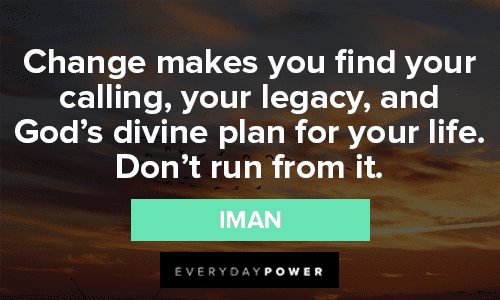 17. "I find that doing of the will of God leaves me no time for disputing about His plans." – George MacDonald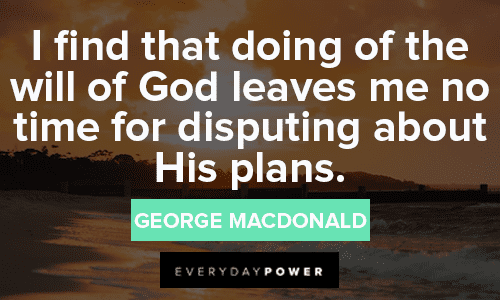 18. "I have learned in my life that my plans don't matter. It's God's plan." – Taya Kyle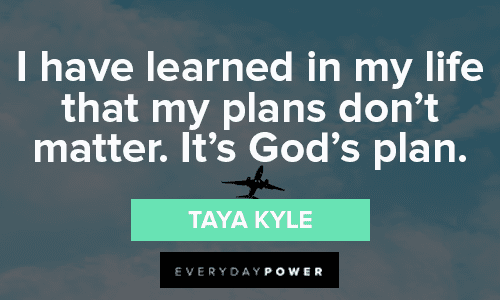 19. "I never make plans, because whenever I do I find out God has other plans." – Payal Rohatgi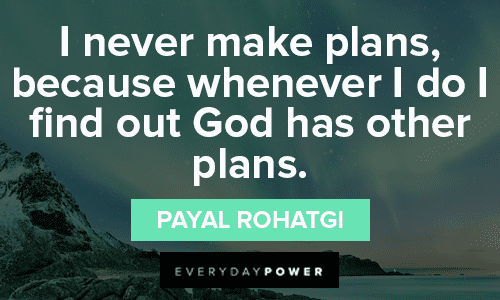 20. "When you fight against the plan of God, you are fighting against the hand of God." – Paula White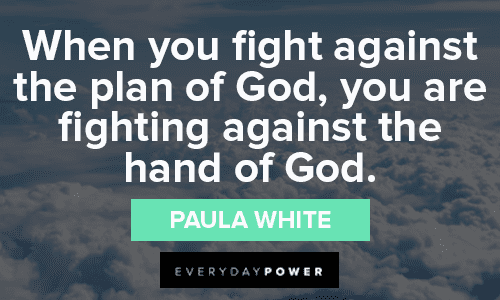 God's plan quotes to help you believe in the process
21. "Whatever happens, happens. It's all a part of God's plan." – Teddy Bridgewater
22. "Every time I make a plan, God laughs at me." – Jason Isaacs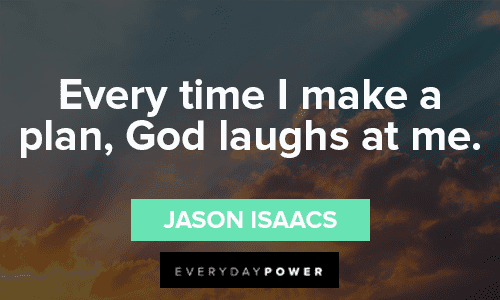 23. "God's purpose is more important than our plans." – Myles Munroe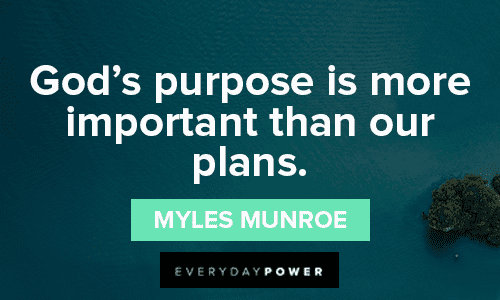 24. "I believe that God has a specific plan and reason He created each one of us." – Lisa Whelchel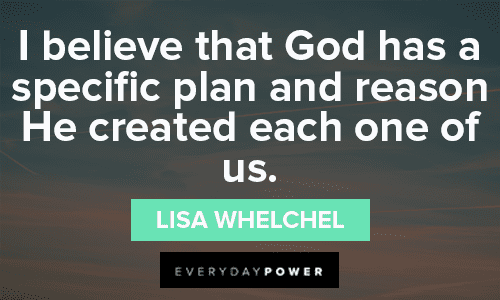 25. "'God's plan' is often a front for men's plans and a cover for inadequacy, ignorance, and evil." – Mary Daly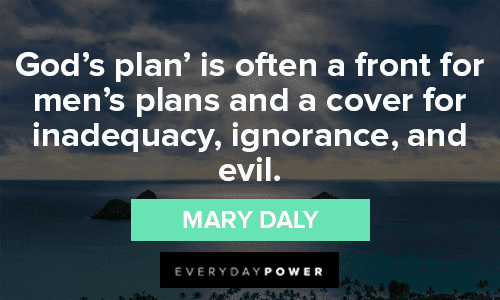 26. "It's funny how God will change your plans for you when he's ready." – Brett Young
27. "I'm religious. I think this is something God had planned for me." – Clay Aiken
If you're enjoying these quotes, make sure to read our collection of religious quotes from all over the world.
28. "If you want to make God laugh, tell him about your plans." – Woody Allen
29. "It may seem like we have the ultimate plan for our lives, but it's not in the same galaxy of what God's plans are for His people." – Monica Johnson
30. "Let a man live with God, not afraid to talk with him. Let him study God's plans and methods, as one of Michelangelo's pupils might study his." – Edward Everett Hale
God's plan quotes to uplift your spirit
31. "God truly had a better plan for me than I had imagined. You never know what life has in store." – Phyllis Smith
32. "I don't know what tomorrow holds. None of us do. We got to wait and see what God has planned." – Roy Jones Jr.
33. "First and foremost, I live for God now. His plans for me are better than whatever I can think." – Israel Folau
34. "God has his plans and his reasons. Sometimes we are supposed to go through things so that we learn lessons." – Dolly Parton
35. "But I know God has big stuff planned that ultimately doesn't have anything to do with me." – Michael W. Smith
36. "God has a plan for all of us, but He expects us to do our share of the work." – Minnie Pearl
37. "God's plan is to make much of the man, far more of him than of anything else. Men are God's method. The Church is looking for better methods; God is looking for better men." – Edward McKendree Bounds
38. "I've never guided my life. I've just been whipped along by the waves I'm sitting in. I don't make plans at all. Plans are what make God laugh. You can make plans, you can make so many plans, but they never go right, do they?" – John Hurt
39. "The scripture is God's plan on how we are to live our lives here and what we are to do to have eternal life." – Deborah Norville
40. "Sometimes I haven't understood why he has done things and why things happened, but I know that God has a plan." – Jan Brewer
God's plan quotes to nourish your faith
41. "I'm walking this walk, and my life has nothing to do with my perception of the world. It's all God! How do I function within His plan?" – Stephen Baldwin
42. "I'm a Christian, and I believe that God has a plan and a purpose for each one of our lives and that He can intercede in all kinds of situations, and we need to have a little faith in many things." – Sharron Angle
If you're enjoying these quotes, make sure to read our collection of Christian quotes that will uplift your spirits.
43. "I don't think any person has any special knowledge about what God has planned for me and you any more than me and you do." – Willie Nelson
44. "God will not permit any troubles to come upon us unless He has a specific plan by which great blessing can come out of the difficulty." – Peter Marshall
45. "However God had it planned, I'm rockin' with how he do it. He took the steering wheel and I'm letting him drive." – E-40
46. "Everything doesn't happen for a reason, if by this we mean evil is a part of God's plan. But God does ensure that evil will not prevail and that light will always, ultimately, overcome the darkness. If we follow God's lead, our work is to push back the darkness." – Adam Hamilton
47. "And I think that when I finally decided to let go and let God and allow that to happen, I became a lot more successful than I could have done if I had planned it all myself." – Clay Aiken
48. "So what do you desire to do? What do you really want to do as a person? You need to stop and document that; write it down; make a plan; and then God says, 'I'll direct your steps.'" – Myles Munroe
49. "Indeed, there is nothing like suffering to remind us how much we need God. What good news that His purpose and plan for our lives move in a different direction from ours!" – Tullian Tchividjian
50. "I used to wonder if it was God's plan that I should be alone for so much of my life. But I found peace. I found happiness within people and the world." – Lana Del Rey
God's plan quotes to inspire you
51. "Let your life reflect the faith you have in God. Fear nothing and pray about everything. Be strong, trust God's word, and trust the process." – Germany Kent
52. "When God is ready for you to move, He will make your situation uncomfortable." – Germany Kent
53. "The only way you're going to reach places you've never gone is if you trust God's direction to do things you've never done." – Germany Kent
54. "When there is favor in your life, God will always place people on your path to help you along the way." – Germany Kent
55. "When you Pray for You, You are in the Footsteps of God; When you Pray for Others, God is in your Footsteps." – P.S. Jagadeesh Kumar
56. "Sometimes things don't happen in your life as planned and sometimes things happen in your life unplanned, both happen as God's plan." – P.S. Jagadeesh Kumar
57. "God will fight your battles if you just keep still. He is able to carry you through. Trust Him. Keep standing, keep believing and keep hoping." – Germany Kent
58. "Your current circumstances are part of your redemption story He is writing." – Evinda Lepins
59. "Whether we live for seconds or a hundred years, none of us goes before our time. We're all here to do something, and once we've done it, we go back from whence we came." – Stewart Stafford
60. "God has devised ways for all of us to live, but it is for us to choose how." – Neeraj Singhvi, Temple of Destiny
More God's plan quotes and sayings
61. "God's got me here for something." – Muhammad Ali
62. "Sometimes God makes better choices for us than we could have ever made for ourselves."- Jennifer Hudson
63. "Have patience, God isn't finished yet." – Philippians 1:6
64. "God desires to use you no matter where you are, what you are doing, or who you used to be."- Heather Lindsey
65. "God's plan will continue on God's schedule." – Aiden Wilson Tozer
66. "One phrase that got me through many difficult times in my life was: God's delays are not God's denials."- AJ Winters
67. "God has wonderful plans for you – if you let Him lead and comfort."- Colin McCartney
68. "God created and loves the family, and he has a plan for the family that is far greater than our plan."- Ruth Schwenk
69. "God isn't finished with us yet. When we forget this fact, we get stuck."- Kenneth Copeland
70. "When we watch people fully engaged in their purpose, it's confirmation that God has given each of us a destiny."- T. D. Jakes
Resting in God's plan quotes
71. "Things happen in this world- sometimes accidents, sometimes a result of our own actions- but that doesn't mean God's abandoned us. It just means that we live in a messed-up world. It's when we trust Him completely that He begins to bring good out of bad situations." –Carla Laureano
72. "God's will is like a jigsaw puzzle, you won't be able to see the whole picture until all the pieces are together." -Danny L. Deaube
73. "Obedience is the key ingredient in living out God's plan for you." –Elizabeth George
74. "The enemy knows God has a purpose and plan for your life. The enemy wants you to give up." –Linda Evans Shepherd
75. "Joseph's trials were unjust, inexplicable and heartrending. Yet Joseph knew God, and he knew that God had a plan." –K. Howard Joslin
76. "His plan in your life means his work in your hands, and you can be sure it is work he has chosen and gifted you to do." –Jill Briscoe
77. "May the Spirit of God empower you with divine strength to accomplish your mission on earth." –Lailah Gifty Akita
78. "I just follow God's lead. One step, one day and one opportunity at a time. The hardest part is not becoming distracted." –Carlos Wallace
79. "We may not always understand the why. But we can trust the Who." –Jennifer Spredemann
80. "There are no accidents for an omnipotent and omniscient God; everything is part of His Plan." –Paul Chaloux
God's Plan Quotes To Teach Importance OF Trusting God
81. "We must remember God's plan for us is not our plan. God's plan for us is far larger and better than any plan we can imagine." — Faye Horton
82. "Things don't always happen the way we planned. As we learn to trust in God's plan, we will see that He has our best interests at heart." — Dan Ellis
83. "Always trust your gut instinct. There will come a time when you will understand, but for now trust God has a plan greater than you have ever imagined." — Shannon L. Alder
84. "We have learned that every child is precious and that every life is sacred. We have discovered that God doesn't make mistakes, so every situation that isn't "normal" is something He allowed." — Brandon Buell
85. "And I am just one of many who repurposed their lives after they heard about the plan God had for them and as they experienced how God moved in another person's life and purpose." — Matt Brown
86. "God does not make errors in anything he says. He does not obscure the truth, by accident or by design. He does not fail to do anything he has said he will do." — Timothy Keller
87. "Such individuals come to the realization that no matter how greater their own hopes and plans for their lives, God's hopes and plans are greater." — Amberly Ruck
88. "As we get into the mind and plan of God, our faith will grow, and its power will be manifest in ourselves and those for whom we are believing." — Andrew Murray
89. "Even if we don't always know what is going on in our lives or things are changing, God knows and He has a plan to make things great for us." — Patricia Meyers
90. "What hurts most is that you know your love for God is strong, yet you can't seem to understand what He is trying to work out in your life." — David Wilkerson
What are your favorite God's plan quotes about faith and trust?
When life becomes overwhelming, take a deep breath and remember that God has a plan for you.
This philosophy can help you cope with loss, anxiety, anger, and other big emotions.
Although it is true that you have free will and free choice, God has a purpose for you that will be made clear.
These quotes about God's plan and timing will inspire faith in your heart.
If you love the bible, you will be delighted by this collection of quotes about trusting God's plan.
Believing in the process and allowing God to take control will lead you to success.
Never give up the faith or doubt that God has a plan for you.
Share this list of God has a purpose quotes with someone in your life who is going through a difficult time.
What are your favorite God's plan quotes and sayings about God's will for your life?
Let us know in the comment section below.
September 14, 2022 6:00 AM EST
Be the first one to leave a comment!