Smallville Quotes from One of Our Favorite Superheroes
Fans of the man of steel will enjoy these Smallville quotes.
Share your favorite with us in the comments.
Smallville is a superhero tv series based on the iconic DC comic book character Superman.
Although over the recent years there have been multiple spin-offs of Superman, Smallville was able to show an original and relatable characterization of our favorite superhero by focusing more on the stories of the characters rather than fighting villains.
As Clark Kent struggles to balance normal life and his newfound powers, his life will soon be disrupted by aliens and superpowered villains trying to destroy the earth.
This gives a deeper look at what makes Clark Kent Superman.
After all, being a superhero is not just about having powers but having the heart to take action.
Here are some of the most memorable Smallville quotes you wouldn't want to miss.
Don't forget to also check out these superman and lois quotes for the superhero in you.
If you like this article, we suggest you explore our most popular quotes article, a list of short inspirational quotes for daily encouragement.
Read more related content on our inspirational quotes category page.
Smallville quotes from Lex Luthor
1. "You have no idea what I'm capable of." — Lex Luthor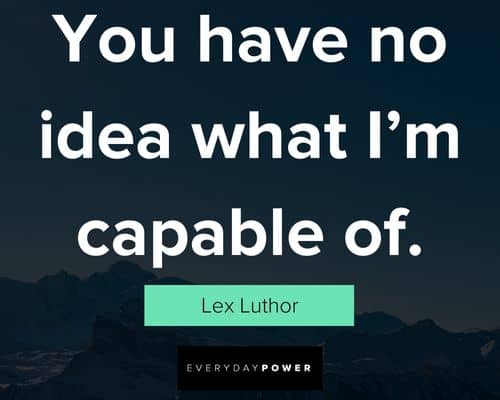 2. "You see, I don't want to do good things, I want to do great things." — Lex Luthor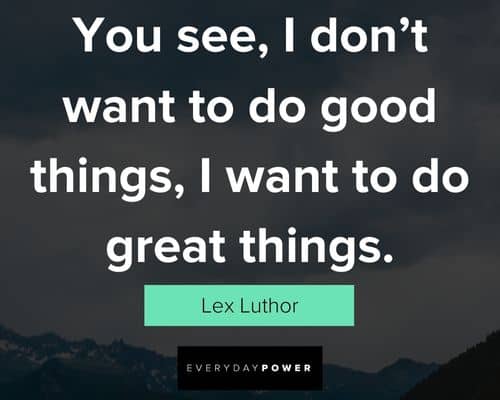 3. "I don't care about the past – I believe in the power to reinvent yourself." — Lex Luthor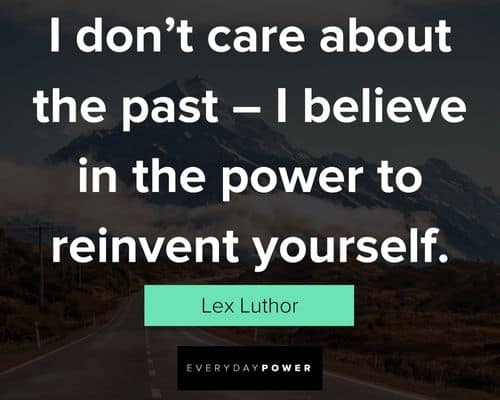 4. "I plan on being great all by myself." — Lex Luthor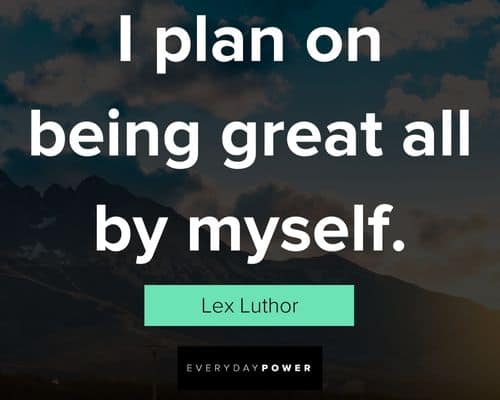 5. "Failure isn't something I'm used to doing." — Lex Luthor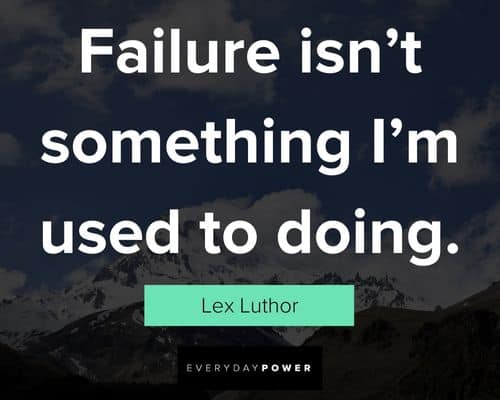 6. "A man is judged by the quality of his friends. If the quarterback's with them, he'll have to face the consequences." — Lex Luthor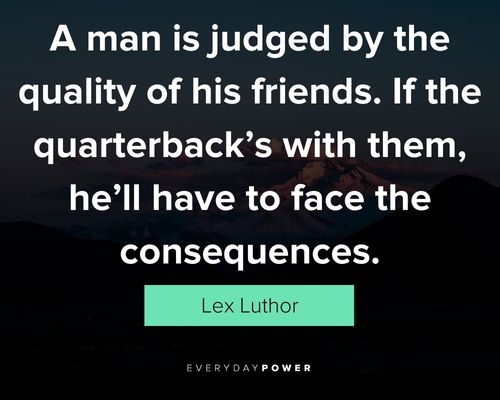 7. "You know in ancient Persia, the kings would kill a messenger who brought them news they didn't like. In modern times a sword in the chest might seem a little extreme. Something more subtle would be in order. Enjoying your drink?" — Lex Luthor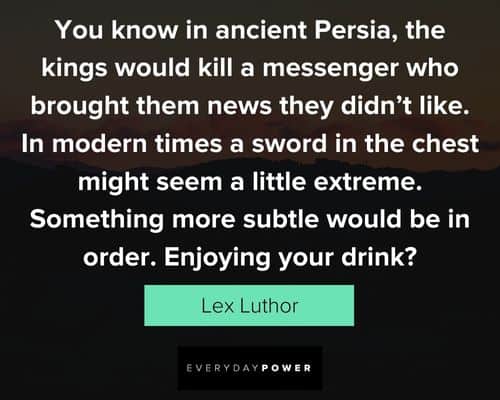 8. "In my experience, I've found you can never have too much information." — Lex Luthor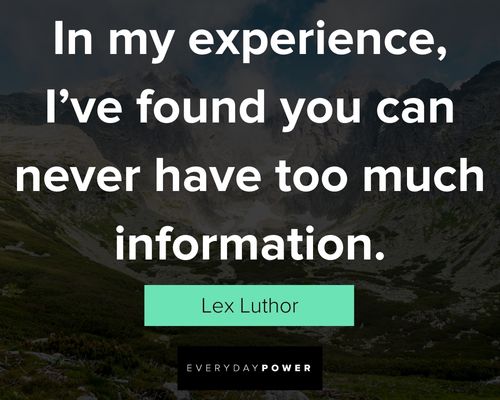 9. "You both stood your ground and are doing what you want. I caved. You two have inspired me." — Lex Luthor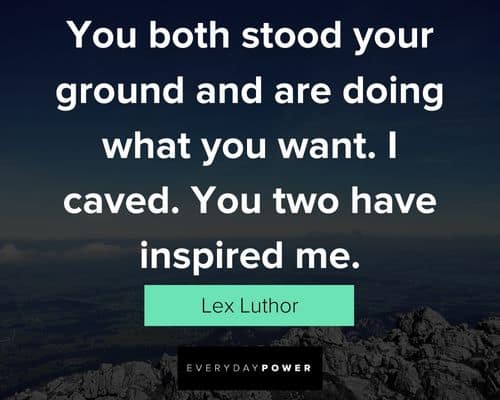 10. "Darker times call for darker methods." — Lex Luthor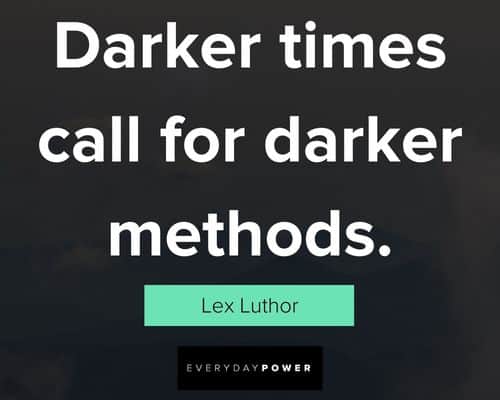 11. "I'm just interested in people who ruled the world before they were thirty." — Lex Luthor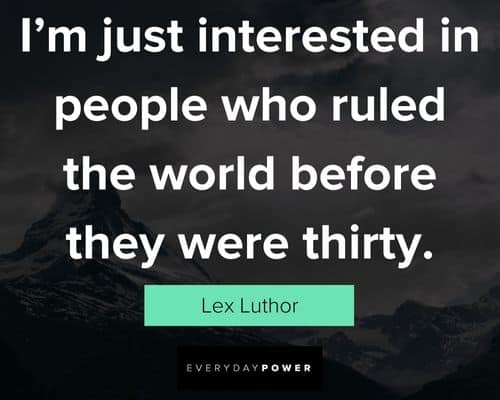 12. "Love isn't about playing it safe. It's about risks. Unless you're willing to put yourself out there, you'll never know." — Lex Luthor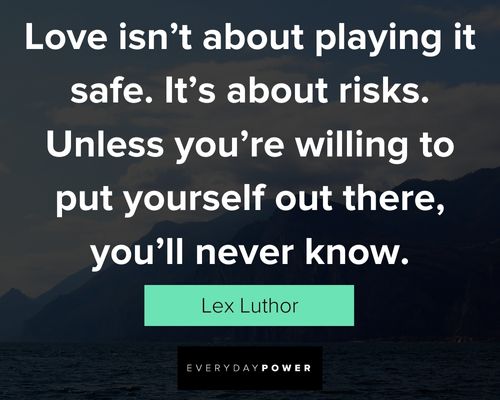 13. "Anyone who doesn't appreciate poetry doesn't understand that it's all about seduction." — Lex Luthor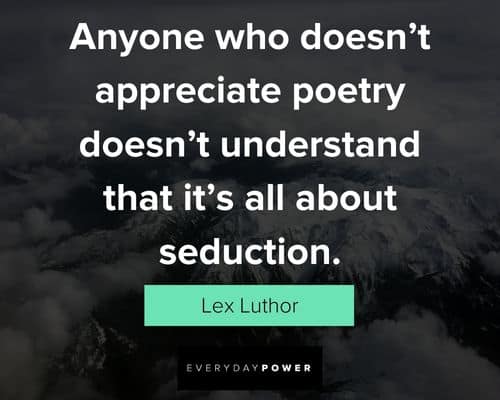 14. "Clark, you can't save the world. All you'll end up with is a Messiah complex and a lot of enemies." — Lex Luthor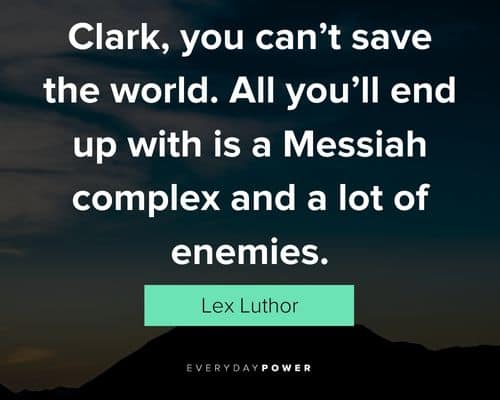 15. "You can learn a lot from someone you hate." — Lex Luthor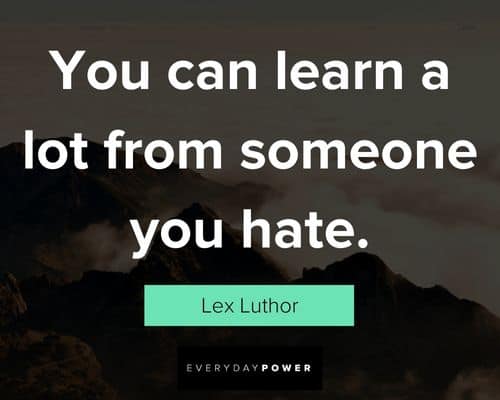 16."In the comic-book world, when you're destined to save mankind, you're destined to be alone." — Lex Luthor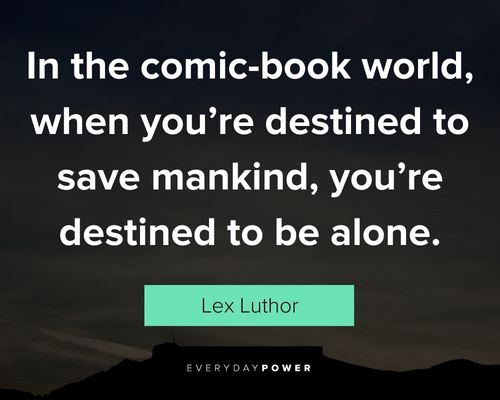 You will also enjoy our article on jurassic park quotes.
Smallville quotes from Lois Lane
17. "Before that handsome hero face ends up on jumbo screens in all your red and blue glory, we need to make sure there is nothing handsome or heroic about Clark Kent." — Lois Lane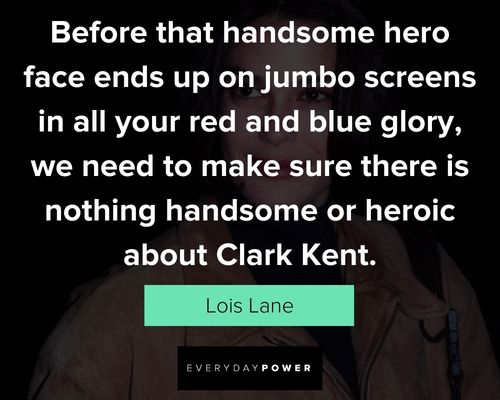 18. "If I know one thing, Clark Kent's heart is usually right." — Lois Lane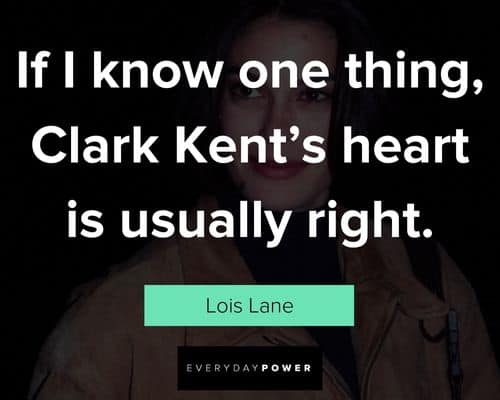 19. "A couple more hugs and maybe you'll have the 'bah humbugs' squeezed out of you." — Lois Lane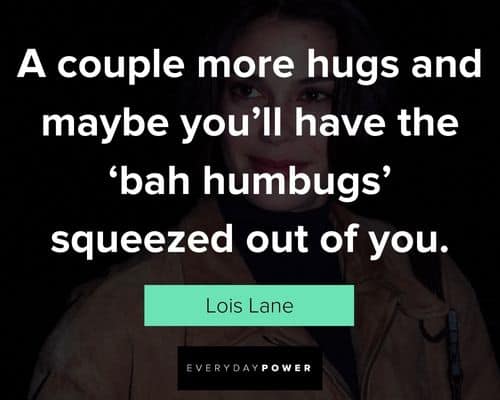 20. "She didn't want me to see her because she was afraid she would look weak. I think she felt like she had failed me by leaving. Clark, she's the bravest person I know." — Lois Lane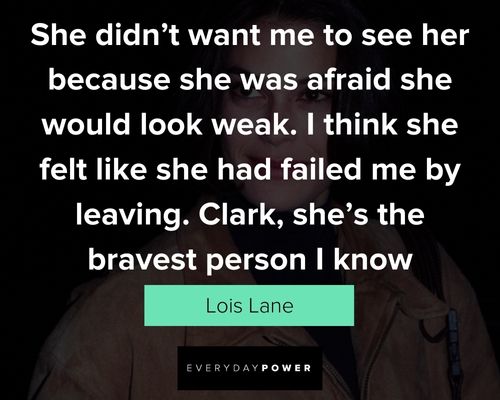 21. "I don't think he's the easiest guy to read, being that he's an ice fortress and all. But there's part of him that's very human." — Lois Lane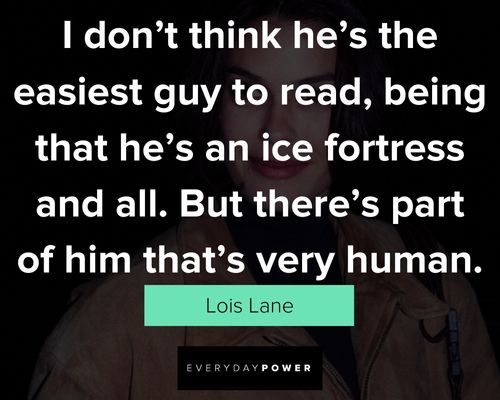 22. "Well, this has Lucy written all over it in backstabbing b*tch-berry lip gloss." — Lois Lane
23. "Careful, Lois. This is the part where the doomed girl runs into the guy with the hockey mask." — Lois Lane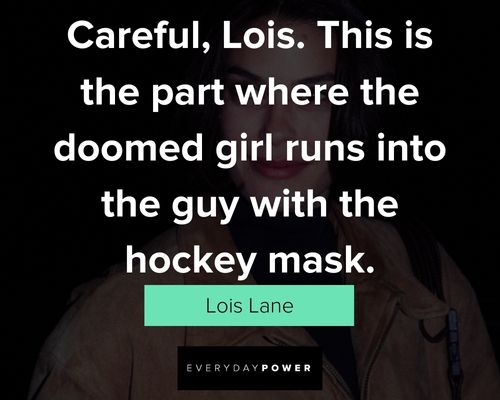 Smallville quotes from Clark Kent
24. "Lana, we all make mistakes. I'm living proof of that. It's how we come back from the mistakes that's what matters." — Clark Kent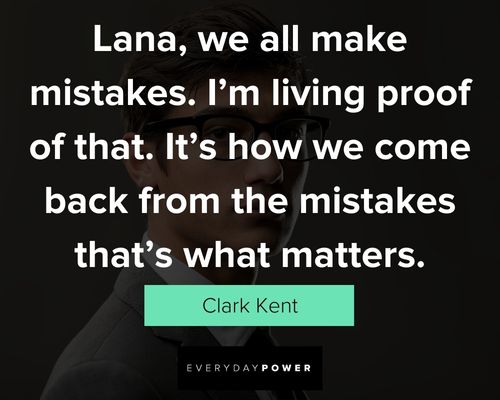 25. "Oh yeah. Joining the football team and pouring some coffee. We're a couple of real rebels." — Clark Kent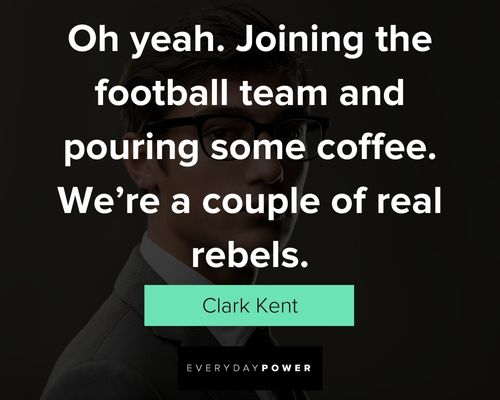 Which of these Smallville quotes is your favorite?
The series is a simple and elegant story about Superman before he became superman.
The show also gives an exciting background to the character of Lex Luthor, Superman's nemesis, by setting him as Clark Kent's close friend that gradually turned archenemy.
This series further explores and defines Lex Luthor's role as Superman's dual opposite; deprived of compassion and using his superior intelligence for selfish gains.
Fans of the series grew fond of the characters, especially Clark Kent, as we saw him mature and become the world's greatest protector.
Having prequel spin-offs of iconic Superheroes are always welcome for comic book fans.
So, after reading these Smallville quotes and sayings, why not watch other DC superhero series with your friends today?