20 Stacey Abrams Quotes from the Georgia Governor Hopeful
Learn more about the Georgia Governor hopeful in these Stacey Abrams quotes.
Stacey Abrams is a member of the Democratic Party who is running in the 2022 election to be the Georgia governor.
She served in the Georgia House of Representatives from 2007 to 2017 and as the Minority Leader from 2011 through July 2017.
Abrams is known for being a voting rights activist and worked to help increase voter turnout for the 2020 election, helping Biden win in Georgia.
She previously ran as the first African-American gubernatorial nominee for a major party in 2018.
She lost the election but wouldn't concede.
Instead, Abrams accused the winner of committing voter suppression. However, no evidence was found backing her claims.
You can learn more about her thoughts and opinions in these Stacey Abrams quotes.
If you like this article, we suggest you explore our most popular quotes article, a list of short inspirational quotes for daily encouragement.
Check out more inspirational quotes on our motivational quotes category page.
Inspirational Stacey Abrams quotes
We are the only ones who can truly make a difference for ourselves in life. These quotes may provide you with inspiration to make a difference.
1. "Do not allow setbacks to set you back." ― Stacey Abrams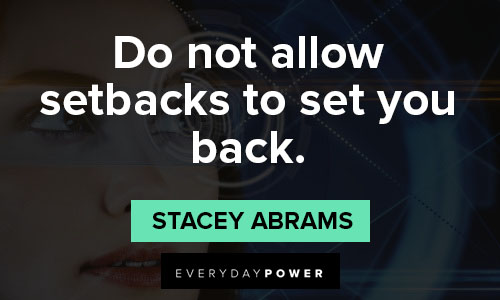 You will also enjoy our article on quotes about voting.
2. "The way to win is to try." ― Stacey Abrams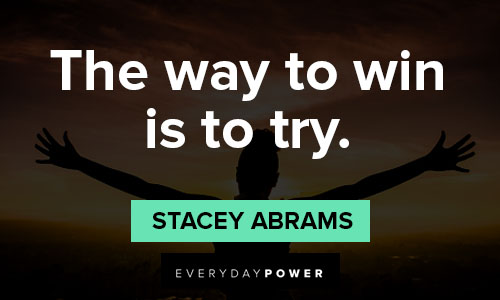 You will also enjoy our article on Klaus Mikaelson quotes.
3. "As a writer and former elected official, I believe in the power of words." ― Stacey Abrams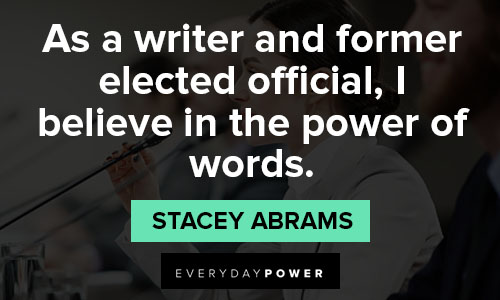 4. "Progress is possible, but it is fragile, and across our country, the battles for our most basic civil rights rage on." ― Stacey Abrams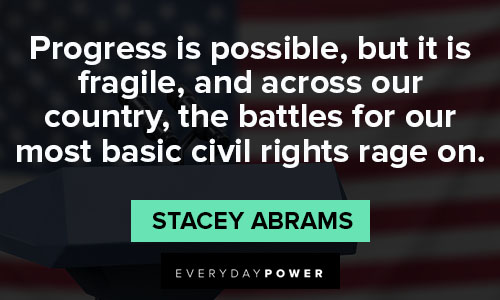 5. "We're too often told that our mistakes are ours alone, but victory is a shared benefit." ― Stacey Abrams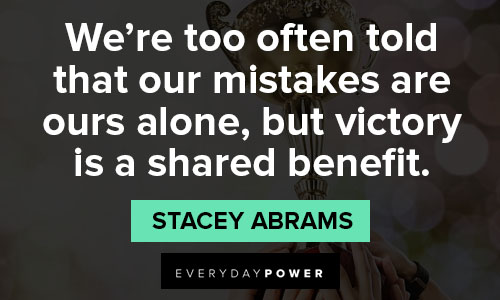 6. "Because I learned long ago that winning doesn't always mean you get the prize. Sometimes you get progress, and that counts. " ― Stacey Abrams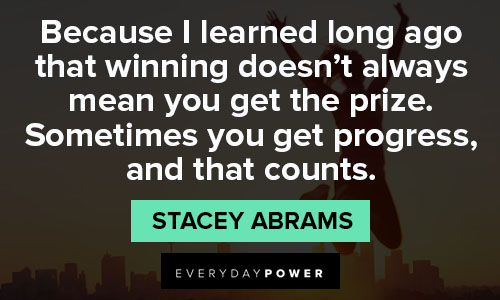 7. "I'm not going to do class warfare; I want to be wealthy." ― Stacey Abrams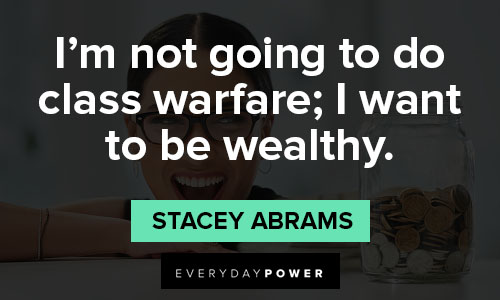 8. "My life has always been about making certain I accrue the skills necessary to make my ambitions real." ― Stacey Abrams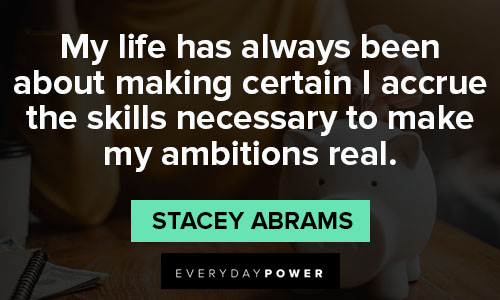 9. "We must cease being participants in our own oppression." ― Stacey Abrams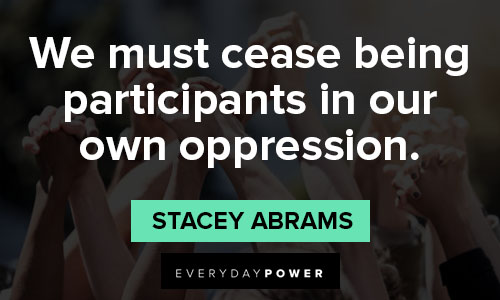 10. "I believe we need leaders who actually want to lead everyone." ― Stacey Abrams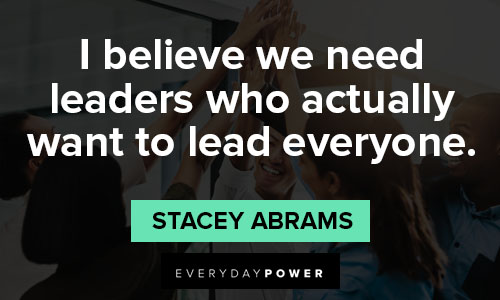 Stacey Abrams quotes from the candidate
Politicians are required to speak on many different topics. Here are some thoughts shared by Stacey Abrams.
11. "Financial independence gives us the power to decide our futures and liberate our conception of what's possible." ― Stacey Abrams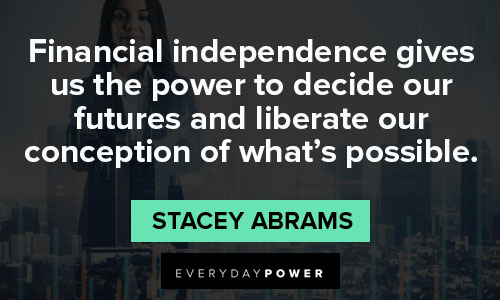 12. "Admitting mistakes is a fundamental skill too few of us learn. In part, this is because we've been taught it's wrong to be wrong." ― Stacey Abrams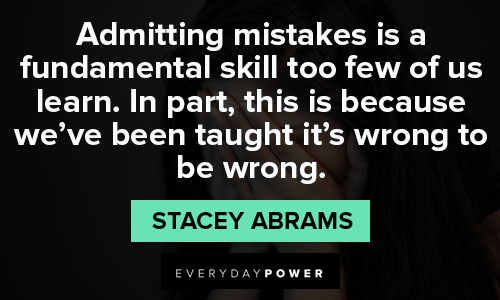 13. "To achieve our goals of educating bold and ambitious children, we must invest in enriching, quality early child care and learning." ― Stacey Abrams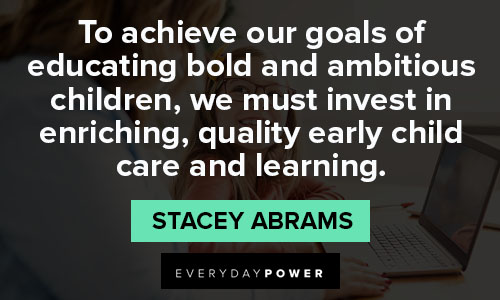 14. "When you're focused on your enemy, then you are ignoring your allies." ― Stacey Abrams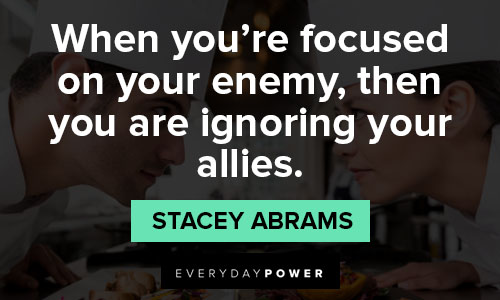 15. "I grew up in a family where my parents worked full-time and still found themselves and their six children trapped like so many of the working poor." ― Stacey Abrams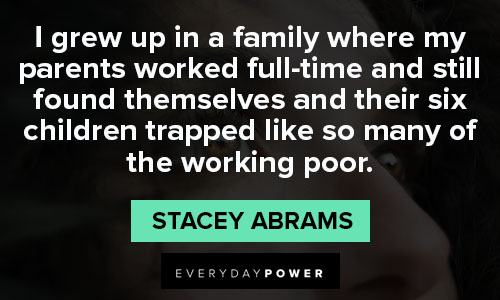 16. "I got into my first fight, Democrat versus Republican, in second grade. I won." ― Stacy Abrams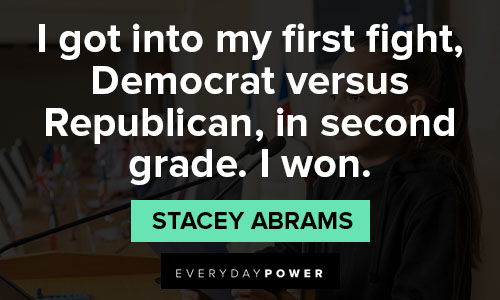 17. "When people doubt your right to be somewhere, the responsibility falls on you to prove over and over again that you deserve to be there." ― Stacey Abrams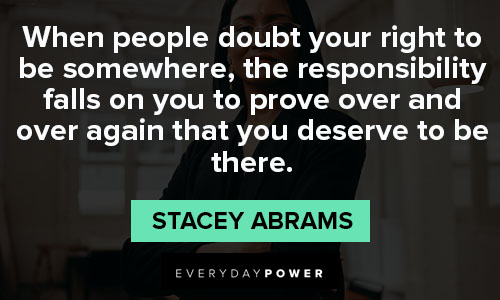 18. "We live in a nation that spent centuries denying the right to vote to the poor, to women, and to people of color." ― Stacey Abrams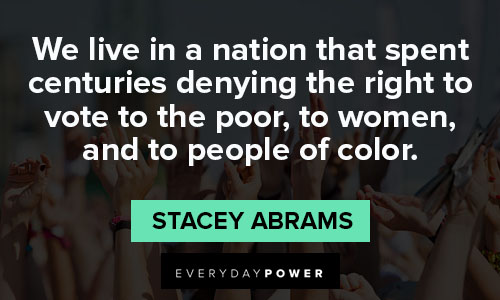 19. "To make a good decision, you actually need to think about it, the contours and the consequences." ― Stacey Abrams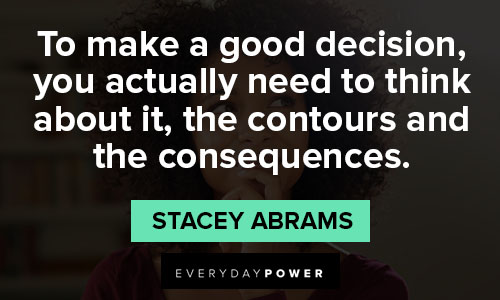 20. "We can use words to uplift and include. We can use our words to fight back against oppression and hate. But we must also channel our words into action." ― Stacey Abrams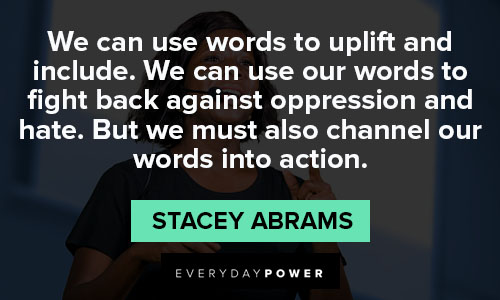 Did these Stacey Abrams quotes help you know her better?
Stacey Abrams' political career began when she was 29 years old when she took the position of deputy city attorney in Atlanta.
In 2019, she became the first African-American woman to provide a response to the State of the Union address.
She was also the only person to do so who was not currently holding an office.
Abrams is now running her campaign, sharing the slogan, "A stronger Georgia begins now."
She is a supporter of abortion rights and gun control.
While she has spoken out about how strict voter ID laws could be unfair to poor and minority communities, she does support voters needing to verify their identities.
She is also focused in the 2022 election on expanding Medicaid.
Abrams has also written and published articles and fiction and nonfiction books.
Which of the Stacey Abrams quotes above stand out to you the most? Share your thoughts in the comments.