25 Steel Magnolias Quotes From Hit Comedic Drama
These quotes from Steel Magnolias remind us why this film about love and friendship will always be in our hearts.
Steel Magnolias is a comedy-drama about a group of women who are both as tough as steel and as delicate as the magnolia flower.
Herbert Ross adapted the screenplay from Robert Harling's stage play of the same name.
Harling wrote the play about a group of close friends in the American South, the bond they share, and how they cope with the death of one of their own.
The play was inspired by Harding's real-life experience of losing his sister from Type 1 Diabetes.
Chock-full of southern humor, endearing friendships, and painful heartache, Steel Magnolias is a beautiful reflection of life and a film that will remain in our hearts forever.
Don't forget to also check out these Clueless quotes from the 90s classic comedy.
If you like this article, we suggest you explore our most popular quotes article, a list of short inspirational quotes for daily encouragement.
Look through our complete collection of inspirational quotes here.
Steel Magnolias quotes from M'Lynn
1. "If he's trying to drive me crazy, it's too late." — M'Lynn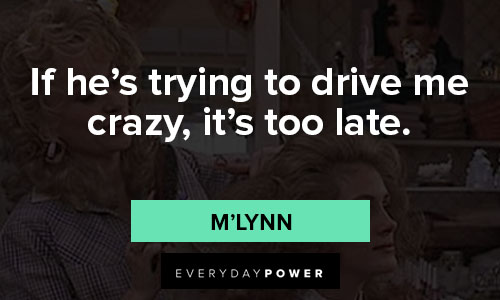 2. "I find it amusing. Men are supposed to be made out of steel or something." — M'Lynn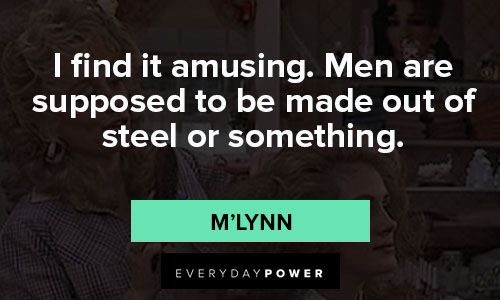 3. "I just sat there. I just held Shelby's hand. There was no noise, no tremble, just peace. Oh god. I realize as a woman how lucky I am. I was there when that wonderful creature drifted into my life and I was there when she drifted out. It was the most precious moment of my life." — M'Lynn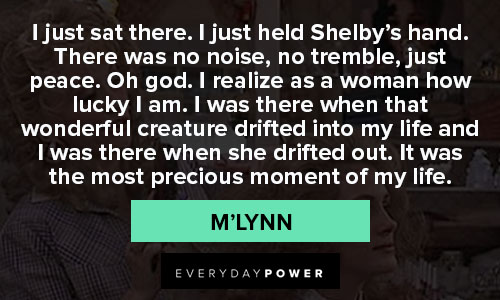 Steel Magnolias quotes from Truvy
4. "It takes some effort to look like this." — Truvy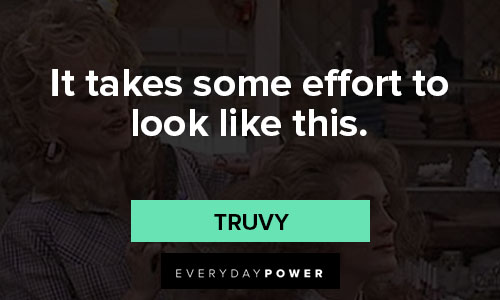 5. "Smile – it increases your face value." — Truvy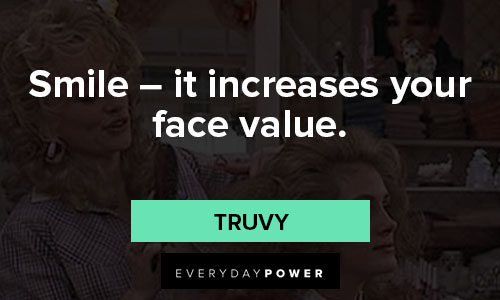 6. "I can usually spot a bottle job at 20 paces." — Truvy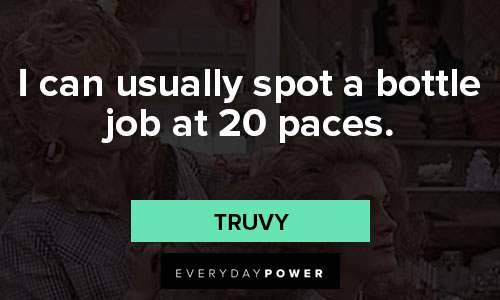 7. "I kind of like hiring somebody with a past." — Truvy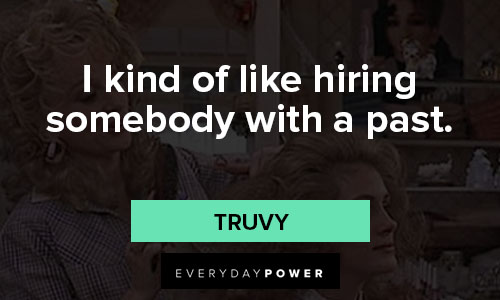 8. "I have a strict policy that nobody cries alone in my presence." — Truvy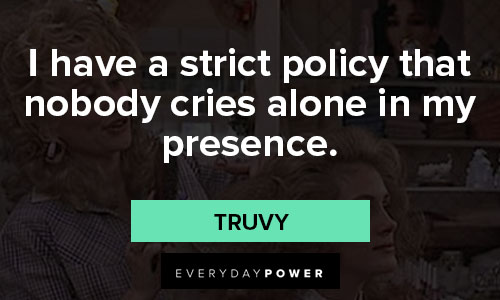 9. "I haven't left the house without lycra on these thighs since I was 14." — Truvy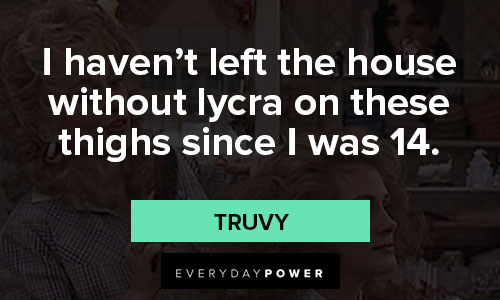 10. "I don't trust anybody who does their own hair. I don't think it's normal." — Truvy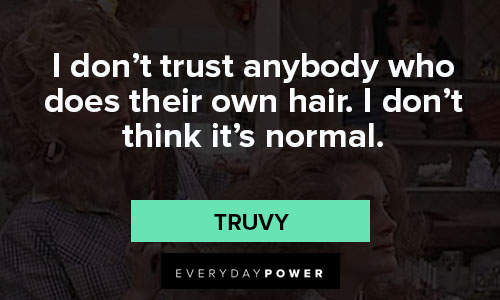 11. "This is the eighties. If you can achieve puberty, you can achieve a past." — Truvy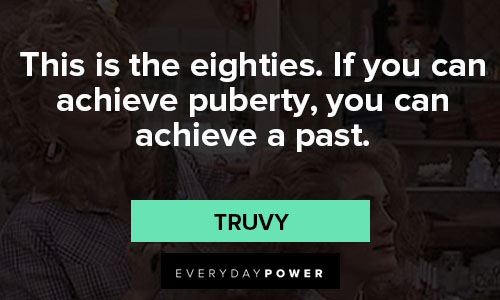 12. "The nicest thing I can say about her is that all her tattoos are spelled correctly." — Truvy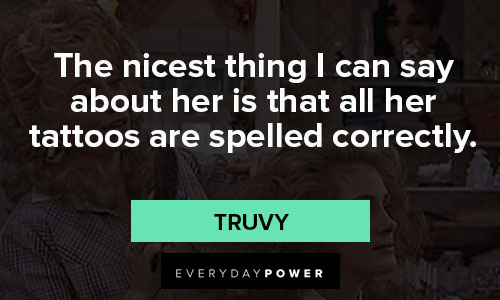 13. "Honey, time marches on and eventually you realize it's marching across your face." — Truvy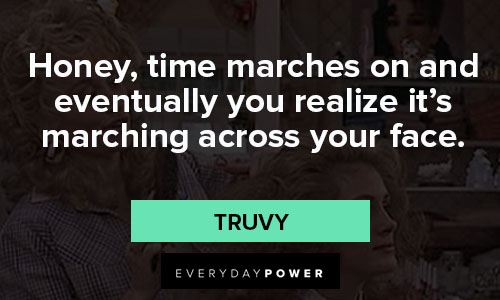 14. "Sammy's so confused he don't know whether to scratch his watch or wind his butt." — Truvy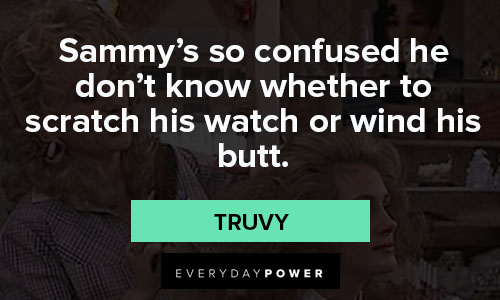 Steel Magnolias quotes from Ousier
15. "Ugh, leave me alone." — Ousier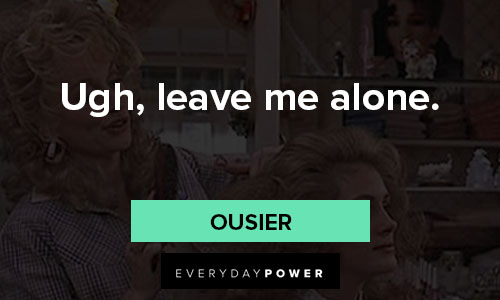 16. "Don't try to get on my good side, I no longer have one." — Ousier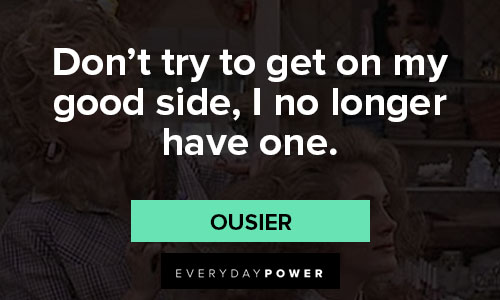 17. "I'm not crazy, I've just been in a very bad mood for 40 years." — Ousier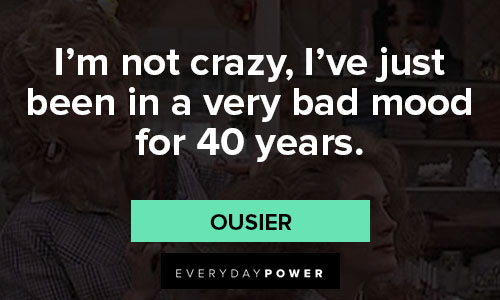 18. "There, my secret is out. I am having an affair with a Mercedez Benz." — Ousier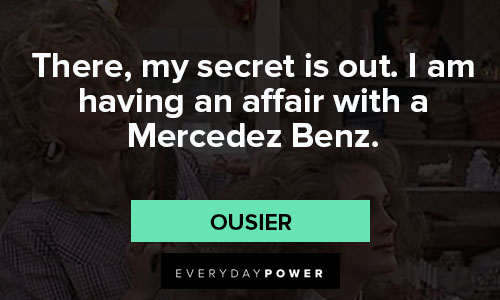 19. "The only reason people are nice to me is because I have more money than God." — Ousier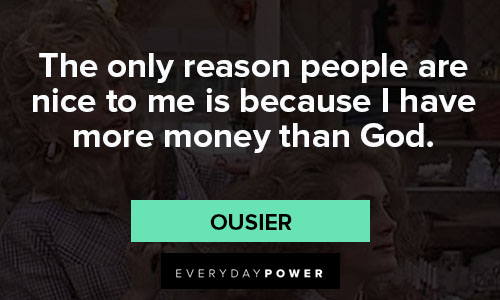 20. "I'm pleasant. Damn it! I saw Drum Eatenton at the Piggly Wiggly this morning, and I smiled at the son of a bitch 'fore I could help myself." — Ousier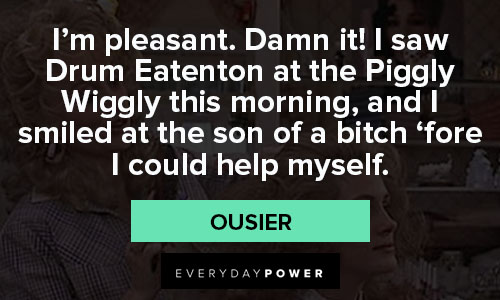 21. "Well don't you expect me to come to one of your churches or one of those tent-revivals with all those Bible-beaters doin' God-only-knows-what! They'd probably make me eat a live chicken!" — Ousier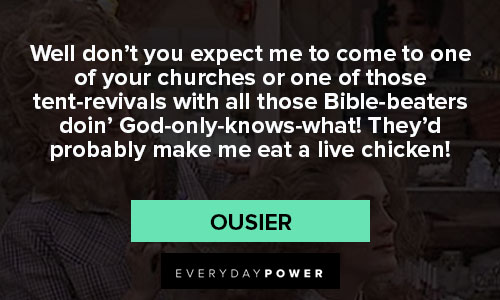 22. "I do not see plays, because I can nap at home for free. And I don't see movies 'cause they're trash, and they got nothin' but naked people in 'em! And I don't read books, 'cause if they're any good, they're gonna make 'em into a miniseries." — Ousier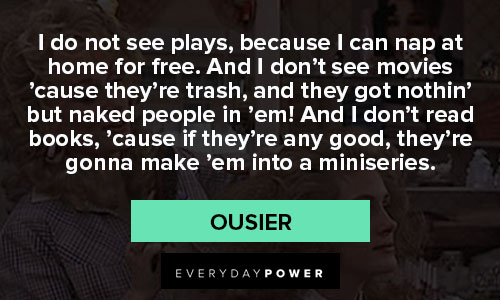 Steel Magnolias quotes from Clairee
23. "I'm too colorful for words." — Clairee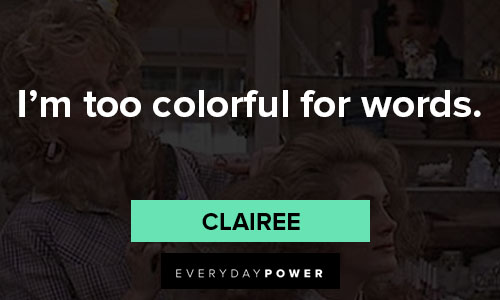 24. "You know I love you more than my luggage." — Clairee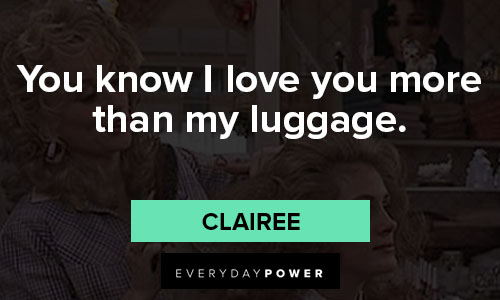 25. "I really do love football, but it's hard to parlay that into a reason to live." — Clairee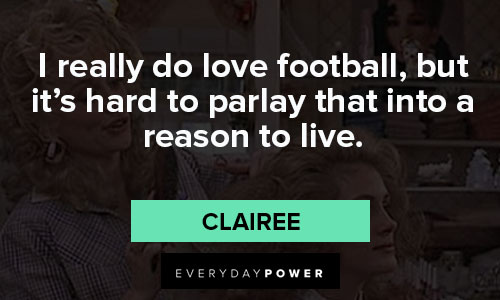 Which Steel Magnolias quote is your favorite?
In addition to a plethora of quotable lines, Steel Magnolias is also filled with an all-star cast.
Without Dolly Parton as Truvy, Sally Field as M'Lynn, Julia Roberts as Shelby, Shirley MacLaine as Ousier, Olympia Dukakis as Clairee, and Daryl Hannah as Annelle, the film wouldn't be quite as memorable.
These great actresses showed us the importance of love and friendship and how powerful bonds can help you get through the unforeseen tragedies that life likes to throw our way.
Did you enjoy these Steel Magnolias quotes and lines?
Which quote was your favorite?
Let us know in the comments below.