25 Clueless Quotes From The 90s Classic Comedy
Think you can find better Clueless quotes than these?
Ugh, as if.
It's been more than 25 years since Cher Harowitz and her besties enchanted our lives through the silver screen.
Since then, Clueless went from hit 90s teen comedy to totally classic.
After all, what's not to love about a film filled with iconic fashion, radical slang, and all the drama that comes with being a teenager?
This film, written by Amy Heckerling, starring Alicia Silverstone, and based on the Jane Austin novel, Emma, holds a special place in all of our hearts.
And what better way to celebrate than with these totally classic quotes?
Released in July 1995, Clueless received positive reviews from critics and is considered to be one of the best teen films of all time.
It grossed $56.6 million in the United States during its theatrical run, making it the 32nd-highest-grossing film of 1995.
Enjoy these Clueless quotes, and don't forget to mention your favorite in the comment section below.
Don't forget to also check out these Spaceballs quotes from the ridiculous comedy.
Also, check out our most popular quote article, a list of short inspirational quotes for daily wisdom.
See the rest of our quote database for even more inspirational ideas and thoughts.
Totally classic Clueless quotes
1. "Ugh, as if!" ― Cher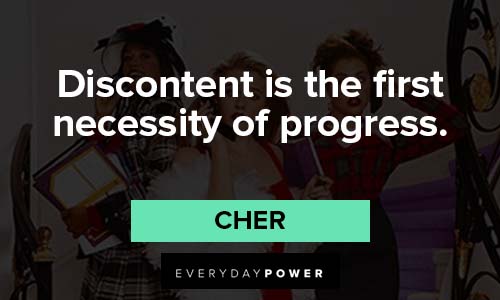 You will also enjoy our article on Shrek quotes.
2. "I was just totally clueless." — Cher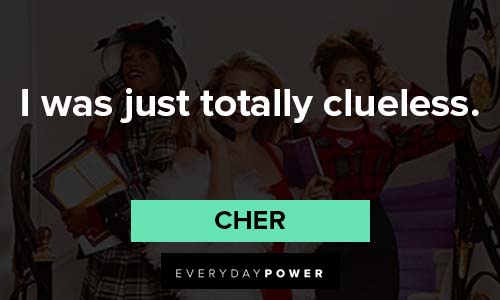 You will also enjoy our article on Grease quotes.
3. "I totally paused." — Cher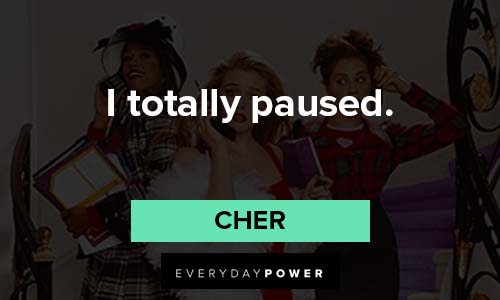 You will also enjoy our article on Big Mouth quotes.
4. "May I please remind you that it does not say 'RSVP' on the Statue of Liberty." ― Cher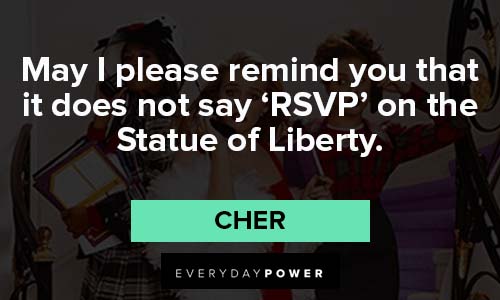 You will also enjoy our article on Taxi Driver quotes.
5. "You're a virgin who can't drive." ― Tai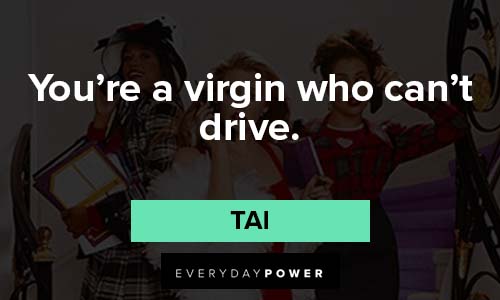 You will also enjoy our article on 10 things i hate about you quotes.
6. "Rollin' with the homies." ― Tai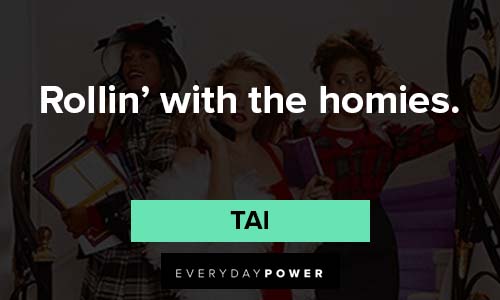 7. "No, she's a full-on Monet. It's like a painting, see? From far away, it's OK, but up close, it's a big old mess" ― Cher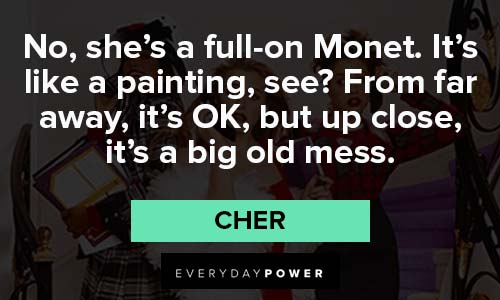 8. "Dude, what's wrong. You suffering from buyers remorse or something?" ― Dionne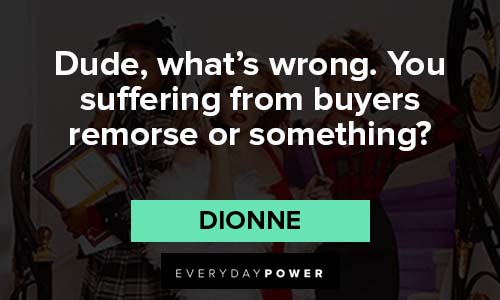 9. "Dionne and I were both named after great singers of the past who now do infomercials." ― Cher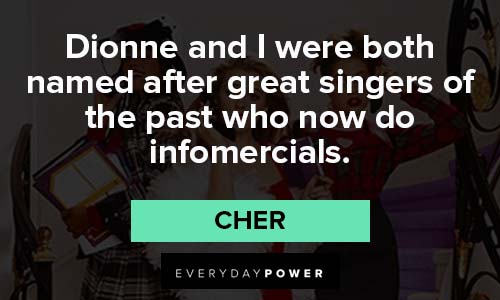 10. "I'm audi." ― Cher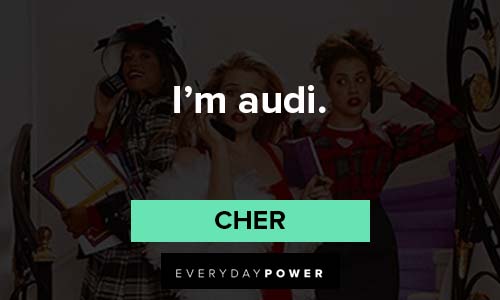 Best Clueless quotes from Cher
11. "Suddenly a dark cloud settled over first period… I got a C in debate?" ― Cher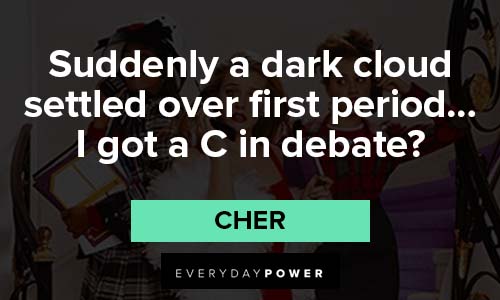 12. "Oh my god, I am totally buggin'." ― Cher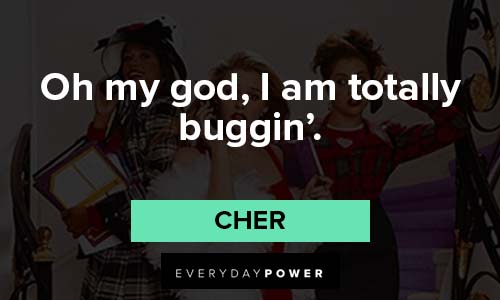 13. "Until mankind is peaceful enough not to have violence on the news, there's no point in taking it out of shows that need it for entertainment value." ― Cher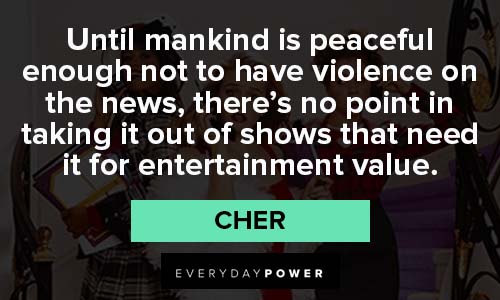 14. "Do you prefer fashion victim or ensembly challenged?" ― Cher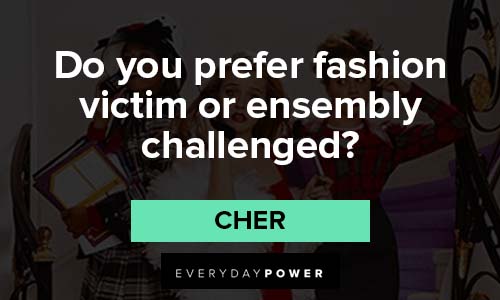 15. "She's my friend because we both know what it's like to have people be jealous of us." ― Cher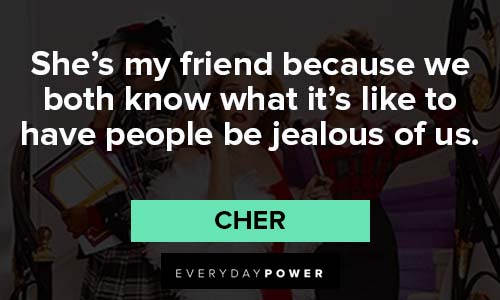 16. "You see how picky I am about my shoes and they only go on my feet." — Cher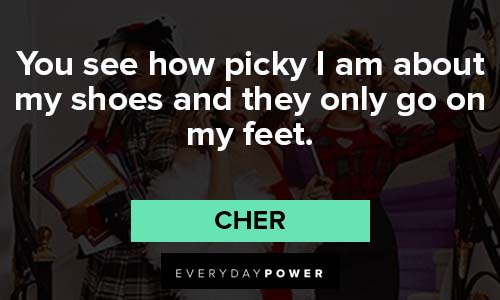 17. "I feel like such a bonehead." ― Cher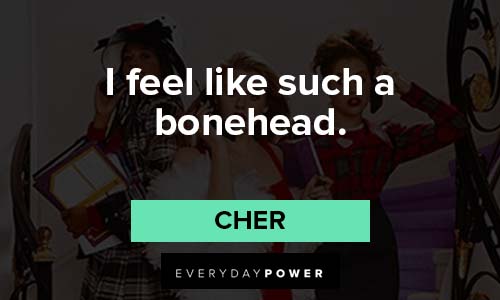 18. "I was surfing the crimson wave. I had to haul ass to the ladies." ― Cher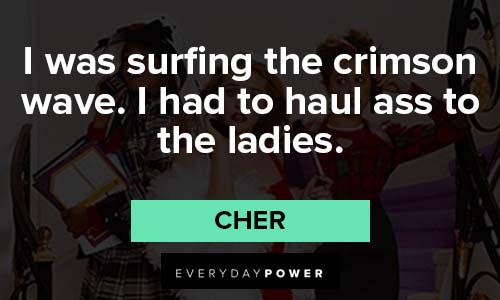 19. "Sometimes you have to show a little skin. This reminds boys of being naked, and then they think of sex. And anything you can do to draw attention to your mouth is good." — Cher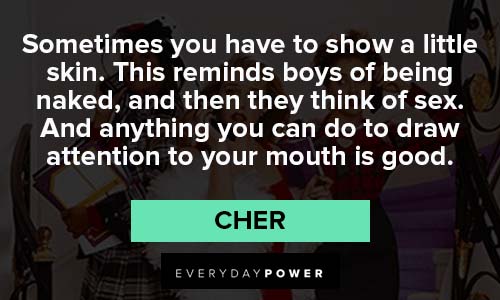 20. "You are a snob and a half." ― Cher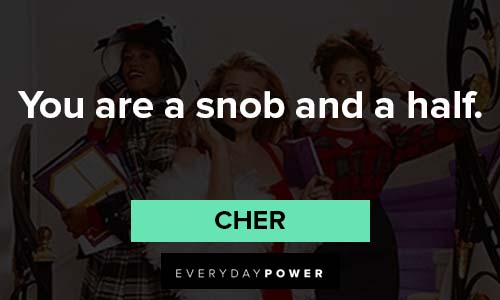 Other Clueless quotes from Cher
21. "I'm not a prude, I'm just highly selective." ― Cher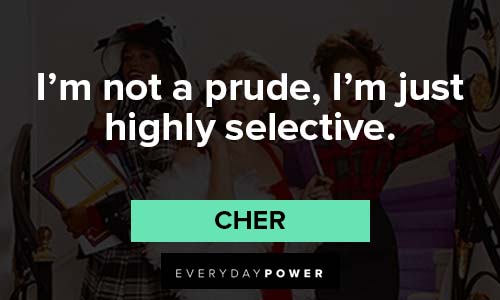 22. "Isn't my house classic? The columns date all the way back to 1972." — Cher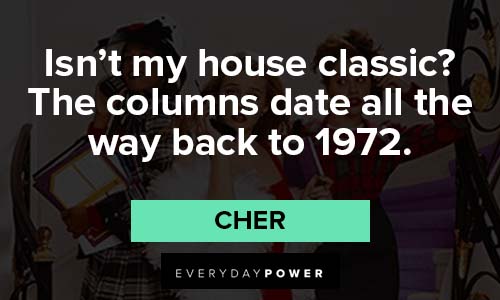 23."I am totally butt crazy in love with Josh." ― Cher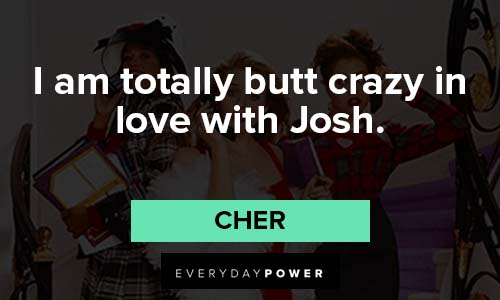 24. "Searching for a boy in high school is as useless as searching for meaning in a Pauly Shore movie." — Cher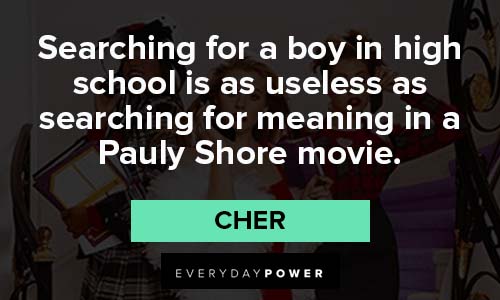 25. "Everything I think and everything I do is wrong." ― Cher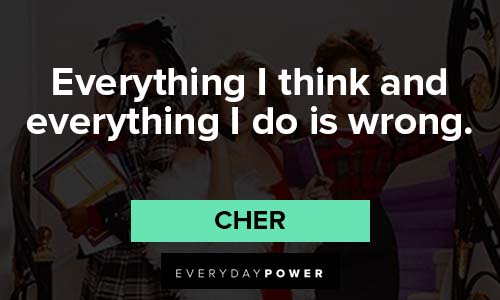 What do you think is the most quotable line from Clueless?
It's a common Hollywood strategy to take an old story and put some sort of modern twist on it.
For some films, this strategy works really well.
Just take a look at modern classics like 10 Things I Hate About You (based on Shakespeare's The Taming of the Shrew) and Bridget Jones' Diary (based on Jane Austin's Pride and Prejudice).
And, for others, not so much.
Looking at you, She's The Man (based on Shakespeare's Twelfth Night).
Clueless is one of those films that sits at the top of that success pile.
Heckerling put a refreshingly original twist on a classic story and made it her own.
Charming, witty, inspirational, and heartwarming, Clueless has everything iconic films are made of.
Did you enjoy these Clueless quotes and lines?
Which quote was your favorite?
Let us know in the comments below.