Top 10 Success Blogs for Motivation and Inspiration
January 25, 2017 12:00 AM EST | 4 min read
Listen to article
4 minutes
Success is a journey and not a destination.
On this journey, we encounter stop signs, road blocks, breakdowns etc.
These are times we need some sort of direction and motivation to propel us to keep moving forward, until we attain our own definition of success.
Below are 10 successful blogs featuring motivational articles, interviews, quotes, and videos from our favorite celebrities, inspirational icons, and entrepreneurs.
Check them out and see how they can help you on the road to success.
Top 10 Successful Blogs on Motivation and Inspiration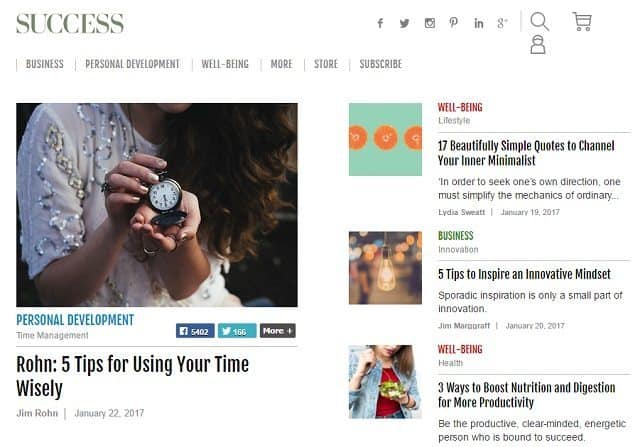 This blog gives all the tools you need to move from your current level to abundant success.
Featuring lessons from successful tycoons such as Oprah Winfrey, Richard Branson, Bill Gates, it aims to give its reader insightful tips on how these people think, work, live and how we can learn from them and see improvement in our lives.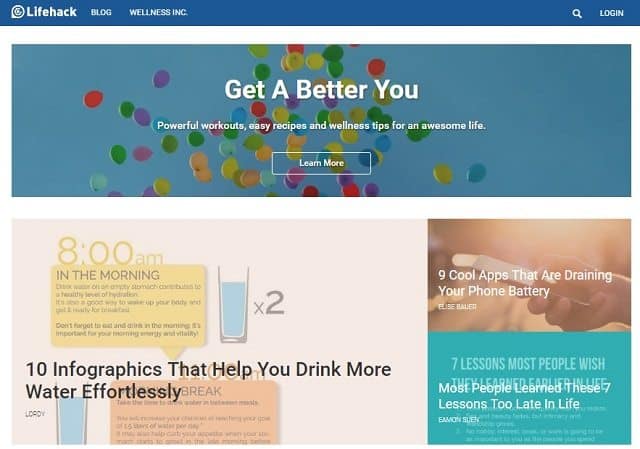 This site provides all the tools one needs to live a fulfilling life.
It has been ranked #1 in the top personal development blogs of 2016, covering inspirational and educational articles on various aspects of life: from career, to entrepreneurship, education, and family life.
As one of the most successful blogs, it does not limit success to just finances, but also to our relationships, health, and spiritual life.
Check out this popular post: Removing These 8 Things from Life Can Make You More Successful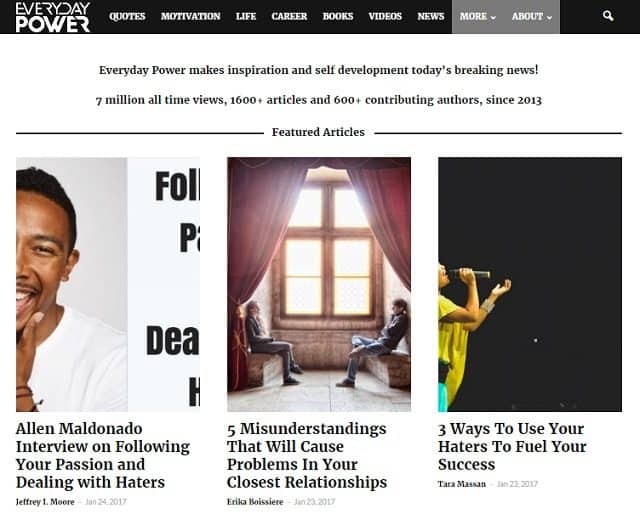 This blog thrives in making inspiration and self-development today's breaking news.
It covers motivational quotes, articles, and videos you need to truly succeed in every area of your life.
Founded by Jeffrey Moore in 2013, it has an all-time view of 7 million with 1,600 articles and 600+ contributing authors, all working to serve a common goal of inspiring and empowering people – regardless of their geographic location or socio-economic status.
Check out this popular post: Inspirational Quotes for Kids to Inspire Their Best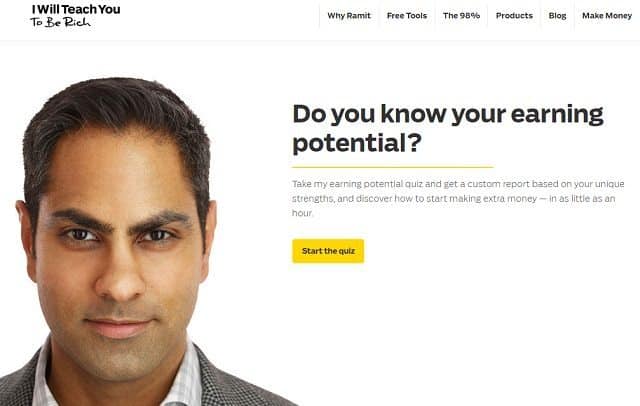 Founded by best-selling author, Ramit Sethi, he provides expert advice and coaching on what it takes for one to build a profitable business and thrive in a desired career path.
Check out this popular post: The 3 Easiest Ways To Make More Money
5. Motivation Grid

Ranked for the past two years by numerous publications as one of the successful blogs in the world, it features positivity and inspiring articles to help just about anyone turn their dreams into a reality.
Check out this popular post: What Sochi Winter Olympics Can Teach You About Being Your Best
6. Success Fastlane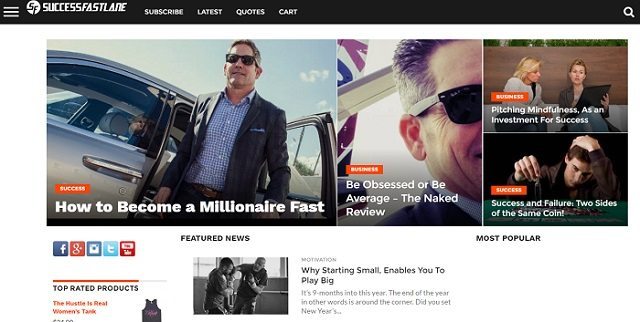 It's for all who are sick and tired of being mediocre and are ready to take that leap of faith towards exponential success.
It provides the tools you need to move from a level of mediocrity to greatness, with articles you don't want to miss.
Check out this popular post: Be Obsessed or Be Average – The Naked Review
7. Wealthy Gorilla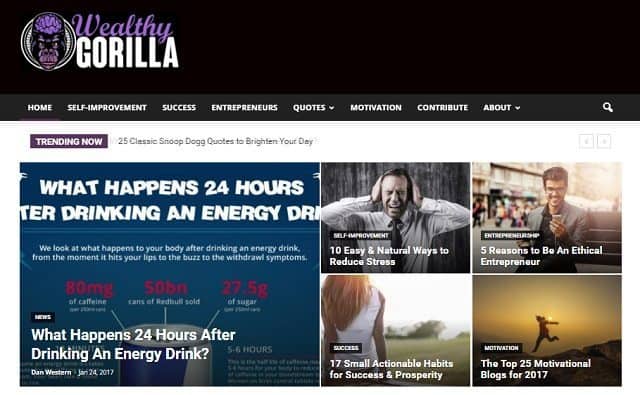 Featuring self-improvement articles, advice for entrepreneurs, and motivational quotes, this website founded by Dan Western seeks to help and inspire people to live a life they love, achieve their dreams, and fulfil their true potential.
Check out this popular post: 21 Top Influencers Share their Advice on How to Achieve Your Goals In 2017
8. ZenHabits.net
Founded by Leo Babuta, this is one of the most successful blogs that gives insights on what it takes to live a happy life amidst challenges and demands.
It looks at how our habits play an instrumental role in the outcome of our lives.
Check out this popular post: A Guide to Overcoming Procrastination and Finding Focus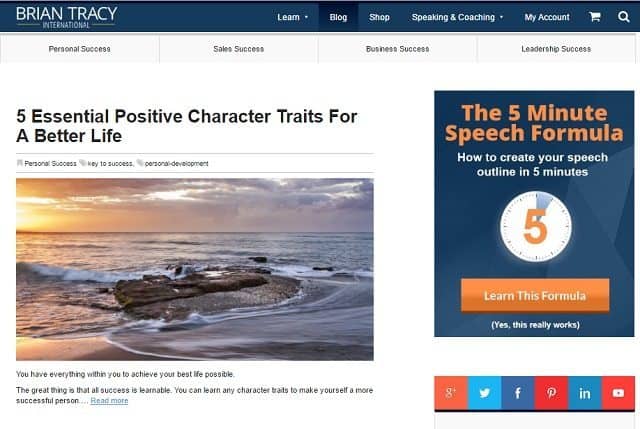 Known as one of the top life coaches and motivational speakers, Brian Tracy aims to provide blog readers with all the lessons he has learned from his interactions with titans, as well as his experience with millions of individuals around the world.
He has webinars and events open to all who are desperate for a life-change!
Check out this popular post: How To Turn a Negative Situation Into a Positive One
10. Addicted2Success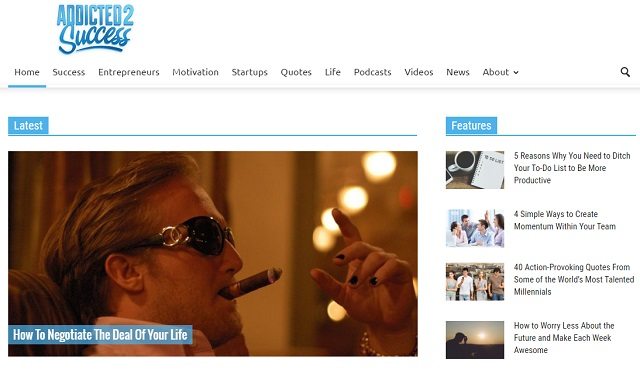 Founded by Joel Brown in 2011 as a result of his love for entrepreneurship, self-development, and success, this blog as the name suggests, gives meaningful steps on what it takes to become successful.
It features motivational videos, interview audios of successful entrepreneurs, celebrities, and motivational figures.
Check out this popular post: The 9 Habits of Highly Effective Leaders Who Outperform The Rest
Which of these successful blogs on motivation would you bookmark today?
What is your favorite blog on success?
Which blogs did I miss out?
I would love to know!
Leave your thoughts in the comment section below.