Road Quotes to Contemplate on Your Journey
Each of these 50 road quotes will inspire and remind you that even when the path seems difficult it can have beautiful results.
There are a ton of analogies about roads:
life is like a road
the road to success
the road less traveled
hard roads
You may also enjoy our article on:
What are the benefits of reading these road quotes?
Each of us has challenges and things that can create "roadblocks" on the path to happiness if we allow them to derail our progress.
Progress itself is relative.
Some people run races along the road and others take a leisurely stroll.
Some people use a map, while others have an atlas.
Then there are people who just take off into the great unknown.
There really is no right answer, as those who run through quickly will get to see more of the road, and not miss anything before their time runs out.
The one who walks slowly will get to experience the beauty of some things the racer might have missed.
Then there are those people who will take a completely different path and see a completely different scene.
No matter who you are, I hope you find some motivation to continue to travel, or change roads in these quotes!
Don't forget to also read these journey quotes celebrating your path to greatness.
If you like this article, we suggest you explore our most popular quotes article, a list of short inspirational quotes for daily encouragement.
Check out more inspirational quotes on our motivational quotes category page.
Road quotes about life
1. "Life is not always perfect. Like a road, it has many bends, ups, and downs, but that's its beauty." ― Amit Ray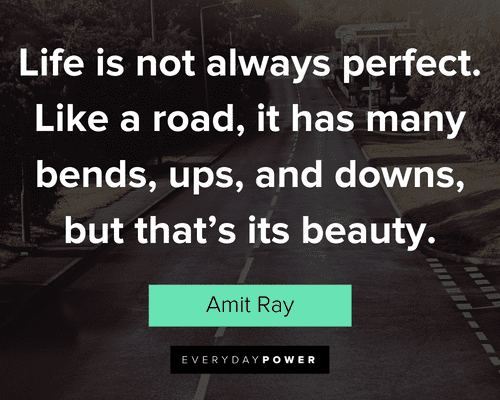 You will also enjoy our article on walking quotes.
2. "They say life is a highway and we all travel our own roads, some good, some bad, yet each is a blessing of its own." ― Jess "Chief" Brynjulson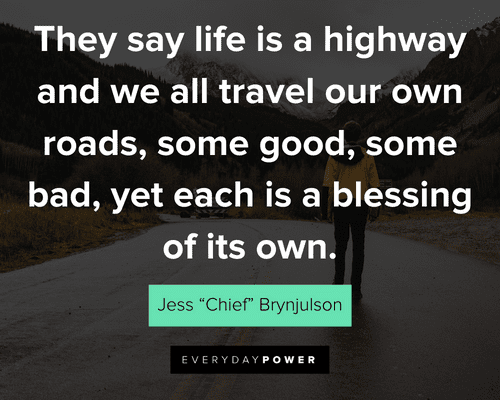 You will also enjoy our article on running quotes.
3. "Love is this road we call life." ― Wald Wassermann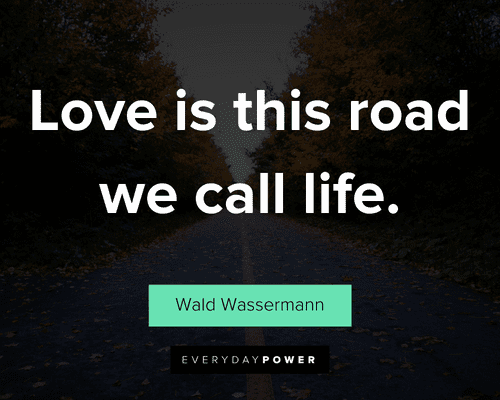 You will also enjoy our article on Rocky quotes.
4. "Life's a one-way road, Don't just stand next to it and wait to get a pick-up back." ― Wouter Van Gastel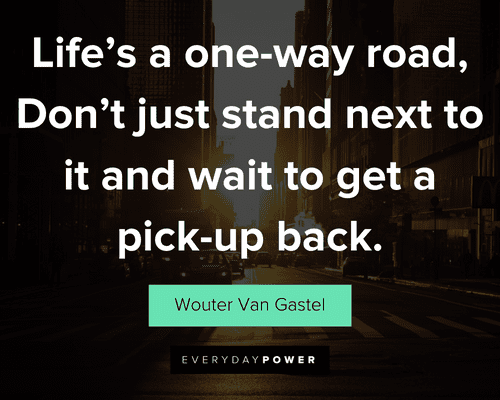 You will also enjoy our article on motorcycle quotes.
5. "Life is one big road with lots of signs. So when you are riding through the ruts, don't complicate your mind. Flee from hate, mischief, and jealousy. Don't bury your thoughts, put your vision to reality. Wake Up and Live!" ― Bob Marley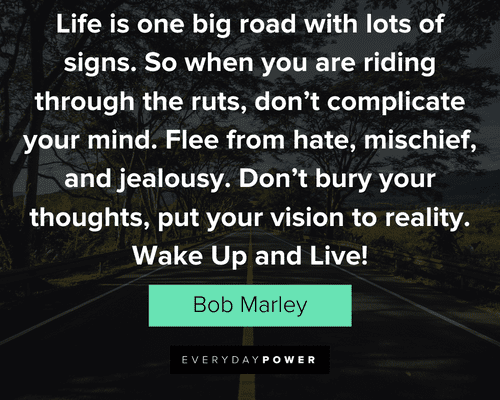 You will also enjoy our article on fog quotes.
Road quotes about the path to success
6. "The road to success is always under construction." ― Steve Maraboli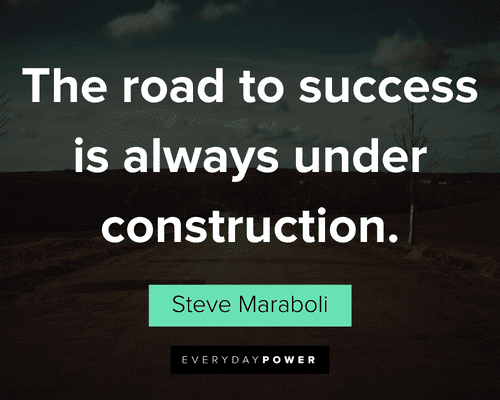 You will also enjoy our article on tire quotes.
7. "Failure, loss and defeat are just mile markers on the road to success." ― Jeffrey Fry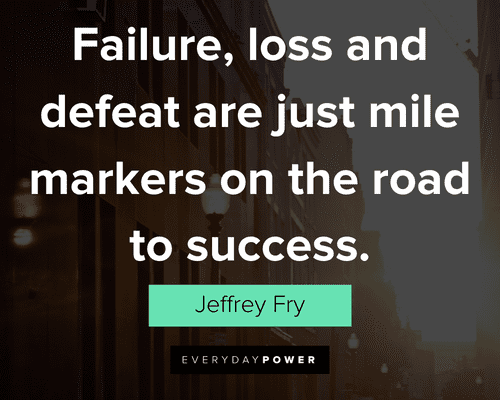 You will also enjoy our article on meaningful quotes.
8. "It is usually the roughest road that leads to the heights of greatness." ― Ziad K. Abdelnour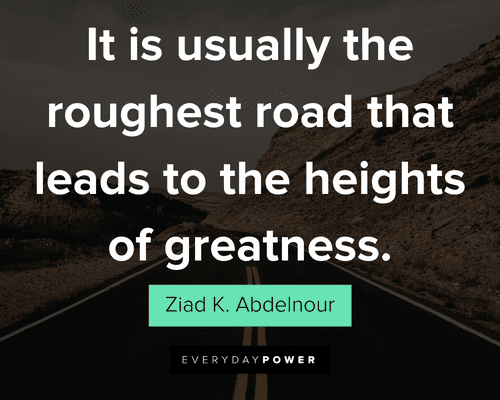 You will also enjoy our article on jeep quotes.
9. "Failures, repeated failures, are finger posts on the road to achievement. One fails forward toward success." ― C. S. Lewis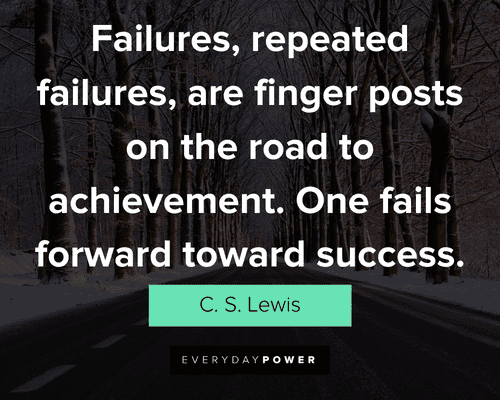 You will also enjoy our article on future quotes.
10. "The road to success is built up as you travel, its blueprint never exists." ― Vikrmn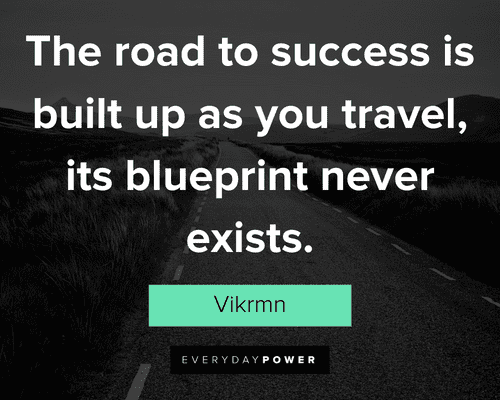 You will also enjoy our article on bridge quotes.
11. "You know you are on the road to success if you would do your job, and not be paid for it." ― Oprah Winfrey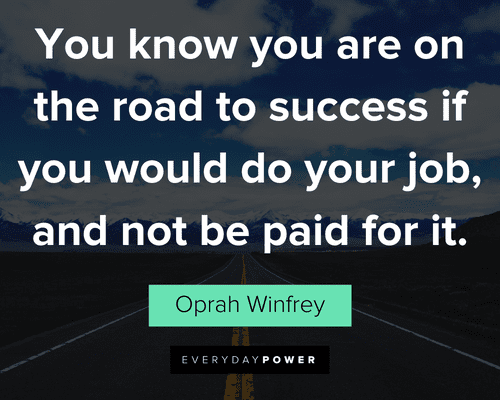 You will also enjoy our article on keep pushing quotes.
12. "Many past mistakes pave the road to future discoveries." ― Steven Magee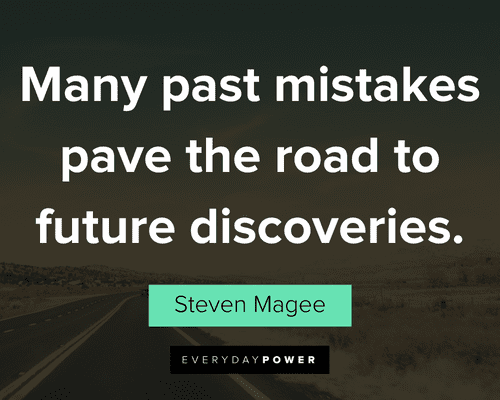 You will also enjoy our article on BTS quotes.
13. "Concentrate on the road ahead, not on the road behind!" ― Mehmet Murat ildan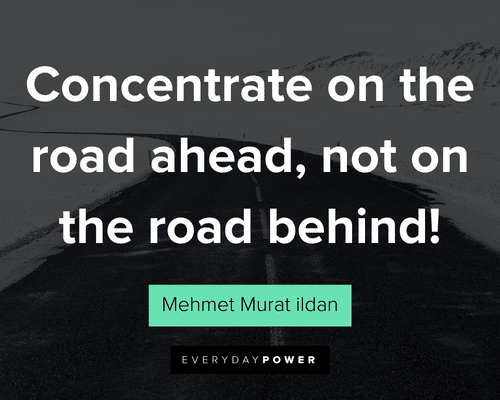 Hard road quotes
14. "If you don't go to very difficult roads, you will only reach places where everyone reaches!" ― Mehmet Murat ildan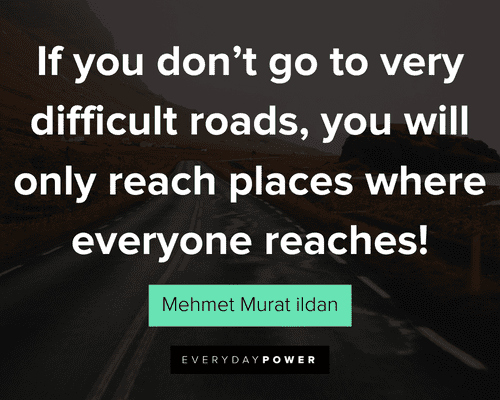 You will also enjoy our article on engineering quotes.
15. "The most dangerous roads are those that provide sea level adapted humans rapid ascent to very high altitudes." ― Steven Magee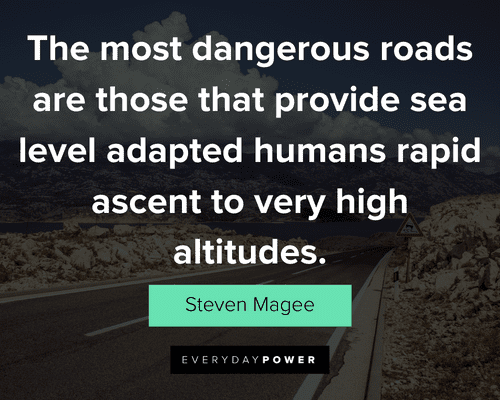 You will also enjoy our article on savage quotes.
16. "The road to fulfillment is never a straight one nor free of obstacles or debris." ― Jeffrey Duarte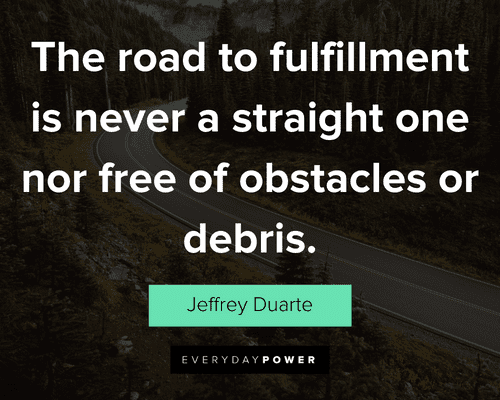 You will also enjoy our article on road quotes.
17. "The road may be rough, the journey may be tough and the experience may be bitter, but they are stepping stones to our future thrones." ― Bamigboye Olurotimi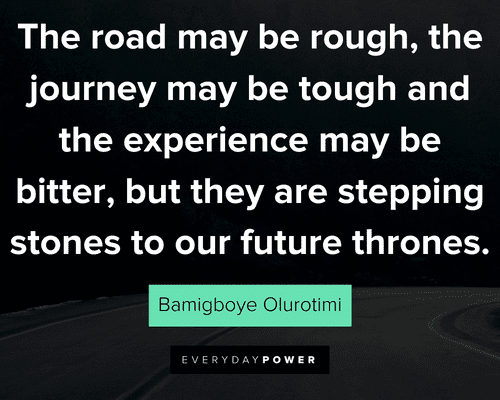 18. "All roads are tough, but you have to choose the one you know you'll never be sorry for taking." ― Chris Burkmenn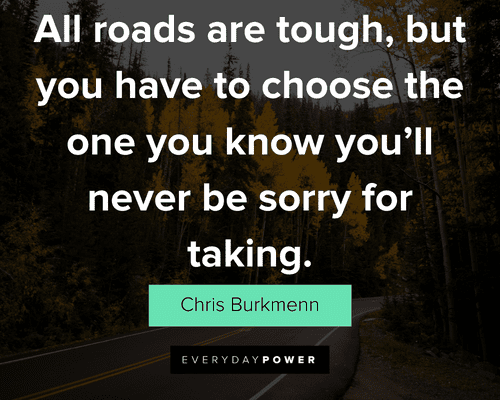 19. "Any road, smooth and straight leads to everywhere but important." ― Vincent Okay Nwachukwu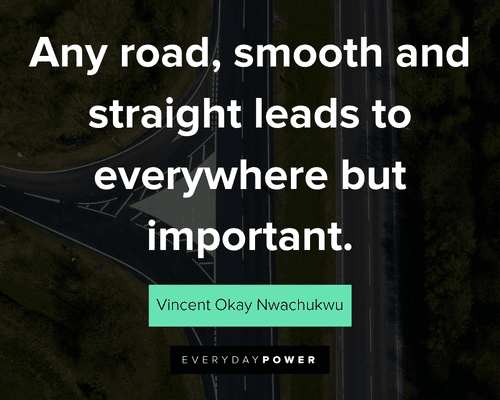 20. "If you have men who will only come if they know there is a good road, I don't want them. I want men who will come if there is no road at all." ― David Livingstone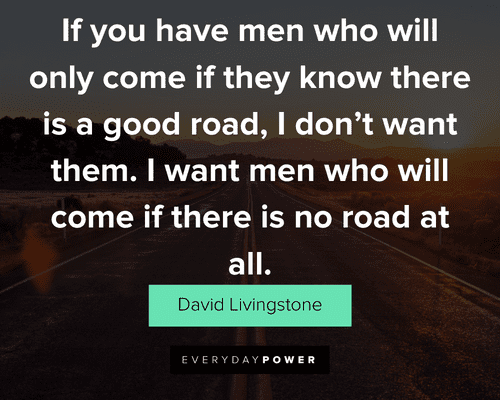 21. "My favorite road I've ever been on ain't paved." ― Viktor Tatarczuk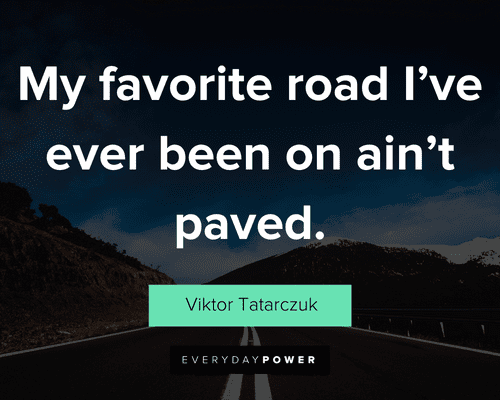 22. "Why does every road eventually narrow into a point at the horizon? Because that's where the point lies." ― Vera Nazarian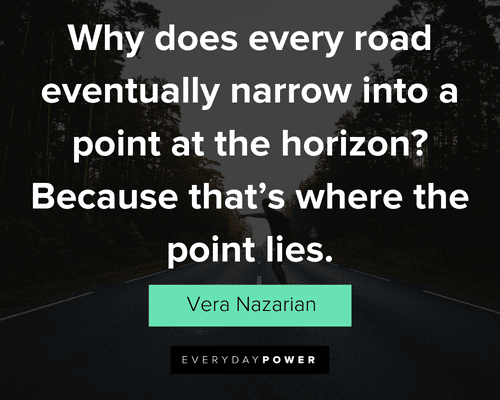 23. "If the road is easy, it's probably easy because it's not a road and you're not on it." ― Craig D. Lounsbrough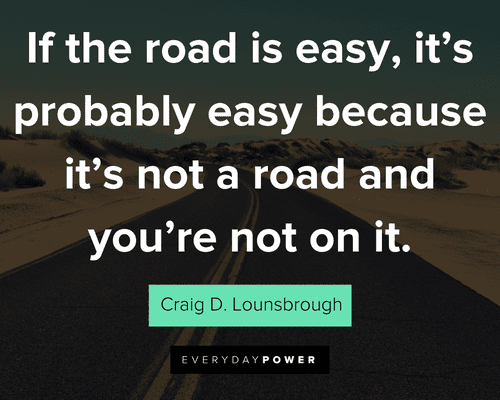 Road quotes about taking the less-traveled path
24. "I'm not looking for a road to walk. Rather, I'm looking for a path to create. For creating a path shapes men, while walking a road simply appeases them." ― Craig D. Lounsbrough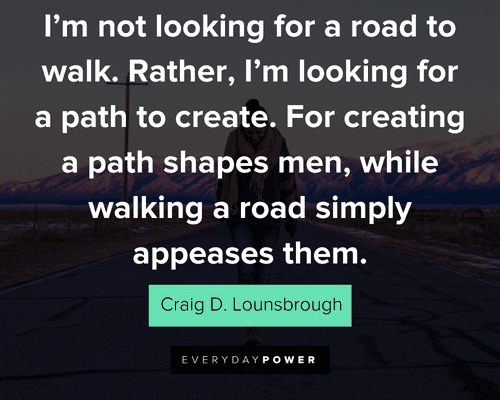 25. "A road often traveled has heavy traffic and you take more time to reach the destination." ― Ajeet Sharma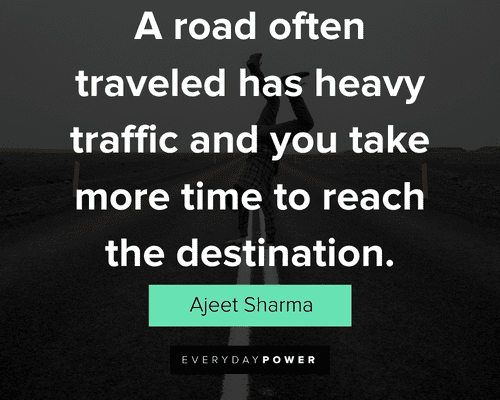 26. "Who says there's just one safe way to walk, one road properly lit, and the rest – all slippery water, unmarked?" ― Betsy Sholl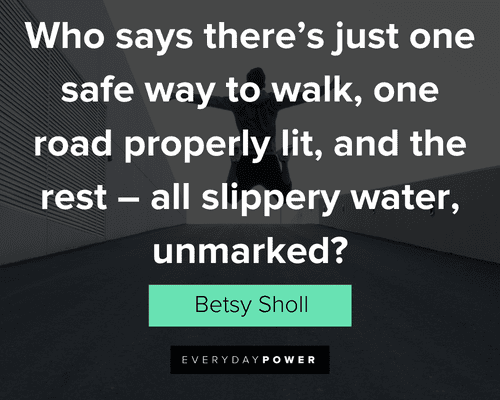 27. "Take the road less traveled. Get lost if you must, because only in losing yourself will you find your true path…" ― Virginia Alison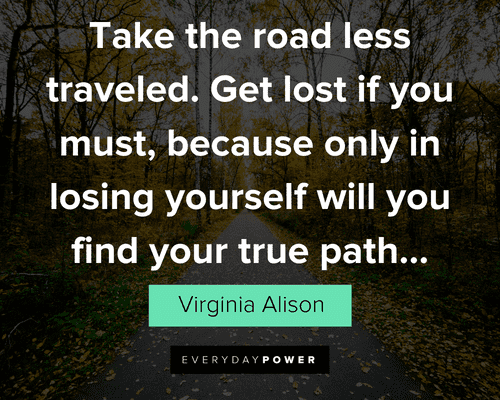 28. "The road that leads to nowhere for others might just be the road that leads to somewhere for you!" ― Mehmet Murat ildan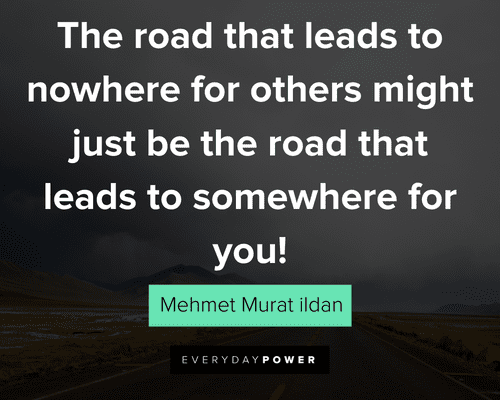 29. "I think I would prefer to walk the road that didn't exist until I walked it." ― Craig D. Lounsbrough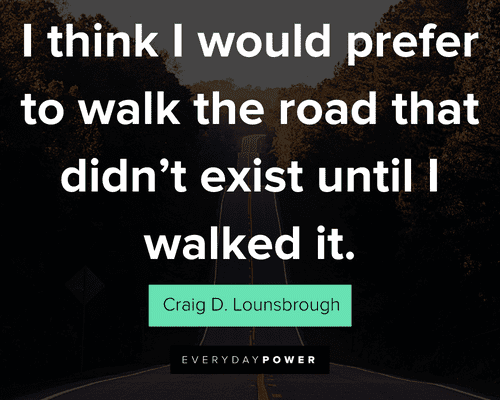 30. "Travelling the road will tell you more about the road than the google will tell you about the road." ― Amit Kalantri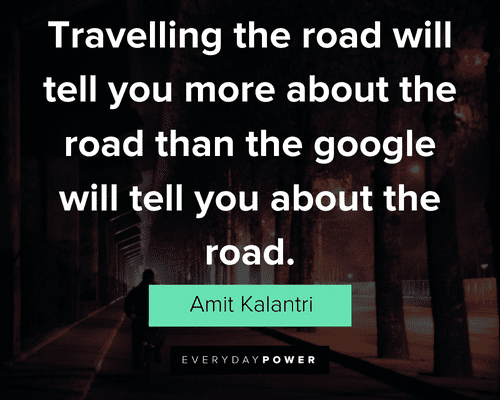 31. "Entrepreneurs pay the price of a road less traveled, while everyone else takes the freeway and perpetually misses their own exit." ― Ryan Lilly
32. "The road less traveled will not be smooth" ― Megan McCafferty
33. "Look for chances to take the less-traveled roads. There are no wrong turns." — Susan Magsamen
If you're enjoying these quotes, make sure to read our collection of travel quotes about the power of seeing the world.
Inspirational road quotes
34. "Some beautiful paths can't be discovered without getting lost." ― Erol Ozan
35. "Any highway . . . they all take you to the same place, don't they?" ― Jodi Picoult
36. "The road is a word, conceived elsewhere and laid across the country in the wound prepared for it: a word made concrete and thrust among us." ― Wendell Berry
37. "When within yourself you find the road, the right road will open." ― Dejan Stojanovic
38. "There's more to getting to where you're going then just knowing there's a road." ― Joan Lowery Nixon
39. "If one were given a single window from which to look upon the changing Eastern world, it should face, I think, the road." ― Freya Stark
40. "Some roads steal your time; some roads steal your comfort and some roads steal your heart!" ― Mehmet Murat ildan
41. "Just putting a sign on the road does nothing to change where that road is going." ― Craig D. Lounsbrough
42. "The driver of an automobile on a lonely road is a set of perceptions mounted in the forehead of a mechanical monster." ― Wallace Stegner
43. "The road is certain for anyone who ventures near it." ― Donna Goddard
44. "Those who run to see the end of the road will miss the road itself when they see that there is nothing at the end of the road!" ― Mehmet Murat ildan
45. "Change your direction any moment, you realize you are on the wrong road." ― Lailah Gifty Akita
46. "The road listens. It believes in you." ― Foster Kinn
47. "Memory lane is not a road I like to go down. But that's the only way to remember not to forget." ― Manasa Rao Saarloos
48. "Never depend on a road, depend on your strides." ― Munia Khan
49. "The road to home is when we find our hearts filled with the stories of our people." ― Psyche Roxas-Mendoza
50. "If someone is going down the wrong road, he doesn't need motivation to speed him up. What he needs is education to turn him around." ― Jim Rohn
More road quotes and sayings
51. "If you don't know where you are going, any road will get you there." – Lewis Carroll
52. "A person often meets his destiny on the road he took to avoid it." – Jean de La Fontaine
53. "Man stopped wanting to walk, to walk on his own feet and enjoy it. What's more, he no longer saw his own life as a road, but as a highway." – Milan Kundera
54. "You step into the Road, and if you don't keep your feet, there is no knowing where you might be swept off to." – J.R.R. Tolkien
55. "If you don't like the road you're walking, start paving another one." – Dolly Parton
56. "The road to success and the road to failure are almost exactly the same." – Colin R. Davis
57. "A great accomplishment shouldn't be the end of the road, just the starting point for the next leap forward." – Harvey Mackay
58. "All you need is the plan, the road map, and the courage to press on to your destination." – Earl Nightingale
59. "It's a long old road, but I know I'm gonna find the end." – Bessie Smith
60. "We will not be beaten. But we may be shamed and embarrassed on a needlessly long road to victory." – Ralph Peters
Road quotes about finding direction and living life fully
61. "Whoever wishes may accompany me: the road is long, it's painful but it's lived." ― Clarice Lispector
62. "Most times, the way isn't clear, but you want to start anyway. It is in starting with the first step that other steps become clearer." ― Israelmore Ayivor
63. "A beautiful mind is like a beautiful path! The more you travel with it, the more you find peace and happiness!" ― Mehmet Murat ildan
64. "Take your own route, not the route everyone is using or taking. Create your own way; there is always traffic on the common route." ― Israelmore Ayivor
65. "The most desolate road is the most perfect road when you want to walk all alone!" ― Mehmet Murat ildan
66. "Love that is fueled solely by feelings will suddenly find itself out of gas on a long road with no gas stations." ― Craig D. Lounsbrough
67. "Sometimes you can't see the road ahead but as you keep going, it gets clearer. Stay the course as the fog of life dissipates." ― Sanjo Jendayi
68. "Just you and me and the road. Just a couple of tramps, just a couple of gypsies, that's it, but we'll be together." ― James M. Cain
69. "If this journey of life is only walked alone it will be a long and lonely hard road to follow." ― Steven Redhead
70. "Education is the journey in which roads never end." ― Atalay Aydın
More road quotes to learn and ruminate on
71. "A good system shortens the road to the goal." ― Orison Swett Marden
72. "Your goals are the road maps that guide you and show you what is possible for your life." ― Les Brown
73. "There is no road too long to the man who advances deliberately and without undue haste; there are no honors too distant to the man who prepares himself for them with patience." ― Jean de la Bruyere
74. "On the road from the City of Skepticism, I had to pass through the Valley of Ambiguity." ― Adam Smith
75. "My life is full of mistakes. They're like pebbles that make a good road." ― Beatrice Wood
76. "There comes a turning point in the life of every person when he reflects on his journey and work and ponders on the next road to take. Is this the pinnacle, the ultimate? What next?" ― Mohanlal
77. "Hope is like a road in the country; there was never a road, but when many people walk on it, the road comes into existence." ― Lin Yutang
78. "There is no shorter road to defeat than by entering a war with inadequate preparation." ― Charles Lindbergh
79. "What keeps you going isn't some fine destination but just the road you're on, and the fact that you know how to drive." ― Barbara Kingsolver
80. "If you make the mistake of looking back too much, you aren't focused enough on the road in front of you." ― Brad Paisley
Road Quotes To Inspire You To Achieve Your Goals
81. "The only impossible journey is the one you never begin" ― Tony Robbins
82. "Wherever you get to is better than where you started. To stay on the road is a massive achievement." ― Anthony Joshua
83."A bend in the road, is not the end of the road….unless you fail to make the turn." ― Helen Keller
84. "The open road is there, it will always be there. You just have to decide when to take it." ― Chris Humphrey
85. "You Can't Find The Right Roads When The Streets Are Paved." ― Bob Marley
86. "The gladdest moment in human life, me thinks, is a departure into unknown lands."― Sir Richard Burton
87. "Only those who risk going too far can possibly find out how far they can go." ― T.S Eliot
88. "She wasn't where she had been. She wasn't where she was going, but she was on her way." ― Jodi Hills
89. "I see my path, but I don't know where it leads. Not knowing where I'm going is what inspires me to travel it." ― Rosalia De Castro
90. "When all's said and done, all roads lead to the same end. So it's not so much which road you take, as how you take it." ― Charles de Lint
Road Quotes To Inspire You To Keep Going
91. "You may not find a path, but you will find a way." — Tom Wolfe
92."Roads are a record of those who have gone before." — Rebecca Solnit.
93."The open road is a beckoning, a strangeness, a place where a man can lose himself." — William Least Heat Moon
94."You know more of a road by having traveled it than by all the conjectures and descriptions in the world." — William Hazlitt
95."God made the world round so we would never be able to see too far down the road." — Isak Dinesen
96."Stop worrying about the potholes in the road and enjoy the journey." — Babs Hoffman
97."Nothing Behind Me, Everything Ahead Of Me, As Is Ever So On The Road." — Jack Kerouac
98."Sometimes the road less traveled is less traveled for a reason." — Jerry Seinfeld
99."I just go with the flow, I follow the yellow brick road. I don't know where it's going to lead me, but I follow it." — Grace Jones
100."Sometimes the most scenic roads in life are the detours you didn't mean to make." — Angela N Blount
Road Quotes To Keep You Going
101. "The road you travel might horribly get narrower; do not panic! Keep your spirits high; the road will get wider!" ― Mehmet Murat ildan
102. "A driver reaches a destination by driving on that road, not by laying back to enjoy the view." ― Nabil N. Jamal
103. "The road of life is filled with sunshine and clouds, black and white, triumphs and tragedies. As we continue down the road, we decide which things we bring with us, and which we leave in the rear-view mirror." ― Julie-Anne
104. "Here is a good philosophy of life: Enjoy the road with flowers; enjoy the road with stones!" ― Mehmet Murat ildan
105. "As long as we know what it's about, then we can have the courage to go wherever we are asked to go, even if we fear that the road may take us through danger and pain." ― Madeleine L'Engle
106. "You need new roads to discover new places!" ― Mehmet Murat ildan
107. "Failure is a fatality that carves the road to success." ― Arlin Sailesh Kapadia
108. "Intelligence arouses fear and respect, the lack of it keeps one on the narrow minded road of disrespect, stupidity and inferiority complex." ― Michael Bassey Johnson
109."I don't know where my road is going, but I know that I walk better when I hold your hand." ― Alfred de Musset
110. "I'd rather let you cover all my roads with thorns than with dead roses." ― Nema Al-Araby
Road Quotes To Give You Patience
111. "All of these tears that I have cried / Wanting only to be by your side / Somewhere in this heart of mine / That lonely road I left behind." ― Alex Lawrence
112. "Who know where the road will lead us / Only a fool would say / But if you'll let me love you / It's for sure I'm gonna love you, all the way." ― Peter Hook
113. "I've got to live life if I'm gonna be a writer. I've got to stay on the road." ― Donald P. Bellisario
114. "I am dreaming tonight of a place I love / Even more than I usually do / And although I know it's a long road back / I promise you." ― Kim Gannon
115. "Two roads diverged in a wood, and I, / I took the one less traveled by, / And that has made all the difference." ― Robert Frost
116. "Down that old and lonely road / That leads me to your heart and soul / You are the only one for me / Have I not been too blind to see." ― Alex Lawrence
117. "You used to do / I'm so lonely / Every road I walk along / I walk along with you / No wonder I am lonely." ― Oscar Hammerstein
118. "Being on the road doesn't mean that you literally have to be on the road, I don't think. I mean, I think it's more about… the journey of life, maybe, and, and… you can start that right here." ― Donald P. Bellisario
119. "Life is like a narrow road. You can walk on the right, you can walk on the left, or you can walk down the middle." ― Craig McCracken
120. "Cross our paths / We build a road, / Sharing our ups and downs / Together we grow old." ― Kayla Bailey Jay
Road Quotes About The Path Ahead
121. "Life is like a road, it has ups and downs. But, the journey is what makes it worth it." ― Drew Barrymore
122. "The road to success is dotted with many tempting parking spaces." ― Will Rogers
123. "The road ahead is unknown, but that's what makes the journey so exciting." ― Anne Hathaway
124. "The road of life is full of twists and turns. Embrace each one, they make the journey that much richer." ― Michael J. Fox
125. "The road to happiness is not always smooth, but it is worth the journey." ― Ellen DeGeneres
126. "The road to freedom is not easy, but it is worth every step." ― Nelson Mandela
127. "The road is a reminder that we are all travelers, searching for meaning and purpose." ― Dr. Seuss
128. "The road ahead is not always clear, but the journey is worth taking." ― Hilary Duff
129. "The road is not just a path to the future, but a journey through the present." ― Paulo Coelho
130. "The road of life is made smoother when traveled with laughter and love." ― Oprah Winfrey
Which of these road quotes is your favorite?
These road quotes had a little something for everyone!
If you are happily strolling down a sunny little path contemplating your life and the beauty around you, I hope you meet your journey with gratitude.
However, if your road is unlit and a little rocky, I hope you take each step with confidence, knowing that you are sure-footed.
If you are currently at a crossroads and debating which way is the right way to go, then trust your gut.
Take a deep breath and know that you will be alright, no matter which course you choose.
Taking the path less travelled (literally an overgrown, never walked on path) in high school with a friend of mine led to me falling in a 6-foot hole filled with thorns.
She had to go back and get the boy I liked to help pull me out.
I was bloody and embarrassed (we missed the Phi Theta Kappa meeting we were supposed to attend), but oh, how we laughed.
The three of us still laugh all these years later, and the writer in me has a great story to tell!
What's your biggest takeaway from these road quotes and sayings?
Do you have any other favorite quotes to add?
Let us know in the comment section below.