70 Tea Quotes For Tea Connoisseurs About the Benefits of Tea
A good cup of tea is relaxing and can soothe the soul.
These quotes from avid tea enthusiasts explain all the things there is to love about tea!
Beyond personal preference, there are many health benefits to partaking in this afternoon (heck, morning, and evening) ritual, depending on the tea.
Herbal teas are known for having lots of healing properties.
For instance, Chamomile tea helps reduce menstrual pain and muscle spasms.
Drinking it in the evening can also improve sleep, aid in relaxation, and reduces stress.
Rooibos can lower blood pressure and improve circulation, and boost good cholesterol while lowering bad cholesterol.
It can also help your hair stay strong and your skin glowing.
Another benefit of Rooibos tea is the relief it provides from allergies!
Need a few more reasons to drink a cup of tea?
Well, tea contains antioxidants, has less caffeine than coffee and may reduce your risk for heart attack or stroke.
Keep reading through these tea quotes to learn which teas are better for you and many more benefits to putting on a pot of tea.
Don't forget to also check out our collection of coffee quotes to wake you up every morning.
Also, check out our most popular quote article, a list of short inspirational quotes for daily wisdom.
See the rest of our quote database for even more inspirational ideas and thoughts.
Tea quotes that are clearly from tea lovers
1. "Thank God for tea! What would the world do without tea! How did it exist? I am glad I was not born before tea." ― Sydney Smith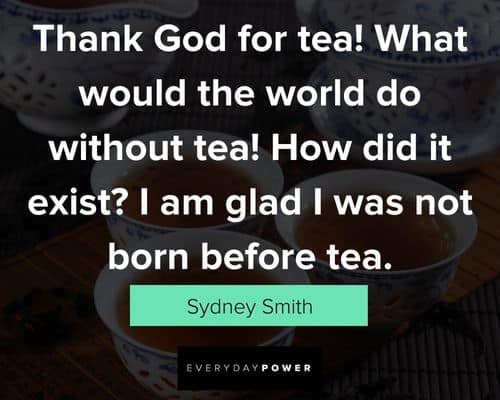 2. "Better to be deprived of food for three days, than tea for one." ― Ancient Chinese Proverb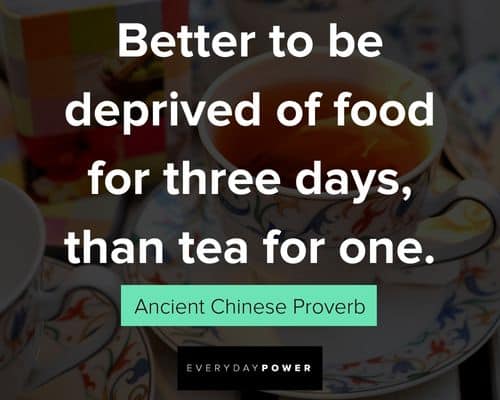 3. "I am in no way interested in immortality, but only in the taste of tea." ― Lu T'ung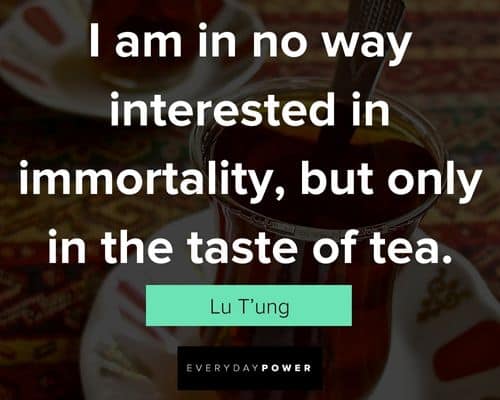 4. "Wouldn't it be dreadful to live in a country where they didn't have tea?" ― Noel Coward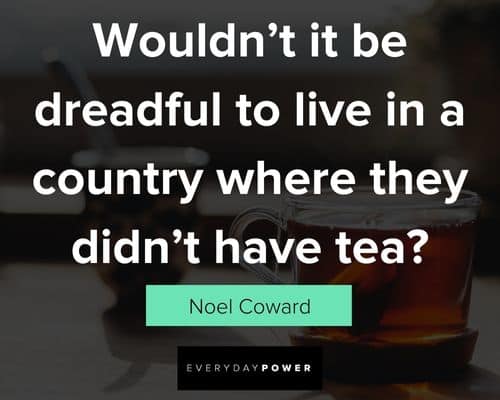 5. "Home is where the tea is." ― Js Devivre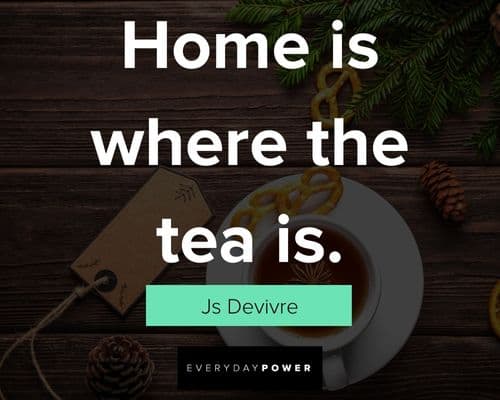 6. "Tea is the magic key to the vault where my brain is kept." ― Frances Hardinge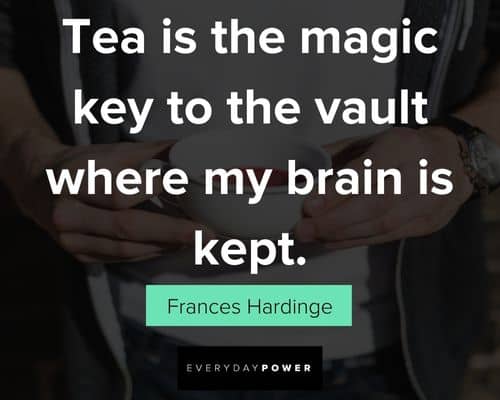 7. "There's something hypnotic about the word tea." ― Dorothy L. Sayers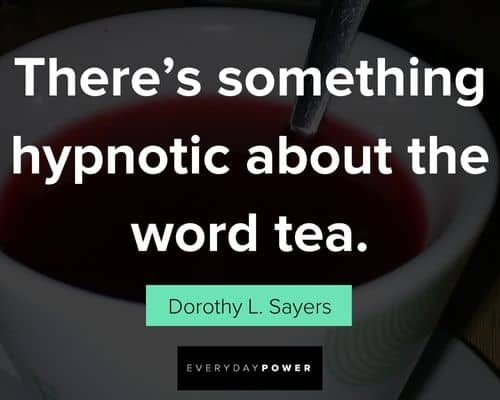 8. "I say let the world go to hell, but I should always have my tea." ― Fyodor Dostoevsky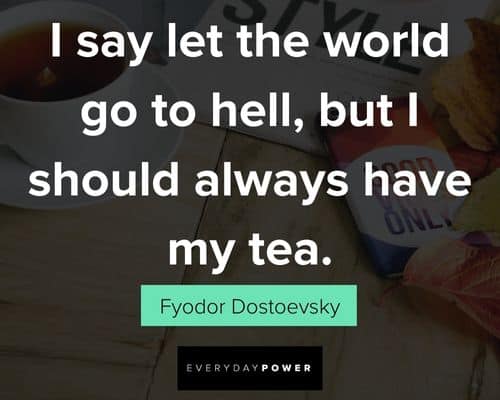 9. "Tea … is a religion of the art of life." ― Kakuzo Okakura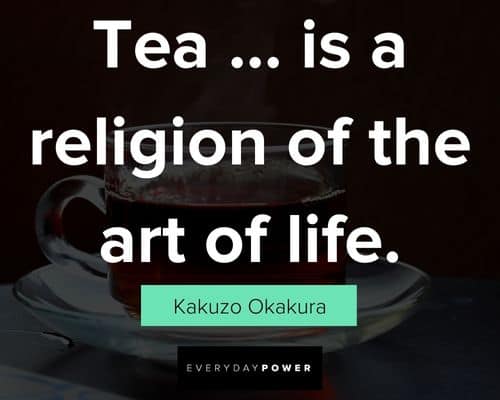 10. "Tea is the elixir of life." ― Eisai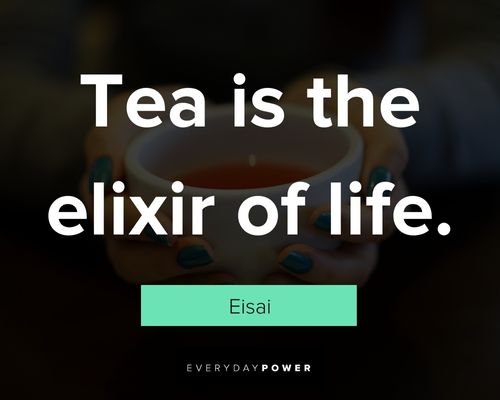 Tea quotes that will make you want to drink a cup
11. "There is no problem on earth that can't be ameliorated by a hot bath and a cup of tea." ― Jasper Fforde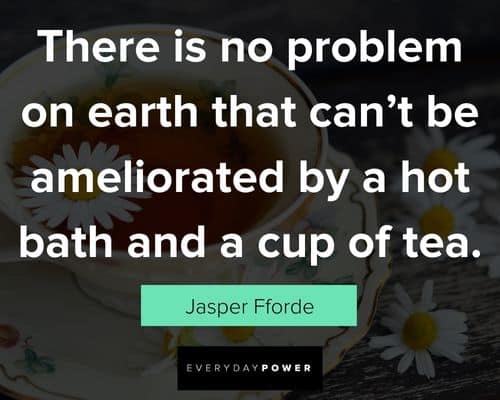 12. "You can never get a cup of tea large enough or a book long enough to suit me." ― C.S. Lewis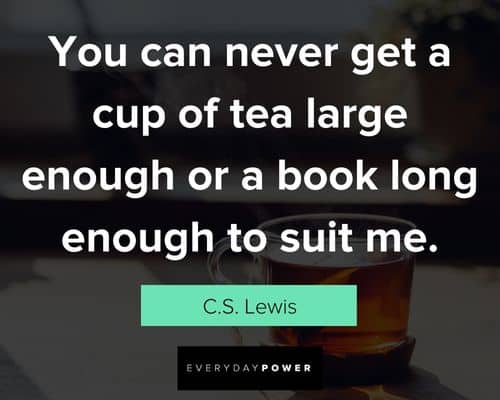 13. "A simple cup of tea is far from a simple matter." ― Mary Lou Heiss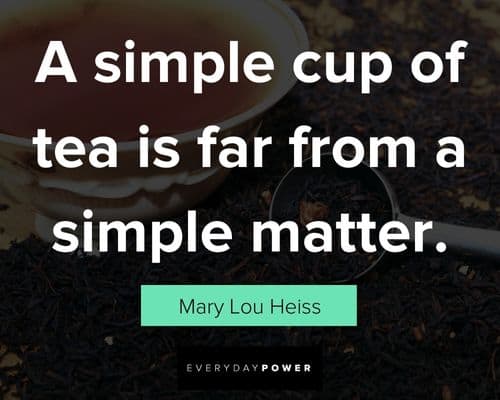 14. "A cup of tea is an excuse to share great thoughts with great minds." ― Cristina Re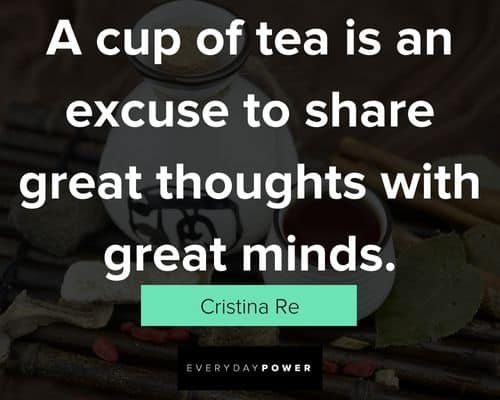 15. "A cup of tea would restore my normality." ― Douglas Adams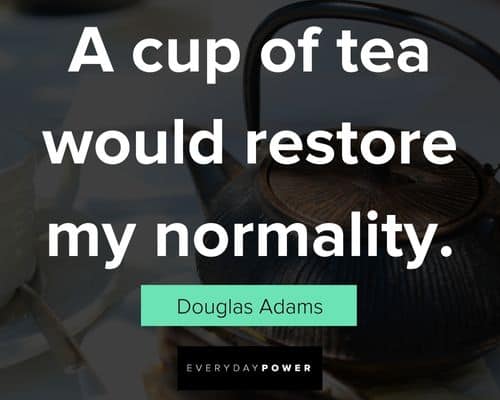 16. "Each cup of tea represents an imaginary voyage." ― Catherine Douzel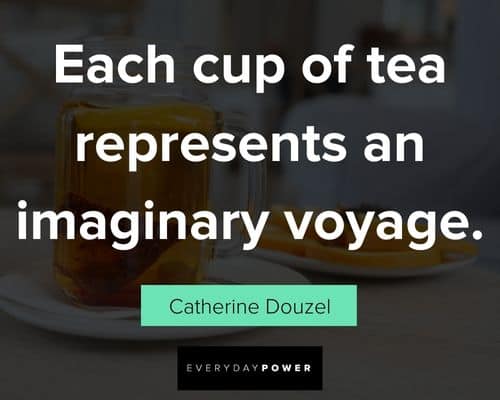 17. "When she is unable to avoid the matter further, she makes a pot of tea." ― Erin Morgenstern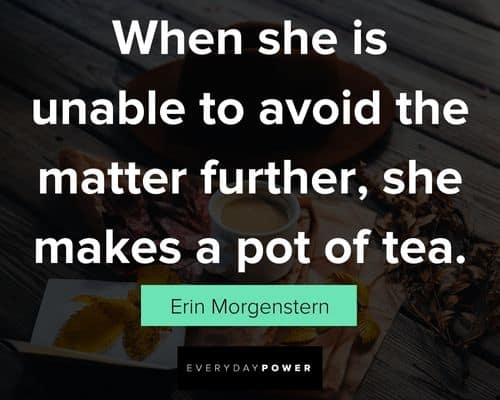 18. "Drink your tea slowly and reverently, as if it as the axis on which the world revolves" ― Thich Nhat Hanh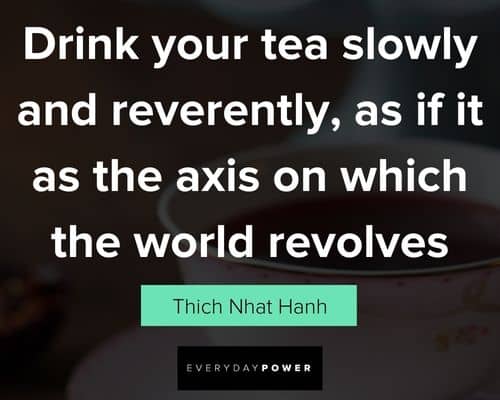 19. "I must drink lots of tea or I cannot work. Tea unleashes the potential which slumbers in the depth of my soul." ― Leo Tolstoy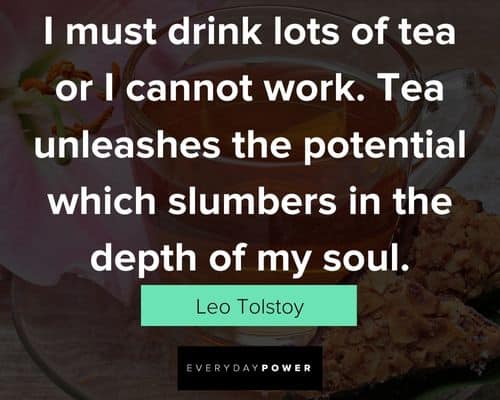 20. "The mere chink of cups and saucers tunes the mind to happy repose." ― George Gissing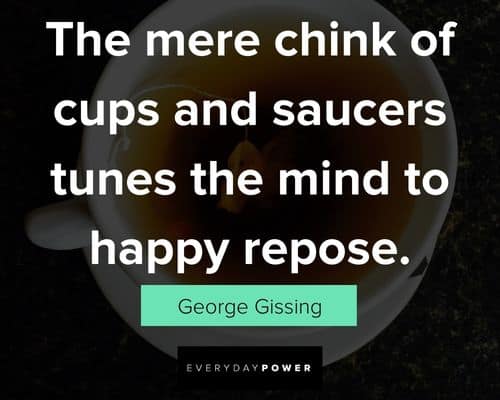 Tea quotes about tea time and afternoon tea
21. "There are few hours in life more agreeable than the hour dedicated to the ceremony known as afternoon tea." ― Henry James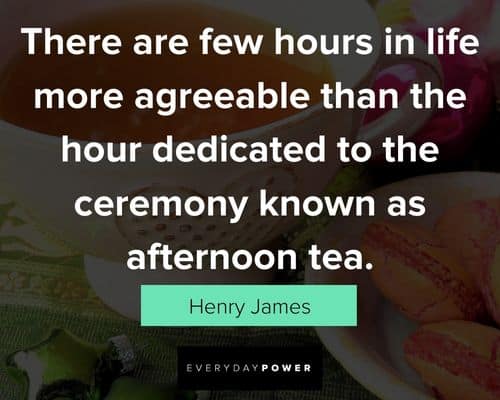 22. "Tea! Bless ordinary everyday afternoon tea!" ― Agatha Christie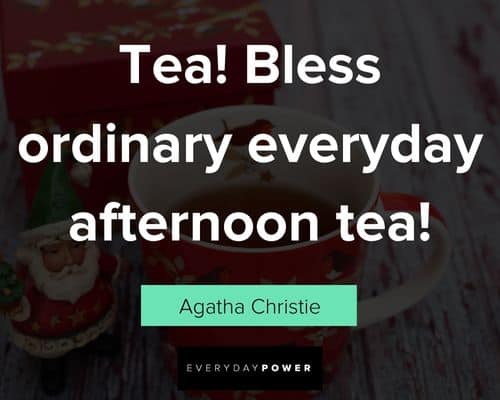 23. "Afternoon tea should be provided, fresh supplies, with thin bread-and-butter, fancy pastries, cakes, etc., being brought in as other guests arrive." ― Isabella Beeton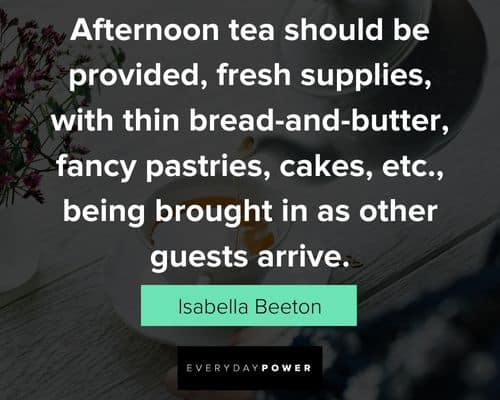 24. "The very act of preparing and serving tea encourages conversation. The little spaces in time created by teatime rituals call out to be filled with conversation. Even the tea itself―warm and comforting―inspires a feeling of relaxation and trust that fosters shared confidences." ― Emilie Barnes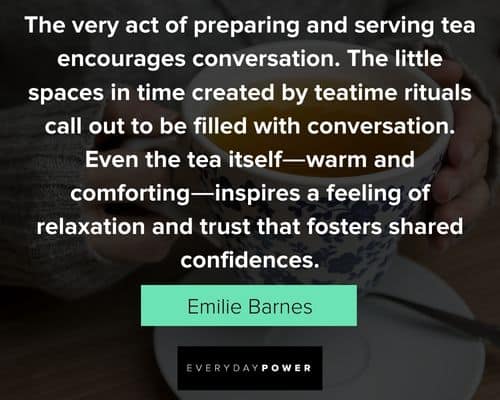 25. "Tea time is a chance to slow down, pull back and appreciate our surroundings." ― Letitia Baldrige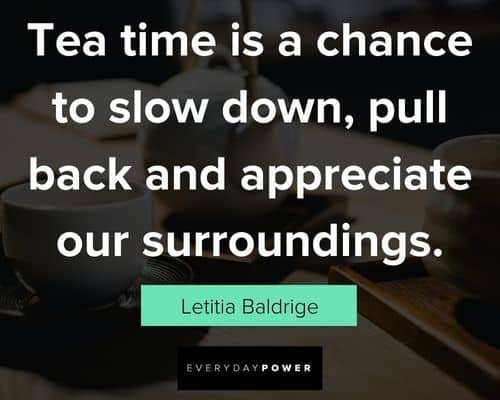 26. "My hour for tea is half-past five, and my buttered toast waits for nobody." ― Wilkie Collins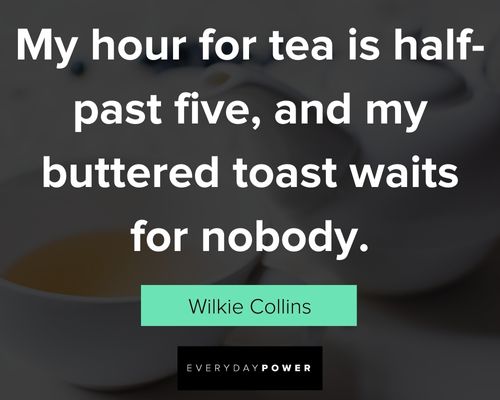 27. "The tea session is modeled after the silence of retreat; a time to enjoy life far removed from daily existence." ― Sen Joo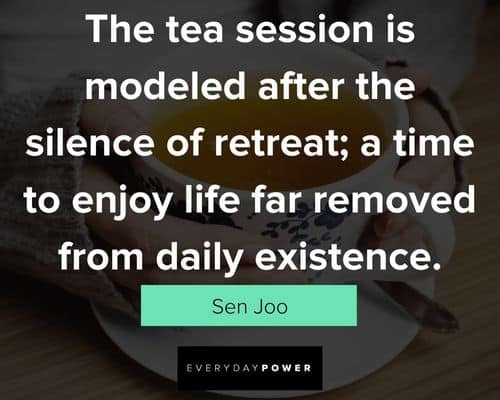 28. "I always fear that creation will expire before teatime." ― Sydney Smith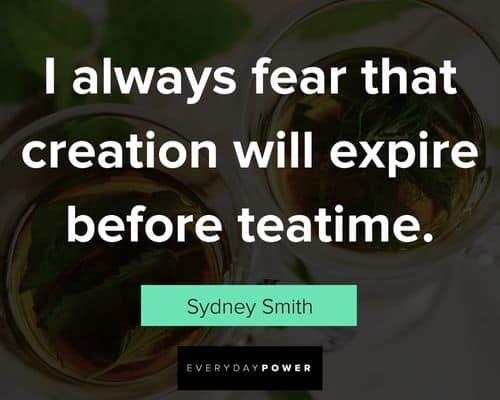 Tea quotes on life, heaven, and beauty
29. "Tea is a part of daily life. It is as simple as eating when hungry and drinking when thirsty." ― Yamamoto Soshun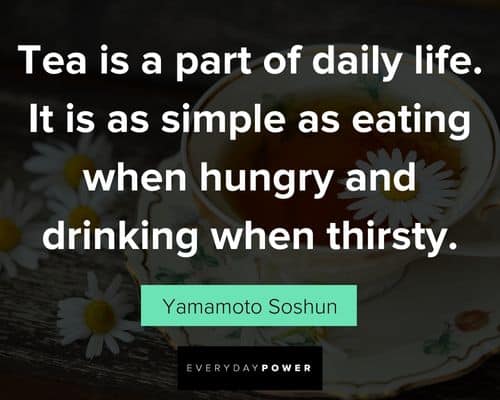 30. "Enjoy life sip by sip, not gulp by gulp." ― The Minister of Leaves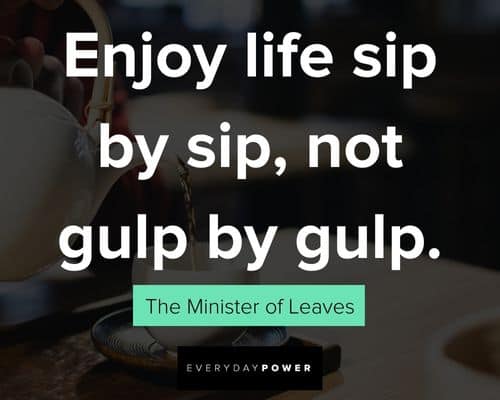 31. "No matter what is happening in your life, you always offer tea." ― Clemantine Wamariya
32. "Life is like a cup of tea. It's all in how you make it." ― Unknown
33. "The path to Heaven passes through a teapot." ― Ancient Proverb
34. "When I drink tea I am conscious of peace. The cool breath of heaven rises in my sleeves, and blows my cares away." ― Lo Tung
35. "There is something in the nature of tea that leads us into a world of quiet contemplation of life." ― Lin Yutang
36. "Tea is quiet and our thirst for tea is never far from our craving for beauty." ― James Norwood Pratt
37. "Surely a pretty woman never looks prettier than when making tea." ― Mary Elizabeth Braddon
38. "If a man has no tea in him, he is incapable of understanding truth and beauty. " ― Japanese Proverb
39. "Where there's tea there's hope." ― Arthur Wing Pinero
40. "When you are drinking tea, it is basically a private conversation between the tea and your individual soul." ― Lu Ann Pannunzio
Comforting tea quotes to help you through problems and struggles
41. "No matter where you are in the world, you are at home when tea is served." ― Earlene Grey
42. "Tea is wealth itself, because there is nothing that cannot be lost,no problem that will not disappear, no burden that will not float away, between the first sip and the last." ― The Minister of Leaves
43. "Tea is best when enjoyed in pleasant surroundings, whether indoors or out, where the atmosphere is tranquil, the setting harmonious." ― John Blofeld
44. "Tea tempers the spirit and harmonizes the mind; dispels lassitude and relieves fatigue, awakens thought and prevents drowsiness." ― Lu Yu
45. "You can't buy happiness, but you can buy tea and that's kind of the same thing." ― Unknown
46. "Making tea is a ritual that stops the world from falling in on you." ― Jonathan Stroud
47. "The effect of tea is cooling and as a beverage it is most suitable. It is especially fitting for persons of self-restraint and inner worth." ― Lu Yu
48. "A true warrior, like tea, shows his strength in hot water." ― Chinese Proverb
49. "Water is the mother of tea, a teapot its father, and fire the teacher." ― Chinese Proverb
50. "We are like tea, we don't know our own strength until we're in hot water."― Sister Busche
Tea Quotes To Make Your Customers Order More Tea
51. "Rainy days should be spent at home with a cup of tea and a good book." ― Bill Watterson,
52. "If you are cold, tea will warm you." — William Ewart Gladstone
53. "But indeed I would rather have nothing but tea." ― Jane Austen,
54. "Perhaps it is while drinking tea that I most of all enjoy the sense of leisure." — George Gissing
55. "Tea is more than an idealization of the form of drinking." — Kakuzo Okakura
56. "I was drinking tea the other day, and I thought: they used to fight wars over this." — Daniel Tosh
57. "I can drink tea until the cows come home and I love the atmosphere in tea-shops." — Zola Budd
58. Tea is one of the main stays of civilization in this country." — George Orwell
59. "America's new tea lovers are the people who have forced the tea trade to wake up." — James Norwood Pratt
60. "Tea makes everything better." — Bindi Irwin
Tea Quotes That Make You Relax
61. "The spirit of the tea beverage is one of peace, comfort, and refinement." — Arthur Gray
62. It's always tea-time." — Lewis Carroll
63. "Come, let us have some tea and continue to talk about happy things." — Chaim Potok
64. "Would you like an adventure now, or would you like to have your tea first?" — James M. Barrie
65. "When someone comes to visit me, they have to bring tea – you can't stay in my house if you don't bring me tea." — Ashley Madekwe
66. "If at first you don't succeed, have a cup of tea." — Peter Scott
67. "I expect I shall feel better after tea." — P. G. Wodehouse
68. "Tea is balm for the soul, don't you agree?" — P. L. Travers
69. "Tea is also a sort of spiritual refreshment, an elixir of clarity and wakeful tranquility." — James Norwood Pratt
70. "A cup of tea is a cup of peace." — Ken Cohen
Which of these tea quotes is your favorite?
There are many different types of teas.
There is herbal, black, green, and white, just to name a few!
Herbal teas are the ones that people typically drink for their helping hand in the healing process.
Black tea is stronger than green and white tea because it is more oxidized, giving it a stronger flavor.
It is also good for those with diabetes and people trying to improve their heart health.
It does contribute to making kidney stones, though, so if you struggle with those, you will want to consume a different type of tea.
Green tea can help improve brain function and aid in burning fat.
It has a bit higher acidic content, though, so it can cause some digestive issues like constipation and acid reflux.
White tea is more minimally processed and a bit more delicate while also maintaining some of the same benefits as green tea.
The best type of tea for you really depends on what your body needs, but experts seem to agree that green tea is the way to go!
If you like this article, you might also enjoy Chai: An Indian 'Special-Tea' That Delights the Tastebuds.
Did you enjoy these tea quotes and sayings?
What is your favorite kind of tea?
Let us know in the comment section below.