237 Warrior Quotes To Help You Develop An Unbeatable Mind
Find your inner champion with these warrior quotes to help you rise above and tackle anything that life throws your way!
How strong are you really?
Let us know your favorite warrior quote in the comment section below.
You may also enjoy our article on:
What are the benefits of reading these warrior quotes?
Warriors put themselves on the line for what they believe in.
No matter how tough the battle is:
the warrior never gives up
warriors learn to endure until they overcome all the adversities facing them
the warrior has discipline, strength, and stays true to their commitments
In life, you're going to encounter hard times at some point.
This means you must be prepared to endure pain and find solutions at any moment.
You must develop the mental toughness of a warrior who will enable you to face and overcome any challenge or adversity life throws.
You are the hero of your life and those you care about.
Therefore, develop a warrior mindset and learn to grow from pain, setbacks, failures, obstacles, challenges, losses, and all the hard times in your life.
To help you cultivate the mindset of a titan, below is our collection of inspirational, wise, and unbeatable warrior quotes, warrior sayings, and warrior proverbs collected from a variety of sources over the years.
Don't forget to check out these military quotes to honor our heroes.
Check out our most popular quote article, a list of short inspirational quotes for daily inspiration.
Check out our inspirational quotes category page for more inspirational life quotes.
Warrior quotes on having an unbeatable mind
1. "Every victorious warrior draws his strength from the highest source; his love." ― Tapan Ghosh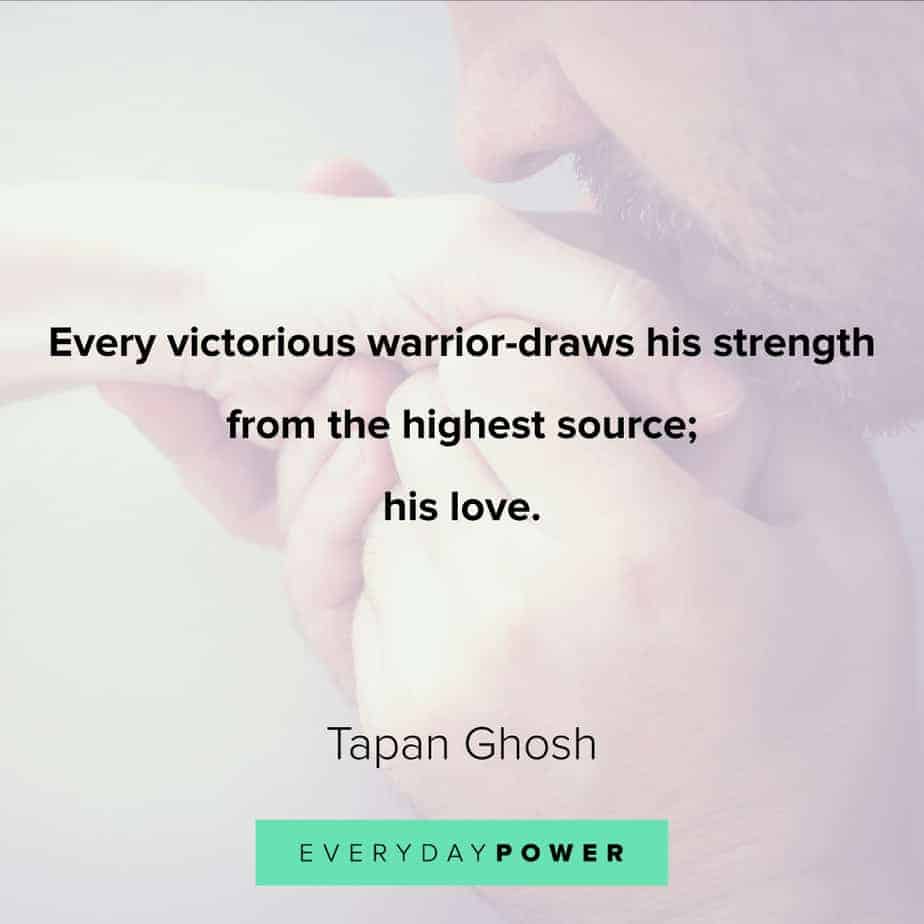 You will also enjoy our article on humble quotes.
2. "Warriors want a worthy opponent. There is no redress in fighting the pathetic." ― Donna Lynn Hope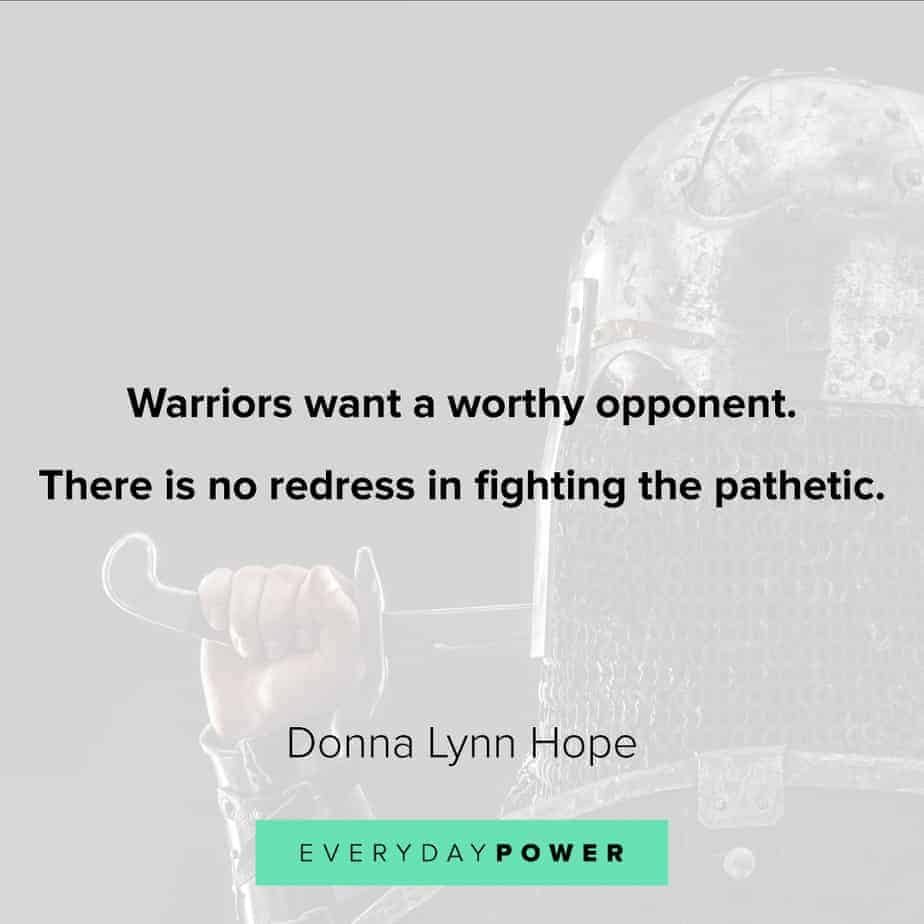 You will also enjoy our article on Kahlil Gibran quotes.
3. "Victorious warriors win first and then go to war, while defeated warriors go to war first and then seek to win." – Sun Tzu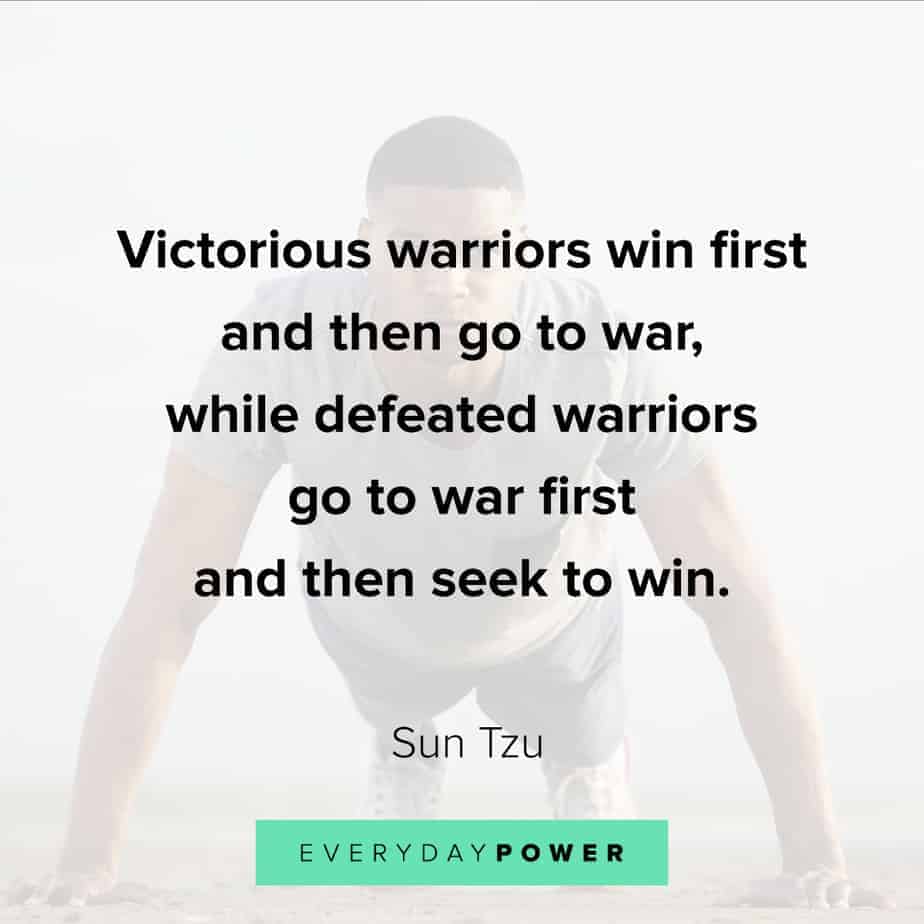 You will also enjoy our article on Navy quotes
4. "I know what I'm capable of; I am a soldier now, a warrior. I am someone to fear, not hunt." ― Pittacus Lore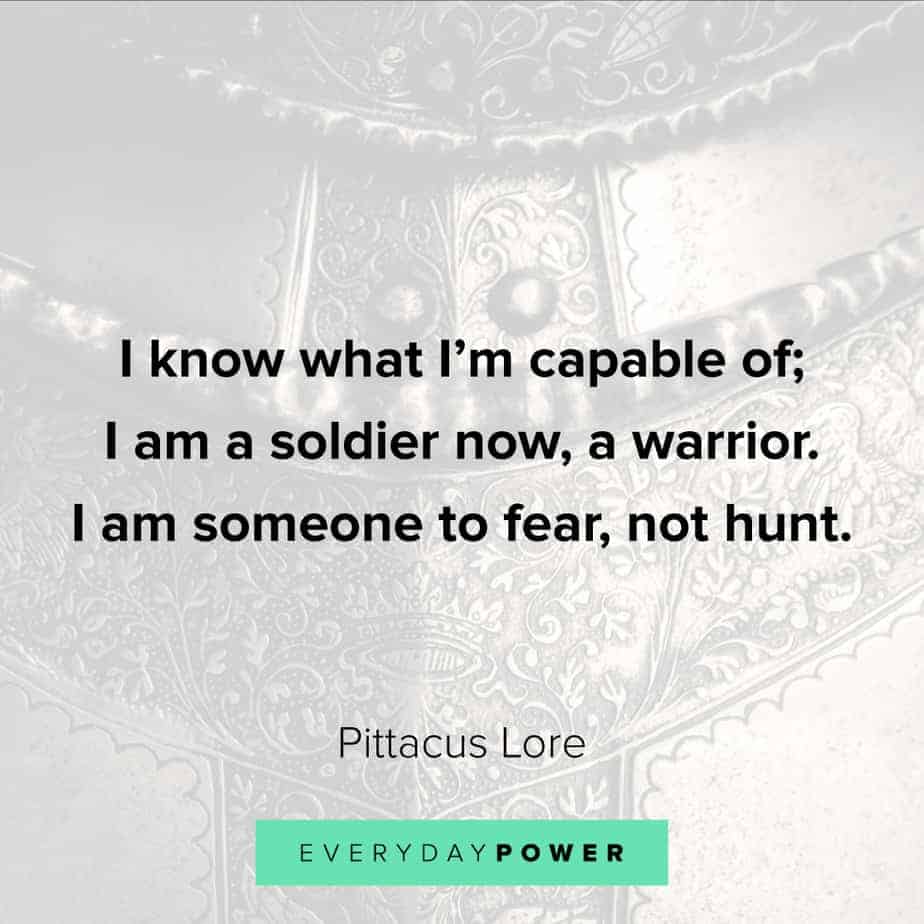 5. A warrior never worries about his fear." – Carlos Castaneda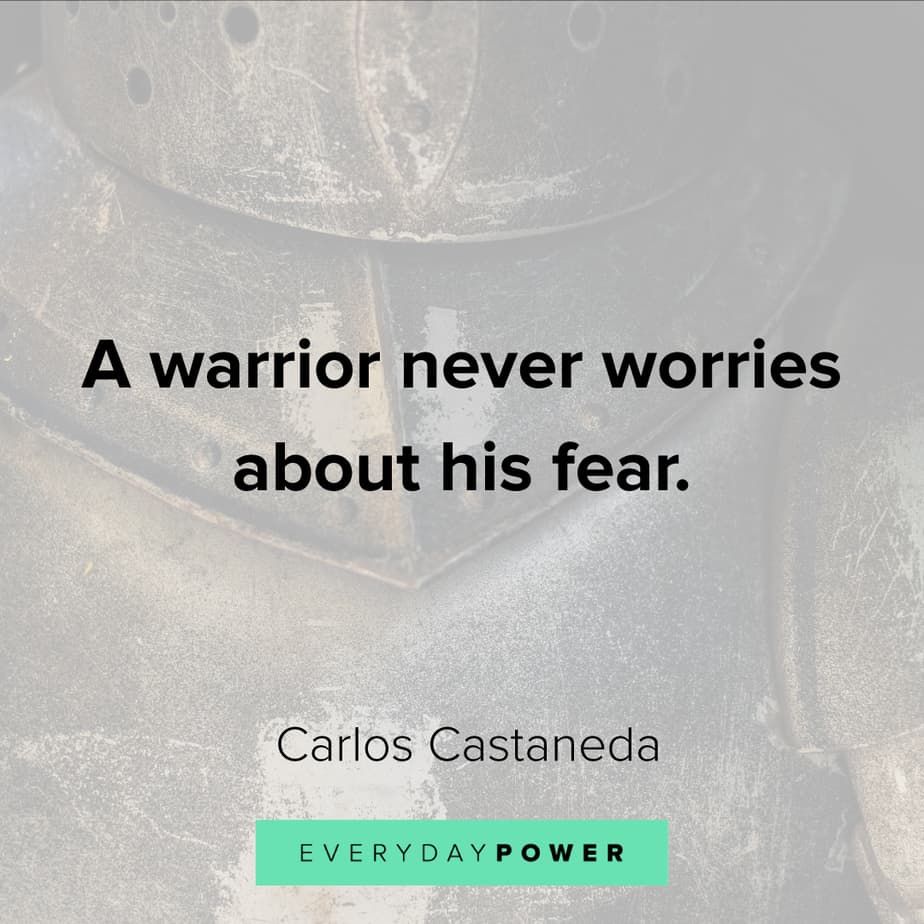 6. "I'm a warrior for the middle class." – Barack Obama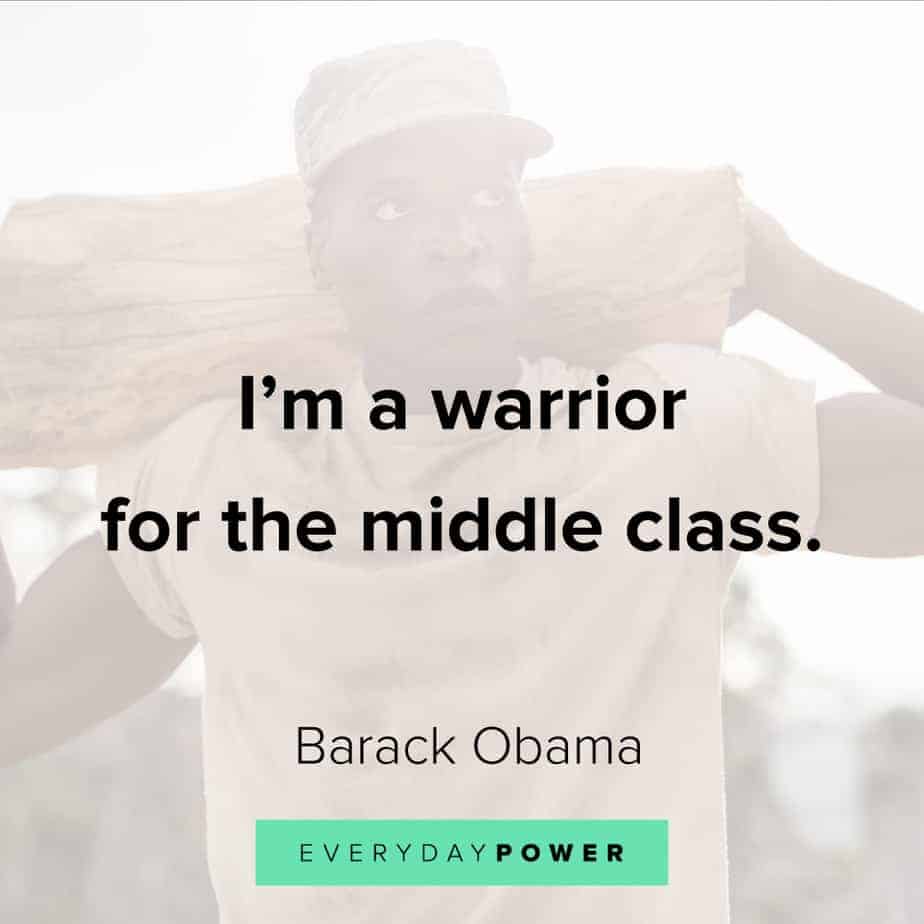 You will also enjoy our article on Samurai quotes.
7. "The true soldier fights not because he hates what is in front of him, but because he loves what is behind him." ― G.K. Chesterton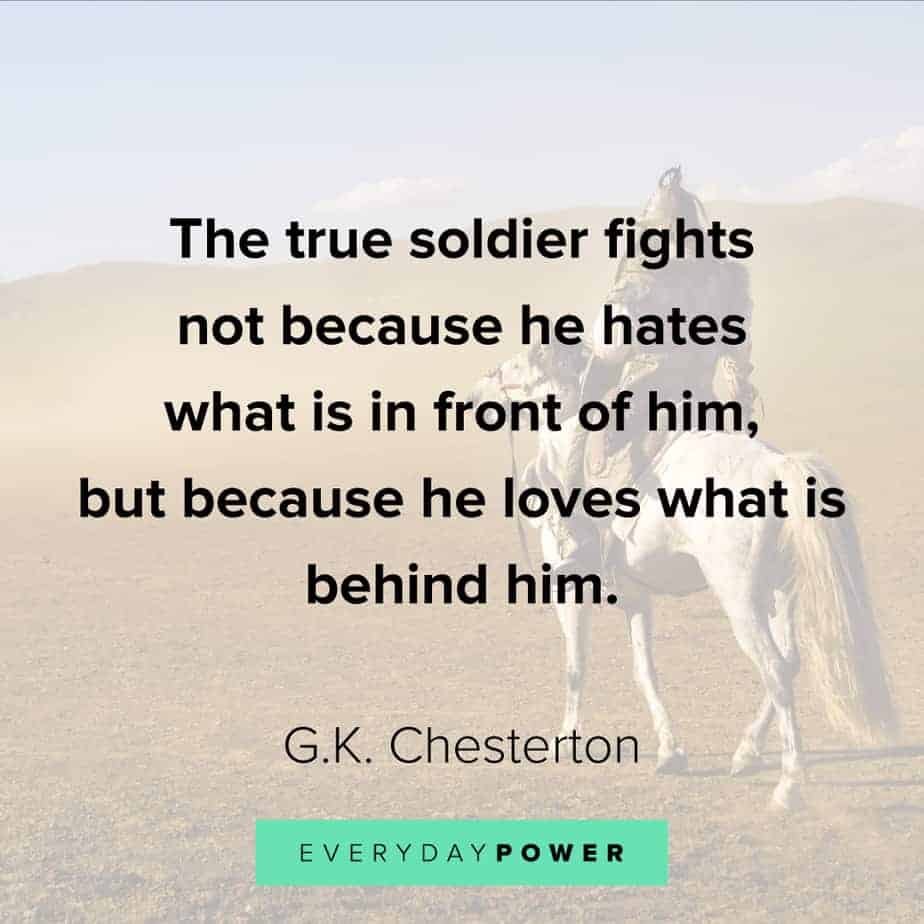 8. "The warrior stands, ready to defend, ready to fight for those he serves. He is a warrior of virtue, a knight of conscience. He is who we all wish to be." ― Anthony T. Hincks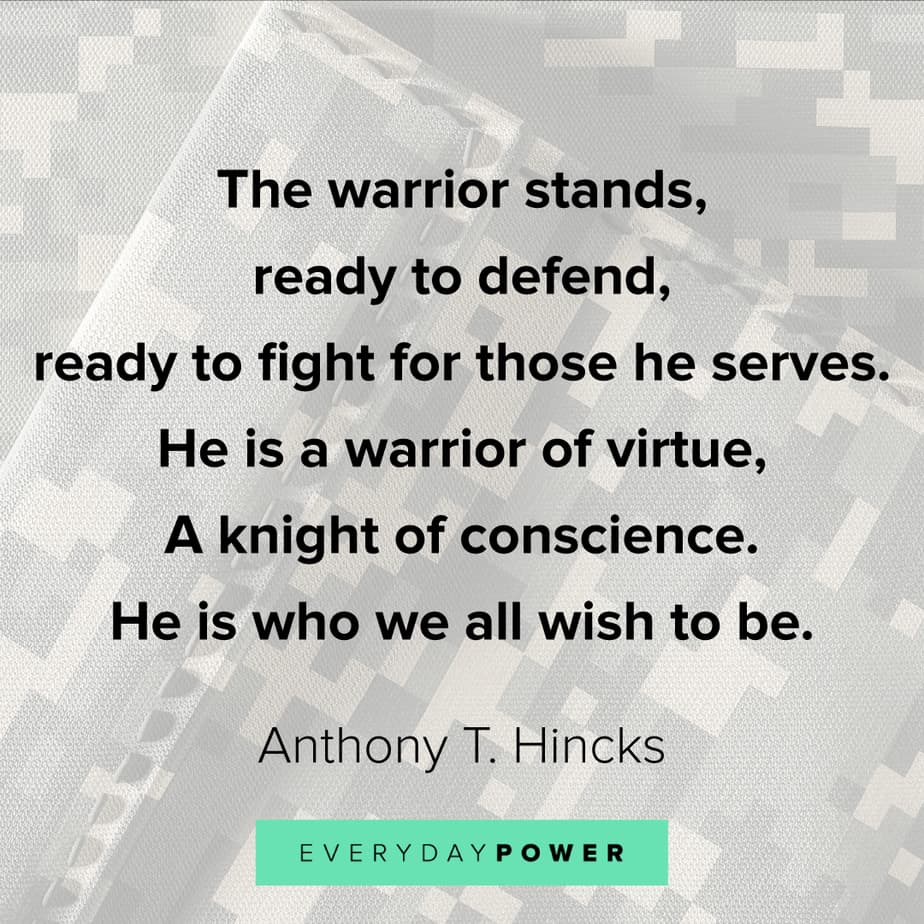 9. "There is no greater warrior than a mother protecting her child." – N. K. Jemisin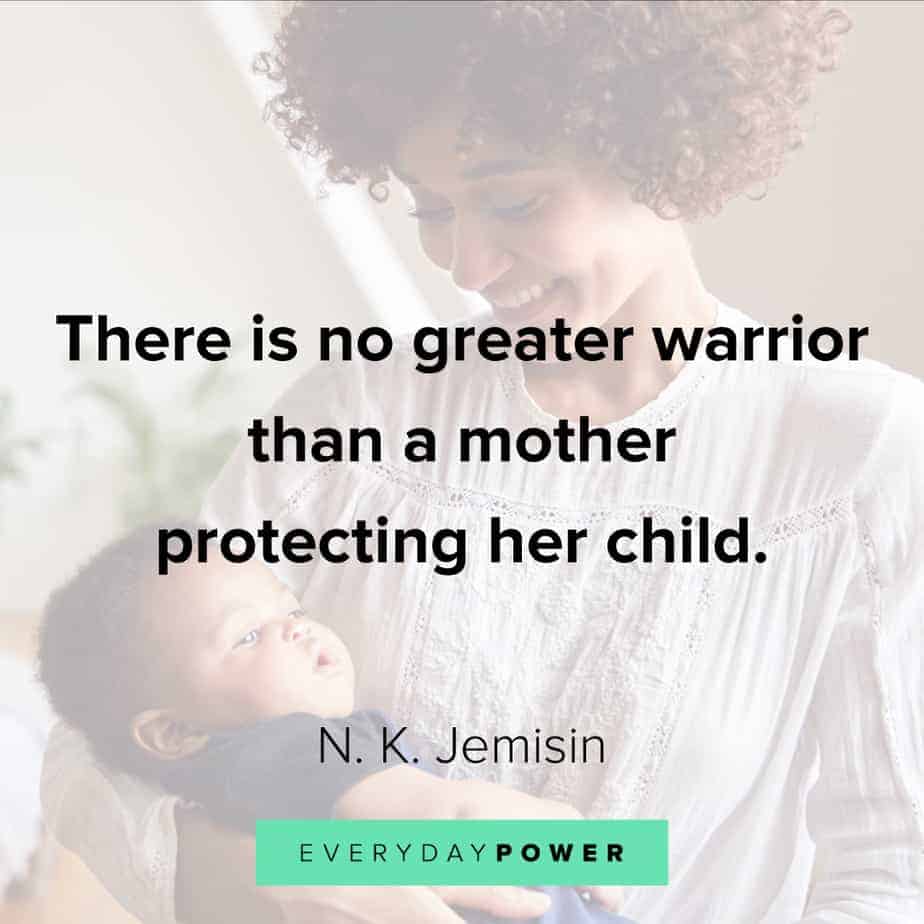 10. "Victory is reserved for those who are willing to pay its price." – Sun Tzu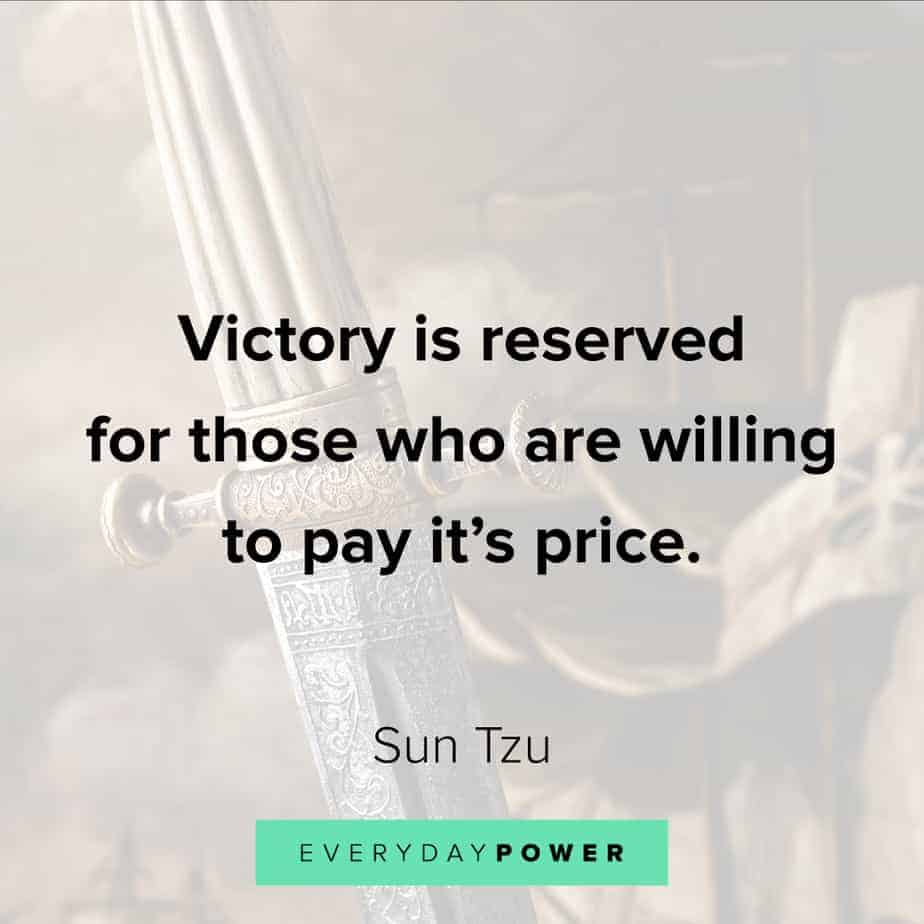 Warrior quotes to inspire and motivate you
Checkout and share these inspiring Instagram bio captions that define your real you.
11. "And now, born from the ashes, she's a warrior in bloodied black."
― Amie Kaufman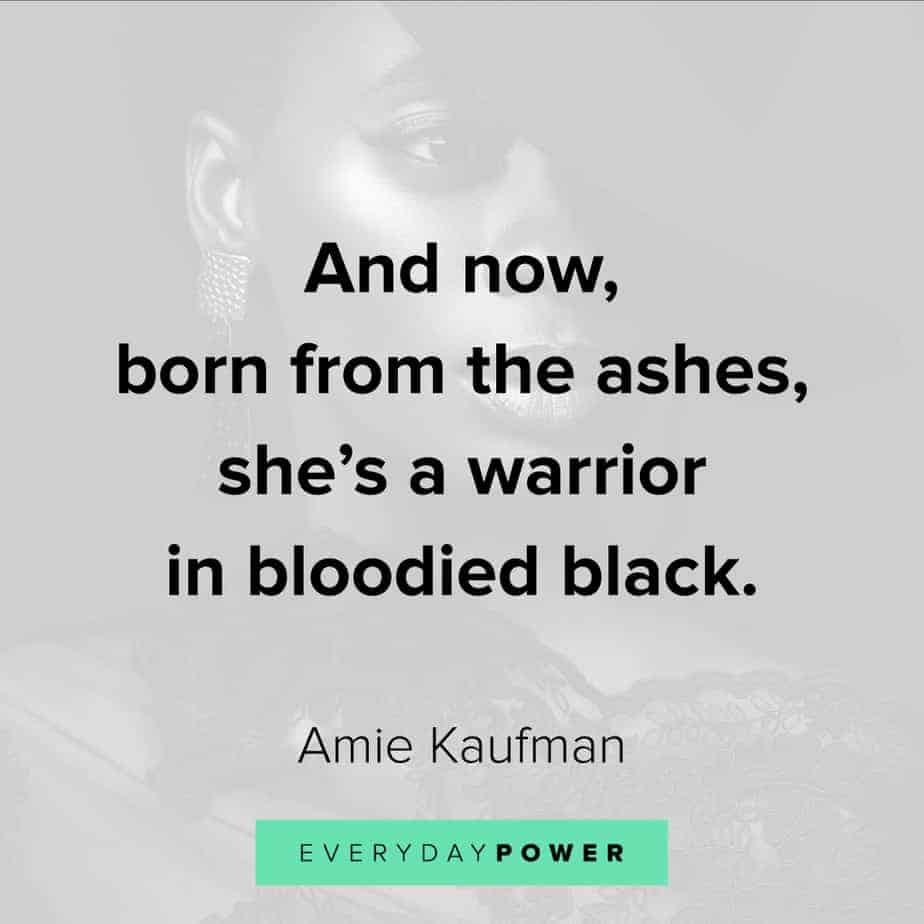 12. "Every single girl, whether we want to recognize it or not, is a warrior." – Marjorie Liu
If you're enjoying these quotes, make sure to read our collection of quotes for girls for young women of all ages.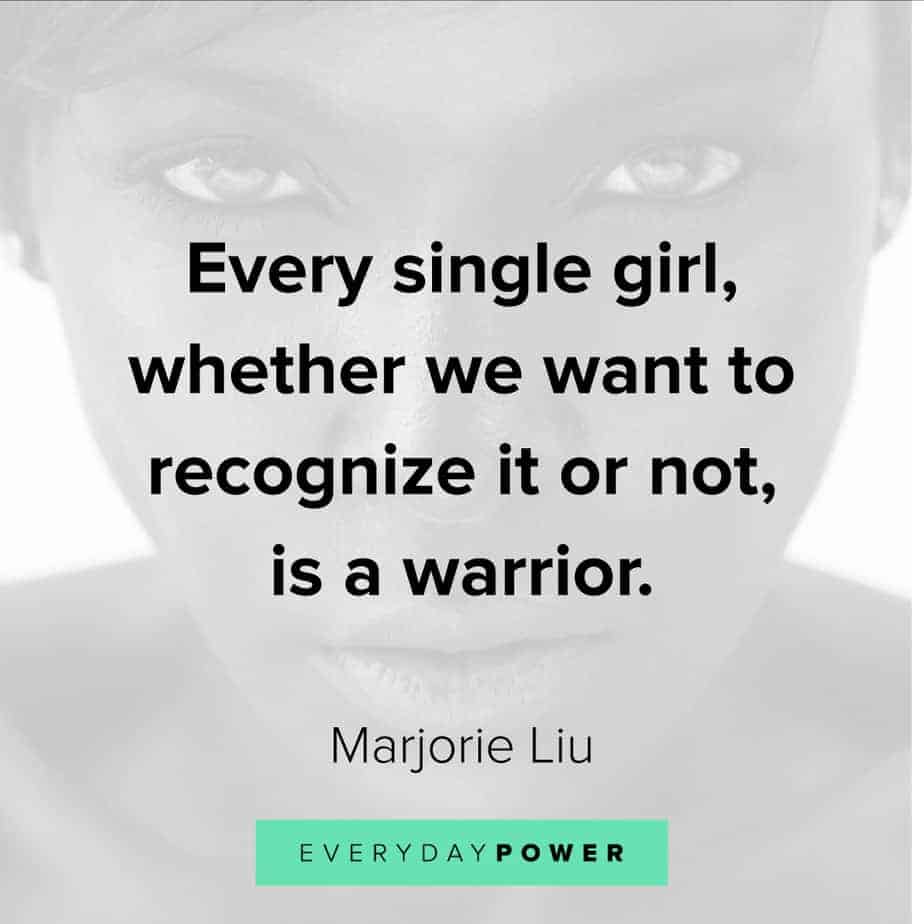 13. "It is not enough to win a war; it is more important to organize the peace." ― Aristotle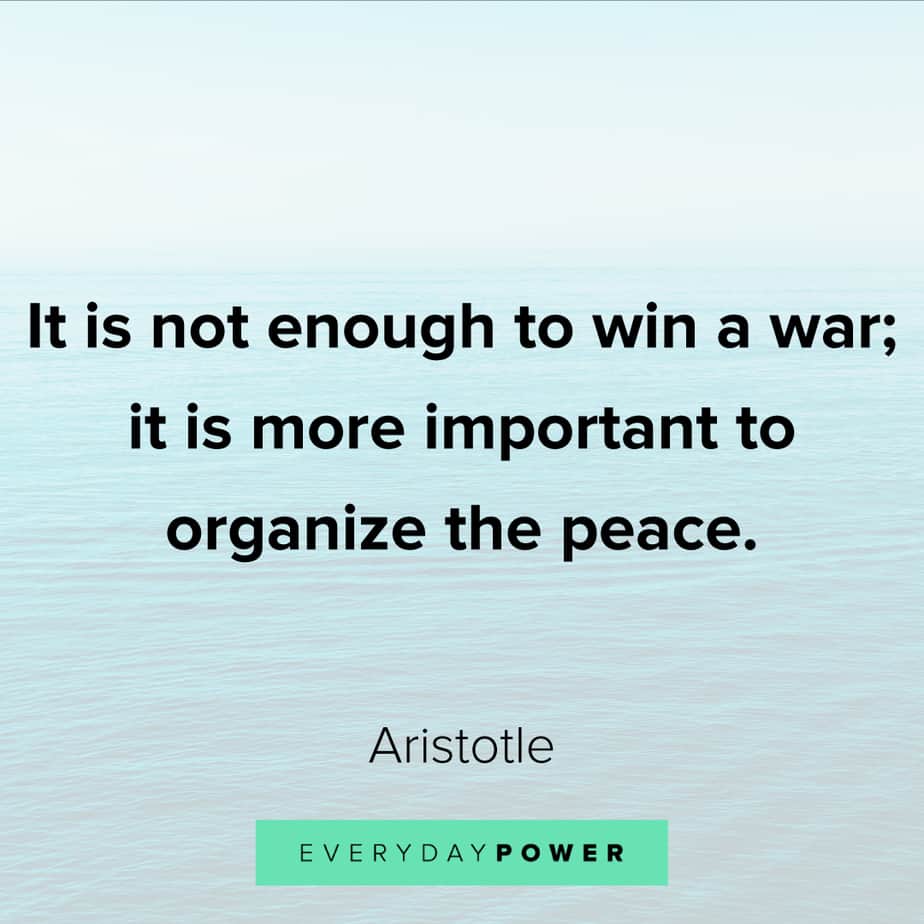 14. "A warrior has to believe, otherwise, he cannot activate his intent positively." ― Théun Mares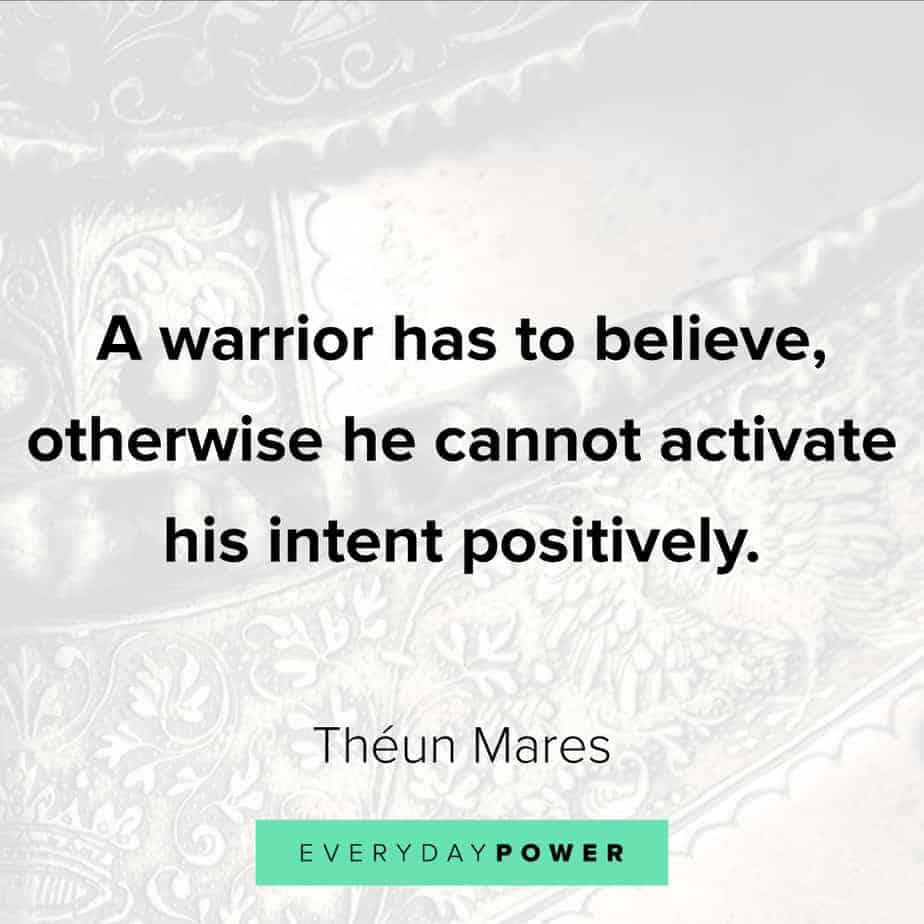 You will also enjoy our article on Lucifer quotes.
15. "Warriors should suffer their pain silently." – Erin Hunter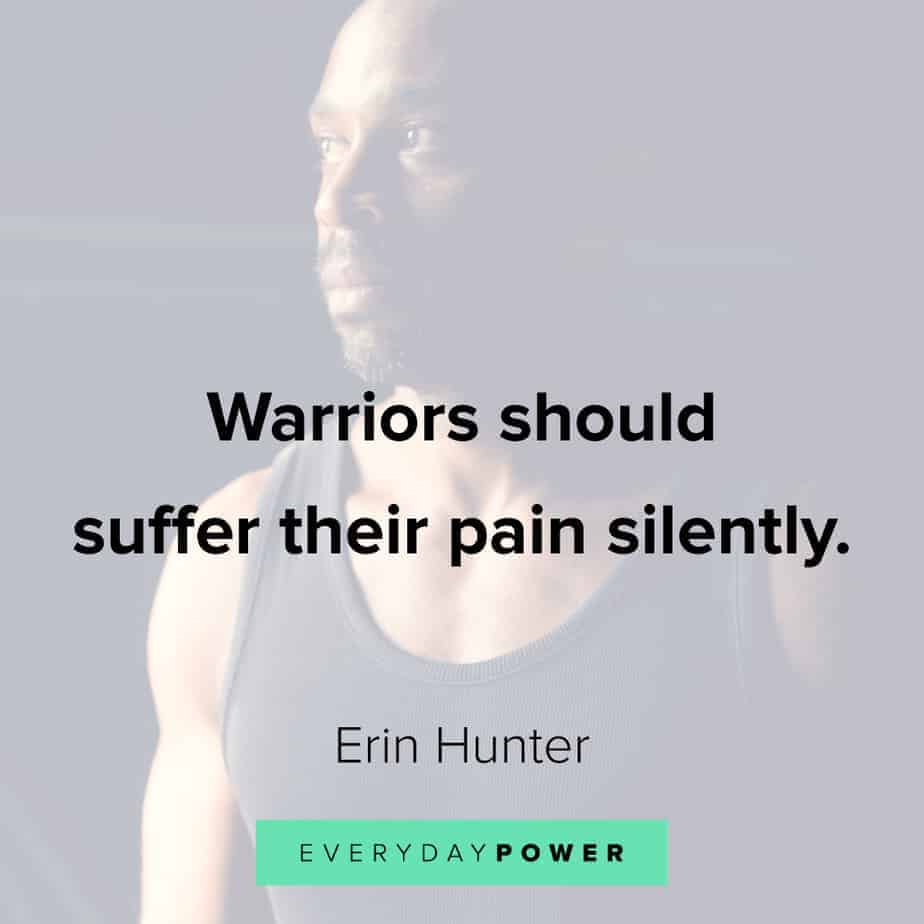 You will also enjoy our article on intention quotes.
16. "To be a warrior is to learn to be genuine in every moment of your life." – Chogyam Trungpa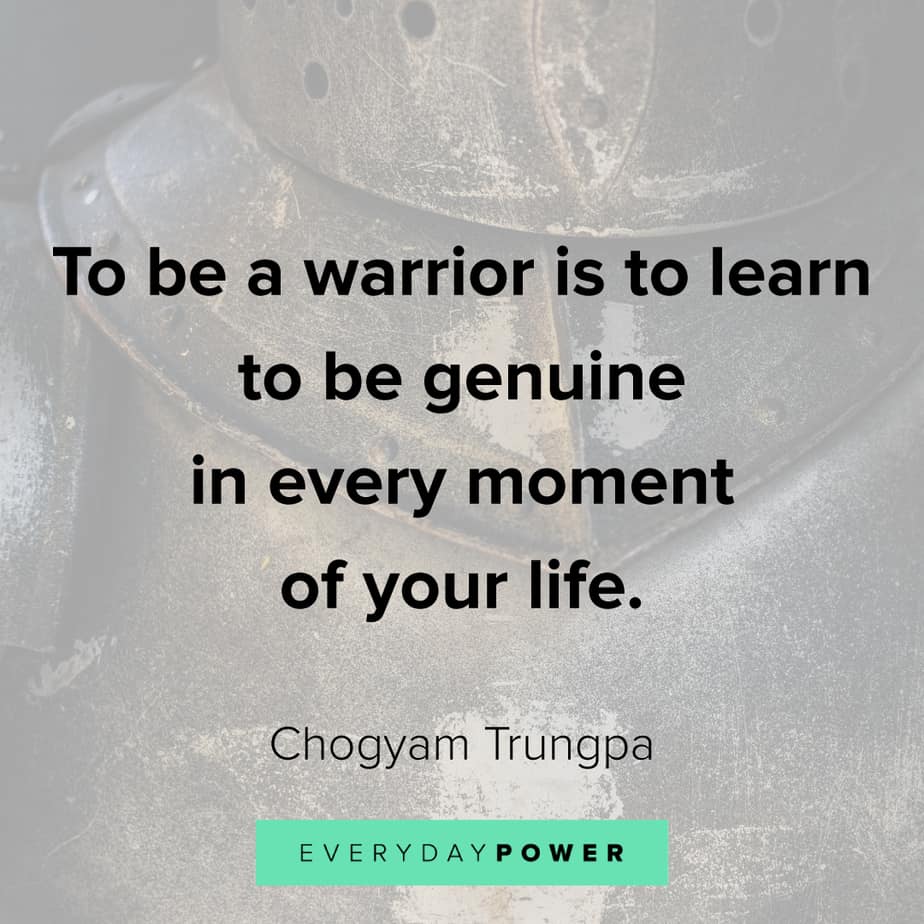 You will also enjoy our article on Kim Possible quotes.
17. "The more you sweat in training, the less you will bleed in battle." – Motto of Navy Seals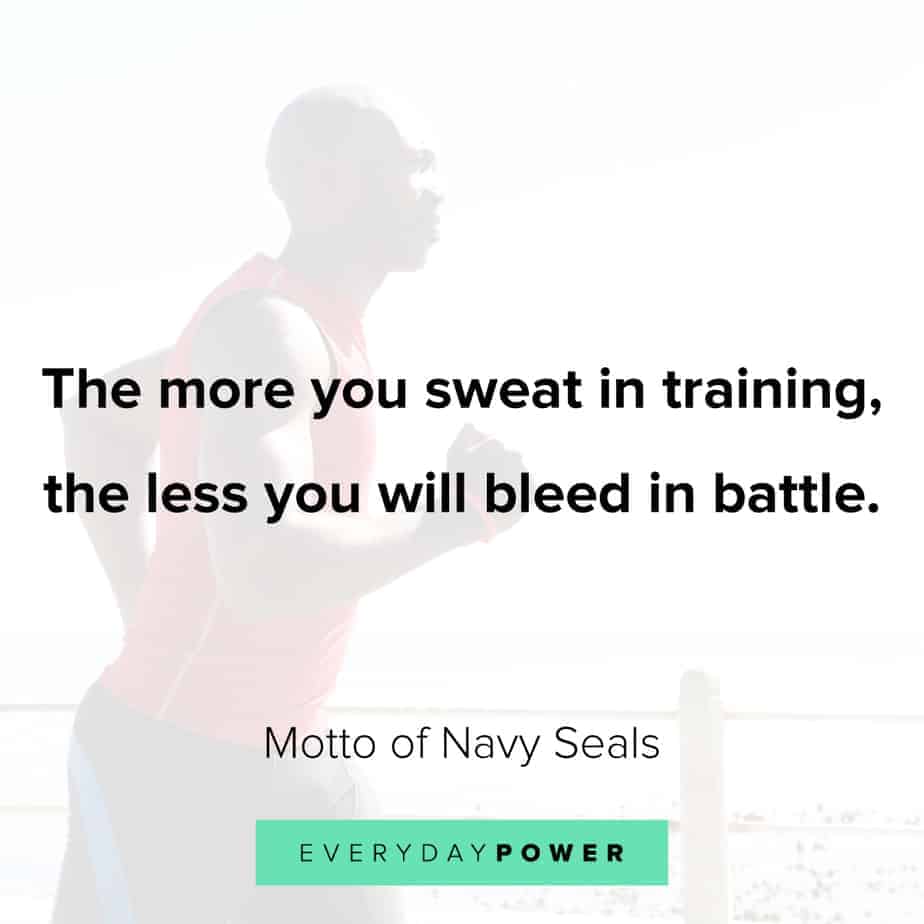 18. "A warrior accepts the challenges of life in true humility. No matter what his destiny may be, it can never be a cause for discontent, but a living challenge which it is his privilege to surmount." ― Théun Mares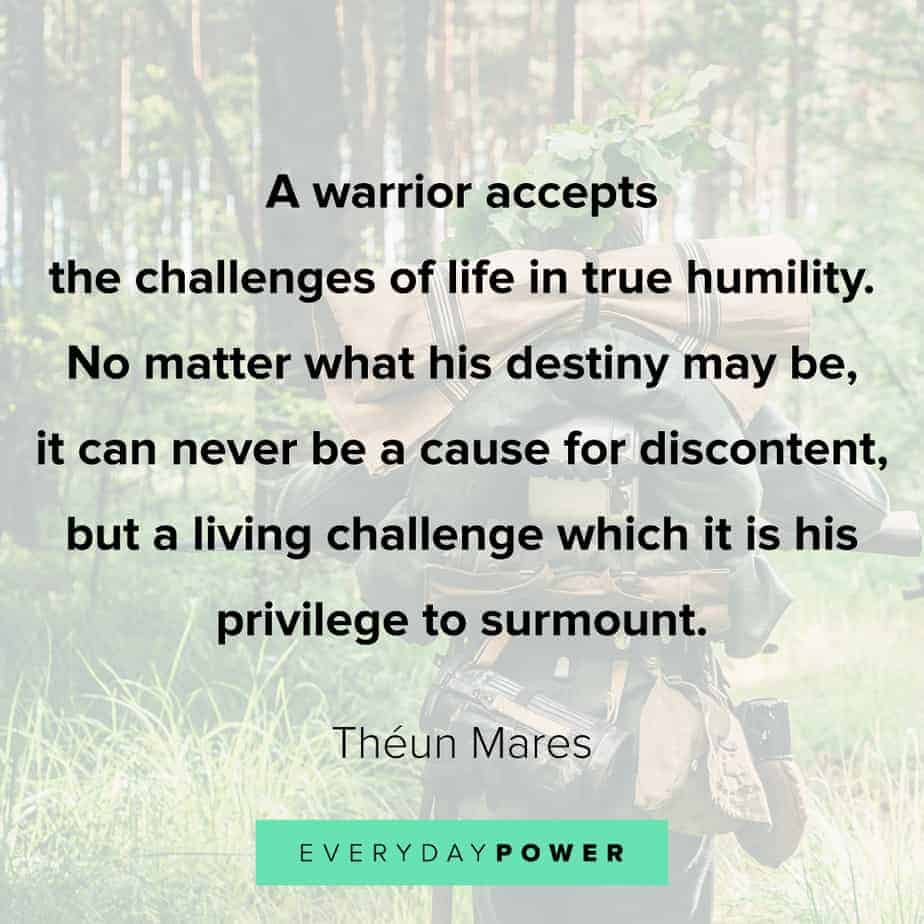 You will also enjoy our article on Alexander the Great quotes.
19. "A warrior lives by acting, not by thinking about acting, nor by thinking about what he will think when he has finished acting." – Carlos Castaneda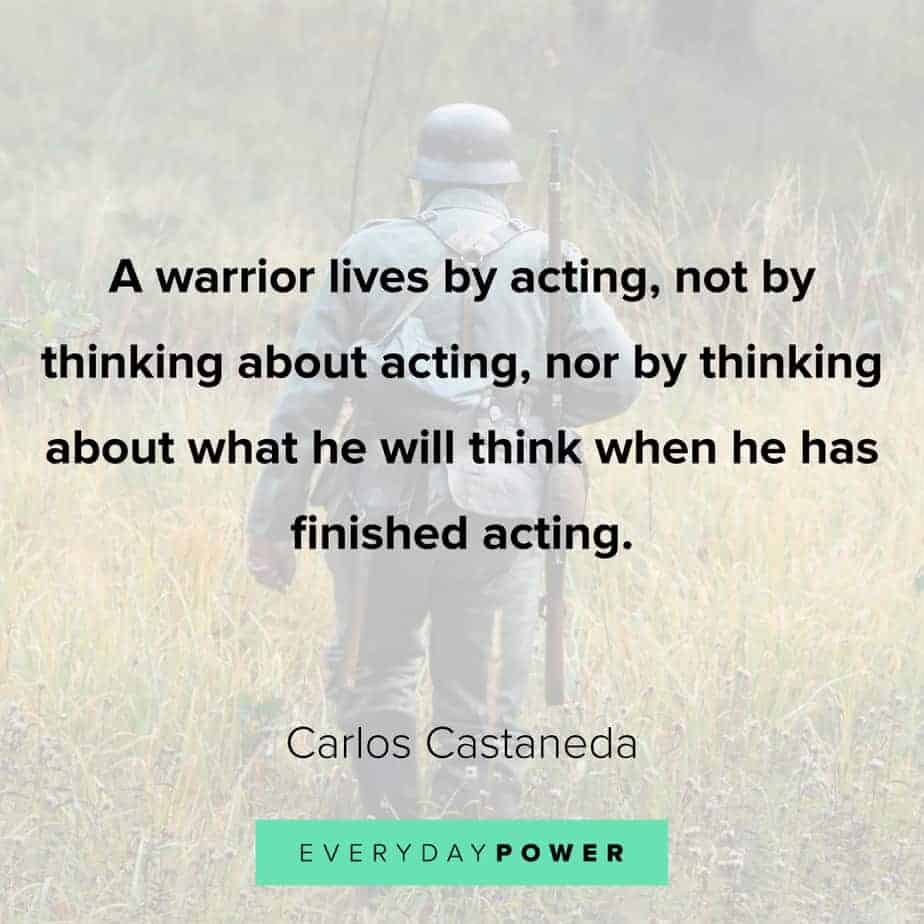 You will also enjoy our article on mind your business quotes.
20. "Our greatest glory is not in never falling, but in rising every time we fall." – Confucius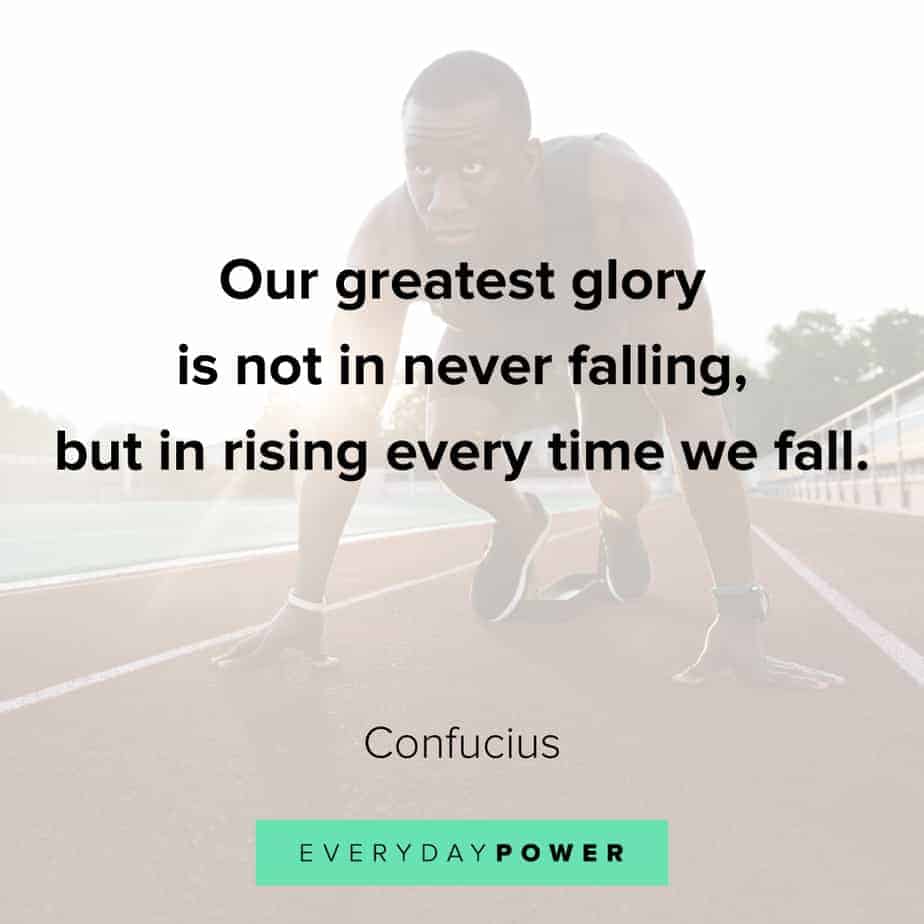 You might also like these Genghis Khan quotes to bring out the warrior in you.
Warrior quotes to help you overcome all your challenges
21. "A warrior does not give up what he loves, he finds the love in what he does." – Dan Millman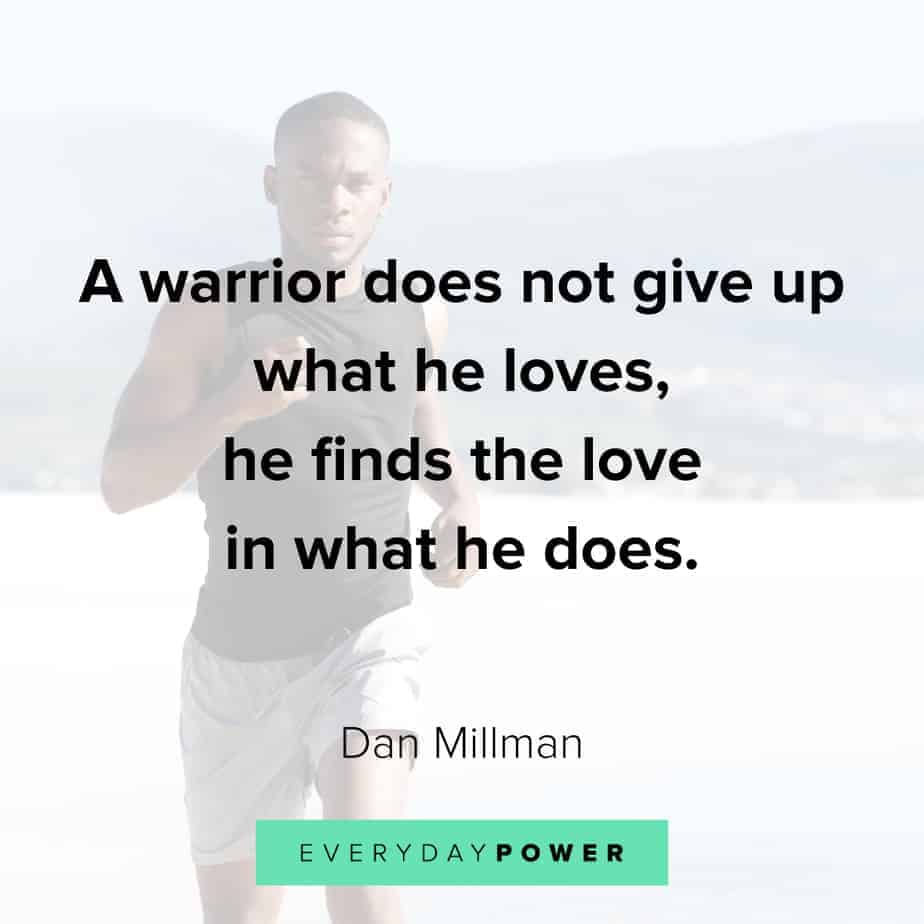 You will also enjoy our article on scars quotes.
22. "One by one she slew her fears, and then planted a flower garden over their graves." ― John Mark Green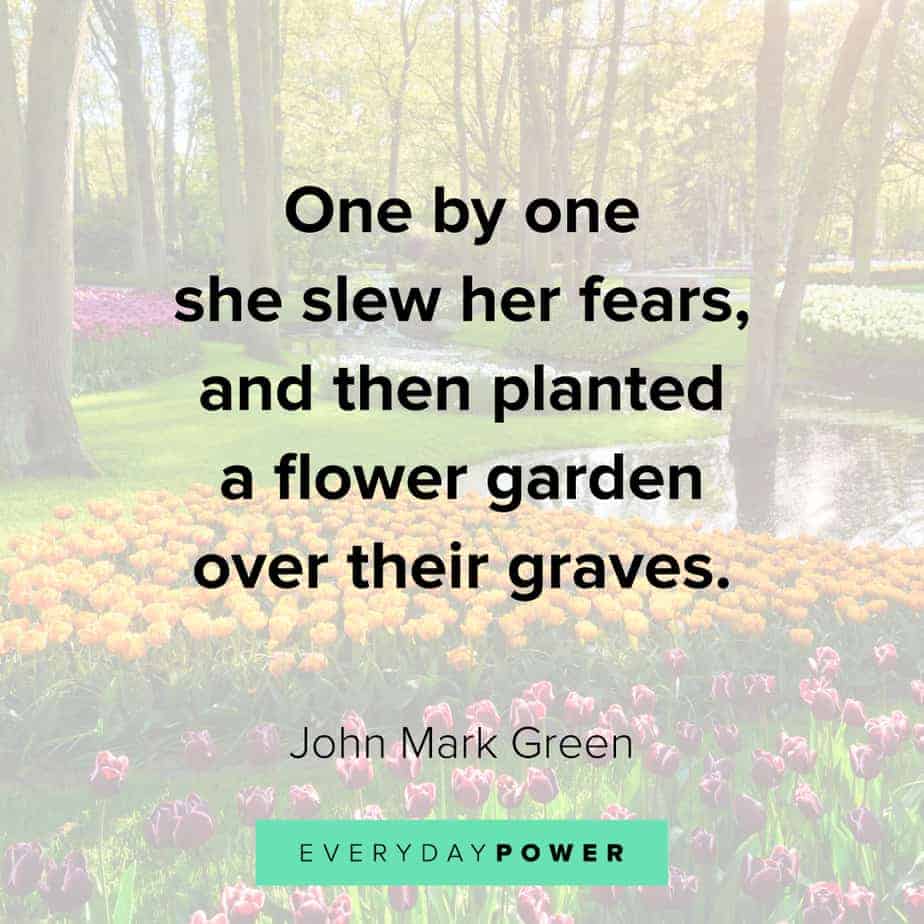 23. "Do not pray for an easy life, pray for the strength to endure a difficult one." ― Bruce Lee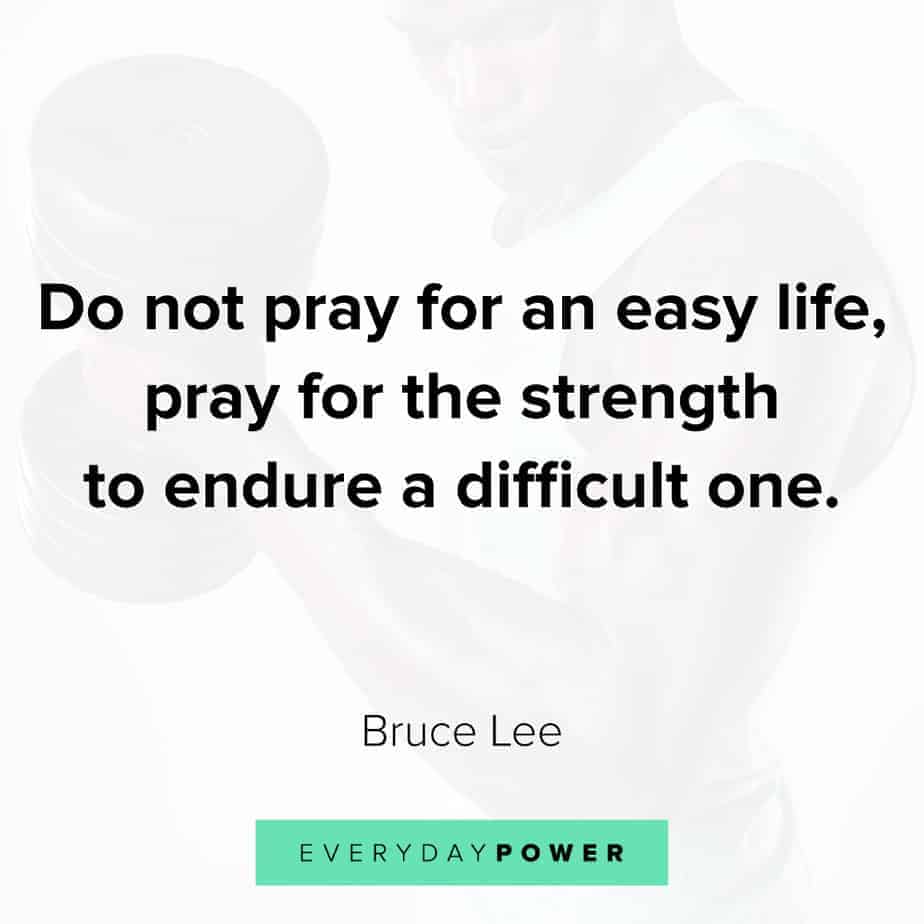 24. "The bravest warriors know when to retreat." ― Maureen Joyce Connolly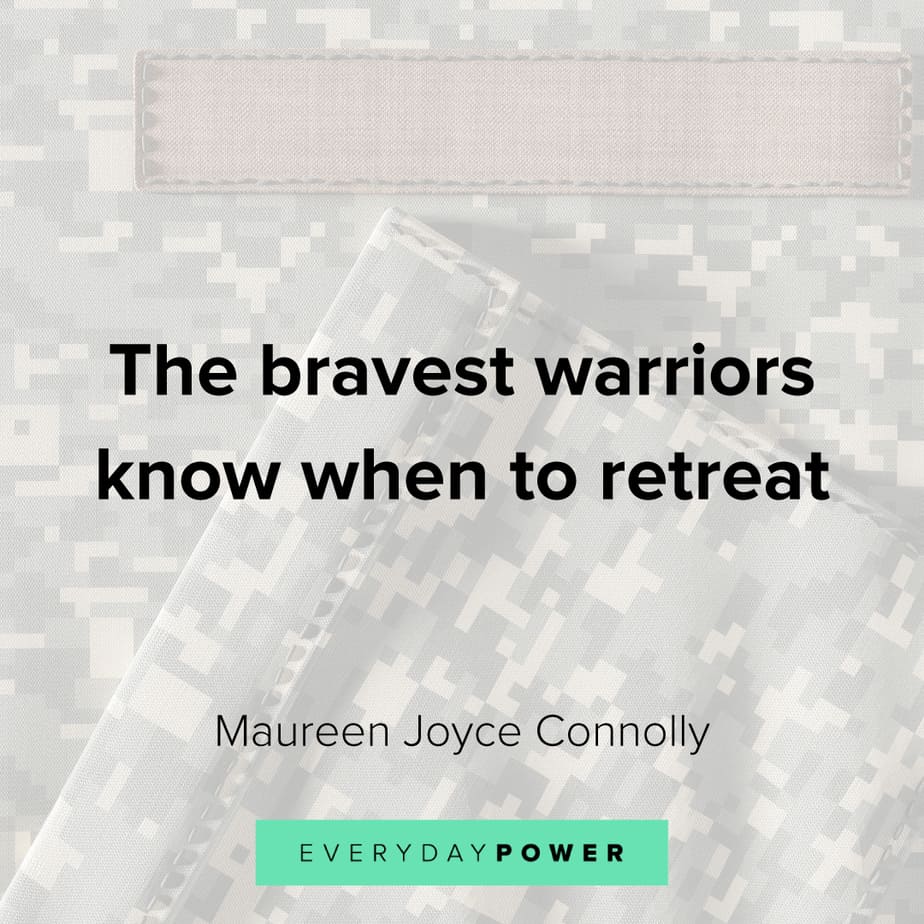 25. "A warrior seeks to act rather than talk." – Carlos Castaneda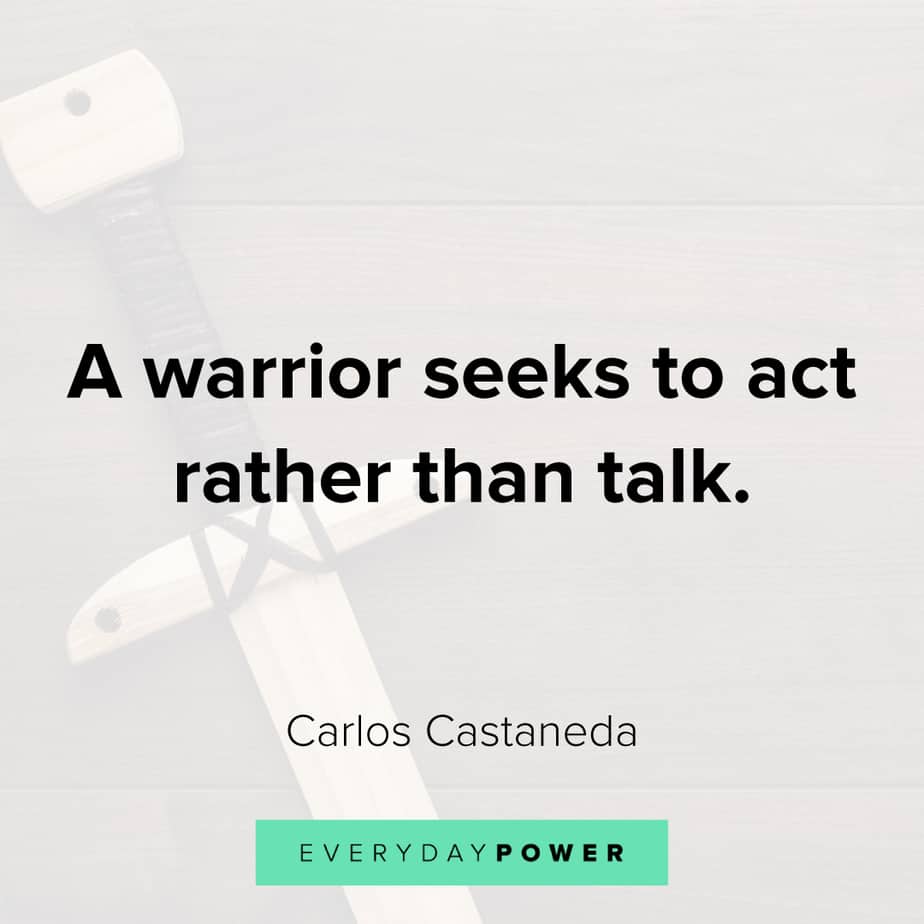 26. "I'm a warrior when it comes to pursuing roles." – Daniel Day-Lewis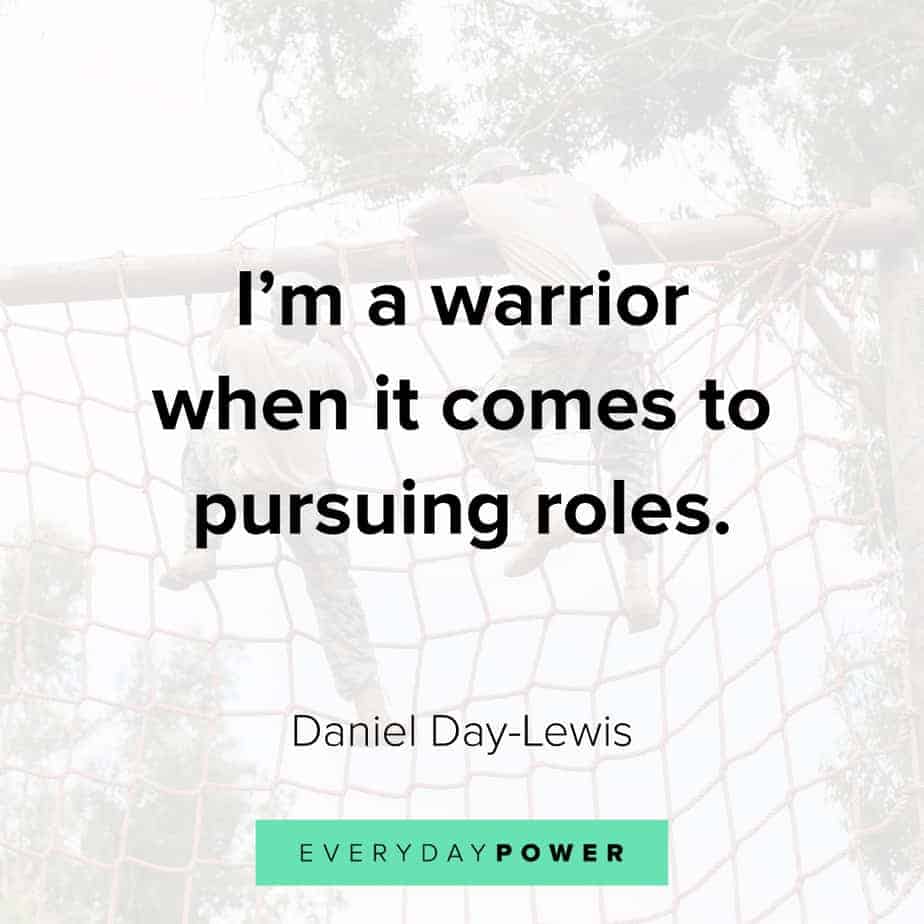 27. "A warrior must only take care that his spirit is never broken." – Shissai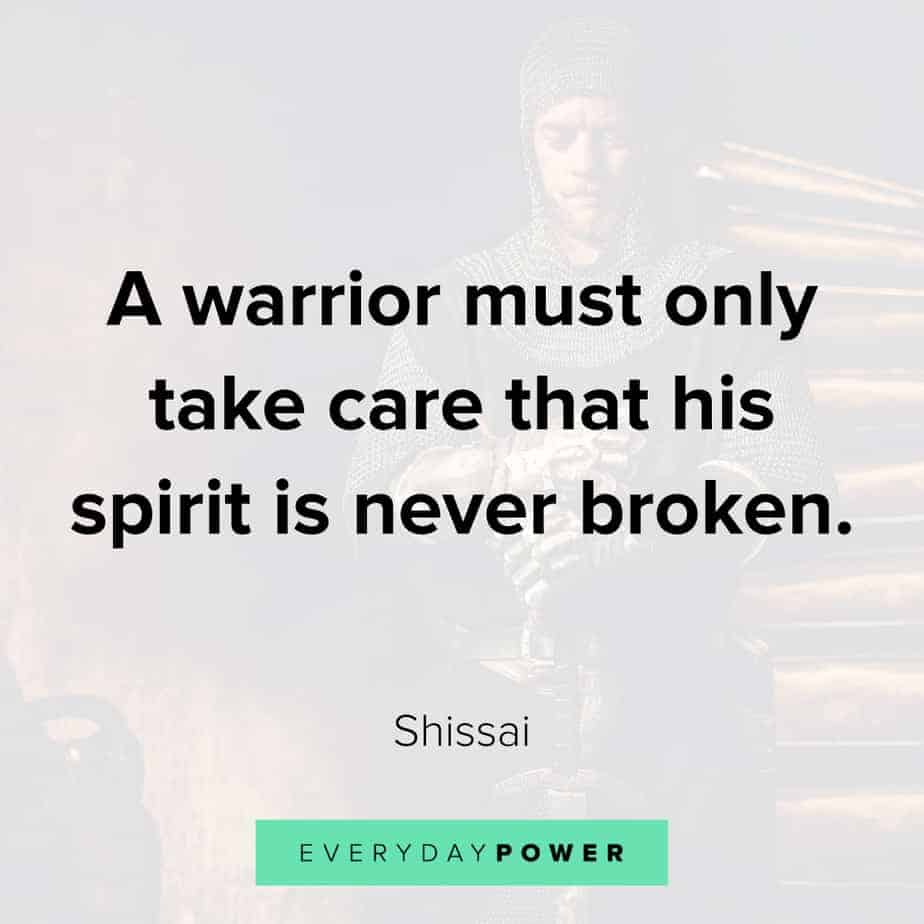 28. "A warrior has to believe, for belief is an essential part of his being." ― Théun Mares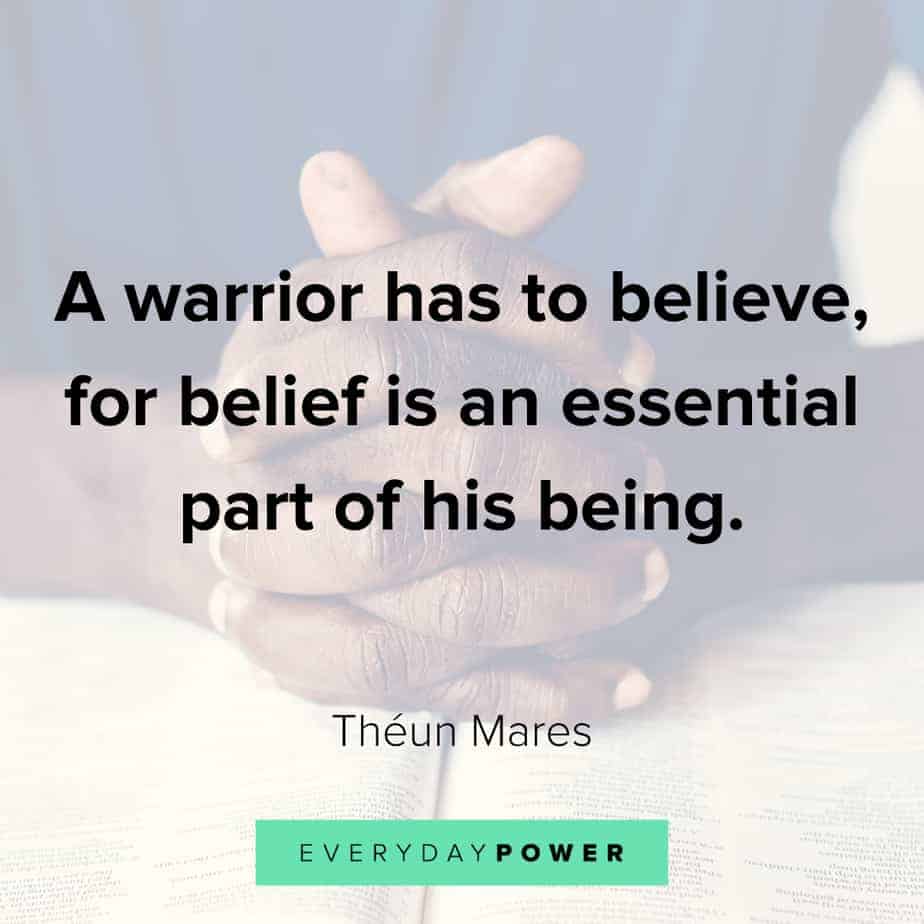 29. "We don't rise to the level of our expectations, we fall to the level of our training." – Archilochus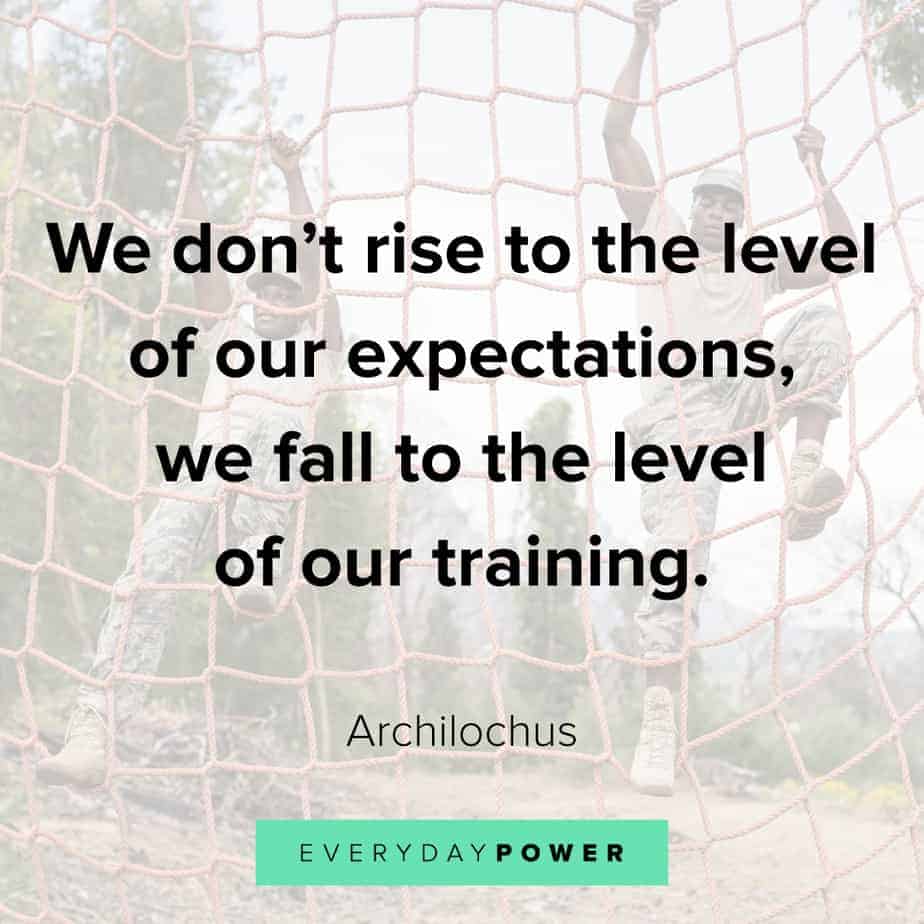 30. "Life can sometimes get the best of you but your state of mind determines your outcome." ― Sanjo Jendayi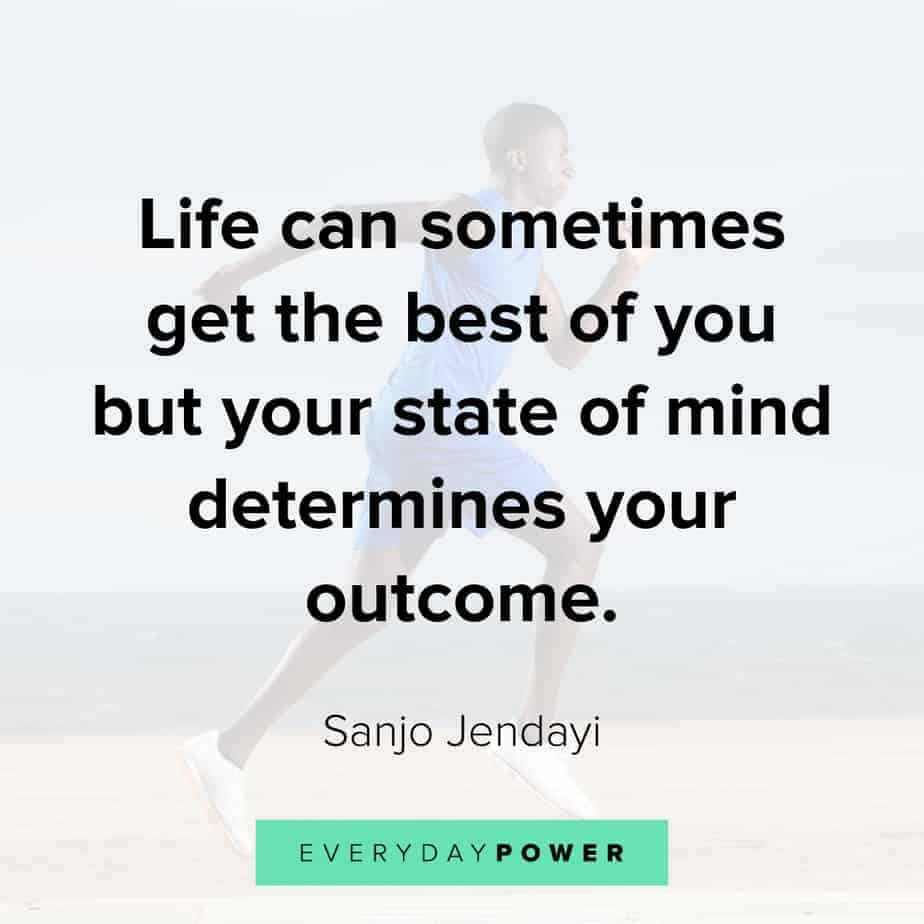 Also check out these powerful wrestling quotes that will inspire you to never give up.
Warrior quotes to inspire you to conquer life
31. "If you're a true warrior, competition doesn't scare you. It makes you better." – Andrew Whitworth
32. "Every great warrior must learn to endure and overcome the adversities of life." – Lailah Gifty Akita
33. "Go to the battlefield firmly confident of victory and you will come home with no wounds whatsoever." ― Uesugi Kenshin
34. "The only thing a warrior cannot fight is her own fierce nature."
― Bianca Marais
35. "The two most powerful warriors are patience and time." – Leo Tolstoy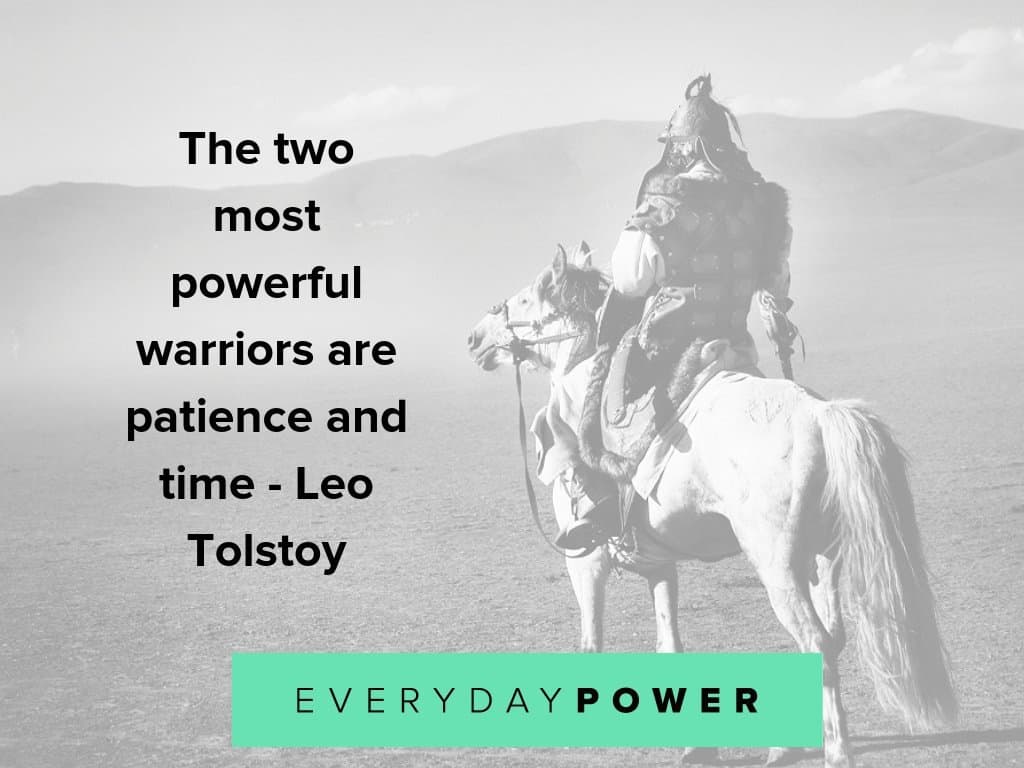 36. "All men are warriors. And life for everything in our universe is nothing but war." – David Zindell
37. "We chose whether to be warriors or to be ordinary." – Carlos Castaneda
38. "Never forget about your inner warrior; sometimes she's all you have"
― Mozelle Barr Martin
39. "A warrior with a cause is the most dangerous soldier of all." – Michael Scott
40. "The warrior must never get angry in war." ― Lailah Gifty Akita
If you're enjoying these quotes, make sure to read our collection of Michael Scott quotes from the hit show, The Office.
Warrior quotes to make you braver
41. "Any great warrior is also a scholar, and a poet, and an artist." – Steven Seaga
42. "The successful warrior is the average man with laser like focus." ― Bruce Lee
43. "Ideas are the great warriors of the world, and a war that has no idea behind it is simply a brutality." – James A. Garfield
44. "He who conquers himself is the mightiest warrior." – Confucius
45. "Courage, above all things, is the first quality of a warrior." – Karl von Clausewitz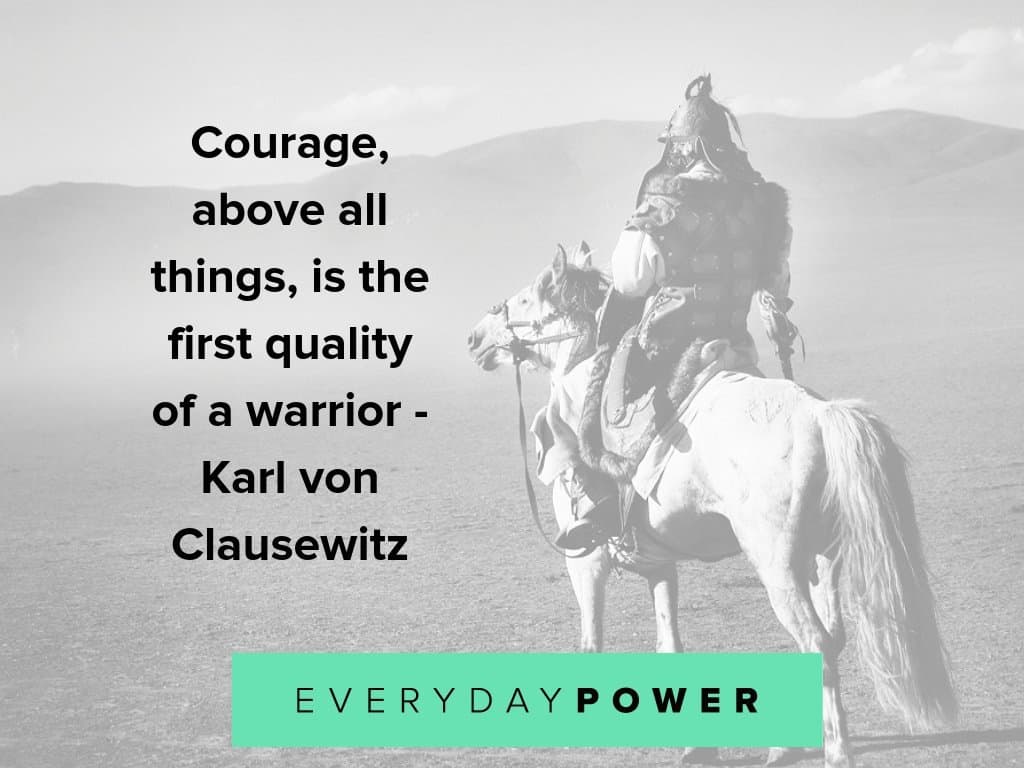 46. "You never know how strong you are, until being strong is your only choice." ― Bob Marley
47. "Within every woman exists a warrior. Really." ― Jessica Bennett
48. "Warriors do not win victories by beating their heads against walls, but by overtaking the walls. Warriors jump over walls; they don't demolish them." – Carlos Castaneda
49. "The path of the Warrior is lifelong, and mastery is often simply staying on the path." – Richard Strozzi-Heckler
50. "Being a WARRIOR is an ATTITUDE!!!" ― Santosh Kumar
If you're enjoying these quotes, you'll love our collection of attitude quotes that will set you up for success.
Warrior quotes to remind you of your strength
51. "I was on the path of the warrior, when I realized I was the warrior."― Neetal Parekh
52. "What you think of me does not change who I am."― Lailah Gifty Akita
53. "The warrior guided by the spirit serves humanity, the warrior without, serves the ego."― Soke Behzad Ahmadi
54. "Consider your goal like a war to win and use whatever strategies you know to win."― Bangambiki Habyarimana
55. "The quality of a conqueror is to be judged as much by what he spears as by what he spares."― Agona Apell
56. "Protecting yourself is self-defense. Protecting others is warriorship."― Bohdi Sanders
57. "With a blade at your throat, a well-connected uncle or a wealthy mother could not save you. Only you could save yourself."― Natalia Marx
58. "Take a chance and risk it all or play it safe and suffer defeat."― Pittacus Lore
59. "You're the hunter, the warrior. You're stronger than anyone else here, that's your tragedy."― Anne Rice
60. "The true warrior isn't immune to fear. She fights in spite of it."― Francesca Lia Block
61. "Cowards hide […] but warriors lie and wait […] the only difference is whether you're motivated by fear or purpose."― Neal Shusterman
62. "Never strike out of anger if at all possible, this will give your enemy the advantage and strengthen his resolve and psyche."― Soke behzad Ahmadi
63. "Be the hero of your children's story. Never let them believe for a minute that honor, courage and doing what is right is only reserved for other fathers and mothers."― Shannon L. Alder
64. "A Warrior of Light does not postpone making decisions."― Paulo Coelho
65. "Don't let hollow heroes distract you from saving yourself."― Nikki Rowe
Warrior quotes to make you strong
66. "Warriors train, everyone else works out." – Lahong Guro Earles
67. "Without a problem there is no solution. Without a mistake there is no correction. It is failure that gives possibility to progress and your adversary that allows mental and physical sharpening to arise." – Tagaturo Klement
68. "Let your plans be dark and as impenetrable as night, and when you move, fall like a thunderbolt." – Sun Tzu
69. "Make every move count. Pick your target and hit it. Perfect concentration means effortless flowing." – Masirib Jeff Elliott
70. We sleep safe in our beds because rough men stand ready in the night to visit violence on those who would do us harm." – George Orwell
71. Winning is not everything, but wanting to win is." – Vince Lombardi
72. "There are no extraordinary men… just extraordinary circumstances that ordinary men are forced to deal with." – Admiral William "Bull" Halsey
73. "The basic difference between an ordinary man and a warrior is that a warrior takes everything as a challenge while an ordinary man takes everything as a blessing or a curse." – Carlos Castaneda
74. "Do not regret a mistake in training. A mistake that is understood and can be corrected is worth more than any effortless perfection." – Tagaturo Klement
75. "Nothing can resist a human will that will stake its very existence on its purpose." – Benjamin Disraeli
These hero quotes will inspire you to take action and make a positive difference. Check them out.
Other warrior quotes and sayings
76. "Every man should lose a battle in his youth, so he does not lose a war when he is old." – George R.R. Martin
77. "The truth cuts like the sharpest knife I've ever known." – Tomi Adeyemi
78. "When one has nothing to lose, one becomes courageous. We are timid only when there is something we can still cling to." – Don Juan
79. "May the Warrior grant me a smooth course and a quick victory." – George R.R. Martin
80. "I am a warrior! he snapped. Beyond that, who I am depends on who you want me to be." – Dan Millman
81. "Be a Fearless Warrior, allow Love to be your shield." – Lady Alexis Essuman
82. "In times like these, we must be warriors." – Bethany Stahl
83. "The ultimate way to fight is to seem not to fight all." – Bangambiki Habyarimana
84. "A Warrior speaks truth that cuts sharper than winter cold." – Kevin Anytime
85. "The warrior knows the worth of the wilderness." – Lailah Gifty Akita
86. "A warrior knows that he is only a man. His only regret is that his life is so short that he can't grab onto all the things he would like to. But for him, this is not an issue; it's only a pity."
– Carlos Castaneda
87. "I guess I'm just a natural warrior." – Camille Paglia
88. "A responsible Warrior is one who has proved able to observe and to learn." –
Paulo Coelho
89. "Nothing can temper the spirit of a warrior as much as the challenge of dealing with impossible people in positions of power. Only under those conditions can warriors acquire the sobriety and serenity to withstand the pressure of the unknowable." – Carlos Castaneda
90. "A warrior knows that the farthest-flung star in the Universe reveals itself in the things around him." – Paulo Coelho
Warrior quotes to help you keep going and stay strong
91. "Warriors know when to pick their fights." — Sarah J. Maa
92. "Surprise is the warrior's greatest weapon." — Erin Hunter
93. "A warrior may change his metal, but not his heart." — Edgar Rice Burroughs
94. "This is the strange way of the world, that people who simply want to love are instead forced to become warriors." — Lauren Oliver
95. "Untroubled, scornful, outrageous that is how wisdom wants us to be: she is a woman and never loves anyone but a warrior." — Friedrich Nietzsche
96. "A warrior knows that the ends do not justify the means. Because there are no ends, there are only means." — Paulo Coelho
97. "The big difference between a warrior and a victim is that the victim represses and the warrior refrains." — Don Miguel Rui
98. "If you are a warrior, decency means that you are not cheating anybody at all. You are not even about to cheat anybody. There is a sense of straightforwardness and simplicity." — Chogyam Trungpa
99. "Fear is an aid to the warrior. It is small fire burning. It heats the muscles, making us stronger. Panic comes when the fire is out of control, consuming all courage and pride." — David Gemmel
100. "Fear doesn't go away. The warrior and the artist live by the same code of necessity, which dictates that the battle must be fought anew every day." — Steven Pressfield
Warrior quotes about longevity
101. "Fate whispers to the warrior, 'You can not withstand the storm.' The warrior whispers back, 'I am the storm.'" – Jake Remington
102. "The most effective way to live is as a warrior. A warrior may worry and think before making any decision, but once he makes it, he goes his way, free from worries or thoughts; there will be a million other decisions still awaiting him. That's the warrior's way." – Carlos Castaneda
103. "The greatest warriors know when to retreat." – Maureen Joyce Connolly
104. "The warrior's intention should be simply to grasp his sword and to die." – Kiyomasa Kato
105. "The average man is hooked to his fellow men, while the warrior is hooked only to infinity." – Carlos Castaneda
106. "A warrior who is prepared to fight must also be prepared to die." – Sun Tzu
107. "Tomorrow's victory is today's practice." – Chris Bradford
108. "A warrior's greatest enemy can also be his greatest teacher." – Taran Matharu
109. "Never confuse a single defeat with a final defeat." – F. Scott Fitzgerald
110. "Out of suffering have emerged the strongest souls; the most massive characters are seared with scars." – Kahlil Gibran
Warrior quotes to make you victorious
111. "In the warrior's code there's no surrender, though his body says stop… his spirit cries, never!" – Survivor, Burning Heart
112. "Strategy is the craft of the warrior." – Miyamoto Musashi
113. "Rise up, warriors, take your stand at one another's sides, our feet set wide and rooted like oaks in the ground. ''…learn to love death's ink-black shadow as much as you love the light of dawn. 'Here is courage, mankind's finest possession, here is the noblest prize that a young man can endeavor to win." – Tyrtaeus, Spartan Poet
114. "He who sweats more in training bleeds less in war." – Spartan Warrior Creed
115. "To hold it together when everyone else would understand if you fell apart, that's true strength." – Miyamoto Musashi
116. "The only reason a warrior is alive is to fight, and the only reason a warrior fights is to win." – Miyamoto Musashi
117. "Be a warrior, not a worrier." – Warrior Saying
118. "Toil and risk are the price of glory, but it is a great thing to live with courage and die leaving an everlasting fame." – Alexander The Great
119. "I do what I do because it is the right thing to do. I am a warrior, and it is the way of the warrior to fight superior odds." – Paul Watson
120. "The amateur believes he must first overcome his fear; then he can do his work. The professional knows that fear can never be overcome. He knows there is no such thing as a fearless warrior or a dread-free artist." – Steven Pressfield
Warrior quotes to unleash the fighter in you
121. "One mark of a great soldier is that a great soldier fights on his own terms or fights not at all." – Sun Tzu
122. You may have to fight a battle more than once to win it." – Margaret Thatcher
123. "A warrior must be able to be counted on at all times. He is not discouraged easily because he knows that what he is doing is of noble character." ― Rick Willison
124. "No one knows what you have been through or what your pretty little eyes have seen, but I can reassure you ~ whatever you have conquered, it shines through your mind." ― Nikki Rowe
125. "To be heroic is to be courageous enough to die for something; to be inspirational is to be crazy enough to live a little." ― Criss Jami
126. "Young girls are told you have to be the delicate princess. Hermione taught them that you can be the warrior." ― Emma Watson
127. "There's more to being a warrior than killing. A true warrior — the best warrior — isn't cruel or mean. He doesn't claw an enemy who can't fight back. Where's the honor in that?" ― Erin Hunter
128. "There are things in the universe that are simply and purely evil. A warrior does not seek to understand them, or to compromise with them. He seeks only to obliterate them." ― Timothy Zahn
129. "Fighting isn't all there is to the Art of War. The men who think that way, and are satisfied to have food to eat and a place to sleep, are mere vagabonds. A serious student is much more concerned with training his mind and disciplining his spirit than with developing martial skills." ― Eiji Yoshikawa
130. "A warrior fears the battle he missed. More than any fight he can make his own, he fears the fight that's gone, that ended without him, that no feat of arms can change." ― Mark Lawrence
Warrior quotes to move you forward each day
131. "Solitude is the companion of warriors." -Chris Eubank Sr.
132. "All pregnant women are warriors. It takes strength just to get up and go to work." -Camilla Luddington
133. "If you have the soul of a warrior, you are a warrior." -Cassandra Clare
134. "Pain was their body's way of telling them that they'd pushed themselves to their limits — which was exactly where they were supposed to be." -Richard Marcinko
135. "You are here, alive and awake and for whatever reasons you have fought your battles, it's time to start focusing on what strengths pulled you up when the entire world had knocked you down." -Nikki Rowe
136. "There are three qualities that every individual must have to achieve success: a Monk's patience, a Warrior's courage, a Child's imagination." -Sharad Vivek Sagar
137. "But I also know that true strength comes from being willing to fail in order to progress." -Tricia Levenseller
138. "The victory over our inner self is a daily struggle. Be strong and do not give up." -Lailah Gifty Akita
139. "A warrior of the Light is never in a hurry. Time works in his favor; he learns to master his impatience and avoids acting without thinking." -Paulo Coelho
140. "For a warrior of God, 'boots on the ground' will always begin with our 'knees in the dirt." -Craig D. Lounsbrough
Courageous warrior quotes
141. "The warrior fights before he's taught how. He just fights, and if you hit him, he steps forwards towards you." -Karl Wiggins
142. "The true warrior is good, gentle, and honest. His bravery comes from within himself. He learns to conquer his own fears and misdeeds." -Brian Jacques
143. "Life has tried to break me. The wounds have not yet healed, but I am not a victim—never been and never will. My heart was born a warrior. Each day I'm fighting still. I am everything the darkness could not kill." -John Mark Green
144. "The essence of warriorship or the essence of human bravery is refusing to give up on anyone or anything." -Chogyam Trungpa
145. "A warrior has to believe for his belief is an essential part of his being." -Theun Mares
146. "The true warrior understands and seizes that moment by giving an effort so intense and so intuitive that it could only be called one from the heart." -Pat Riley
147. "Courage is not having the strength to go on. It is going on when you don't have the strength." -Theodore Roosevelt
148. "A true warrior knows how to draw peace and serenity in spite of his circumstances and point of vantage and knows to always be aware." ― Fernan Vargas
149. "A warrior must believe in his strength of will, of purpose, of heart, and soul." -David Gemmell
150. "Cowards shrink from challenges, weaklings flee from them, but warriors wink at them." -Matshona Dhliwayo
Warrior Quotes to Inspire You to Never Give Up
151. "I have nothing to offer but blood, toil, tears, and sweat. We have before us an ordeal of the most grievous kind. We have before us many, many long months of struggle and of suffering. You ask, what is our policy? I can say: It is to wage war, by sea, land, and air, with all our might and with all the strength that God can give us; to wage war against a monstrous tyranny, never surpassed in the dark, lamentable catalog of human crime. That is our policy. You ask, what is our aim? I can answer in one word: It is victory, victory at all costs, victory in spite of all terror, victory, however long and hard the road may be." – Winston S. Churchill
152. "Out of every one hundred men, ten shouldn't even be there, eighty are just targets, nine are the real fighters, and we are lucky to have them, for they make the battle. Ah, but the one, one is a warrior, and he will bring the others back." – Heraclitus
153. "The most beautiful people we have known are those who have known defeat, known suffering, known struggle, known loss, and have found their way out of the depths. These persons have an appreciation, a sensitivity, and an understanding of life that fills them with compassion, gentleness, and a deep loving concern. Beautiful people do not just happen." -Elisabeth Kübler-Ross
154. "Pain is temporary. It may last a minute, or an hour, or a day, or a year, but eventually it will subside and something else will take its place. If I quit, however, it lasts forever. That surrender, even the smallest act of giving up, stays with me. So when I feel like quitting, I ask myself, which would I rather live with?" – Lance Armstrong
155. "Never give in. Never give in. Never, never, never, never – in nothing, great or small, large or petty – never give in, except to convictions of honor and good sense. Never yield to force. Never yield to the apparently overwhelming might of the enemy." – Winston Churchill
156. "Oh! Be men, or be more than men. Be steady to your purposes and firm as a rock. This ice is not made of such stuff as your hearts may be; it is mutable and cannot withstand you if you say that it shall not. Do not return to your families with the stigma of disgrace marked on your brows. Return as heroes who have fought and conquered, and who know not what it is to turn their backs on the foe." – Mary Shelley
157. "You can have anything you want if you want it badly enough. You can be anything you want to be, do anything you set out to accomplish if you hold to that desire with singleness of purpose." – Abraham Lincoln
158. "You may encounter many defeats, but you must not be defeated. In fact, it may be necessary to encounter the defeats, so you can know who you are, what you can rise from, how you can still come out of it." – Maya Angelou
159. "The thing about a hero, is even when it doesn't look like there's a light at the end of the tunnel, he's going to keep digging, he's going to keep trying to do right and make up for what's gone before, just because that's who he is." – Joss Whedon
160. "You were born a winner, a warrior, one who defied the odds by surviving the most gruesome battle of them all – the race to the egg. And now that you are a giant, why do you even doubt victory against smaller numbers and wider margins? The only walls that exist are those you have placed in your mind. And whatever obstacles you conceive, exist only because you have forgotten what you have already achieved." – Suzy Kassem
Warrior Quotes For Their Selfless Nature To Guard People
161. "It makes me sad, sad inside, to see a warrior without his pride." ― Adam Ant
162. "A warrior accepts that we can never know what will happen to us next." ― Pema Chodron
163. "I like to believe that I've got a lot of guardian warriors sittin' on my shoulder including my dad." ― Patrick Swayze
164. "Groundless superstition ill befits an army; valor is the only deity that rules in the warrior's breast." ― Silius Italicus
165. "Goal setting is fine if you want to be the warrior archetype." ― Wayne Dyer
166. "One must make the warrior walk his everyday walk." ― Miyamoto Musashi
167. "The strongest of us are those that are spiritually strong, and a spiritual warrior is one of vulnerability." ― Chogyam Trungpa
168. "A good man does not make a warrior, just as good steel does not go for nails." ― Confucius
169. "You are not mechanics, you are warriors. You have been trained, not to think, but to do." ― H. G. Wells
170. "If I was going to be a princess, I would be a warrior princess." ― Emma Watson
Warrior Quotes To Unleash The Power in You
171. "You were born with purpose. Let the warrior inside you free, let her speak, let her release the magic that has been dormant for so long. Its time." ― R.S. Young
172. "A true warrior is guided by honesty, justice, and righteousness." ― Bogumil Hausman
173. "Awaken the warrior in you to fight for what you want or the fight will defeat the warrior inside you." ― Nasreen Variyawa
174. "The time of the Warrior is the time of learning discipline, a concentration of body, mind, and spirit." ― Kim Rice Smith
175. "When you listen to the warrior inside you face life with power and you flee from nothing yet conquer all things you focus on." ― Efthymios Tzimas
176. "A true warrior knows and understands who they are and lives a life true to their vision and ideals." ― S. McAley
177. "There is a warrior in you but you need power to unleash the warrior in you." ― Francis Agbo
178. "Making a connection with the Warrior inside of you is a way of accessing energy and magic that can bring many positive changes into your life." ― Kerr Cuhulain
179. "A true warrior is selfless and gives of himself that others may realize their own potential." ― Joseph J. Bailey
180. "The warrior has greater strength but also greater flexibility." ― Raul Villacis
Powerful Warrior Quotes To Acquire Victory
181. "Let us form one body, one heart, and defend to the last warrior our country, our homes, our liberty, and the graves of our fathers." — Tecumseh
182. There must be those among whom we can sit down and weep and still be counted as warriors." — Adrienne Rich
183. "A warrior, on the other hand, is a hunter. He calculates everything. That's control. But once his calculations are over he acts. He lets go. That's abandon." — Carlos Castaneda
184. "I live because I am a Warrior and because I wish one day to be in the company of [She] for whom I have fought so hard." — John Bunyan
185. "When life is victorious, there is birth; when it is thwarted, there is death. A warrior is always engaged in a life-and-death struggle for Peace." — Morihei Ueshiba
186. "Warrior, when you pledge yourself to the service of a High Priestess, the goal is not to frighten her to death but to protect your lady from death." — P. C. Cast
187. "A Warrior of Light never resorts to trickery, but he knows how to distract his opponent." — Paulo Coelho
188. "Knowledge for a warrior is something that comes at once, engulfs him, and passes on." — Carlos Castaneda
189. "Warriors of light are not perfect.Their beauty lies in accepting this fact and still desiring to grow and to learn." — Paulo Coelho
190. "The ideal of warriorship is that the warrior should be sad and tender, and because of that, the warrior can be very brave as well." — Chogyam Trungpa
Warrior Quotes To Be Proud Of Protective Warriors
191. "Cause I'm a warrior, I'm gonna fight for your love I'm a warrior! I'm never gonna give up, cause I'm a warrior." — Blush
192. "The strength of a warrior is not defined by the wars he wins; but the times he seeks for peace." — Aniket S Sharma
193. "The only reason a man should ever pick up a sword was to protect those he loved, not to willfully take the life of someone else's beloved." — Sherrilyn Kenyon
194. "Most of all, warriors are honorable because to be otherwise is cowardly!" — Forrest E. Morgan
195. "I'll be your warrior, protecting you through the toughest times, I'll be your warrior. Won't ever leave your side, be your warrior, be your soldier of love. I sacrifice my love for you through any war." — BLV
196. "Brothers everywhere raise your hands into the air we're warriors, warriors of the world. Like thunder from the sky sworn to fight and die we're warriors, warriors of the world." — Manowar
197. "Warriors use their intent and will to shape their lives. All of their actions are conscious, intentional, and complete." — Kerr Cuhulain
198. "We are the ones, we are the warriors, we are the ones who fight for our right. We fight alone and yeah we get what we want, we love the battle and we will die for our cause." — Black Tide
199. "The warrior that has the most confidence in his abilities to fight is usually the most humble person you will ever meet." — Terry Bryan
200. "A warrior's tears blood from above, his fury unleashed in a most perfect love. Though few understand it a life heaven loaned, dying immortal." — Kurt Philip Behm
Warrior Quotes about Warriors and the Spirit of Battle
201."The greatest weapon any warrior can carry into battle is absolute certainty of her eternal soul." ― Chuck Palahniuk
202. "There was a time when I thought I was doing a good thing with good guys for a good cause. Looking back, I think I really wanted to be a warrior." ― Steven Seagal
203. "We're warriors, this culture, and we're very puritanical about sex and very embracing about violence and I don't know why that is." ― Mark Ruffalo
204. "A warrior is free to be a hero and pull off daring do and the soldier is irresponsible if he does it." ― C. J. Cherryh
205. "I'm able to fight for myself, I'm able to speak up and feel like I have a voice, and I can be my own advocate and my own warrior." ― Ally Hilfiger
206. "The warrior must continue to make decisions in the face of extreme circumstances. He cannot afford to get angry or frightened." ― George Friedman
207. "Being a happy warrior, you also have a lot of fun in what you do because you believe in what you're doing." ― Laura Ingraham
208. "So live your life of obedience and of war! What matter about long life! What warrior wisheth to be spared!" ― Friedrich Nietzsche
209. "I believe in magic, and having a vision. The tough times made me a warrior. I work hard." ― Neon Hitch
210. "When warriors feel afraid they lack something, it is only because they are forgetful. They have forgotten how capable they truly are." ― Mercedes Lackey
Powerful Warrior Quotes that Inspire Courage and Strength
211. "The mind is a greater warrior than the sword." — Matshona Dhliwayo
212. "A true warrior, who raised me in the hood, in a war love ya girl, why'kno keep marchin' yea yea yea, you never give up. To all my warriors, hahabraveheart, braveheart definition of a warrior." — Nas, Alicia Keys
213. "Remember the quiet wonders. The world has more need of them than it has for warriors." — Charles de Lint
214. "History has remembered the kings and warriors, because they destroyed; art has remembered the people, because they created." — William Morris
215. "Study strategy over the years and achieve the spirit of the warrior. Today is victory over yourself of yesterday; tomorrow is your victory over lesser men." — Miyamoto Musashi
216. "When you become fully responsible for your life, you can become fully human; once you become human, you may discover what it mens to be a warrior." — Dan Millman
217. "But the warriors true, the brave of heart Who valiently upheld the right They are raised on high to the velvet sky Bringing light to the darkness of night." — Brian Jacques
218. "Let the warriors clamor after gods of blood and thunder; love is hard, harder than steel and thrice as cruel." — Jacqueline Carey
219. "It's a long hard road ahead for you, little warrior. Enjoy a happy day while you can." — Brian Jacques
220. "The Warrior most of all, knows -has knowledge- and transforms it into wisdom." ― Tania Guerrera
Wisdom and Motivation from Warrior Quotes
221. "At heart I am a warrior." — Friedrich Nietzsche
222. "The warrior: silent in his struggle, undetainable because he has nothing to lose, functional and efficacious because he has everything to gain." — Carlos Castaneda
223. "Our warriors are no longer limited to the people who fly the airplanes…Our entire force is a warrior force. Being a warrior is not an AFSC, …it's a condition of the heart." — John P. Jumper
224. "A warrior of the light…never confuses tension with anxiety." — Paulo Coelho
225. "The moment that he begins to walk along it, the warrior of the light recognizes the path." — Paulo Coelho
226. "As a peaceful warrior, I would choose when, where and how I would behave. With that commitment, I began to live the life of a warrior." — Dan Millman
227. "We warriors of light must be prepared to have patience in difficult times and to know that the Universe is conspiring in our favor, even though we may not understand how." — Paulo Coelho
228. "I've always thought of myself as being a warrior. When you actually have a battle, it's better than when you don't know who to fight." — Carly Simon
229. "Outside the ring of dancing warriors with spears and axes stood wolves at a respectful distance, watching and waiting." — J. R. R. Tolkien
230. "Surviving a tough situation means staying in the fight and maintaining a warrior's mindset." — Joe Teti
231. "The warrior owns defeat, and therefore defeat never owns the warrior." ― Erwin Raphael McManus
232. "Honor demands that the warrior never uses his skills to dishonorable ends. With strength comes responsibility. With much knowledge and strength comes much responsibility." ― Mark Edward Cody
233. "The warrior never neglects his discipline or forgets it. His awareness and sensitivity are constantly extended. Even if a situation is very demanding or difficult, the warrior never gives up." ― Chogyam Trungpa
234. "A Warrior knows when a battle is worth fighting. Don't try to be brave when it is enough to be intelligent." ― Sreechinth C
235. "A warrior knows when it's time to put down his sword." ― Tina Thomas
236. "A true warrior would never prey on weaker individuals or act as a bully. One who does such things is not a true warrior but an absolute coward." ― Daidoji Yuzan
237. "A true warrior does not force. A true warrior does not flee. A true warrior does not fail. A true warrior does not fight." ― Kazuaki Tanahashi
Which of these warrior quotes is your favorite?
To be successful in life, we must develop the mental toughness of a warrior.
We must be fearless and ready to tackle any challenges and adversities that life throws at us.
Life doesn't happen to you. It happens for you.
Hopefully, the above quotes have inspired you to become the hero of your life and those around you.
Which of the above warrior quotes was your favorite?
Do you have any other quotes to add?
Let us know in the comment section below.