Wonder Woman Quotes that Make You Want to Save the World
Ready to take on the bad guys and restore right in the world?
These Wonder Woman quotes will help.
Do you remember watching the Wonder Woman movie when it came out?
It was the perfect combination of humor, empowerment, and character winning out.
It was impossible to truly watch the movie without walking away feeling empowered to want to make a difference in the world.
You may have even felt invisible and ready to take on the problems that society is facing.
If you are looking to recreate that feeling you had after watching the movie, reading through these quotes can help put you back in that place.
Also, check out our compilation of superhero quotes to inspire the best version of you.
If you enjoy this article, check out our most popular quote article, a list of short inspirational quotes for daily motivation.
If you want more motivational quotes, check out our motivational quotes category page.
Wonder Woman quotes about findingyour strength
1. "What one does with the truth is more difficult than you think. I learned this the hard way, a long, long time ago. And now, my life will never be the same. – Diana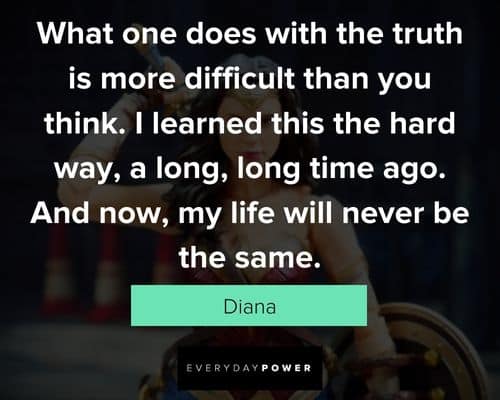 2. "Women seem like sissies because you don't know their true strength."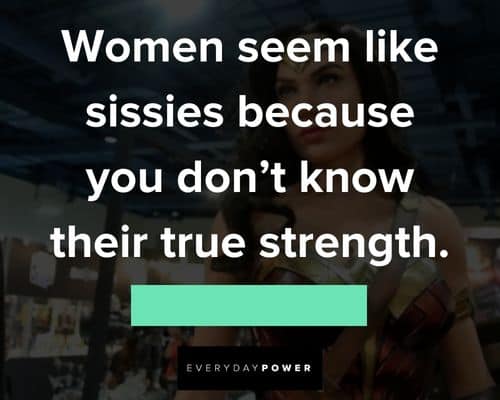 3. "You are stronger than you believe." – Antiope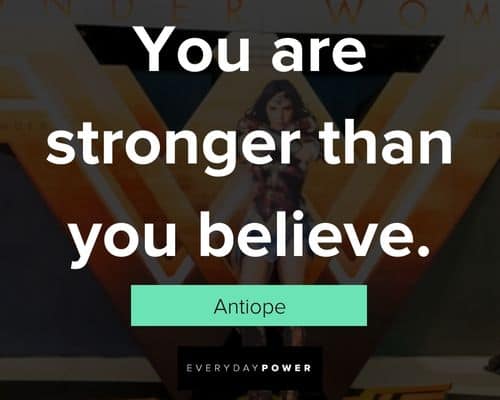 4. "You have greater powers than you know." – Antiope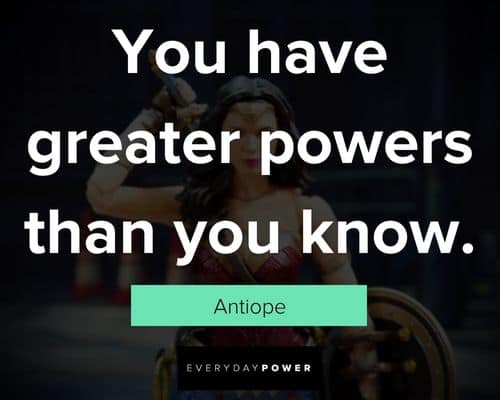 5. "And between my prayers, I made a vow that I would always be aware of my strength. And that of my opponents, my friends, and my victims…"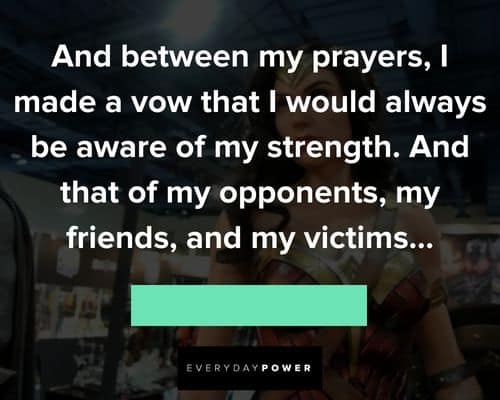 6. "I'm willing to fight for those who cannot fight for themselves." – Diana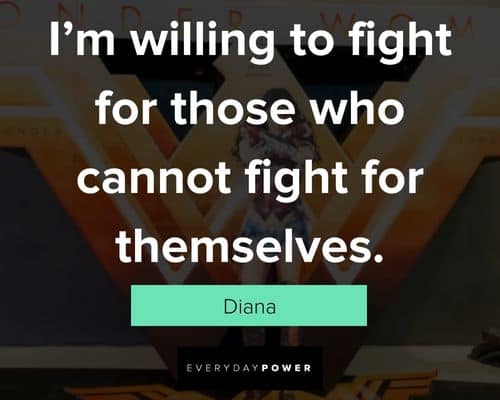 7. "This war is a great big mess, and there's not a whole lot you and I can do about that. I mean, we can get back to London and try to get to the men who can." – Steve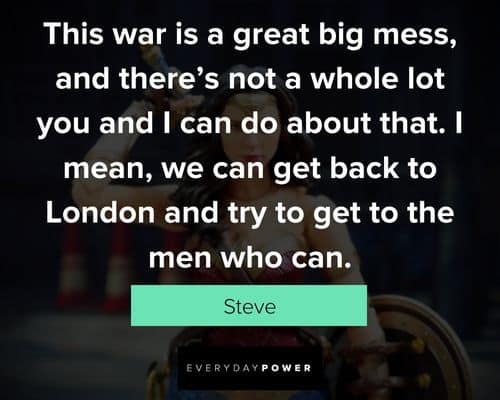 8. "I am the man who can." – Diana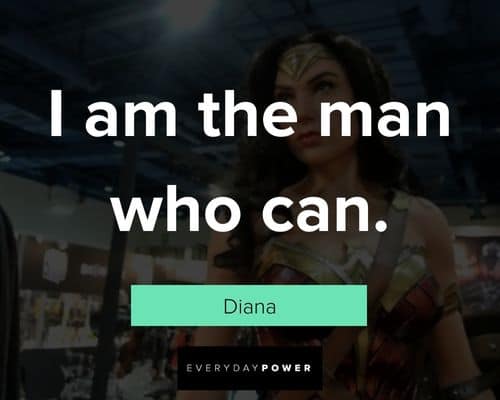 9. "Only the fiercest among us even could, and that is not you, Diana." – Queen Hippotya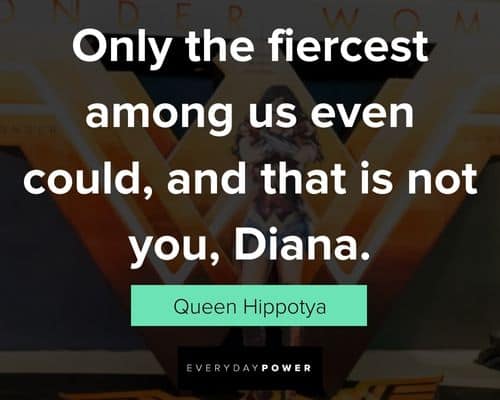 10. "I can save today, you can save the world." – Steve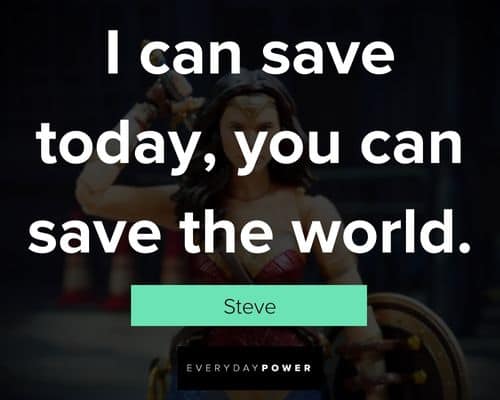 11. "I came here to parley. But do not mistake a desire to avoid violence for the inability to deal it."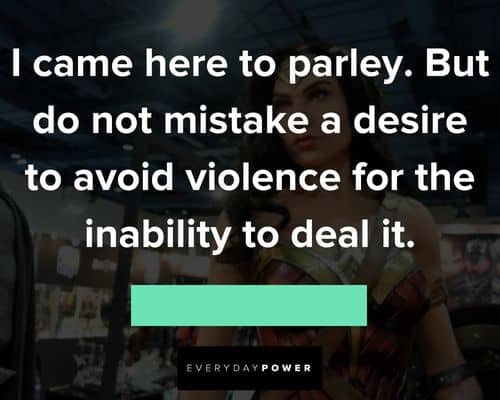 12. "The war to end all wars! Weapons far deadlier than you can imagine. Whoever you are, you are in more danger than you realize!" – Steve Trevor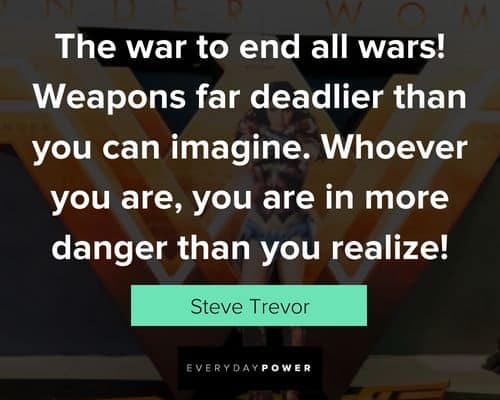 WonderWoman quotes about fighting for your country
13. "Get strong! Earn your living and fight for your country!"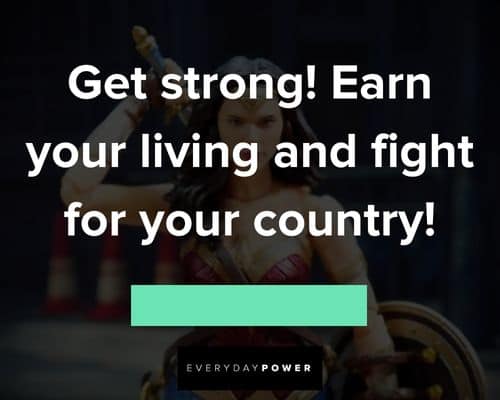 14. "Where I come from generals don't hide in their offices. They stand beside their soldiers. They die with their soldiers." – Diana Prince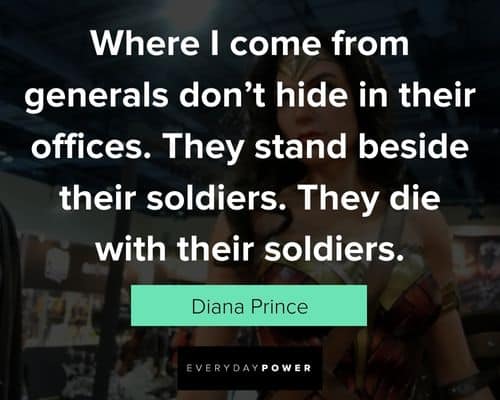 15. "It is our sacred duty to defend the world."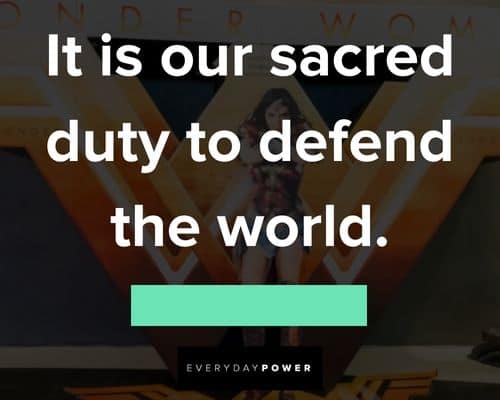 16. "I used to want to save the world, this beautiful place. But I knew so little then. It is a land of magic and wonder, worth cherishing in every way."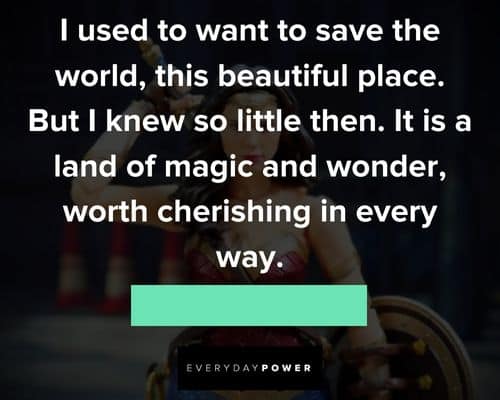 Also check out these Harley Quinn quotes for the villain in you.
Wonder Woman quotes about character
17. "Power without self-control tears a girl to pieces!"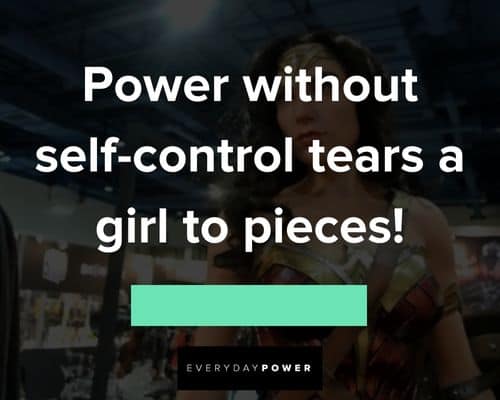 18. "Peace is a virtue. A state of mind, a disposition for benevolence, confidence and justice. It is not simply the absence of war."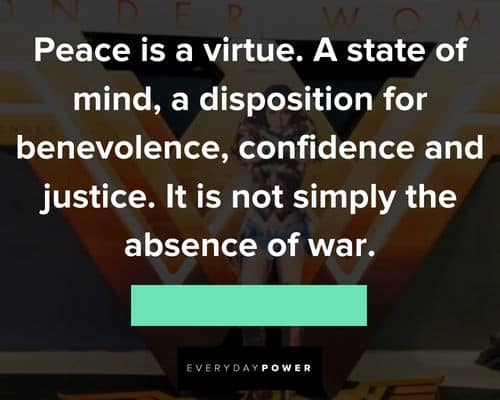 19. "I'd like to keep the illusion that there is a shade of moral difference between us and those we fight."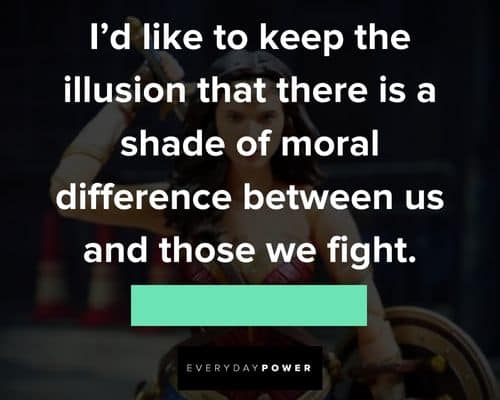 20. "It's about what you believe. And I believe in love. Only love will truly save the world."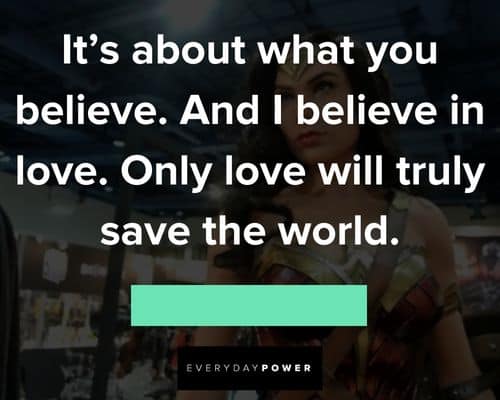 21. "Feeding people is a just and dignified occupation."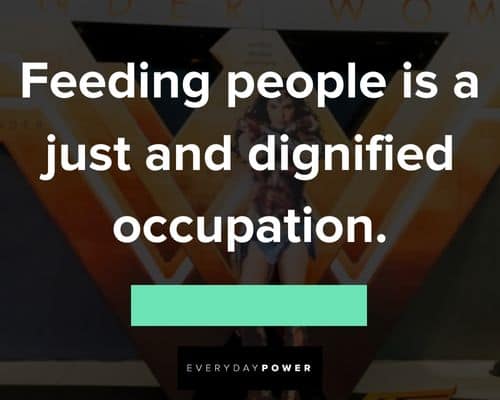 22. "Bonds of love never make the wearer weaker — they give him greater strength!"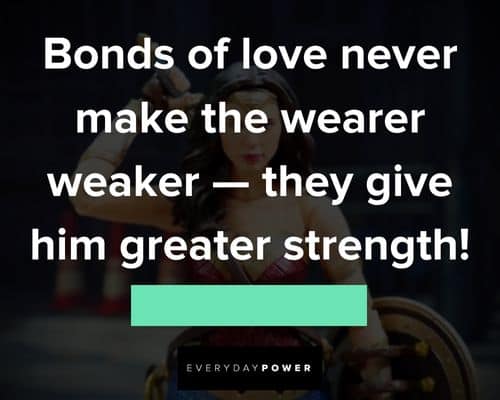 23. "A deal is a promise and a promise is unbreakable."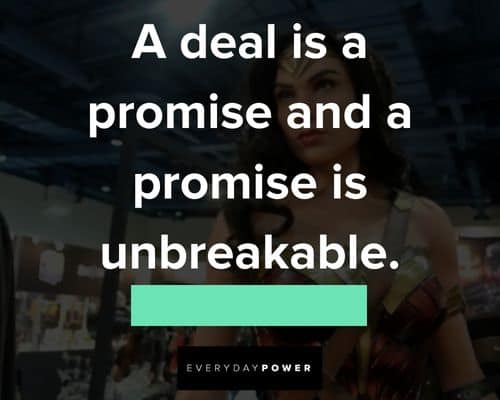 24. "Diana, fighting does not make you a hero." – Queen Hippotya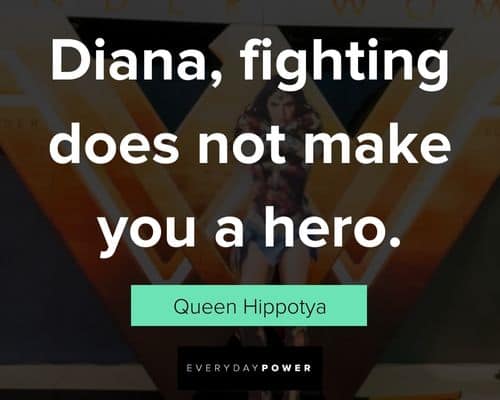 25. "I cannot stand by while innocent lives are lost."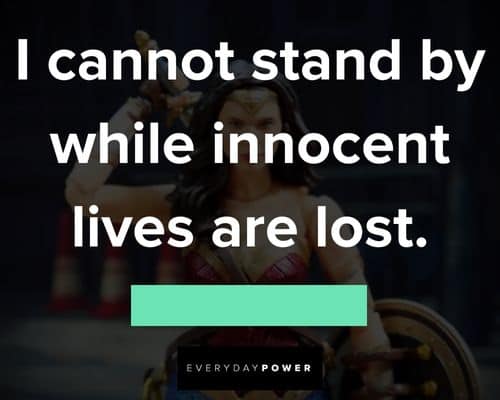 Don't forget to also read these inspirational Spiderman quotes to help you live like a superhero.
Which of these wonder woman quotes inspired you to make a difference?
Maybe you aren't the secret weapon that has the power to make a huge difference in the world.
But what if you are?
What if you were able to muster up your courage and step into a role bigger than you could have imagined?
Or, maybe your's isn't a role as big as saving the world.
Maybe your role is smaller.
Remember that even if that's true it doesn't mean that your actions won't hold the power that others need to win the day.
Use these Wonder Woman quotes to step out in your power and abilities to make a difference in the world around you.
Did you enjoy these wonder woman quotes?
Which of the quotes is your favorite?
Tell us in the comment section below.
We would love to hear all about it.