Accountability Quotes To Keep You In Check
If you feel like you need a little push to keep you focused, allow these accountability quotes to be your trusted guide.
Accountability is one of the most important elements for achieving success and living a meaningful life. Whether in the workplace, in leadership, in relationships or in your personal life, accountability is one of your most valuable assets.
When you follow through with your commitments and responsibilities, your self-esteem will grow, your relationships will thrive, and you'll be able to make progress both personally and professionally. If you're in leadership, people will respect you more, and you will be a great example for others to follow.
To achieve a notable amount of success at anything, you must hold yourself accountable for your actions, responsibilities, and goals. Although other people will help you improve, it's up to you to hold yourself to a high standard.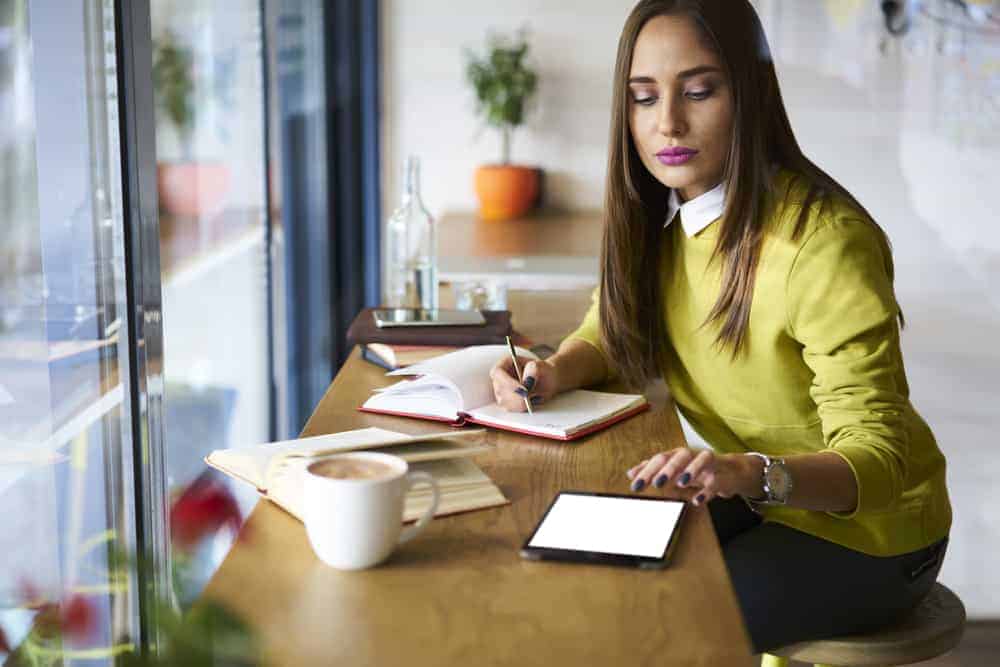 Holding yourself accountable is nothing more than doing the things you know you should do. It means solving your own problems, fixing your mistakes, and fully owning the things that happen in your life. It is your life, so you must take control and be responsible for it.
To motivate you on your quest to live a fulfilled life, below is our collection of inspirational, wise, and helpful accountability quotes, accountability sayings, and accountability proverbs, collected from a variety of sources over the years.
Accountability Quotes To Keep You In Check
1. "You are accountable for your actions, your decisions, your life; no one else is, but you." – Catherine Pulsifer
2. "Accountability breeds response-ability." – Stephen R. Covey
3. "In reality, we all have our lives, and the accountability for the achievement of our dreams and goals falls strictly on our own shoulders." – Thomas Matt
4. "Each day you are leading by example. Whether you realize it or not or whether it's positive or negative, you are influencing those around you." ― Rob Liano
5. "I believe that accountability is the basis of all meaningful human achievement." – Sam Silverstein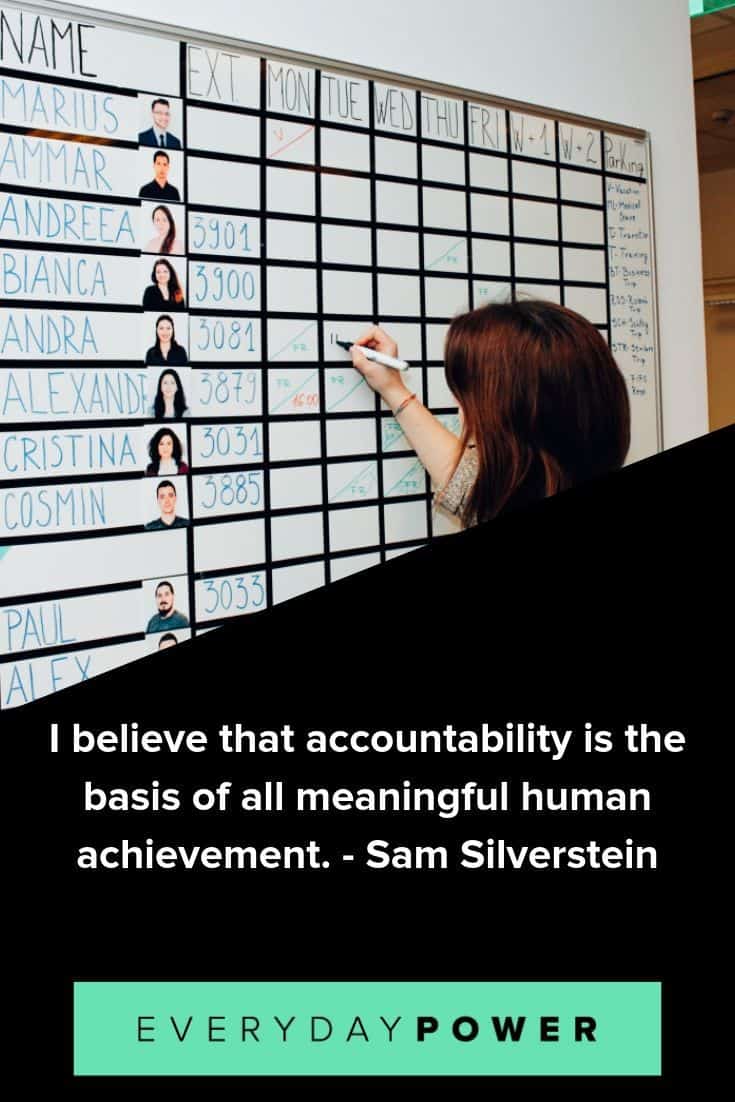 6. "In life we can have results or reasons. If you are not getting the results you want, your reasons are the lies that you keep telling yourself." – Harald Anderson
7. "My philosophy is that not only are you responsible for your life, but doing the best at this moment puts you in the best place for the next moment." – Oprah Winfrey
8. "Creating a culture of integrity and accountability not only improves effectiveness, it also generates a respectful, enjoyable and life-giving setting in which to work." – Tom Hanson
If you're enjoying these quotes, you'll love our collection of culture quotes about its power in society.
9. "We are all responsible and accountable for what we do or say even if those behaviors occur in stressful times." – Byron Pulsifer
10. "Accept responsibility for your life. Know that it is you who will get you where you want to go, no one else." – Les Brown
Accountability quotes to help you reach your goals and dreams
11. "My experience is that accountability is an extremely powerful tool to align an organization toward its objectives." – Susan Gomez
12. "Be accountable for doing the right things. This means ethical execution of the activities that will actually support the goals you have chosen for yourself." – Sam Silverstein
13. "A duty dodged is like a debt unpaid; it is only deferred, and we must come back and settle the account at last." – Joseph Fort Newton
14. "If I could give one tip for people – it's not an exercise or nutrition regimen. It's to walk your talk and believe in yourself, because at the end of the day, the dumbbell and diet don't get you in shape. It's your accountability to your word." – Brett Hoebel
15. "The benefits and possibilities that are created by being personally accountable are countless." – Jay Fiset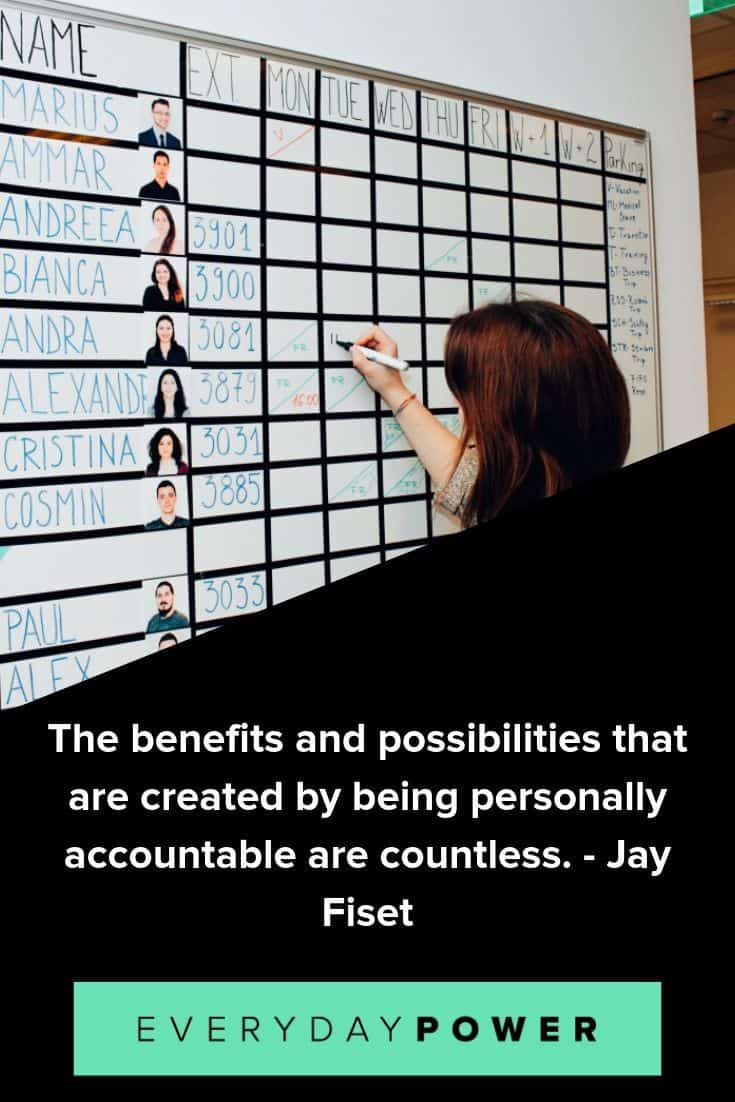 16. "Accountability is a key concept in moving an organization forward, especially in a challenging business climate." – Cindy Tucker
17. "Individuals and teams have a sense of ownership, and are focused, disciplined and collaborative, while holding each other accountable for outcomes." – Di Worrall
If you're enjoying these quotes, you'll love our collection of team quotes that will inspire you and your teammates to collectively meet your goals.
18. "When it comes to privacy and accountability, people always demand the former for themselves and the latter for everyone else." ― David Brin
19. "People are more inclined to pass the buck than they are to take responsibility. The fact is, though, passing the buck doesn't build your character or give you the opportunity to learn from your mistakes." – Marshall Goldsmith
20. "It is in your best interest to recognize that there is a difference between being responsible and taking responsibility. You Have the Freedom and Power to Choose." – Christopher Avery
Accountability quotes on following through with your commitments and responsibilities
21. "If we want unity, we must all be unifiers. If we want accountability, each of us must be accountable for all we do." – Christine Gregoire
22. "When accountability is present, people keep their eyes on a very clear prize. They know what they are working toward and how they are going to get there." – Henry J. Evans
23. "The first step to creating a wealthy life is starting from wherever you are today. That self-honesty takes the highest level of personal accountability." – Loral Langemeier
24. "You will not experience dramatic change in your struggle as long as you use accountability to describe your sins instead of declaring your need for help in the midst of temptation." ― Heath Lambert
25. "Accountability is the glue that bonds commitment to results." ― Will Craig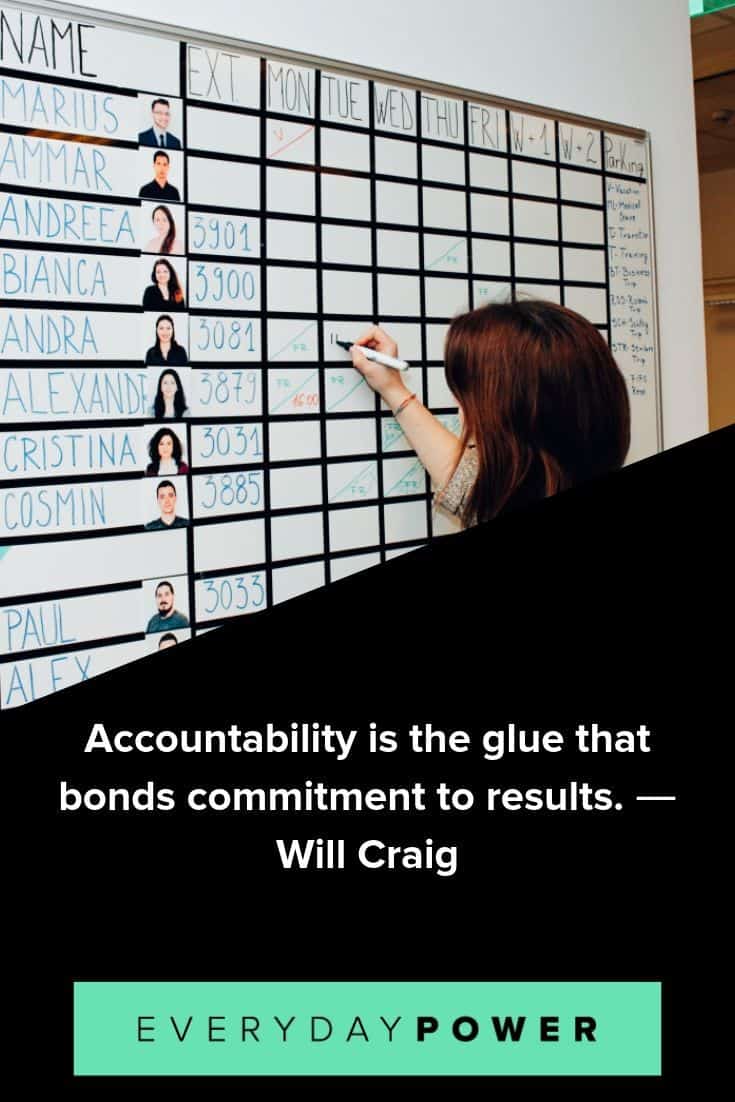 26. "It's just that we're all accountable for our own happiness. And being happy does matter. It's up to each of us to find out what shape or form that takes." – Peter Jennings
27. "When we are really honest with ourselves we must admit our lives are all that really belong to us. So it is how we use our lives that determines the kind of men we are." – Ceasar Chavez
28. "Big pay and little responsibility are circumstances seldom found together." – Napoleon Hill
29. "Talent is part of the equation, but when you combine talent with accountability and authenticity, it is tough to beat." ― David Ross
30. "To function effectively, a business requires leaders who are accountable for driving success." – Barry Linetsky
Accountability quotes to help you take control of your life
31. "No one is perfect, and we all understand that, but when we decide to make that lifelong commitment, we need to weigh the cost and know God is holding us accountable for the commitments we make." – Dr. Kenton D. Wiley
32. "To be accountable or to be a victim is one of those elemental decisions that everyone needs to make. Simply, the former leads you to a happier and more rewarding life." – Rob Pitfield
33. "The notion of accountability has emerged as a human tool to motivate people – do what you're supposed to do or you'll be held to account." – Art Horn
34. "To take responsibility for yourself as a leader and person; you need to learn to unlearn bad habits, and learn from your mistakes." – Andrea Reibmayr
35. "Accountability means to say what you do, do what you say." ― Pearl Zhu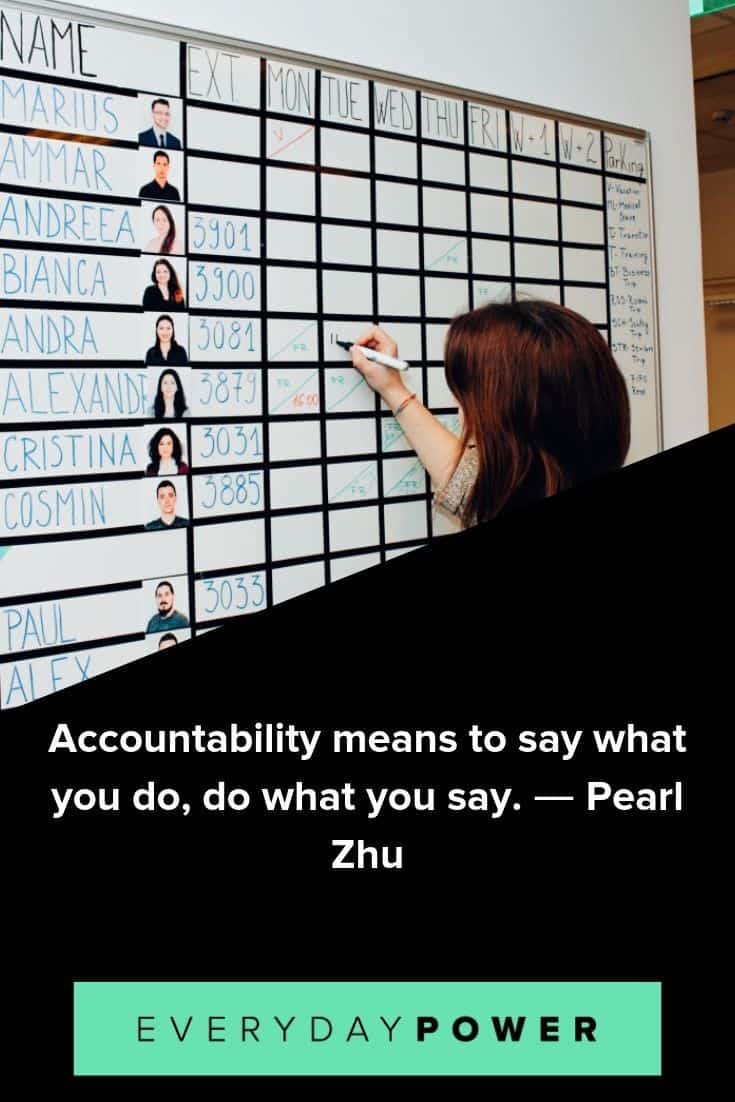 36. "With a company full of accountable people, extraordinary things, even the entirely unexpected, tend to happen." – Roger Connors
37. "Blame is the coward's solution to his fear of accountability." ― Craig D. Lounsbrough
38. "The time has come to carry accountability forward, to take it offline and into the real world. To share our lives with just a few people we really, truly, honestly trust." – Craig Gross
39. "It is not only what we do, but also what we do not do, for which we are accountable." – Moliere
40. "Accountability is – first and foremost – about being reliable. To get a good picture of your personal accountability, you may want to periodically ask yourself, "Can people count on me to do what I say I'll do, as I said I would do it?" – Henry J. Evans
Accountability quotes to inspire and teach
41.) "Accountability crumbles silos, boosts teamwork and collaboration, strengthens camaraderie, creativity, resiliency, agility, trust, and communication." – Mike Evans
42. "At the end of the day we are accountable to ourselves – our success is a result of what we do." – Catherine Pulsifer
43. "Building a culture in which people take accountability to deliver on its promises is hard work and can be difficult to accomplish. Only when every person is held accountable to themselves, their peers, and their shared possibility can the impossible become possible." – Ginger Graham
44. "Blaming, whining, deflecting accountability, risk aversion, and resistance to change are but a handful of symptoms of the adversity-beaten individual and organization." – Paul G. Stoltz
45. "To achieve life mastery and be worthy of a life well lived, we must take action, ownership, and responsibility for our choices. Our date with destiny is not about reaching a final destination. It is about how fully we live the journey." – Will Craig
46. "Don't get up from the feast of life without paying for your share of it." – W. R. Inge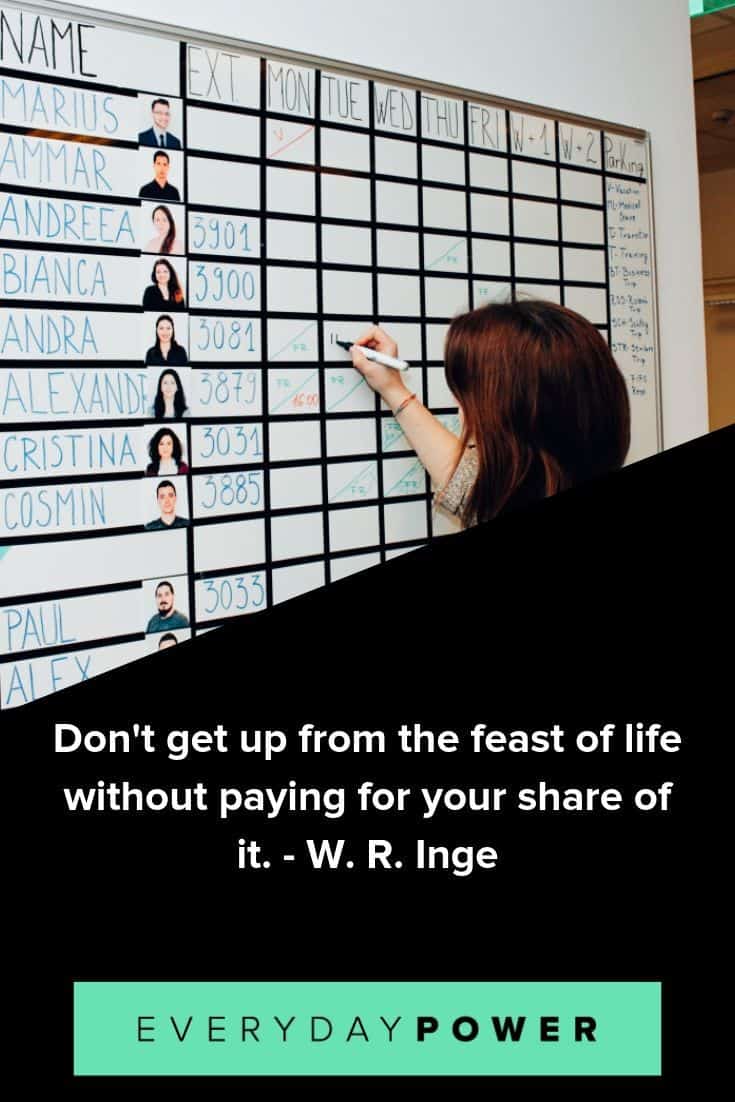 47. "The benefit of truly accountable leaders is that they are able to create effective structures where their staff know what is expected of them, and can improve the business for customers." – Jane Storm
48. "Neither age nor experience matters when it comes to being personally accountable for any and all outcomes- no excuses whatsoever- be they positive or negative, nor shifting blame to other people or to external factors." – Kory Livingstone
If you're enjoying these quotes, make sure to read our collection of excuses quotes about the power of sticking to your word.
49. "One of the biggest lessons I've learned about habit development is that you need accountability to stick to a major goal. It's not enough to make a personal commitment." – S. J. Scott
50. "Truly accountable leadership is the only way to build an organization that can not only survive in our increasingly complicated world but also grow and thrive." ― Vince Molinaro
More accountability quotes and sayings
51. "The right thing to do and the hard thing to do are usually the same." – Steve Maraboli
52. "A body of men holding themselves accountable to nobody ought not to be trusted by anybody." – Thomas Paine
53. "The only people that can ruin a relationship or make that relationship work are the two people in it." – Rob Liano
54. "Accountability is where the cowardice of my teetering self-image is wrangled into submission by the force of my ethics." – Craig D. Lounsbrough
55. "Without accountability there's no civilization." – Abhijit Naskar
56. "Accountability is the only real beginning to change." – Daniel Abbott
57. "Accountability is the line of control between human and animal behavior." – Abhijit Naskar
58. "Forgiveness is telling ourselves that the 'wrong' that we did will not impede the 'right' that we can do." – Craig D. Lounsbrough
59. "Real leadership involves clear communication, personal accountability, and a zest for bringing out the best in everyone!" – Farshad Asl
60. "I think sometimes making yourself vulnerable before you are ready is exactly what can hold you accountable. Do what you fear." – Brittany Burgunder
Which of these accountability quotes was your favorite?
It is up to you to make sure you're doing what you know you should be doing. No one should have to hold you accountable for your actions, responsibilities and goals.
You cannot achieve anything that is important to you if you don't follow through with your commitments and responsibilities. Hopefully, the quotes above have inspired you to take control and be responsible for your life.
Did you enjoy these accountability quotes? Which of the quotes was your favorite? Feel free to share your thoughts in the comment section below. Also, don't forget to share and inspire your friends and followers.
February 25, 2021 6:00 AM EST
Be the first one to leave a comment!