Inspiring Amanda Gorman Quotes by the American Poet and Activist
She is known for her words as you'll see in the following Amanda Gorman quotes.
Amanda Gorman is an American poet who has used her poetry to draw attention to issues in America that she cares about, such as racism and oppression.
Her poetry gained such great attention that she delivered a reading of her poem "The Hill We Climb" at the inauguration of President Joe Biden in 2021.
Amanda has overcome many hardships in her life, such as a speech impediment she had when she was younger.
However, Amanda viewed this as a positive thing instead of a setback.
In fact, she once said, "I always saw it as a strength because since I was experiencing these obstacles in terms of my auditory and vocal skills, I became really good at reading and writing."
And now people around the world are enjoying her writing, just as you can enjoy these Amanda Gorman quotes.
Check out our most popular quote article, a list of short inspirational quotes for daily inspiration.
Our inspirational quote category page has even more inspirational and educational quotes.
Inspirational Amanda Gorman Quotes
We could all use encouragement at times. See if these Amanda Gorman quotes inspire you to go after your own dreams and make a difference around you.
1. "Let each dawn find us courageous, brought closer, heeding the lights before the fight is over." – Amanda Gorman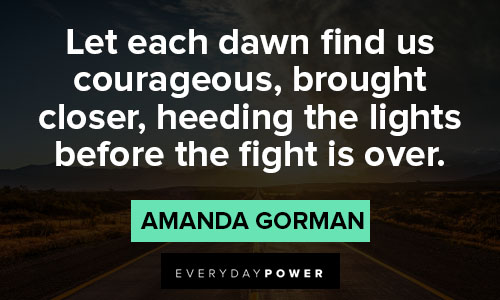 You will also enjoy our article on niece quotes.
2. "Poetry is the lens we use to interrogate the history we stand on and the future we stand for." – Amanda Gorman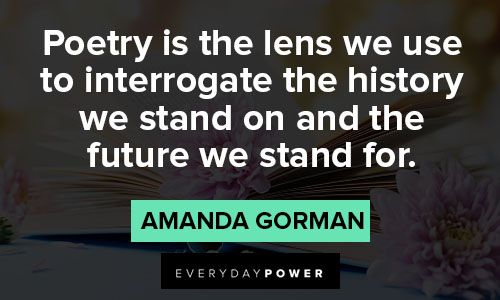 3. "Whenever I listen to songs, I rewrite them in my head." – Amanda Gorman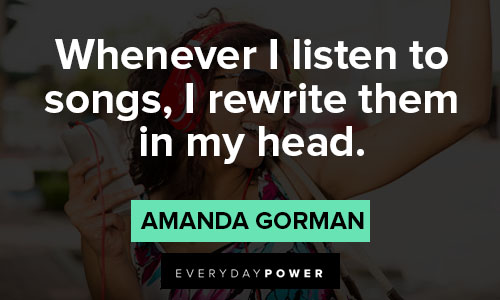 4. "In everything you write, write something that is brave enough to be hopeful." – Amanda Gorman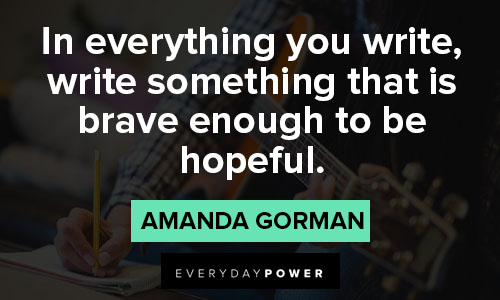 5. "That even as we grieved, we grew. That even as we hurt, we hoped. That even as we tired, we tried." – Amanda Gorman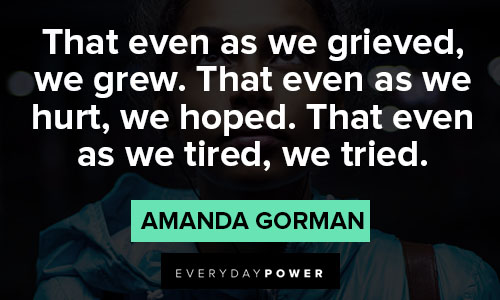 6. "Change is made of choices, & choices are made of character." – Amanda Gorman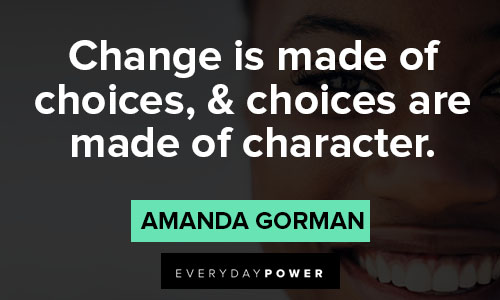 7. "When this ends, we'll smile sweetly, finally seeing." – Amanda Gorman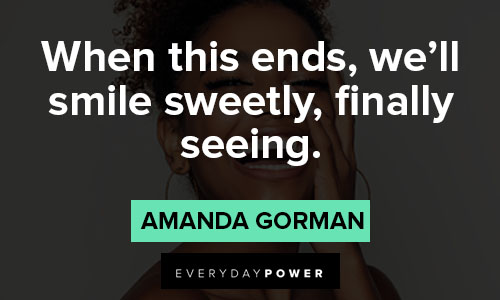 8. "Not because we will never again know defeat, but because we will never again sow division." – Amanda Gorman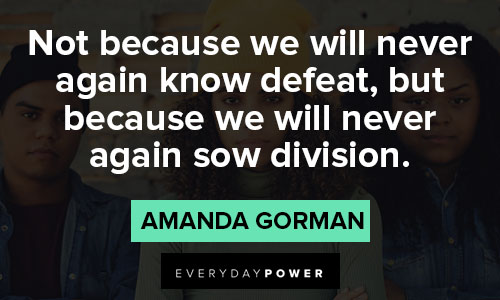 9. "We've learned that quiet isn't always peace." – Amanda Gorman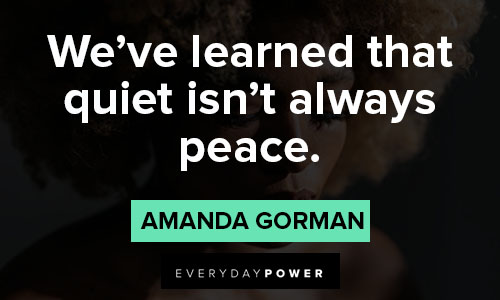 10. "I was writing since I can remember—I just didn't know it was poetry yet, or that writing could be a career." – Amanda Gorman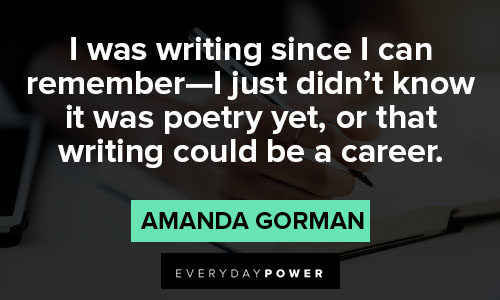 Amanda Gorman quotes to motivate you
She gained worldwide attention when she spoke at the 2021 inauguration, but she hasn't stopped sharing her words there. Here is more from Amanda Gorman.
11. "Please. Do not ask us who we are. The hardest part of grief / Is giving it a name." – Amanda Gorman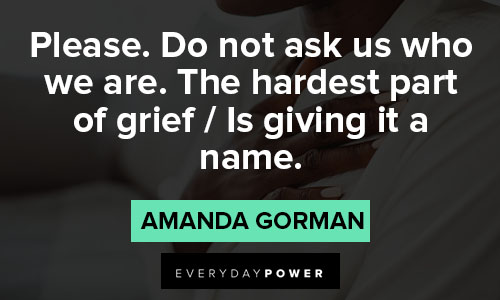 12. "What contributed to my writing early on is how my mom encouraged it. She kept the TV off because she wanted my siblings and I to be engaged and active. So we made forts, put on plays, musicals, and I wrote like crazy." – Amanda Gorman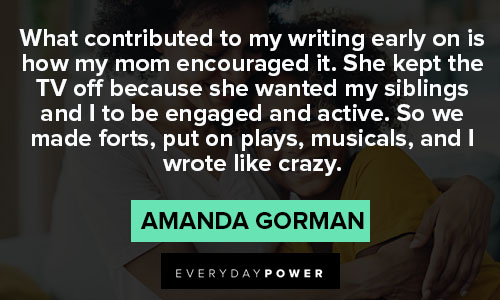 13. "One of the most rewarding moments of my career is when I'm speaking to a child who tells me they have the same speech impediment that I had to overcome and that they're going to keep writing or sharing their voice after hearing my story." – Amanda Gorman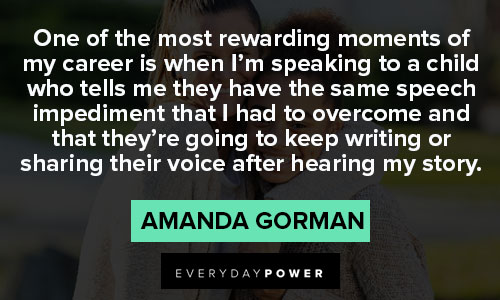 14. "We will not march back to what was, but move to what shall be; a country that is bruised but whole, benevolent but bold, fierce and free." – Amanda Gorman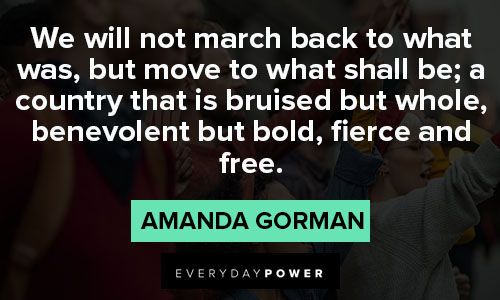 15. "You don't have to be a poet, you don't have to be a politician or be in the White House to make an impact with your words." – Amanda Gorman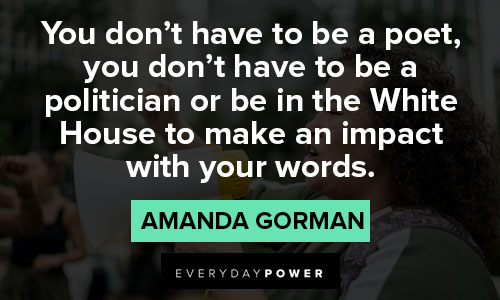 16. "Read children's books, dance alone to DJ music. Know that this distance will make our hearts grow fonder. 'From a wave of woes, our world will emerge stronger.'" – Amanda Gorman
Amanda Gorman quotes and poetry lines
Amanda Gorman may be young, but she has set an example of being courageous enough to show her work in the world. See what you think of these quotes.
17. "While we might feel small, separate, and all alone, our people have never been more tightly tethered. The question isn't if we will weather this unknown, but how we will weather the unknown together." – Amanda Gorman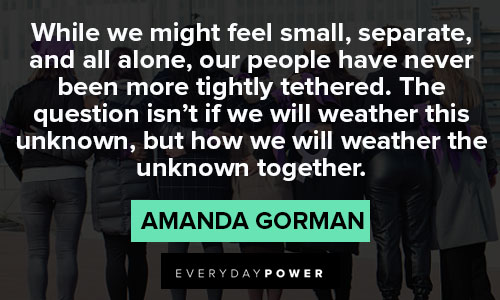 18. "I think we run into issues when our online brands are not rooted in who we are, and I think we need to have explicit discussions with ourselves about who we want to be, what we want to represent, and how we want to express that." – Amanda Gorman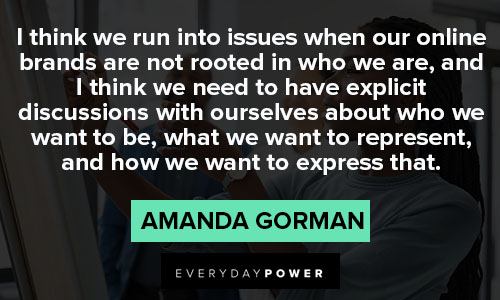 19. "Since the world is round / There is no way to walk away / From each other, for even then / We are coming back together." – Amanda Gorman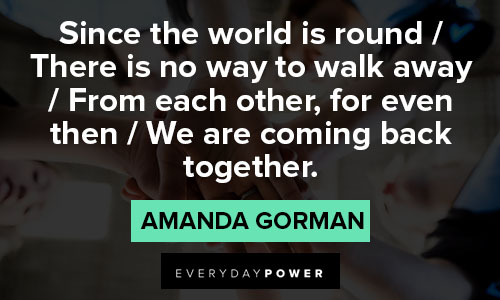 20. "I was obsessed with everything and anything; I wanted to learn everything, to read everything, to do everything. I was constantly on sensory overload. I'd hoard dozens of books in my second-grade cubby, and literally try to read two at a time, side by side." – Amanda Gorman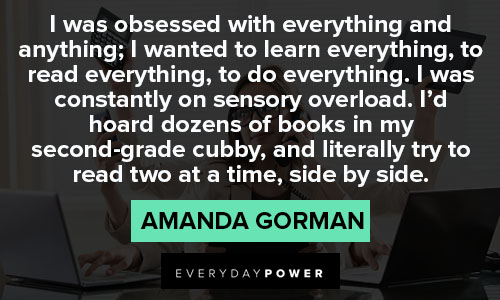 Do you feel encouraged by these Amanda Gorman quotes?
Amanda Gorman released her first poetry book, "The One for Whom Food Is Not Enough," in 2015 when she was only a teenager.
Since then, Amanda has gone on to write more books, including the book "The Hill We Climb," featuring her famous inauguration poem.
The book includes a forward by Oprah Winfrey, becoming a New York Times #1 Bestselling book.
Amanda graduated from Harvard College in 2020 with a degree in Sociology.
Amanda has been named the first US National Youth Poet Laureate, and she has read poems in many places, such as the Lincoln Center and the Library of Congress.
If her words inspired you, share your favorites in the comments below.