35 Ariana Grande Quotes and Lyrics Celebrating Love
This Ariana Grande quotes collection will inspire and motivate you.
Ariana Grande is an American singer, songwriter, and actress who is known for hit songs such as "Love Me Harder", "Bang Bang", and "7 Rings".
Grande released her fifth studio album, "Thank U, Next", on February 8th 2019.
The album has received numerous positive reviews and has so far produced two No. 1 singles on the Billboard Hot 100 songs chart.
Born on June 26, 1993, in Boca Raton, Florida, Grande participated in plays and sang at public events from a young age.
She appeared in several movies and TV shows before deciding to devote her attention mostly towards music.
Grande has a huge social media following and has received numerous accolades, including a Grammy Award and three American Music Awards.
Besides, the Billboard named her Woman of the year in 2018.
A huge star who is always making waves the world over for her artistic prowess, Grande has clearly tapped into her Everyday Power.
In that respect, below is our collection of powerful, inspirational, and beautiful Ariana Grande quotes and lyrics.
Don't forget to also read these great BTS quotes from the platinum-selling South Korean boy band.
If you enjoy this article, check out our most popular quote article, a list of short inspirational quotes for daily motivation.
If you want more motivational quotes, check out our motivational quotes category page.
Ariana grande quotes and lyrics celebrating love in 2019
1. "Love is a really scary thing, and you never know what's going to happen. It's one of the most beautiful things in life, but it's one of the most terrifying. It's worth the fear because you have more knowledge, experience, you learn from people, and you have memories." – Ariana Grande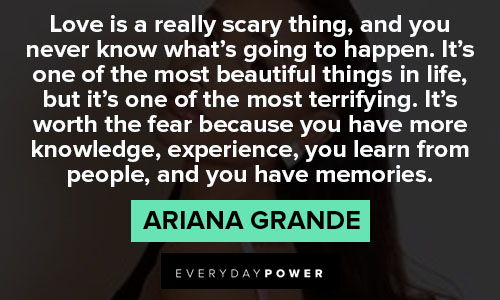 2. "Be happy with being you. Love your flaws. Own your quirks. And know that you are just as perfect as anyone else, exactly as you are." – Ariana Grande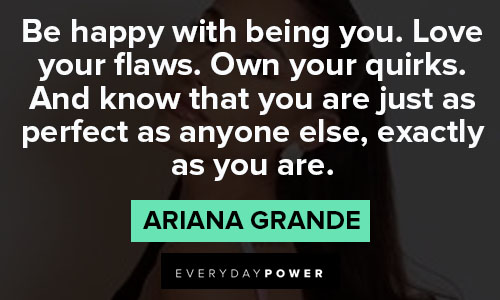 3. "The best fashion advice I'd say would be just to do what makes you comfortable and what makes you feel cute, and that's how you're gonna look your best 'cause when you feel your best, everybody else can feel it, too." – Ariana Grande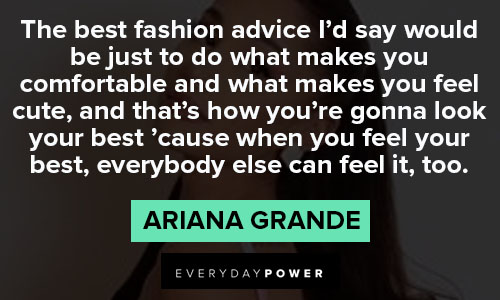 You will also enjoy our article on Qui Gon Jinn quotes.
4. "I think it's so important for girls to love themselves and to treat their bodies respectfully." – Ariana Grande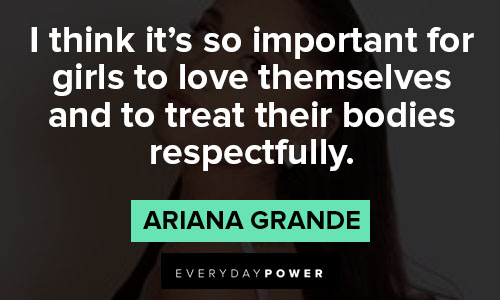 You will also enjoy our article on xxxtentacion quotes and lyrics.
5. "Don't ever doubt yourselves or waste a second of your life. It's too short, and you're too special." – Ariana Grande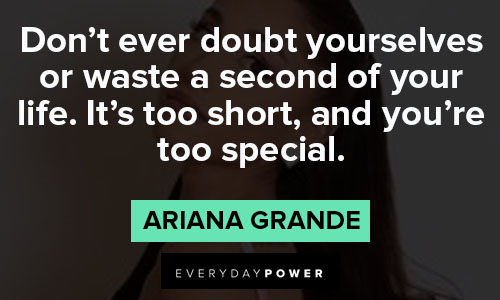 6. "Life is beautiful. Cherish every moment even if you're stressed or hurt or whatnot. There's always tomorrow and it always gets better." – Ariana Grande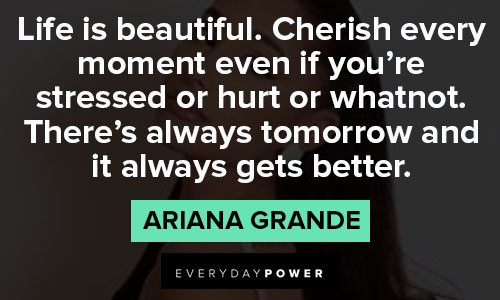 7. "If you're passionate about something, then it will definitely work out for you. You should never stop believing in something, and you shouldn't listen to anyone who tells you otherwise. Never give up on something you love." – Ariana Grande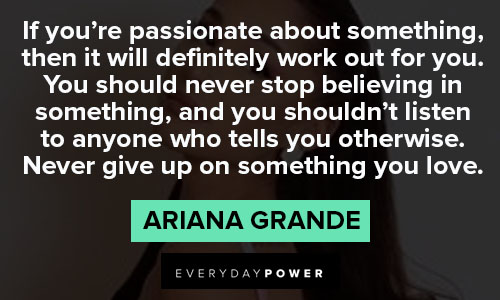 8. "I don't regret any of the decisions I've made in my life. Because with every choice I've made, I've learned something new." – Ariana Grande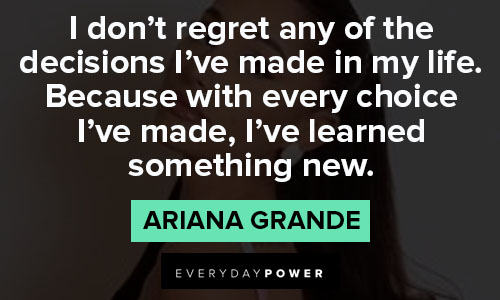 9. "Some people will find any reason to hate. Don't waste your time. Lighten up! It takes so much less energy to smile than to hate. Enjoy life." – Ariana Grande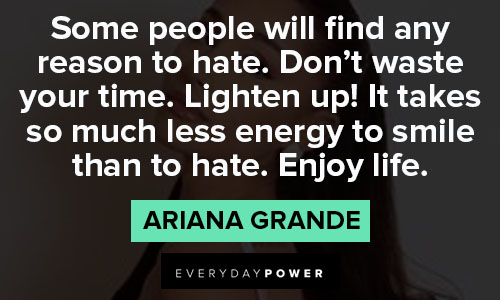 10. "The best part about having true friends is that you can go months without seeing them and they'll still be there for you and act as if you'd never left." – Ariana Grande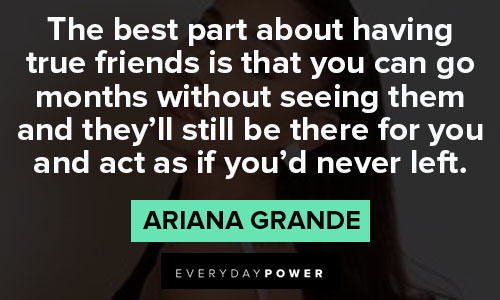 You will also enjoy our article on beetlejuice quotes.
Ariana Grande quotes on life, love and success
11. "Only be with somebody if they make you feel like the best version of yourself. You can't sacrifice yourself for anybody, you know?"- Ariana Grande
12. "I could never properly explain the bond I have with my fans, I feel like they are my family, they are just so supportive and incredibly dedicated I could never put into words how thankful I am for them. They inspire me and I want to keep doing what I'm doing because of them, it's so amazing." – Ariana Grande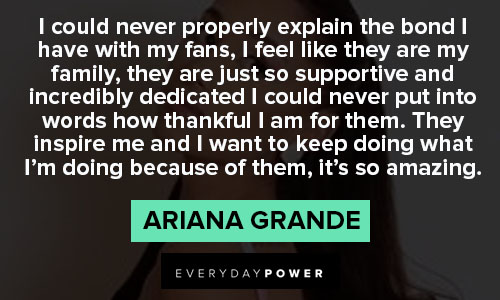 13. "Take a load off, don't take everything so seriously. And just be happier." – Ariana Grande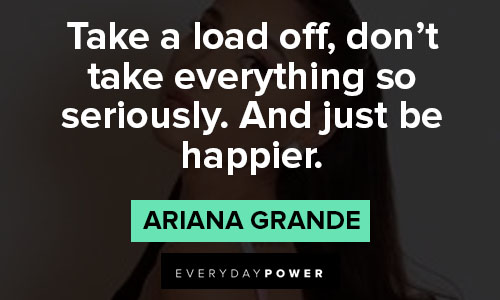 14. "The thrill of not knowing what's going to happen, trained me to be prepared for anything." – Ariana Grande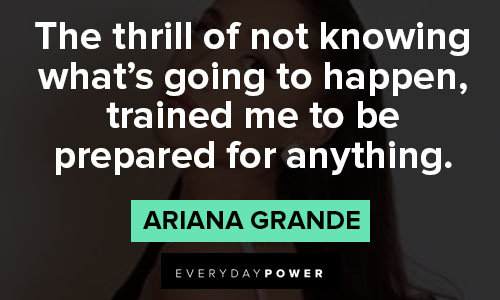 15. "You don't have to have much to show how much you care." – Ariana Grande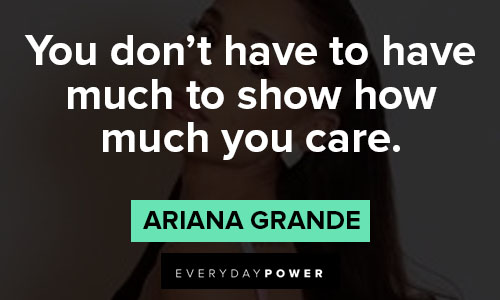 16. "We're all human and we all have great amounts of pressure on us. When someone's hurting, be there. We could all use a little compassion." – Ariana Grande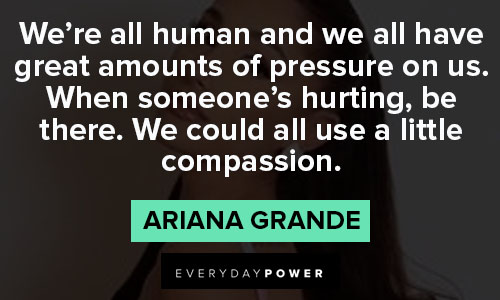 17. "You should never stop believing in something, and you shouldn't listen to anyone who tells you otherwise." – Ariana Grande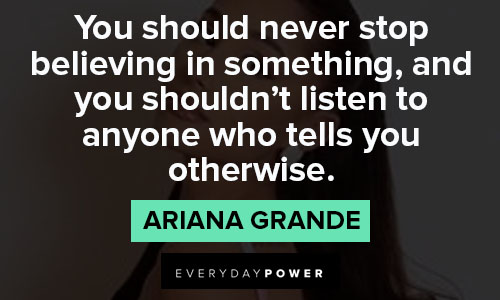 18. "Girls, respect yourselves. Keep your head held high and speak only kind words. Know your truth. No one can ever take that away from you." – Ariana Grande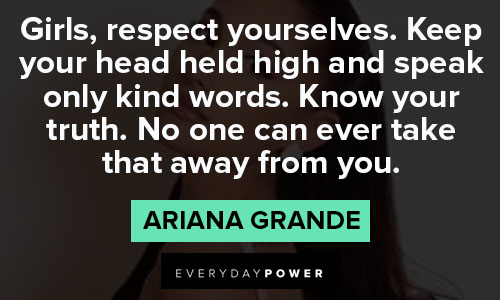 19. "It's a new day. Count your blessings, think twice before you complain, give more than you ask for, do what makes you happy and enjoy life." – Ariana Grande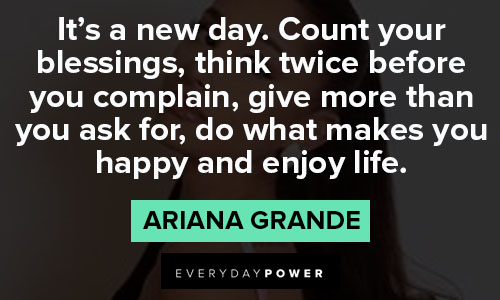 20. "Every time you're faced with something ugly, focus on something beautiful. What you focus on expands. Only you can change your reality." – Ariana Grande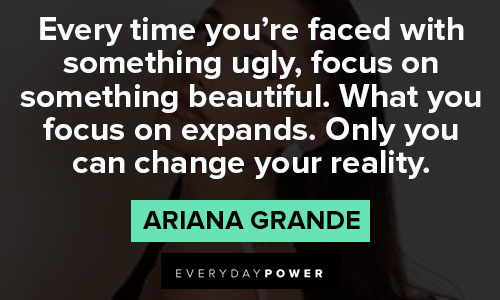 Ariana Grande quotes that spread positivity
21. "I'm going to be the lady my mother raised and carry myself with class and dignity, but I will never be any man's press opportunity." – Ariana Grande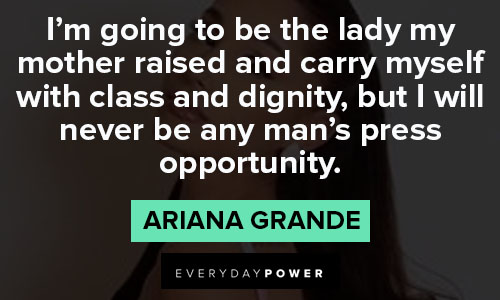 22. "Learn from your mistakes. Take responsibility. And forgive yourself." – Ariana Grande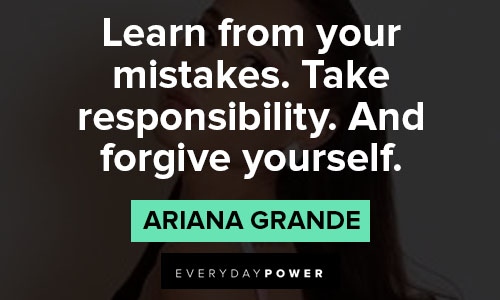 23. "You should feel grateful and happy that you're healthy, you're alive, and that you are loved. Whatever weight you are, whatever situation you're in, whether you have a breakout, whatever it is—you are loved." – Ariana Grande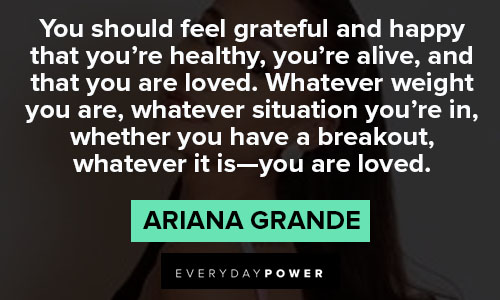 24. "Misogyny is ever-present, and we have to be there to support one another. That's really it. It's about the sisterhood. There's no competing in that. We have to lift each other up, not try and claw each other down." – Ariana Grande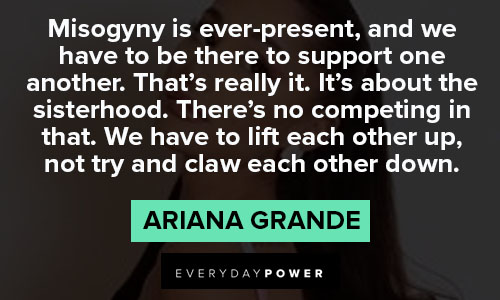 25. "When life deals us cards, make everything taste like it is salt. Then you come through like the sweetener you are to bring the bitter taste to a halt." – Ariana Grande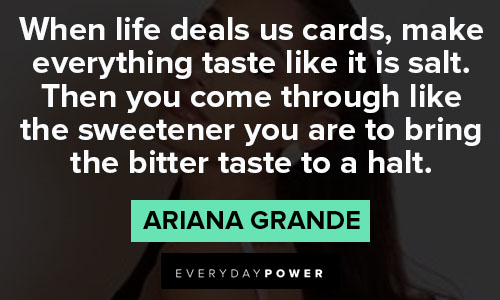 26. "I've never looked at love as something that I need to complete me. I would like to be complete on my own first and fall in love with somebody who is also complete. You can still celebrate and be totally obsessed with each other, but I want to feel a hundred percent myself so that I can love that person better." – Ariana Grande
27. "I love being able to make fun of myself. I love being able to put on a different mask. I love singing, of course, but I think that making people laugh and feel like they don't have to take everything so seriously is even more fulfilling to me." – Ariana Grande
28. "I'm a huge advocate of self-expression, being yourself, and encouraging people to embrace who they are and the things that make them beautiful. I love people's uniqueness—the quirky, weird, interesting, and different things about everybody." – Ariana Grande
More Ariana Grande quotes to inspire and motivate you
29. "I am really grateful—I love what I do. One of my favorite things about it is being able to have an impact on my fans' lives, and to be there for them—to know that what I'm creating is helping them in some way. Even if it's just making them feel empowered when they're getting ready in the morning, helping them through a heartbreak, or finding something they love about themselves. I think about them with everything I create." – Ariana Grande
30. "I worked with someone who told me they'd never like me. But for some reason, I just felt like I needed her approval. So I started changing myself to please her. It made me stop being social and friendly. I was so unhappy." – Ariana Grande
31. "I don't feel much pressure to fit in. I never have. I've always just wanted to do my thing. I have really good friends and good family, and if I don't fit in somewhere else, I fit in at home." – Ariana Grande
32. "I'm willing to take the brunt for fighting in what I believe in." – Ariana Grande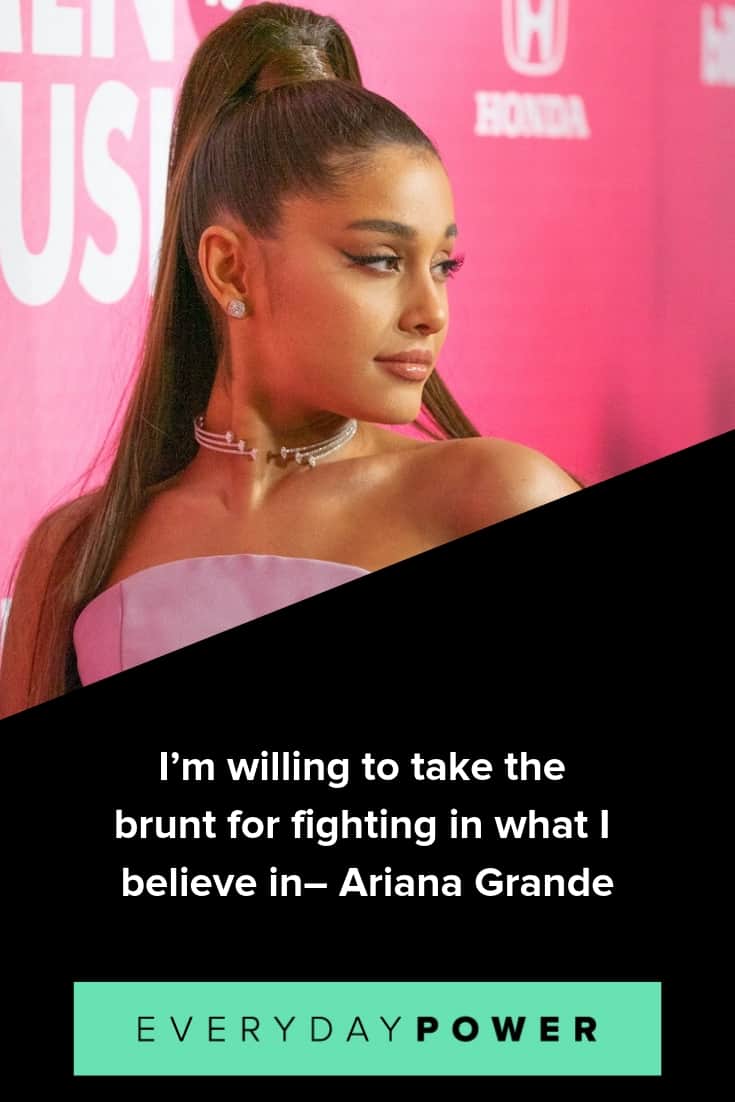 33. "Be happy being you." – Ariana Grande
34. "Imperfection is beauty, madness is genius, and it's better to be absolutely ridiculous than absolutely boring." – Ariana Grande
35. "If we give a little love, maybe we can change the world." – Ariana Grande
You might also like these XXXTentacion quotes to help weave through the darkness within.
Which of these Ariana Grande quotes was your favorite?
Ariana Grande is an inspirational and powerful singer known for her undeniable voice.
But despite being a huge star, she has also had to deal with obstacles in her life.
Grande's tenacity and determination in overcoming her challenges sets an example for to turn something negative into something positive.
Hopefully, the above quotes will inspire you
Did you enjoy these Ariana Grande quotes and sayings?
Which of the quotes was your favorite?
Let us know in the comment section below.