50 Boss Babe Quotes To Ignite Your Entrepreneurial Fire
Boss babe quotes are all over the internet. Nearly every female leader, entrepreneur, or employee has heard them.
Many of us have shared boss babe quotes on social media or referred to ourselves as one!
However, what you might not have realized is that Boss Babe is an actual organization!
The original Boss Babes are Natalie Ellis and Danielle Canty.
According to BossBabe.com, Natalie is the co-founder and CEO of BossBabe.
She has been featured in Forbes, Inc. and Entrepreneur.
She has also done countless speaking engagements. Her skill set lies in social media marketing.
Evidenced by the fact that the BossBabe Instagram account has grown to over 3 million followers!
Danielle Canty is the co-founder and President at BossBabe.
Danielle moved to Los Angeles after selling her primary healthcare company in the UK.
Her primary role was to help Natalie make BossBabe into a name that everyone recognized.
She is a growth strategy, operations, and membership expert.
Keep reading through these BossBabe quotes to learn more.
Tap into your own inner boss babe quotes along the way!
Also, check out our most popular quote article, a list of short inspirational quotes for daily wisdom.
See the rest of our quote database for even more inspirational ideas and thoughts.
Short Boss Babe quotes
Here are some quick hitting boss babe quotes. Take a look below.
1. "Confidence is power." — Boss Babe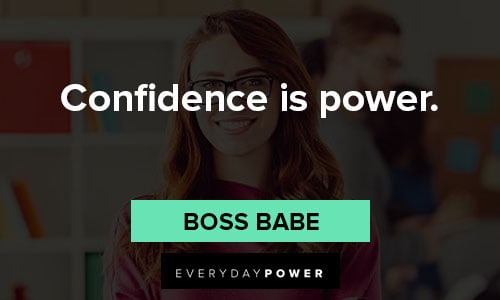 You will also enjoy our article on boss quotes.
2. "I came here to conquer." — Boss Babe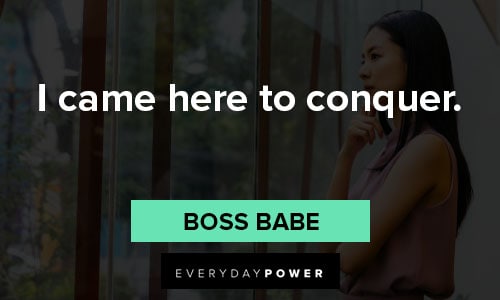 3. "Wake up, hustle, repeat." — Boss Babe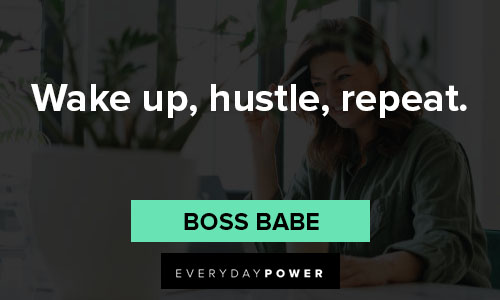 4. "Just keep looking ahead." — Boss Babe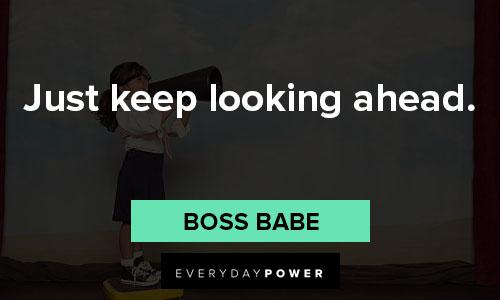 5. "Be you. Do you. For you." ― Boss Babe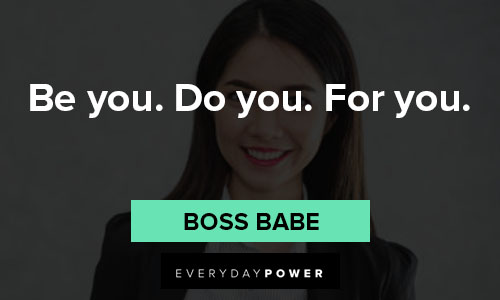 6. "Happiness is an inside job." — Boss Babe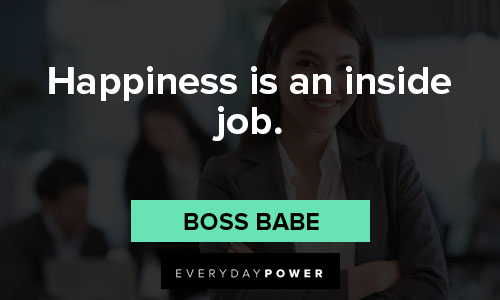 7. "You have to be disciplined." — Boss Babe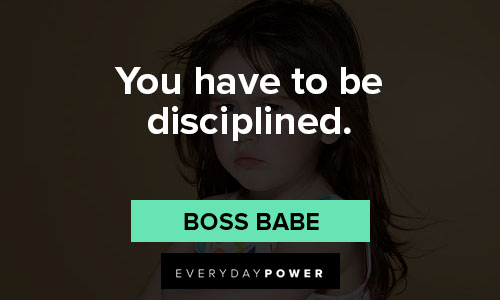 8. "Raise the bar a little higher." ― Boss Babe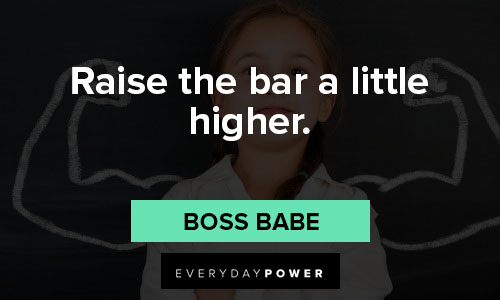 9. "Do it with passion or not at all." ― Boss Babe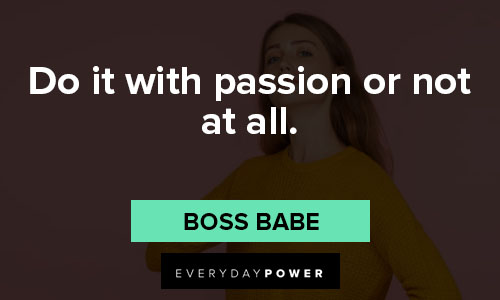 10. "Good things come to those who hustle." ― Boss Babe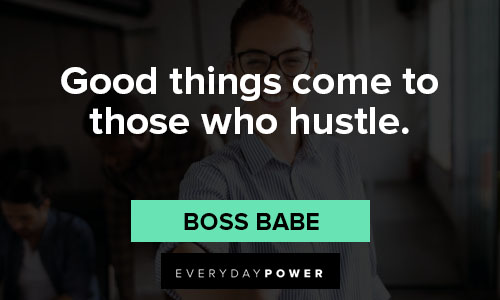 If you enjoy this article, check out our collection of the best Girlboss quotes.
Boss Babe quotes for Instagram
The quotes below go perfect with a photo to make an Instagram post. Take a look!
11. "When in doubt, just say fuck it." — Boss Babe
12. "Risking is better than regretting." — Boss Babe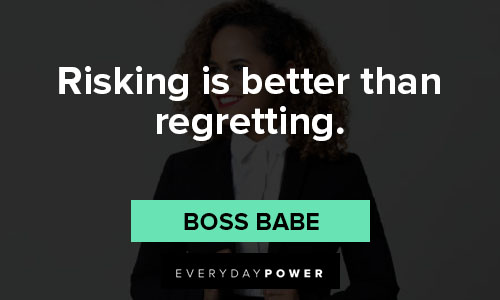 13. "Don't doubt. Don't pout. Figure it out." — Boss Babe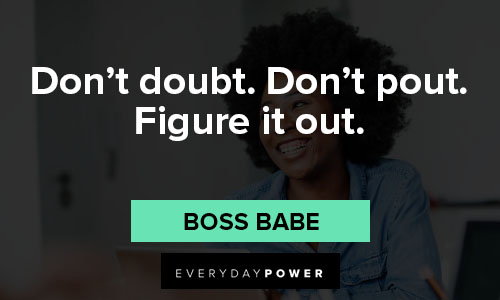 14. "God didn't give me this life to waste it." — Boss Babe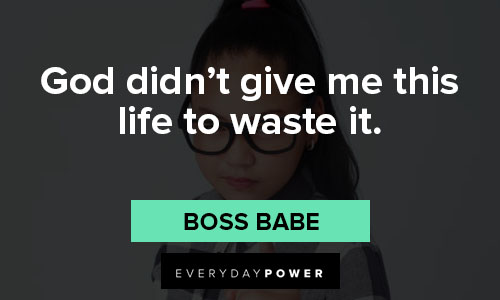 15. "Beauty tip: Being grateful makes you gorgeous." ― Boss Babe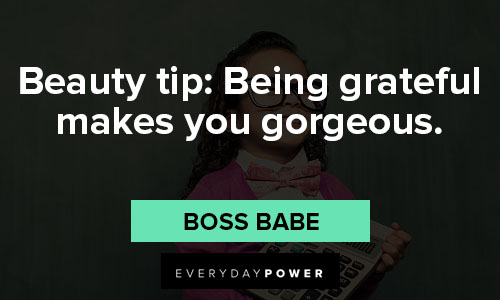 16. "Focused. Intelligent and motivated. Oh, and cute." — Boss Babe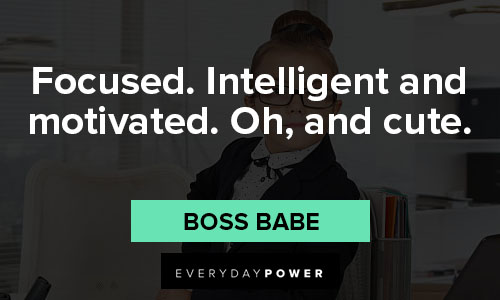 17. "You will always attract what you believe you're worth." — Boss Babe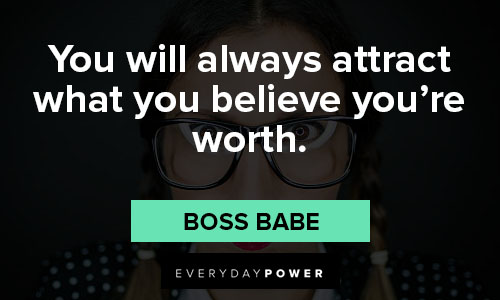 18. "The question isn't who is going to let me; it's who is going to stop me." — Boss Babe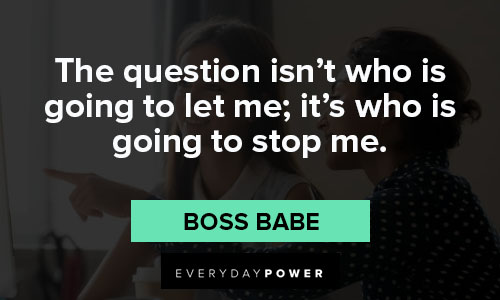 19. "No matter how you feel, get up, dress up, show up, and never give up." — Boss Babe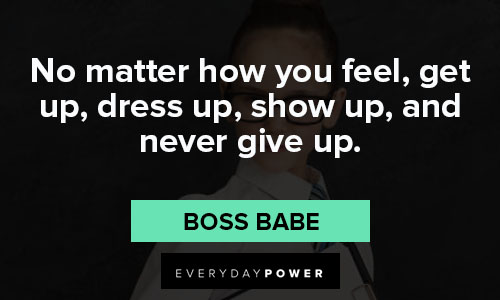 20. "Put your excuses to bed and get comfortable with being uncomfortable." — Boss Babe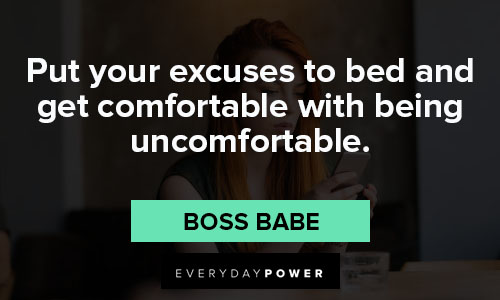 Boss Babe quotes about success
It is important to learn successful thinking from successful people. Check out the quotes below.
21. "Don't be afraid to do something big." ― Boss Babe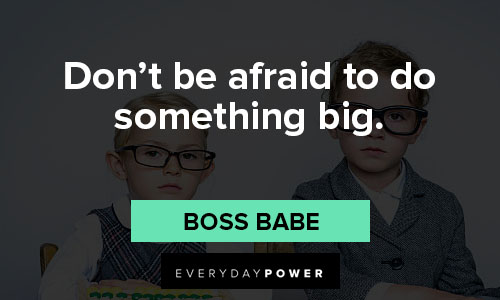 22. "Behind every successful woman is herself." — Boss Babe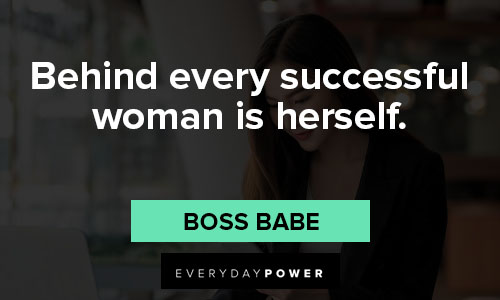 23. "The first step in being successful is being a professional optimist." — Boss Babe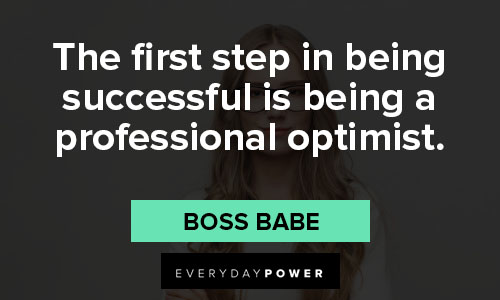 24. "Keep going until your bank balance looks like your phone number." — Boss Babe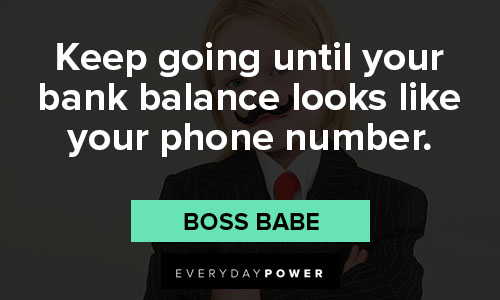 25. "The longer you take to start, the longer it'll be until you get results." — Boss Babe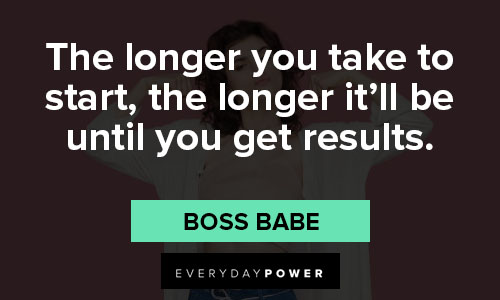 26. "Focus on more than one stream of income. The average millionaire has seven." — Boss Babe
27. "If you hang out with me, I'm going to ask you what your life goals are like every week." ― Boss Babe
28. "You have to accept a life of uncertainty if you truly want to live a life that is exceptional." — Boss Babe
29. "Once upon a time, you were a little girl with big dreams that you promised you'd make real one day. Don't disappoint yourself." — Boss Babe
30. "Be so committed to your dreams that you're willing to endure discomfort, pain, growth, and change. Refuse to accept anything less than complete love and alignment." — Boss Babe
Boss Babe quotes that will inspire you
If you need some inspiration to bring out the Boss Babe in you, these quotes are the answer. Take a look at the quotes below.
31. "You can't deposit excuses." — Boss Babe
32. "Wake up with a goal every day." — Boss Babe
33. "You are not tired you're uninspired." — Boss Babe
34. "Invest in your mind, every single day." — Boss Babe
35. "If you want to change your life, change your attitude." — Boss Babe
36. "If someone else can do it, there is absolutely no reason you can't do it." — Boss Babe
37. "Control your fears, build your self-esteem, radiate positivity, and the world will be yours." — Boss Babe
38. "Your talents, ambitions, and ideas count for nothing if you don't actually do anything with them." — Boss Babe
39. "At this point in my life, if it's not making me money, making me better, or making me happy, then I don't have time for it." — Boss Babe
40. "Don't get angry; get money. Choose yourself, focus on improving your life and get committed to your goals. You are in control here." — Boss Babe
Boss Babe quotes about tough times, challenges, and haters
This next set of quotes is a great collection of quotes to get you through life. Take a look.
41. "Comparison kills." ― Boss Babe
42. "Who cares if it hasn't been done before." ― Boss Babe
43. "The thing is…Your opinions don't pay my bills." ― Boss Babe
44. "You got this. You know you do. Go out and show it." ― Boss Babe
45. "If you can't stop thinking about it, don't stop working for it." ― Boss Babe
46. "It may take longer to get to your destination than shortcuts, but it's worth it." ― Boss Babe
47. "I'm not going to be the girl who didn't pursue her dreams because she didn't have money." ― Boss Babe
48. "Of course, it's hard. Of course, you're stressed, but these are all things that are putting you ahead." ― Boss Babe
49. "Just wait. If they say you can't do something, show them how you can do it even better than they ever imagined." ― Boss Babe
50. "Thank the haters and thank the critics. They gave you thick skin and the people with thick skin are the ones who get things done." ― Boss Babe
What is a boss babe, and do you want to be one?
The goal of the boss babe organization is to help women be successful, maximize their earnings, and help each other.
They advertise that they will help women do this through their "closeknit community, proven frameworks, and high value products."
That sounds like all good things, right?
Their mission sounds wonderful, and who wouldn't want a phenomenal mentor, support community, and people to share the challenges of being a female boss or entrepreneur with?
Everyone wants that. However, there is one side of the argument that should be addressed.
Are terms like #girlboss or #bossbabe actually demeaning and undermining the women who are killing it out there?
You wouldn't call a grown man who is CEO of a company "boy."
It is disrespectful and has a racist history.
So, why are we referring to educated, successful women who build empires, as girls?
Even if the term girl itself is not the problem—why does it have to clarify the term boss?
A boss is the boss—regardless of their gender.
Regardless of whether your boss shows up in a suit and tie or a skirt, they deserve respect and make the decisions.
What are your thoughts on the boss babe quotes?
Are phrases like #girlboss or #bossbabe helping or hindering women?
Let us know what you think in the comment section below.