178 Thought-Provoking Social Media Quotes
These social media quotes are about online social platforms' good, bad, and ugly.
From MySpace to Instagram, social media has rapidly grown in popularity over the past twenty years.
Tell us your favorite social media quote in the comment section below.
You may also enjoy our article on:
According to a survey by HubSpot, over 66% of marketers believe that social media is an essential part of their marketing strategy.
The marketers recognized the direct and cost-effective way it connects with their target audience and builds brand awareness.
What are the benefits of reading these social media quotes?
Using social media comes with positives and negatives.
On one hand, social media can connect you to new:
friends and old acquaintances
possible professional leads and connections
products to purchase
You can also use your platform to create positive change in your community.
It's easy to be confused by false information on social media.
Just as we can spread positivity on social media, negativity can also spread quickly.
Check out the social media quotes and sayings below to learn how musicians, actors, and other prominent figures feel about social media platforms.
Also, check out our list of sassy quotes perfect for social media captions.
Check out our most popular quote article, a list of short inspirational quotes for daily inspiration.
Check out our inspirational quotes category page for more inspirational life quotes.
Negative social media quotes
According to a study by Brandwatch, thoughtful social media quotes can provide inspiration and motivation to individuals.
Over 64% of users stated that they have been influenced by a quote they saw on social media, thus illustrating the potential for this type of content to impact behavior.
1. "Social media is not a safe space." – Tarana Burke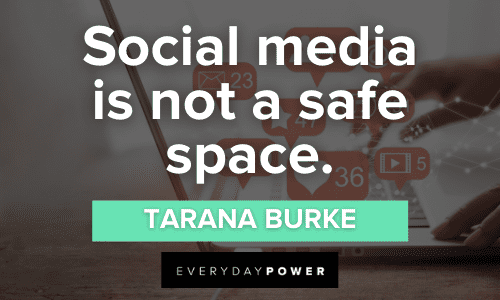 You will also enjoy our article on bullying quotes.
2. "You learn the hard way. That's the thing with social media. Nobody knows what they're doing." – Cameron Dallas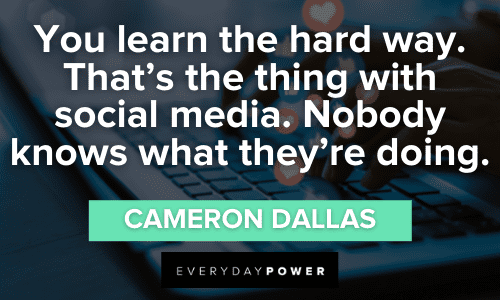 You will also enjoy our article on comeback quotes.
3. "I think there should be regulations on social media to the degree that it negatively affects the public good." – Elon Musk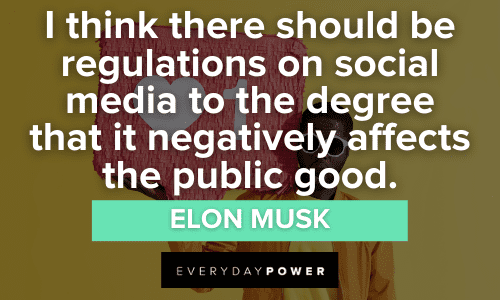 4. "There's so much negativity on social media, I don't want to add to that." – Shawn Mendes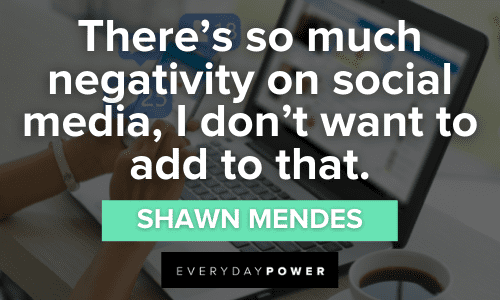 You will also enjoy our article on Discord quotes.
5. "I'm very hands-on about social media. That's my voice." – Alexandria Ocasio-Cortez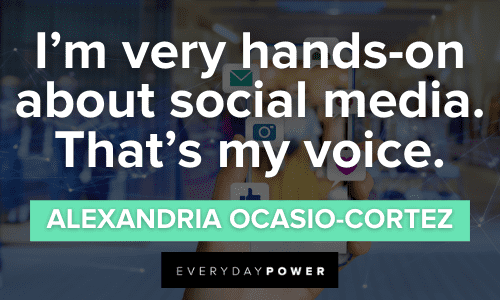 6. "I am a huge advocate for anti-bullying in our youth. What I have seen with the rise of social media is that children are not facing bullying on a playground, they are facing it on their cell phones." – Whitney Wolfe Herd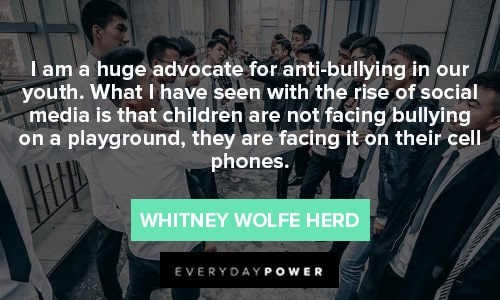 7. "When it comes to social media, there are just times I turn off the world, you know. There are just sometimes you have to give yourself space to be quiet, which means you've got to set those phones down." – Michelle Obama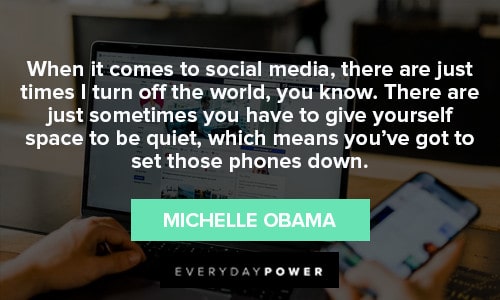 8. "I feel social media can be very distracting, unhealthy, and harmful to one's self-confidence. I don't even log on to it on my phone except when I post something on Instagram." – Rupi Kaur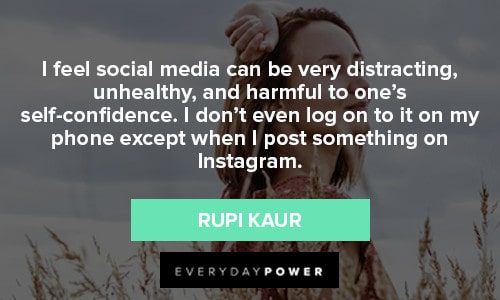 9. "The new dynamics between brands and consumers, driven by social media, are proving to be a powerful impetus for change." — Simon Mainwaring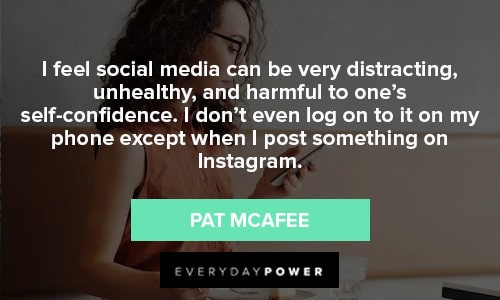 10. "Our attention spans have been reduced by the immediate gratification provided by smartphones and social media." – Katherine Ryan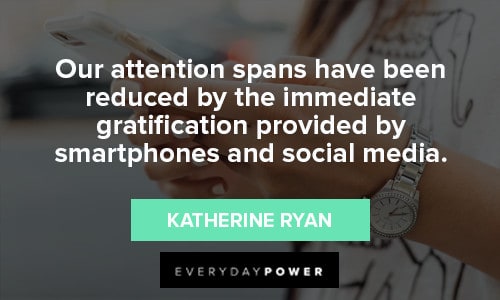 You will also enjoy our article on hate quotes.
11. "Everyone's like sheep on social media; like, one person starts making noise, and everyone's like, 'Hey, yeah!' and then you got a whole bunch of people making noise at you." – Earl Sweatshirt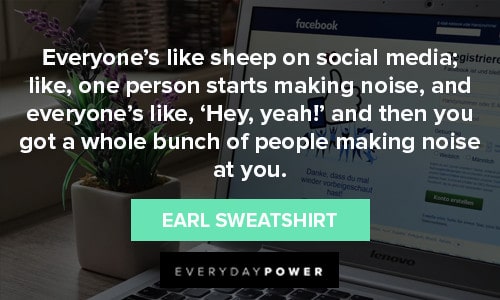 You will also enjoy our article on criticism quotes.
General social media quotes
According to a study by the University of Wisconsin-Madison, the use of quotes in social media posts can make them more memorable, with participants recalling quotes they saw on social media more accurately than other types of content.
Remembering accurately illustrates the potential for quotes to leave a lasting impression on your audience.
12. "Social media has taken over in America to such an extreme that to get my own kids to look back a week in their history is a miracle, let alone 100 years." – Steven Spielberg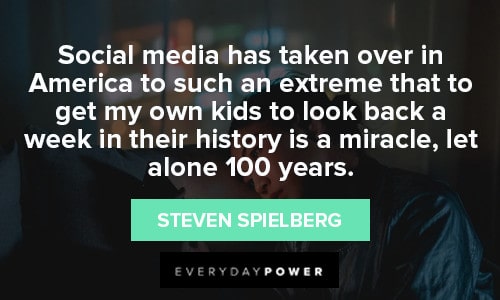 You will also enjoy our article on healthcare quotes.
13. "You don't need to go far to see the hatred and abuse that happens online. Even using social media is anti-social because people are always on their phones." – Ronny Chieng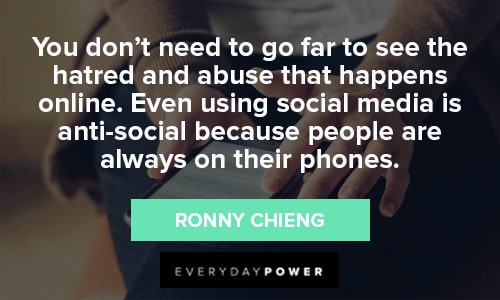 You will also enjoy our article on technology quotes.
14. "Social media has given us this idea that we should all have a posse of friends when in reality, if we have one or two really good friends, we are lucky." – Brene Brown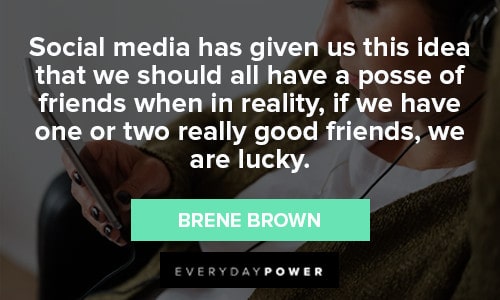 15. "In general, we're a social network. I prefer that because I think it is focused on the people part of it – as opposed to some people call it social media, which I think focuses more on the content." – Mark Zuckerberg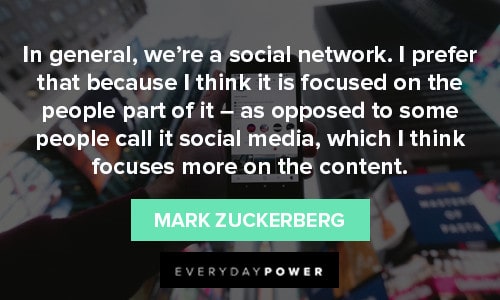 You will also enjoy our article on quotes on addiction.
16. "Much of social media can be seen as the 'News of me.' It's not so much a platform for connecting and sharing as it is a platform for advertising the idea of yourself you want to portray to others: the image of yourself you want to project." – Hozier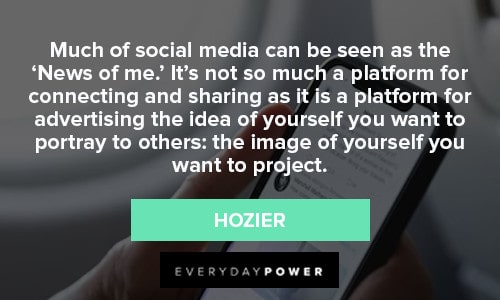 You will also enjoy our article on communication quotes.
17. "People are scared to have a strong opinion because, with social media, almost everyone lives the life of a celebrity." – Yungblud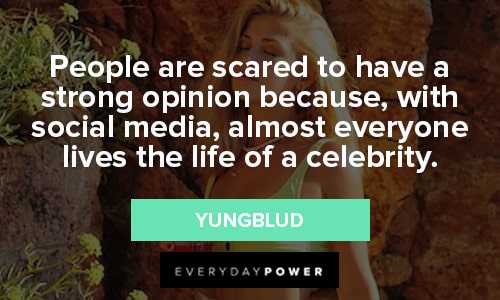 You will also enjoy our article on bubble quotes.
18. "Social media is called social media for a reason. It lends itself to sharing rather than horn-tooting." – Margaret Atwood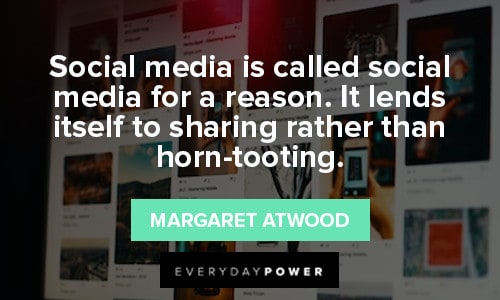 You will also enjoy our article on negative effects of social media.
19. "The future is in photos for social media. More and more people are not reading, so I try to attach a photo to most Tweets." – Tyra Banks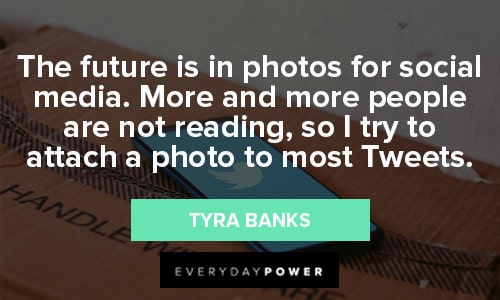 20. "I would deactivate every single comment on any social media. You should be able to post what you want, say what you want, be what you want without anybody judging you." – Selena Gomez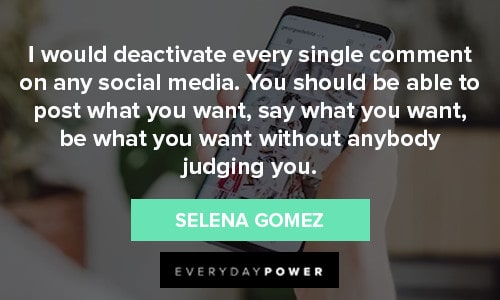 21. "People are always telling you you're done. Someone's always telling you that, especially now in the day of social media." – Billy Crystal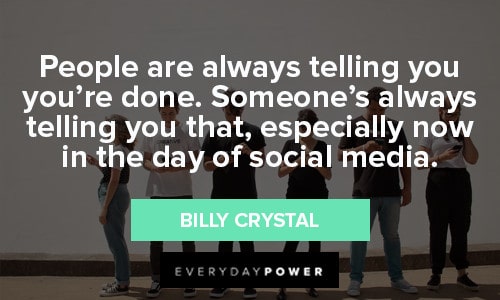 22. "I had become obsessed with the control-freak aspect of photography and with the rising importance of the image in our social media age it ended up working." – Cole Sprouse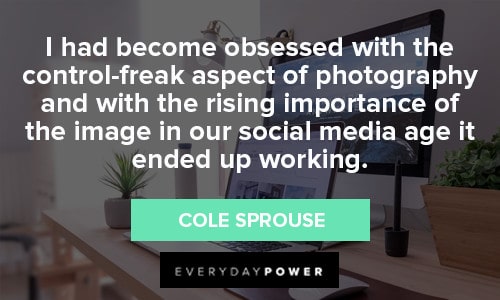 23. "Social media is an advertisement for the superficial extroverted self." – Hozier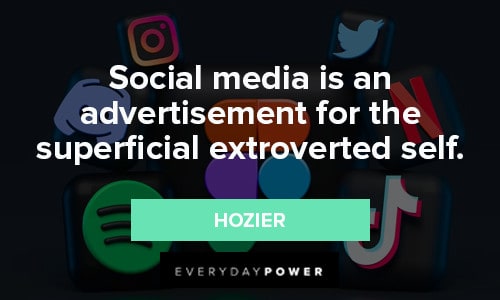 24. "I'm trying to embrace social media because it gives artists a little more power than we've had in the past." – Billy Porter
25. "99.5 percent of the people that walk around and say they are a social media expert or guru are clowns. We are going to live through a devastating social media bubble." – Gary Vaynerchuk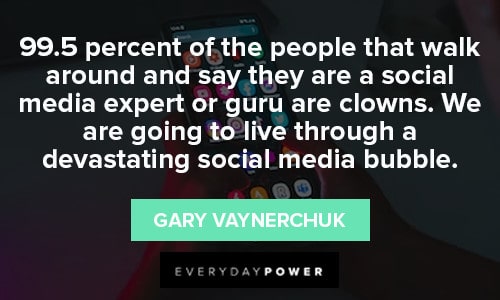 26. "Social media is awesome because I can somewhat paint myself the way I want people to see me." – Kevin Abstract
You might also like these Vine quotes that will make you LOL
Social media quotes about the impact
27. "What is interesting is the power and the impact of social media… So we must try to use social media in a good way." – Malala Yousafzai
28. "Social media has definitely revolutionized or transformed the world of pageantry, and not just pageantry, but any social cause that we like to lend our voice to, how we inform each other, how we connect." – Catriona Gray
29. "I give big ups to people who are very big on social media, whether they're doing vlogs or whatever. It takes a lot of effort." – Shawn Mendes
30. "Everyone is living for everyone else now. They're doing stuff so they can tell other people about it. I don't get all that social media stuff, I've always got other things I want to do – odd jobs around the house. No one wants to hear about that." – Karl Pilkington
31. "Any post I do on social media, any song, anything in general – I just try to promote positivity, because I felt like there's not enough positivity going around in the world." – Lil Yachty
32. "I'm not sure whether it's going to be the downfall of Rome – social media. There are too many secrets." – Judy Sheindlin
33. "There are things that people say that hurt my feelings or whatever, especially with social media right now. It can be the most amazing thing, and it can also be the most negative and detrimental thing." – Zendaya
34. "Independent content these days can be more successful than previously because of the power of social media. However, there are still systems in place to make sure independent artists don't get as far as signed ones." – Lilly Singh
35. "Everybody wants to be a celebrity, which is why we have this phenomenon of social media, where nobody wants to be private. We all want to be seen." – Marc Jacobs
36. "I don't blame people or 'pop stars' or whatever for being so quiet, but you can't take it too seriously, especially on social media. It's a very hard thing to be yourself, especially when people are watching, so I don't blame them for being a bit reserved." – Lewis Capaldi
37. "It's weird how much social media affects someone's career. Deals and jobs are sometimes based off how many followers you have, which is a little sad. I would rather that not be the case, but I understand that it's important." – Lili Reinhart
Social media quotes about information
38. "The information you get from social media is not a substitute for academic discipline at all." – Bill Nye
39. "The kids are fixing their eyes on social media, and the stories they're looking at may not be the most important things. I'm guilty of that, too. Do you want to look at Instagram or the news? It's a difficult, and weird, situation." – Selena Gomez
If you're enjoying these quotes, you'll love our collection of Instagram Bio quotes that define the real you.
40. "The thought that so many people get their news from social media really is scary." – Rush Limbaugh
41. "It's amazing how much information we share in social media, then we wonder why people steal our identity." – Frank Abagnale
42. "I hear the same anxieties over and over again. Everything is too fast; everything is too precarious. We have more access than ever to the people we are trying to reach, thanks to social media and mobile technology, and more information than we know what to do with." – Anna Wintour
43. "Today, when you look at social media, you see that the narrative can be overtaken by people just from Twitter and Instagram. I know when Ferguson was going down those first few nights, I was watching feeds on the ground on Twitter, not CNN." – Ava DuVernay
44. "Smartphones and social media expand our universe. We can connect with others or collect information easier and faster than ever." – Daniel Goleman
45. "Examining your behavior on social media could give you insight into your own personality as well as how others perceive you. You may think you're presenting yourself in a certain light, only to discover other people view your behavior completely different." – Amy Morin
46. "When you're trying to bust through the noise on social media, you do have to be overt and loud." – Shaun King
Social media quotes about making personal connections
47. "It's dope to be an artist and to have that wall of separation, but also I feel like social media is there for what it's there for. I have a group chat with about 40 fans who I communicate with on the regular." – 6lack
48. "Social media is interesting. It helps me connect with fans. It's immediate. It's a big part of my touring business – getting the word out via Twitter, Facebook, and Instagram." — Hannibal Buress
49. "A lot of people use social media to share mundane things or for self-glorification. I try to use it to share interesting things with people." – Ashton Kutcher
50. "Reaching out to other people is important work. I am so pleased and honored that I'm getting the attention from the young people on social media. It's been missing." – Maxine Waters
51. "A good life depends on the strength of our relationships with family, friends, neighbors, colleagues and strangers." – David Lammy
52. "The good life is built with good relationships." – Robert J. Waldinger
53. "The good life is a process, not a state of being. It is a direction not a destination." – Carl Rogers
If you're enjoying these quotes, make sure to read our collection of Facebook quotes that are perfect to post as your FB status.
More Social media quotes
54. "My dream is to live a good life and be loving, be close to God and be a good human being and bring peace to people." – Ziggy Marley
55. "There are three ingredients in the good life: learning, earning and yearning." – Christopher Morley
56. "Mellow doesn't always make for a good story, but it makes for a good life." – Anne Hathaway
57. "Reading is a basic tool in the living of a good life." – Joseph Addison
58. "To be a good director, you have to have good life experience. I'm getting there." – Thomas Brodie-Sangster
59. "Not life, but good life, is to be chiefly valued." – Socrates
60. I think I should learn French and be a better cook – basic, really good life stuff." – Angelina Jolie
Social media quotes to keep in mind as your scroll through
61. "It takes discipline not to let social media steal your time." — Alexis Ohanian
62. "The power of social media is it forces necessary change." — Erik Qualman
63. "Technology and social media have brought power back to the people." — Mark McKinnon
64. "There are positive things that come of social media as well as negative." — Millie Bobby Brown
65. "The great thing about social media was how it gave a voice to voiceless people." — Jon Ronson
66. "Social media is reducing social barriers. It connects people on the strength of human values, not identities." — Narendra Modi
67. "Social media is an amazing tool, but it's really the face-to-face interaction that makes a long-term impact." — Felicia Day
68. "The more social media we have, the more we think we're connecting, yet we are really disconnecting from each other." — JR
69. "Using social media to hurt and destroy is callous, acted out by cowards hiding behind computers. My advice is to ignore negativity. Focus on the love around." — Martin Garrix
70. "Everyone is comparing lives on social media and wants the perfect body, perfect image, perfect outfit, perfect life – we're striving for this perfection, and it's so unhealthy because there's no such thing as perfection." — Emily Atack
Social Media Quotes from Influencers
71. "Social media allows big companies to act small again" – Jay Baer
72. "You can never go wrong by investing in communities and the human beings within them." – Pam Moore
73. "People want to do business with you because you help them get what they want. They don't do business with you to help you get what you want." – Don Crowther
74. "If you make customers unhappy in the physical world, they might each tell 6 friends. If you make customers unhappy on the Internet, they can each tell 6,000 friends." – Jeff Bezos
75. "Engage, Enlighten, Encourage and especially…just be yourself! Social media is a community effort, everyone is an asset." – Susan Cooper
76. "Pushing a company agenda on social media is like throwing water balloons at a porcupine." – Erik Qualman
77. "Social media is about sociology and psychology more than technology." – Brian Solis
78. "Social media is not just an activity; it is an investment of valuable time and resources. Surround yourself with people who not just support you and stay with you, but inform your thinking about ways to WOW your online presence" – Sean Gardner
79. "We have technology, finally, that for the first time in human history allows people to really maintain rich connections with much larger numbers of people." – Pierre Omidyar
80. "Successful companies in social media function more like entertainment companies, publishers, or party planners than as traditional advertisers." – Erik Qualman
Social media quotes on why it can be good, bad, and ugly
81. "You are what you share." – Charles W. Leadbeater
82. "If you don't like pictures of animal cruelty being posted on social media, you need to help stop the cruelty, not the pictures. You should be bothered that its happening, not that you saw it." – Marie Sarantakis
83. People get addicted to feeling offended all the time because it gives them a high; being self-righteous and morally superior feels good." – Mark Manson
84. "How different would people act if they couldn't show off on social media? Would they still do it?" – Donna Lynn Hope
85. "Social media gives legions of idiots the right to speak when they once only spoke at a bar after a glass of wine, without harming the community … but now they have the same right to speak as a Nobel Prize winner. It's the invasion of the idiots" – Umberto Eco
86. "These days, in the world of apps and social media and … idiot friends, it is literally impossible to avoid spoilers. If a character dies, it is gonna be the number one trending topic on Twitter, it is gonna be the top trending story on Facebook — and Reddit and Tumblr just turn into a completely uncensored memorial service of memes." – Daniel Howell
87. "I have said that propaganda, misinformation, and disinformation have always been part of political warfare. Social media and other new platforms have given it a new life and reach through which the fake news phenomenon can reach everywhere." – Bilawal Bhutto Zardari
88. "Social media is not about the exploitation of technology but service to community." – Simon Mainwaring
89. "Social media is changing the way we communicate and the way we are perceived, both positively and negatively. Every time you post a photo, or update your status, you are contributing to your own digital footprint and personal brand." – Amy Jo Martin
90. "Social media is something of a double-edged sword. At its best, social media offers unprecedented opportunities for marginalized people to speak and bring much needed attention to the issues they face. At its worst, social media also offers 'everyone' an unprecedented opportunity to share in collective outrage without reflection." – Roxane Gay
Social Media Quotes For Business Marketers
91. It's a dialogue, not a monologue, and some people don't understand that. Social media is more like a telephone than a television." – Amy Jo Martin
92. I'm very active on social media and see the huge impact it has on engaging with fans and being able to have a voice." – Stephen Curry
93. "Don't use social media to impress people; use it to impact people." – Dave Willis
94. "A large social-media presence is important because it's one of the last ways to conduct cost-effective marketing." – Guy Kawasaki
95. "When it comes to social media marketing, you don't have to post 3 times a day. It's never about how often you post but the quality of your content." – Janet Benson Amarhavwie
96. "The first rule of social media is that everything changes all the time. What won't change is the community's desire to network." – Kami Huyse
97. "Build it, and they will come only works in the movies. Social Media is a "build it, nurture it, engage them, and they may come and stay." – Seth Godin
98. "Social Media is about the people! Not about your business. Provide for the people and the people will provide for you." – Matt Goulart
99. "When you give everyone a voice and give people power, the system usually ends up in a really good place." – Mark Zuckerberg
100. "Social media is not just a spoke on the wheel of marketing. It's becoming the way entire bicycles are built." – Ryan Lilly
Social Media Quotes That Will Make Your Day.
101. "Social media is not a media. The key is to listen, engage, and build relationships." — David Alston
102. "Social Media puts the "public" into PR and the "market" into marketing." — Chris Brogan
103. "Privacy is dead, and social media holds the smoking gun." — Pete Cashmore
104. "Social media policies will never be able to cure stupid." — Nichole Kelly
105. "Our head of social media is the customer." — McDonald's
106. "Most bloggers who rise above the clutter are quite often prolific –they work hard, not just writing content but networking, engaging in Social Media and more." — Darren Rowse
107. "Social media is the ultimate equalizer. It gives a voice and a platform to anyone willing to engage." — Amy Jo Martin
108. "Content is fire. Social media is gasoline." — Jay Baer
109. "Social media creates communities, not markets." — Don Schultz
110. "When creating a social media campaign, make sure you know your audience well." — Liz Azyan
Social Media Quotes About Influence
111. "Social media is your platform to build a unique fan base while you express yourself exactly how you see yourself. Build wisely." — Germany Kent
112. "It becomes very difficult for us to adjust to a world without social media because we spend so much time involved with it." — Kim Stolz
113. "Social media changes the relationship between companies and customers from master and servant, to peer to peer." — Jay Baer
114. "We don't have a choice on whether we DO social media, the question is how well we do it." — Erik Qualman
115. "Social media doesn't create negativity, it uncovers it." — Jay Baer
116. "Social media is driving the culture, it drives peoples minds literally." — Aeriel Miranda
117. "Worry more about being social, and worry less about doing social media." — Jay Baer
118. "The goal of social media is to turn customers into a volunteer marketing army." — Jay Baer
119. "The best examples of lies can be found there. To me, social media is the worst menace to society." — Recep Tayyip Erdogan
120. "The leverage and influence social media gives citizens are rapidly spreading into the business world." — Simon Mainwaring
Social Media Quotes To Catch Up on Trending Updates
121. "When people are using their devices, it's probable that almost half are networking on social media." — Gary Vaynerchuk
122. "There's nothing you can do about what social media is now or the internet. You just try to find other avenues to make yourself seen and heard." — Keith Sweat
123. "I don't have social media so I'm kind of in a bubble, but I hear there's a lot going on." — Mike Colter
124. "I do have very strong, very conflicted feelings about rating systems and social media." — Rashida Jones
125. "If you use social media right, you will piss people off. It's actually recommended!" — Guy Kawasaki
126. "Social media is addictive precisely because it gives us something which the real world lacks: it gives us immediacy, direction, a sense of clarity and value as an individual." — David Amerland
127. "Social media is your opportunity to reach a massive number of people with transparency, honesty, and integrity." — Brian Boyd
128. "Social media has a way of revealing someone and can be very telling." — Billy Kennedy
129. "Listening to my fans and seeing love and support through social media from them is what I live for." — Jake T. Austin
130. "I think that social media can be used for good and for bad." — Lexi Ainsworth
Social Media Quotes To Highlight Why It May Be A Source Of Concern
131. "People who smile while they are alone used to be called insane, until we invented smartphones and social media." ― Mokokoma Mokhonoana
132. "I was basically born knowing how to casually stalk people on social media." ― Becky Albertalli
133. "Social media not only snatches your time, but it also teaches you attention deficiency." ― Neeraj Agnihotri
134. "In social networks, the function of "friends" is primarily to heighten narcissism by granting attention, as consumers, to the ego exhibited as a commodity." ― Byung-Chul Han
135. "Our social tools are not an improvement to modern society, they are a challenge to it." ― Clay Shirky
136. "At a basic level, Facebook, like most other forms of social media, runs on doublespeak: advertising connection but creating isolation; promising happiness but inculcating dread." ― Jia Tolentino
137. "You have five hundred Facebook 'friends'? That simply means you've redefined 'friend' to make it something like 'a contact I exchange data with'." ― Hugh Mackay
138. "A fixation with connecting with 'friends' online comes with the risk of disconnection with friends waiting for you to be present in the offline world." ― Craig Hodges
139. "Virtual In the age of social media, friends are like snowflakes. They descend in their thousands. They disappear in seconds." ― Mouloud Benzadi
140. "Being away on Social Media. It doesn't make people to miss you. It makes them to forget about you." ― De philosopher DJ Kyos
Social Media Quotes to Empower Your Feed
141. "Social media is that daily feed that reminds people that you exist and it has to be as transparent and true as everything else you do, or people will call you out on it." ― Frances Allen
142. "I think social media has allowed the players to be able to say things that maybe didn't come out right the first time and say what they really meant. I think that it keeps people fair and honest." ― Ken Griffey, Jr.
143. "I dont make it a practice to respond to reports in the social media but occasionally it is necessary." ― Amalie Benjamin
144. "My two daughters live on Facebook and social media is their mode of communication." ― Tony Goldwyn
145. "In the age of social media and dating apps, so many people are able to hide behind their Instagram page or their Raya page or Facebook." ― Amanda Michalka
146. "Every thoughtful pin on pinterest has beauty. But not everyone can see." ― Confucius
147. "Increasingly, consumers don't search for products and services. Rather, services come to their attention via social media." ― Erik Qualman
148. "Social media reaches farther than we can physically reach with advertising." ― Tony Clark
149. "Realize that the social media success equation isn't big moves on the chess board, it's little moves made every day that eventually add up to a major shift." ― Jay Baer
150. "It's Web, and then everything else. It's social media first, and everything else." ― Ted Leonsis
Social Media Quotes That Reflect Our Digital Era
151. "With the Internet and social media being a huge part of today's culture, I think it's super important to promote staying smart online." — G. Hannelius
152. "While strides are being made in the social-media space, the newspaper and news business should continue to embrace social media." — Amy Jo Martin
153. "I think social media is a great place to share ideas and to connect with other people." — Kaitlyn Dever
154. "I feel like social media is a great thing. I try not to go on it too much." — Kaitlyn Dever
155. "I'm not actually pop culture or social media savvy. I really didn't know what Twitter was when I created an account." — Misha Collins
156. "To me, it's just that social media is allowing people to be in charge of their own narratives." — Jose Antonio Vargas
157. "Social media gives one a family to share ones life with." — Sonu Nigam
158. "Social media is the basis of my career. Since I was a kid I've always used the Internet as a space to express myself creatively." — Kesh
159. "I don't live my life seeking validation from people on social media." — Ricki-Lee Coulter"Successful social media marketing is not built on impressions. It is built on relationships" — Kim Garst
160. "I hear YouTube, Twitter and Facebook are merging to form a super Social Media site – YouTwitFace." — Conan O'Brien
Social Media Quotes to Share Captiona and Posts
161. "I feel like social media is something that has yet to be considered a viable platform for marketing in the industry." — Aurora Guerrero
162. "I am still fairly new to the whole social media thing – I am definitely tweeting and Facebooking. It's a nice way to connect with fans." — Laura Mennell
163. "My entire career comes from the power of social media and the way I've utilized those spaces and interacted with people across the world." — Kesh
164. "I think e-mail and social media and all that has made me feel way less isolated than ever before." — Victoria Chang
165. "Obviously social media has had a massive impact on the fame game, but not in a positive way. But it can be for some." — Margot Robbie
166. "Social media is great, I guess, but it feels like technology is the sapper of innocence." — Chris O'Dowd
167. "Content is the currency of the social web and sharing that content is the catalyst to new relationships and business benefits." — Mark Schaefer
168. "We embed social media inside our processes. Let's look at our processes and see how we can enhance them with social." — Sandy Carter
169. "One of the great ironies of the social media era is that some of the least social people in the world created it." ― Sarah Lacy
170. "Too many brands treat social media as a one way, broadcast channel, rather than a two-way dialogue through which emotional storytelling can be transferred." ― Simon Mainwaring
171. "I'm so glad that social media gives me a chance to do that, to celebrate books I love and help proselytize for books I love." ― Jennifer Weiner
172. "I was literally calling my customers who were complaining on social media and having a dialog with them, and sending them money." ― Russell Simmons
173. "At the end of the day, money is just a proxy for votes. That is what makes politics so vulnerable to social media." ― Sean Parker
174. "The good thing about social media is it gives everyone a voice. The bad thing is … it gives everyone a voice." ― Brian Solis
175. "Social media is a performance like any other form of entertainment, and acknowledging that is important." ― Bryce Dallas Howard
176. "The Egyptian experience suggests that social media can greatly accelerate the death of already dying authoritarian regimes." ― Evgeny Morozov
177. "Most days I am in public. If I go to the store, with social media, I'm in public. It might as well be a press conference." ― Dwyane Wade
178. "You're not surviving if you're not on social media, period." ― Aeriel Miranda
Do you spend too much time on social media?
Just as Mark Twain once said, "too much of anything is bad."
This is especially true with social media.
Consider trying a social media detox if you are a regular social media user.
Pick a time span that works well for your schedule, whether it is a day or 30 days.
Turn off all your social media notifications from your phone and delete any apps.
Many browser extensions are also available to block certain websites, including Freedom and Self Control.
A social media detox may bring you many positive benefits, including increased productivity and mental clarity.
Did we forget any of your favorite social media quotes and sayings?
Let us know your thoughts on our collection in the comments section below!
Please share this article on your social media platforms if you found it helpful!
After reading these quotes, don't miss out on the wise and reflective words from rap superstar J. Cole.