50 Brad Pitt Quotes from One of the Most Famous Actors
If Brad Pitt is one of your favorite actors, then you will love these Brad Pitt quotes.
If you don't know who Brad Pitt is, you've probably been living under a rock for the past several decades.
Not only is he one of the most well-known actors in modern history, but he's also been married to two famous actresses—Angelina Jolie and Jennifer Aniston.
He has played in a variety of roles from comedies to more serious dramas.
And he is a favorite amongst many.
If he's one of your favorites, then you're sure to enjoy these Brad Pitt quotes.
If you love this quote collection, read out our most popular quote article about short inspirational quotes for daily motivation.
If you need more inspirational quotes, check out our motivational quotes category page.
Inspirational Brad Pitt quotes
1. "I believe you make your day. You make your life. So much of it is all perception, and this is the form that I built for myself. I have to accept it and work within those compounds, and it's up to me." – Brad Pitt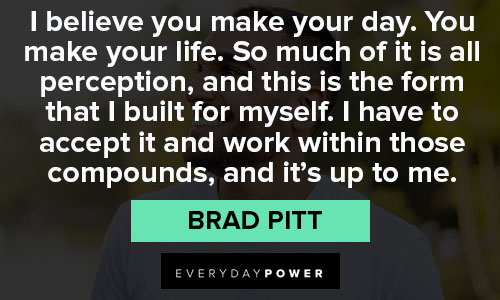 You will also enjoy our article on actions speak louder than words quotes.
2. "You must lose everything in order to gain everything." – Brad Pitt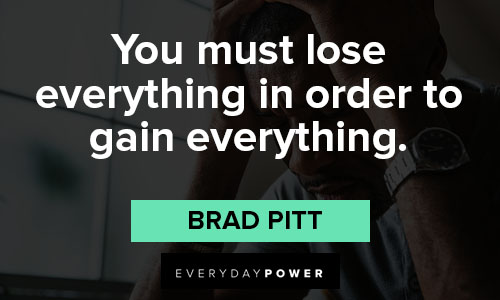 You will also enjoy our article on spy quotes.
3. "Stop being perfect, because obsessing over being perfect stops you from growing." – Brad Pitt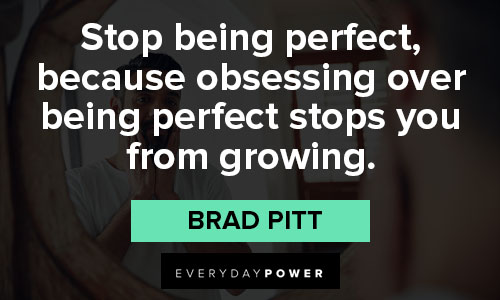 You will also enjoy our article on acting quotes.
4. "I embrace the messiness of life. I find it so beautiful actually." – Brad Pitt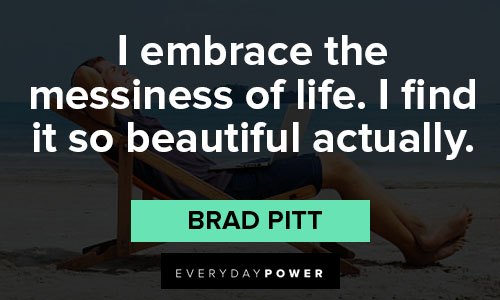 5. "Each misstep leads to the next correct step." – Brad Pitt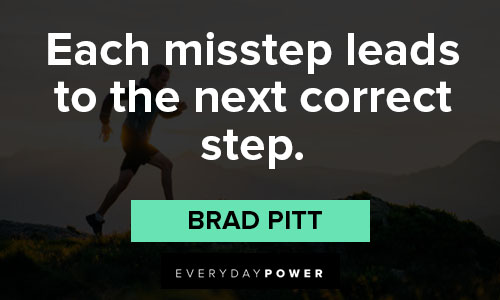 6. "Do you know how you tell real love? It's when someone else's interest trumps your own." – Brad Pitt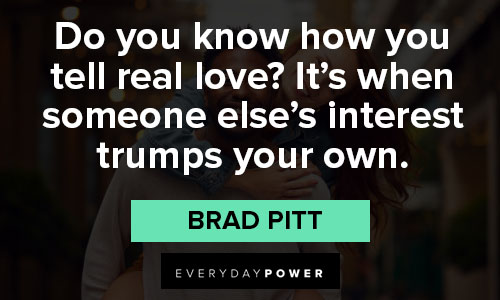 7. "There's peace in understanding that I have only one life, here and now, and I'm responsible." – Brad Pitt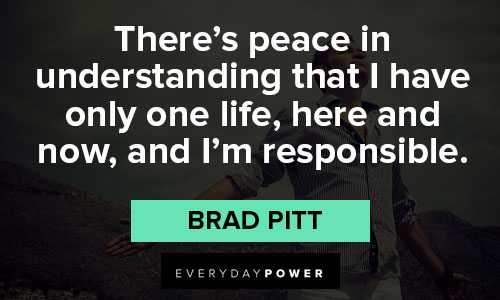 8. "Get into something that's really personal that means something to you, where you have something to say and is something really individualized. I wish I was more aware of that when I started my career instead of doing a few things I was told would be good for me. And they weren't, because it left me empty, so I didn't do a good job anyway. I think that's what's key to what we do: It's got to be personal." – Brad Pitt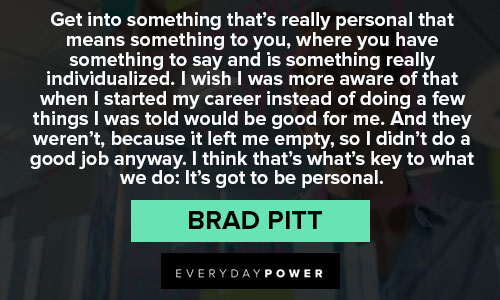 9. "You make yourself what you are. You have control of your own destiny." – Brad Pitt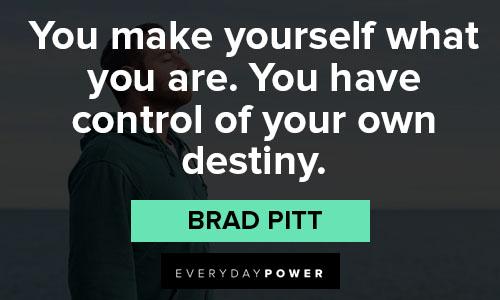 10. "No more excuses. I can't blame anything on my parents. I'm responsible for my mistakes and my choices." – Brad Pitt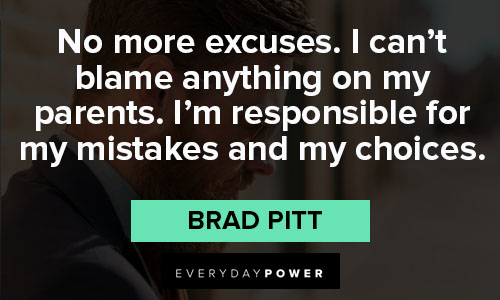 Brad Pitt quotes about his career
11. "Whilst acting is my career, architecture is my passion. Selecting this development as my first major construction project has been a simple decision. It will underpin not only my values for environmentally friendly architecture, but also embrace my career in entertainment." – Brad Pitt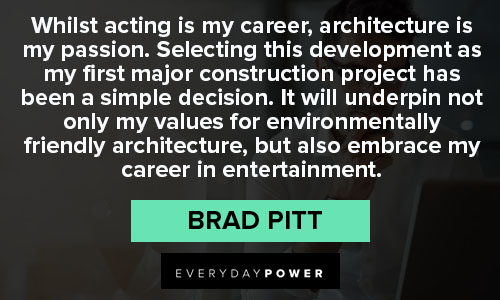 12. "So much of making movies is about discovery on the day, what you're figuring out. If you know everything going in, then it's not worth doing – it's already done. I'm interested in finding people who I think have a voice – and a very specific voice." – Brad Pitt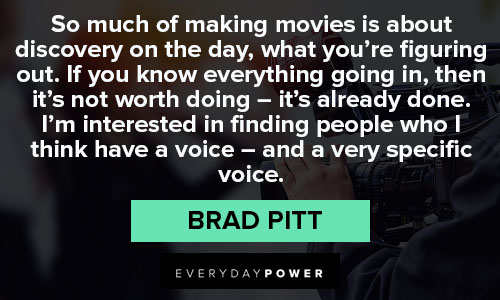 13. "When you first get opportunities, suddenly you get surrounded by a lot of people who want to make money off you but also are there to help. But they start telling you so much what you need to be and what you need to do to maintain some idea of career maintenance." – Brad Pitt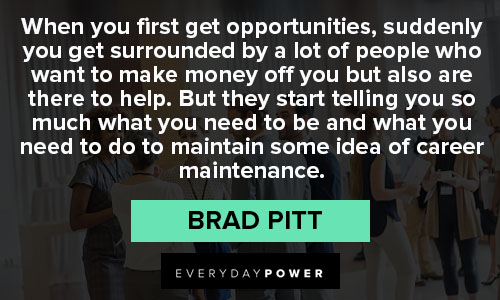 14. "When I received my first paycheck from my now known day job, I spent it on a period Craftsman chair and a Frank Lloyd Wright-wannabe lamp. With my second paycheck, I bought a stereo." – Brad Pitt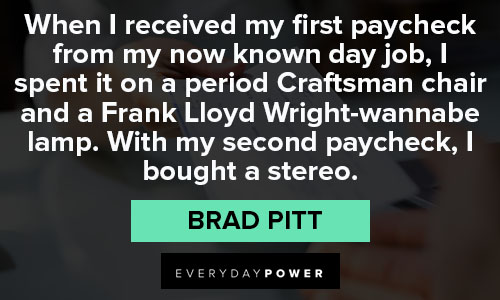 15. "I find all of my performances come down to mathematics in a sense – how do you approach the problem of this character? Sometimes I crack that problem, sometimes I don't." – Brad Pitt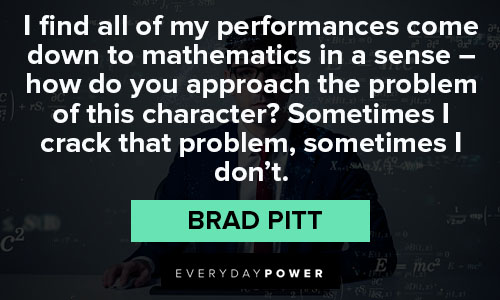 16. "My training is documented on film." – Brad Pitt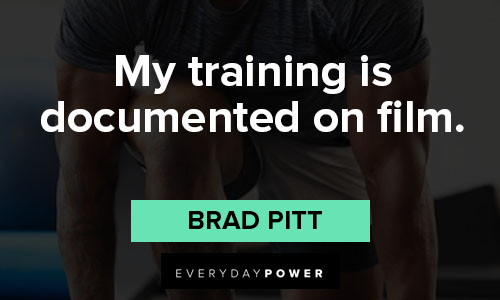 17. "I would say that the directors that I've liked the most are all curious in mature – curious thinkers. They're all big questioners, I would say, first and foremost." – Brad Pitt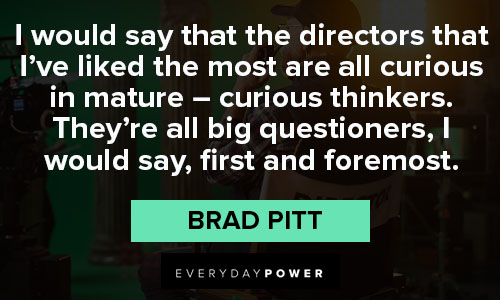 18. "I'm actually very snobbish about directors. I have to say 'no' all the time. 'No' is the most powerful word in our business. You've got to protect yourself." – Brad Pitt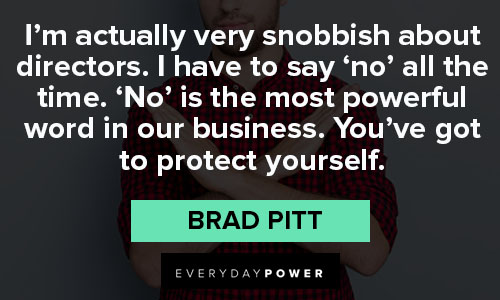 19. "You hear stories of intense actors who can't shed their character and who don't know who they are for a week or two after. I'm not that guy, man." – Brad Pitt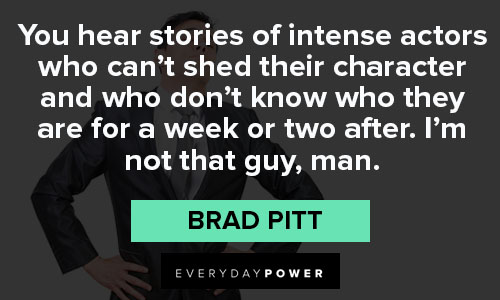 20. "I phoned my grandparents and my grandfather said 'We saw your movie.' 'Which one?' I said. He shouted 'Betty, what was the name of that movie I didn't like?" – Brad Pitt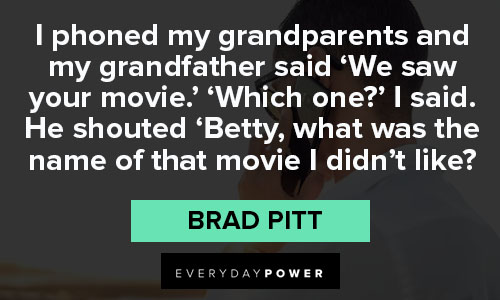 21. "If I'm gonna spend however long it takes to make a movie, give up 14 hours a day for however many weeks or months, then it's very important for me to know that I'm working with people who I respect and enjoy and that we're going for something together." – Brad Pitt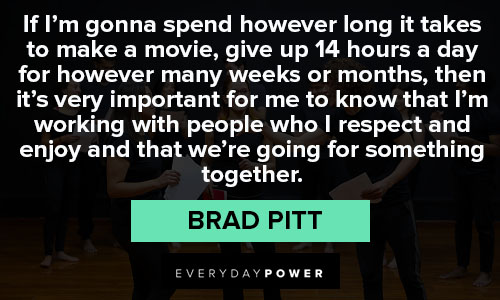 Brad Pitt quotes about his life
22. "I'm a bit of a loner, you know? I'm quieter by nature. And coming from, you know, hillbilly country, I'm probably more reserved." – Brad Pitt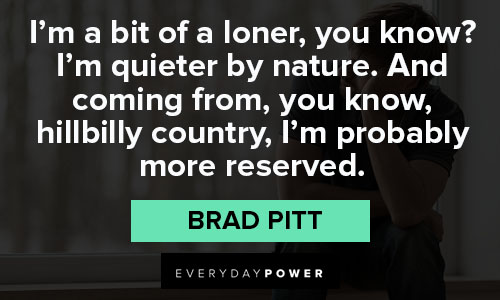 23. "Listen, I've been pretty fortunate. And if I've been underrated, it's actually been something I've been able to work with; I can surprise people. It sets me up to exceed expectations, so I don't mind." – Brad Pitt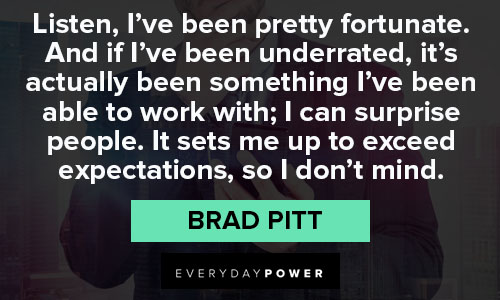 24. "My happiest moment is the day they call wrap and I'm free. I'm not looking back." – Brad Pitt
25. "I've always been at war with myself, for right or wrong." – Brad Pitt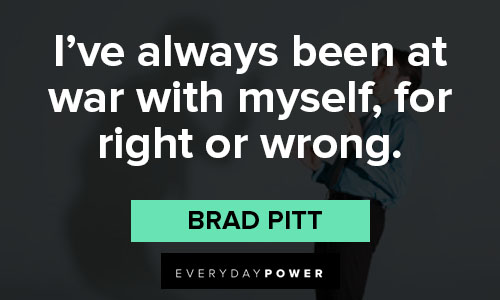 26. "When I was a boy, I would ask about my family history, about my bloodlines. We really didn't know that much. We had a little Indian in us from the Oklahoma Trail of Tears." – Brad Pitt
27. "I have very few friends. I have a handful of close friends, and I have my family, and I haven't known life to be any happier." – Brad Pitt
28. "In Missouri, where I come from, we don't talk about what we do – we just do it. If we talk about it, it's seen as bragging." – Brad Pitt
29. "My life has been about big changes." – Brad Pitt
30. "My father came from a very poor background, but I was very fortunate in the sense that we were never in need. My dad was determined to make sure that we didn't want things. He wanted to give us more opportunity than he had, a better shot at a better life." – Brad Pitt
Brad Pitt quotes about his family
31. "Actions speak louder than words, and it's no more true than with your kids." – Brad Pitt
32. "At the end of the day, we get to be parents, greeting our lovely, crazy children and talking about their day, making sure they brush their teeth, so all the tension from our day is tabled… until the next." – Brad Pitt
33. "I had a very supportive family environment that gave me room to explore and discover things about myself." – Brad Pitt
34. "I'm sure they're saddened by me, and I get frustrated with them. But I love them, and at the end of the day if they need me or if they need anything, I'm there for them." – Brad Pitt
35. "My kids are just waiting for me at home. I'm their father. They're wondering, 'When's Daddy coming home?'" – Brad Pitt
36. "I don't think I was all that late in becoming a father." – Brad Pitt
37. "I always thought that if I wanted to do a family, I wanted to do it big. I wanted there to be chaos in the house." – Brad Pitt
38. "Family – and certainly kids and a stable relationship – is something bigger than yourself. They need you to sit down with them, be there for them when they wake up in the middle of the night." – Brad Pitt
39. "A family is a risky venture, because the greater the love, the greater the loss… That's the trade-off. But I'll take it all." – Brad Pitt
40. "Being married means I can break wind and eat ice cream in bed." – Brad Pitt
More Brad Pitt quotes
41. "Heartthrobs are a dime a dozen." – Brad Pitt
42. "The best moments can't be preconceived. I've spent a lot of time in editing rooms, and a scene can be technically perfect, with perfect delivery and facial expression and timing, and you remember all your lines, and it is dead." – Brad Pitt
43. "I spent the '90s trying to hide out, trying to duck the full celebrity cacophony." – Brad Pitt
44. "You want to stake your own claim. You don't want to be called a copycat." – Brad Pitt
45. "I tell all the young guys, don't make choices because somebody else is telling you it's good from a career-maintenance perspective." – Brad Pitt
46. "If I'm going to work, I want to work with my wife." – Brad Pitt
47. "I don't feel restless, I just like to travel." – Brad Pitt
48. "What we're seeing now is that greed is still alive and kicking, and banks are bigger than ever." – Brad Pitt
49. "I'm drawn to furniture design as complete architecture on a minor scale." – Brad Pitt
50. "When I first started, they were trying to get me into sitcoms – I think because I had that kind of Wonder Bread look and my hair always went into place. I kept saying, 'I'm not good at sitcoms. I don't know how to do that.'" – Brad Pitt
Which of these Brad Pitt quotes is your favorite?
This year has been a let down for many movie fans as the production of many films has been placed on hold due to coronavirus.
But there are plenty of old movies that you can watch and enjoy during this time.
If Brad Pitt is one of your favorite actors, you may want to rewatch movies like Legends of the Fall, Fight Club, Mr. and Mrs. Smith, Ocean Eleven, Troy, or World War Z.
From being a secret spy out to kill his wife to a man trying to save the world from zombies, Brad Pitt seems to have done it all.
Did you enjoy these Brad Pitt quotes and lines?
Which other movie stars should we feature on Everyday Power?
Let us know in the comment section below.