Little Women Quotes From The Emotional Movie and Novel
These Little Women quotes about love, money, and life will inspire you, or at least have you wanting to watch the movie or read the book!
Before Little Women was a hit movie in 2019, it was a novel by American writer Louisa May Alcott.
This coming-of-age novel was originally published in two volumes in 1868 and 1869.
However, its story is timeless and poignant—filled with moments that make you laugh, sob, and feel immense joy.
It is kind of like life that way!
The movie stars Emma Watson as Meg March, the oldest sister.
She is beautiful and the "perfect daughter" of that time period.
She is beautiful, domestic, and doesn't have an independent streak.
She makes a good match and is often lecturing her sisters on proper decorum.
Jo, played by Saorise Ronan, is the complete opposite.
Only a year younger than Meg, she is stubborn, not interested in "feminine" things, and smart.
She longs to be a writer, and in the second half of the book, she is in the process of writing Little Women.
The movie changes the ending of Jo's story, and it is a lovely modern twist!
Keep reading these Little Women quotes to learn more about the March sisters.
If you enjoy this article, check out our most popular quote article, a list of short inspirational quotes for daily motivation.
If you want more motivational quotes, check out our motivational quotes category page.
Best Little Women quotes from the movie
1. "Just because my dreams are different than yours, it doesn't mean they're unimportant." — Meg March, Emma Watson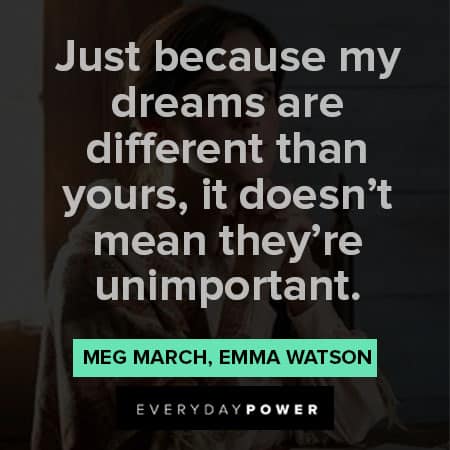 You will also enjoy our article on beth dutton quotes.
2. "I try to be contented, but it is hard. I'm tired of being poor." — Meg March, Emma Watson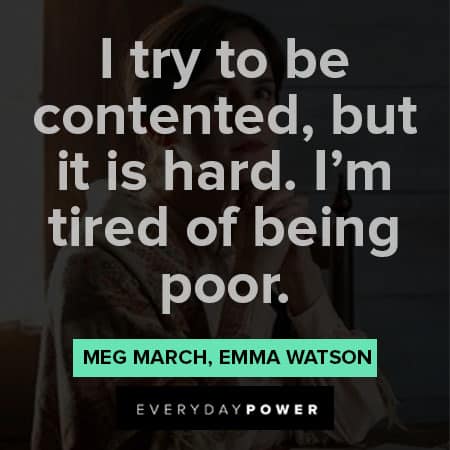 3. "I care more to be loved. I want to be loved." — Jo March, Saoirse Ronan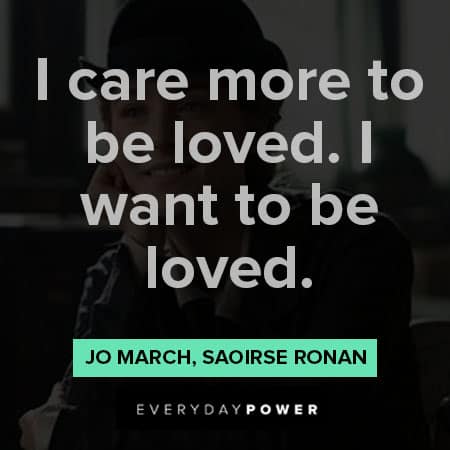 4. "If I'm going to sell my heroine into marriage for money, I might as well get some of it." — Jo March, Saoirse Ronan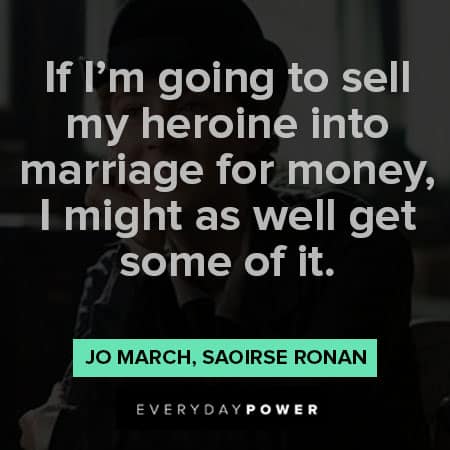 5. "Women have minds and souls as well as just hearts, and they've got ambition and talent as well as just beauty. And I'm sick of people saying love is all a woman is fit for." — Jo March, Saoirse Ronan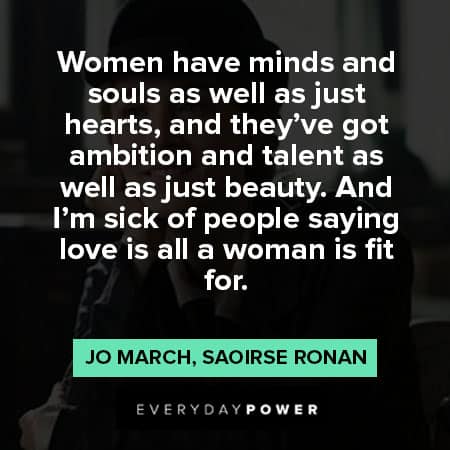 6. "Writing doesn't confer importance, it reflects it." — Jo March, Saoirse Ronan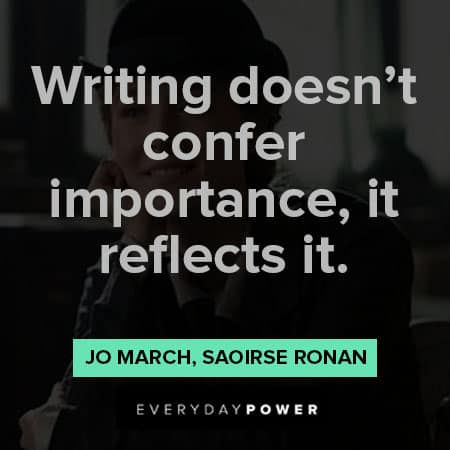 7. "Life is too short to be angry at one's sisters." — Jo March, Saoirse Ronan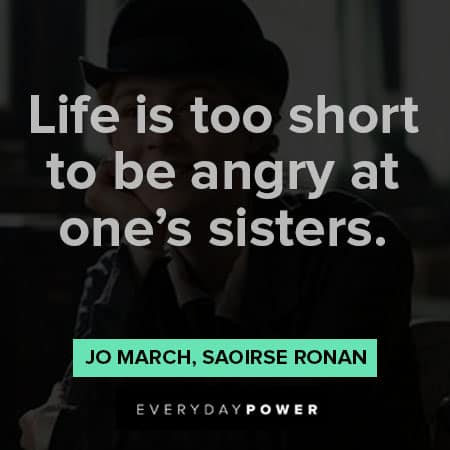 8. "I will not be the person you settle for just because you can't have her." — Amy March, Florence Pugh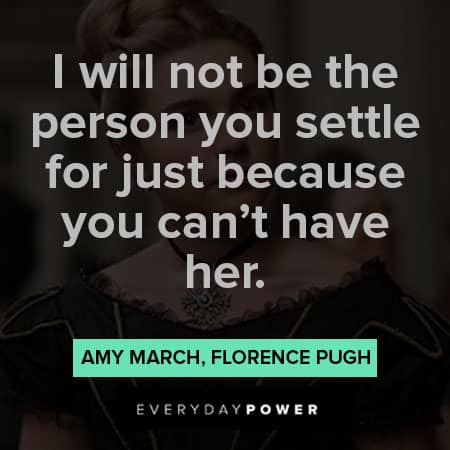 9. "Why be ashamed of what you want?" — Amy March, Florence Pugh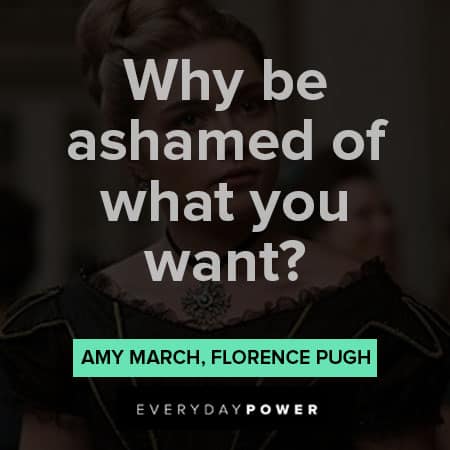 10. "I believe we have some power over who we love. It isn't something that just happens to a person." — Amy March, Florence Pugh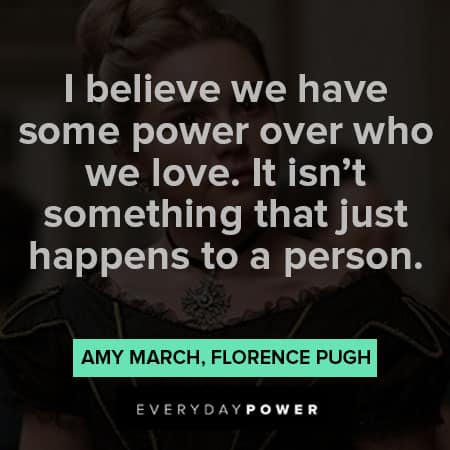 11. "The world is hard on ambitious girls." — Amy March, Florence Pugh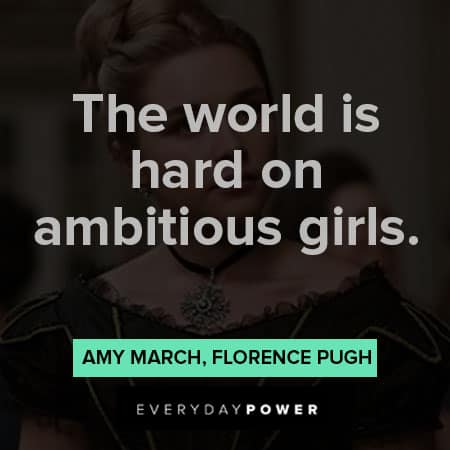 12. "With all these good things to enjoy, you can find nothing to do but dawdle." — Amy March, Florence Pugh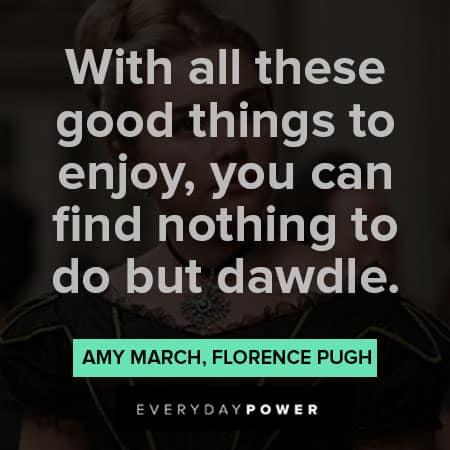 13. "No, I'd be respected if I couldn't be loved." — Amy March, Florence Pugh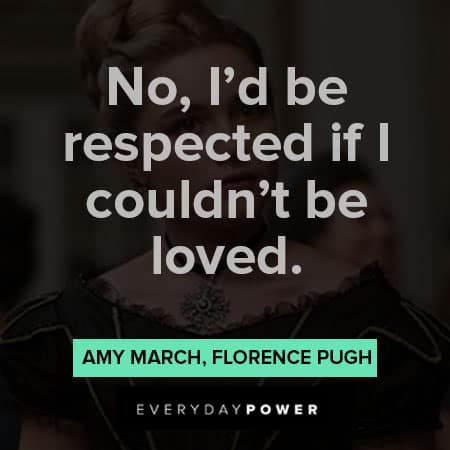 14. (referring to her music) "I only do that for us. I don't need anyone else to hear it." — Beth March, Eliza Scanlan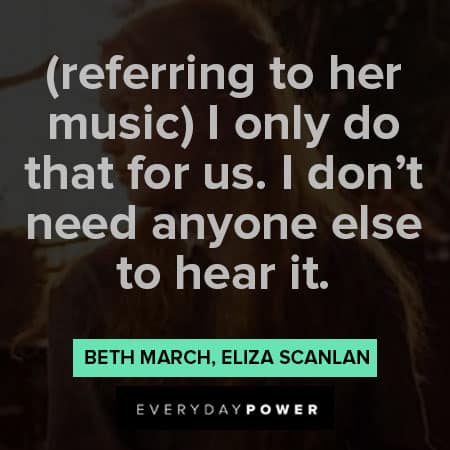 Little Women quotes about love and relationships
15. "Love is a great beautifier." — Louisa May Alcott, Little Women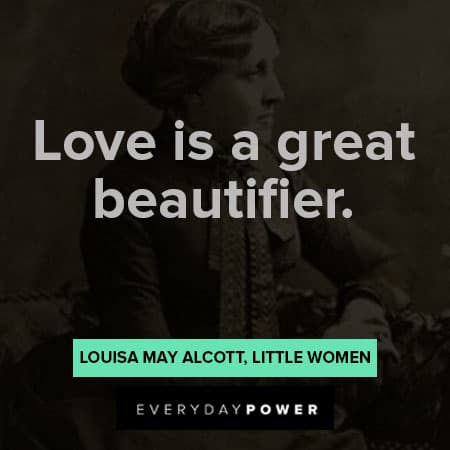 16. "Beauty, youth, good fortune, even love itself, cannot keep care and pain, loss and sorrow, from the most blessed for…into each life some rain must fall, some days must be dark and sad and dreary." — Louisa May Alcott, Little Women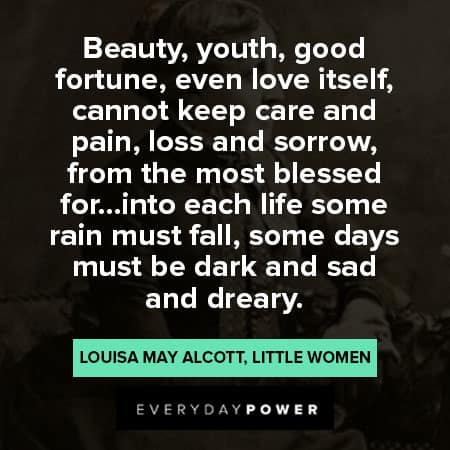 17. "Jo had learned that hearts, like flowers, cannot be rudely handled, but must open naturally." — Louisa May Alcott, Little Women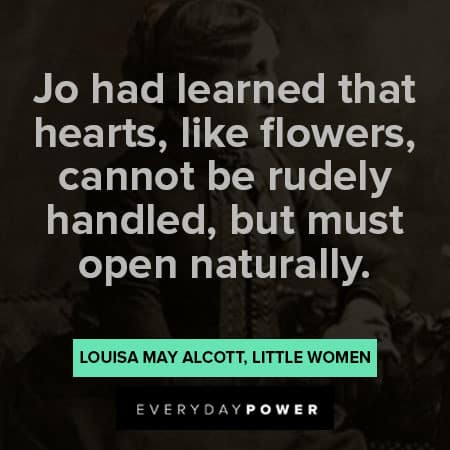 18. "I am lonely, sometimes, but I dare say it's good for me." — Jo March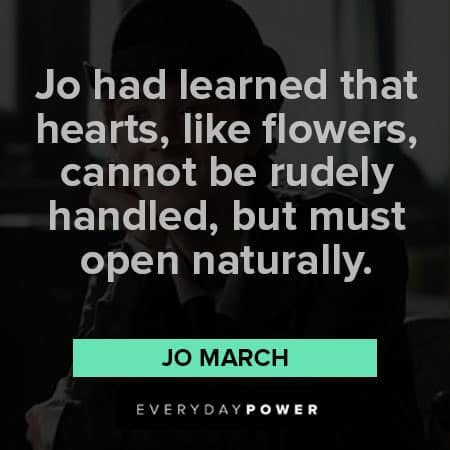 19. "You don't need scores of suitors. You need only one, if he's the right one." — Amy March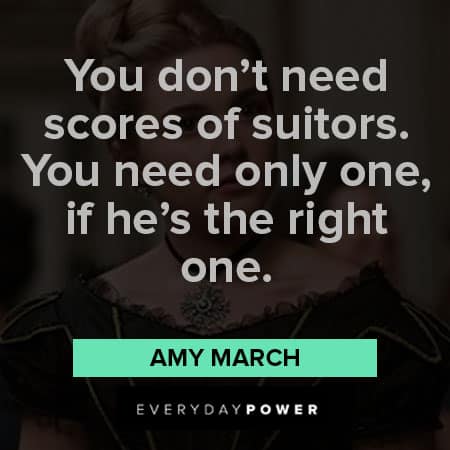 20. "The love, respect, and confidence of my children was the sweetest reward I could receive for my efforts to be the woman I would have them copy." — Mrs. March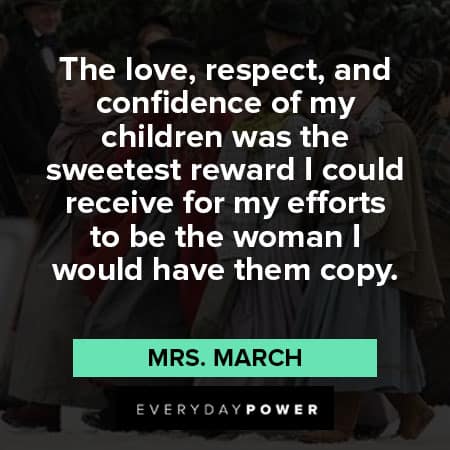 Little Women book quotes from the novel about money, work, and status
21. "I'm not ambitious for a splendid fortune, but I know, by experience, how much genuine happiness can be had in a plain little house, where the daily bread is earned, and some privations give sweetness to the few pleasures. I am content to see Meg begin humbly, for if I am not mistaken, she will be rich in the possession of a good man's heart, and that is better than a fortune." — Mrs. March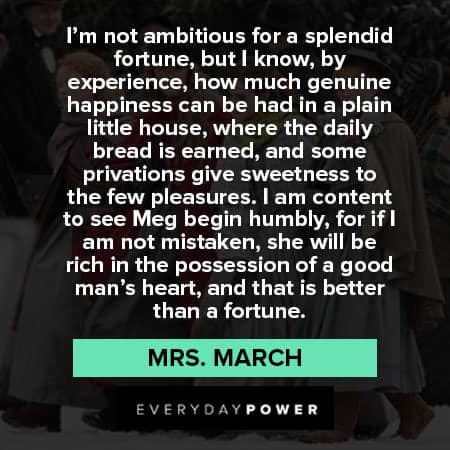 22. "Money is a needful and precious thing,—and, when well used, a noble thing,—but I never want you to think it is the first or only prize to strive for." — Mrs. March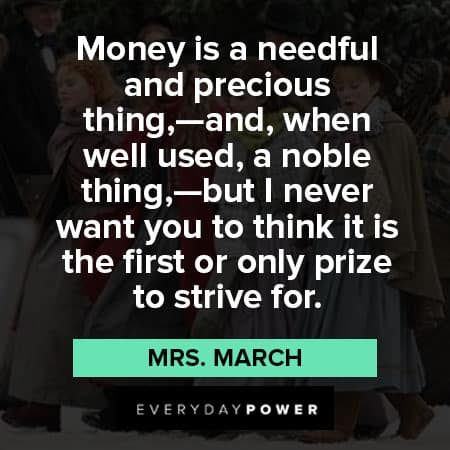 23. "I'd rather see you poor men's wives, if you were happy, beloved, contented, then queens on thrones, without self-respect and peace." — Mrs. March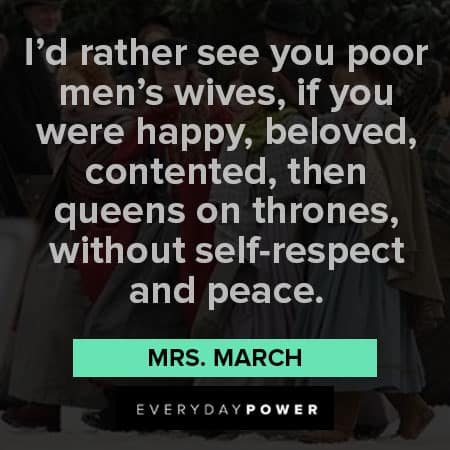 24. "Have regular hours for work and play; make each day both useful and pleasant, and prove that you understand the worth of time by employing it well. Then youth will bring few regrets, and life will become a beautiful success." — Louisa May Alcott, Little Women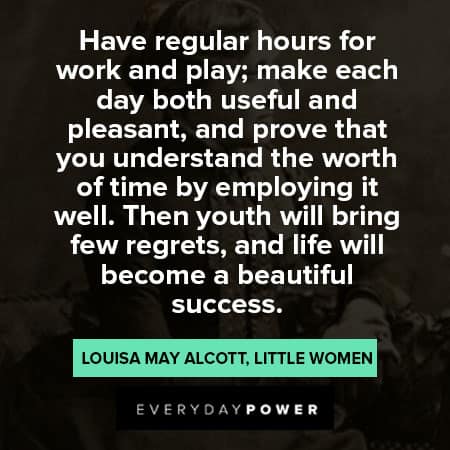 25. "Now and then, in this workaday world, things do happen in the delightful storybook fashion, and what a comfort it is." — Louisa May Alcott, Little Women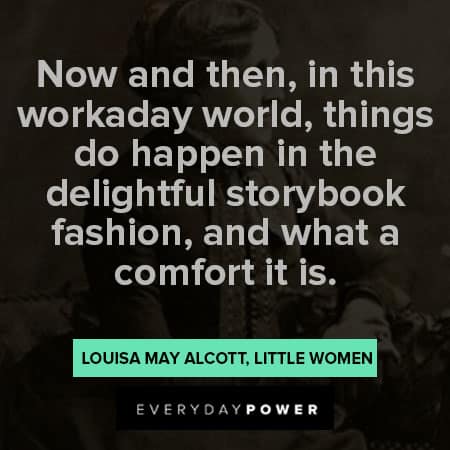 Which of these Little Women quotes is your favorite?
Beth, Eliza Scanlan's character, is a sweet soul who loves music.
She is unfailingly kind, selfless, and brings so much joy to the story.
That's why her fate hits the reader so hard in the gut.
Amy, the last (and youngest of the March sisters), is as beautiful as her big sister Meg, yet creative like Jo and Beth.
Amy is portrayed as selfish, vain, and concerned with material things, making her the least favorite of the sisters among readers.
The book is amazing and the movie did not disappoint!
It received critical acclaim and grossed $218 million worldwide; winning several awards as well.
Louisa May Alcott's book has been adapted into seven different film and TV versions because it is relatable, romantic, and real.
You will run the whole gamut of emotions with this one, while also learning some valuable life lessons along the way.
Do you have a favorite Little Women quote that didn't make the list?
Please share it with us in the comment section below.