50 Charlie Munger Quotes on Success and Learning
These Charlie Munger quotes on investing will inspire you to pursue a life of business and success.
Charles Munger, an investor, designer, and philanthropist, is known for his success in the world of business.
As the vice-chairman of Berkshire Hathaway, Charlie Munger has earned a high net worth throughout his career.
These Charlie Munger quotes on success will fill you with motivation and ambition.
When you focus on your goals and practice patience, the road to success becomes more clear.
Read these quotes on investing to set your priorities straight.
Education, reading, and learning are important to Charlie Munger.
This collection of inspirational quotes will give you a similar passion for knowledge.
When you use your mind, you can achieve great things.
Let these quotes by Charlie Munger on learning to inspire you to study hard and put forward your best effort.
Don't forget to also check out these Kate Spade quotes on style and curiosity.
If you like this article, we suggest you explore our most popular quotes article, a list of short inspirational quotes for daily encouragement.
Check out more inspirational quotes on our motivational quotes category page.
Charlie Munger quotes about success and learning
1. "Spend each day trying to be a little wiser than you were when you woke up. Day by day, and at the end of the day if you live long enough-like most people, you will get out of life what you deserve." ― Charlie Munger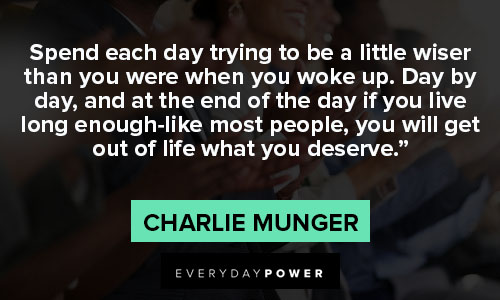 2. "The best thing a human being can do is to help another human being know more." ― Charlie Munger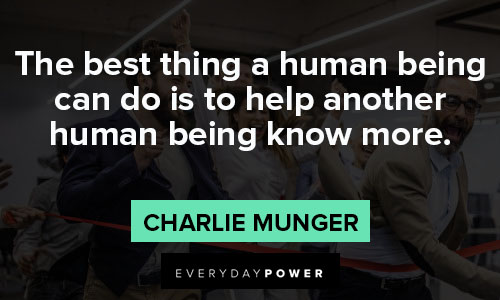 You will also enjoy our article on firstborn quotes.
3. "You don't have to be brilliant, only a little bit wiser than the other guys, on average, for a long time." ― Charlie Munger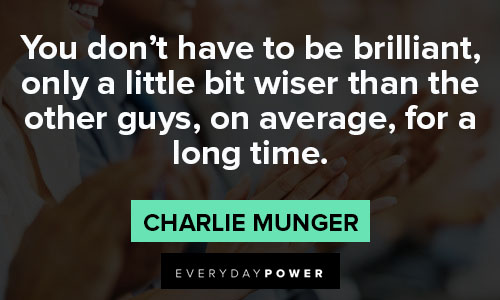 4. "Those who keep learning will keep rising in life." ― Charlie Munger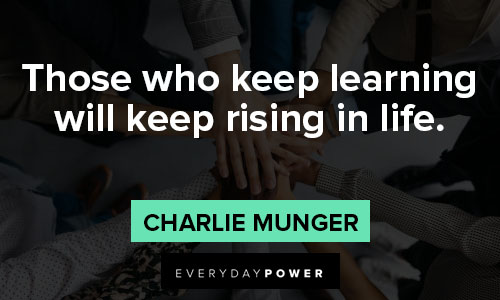 5. "I constantly see people rise in life who are not the smartest, sometimes not even the most diligent, but they are learning machines. They go to bed every night a little wiser than they were when they got up and boy does that help, particularly when you have a long run ahead of you." ― Charlie Munger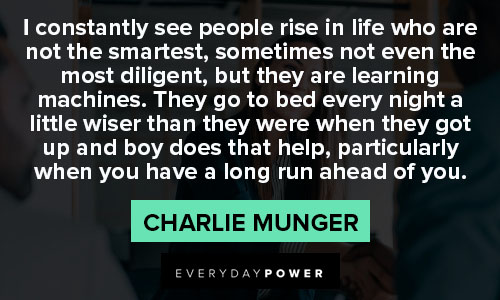 6. "Knowing what you don't know is more useful than being brilliant." ― Charlie Munger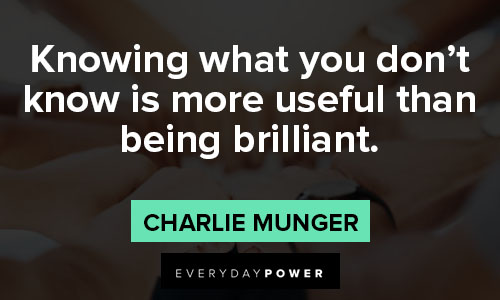 7. "Live within your income and save so that you can invest. Learn what you need to learn." ― Charlie Munger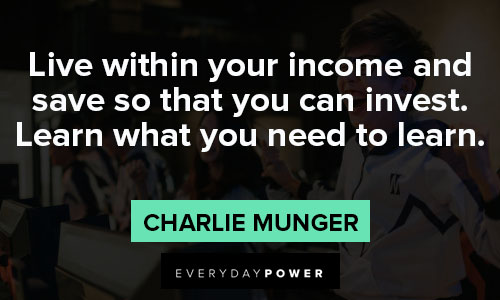 8. "It's remarkable how much long-term advantage people like us have gotten by trying to be consistently not stupid, instead of trying to be very intelligent." ― Charlie Munger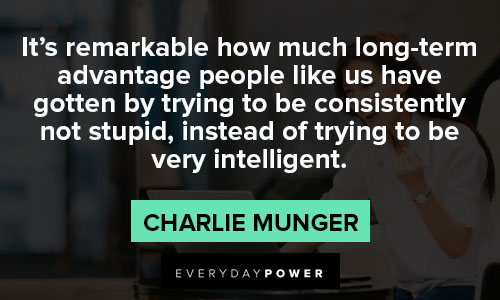 9. "No wise pilot, no matter how great his talent and experience, fails to use a checklist." ― Charlie Munger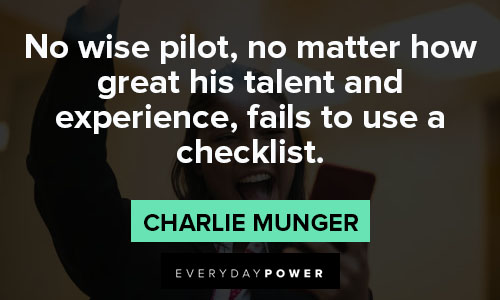 10. "Acquire worldly wisdom and adjust your behavior accordingly." ― Charlie Munger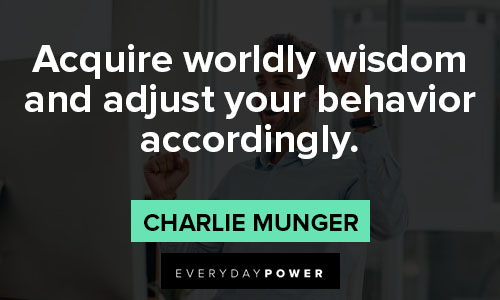 Charlie Munger quotes for hard-working entrepreneurs
11. "Most people are too fretful, they worry too much. Success means being very patient, but aggressive when it's time." ― Charlie Munger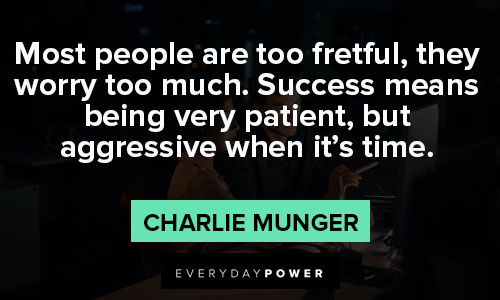 12. "A majority of life's errors are caused by forgetting what one is really trying to do." ― Charlie Munger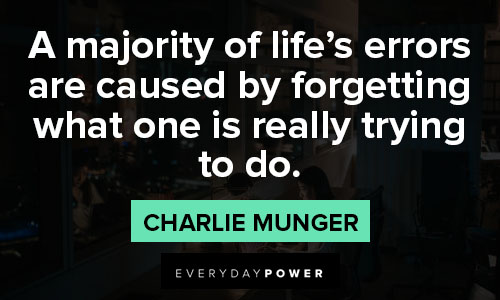 13. "Take one simple idea and take it seriously." ― Charlie Munger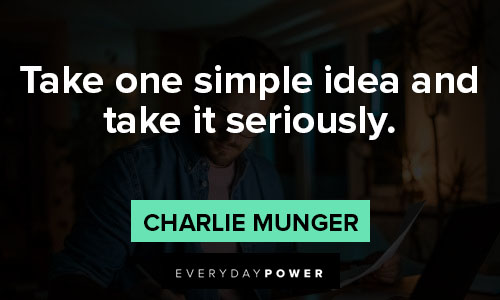 14. "Repetition is the heart of instruction." ― Charlie Munger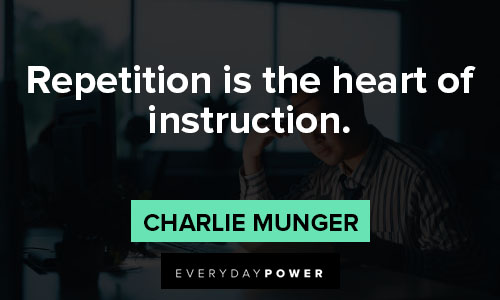 15. "This habit of committing far more time to learning and thinking than to doing is no accident." ― Charlie Munger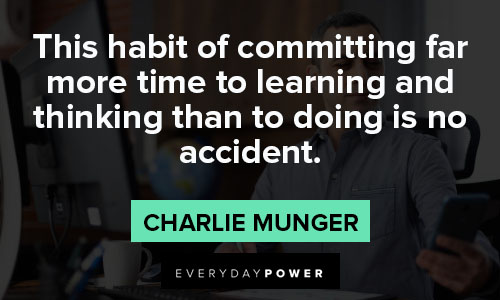 16. "Extreme patience combined with extreme decisiveness." ― Charlie Munger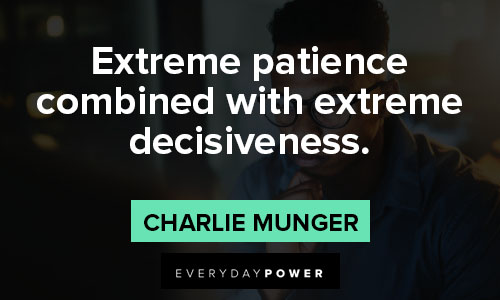 17. "We have three baskets for investing: yes, no, and too tough to understand." ― Charlie Munger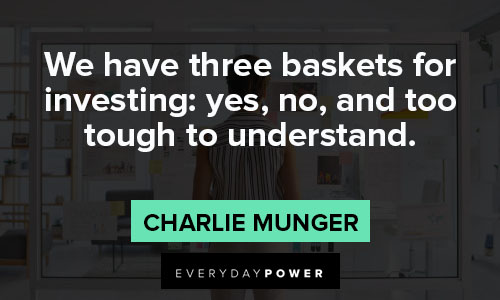 18. "If your new behavior gives you a little temporary unpopularity with your peer group, then to hell with them." ― Charlie Munger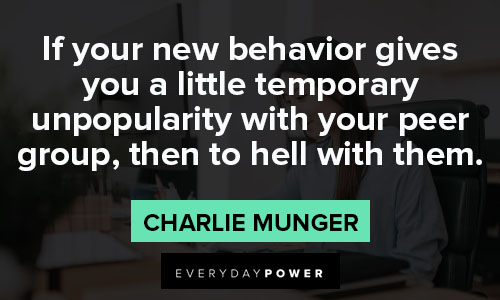 19. "Always take the high road, it's far less crowded." ― Charlie Munger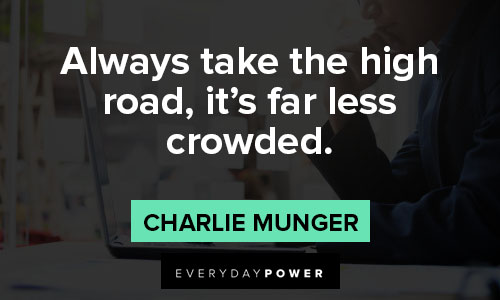 20. "In my whole life, I have known no wise people who didn't read all the time – none, zero." ― Charlie Munger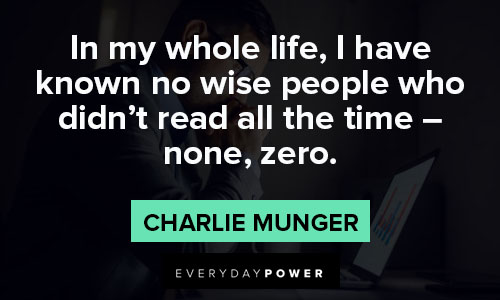 Charlie Munger quotes about learning and business
21. "People calculate too much and think too little." ― Charlie Munger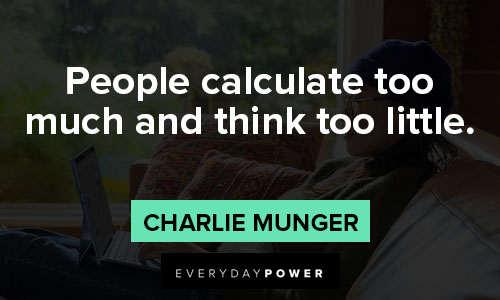 22. "Do the best you can do. Never tell a lie. If you say you're going to do it, get it done. Nobody cares about an excuse." ― Charlie Munger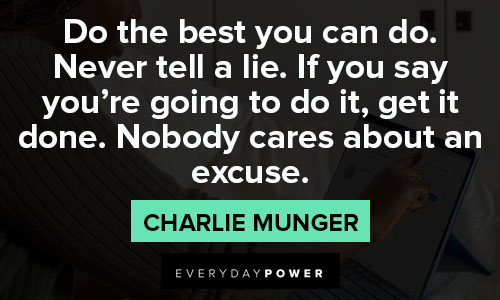 23. "I didn't get to where I am by going after mediocre opportunities." ― Charlie Munger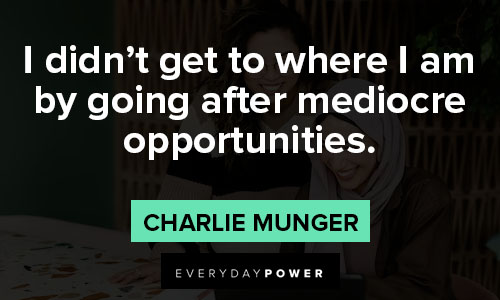 24. "Look at this generation, with all of its electronic devices and multitasking. I will confidently predict less success than Warren, who just focused on reading." ― Charlie Munger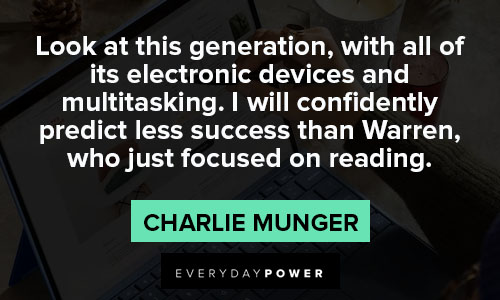 25. "Quickly identify mistakes and take action." ― Charlie Munger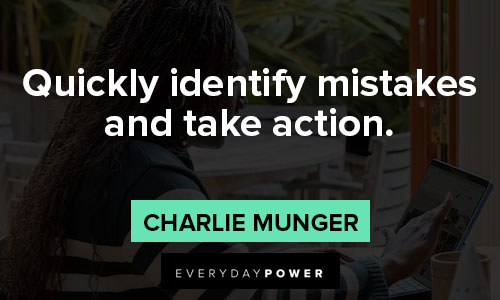 26. "We have a passion for keeping things simple." ― Charlie Munger
27. "Mimicking the herd invites regression to the man." ― Charlie Munger
28. "You must force yourself to consider opposing arguments. Especially when they challenge your best-loved ideas." ― Charlie Munger
29. "Like Warren, I had a considerable passion to get rich, not because I wanted Ferraris – I wanted the independence. I desperately wanted it." ― Charlie Munger
30. "If you're glued together right and honorable, you will succeed. Get in there and get rid of stupidities and avoid bad people. Try teaching that to your grandchildren. The best way is by example. Fix yourself." ― Charlie Munger
Charlie Munger quotes to elevate your perspective
31. "A great business at a fair price is superior to a fair business at a great price." ― Charlie Munger
32. "Most people don't grab the right ideas or don't know what to do with them." ― Charlie Munger
33. "There is no way you can live an adequate life without making many mistakes." ― Charlie Munger
34. "If you can get really good at destroying your own wrong ideas, that is a great gift." ― Charlie Munger
35. "I've got some advice for the young: If you've got anything you really want to do, don't wait until you're 93." ― Charlie Munger
36. "People are trying to be smart – all I am trying to do is not to be idiotic, but it's harder than most people think." ― Charlie Munger
37. "I think time and time again, in reality, psychological notions and economic notions interplay, and the man who doesn't understand both is a damned fool." ― Charlie Munger
38. "I'm used to people with very high IQs knowing how to recognize reality, but there's a huge human tendency where it may be instructive to think that whatever you're doing to succeed is all right." ― Charlie Munger
39. "You need a different checklist and different mental models for different companies. I can never make it easy by saying, 'Here are three things.' You have to derive it yourself to ingrain it in your head for the rest of your life." ― Charlie Munger
40. "I met the towering intellectuals in books, not in the classroom, which is natural. I can't remember when I first read Ben Franklin. I had Thomas Jefferson over my bed at seven or eight. My family was into all that stuff, getting ahead through discipline, knowledge, and self-control." ― Charlie Munger
If you're enjoying these quotes, make sure to check out our collection of psychology quotes that will help you understand yourself.
More Charlie Munger quotes
41. "We all are learning, modifying, or destroying ideas all the time." ― Charlie Munger
42. "There's more honor in investment management than in investment banking." ― Charlie Munger
43. "You need a different checklist and different mental models for different companies." ― Charlie Munger
44. "I suspect that you can read on the computer now and get a lot of benefit out of it, but I doubt that it'll work as well as reading print worked for me." ― Charlie Munger
45. "You'd be amazed at how much Warren reads–and at how much I read. My children laugh at me. They think I'm a book with a couple of legs sticking out." ― Charlie Munger
46. "To get what you want, you have to deserve what you want. The world is not yet a crazy enough place to reward a whole bunch of undeserving people." ― Charlie Munger
47. "Everyone has the idea of owning good companies. The problem is that they have high prices in relation to assets and earnings, and that takes all of the fun out of the game." ― Charlie Munger
48. "If all you needed to do is to figure out what company is better than others, everyone would make a lot of money. But that is not the case. They keep raising the prices to the point when the odds change." ― Charlie Munger
49. "I believe Costco does more for civilization than the Rockefeller Foundation. I think it's a better place. You get a bunch of very intelligent people sitting around trying to do good, I immediately get kind of suspicious and squirm in my seat." ― Charlie Munger
50. "I think people who multitask pay a huge price. They think they're being extra productive, and I think when you multitask so much you don't have time to think about anything deeply, you are giving the world an advantage you shouldn't do, and practically everybody is drifting into that mistake." ― Charlie Munger
What are your favorite Charlie Munger quotes on learning and reading?
Charlie Munger had many interesting philosophies on investing and success.
If you take the time to learn about his thoughts and principles, you could apply them to your own life.
Read these Charlie Munger quotes on investing to learn more about his business ideas.
The secret to his success can be found in his words of wisdom.
Along with being a successful businessman, Charlie Munger also has a reputation as a philanthropist.
He is a major benefactor to numerous universities, including University of Michigan, Marlborough School, and Stanford University.
This list of quotes on success will remind you of the importance of education, philanthropy, and dedication.
Share these motivational Charlie Munger sayings with all of the hard-working entrepreneurs you know.
What are your favorite Charlie Munger quotes and sayings on success, learning, and investing?
Let us know in the comment section below.