Baby Quotes that New Parents Can Relate To
There are many emotions and feelings that you experience as a new parent that only other parents can understand. As a new parent, you'll certainly relate to the following baby quotes.
How does it feel to be a new parent?
There is nothing else that can change your life the same way that a new baby can. You will experience a love that you never experienced before and also a sense of responsibility that surpasses anything else. Nothing will compare to your new little bundle of joy.
But with that sweet baby comes sleepless nights, exhaustion, and spit-up. Thankfully the great experiences far outweigh all of those. The baby quotes below encapsulate some things you can expect as a new parent.
Also check out these baby boy quotes for expecting moms and dads.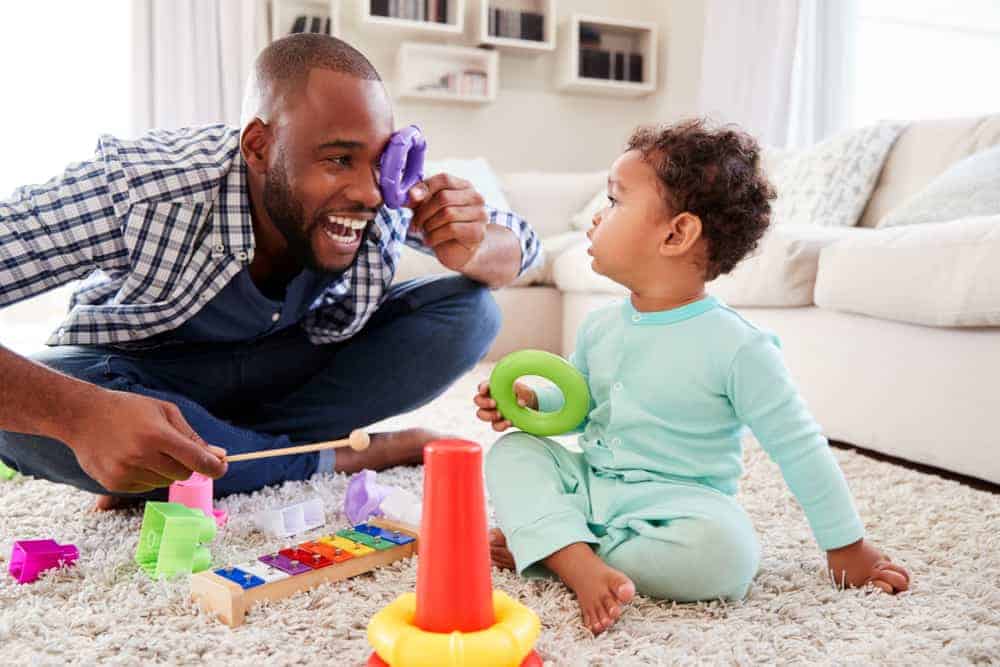 Baby quotes that show a parent's love
1. "Children need love, especially when they do not deserve it." – Harold Hulbert
2. "And she loved a little boy very, very much, even more than she loved herself." – Shel Silverstein
3. "We never know the love of a parent until we become parents ourselves." – Henry Ward Beecher
4. "When the baby is born, all that pain (that was endured) vanishes in an instant. Love for that tiny baby makes one forget the pain, the fear." – Hope Bradford
5. "The biggest surprise, which is also the best, is that I didn't know I would love motherhood as much as I do." – Deborah Norville
6. "The amazing thing about becoming a parent is that you will never again be your own first priority." – Olivia Wilde
7. "Making the decision to have a children is momentous. It is to decide forever to have your heart go walking around outside your body." – Elizabeth Stone
8. "A tiny daughter gives parents a life in a climate of perpetual wonder." – Pierre Doucet
9. "Having my baby fall asleep in my arms takes away all of my worries and stresses. A sense of complete and total peace comes over me." – Maria Jose Ovalle
Baby quotes about motherhood
10. "All those cliches, those things you hear about having a baby and motherhood –– all of them are true." – Penelope Cruz
11. "I like to think of motherhood as a great big adventure. You set off on a journey, you don't really know how to navigate things, and you don't exactly know where you're going or how you're going to get there." – Cynthia Rowley
12. "Motherhood is the greatest thing and the hardest thing." – Ricki Lake
13. "Being a mom has made me so tired. And so happy." – Tina Fey
​14. "Before you were born I carried you under my heart. From the moment you arrived in this world until the moment I leave it, I will always carry you in my heart." – Mandy Harrison
15. "You may hate being pregnant, but the minute the baby is born, she is God's precious child, given to you as a gift." – Sandra Dallas
If you're enjoying these quotes, make sure to read our collection of pregnancy quotes celebrating the pregnancy process.
16. "Giving birth is an ecstatic jubilant adventure not available to males. It is a woman's crowning creative experience of a lifetime." – John Stevenson
17. "Heaven on earth is looking at my little boy. The minute he was born, I knew if I never did anything other than being a mom, I'd be fine." – Jenny McCarthy
18. "A mother's arms are made of tenderness and children sleep soundly in them." – Victor Hugo
19. "Just as there is no warning for childbirth, there is no preparation for the sight of a first child. There should be a song for women to sing at this moment, or a prayer to recite. But perhaps there is none because there are no words strong enough to name that moment." – Anita Diamant
20. "I think, at a child's birth, if a mother could ask a fairy godmother to endow it with the most useful gift, that gift would be curiosity." – Eleanor Roosevelt
21. "​A mother's joy begins when new life is stirring inside…when a tiny heartbeat is heard for the very first time, and a playful kick reminds her that she is never alone." – Unknown
22. "The moment a child is born, the mother is also born. She never existed before. The woman existed, but the mother, never. A mother is something absolutely new." – Bhagwan Shree Rajneesh
23. "There's no way to be a perfect mother and a million ways to be a good one." – Jill Churchill
24. "A mother continues to labor long after the baby is born." – Lisa Jo Baker
25. "Of all the rights of women, the greatest is to be a mother." – Lin Yutang
You might also like these amazing children quotes that will fill your heart with love and laughter.
Baby quotes about the wonderful changes babies bring
26. "A baby fills a place in your heart that you never knew was empty." – Anonymous
27. "Whether your pregnancy was meticulously planned, medically coaxed, or happened by surprise, one thing is certain – your life will never be the same." – Catherine Jones
28. "Children make you want to start life over." – Muhammad Ali
29. "I think that I see something deeper, more infinite, more eternal than the ocean in the expression of the eyes of a little baby when it wakes in the morning and coos or laughs because it sees the sun shining on its cradle." – Vincent Van Gogh
30. "There are no words that can describe the euphoria you feel when your baby recognizes you for the first time and smiles." – Jared Padalecki
31. "Children bring us a piece of heaven on earth." – Roland Leonhardt
Baby quotes about the wonder of a new baby
32. "A perfect example of minority rule is a baby in the house." – Milwaukee Journal
33. "There are words in the soul of a newborn baby, wanting and waiting to be written." – Toba Beta
34. "Nothing compares to becoming aware of the massive face of the universe hidden in a newborn's stare." – Curtis Tyrone Jones
35. "When we encourage new parents to 'treasure these moments because they don't last forever,' we need to remember to also reassure them that they will survive these moments because they don't last forever." – L.R. Knost
36. "A baby boy has a special way of bringing out the man in his father and the little boy in his grandfather." – Tanya Masse
37. "To be a mother of a son is one of the most important things you can do to change the world. Raise them to respect women, raise them to stand up for others, raise them to be kind." – Shannon L. Alder
If you're enjoying these quotes, make sure to read our collection of mother and son quotes that put words to this unbreakable bond.
38. "A daughter is one of the best gifts this world has to give." – Laurel Atherton
39. "I know now why God gave us babies. They require constant attention, of course. They make messes and disturb the peace, but their cuteness and smiles are something the only reminder of God we have in the house." – Ann Rinaldi
40. "For me, this baby was the most precious thing I had ever had. He was my treasure, my joy, my world, my everything now." – Preeti Shenoy
41. "You know what the great thing about babies is? They are like little bundles of hope. Like the future in a basket." – Lish McBride
42. "A baby is something you carry inside you for nine months, in your arms for three years and in your heart till the day you die." – Mary Mason
Also check out these insightful co-parenting quotes to inspire separated parents.
Baby quotes about the challenges of a new baby
43. "Motherhood: the only place you can experience heaven and hell at the same time." – Anonymous
44. "A baby will make love stronger, days shorter, nights longer, bankroll smaller, home happier, clothes shabbier, the past forgotten, and the future worth living for." – Anonymous
45. "People who say they sleep like a baby usually don't have one." – Leo Burke
46. "Sleep is like the unicorn—it is rumored to exist, but I doubt I will see any." – Unknown
47. "Babies are always more trouble than you thought – and more wonderful." – Charles Osgood
More baby quotes
48. "What good mothers and fathers instinctively feel like doing for their babies is usually best after all." – Benjamin Spock
If you're enjoying these quotes, make sure to check out our collection of Mother's Day quotes that help us celebrate moms all around the world.
49. "If your baby is beautiful and perfect, never cries or fusses, sleeps on schedule and burps on demand, an angel all the time – you're the grandma." – Theresa Bloomingdale
50. "Rigid plans work best if you're building a skyscraper; with something as mysteriously human as giving birth, it's best, both literally and figuratively, to keep your knees bent." – Mark Sloan
Enjoy each moment
It's hard to enjoy the rough days when the little one is fussy or you feel like you can't keep up with everything you need to do, however, those moments will pass faster than you can imagine. Before you know it, your little one will be not so little and you will be wondering where the time has gone.
It's easy to feel up-tight as a new parent. But remember to relax and trust your intuition because it goes a long way.
Take time to enjoy these early days with your little one because they go fast. And don't worry, you will come through stronger on the other side.
Did you enjoy these cute baby quotes? Which of the quotes is your favorite? Tell us in the comment section below. We would love to hear all about it.
February 5, 2020 7:20 AM EST
Be the first one to leave a comment!