25 Dynasty Quotes from the Revamped 80's Soap Opera
These Dynasty quotes will make you want to binge a couple of episodes in no time.
Dynasty is an American soap opera airing on CW and Netflix.
The show's story captured the hearts of many with its classic thematic dilemma, which focused on Fallon Carrington, the daughter of a billionaire businessman.
As the heiress of a multi-billion dollar empire, she found herself in an awkward rivalry with her father's girlfriend.
Unfortunately, her quest to separate the couple was met with a grim fate and cost her to lose her promotion at the company.
Everything seems to be a normal and standard plot on the surface, but the audience will quickly find themselves on a wild and thrilling ride as the show's story unfolds.
The crazy intertwining web of relationships will surely catch anyone unsuspectingly, which makes this show awesome!
Enjoy these Dynasty quotes!
Don't forget to also check out these Bridesmaids quotes from the movie that are relatable and funny.
Check out our most popular quote article, a list of short inspirational quotes for daily inspiration.
Our inspirational quotes category page has all of our motivational quotes for all the different areas of life.
Dynasty quotes from Fallon Carrington
1. "Who else can you trust to run the family business.. except family." ― Fallon Carrington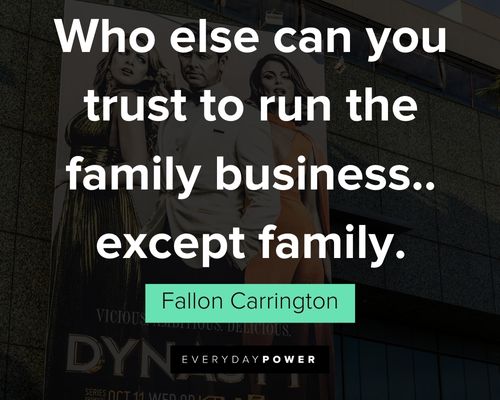 You will also enjoy our article on bridesmaid quotes.
2. "Every day, I take one man's dirt and turn it into a diamond." ― Fallon Carrington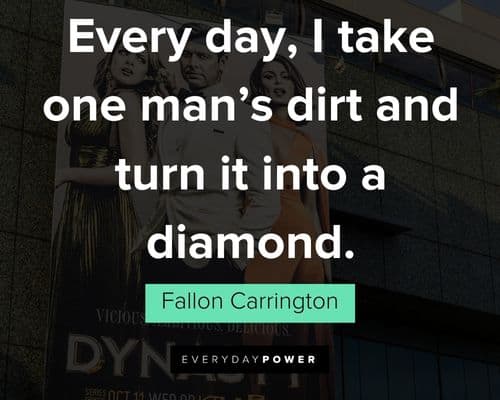 3. "Digging up insider info is even easier when they assume you work for the airline, instead of owning the plane." ― Fallon Carrington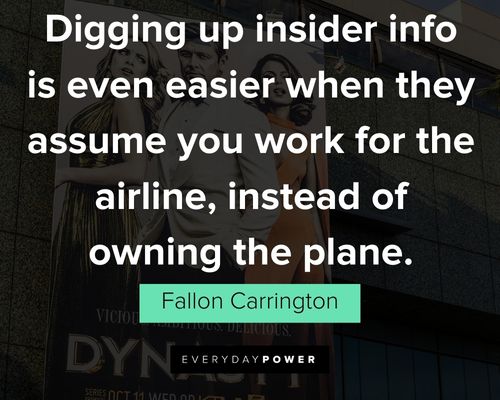 4. "Oh, I'm sorry, is my trapped in a mine behavior not up to your standards?" Alexis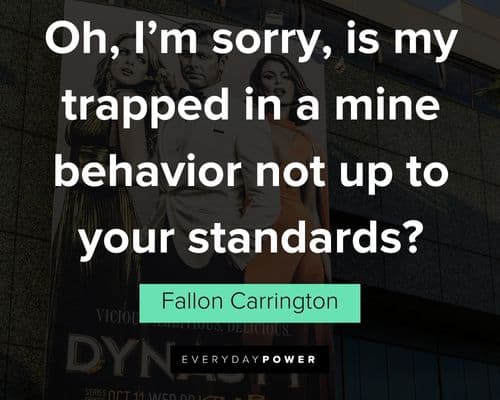 5. "Next time, get him to buy you a soda and popcorn first." ― Fallon Carrington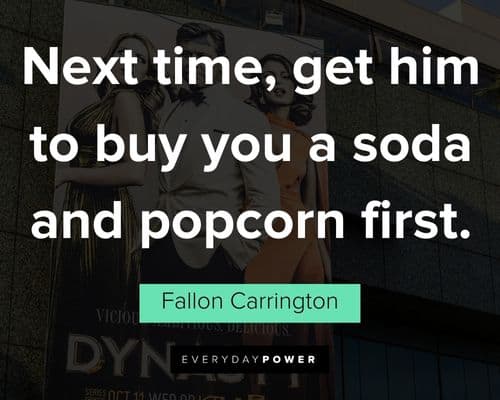 6. "To be continued. Right now, I have to find a headhunter of my own and order him to shoot Blake." ― Fallon Carrington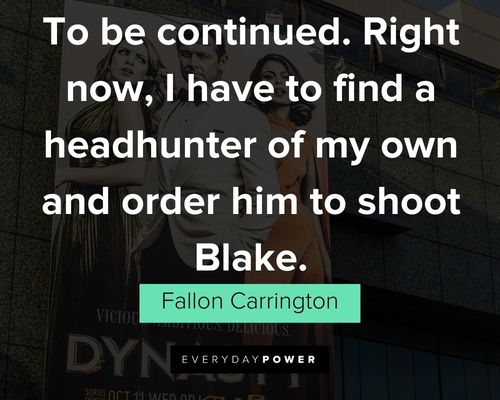 7. "As for the idea that the future is female, daddy likes to say that future is not here yet. But he is wrong about that." ― Fallon Carrington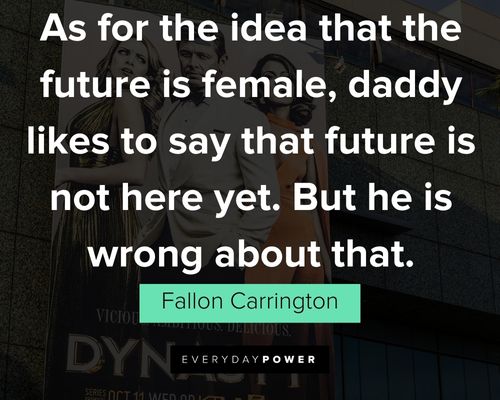 8. "It's easy to confuse good with good in bed." ― Fallon Carrington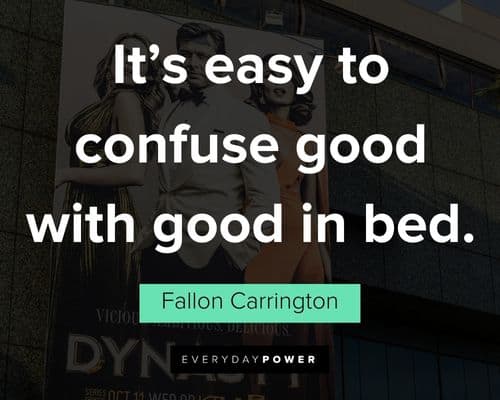 9. "You lied to me my whole life and let me sleep with my cousin." ― Fallon Carrington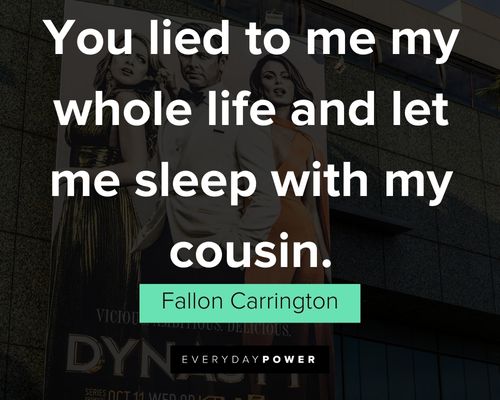 10. "As the fourth generation, I refuse to stand by and watch my father bury my legacy. Carrington Atlantic is not just a family business. It is a dynasty." ― Fallon Carrington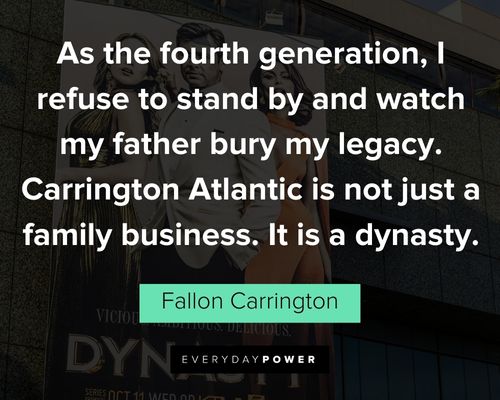 11. "I swear, this family has more secrets than Trump's mistress." ― Fallon Carrington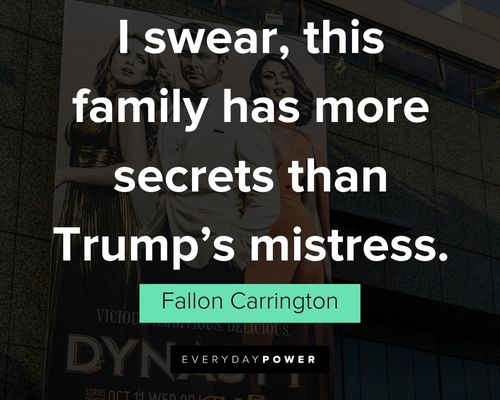 12. "I don't need love advice from a woman who thinks "as long as we both shall live" means until happy hour." ― Fallon Carrington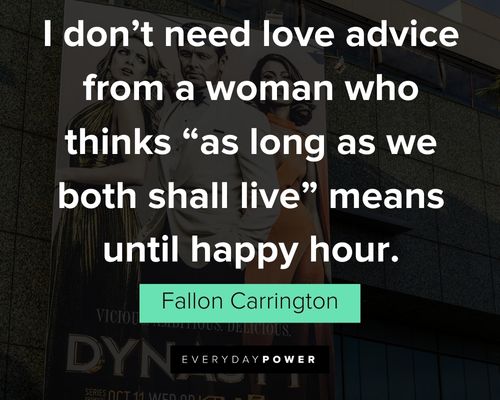 13. "Never get between a Carrington and her Cabernet!" ― Fallon Carrington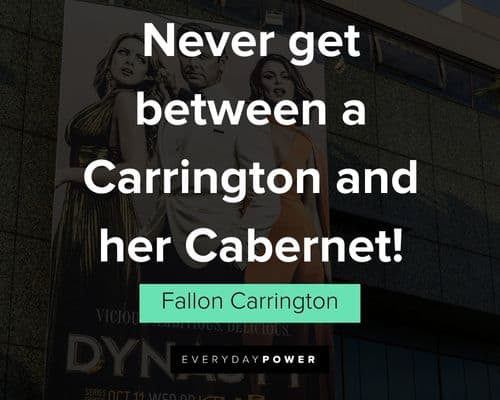 14. "I thought this was Steven's going away breakfast not a retirement home revival of Flashdance." ― Fallon Carrington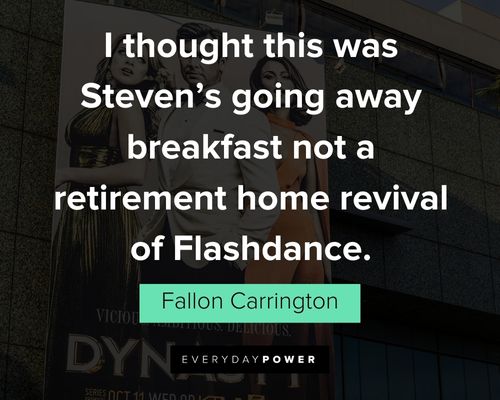 15. "Oh, this is sad. Hiding her valuables like a paranoid, underprivileged squirrel." ― Fallon Carrington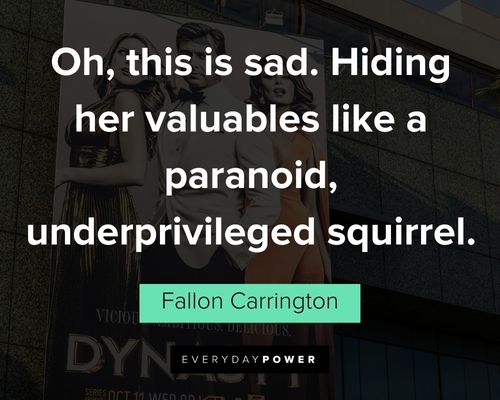 16. "Daddy, don't be so so old-fashioned. A couple more felonies and he could be President." ― Fallon Carrington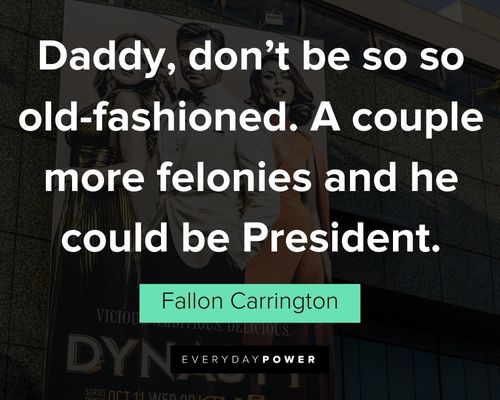 17. "Everything she does is criminal. From her eyeshadow to her patented brand of neglect." ― Fallon Carrington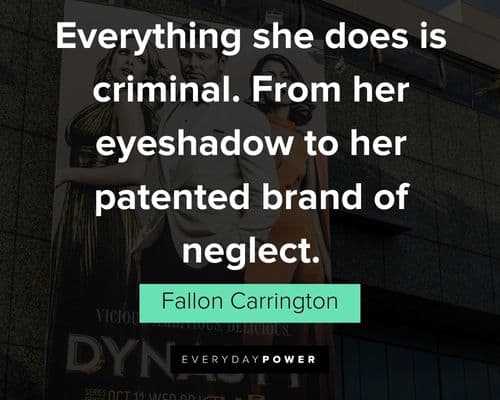 18. "They're comparing me to 2007 Britney, I mean I can't even get Solange." ― Fallon Carrington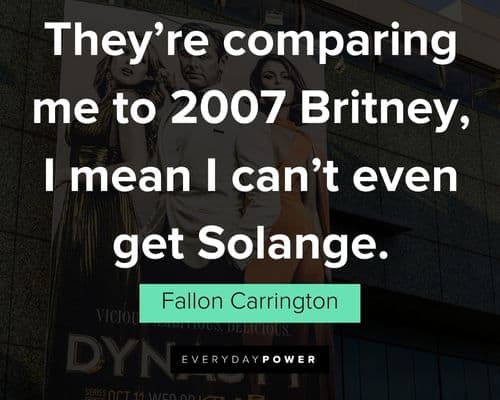 19. "There it is! Now we get to see what it looks like when Alexis Carrington runs out of lies." ― Fallon Carrington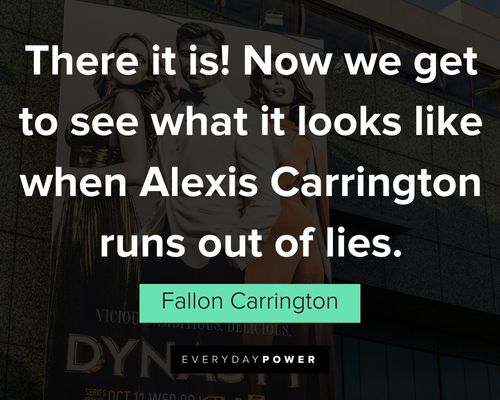 20. "The Carrington impulse is to throw money at a problem and if that doesn't work, lie." ― Fallon Carrington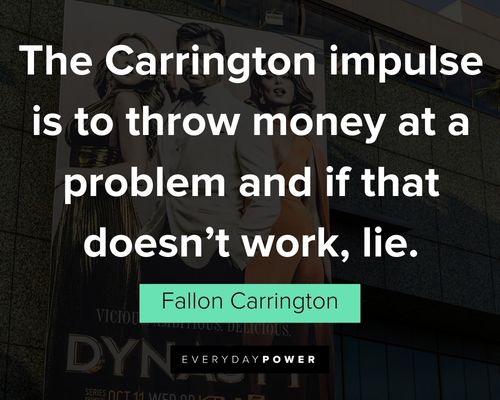 Dynasty quotes from Cristal
21. "The truth is not hard to say. You just spit it out and kick sand over it." ― Cristal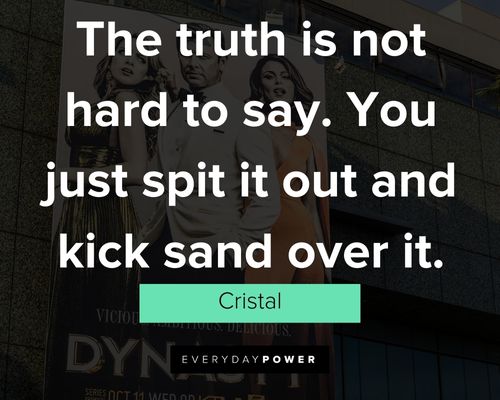 22. "Guilt is for insecure people." ― Cristal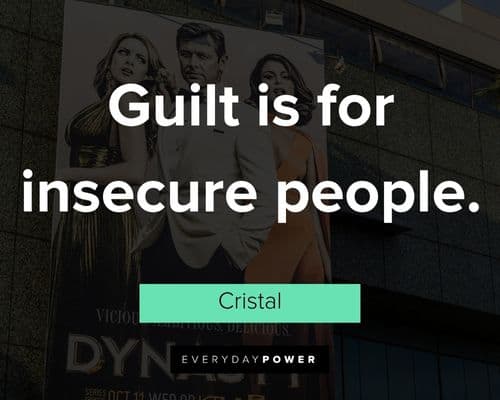 23. "Blackmail shouldn't be the foundation of a working relationship. We're supposed to be partners. This is supposed to be a marriage." ― Cristal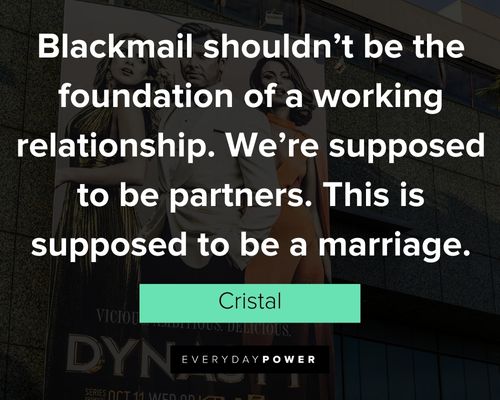 24. "I'm not angry Blake. I'm scared. Scared of you." ― Cristal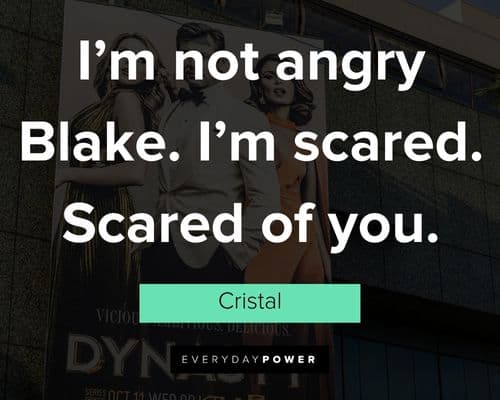 25. "The one percent is good for some things at least one percent of the time." ― Cristal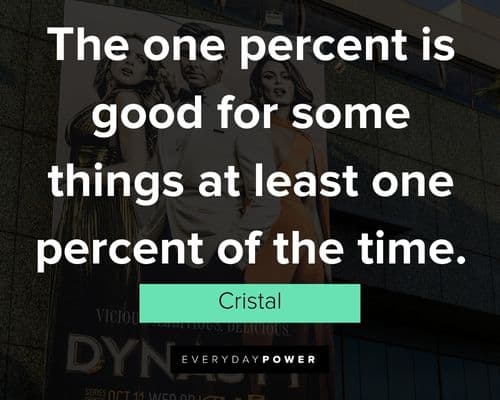 Which of these Dynasty quotes is your favorite?
The show, Dynasty, gained thousands of fans across the country and had a genuinely entertaining run.
Season 4 is set to be released in the Fall of 2021 with viscous drama inside that viewers are surely excited to watch.
Dynasty not only features the glamour and quality of extreme wealth but also represents the dark and corrupt world of rich and famous.
But, more than the drama and roller coaster fun, this show appeals to core human emotions and the need for having family, or anyone's, validation.
So set the TV and catch up on the soap opera while you wait for the next season, and enjoy these Dynasty quotes and sayings anytime you want.