110 Bridesmaid Quotes to Celebrate Sisterhood
Being a bride can be a bit overwhelming, but before you get too stressed out, read through these bridesmaids quotes that are sure to ease your tensions.
There is a lot of thought that goes into deciding who the bridesmaids at your wedding should be (probably a lot more thought than the groom gives to the best man).
You might find yourself asking which of your friends is most reliable, willing to cater to your every whim, or less likely to get pregnant between now and the wedding.
The issue of cost might come up and make some of your friends feel like they shouldn't be a bridesmaid.
They may be asking themselves what their level of commitment will look like.
Just how much work are you really going to give them to do?
How much money will they need to spend?
Before you get too stressed out, read through these funny bridesmaids quotes, paying close attention to the ones about asking your friends to be part of your big day!
Top bridesmaids quotes 
Here are some top lines to use with your bridesmaids.
1. "Friends who slay together, stay together." — Unknown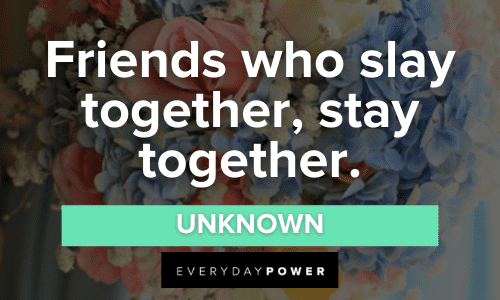 2. "I promise, no ruffles or puffy sleeves — will you be my bridesmaid, please?" — Unknown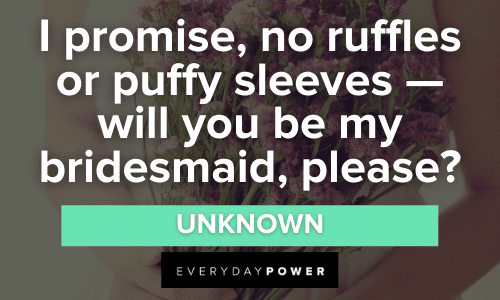 3. "Life was meant for good friends and great adventures." — Unknown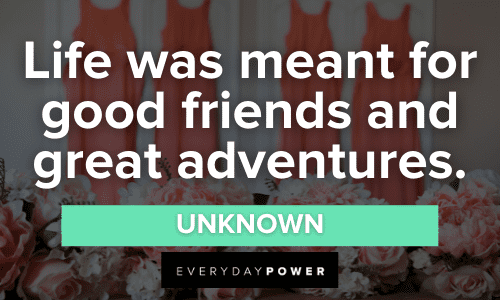 4. "We may not have it all together, but together we have it all." — Unknown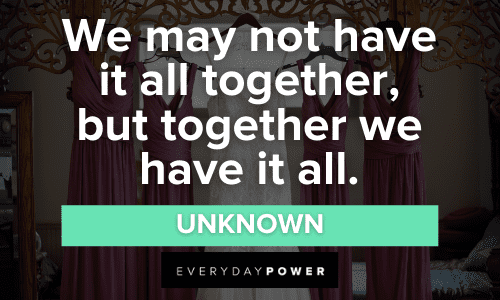 5. "I can't say "I do" without you." — Unknown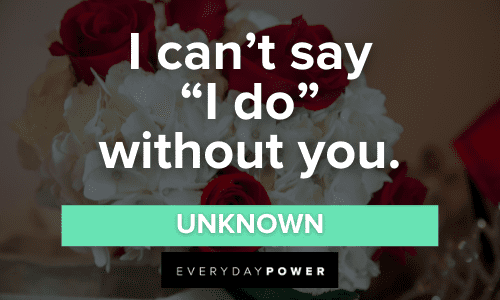 6. "I need something old,  something new, something borrowed,  and most importantly… you!" — Unknown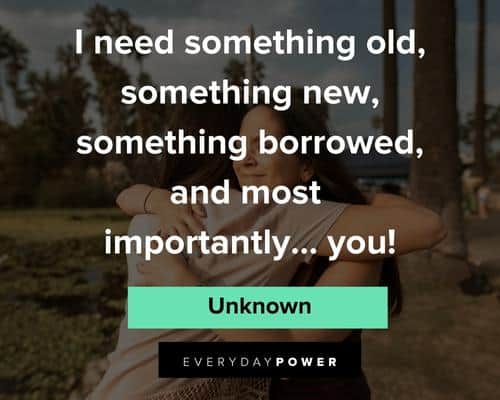 7. "I have my mister, but I can't do it without my sister." — Unknown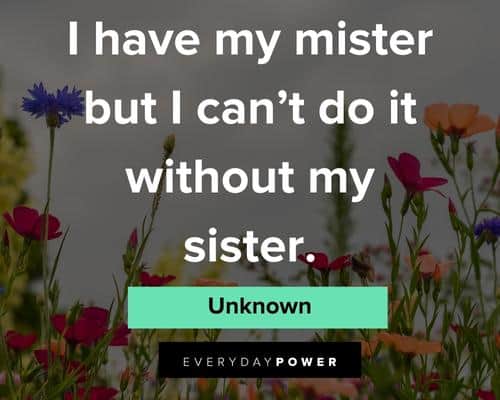 8. "You are the sister I got to choose." — Unknown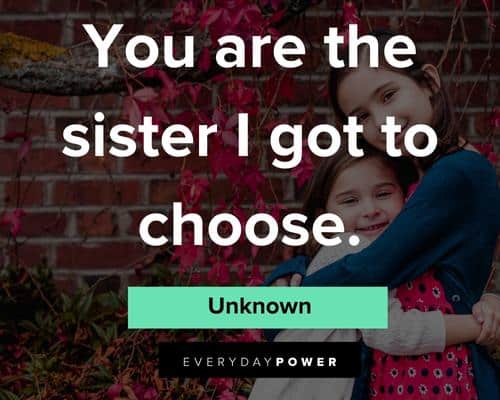 9. "When worst comes to worst, squad comes first." — Unknown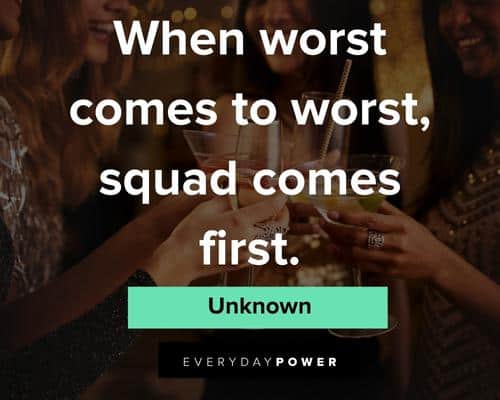 10. "Pop the champagne, she's changing her name!" — Unknown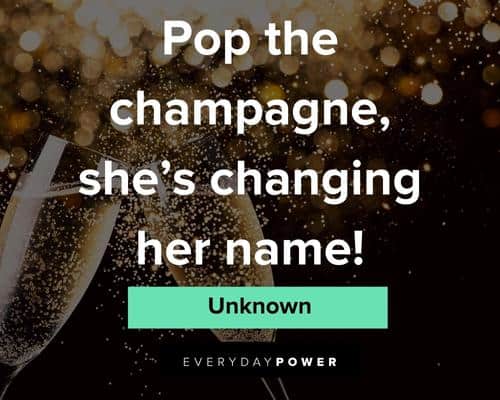 Famous bridesmaids quotes
Enjoy these funny quotes about bridesmaids and friendship.
11. "You think your friends have good taste in fashion until they ask you to wear an ugly bridesmaid dress!" — Wendi McLendon-Covey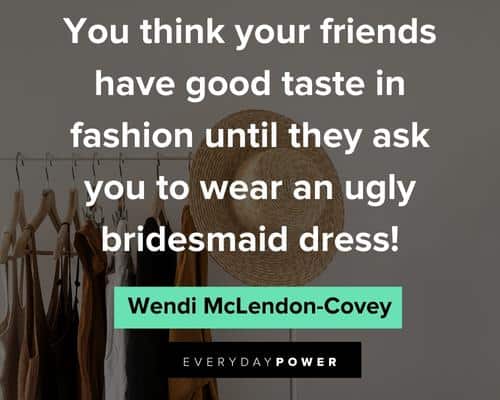 12. "Asking your friend to be a bridesmaid is one of the modern paradoxes: no one actually wants to do it, but everyone would be offended if you didn't ask." — Mindy Kaling
13. "We are not your typical bridesmaids; we are your women of awesomeness." — Unknown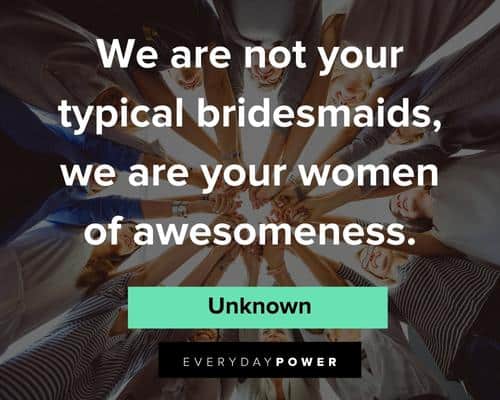 14. "There is nothing like puking with somebody to make you into old friends." — Sylvia Plath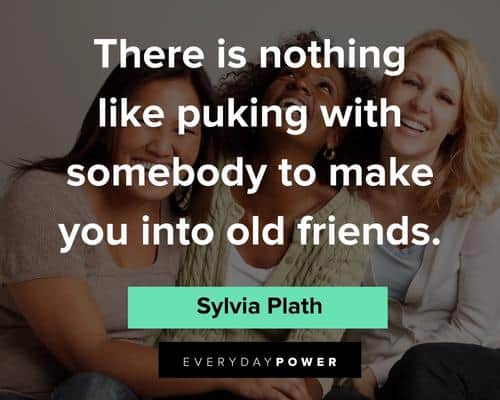 15. "Find a group of people who challenge and inspire you; spend a lot of time with them, and it will change your life." — Amy Poehler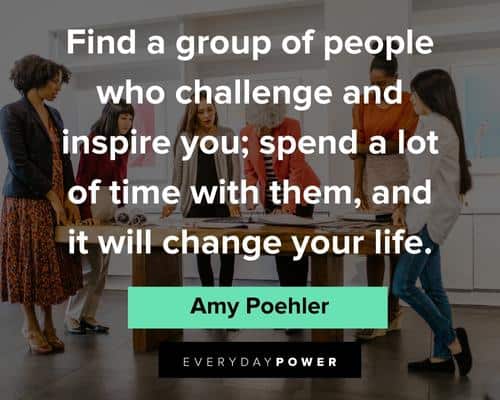 16. "A sister can be seen as someone who is both ourselves and very much not ourselves — a special kind of double." — Toni Morrison
17. "We all wish there were more 'Bridesmaids' out there." — Gillian Jacobs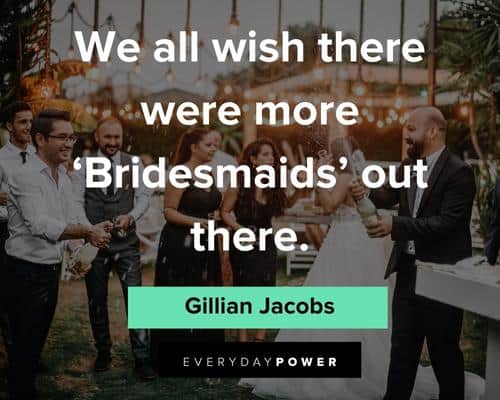 Bridesmaid quotes about good friends and sisters
Choosing bridesmaids is the perfect time to reflect on the relationships you have with those you are closest with.
18. "Good friends are hard to find and impossible to forget." — John Green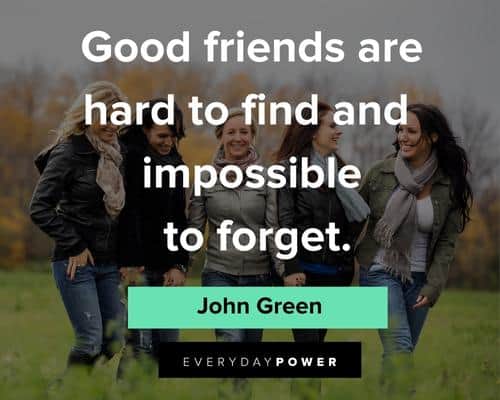 19. "You can kid the world, but not your sister." — Charlotte Gray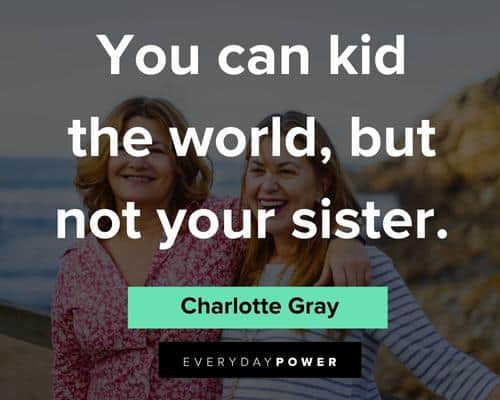 20. "It's not what we have in our life, but who we have in our life that counts." — J. M. Laurence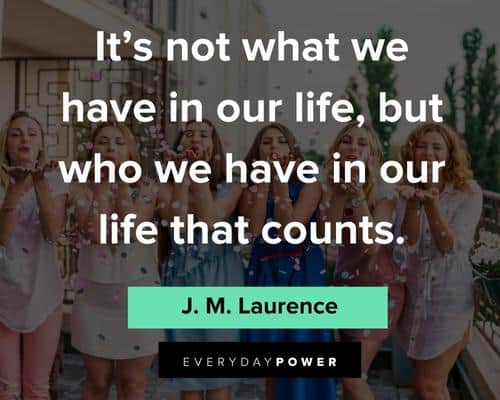 21. "Surround yourself with all those that are the same frequency as you." — Mimi Novic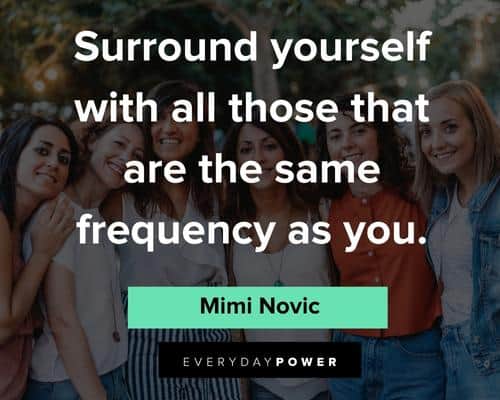 22. "Good friends help you to find important things when you have lost them…your smile, your hope, and your courage." — Doe Zantamata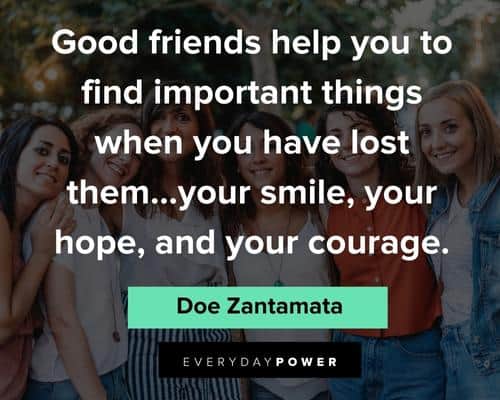 23. "It's not that diamonds are a girl's best friend, but it's your best friends who are your diamonds." — Gina Barreca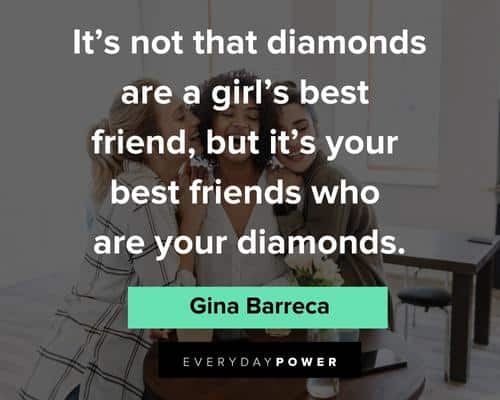 24. "Many people will walk in and out of your life, but only true friends will leave footprints in your heart." — Eleanor Roosevelt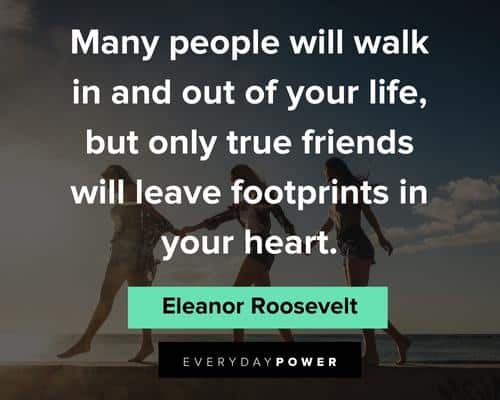 25. "True friendship is as rare as twin lotuses on a single stalk." — Lauren Bjorkman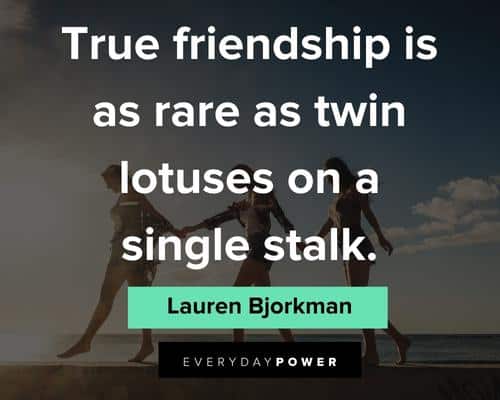 27. "I would rather walk with a friend in the dark than alone in the light." — Helen Keller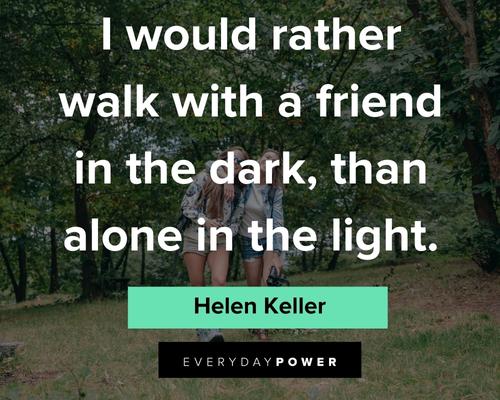 28. "True love is finding your soulmate in your best friend." — Faye Hall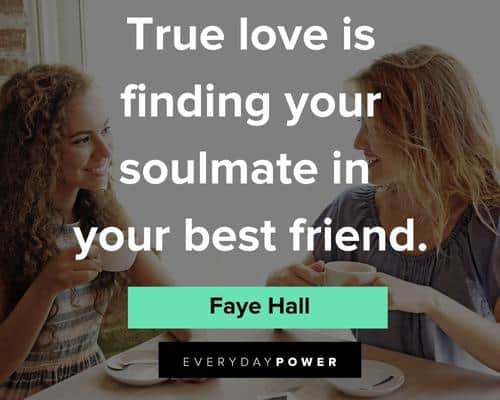 29. "Good friends don't let you do stupid things… alone." — Unknown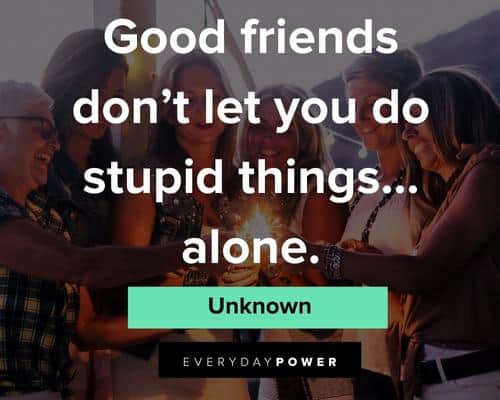 30. "My best friend is the one who brings out the best in me." — Henry Ford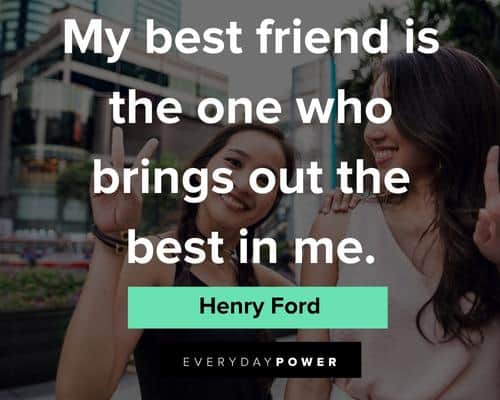 31. "We've been friends for so long I can't remember which one of us is the bad influence." — Unknown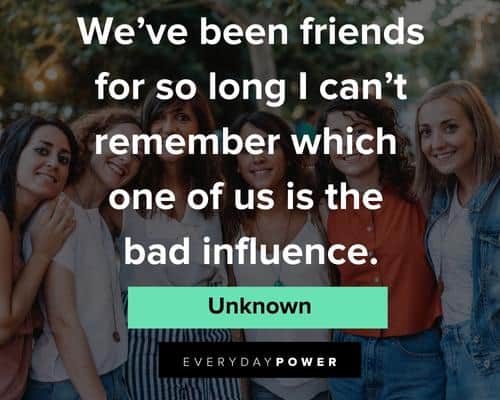 Bridesmaids quotes about the bride
Here are a few quotes connecting a bride with her bridesmaids.
32. "Bridesmaids are never going to upstage the bride." — Georgina Chapman
33. "A happy bridesmaid makes a happy bride." — Alfred Tennyson
34. "Often a bridesmaid, but never a bride." — First coined in 1925 in an ad for Listerine Mouthwash.
35. "He's marrying me, but he's stuck with us." — Unknown
36. "White dress, lace, and pearls, but I can't do it without my girls." — Unknown
37. "I got my rock. Now I need my flock." — Unknown
Bridesmaid quotes straight from the movie "Bridesmaids"
Enjoy these quotes from the hilarious comedy Bridesmaids.
38. "This is the first time I've seen you look ugly, and that makes me happy!" — Annie
39. "You're like the maid of dishonor." — Rhodes
40. "You know anyone who wants to marry my brother is a profound idiot." — Megan
41. "It's gonna be a kick-ass wedding." — Lillian
42. "I am in my 30's, I have 40,000 dollars in debt, I live with a weirdo…" — Annie
43. "That's why he's been acting so weird. Because he's a terrible liar, and he thought he was going to blow it. He was ignoring me, and I thought he was going to break up with me and…" — Lillian
44. "Uh, I'm not going to go on with a big speech. So I'll just say this: um, I'm so happy to be a part of this celebration. And you two deserve each other, as well as a lifetime of happiness." — Annie
45. "I just want to thank you for carefully selecting me as your maid of honor. I know you had some other choices, but, um, you're like my sister, and I love you. Well, that concludes the speeches for the night." — Annie
46. "You know, I don't really care which dress we get. I just need to get off this white carpet!" — Rita
47. "And I'm more than happy to do it. And it's not too much." — Annie
48. "You cannot trust anybody, ever." — Annie
49. "Just had some thoughts about the bachelorette party. Okay, here we go! Easy peasy, Vegas it is!" — Megan
50. "I don't think you guys will be best friends forever. No offense, but you know? The friends you have when you're younger are sometimes, sometimes you grow apart." — Annie
Bridesmaid quotes to cherish your besties more
These quotes will remind you why you appreciate your closest friends.
51. "I'm one of those people who has always been a bridesmaid." — Piper Lauri
52. "You'd better be my bridesmaid since you gave me the idea that led to this whole farce. It's a horrible job, I'm sure, so you deserve it. Plus, you're my friend." — Jayne Bauling
53. "A friend never defends a husband who gets his wife an electric skillet for her birthday." — Erma Bombeck
54. "A sister is a gift to the heart, a friend to the spirit, a golden thread to the meaning of life." — Isadora James
55. "Storm Sister—a friend who sticks close when storms hit her friend's life." — Afton Rorvik
56. "We have been friends together in sunshine and in shade." — Caroline Sheridan Norton
57. "True friends are like diamonds – bright, beautiful, valuable, and always in style." — Nicole Richie
58. "A true friend is someone who thinks that you are a good egg even though he knows that you are slightly cracked." — Bernard Meltzer
59. "Lots of people want to ride with you in the limo, but what you want is someone who will take the bus with you when the limo breaks down." — Oprah Winfrey
60. "The most beautiful discovery true friends make is that they can grow separately without growing apart." — Elisabeth Foley
Friend-inspiring Bridesmaid Quotes
Remember your bridesmaids with these quotes about true friends.
61. "True friends are the ones who know you but love you anyway." — Edna Buchanan
62. "Love is blind; friendship tries not to notice." — Otto von Bismarck
63. "A sister smiles when one tells stories — for she knows where the decoration has been added." — Chris Montaigne
64. "Let's face it, friends make life a lot more fun." — Charles R Swindoll
65. "Friends are the family you choose." — Jess C. Scott
66. "What greater thing is there for two human souls than to feel that they are joined… to strengthen each other… to be at one with each other in silent unspeakable memories." — George Eliot
67. "Friendship is born at that moment when one person says to another, 'What! You too? I thought I was the only one.'" — C.S. Lewis
68. "Truly great friends are hard to find, difficult to leave, and impossible to forget." — G. Randolf
69. "Friends are those rare people who ask how we are, and then wait to hear the answer." — Ed Cunningham
70. "A friend is one who knows you and loves you just the same." — Elbert Hubbard
Bridesmaid Quotes to Celebrate True Friendship
Life is better with your friends near your side as shown in the following quotes that you can share with your bridesmaids.
71. "I don't know what I would have done so many times in my life if I hadn't had my girlfriends." — Reese Witherspoon
72. "One friend with whom you have a lot in common is better than three with whom you struggle to find things to talk about." — Mindy Kaling
73. "Friendship isn't a big thing—it's a million little things." — Paulo Coelho
74. "Rare is a true love, true friendship is rarer." — Jean de la Fontaine
75. Anything is possible when you have the right people there to support you." — Misty Copeland
76. "We are all of us stars, and we deserve to twinkle." — Marilyn Monroe
77. "Melissa McCarthy (Bridesmaids) is a gimmick comedian who has devoted her short career to being obese and obnoxious with equal success." — Rex Reed
78. "I am usually part of any disaster at a wedding if I'm a bridesmaid, which I've been lucky enough to be several times." — Jennifer Garner
79. "My five best friends, who were my bridesmaids in my wedding, are still my best friends." — Jill Kargman
80. "Because there's one thing stronger than magic: sisterhood." — Robin Benway
Funny Bridesmaid Quotes To Celebrate Memorable Moments
Have a laugh while reading these quotes with your bridesmaids.
81. "Life is partly what we make it, and partly what it is made by the friends we choose." ― Tennessee Williams
82. "The best thing about having a sister was that I always had a friend." ― Cali Rae Turner
83. "In the cookie of life, friends are the chocolate chips." ― Salman Rushdie
84. "If you don't understand how a woman could both love her sister dearly and want to wring her neck at the same time, then you were probably an only child." ― Linda Sunshine
85. "Having a sister is like having a best friend you can't get rid of. You know whatever you do, they'll still be there." ― Amy Li
86. "I love being married. It's so great to find one special person you want to annoy for the rest of your life." ― Rita Rudner
87. "I have learned that the friends who hold your hand through the tough times and watch your soul twirl during the best are the ones you should spend your lifetime dancing with." ― Stacie Martin
88. "Friends are people who know you really well and like you anyway." ― Greg Tamblyn
89. "There is nothing better than a friend unless it is a friend with chocolate." ― Linda Grayson
90. "An older sister is a friend and defender, a listener, conspirator, a counselor and a sharer of delights." ― Pam Brown
Bridesmaid Quotes For a Long-Lasting Friendship
Cheris your bridesmaids and friendships with these quotes.
91. "You are more beautiful than Cinderella! You smell like pine needles and have a face like sunshine!" — Becca
92. "Why can't you be happy for me and then go home and talk about me behind my back like a normal person?" — Lillian
93. "For attractive lips, speak words of kindness. For lovely eyes, seek out the good in people…For poise, walk with the knowledge you're never alone." — Sam Levenson
94. "You are my sun, my moon, and all of my stars." — E.E. Cummings
95. "Friends are the siblings God never gave us." — Mencius
96. "True friendship resists time, distance, and silence." — Isabel Allende
97. "A friend knows the song in my heart and sings it to me when my memory fails." — Donna Roberts
98. "There's nothing like a really loyal, dependable, good friend. Nothing." — Jennifer Aniston
99. "True friends are always together in spirit." — L.M. Montgomery
100. "Friendship is a wildly underrated medication." — Anna Deavere Smith
Bridesmaid Quotes for a Fancy Wedding
These quotes are for everyone who is getting ready to be a bridesmaid.
101. "Why am I always the bridesmaid, / Never the blushing bride?" — Fred W. Leigh
102. "Immortality, thou art a chimerical bridesmaid of life." — Aporva Kala
103. "I'm not blond or super fit or perfect. Not romantic, not "an individual," and definitely not a genius. So what am I? I'll tell you what: a bridesmaid." — Tamara Summers
104. "So many times, I have a speech ready but no dice. Always a bridesmaid, never a mother." — Michael Curtiz
105. "Bridesmaids are brides in training; they're like matrimonial interns." — Man
106. "Weddings are a joyful occasion. You know, unless you're one of the bridesmaids." — King Shark
107. "An invitation to be a bridesmaid is an honor which cannot be declined without some very good reason. Our idea of one of the better reasons is the impending arrival of a little stranger." — Alice-Leone Moats
108. "Mothers! They promise you they'll never get married again, and next thing you know, you're a bridesmaid." — Mindy Schanback
109. "I don't think I've ever tried on a corset, though a certain bridesmaid's dress did require a torturous bustier that will stay forever burned in my sensory memory." — Laura Moriarty
110. "The best bridesmaid experiences come when the bride has a laid-back vibe and just goes with the flow." — Emily Schumann
Which of these bridesmaid quotes is your favorite?
Hopefully, your stress level has decreased a little bit after reading these bridesmaids quotes.
It can be a bit overwhelming being a bride, what with everyone asking you questions constantly!
Decisions, decisions, decisions!
Pick your bridesmaids wisely, and remember to have fun.
Communicate your expectations upfront and be honest about what being a bridesmaid will look like.
Now is not the time to be fighting with your squad!
If you feel like tensions might start to rise, invite everyone over for a girl's night, pour some wine, and watch the movie together!
Have a bridesmaids quote of your own to add?
Drop it in the comments!