Elijah Cummings quotes on hope and justice
August 10, 2022 5:07 AM EST
Listen to article
4 minutes
Elijah Cummings, the longtime Baltimore congressman and civil rights leader, died today (October 17, 2019) at age 68.
A highly respected political leader, Cummings was a man who wielded unique moral authority.
Through integrity and hard work, he rose to leadership and fought for what is right.
Cummings will be remembered for his principled stands on political issues, his belief in the good in mankind, for fighting racial injustice, and much more.
His passing on is not just a loss for the people of Baltimore, but for the whole of humanity.
According to Cummings' wife, the esteemed congressman was an honorable man who served his district with "dignity, integrity, compassion and humility."
He believed that our nation's diversity was our promise and that our democracy represented our collective humanity.
In honor of a powerful voice, below is our collection of inspirational, wise, and thought-provoking Elijah Cummings quotes and sayings.
Also check out our list of law quotes about justice for all.
Check out our most popular quote article, a list of short inspirational quotes for daily inspiration.
Check out our inspirational quotes category page for more inspirational life quotes.
Elijah Cummings quotes on hope and justice
1. "It was to carry the American democratic journey beyond these failings that Black citizens and civil rights workers risked unemployment, violence and death." – Elijah Cummings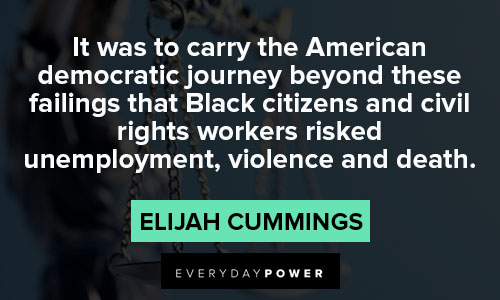 You will also enjoy our article on Superbad quotes.
2. "You must have confidence in your competence." – Elijah Cummings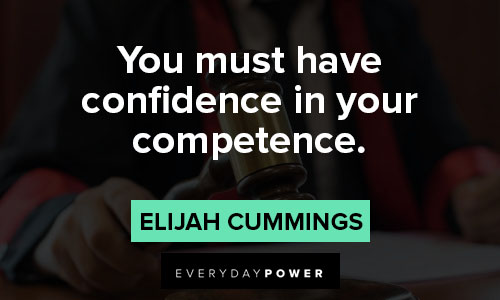 3. "I'm going to try and make people realize that in order to live the life they are living, they need to have democracy, and it's being threatened." – Elijah Cummings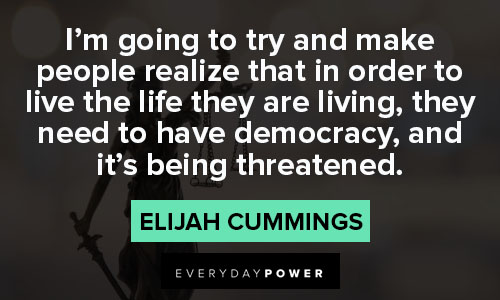 You will also enjoy our article on Fifty Shades of Grey quotes.
4. "Tweets are not enough. We need real action and meaningful reform." – Elijah Cummings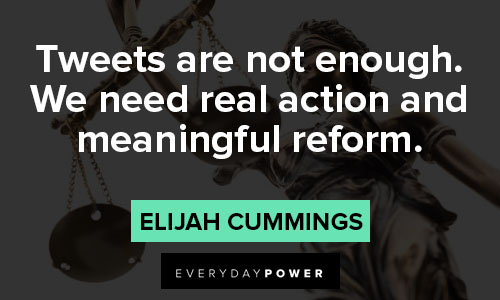 5. "My mom and dad, although they may not have had a lot of formal education, they were two of the most brilliant people that I know." – Elijah Cummings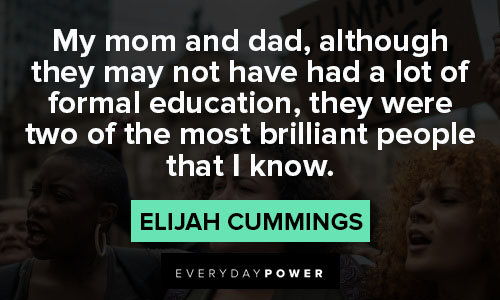 6. "It is a new day in our city, let the wheels of justice begin to roll." – Elijah Cummings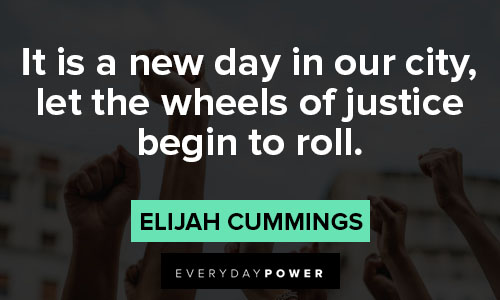 7. "From my own life experience, I can attest that we have come a long way toward universal justice in this country, but we are not there yet." – Elijah Cummings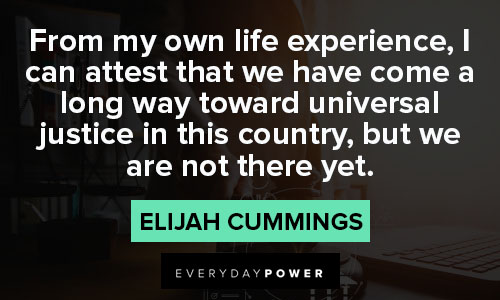 8. "I'm a lawyer, I practiced for many years, and so I believe in the Fifth Amendment." – Elijah Cummings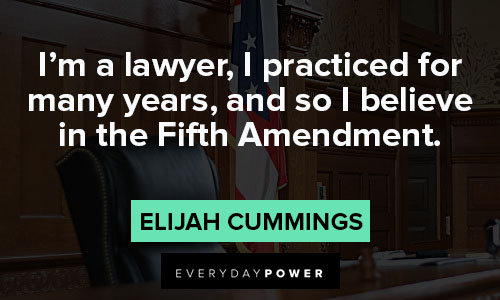 9. "Voting is crucial, and I don't give a damn how you look at it: there are efforts to stop people from voting. That's not right. This is not Russia. This is the United States of America." – Elijah Cummings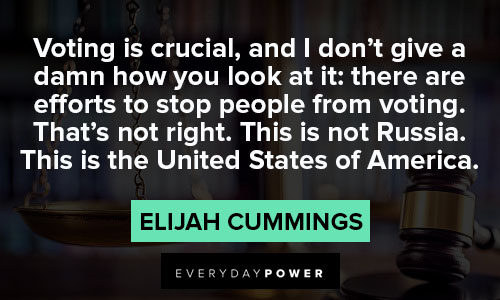 10. "Americans want government to help them. And this is something you can do to help all Americans." – Elijah Cummings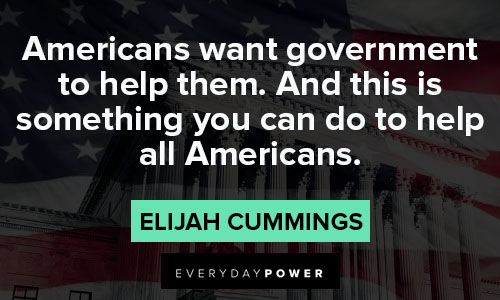 Elijah Cummings quotes that will inspire you to stand for what's right
11. "I try to remind people that there are a lot of good people, all colors. Then there's some bad ones, too. But there's a lot of good people who really care." – Elijah Cummings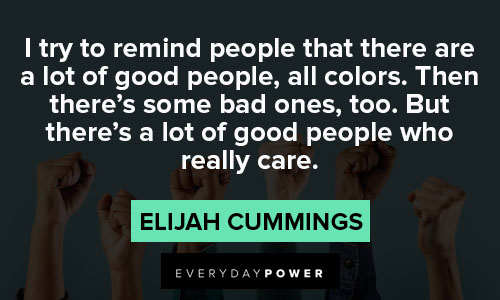 12. "I say to the president: No more talk, no more tweet. No more commotion, emotion and motion and no results." – Elijah Cummings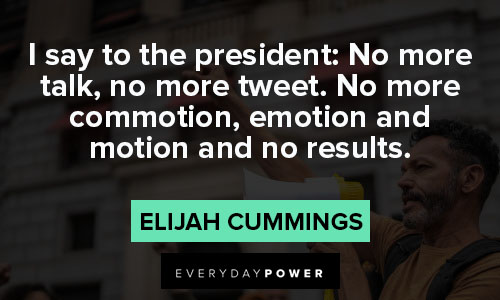 13. "My life is based on pain, passion, and purpose." – Elijah Cummings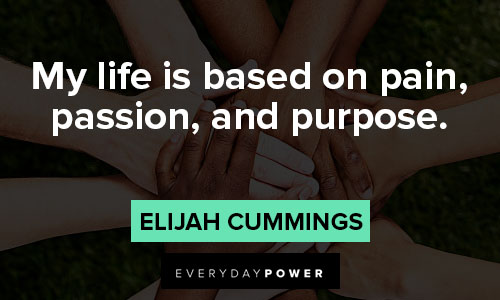 14. "By providing students in our Nation with such an education, we help save our children from the clutches of poverty, crime, drugs, and hopelessness, and we help safeguard our Nation's prosperity for generations yet unborn." – Elijah Cummings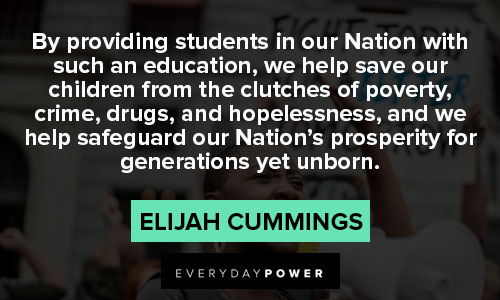 15. "Price gouging for drugs that treat cancer in children is simply unconscionable." – Elijah Cummings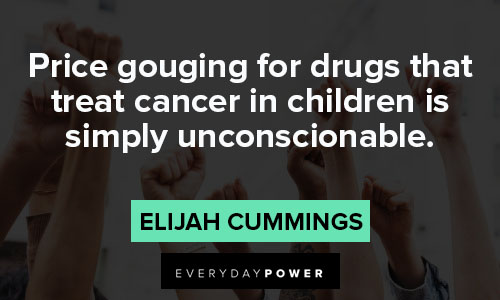 If you're enjoying these quotes, make sure to read our collection of fighting cancer quotes about the battle of a lifetime.
16. "I realized that with African American people, where we've been blocked from being all that God meant for us to be, I don't have time to be patient." – Elijah Cummings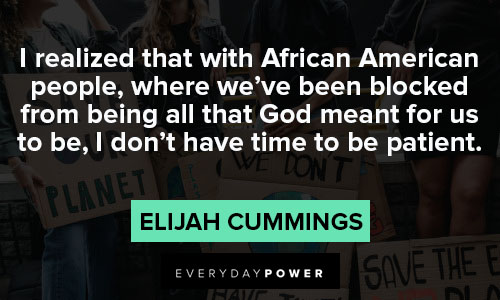 17. "I have a moral conscience that is real central." – Elijah Cummings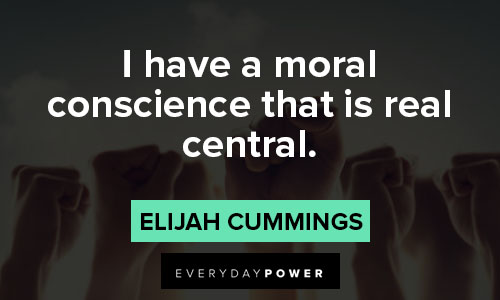 18. "Many of these Americans who are struggling to survive are Americans of color, .. Their cries for assistance confront America with a test of our moral compass as a nation." – Elijah Cummings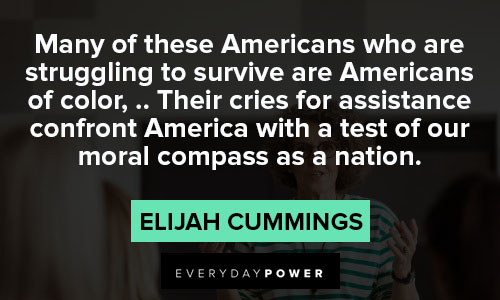 19. "We need to act as fast as we can to create that diplomatic resolution so that we will not have this problem." – Elijah Cummings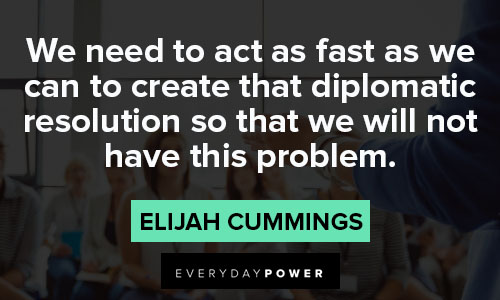 20. "Any little thing can spark the situation to get out of hand and we cannot afford that, we're better than that." – Elijah Cummings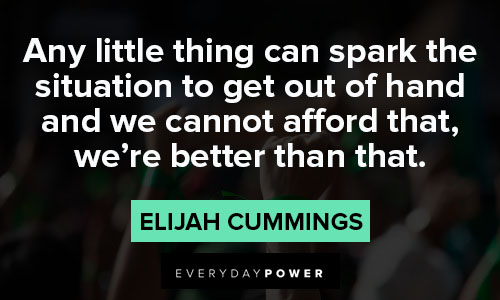 Don't forget to also check out these wise John McCain quotes about character, America and more.
Elijah Cummings quotes that will igniter your inner fire
21. "The U.S. Census Bureau acknowledged this fact when it reported that those with a bachelor's degree earn on average $1 million more over their lifetime than those with only a high school diploma." – Elijah Cummings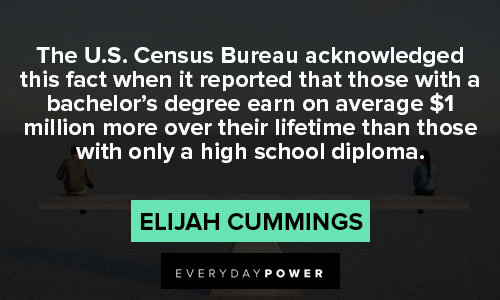 22. "Our ultimate goal must be to serve the interest of the children and families of Flint." – Elijah Cummings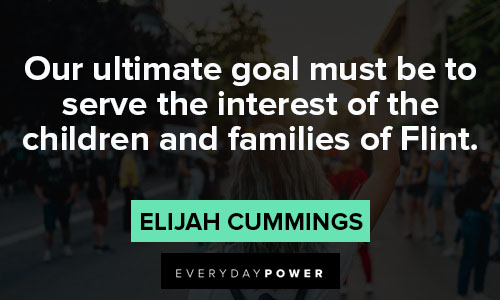 23. "I'm going to do what feeds my soul." – Elijah Cummings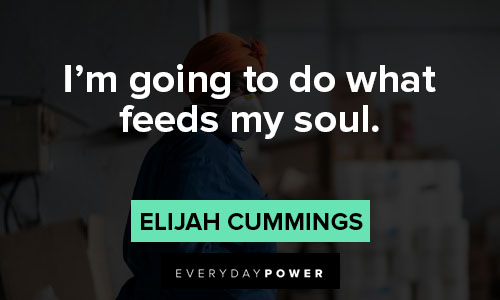 24. "This complaint reads more like political talking points than a reasoned legal brief, and it contains a litany of inaccurate information." – Elijah Cummings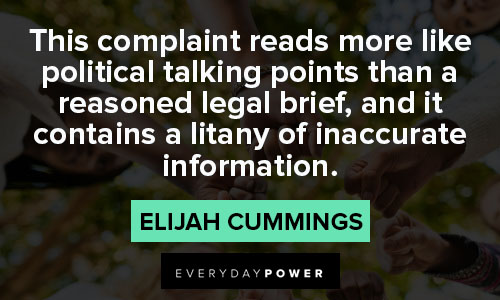 25. "We're going to take a close look at this administration." – Elijah Cummings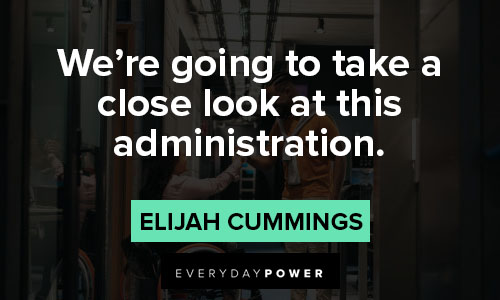 Were you inspired by these Elijah Cummings quotes?
Elijah Cummings was a dedicated public servant who has left an indelible mark in American politics.
Known for his passion and wisdom, Cummings will be remembered as a fearless leader and fighter for justice.
Did these Elijah Cummings quotes inspire you?
What other inspirational quotes would you add to the list?
We would love to hear your thoughts in the comment section.