Superbad Quotes From The Comedy Classic
Superbad is one of our favorite teen classic comedies, and these Superbad quotes showcase exactly why.
There's not just one reason why Superbad has become the millennial version of the classic teen comedy. In fact, there are many.
Superbad is a slice of teen life that explores the pain of growing up and away from your childhood friends as you get ready to leave high school and enter the scary world of adulthood and responsibilities.
It's a movie about that last hurrah, that last f*ck around with your buds before it's time to leave the high school chapter of life behind forever.
Beyond that, this is a film that is hilariously funny, filled with dick jokes and doodles, and is totally relatable for anyone who has ever been a teenager.
We hope you enjoy these Superbad quotes.
Don't forget to also check out these Pokemon quotes from the popular 90s franchise.
Classic Superbad quotes and lines
1. "I am McLovin!" — Fogell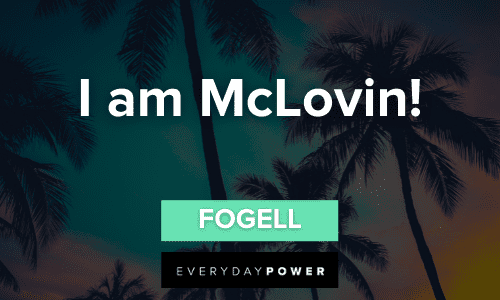 2. "F*ck me, right?" — Seth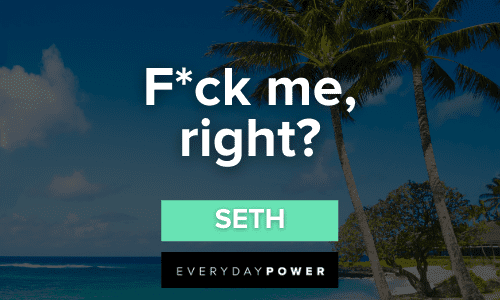 3. "You look like Aladdin." — Evan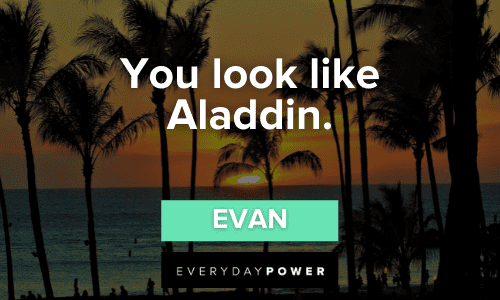 4. "Chicka, chicka-yeah, fake I.D." — Fogell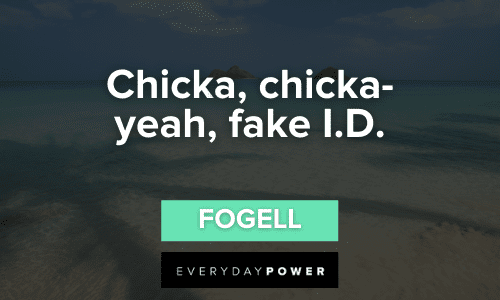 5. "People don't forget." — Seth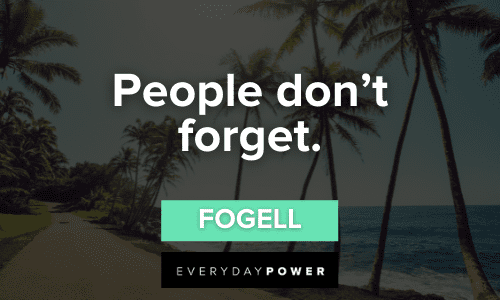 6. "Oh no, it's the cops." — Officer Slater
7. "For some reason, I don't know why, I would just kind of sit around all day… and draw pictures of dicks." — Seth
8. ""Muhammad" is the most commonly used name on Earth. Read a f*cking book for once!" — Fogell
9. "Hawaii. All right, that's good. That's hard to trace, I guess. Wait, you changed your name to… McLovin?" — Evan
The best Superbad quotes
10. "Old enough… to party." — Fogell
11. "Uh, it's 10:33." — Fogell
12. "Prepare to be f*cked by the long dick of the law." — Officer Michaels
13. "We should be guiding your cock, not blocking it." — Officer Michaels
14. "So I gotta sit here and eat my dessert alone like I'm f*cking Steven Glansberg." — Seth
15. "They let you pick any name you want when you get down there." — Fogell
16. " It's not the going I'm worried about… but the coming." — Fogell
17. Becca: "You have such a smooth c*ck!"
Evan: "Yours would be too… if you were a man."
18. "He is the sweetest guy. Have you ever looked into his eyes? It was like the first time I heard the Beatles." – Seth
19. Becca: "I'm so wet right now."
Evan: "Yeah… they said that would happen in health class."
The funniest Superbad McLovin quotes
20. "One name, who are you, Seal?" — Evan
21. "Fogell, shut the f*ck up. And take off that vest. You look like Aladdin." – Evan
22. "It's in!" — Fogell
23. "It's you, McMuffin." — Homeless guy
24. "We should be guiding your cock, not blocking it." — Officer Michaels
25. "No one's gotten a hand job in cargo shorts since 'Nam." — Seth
26. "That's the coolest fucking story I've ever heard in my entire life! That's insane. Is it… Can I hear it again, do you have time?" — Seth
27. "McLovin? What kind of a stupid name is that, Fogell? What, are you trying to be an Irish R&B singer?" — Evan
28. "Give me that. All right, you look like a future pedophile in this picture, number 1. Number 2: it doesn't even have a first name. It just says "McLovin"!" — Seth
29. "Stay calm, okay? Let's not lose our heads. It's-it's a fine ID. It'll-it's going to work. It's passable, okay? This isn't terrible. I mean, it's up to you, Fogell. This guy is either going to think, "Here's another kid with a fake ID," or "Here's McLovin, a 25-year-old Hawaiian organ donor." Okay? So what's it gonna be?" — Evan
30. "Every day, hundreds of kids go into the liquor store with fake IDs, and every single one says they're 21. How many 21-year-olds do you think there are in this town? It's called f*cking strategy, all right?" — Fogell
31. "No one's McLovin. McLovin's never existed because that's a made-up, dumb, motherf*cking fairy tale name, you f*ck!" — Seth
32. "What, you think Becca's going to be psyched that you brought a bottle of lube? "Oh, Evan! Thank you so much for bringing that lube for my pussy! I could never handle your f*cking four-inch dick inside my p*ssy without your gigantic bottle of LUBE!" These girls are 18 years old. They aren't dried up old ladies, man. They're good to go!" — Seth
33. "I would get killed for p*ssy. No questions asked!" — Seth
34. "It's just not fair that they get to flaunt that stuff, you know… and like, I have to hide every erection I get. Just imagine if girls weren't weirded out by our boners and stuff, and just like wanted to see them. That's the world I one day want to live in." — Evan
35. "You know what I do? I flip my boner up into my waistband. It hides it AND it feels awesome. I almost blew a load into my bellybutton." — Seth
36. Fogell: "What's it like to have a gun?"
37. Officer Michaels: "It is… awesome! I mean I've only had mine for like a few months, but I'll tell you, it's like having two c*cks. If one of your c*cks could kill someone."
More hilarious Superbad movie quotes
38. "You used my leg as a tampon!" — Seth
39. "When am I going to need to cook tiramisu? Am I going to be a chef?" — Seth
40. "This is our last party as high school people. I fully ignored my hatred for Becca in coming up with this plan." – Seth
41. "I should buy Becca alcohol?" — Evan
42. "Two weeks hand job, one month blow job, whatever, whatever. And then, I make her my girlfriend. And I've got like two solid months of sex. By the time college rolls around I'll be like the Iron Chef of pounding vag." — Seth
43. "Well, Jules, funny thing about my back is it's located on my c*ck! ha ha!" — Seth
44. "Well Jules, the funny thing about my back is that it's located on my c*ck." – Seth
45. Evan: "I heard she got breast reduction surgery."
Seth: "What? That's like slapping God across the face for giving you a beautiful gift."
Evan: "She had back problems, man."
Evan: "It's not just making them smaller. They completely reshaped them. They make them more supple, symmetrical."
Seth: "I gotta catch a glimpse of these warlocks. Let's make a move."
46. "Do you have any normal-sized clothes or do you only shop at the Baby Gap?" — Seth
47. "You just sound like an idiot, you're not gonna be able to sleep with her, man." – Evan
48. "Dude, get out of here. They're going to make me run laps again." — Evan
49. "That's perfect. Now you owe me six bucks, because I'm not going to get it, and it exploded." — Evan
50. "I'm not too worried about it, really. I wouldn't worry about it. Don't worry about it. I'm not worried at all." — Evan
51. "You dropped your purse, ma'am. Would you like me to help you with your groceries?" – Seth
Superbad quotes when you want a good laugh
52. "Are you insane?! Look at Jules's dating record, she dated Dan Remmeck who's had a six pack since like kindergarten. Jason Stone who looks like f***ing Zack Morris, and Matt Muer he's the sweetest guy! Have you ever stared into his eyes? It was like the first time I heard the Beatles." — Seth
53. "Yeah well. At least you got to suck on your dad's dick." — Evan
54. "What, did you want me to dive into his spit?" — Evan
55. "I am going to give you the best blow J ever. With my mouth." — Becca
56. "Look at those nipples." — Evan
57. "[talking about porn sites] You could always subscribe to a site like Perfect Ten. I mean that could be any number of things, right? Perfect Ten? I mean, it could be a bowling site." — Evan
58. "I joined this class because I thought I was going to be cooking with a partner. But she's never here, and I don't get twice the grades for doing all the work." — Seth
59. "You almost gave me a goddamn heart attack. Let me see it. Did you p*ssy out or what?" — Seth
60. "Besides, have you ever seen a vagina by itself?" — Seth
61. "Do you want to get killed for liquor?" — Evan
What is your favorite memory from high school?
Superbad is a movie about high school that actually feels like high school. This is mostly because Seth Rogan and Evan Goldberg wrote it in high school.
In fact, the writing-duo started writing their script at the age of 13 and obsessively revised it over and over again for seven years.
Many of the scenes that ended up in the movie were events that happened in the writers' real lives or the lives of their friends.
In a twist of fate, the fact that Superbad was so true to the high school experience, actually stopped studios from picking up the script for years.
Executives claimed the script was too dirty and needed to be cleaned up. The script is about friendship between three high school boys, and, well, high school boys are dirty.
To keep the authenticity, Rogan and Goldberg refused to clean up their act and kept revising the script until, finally, it was picked up.
By that time, the script had gone through so many revisions, the writing had become hilariously perfect.
Did you enjoy these Superbad quotes and lines? Which quote is your favorite? Let us know in the comments below.
March 28, 2022 5:00 AM EST
Be the first one to leave a comment!