Elizabeth Taylor Quotes That Prove She Shined Like a Diamond
Elizabeth Taylor is one of classic Hollywood's most notable starlets.
However, there is more to her than just a pretty face that made studios money.
She was the first celebrity to have their own perfume brand.
Her jewelry collection was the envy of women everywhere, and she mentions her love of fragrance and gems in several of these Elizabeth Taylor quotes.
Taylor was an activist for people with HIV/AIDS, founding the National AIDS Research Foundation.
She would go toe to toe with Presidents about the AIDS pandemic, including Reagan, Bush, and Clinton.
She also founded the Elizabeth Taylor Medical Center, which provided free testing and care.
Elizabeth became involved in the cause after her friend Rock Hudson died from the disease.
Taylor accomplished a lot of good in the world, through her philanthropy, skills as a businesswoman, and talent as an actress.
Unfortunately, her private life always got the bulk of the attention.
We hope you enjoy reading these Elizabeth Taylor quotes!
Don't forget to also read these revealing Judy Garland quotes about the star's life.
Check out our most popular quote article, a list of short inspirational quotes for daily inspiration.
Our inspirational quotes category page has all of our motivational quotes for all the different areas of life.
Elizabeth Taylor quotes about perfume and jewels
1. "I adore wearing gems, but not because they are mine. You can't possess radiance, you can only admire it." — Elizabeth Taylor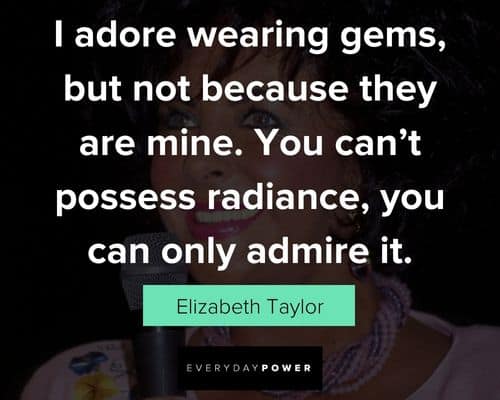 You will also enjoy our article on diamond quotes.
2. "My mother says I didn't open my eyes for eight days after I was born, but when I did, the first thing I saw was an engagement ring. I was hooked." — Elizabeth Taylor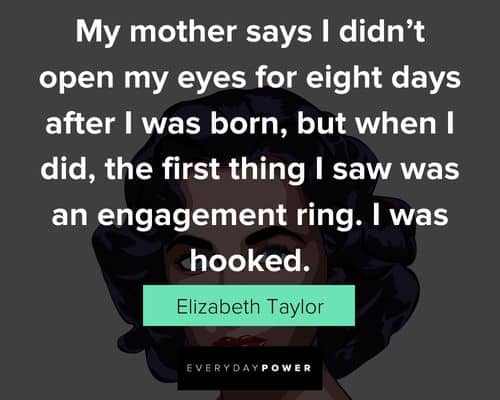 If you're enjoying these quotes, make sure to read our collection of engagement quotes about the power of commitment and love.
3. "Big girls need big diamonds." — Elizabeth Taylor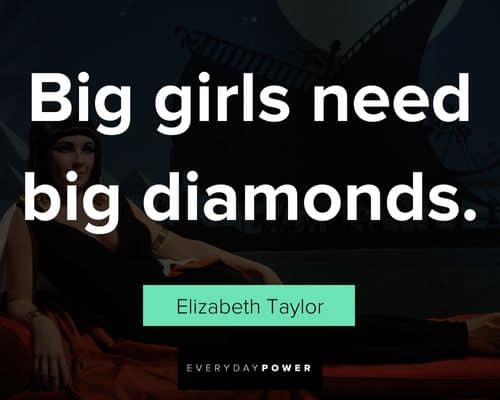 4. "I always wanted to have a fragrance, and I always wanted to be able to connect with people in ways other than through film." — Elizabeth Taylor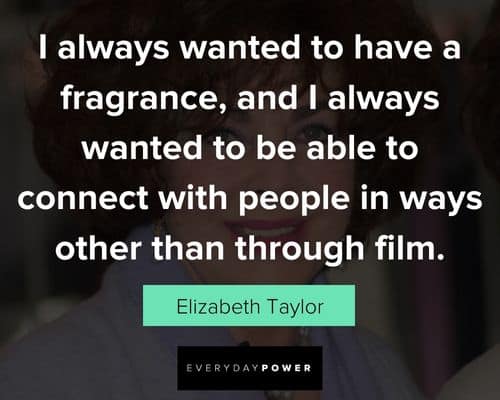 You will also enjoy our article on butterfly quotes.
5. "Fragrance is an incredibly intimate thing. It can evoke very specific thoughts or memories and is a little different for each person who wears it. I also think it's the most accessible luxury." — Elizabeth Taylor
You will also enjoy our article on Cleopatra quotes.
6. "I never face the day without perfume." — Elizabeth Taylor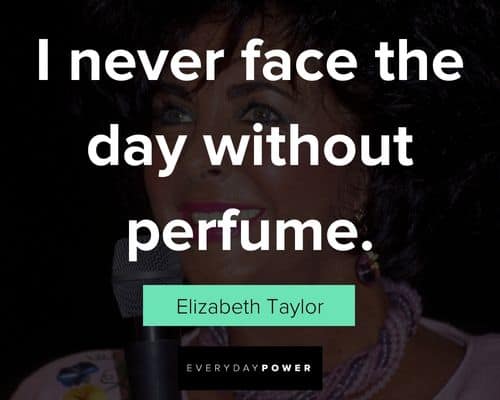 7. "The beauty of fragrance is that it speaks to your heart and hopefully someone else's." — Elizabeth Taylor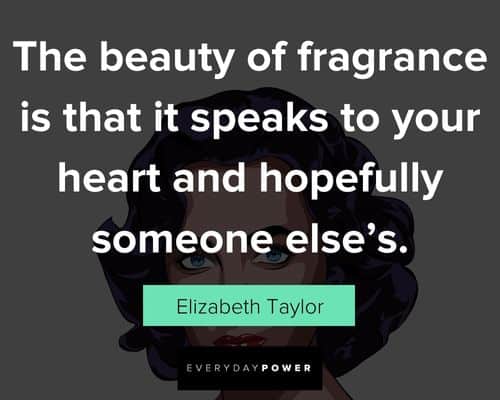 8. "I love to be casual and comfortable, but I also love the easy glamour of wearing jewelry all the time." — Elizabeth Taylor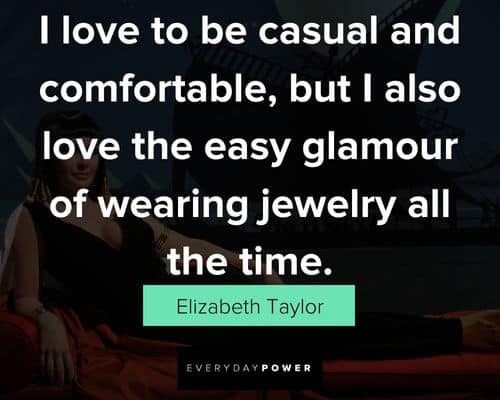 Elizabeth Taylor quotes about marriage and her spouses
9. "Marriage is a great institution." — Elizabeth Taylor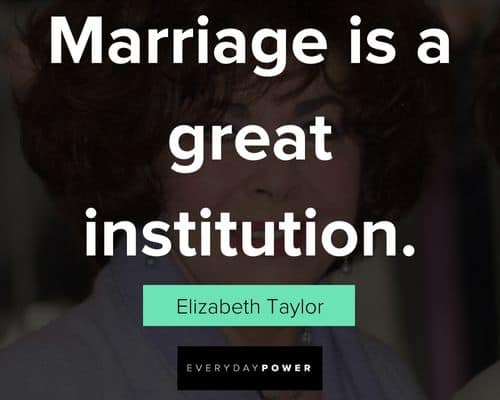 10. "I've only slept with men I've been married to. How many women can make that claim?" — Elizabeth Taylor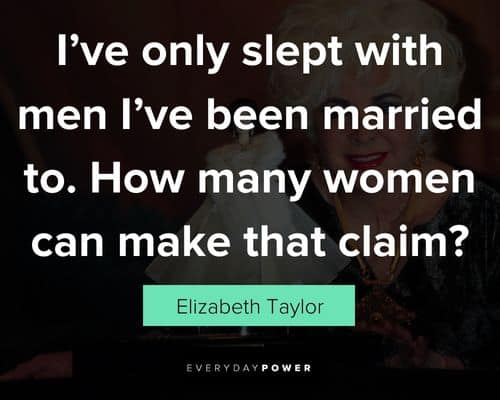 11. "I don't pretend to be an ordinary housewife." — Elizabeth Taylor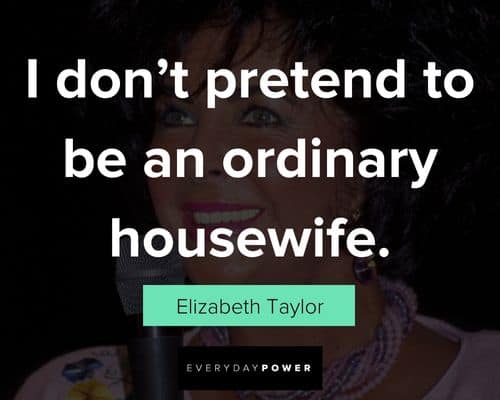 12. "I am a very committed wife. And I should be committed too – for being married so many times." — Elizabeth Taylor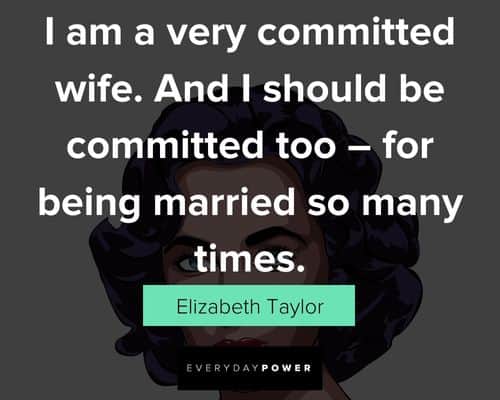 13. "I suppose when they reach a certain age some men are afraid to grow up. It seems the older the men get, the younger their new wives get." — Elizabeth Taylor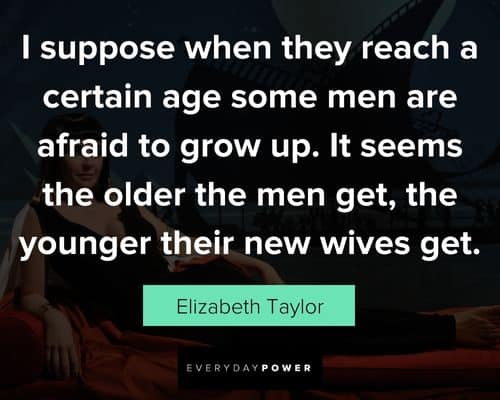 14. "I left home as soon as I could when I was 18. I thought I was in love and got married – the press called it Prince Charming and Cinderella. He was a Hilton, so I was the poor little Cinderella. And when I got a divorce nine months later, I never told the court why. But he was cruel." — Elizabeth Taylor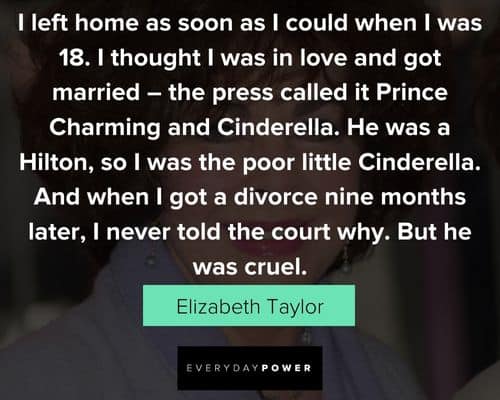 15. "I never planned to acquire a lot of jewels or a lot of husbands. For me, life happened, just as it does for anyone else." — Elizabeth Taylor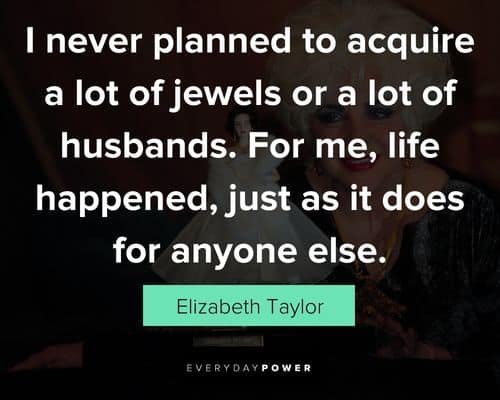 Elizabeth Taylor quotes on acting
16. "Some of my best leading men have been dogs and horses." — Elizabeth Taylor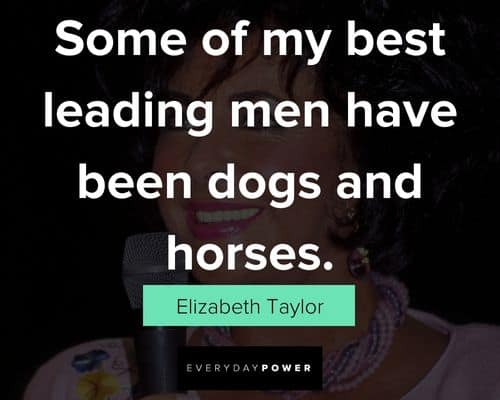 17. "I really don't remember much about Cleopatra. There were a lot of other things going on." — Elizabeth Taylor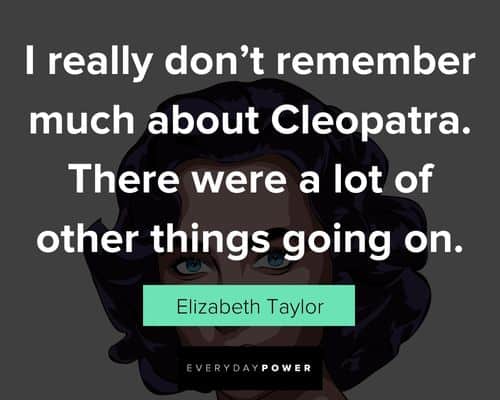 18. "Everything makes me nervous – except making films." — Elizabeth Taylor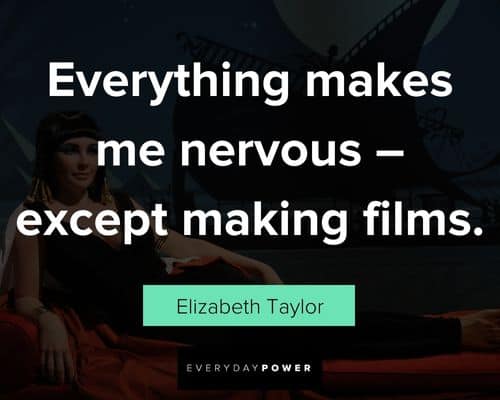 19. "Acting is fun. It's not my whole life. It's not my entire being. It's secondary to my life. My life is primary. I'm running in the primary, as you know." — Elizabeth Taylor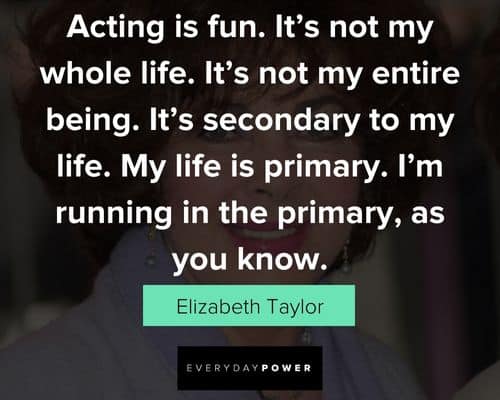 20. "To me, acting is a matter of absolute concentration. You can laugh and giggle with your friends up to the minute the director says, "Action!" Then you snap your mind into shape and into the character that you're playing and relate to the people that you're acting with and forget everybody else that you've been joking with." — Elizabeth Taylor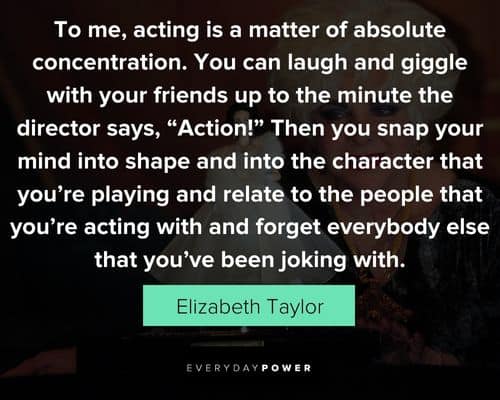 21. "Just in case you get pneumonia or die. The dangerous bits are always the last days of shooting." — Elizabeth Taylor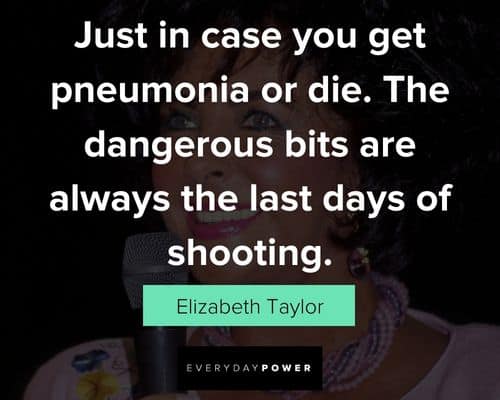 22. "Being able to go on location and see the world was the greatest perk of all." — Elizabeth Taylor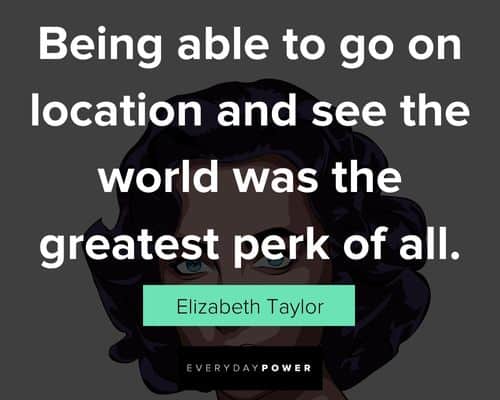 23. "I have never wanted to be a queen! Cleopatra was a role, and I am an actor, so it was fun to play one, but it's not real." — Elizabeth Taylor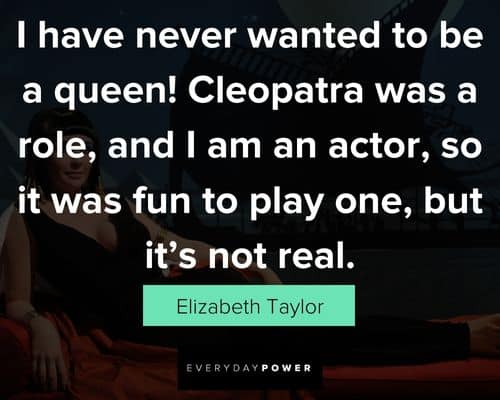 24. "If someone's dumb enough to offer me a million dollars to make a picture, I'm certainly not dumb enough to turn it down." — Elizabeth Taylor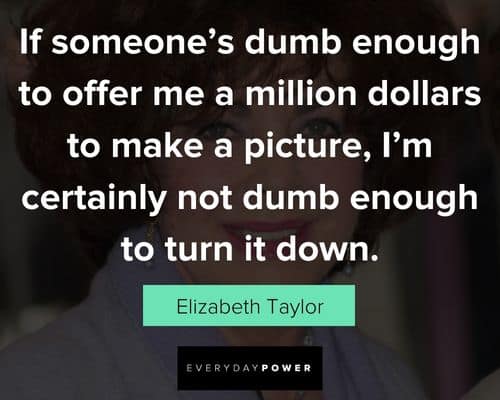 Elizabeth Taylor quotes that give a glimpse into her personality
25. "I'm a survivor – a living example of what people can go through and survive." — Elizabeth Taylor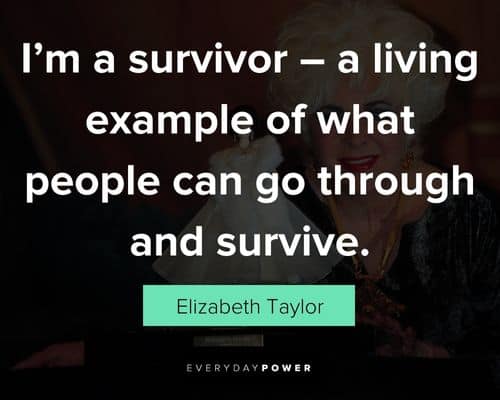 What did you learn from these Elizabeth Taylor quotes?
Elizabeth Taylor was stunning, which helped her land roles like that of Cleopatra.
It might also be the reason she was married so many times.
Elizabeth Taylor was married eight times to seven men.
MGM organized her dates, she was briefly engaged to the son of a senator, and Howard Hughes offered a large sum of money to her parents if he could marry her—all before her first wedding at 18.
Which just sounds creepy and awful.
MGM paid for her elaborate wedding to the heir of the Hilton Hotels, Conrad "Nicky" Hilton Jr.
However, that marriage only lasted eight months because he was an abusive alcoholic.
A year later she married a man 20 years older than she was, Michael Wilding, because she wanted companionship and he wanted to reinvigorate his sluggish career.
Four years and two children later, they were divorced.
She married her third husband, Mike Todd, in February 1957, a year after her divorce.
The couple had a daughter, and then Mike Todd died in a tragic plane crash.
In her grief, she turned to his friend Eddie Fisher, who was married to Debbie Reynolds.
The public called Elizabeth a home-wrecker.
Debbie and Eddie divorced, and he married Elizabeth in 1959.
By 1962, Elizabeth and co-star Richard Burton were having an affair.
Elizabeth and Fisher were divorced in 1964, and she married Richard 10 days after it was final.
They were married for ten years before divorcing in 1974, only to get remarried in 1975.
However, that marriage lasted less than a year with Elizabeth saying, "After Richard, the men in my life were just there to hold the coat, to open the door.
All the men after Richard were really just company."
The men after Richard included a Republican politician and a construction worker, who she married at Michael Jackson's home.
Elizabeth lived a jet-setting extravagant life, but I can't help feel like she was incredibly lonely.
At least, she remained friends with her last husband for 15 years after their divorce.
Do you have any Elizabeth Taylor quotes and sayings you would like to add?
Leave them in the comments below.