50 G Herbo Quotes About Life, Love, and Success
Check out these G Herbo quotes about life, love, and success.
Born in Chicago, Illinois, in 1995, Herbert Randall Wright III is better known by his stage name, G Herbo.
In 2012, Herbo and fellow rapper Lil Bibby gained traction in the music world with their collaboration, "Kill Shit."
In 2014, he released his first mixtape, Welcome to Fazoland.
The tape was named in honor of Herbo's friend, Fazon Robinson, who lost his life to gun violence in Chicago.
Herbo has spoken out about the extreme gun violence in Chicago.
His 2020 album, PTSD, sheds light on some of the experiences he had while growing up in a violent town.
Enjoy these G Herbo quotes and lyrics!
Best G Herbo quotes about life
1. "Stay calm never panic I'm used to taking chances."– G Herbo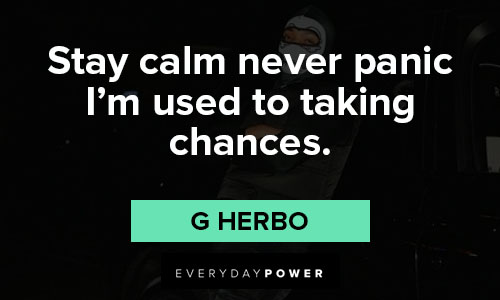 2. "Only way you gone die a gangsta is if you were born 1."– G Herbo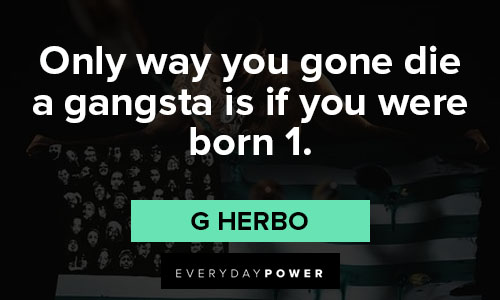 3. "I been on some real "aight bet" sh*t lately… everyone moving funny."– G Herbo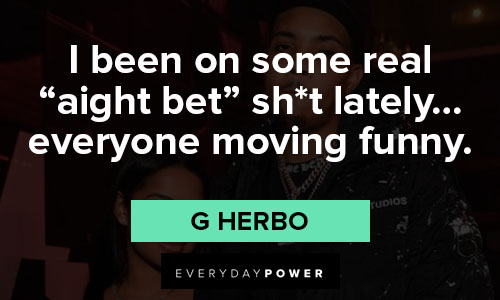 4. "I'd rather hear the truth even if it hurts then to be lied to…. Straight up."– G Herbo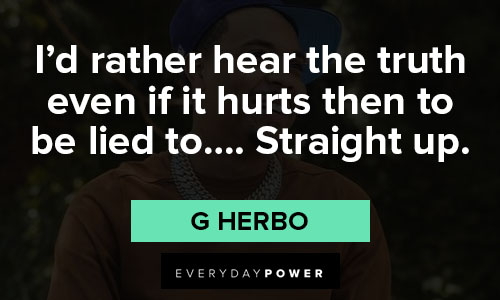 5. "I usually give people more chances than they deserve, but once I'm done, I'm done."– G Herbo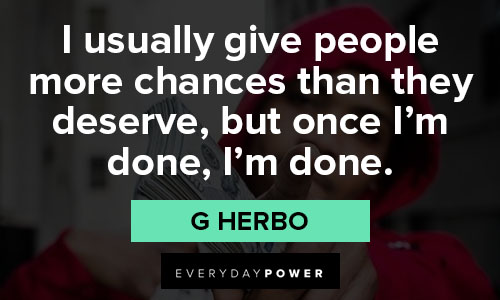 6. "Life is what you make it, just don't fake it."– G Herbo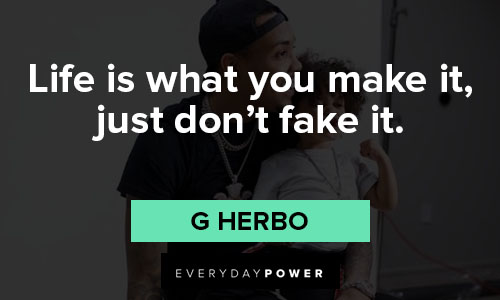 7. "Life too short, better not get caught up in your fu**ing ways."– G Herbo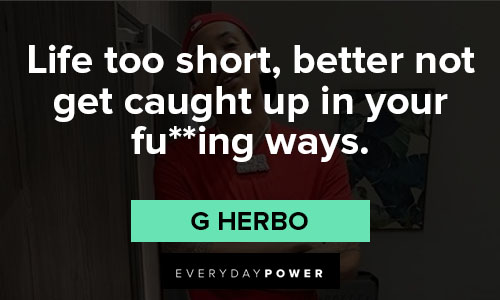 8. "You can't hold a man down without staying down with him again."– G Herbo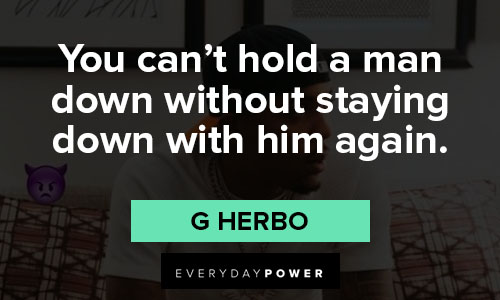 G Herbo quotes and verses about success
9. "I never lose I never finish last."– G Herbo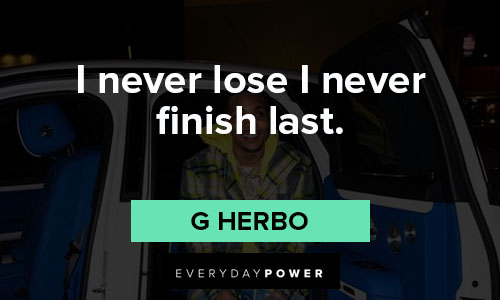 10. "Where I would I be without rap? Nobody really knows."– G Herbo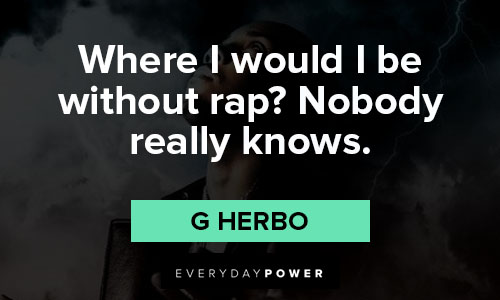 11. "Sometimes you just got to be like bet and leave sh*t alone."– G Herbo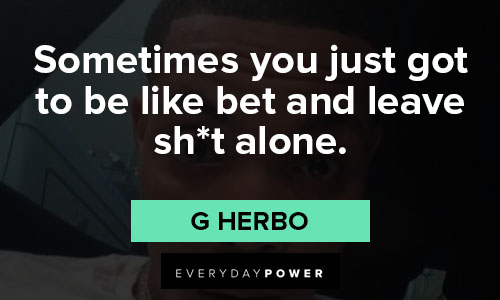 12. "I'm just a kid from the east side of Chicago thanks for the opportunity its all love."– G Herbo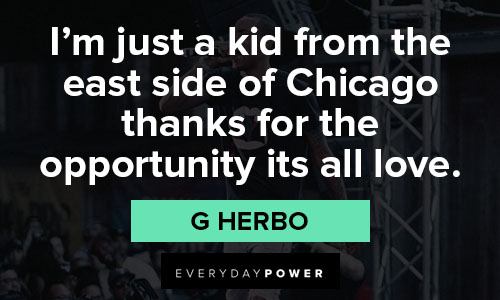 13. "Stay real and stay true. Regardless of how dirty people do you. That's how you really win."– G Herbo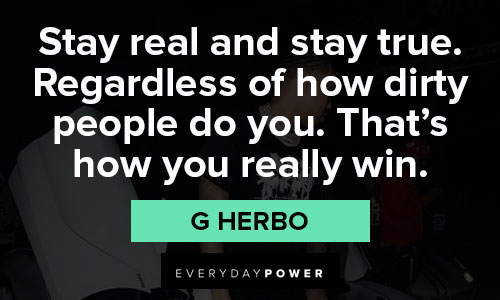 14. "Planning for the future is the key to success. of course I had a lot of fun making money and spending it, but I always made sacrifices to invest back into my career."– G Herbo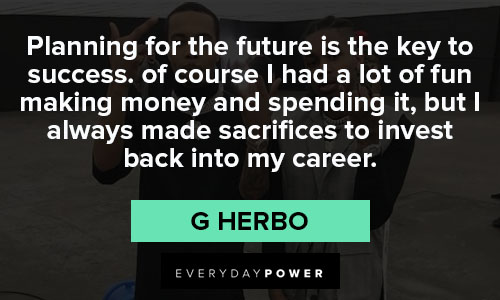 15. "Come from sacrifices hard work investments and time. hear my gut I follow it I'm never neglecting the signs. appreciate the lessons and the blessings I keep catching they're mine."– G Herbo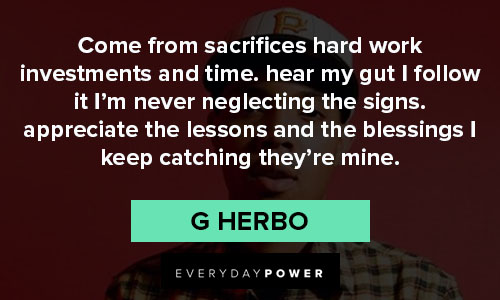 16. "Everything I wanna be. Gotta work 'til it come to me."– G Herbo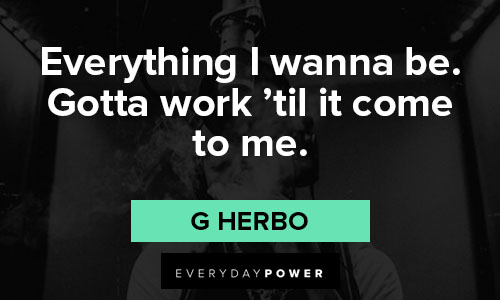 G Herbo quotes on love
17. "It was all off the love… I was all out with thugs!"– G Herbo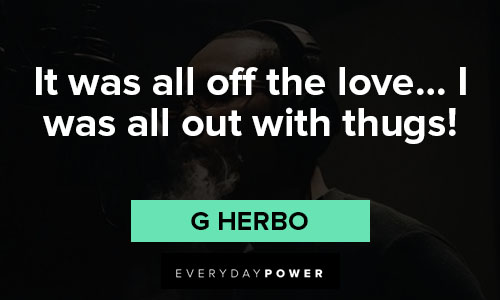 18. "Nobody cooked with me but I gave out my last spoon!"– G Herbo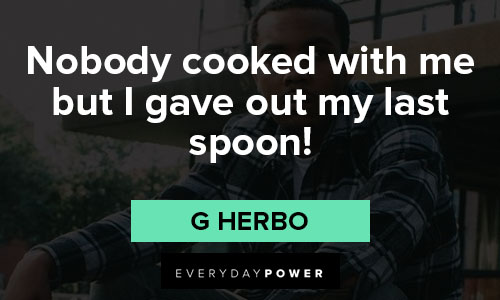 19. "Everything that glitters ain't gold but she got the brightest soul."– G Herbo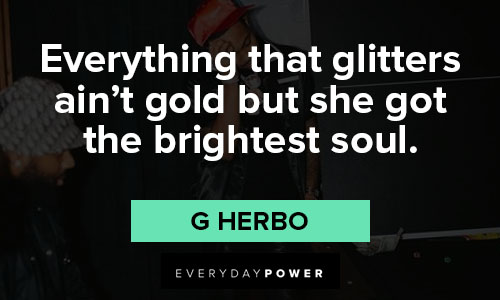 20. "I'm dangerous cuz there's nun I wouldn't do to make it back 2 you."– G Herbo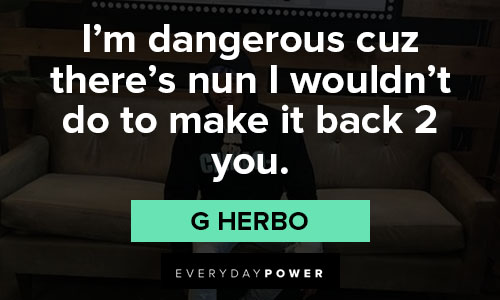 21. "I watched the person I was in love with show another mf with no hesitation the love I deserved, so don't ask me why I don't trust mfs."– G Herbo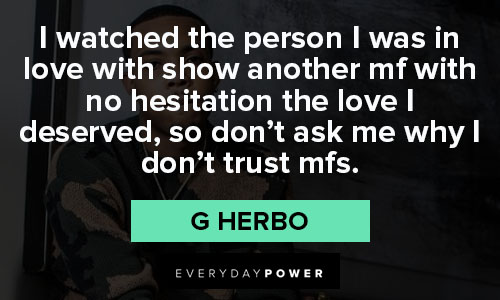 22. "They told me it was all love, but I love all."– G Herbo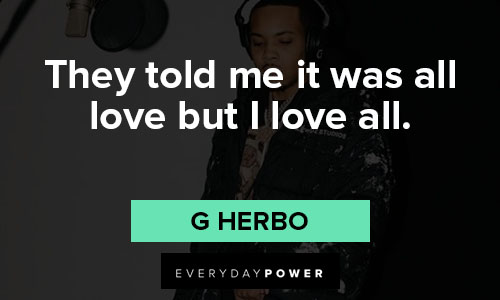 Wise G Herbo quotes
23. "I be there for everybody, I hold a lot in but when I am ready to talk. Ain't a soul here to listen."– G Herbo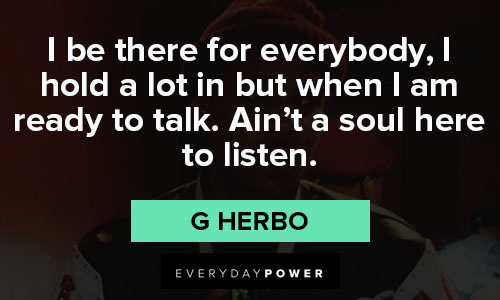 24. "Never stress over anyone who isn't stressing on you."– G Herbo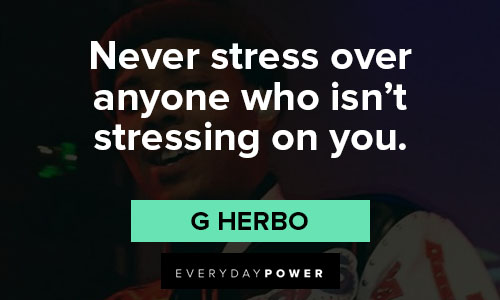 25. "Someone giving someone a second chance is like giving them an extra bullet for their gun because they missed you the first time."– G Herbo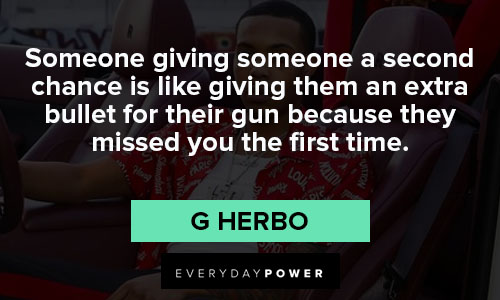 26. "Never force anything. Just let it be. If it is meant to be, it'll be."– G Herbo
27. "I did wrong on my own, learned lessons on my own. I've gotten over sh*t I thought I would never get over, lost people who I thought would be in my life forever so trust me when I say I'm good with or without you."– G Herbo
28. "Stop going out of your way for people who won't do the same sh** for you."– G Herbo
29. "Stop being loyal to mfs that's not even doing sh*t for you. You hustling backwards."– G Herbo
30. "In a world where words mean so little I try to be selective about the ones I choose to say."– G Herbo
31. "The choices you make can and will define you for the most of your life but even so don't let bad choices stop you from making better ones."– G Herbo
G Herbo quotes about family and loyalty
32. "Never go against the family."– G Herbo
33. "Don't be lame bro! Nobody likes lame."– G Herbo
34. "It ain't nothing wrong with seeing gangstas cry."– G Herbo
35. "I go insane with my gang but ima stronger loner."– G Herbo
36. "I'm prepared for anybody to switch up at any time."– G Herbo
37. "Just the way I carry my swag and I'm humble with it too."– G Herbo
38. "Looked down, looked around and you n*gga still clowns."– G Herbo
39. "Nothing is impossible with God. He can make a way for you."– G Herbo
40. "I'd say my style is all me, It's different from other artist even in my city or outside of my city."– G Herbo
41. "I don't really say or consider myself that like I won't say "yeah I'm the best, yeah I'm the hottest."– G Herbo
More G Herbo quotes and captions
42. "Keep yo circle small be careful who you trust 100 they gon love you when you down not when you up."– G Herbo
43. "You gotta choose your friend wisely because not to many people really down to ride when sh*I get real."– G Herbo
44. "Once you do me dirty, I may forgive you… but I'll never treat you the same. You'll never get the old me again."– G Herbo
45. "I'm a popular loner. I know a lot of people and a lot of people know me but my circle small and usually by myself."– G Herbo
46. "To my brothers and sisters what you're going through is not by coincidence. It's something out there greater for you! It's all up to you go to get what's yours."– G Herbo
47. "I just be needing space sometimes."– G Herbo
48. "To all my fallen squad, write your name across the sky."– G Herbo
49. "You ain't gotta grow up in the streets like I did, I lost the bestest of friends. I did make sacrifices for them."– G Herbo
50. "Only people I put my trust in is mine. Only people I'm stuck with is mine. And I only got money for mine."– G Herbo
Did you like these G Herbo quotes?
G Herbo's music has garnered critical acclaim with New York Magazine, Fader claiming that "Herb's way with words defies the stereotype."
In his 2020 album, PTSD, Herbo raps about the friends he has lost to gun violence.
He has been vocal about the extreme gun violence in Chicago, reflecting that violence is so normalized there, that no one thinks they have PTSD because, in reality, everyone has PTSD.
In 2020, Herbo launched the initiative, Swervin' Through Stress, a clinic that provides therapeutic resources to black kids to help with mental health.
Which G Herbo quotes and lyrics are your favorites?
Let us know in the comments below.