Jay-Z quotes about success, music, life, and the hustle
These Jay-Z quotes will challenge you to think past your struggles to achieve your dreams.
A man who is known the world around, Jay-Z didn't always have it all.
He started from the bottom, literally, and lived on to become one of the best entertainers the rap world has ever known—not to mention he is married to Queen Bey!
Jay-Z (born Shawn Carter) may have started out hustling in Marcy Projects in Brooklyn, NY; but he knew deep down, that he had greater things within him…
Starting with his first mix-tape, and his uncle stifling him, to his self-publishing his first album after being rejected by numerous record labels, Sean Carter has built himself into one of the wealthiest and most influential musicians in the last 15 years.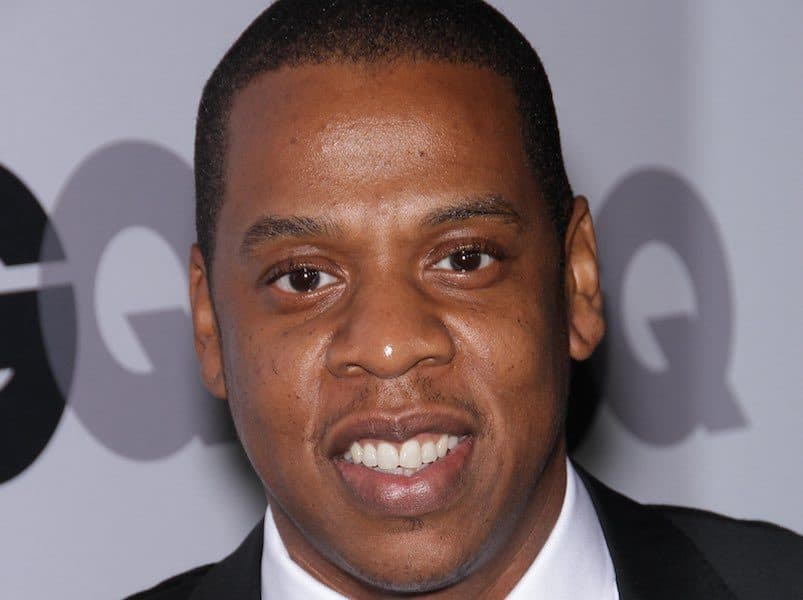 Connecting with a broad audience through his flows, and his storytelling prowess, he has inspired many from around the globe to get up, and hustle and grind to get their dream.
Also check out our selection of the best Nas quotes.
The Best Inspirational Jay-Z Quotes and Lyrics
1. "I'm not afraid of dying, I'm afraid of not trying." – Jay-Z
2. "Everyday hit every wave, like I'm Hawaiian. I don't surf the net, no I've never been on MySpace, too busy letting my voice vibrate, carving out my space in this world." – Jay-Z
3. "Only thing that's on my mind, is who's gonna run this town tonight." – Jay-Z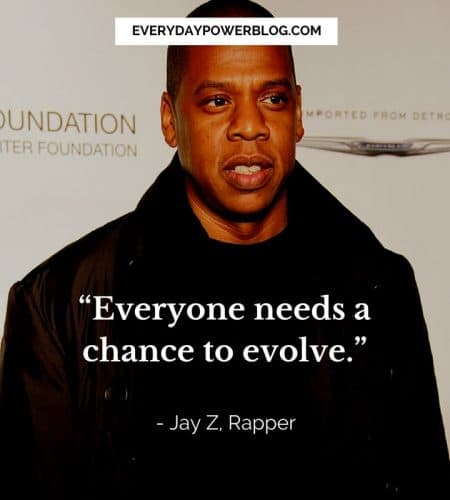 4. "Some said 'how'd you fly?' I said from not being afraid of trying to fly" – Jay-Z
5. "Next time you see the homie and his rims spinnin', just know my mind is workin' just like them…the rims that is." – Jay-Z
6. "We all have the same fear, the fear of failure. We all have the fear of failure…as someone successful the weight of all that you've done is on you." – Jay-Z, No Hustling Backwards
8. "The responsibility is to keep pushing it forward, and not relying on the same old gimmicks. You have to push it forward." – Jay-Z
9. "Do things that are true to you. Most things that I'm involved with is being creative and things that I like. Get involved with things that you love and be sure to have a standard and integrity with what you're doing." – Jay-Z
10. "Told me don't wait on nobody, go get your own, so it's me, myself, and my Microphone." – Jay-Z
11. "I'm feeling like the worlds against me Lord, call me crazy, cuz strangely I love the odds – they gunning for me, they want to see me fall, they know my story, I been through it all, nights I felt like dying, but I ain't crying, what didn't kill me, made me strong as I am. I am. I am." – Jay-Z
12. "There are 2 possibilities: 1 is that there's more to life than the physical life, that our souls 'will find and even higher place to dwell' when this life is over. It that's true, there's no reason to fear failure or death. The other possibility is that this life is all there is. And if that's true, then we have to really live it- we have to take it for everything it has and 'die enormous' instead of 'living dormant', as I said way back on 'can I live'. Either way, fear is a waste of time." – Jay-Z
11. "I try to work with brands that have some sort of partnerships there. I don't do one off deals, but try to work on partnerships as opposed to one off endorsement deals." – Jay-Z
12. "A wise man once told me luck isn't some mystical energy that dances around the universe randomly bestowing people with satisfaction and joy, you create your own luck." – Jay-Z, Law Of Attraction
13. "The truth about talent is first, that it's G-d Given. When you want to unleash that talent, your mind lets it go. Because its there. You have to have that belief that when you draw from that well of talent that it's going to be there." – Jay-Z
14. "I believe that the energy you put out in the world, you get back." – Jay-Z
15. "The record company would be my bridge to those people I could connect with, but they didn't give me that bridge, so it was very important part of my career that we didn't give up right there. That belief in myself, and belief that I had something to offer, so we built our own bridge, and I started my own record company." – Jay-Z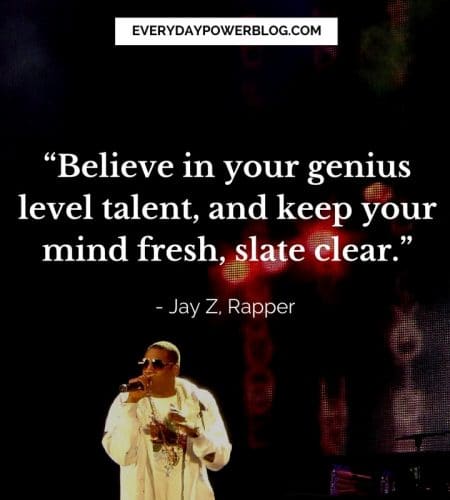 16. "Only two things can get you through this: that's patience and persistence." – Jay-Z
17. "They say you put the right artist with the right track in the studio, leave the door cracked, and let G-d in." – Jay-Z
Also check out these Nipsey Hussle Quotes Celebrating His Life and Music.
Jay-Z Quotes about Hustling
18. "You have to find your genius level talent, and then to apply it in a way that supports that genius level talent." – Jay-Z
19. "A wise man once told me don't argue with fools, because from a distance you can't tell who is who." – Jay-Z
20. "I've never looked at myself and said that I need to be a certain way to be around a certain sort of people. I've always wanted to stay true to myself, and I've managed to do that. People have to accept that. I collect art, and I drink wine… Things that I like that I had never been exposed to. But I never said 'I'm going to buy art to impress this crowd'. That's just ridiculous to me. I don't like my life like that, because how could you be happy with yourself?" – Jay-Z
21. "Always be inspired." – Jay-Z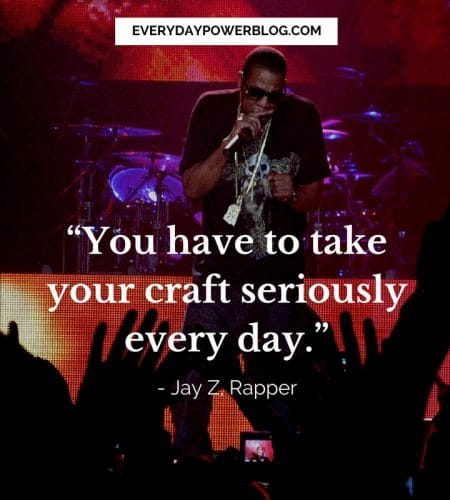 22. "By far for me the most important thing is inspiration." – Jay-Z
23. "I couldn't even think about wanting to be something else: I wouldn't let myself visualize another life. But I wrote because I couldn't stop. It was a release, a mental exercise, a way of keeping sane." – Jay-Z
24. "Whenever inspiration won't find you, you have to find it." – Jay-Z
25. "It was drive: we toured the whole eastern seaboard…we would just drive ourselves and do a show with just 20 people in the show." – Full Video Jay-Z on Law of attraction part 2 of 2
26. "You have to realize what's behind it (criticism), because I don't know these guys (critics), but I know it's more of a competitive thing, and it just comes with the job." – Jay-Z
27. "It's the discipline to not get caught up in the moment (fads), people tend to get caught up in emotions and jump on the next hot thing. So for me just to have the discipline and the confidence in who I am, and if I go into a studio and I find my truth for the moment, there are a number of people who can relate to what I'm saying, and what I'm doing. Not because it's the new thing, but because it's my genuine emotion, and how I articulate the world." – Jay-Z
28. "I'm inspired by life, and all sorts of things. You could say something right now and it would inspire me to write a song." – Jay-Z
29. "I have a lot of happiness, but that doesn't mean that the two (money and happiness) equate to each other…they're not tied to each other…"- Jay-Z
30. "Life is about balance, you have to have time for work, and time for play. If you don't allow these two things to co-exist you have an imbalance." – Jay-Z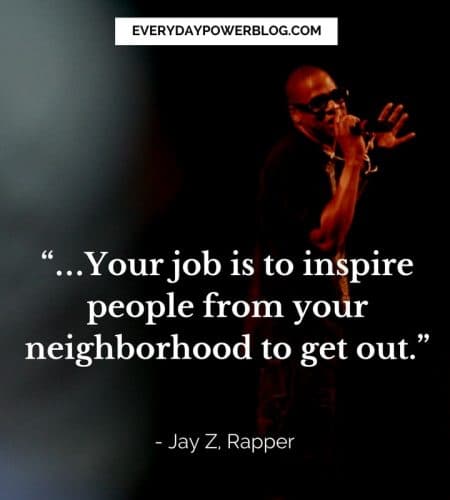 31. "Either love me, or leave me alone." – Jay-Z
32. "The genius thing that we did, was we didn't give up, we didn't say 'Because these guys…' we used that 'What do they know' approach, and didn't give up." – Jay-Z
33. "Instincts are really important in business. I didn't go to any business school 101 or anything like that, I pretty much just followed my instincts." – Jay-Z
34. "Most people that were successful growing up where I was from never came back. So there was never a dialogue on 'how did you do it' 'what happened' there was no mentoring program…no going back teaching a person a trade or what you do…so that's why I figured I'd started the school, because education is the answer." – Jay-Z
Have you seen these inspirational AZ quotes from his song lyrics?
More Amazing Jay-Z Quotes
35. "I'd rather live enormous than live dormant." – Jay-Z
36. "I see I said, jealousy I said, got the whole world mad at me, I said to my one of a kind self." – Jay-Z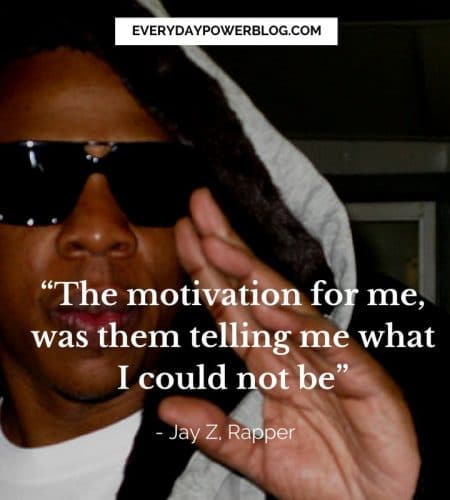 37. "It just got to a point where it was, like, "Make this decision, because this is something you really love and you love to do. It's time to really focus on and then get serious about it, give it your all." And once I did that, it was no looking back from there." – Jay-Z
38. "The thing that distinguished (Michael) Jordan wasn't his talent, but his discipline, his laser-like commitment to excellence. That's something I always respect, especially in people who have great natural talents already." – Jay-Z
39. "There are a lot of things that I lived in the street that helped me in the music business… I knew what characters not to have around me." – Jay-Z
40. "All my businesses are part of the culture, so I have to stay true to whatever I'm feeling at the time, whatever direction I'm heading in, and hopefully, everyone follows." – Jay-Z
41. "What you see is what you reflect. If you don't like what you see, then you've done something." – Jay-Z
42. "Then ask: 'Why is life worth livin'?' Is it to gun for the sh*t that you want? To receive is great, but I lust givin'" – Jay-Z
43. "Identity is a prison you can never escape, but the way to redeem your past is not to run from it, but to try to understand it, and use it as a foundation to grow." – Jay-Z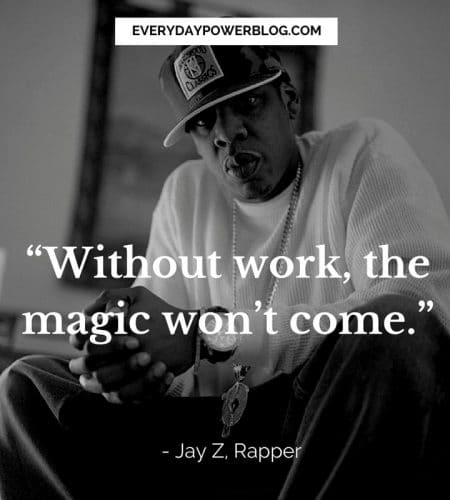 44. "It's always been most important for me to figure out 'my space' rather than trying to check out what everyone else is up to, minute by minute. Technology is making it easier to connect to other people, but maybe harder to keep connected to yourself – and that's essential for any artists, I think." – Jay-Z
45. "We change people through conversation, not through censorship." – Jay-Z
46. "When you step outside of school and have to teach yourself about life, you develop a different relationship to information. I've never been a purely linear thinker. You can see it in my rhymes. My mind is always jumping around, restless, making connections, mixing and matching ideas, rather than marching in a straight line. That's why I'm always stressing focus." – Jay-Z
47. "I come from a place where you had to keep your word, where people would stick with you no matter what…I just tried to be a man of my word." – Jay-Z
48. "Jealousy is a weak emotion." – Jay-Z
49. "Remind yourself, nobody's built like you. You design yourself." – Jay-Z
50. "Belief in oneself and knowing who you are, I mean, that's the foundation for everything great." – Jay-Z
If you're enjoying these quotes, you'll love our collection of Lil Baby quotes on wealth, music, and more.

Jay-Z quotes that will encourage you to achieve your dreams
51. "I believe excellence is being able to perform at a high level over and over." – Jay-Z
52. "People look at you strange, say you changed. Like you worked that hard to stay the same." – Jay-Z
53. "Money and power don't change you; they just further expose your true self." – Jay-Z
54. "Leave a mark they can't erase, neither space nor time." – Jay-Z
55. "A wise man told me don't argue with fools. Cause people from a distance can't tell who is who." – Jay-Z
56. "If people don't hate you, you're probably not doing very big things." – Jay-Z
57. "You learn more in failure than you ever do in success." – Jay-Z
58. "I'm like a dog. I never speak, but I understand." – Jay-Z
59. "I'm a hustler baby; I sell water to a well." – Jay-Z
60. "Don't tell me what was said about me… Tell me why they were so comfortable to say it to you." – Jay-Z
You might also like these hustle quotes to motivate and inspire your grind.
61. "Rap has been a path between cultures in the best tradition of popular music." – Jay-Z
62. "In the end, you can't censor the truth, especially when it comes packaged in hot music." – Jay-Z
63. "Only God can judge me so I'm gone, either love me or leave me alone." – Jay-Z
64. "Poet's mission is to make words do more work than they normally do, to make them work on more than one level." – Jay-Z
65. "Life is for living, not living uptight, see ya somewhere up in the sky." – Jay-Z
66. "You could name practically any problem in the hood and there'd be a rap song for you." – Jay-Z
67. "Everyone needs a chance to evolve." – Jay-Z
Did you enjoy these Jay-Z quotes?
Against all odds, including a close call of nearly getting stuck in jail, Jay-Z realized he had a gift, and he had to get it out to the world.
What's your wake-up call? What gift do you have that the world needs to have unleashed upon it?
Featured Image credits to ultra 5280 via Flickr.com
Image credits to Wikimedia Commons and Flickr.com
March 31, 2021 5:40 AM EST
Click to view