70 Grunge Quotes About the Music Pioneers of Guitar Sludge
The grunge era of music was a unique and deep musical movement, and these grunge quotes will make you want to turn up that alternative rock station.
If you didn't grow up in the late 80s or 90s, you might not be familiar with how grunge exploded into the musical scene.
At its core, grunge is an alternative rock genre.
Tell us your favorite grunge song in the comment section below.
What are the benefits of reading these grunge quotes?
Grunge had a rich subculture that emerged during the mid-1980s in the state of Washington, particularly in Seattle and nearby towns.
The musical elements of grunge came from punk rock and heavy metal but left behind punk's structure and speed.
Thankfully, they also ditched the glam hair of the 80s rock bands…
Some of the era's most popular bands include:
Soundgarden
Pearl Jam
Alice in Chains
Stone Temple Pilots
Mudhoney
Hole, Silverchair, Pixies, and Bush were some of my favorites!
I have always considered Nirvana to be the band that was the face of grunge, so it was weird seeing how many of these grunge quotes claimed Nirvana "is not grunge."
Of course, they are!
Keep reading for more about grunge and how it changed the fashion world and impacted other musicians.
Don't forget to check out these rock and roll quotes that music fans will enjoy.
If you like this article, we suggest you explore our most popular quotes article, a list of short inspirational quotes for daily encouragement.
Look through our complete collection of inspirational quotes here.
Short grunge quotes that are perfect for Instagram
1. "Grunge is a hippied romantic version of punk." ― Marc Jacobs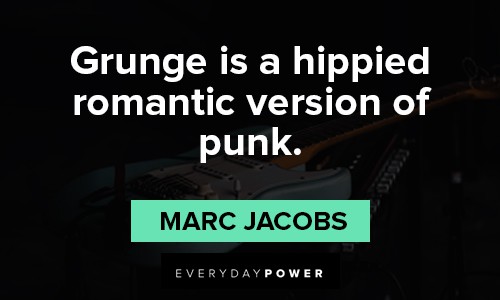 You will also enjoy our article on Rock & Roll quotes.
2. "I'm the mold that grunge was grown in." ― Townes Van Zandt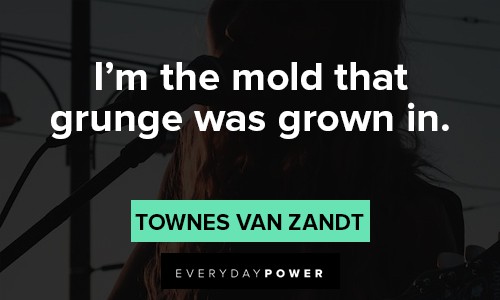 You will also enjoy our article on Sonic quotes.
3 "I don't know much about that whole grunge thing." ― Todd Snider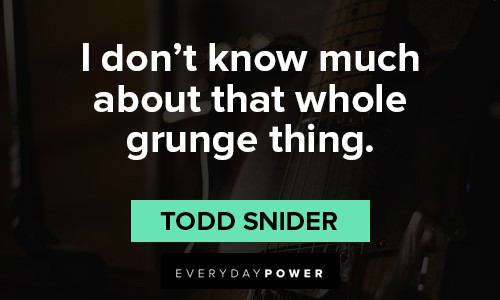 4. "What I liked about grunge was the realness. It wasn't pretty, it wasn't glamorous." ― Sir Mix-a-Lot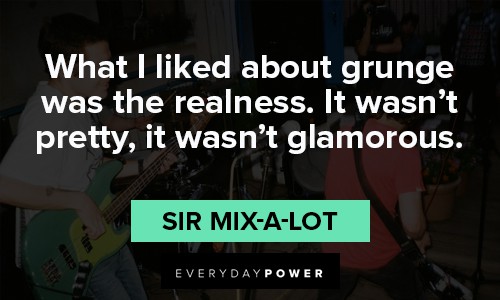 5. "The world is a pile of grunge." ― Jo Stafford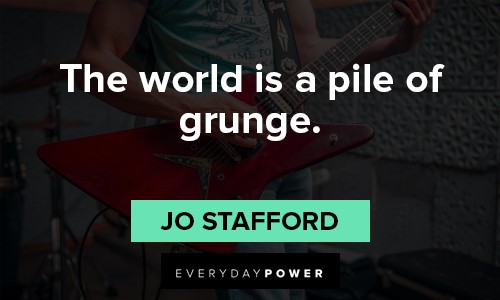 6. "Punk came along and grunge made guitar solos uncool." ― David Pajo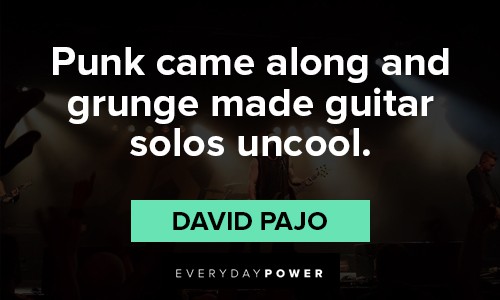 7. "I'm like pixie grunge. The perfect blend of sugar and spice." ― Rico Nasty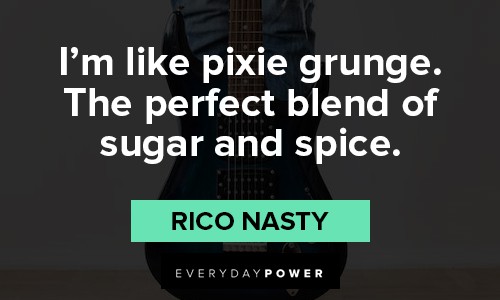 8. "Some of my early musical memories are attached to grunge." ― Mike Posner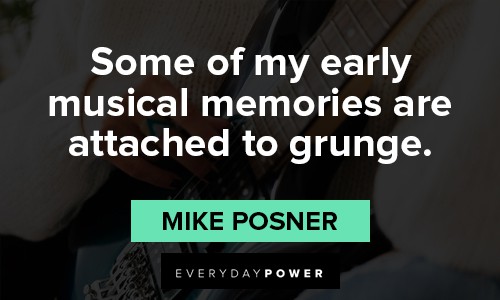 9. "I was a failed grunge kid who was too nerdy to totally get down with rock." ― Oneohtrix Point Never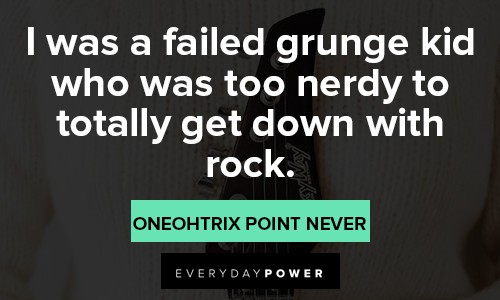 10. "The grunge scene is not what I'm interested in." ― Frances Bean Cobain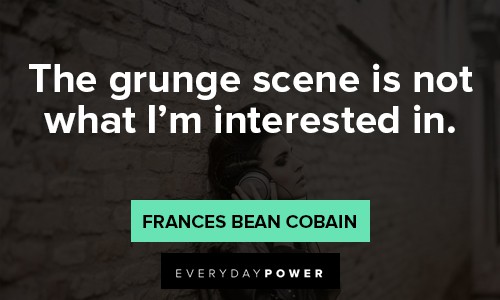 Grunge quotes about Nirvana and Kurt Cobain
11. "I seriously do not think Nirvana is grunge." ― Adam Jones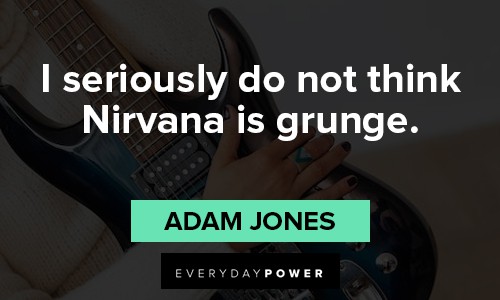 12. "I wanted to kill Auto-Tune like Kurt Cobain killed the hair bands." ― Jay-Z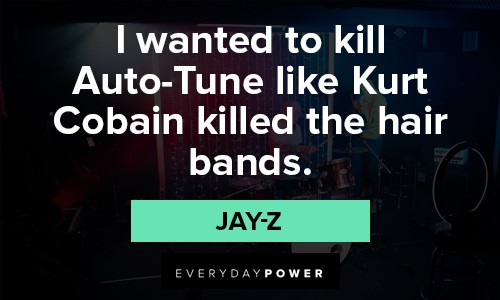 13. "People act like Nirvana invented grunge; they just took it and personified it." ― Billy Corgan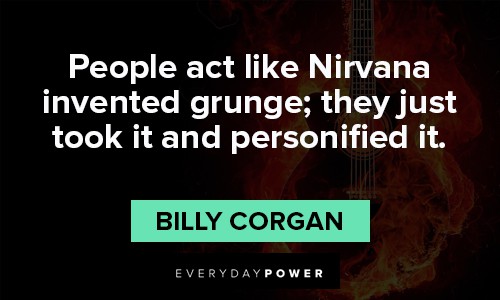 14. "Grunge, like Nirvana and all that. Heavy metal, Iron Maiden, Metallica, Guns and Roses, drum and bass. But the energy in that music, I love it." ― Dizzee Rascal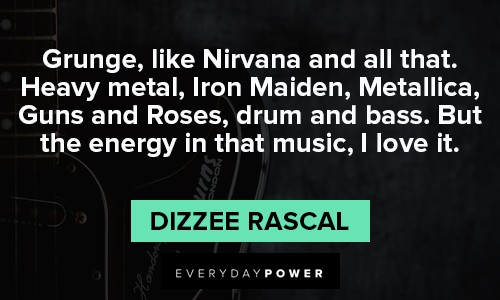 15. "I was big into grunge, like Nirvana and Hole, when I was younger, which has been a really huge inspiration because of its rawness and honesty." ― Tove Lo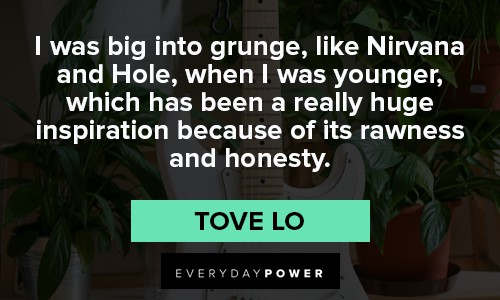 16. "Nirvana was a band that led you somewhere, as opposed to all the grunge bands that began and ended with themselves." ― Jens Lekman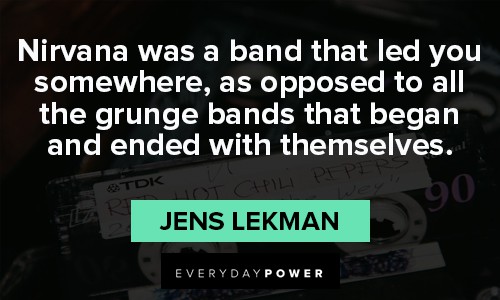 17. "I thought the grunge scene was cool. This is going to sound weird, but I remember doing a concert at a tavern in the mid-'80s with Nirvana." ― Sir Mix-a-Lot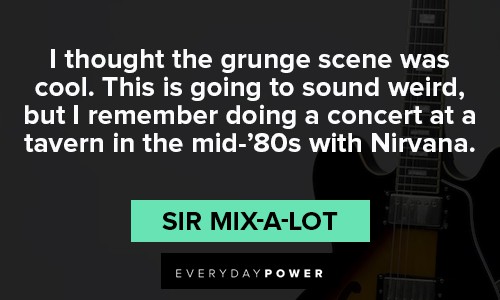 18. "My exposure to independent music was via Nirvana and grunge so I'd never gotten into punk. I don't really like that music of Crass, but I love the band, and I love their way, and their presentation." ― Phil Elverum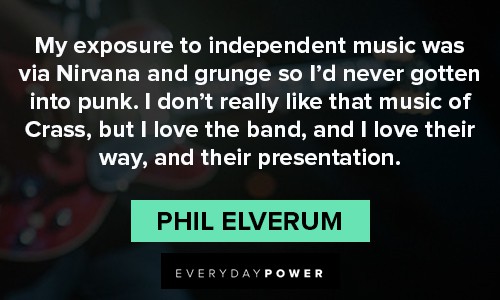 19. "It's all magic to me. Country to punk rock, all of it. Chopin to Kurt Cobain. But it always all comes back to punk for me, because that was the last time, punk rock or grunge rock, was the last time that passion ruled the airwaves." ― James Marsters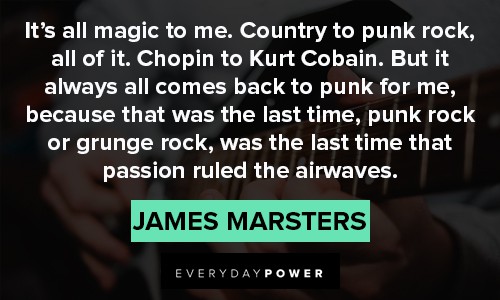 20. "People misinterpret my emotions towards Nirvana because I've said things about how something happened with grunge that took a little bit of fun out of things. It's no offense to Nirvana; they were one of the greats, obviously. But something died there, too, and we haven't quite gotten the groove back." ― Brandon Flowers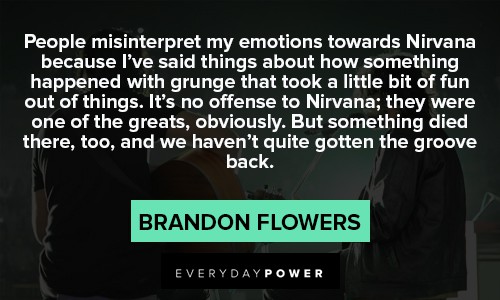 Grunge quotes about the aesthetic and fashion
21. "My fashion icons range from bubblegum pop princesses to grunge queens." ― Kerli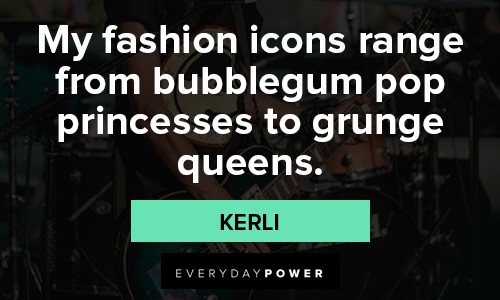 22. "Exactly. You had to dress in flannel, and if you were a grunge band, before the grunge thing took off and you said you were METAL." ― Charlie Benante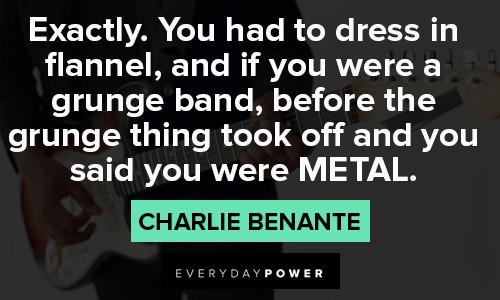 23. "When you're in a band – before it got to grunge – you dressed the bit. So yeah, I've always had an attitude with the clothes." ― Ringo Starr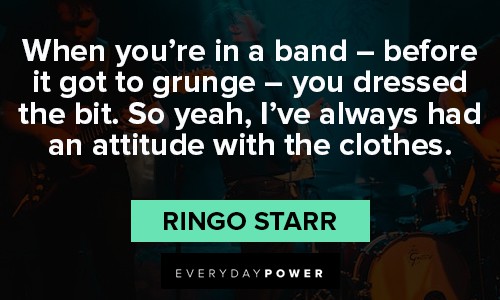 24. "The grunge thing was a little bit atrocious. 'Let's all put on plaid shirts and be as dirty as possible!'" ― Neve Campbell
25. "I grew up in the 90s in the time of grunge when if you didn't go on stage in jeans and a T shirt you weren't 'real.' That seemed ridiculous to me." ― Jack White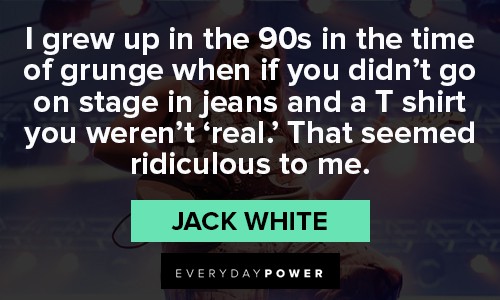 26. "I have a lot of looks, but right now I'm really into grunge. Messy hair, black heels. I get Michelle Pfeiffer with it." ― Chloe Grace Moretz
27. "The word 'grunge' became a household term, and fashion runways were filled with flannel shirts and long underwear." ― Dave Grohl
28. "I'll admit it, the grunge trend doesn't really speak to me. I get why other people like it, but it's just not my style. Don't get me wrong, I love layering, but I like it when it is done with a little more polish and sophistication." ― Nina Garcia
29. "I experimented with fashion as it being more like art, allowing what I wore to express what I was feeling on the inside. Androgyny, rock culture, and grunge – they definitely had an effect on the things that made me feel cool and comfortable." ― Ruby Rose
30. "I like women who look like women. I hated grunge. No one's more feminist than me, but you don't have to look as if you don't give a – you know. You can be smart, bright, and attractive aesthetically to others – and to yourself." ― Catherine Zeta-Jones
31. "I find it interesting where grunge originated from and then where it was taken, which was high fashion. My dad was so poor that they kept going to Goodwill to get donated ripped jeans. It wasn't a fashion decision; it was an 'I don't have any money, I have no other choice' type of decision." ― Frances Bean Cobain
Grunge quotes about the Seattle scene and Rock
32. "I absolutely think the Seattle grunge sound was instrumental to my music education." ― David Cook
33. "As far as the grunge thing, there are three bands from Seattle that I would call true grunge." ― Adam Jones
34. "Doolittle was a major influence on the Seattle grunge scene, which emerged in the early 1990s." ― Joey Santiago
35. "What people don't realize is that the so-called Seattle grunge scene grew out of several close-knit gourmet supper clubs…" ― Kurt Cobain
36. "Best two rock voices I've heard in a last few years both have been from grunge bands: it's Eddie Vedder and the other one is Chris Cornell from Soundgarden." ― Bruce Dickinson
37. "When it comes to grunge or even just Seattle, I think there was one band that made the definitive music of the time. It wasn't us or Nirvana, but Mudhoney. Nirvana delivered it to the world, but Mudhoney were the band of that time and sound." ― Eddie Vedder
38. "When I came out with 'Posse on Broadway,' I decided, enough with trying to imitate New York, enough with trying to imitate L.A., let's just be Seattle. And rock, grunge, followed right after 'Posse on Broadway' and Seattle just exploded." ― Sir Mix-a-Lot
39. "I don't want to pooh-pooh modern pop. I appreciate that as well, but my personal favorite kind of music is guitar-based rock. I like grunge and garage bands and alternative music, but that's more my personal taste." ― Al Yankovic
40. "We had a wonderful time with this kind of grunge awareness, where suddenly rock was cool again. People wanted to hear loud guitars. It was a great time, and I'm glad we were there. But the gimmick part has worn off." ― Billy Corgan
Grunge quotes about the musical movement
41. "Grunge, man, that was incredible. It was dangerous… Songs could be short, long, a lark, majestic. You were constantly being surprised." ― Martin Popoff
42. "There hasn't been anything real since grunge. That was the last movement led by music or an art form." ― Daphne Guinness
43. "Heart weren't part of a movement like grunge; we were our own kind of movement." ― Nancy Wilson
44. "I love what Alabama Shakes is doing – it's kind of like what grunge did to rock 'n' roll, they're doing to R&B." ― John Oates
45. "I grew up on, and kind of came of age, during the grunge movement and was introduced to Neil Young and Bob Dylan and grew up on that path." ― Jim James
46. "Every once in a while, we have some sort of movement in music that everyone suddenly wants to work in, like grunge or rap or disco or some other musical phase, and then suddenly, that'll be the thing to do." ― Todd Rundgren
47. "Something happened in the nineties. There was a shift. I don't want to blame it on grunge or the rise of indie – but that was basically it. It was seen as dirty and kind of ignorant to have these ambitions, to want to be a big band." ― Brandon Flowers
48. "I grew up in the grunge era. I've always resisted the idea of being part of a machine, wanting just to be an artist in my own right. But at some point, I just realized shutting things out took more energy than just letting it in." ― Kevin Parker
49. "Grunge was, to me, the last big movement. It had such an impact on pop culture. We haven't really seen anything like that since, and we may never again. Things have changed; the digital age has changed things." ― Myles Kennedy
50. "Musicians are often asked to answer for an entire culture, or for an entire movement. It's a process of commodification. It becomes packaged and summarized in a word like 'emo' or 'grunge'… or 'folk music.' I think that's just language itself, trying to understand the mysteries of the world." ― Sufjan Stevens
Grunge quotes and how people got exposed to this genre
51. "I had phases of listening to rap and trap, and then I had phases where I'd listen to post-hardcore, rap, grunge, metal… all that. I had different time periods of listening to different music. And now it all clashes together." – Juice Wrld
52. "All the skateboarding brands that I was into had graphic T-shirts. In the '90s, there were different styles that went along with the different influences in skateboarding, whether that be hip-hop or rock and roll and grunge. And that's what I was into, so I was following all that." – Virgil Abloh
53. "What was interesting about grunge was that it was this death sentence to the rock that had preceded it, which was hair metal." – Mike D
54. "It's like, what happened, I was always leading fashion, and then the grunge thing kind of came along. And because I've been so on top in the '80s, you know, I, you know, what can I do? Suddenly go grunge?" – Billy Idol
55. "My first band was called Nubert Circus, a very embarrassing, dumb name. It means nothing. We were kind of grunge. I would say we were more funny punk, a lot of songs about food and stuff like that." – Phil Elverum
56. "If someone says 'grunge' or 'punk,' you know what the sound is, but if you say 'No Wave,' it's kind of mysterious. That was the most interesting part and should have been the most inspirational thing about it… here's this collective sonic insanity, and none of it sounds anything alike." – Lydia Lunch
57. "I started a big band when grunge was popular. I mean, that didn't make much sense." – Brian Setzer
58. "With Pantera, we lived through so many trend-of-the-day situations – when grunge was huge, we were still a heavy metal band; when hip-hop started getting incorporated into metal, we stuck to our guns and remained a heavy metal band very purposefully." – Phil Anselmo
59. "I went to stand-up when my rock n' roll dreams weren't coming true. I knew it wasn't going to happen when I was in a New Wave band in 1992 – at the height of grunge. Then I heard No Doubt's 'Spiderwebs' and I said, 'Well, we're done.'" – Greg Behrendt
60. "I'm too young to have experienced firsthand the '70s rock, but when I was in high school, me and my friends were super into Neil Young. That was the grunge era, and he was considered cool again." – Bryan Lee O'Malley
Grunge Quotes To Bring Back Rock Memories
61. "Maybe people are finally tired of watered down grunge rock on the radio." ― Brian Chippendale
62. "Never had a ska phase, but I was in a very grunge-like rock band that awkwardly had an alto sax in it." ― Colin Stetson
63. "I got introduced to the rave scene in 1992. At the time, I was into skateboarding; I listened to a little hip-hop but was mainly into heavy metal and grunge." ― Pedro Winter
64. "I've always believed that we could reach past genres — we didn't ride the grunge coat-tails; we've always been on our terms." ― Billy Corgan
65. "No band on 21st-century radio has mined pre-grunge hair-metal's sleaze like L.A.'s Buckcherry. So it makes poetic sense that they'd spend their sixth album tallying all seven deadly sins." ― Chuck Eddy
66. "If punk was about getting rid of hippies, then I'm getting rid of grunge." ― Damon Albarn
67. "Link Wray… He was the beginning of Grunge, way before anybody you know." ― Neil Young
68. "Yes, I would say my comedy is grunge, evidenced by the fact my jokes have put an end to big-hair glam comedy." ― Joel McHale
69. "I'm not an '80s fan. I'm more of a '70s New York pre-punk kind of thing, and I guess I grew up with '90s grunge, post-punk pop music." ― Jessica Pare
70. "I love all the '90s kind of grunge, and I love classic rock: That's where the spectrum lies." ― Taylor Momsen
Is Nirvana Grunge or Not?
I find it funny that people don't consider Nirvana to be a grunge band.
The term "grunge" was first used to describe the murky-guitar bands in Seattle.
Nirvana and Pearl Jam were the most notable of the group!
Grunge helped put Seattle on the map, as did the Microsoft Corporation's recent growth (feel old yet?).
The economy in Seattle was booming, and executives were looking for the next big thing.
Then came the mix of heavy metal and punk.
Grunge combined guitar distortion (sludge) with anguished vocals.
The lyrics were raw, heartfelt, and filled with angst.
The sound was perfect.
Grunge didn't just stop at the music. It spurred a fashion trend, too!
Those Doc Martens my daughter is obsessed with wearing right now?
Yup, a grunge staple, along with some ripped jeans and layered shirts.
Let us know your favorite fashion piece or song from the grunge era in the comment section below!
If you feel you must explain why Nirvana is not grunge, you can also use the comment section to make your point (even if it's wrong!).