36 Dogecoin Quotes About the Cryptocurrency Being Called 'The People's Crypto'
What are your thoughts on Cryptocurrency?
Read through these dogecoin quotes and share your thoughts in the comments.
Dogecoin fever is sweeping the investment world, with many people asking themselves whether they should invest in Dogecoin stock.
The cryptocurrency started as a joke when software engineer Billy Markus and co-founder Jackson Palmer created it based on the memes of a smiling Shiba Inu, who "spoke" in broken English, pronouncing the word dog as "dohj."
Back in 2015, Billy purchased a Honda Civic with his Dogecoin, after becoming tired of the harassment he received from the crypto community.
The cryptocurrency received some backlash in the community because, unlike Bitcoin, there is no limit to the amount of Dogecoin that can be created.
Now, Dogecoin has reached an almost unimaginable market capitalization of $9.1 billion, with everyone from Elon Musk to Mia Khalifa having something to say about it.
Some of these Dogecoin quotes will make you laugh (and I highly recommend checking out some memes) while others will help you decide whether to take a risk and invest in a few shares.
Don't forget to also check out these money quotes celebrating financial literacy and independence.
Check out our most popular quote article, a list of short inspirational quotes for daily inspiration.
Explore our complete collection of motivational quotes here.
Tweets and Dogecoin quotes from Elon Musk and Mark Cuban
1. (Dogecoin is) "the people's crypto." ― Elon Musk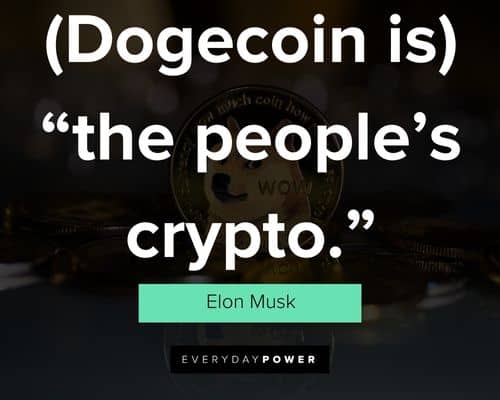 You will also enjoy our article on crypto quotes.
2. "Dogecoin might be my fav cryptocurrency. It's pretty cool." ― Elon Musk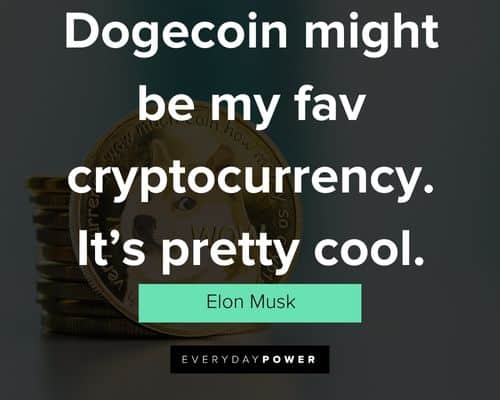 You will also enjoy our article on Guy Fieri quotes.
3. "SpaceX is going to put a literal Dogecoin on the literal moon." ― Elon Musk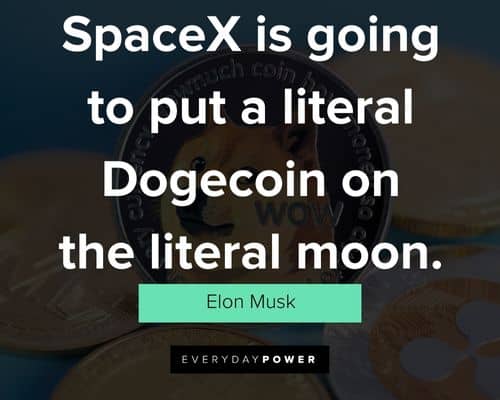 4. (Dogecoin is) "on the verge of getting broad acceptance," (in finance). ― Elon Musk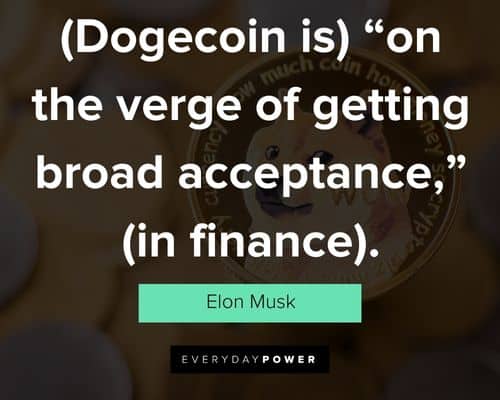 You will also enjoy our article on Sailor Moon quotes.
5. "But fate loves irony. The most entertaining outcome and the most ironic outcome would be that Dogecoin becomes the currency of Earth in the future." ― Elon Musk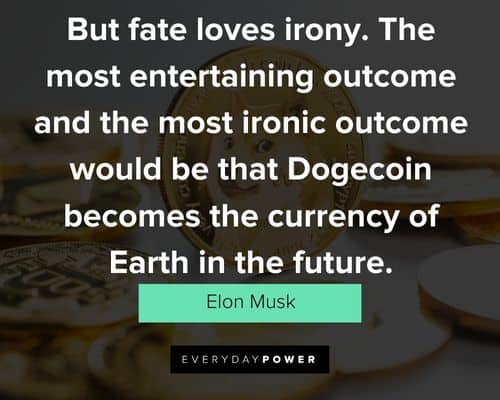 6. "If I had to choose between buying a lottery ticket and #Dogecoin ….. I would buy #Dogecoin. But please don't ask me to choose between it and anything else." ― Mark Cuban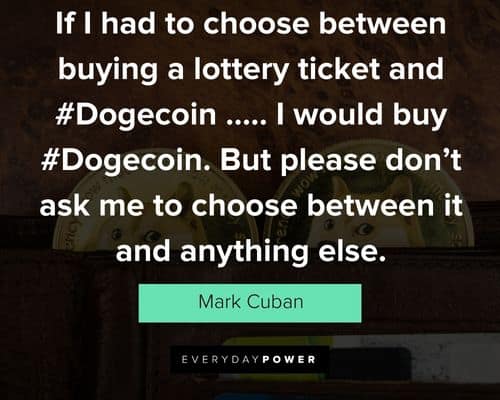 7. "FYI, the Mavs sales in @dogecoin have increased 550pct over the past month. We have now sold more than 122k Doge in merchandise! We will never sell 1 single Doge ever. So keep buying." ― Mark Cuban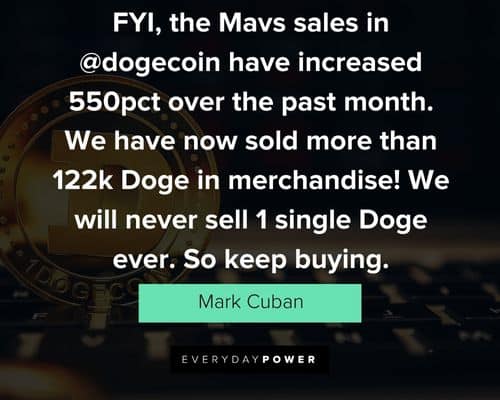 8. "Dogecoin is worth less than a dime. You can buy $1 worth or $10 worth and have fun watching it all day. I bought a few dollars worth for my son and we watch it and discuss all its price movements and why they occur. It's fun, it's exciting and educational for him." ― Mark Cuban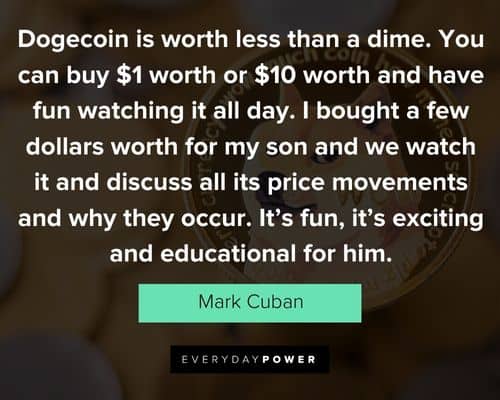 Dogecoin quotes from other celebrities
9. "All I'm saying… $doge." ― Kevin Jonas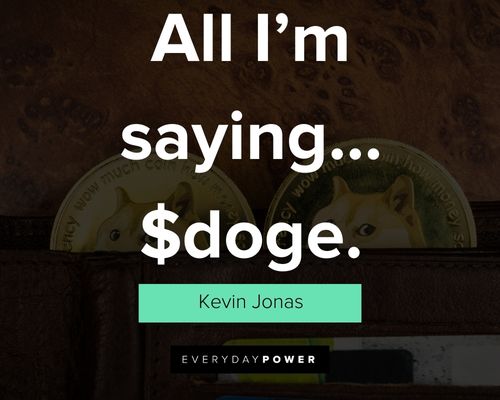 10. "Rollin' out to the MOON #Dogecoin." ― Guy Fieri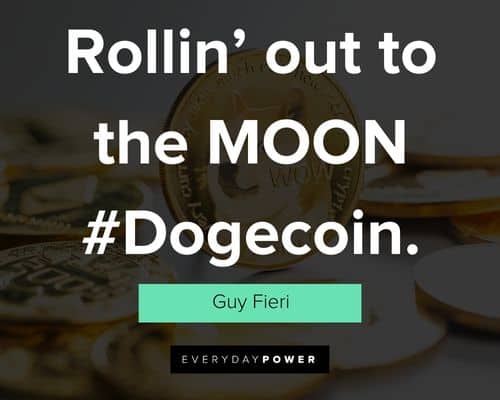 11. "HODLing my $Doge since 2014." ― Angela White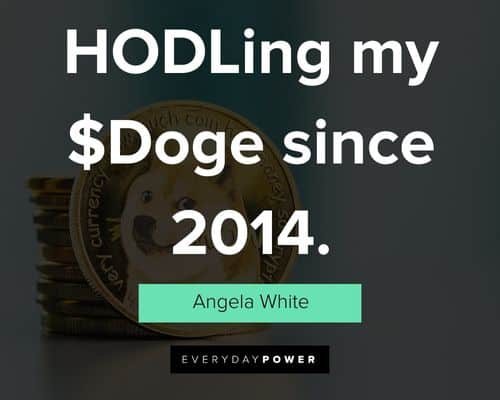 12. "What goes down…. must go up #Doge." ― Ben Phillips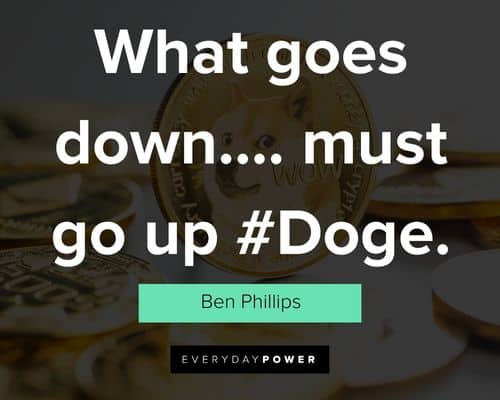 13. "Okay, I caved and bought the dog stocks lmaoooooo." ― Mia Khalifa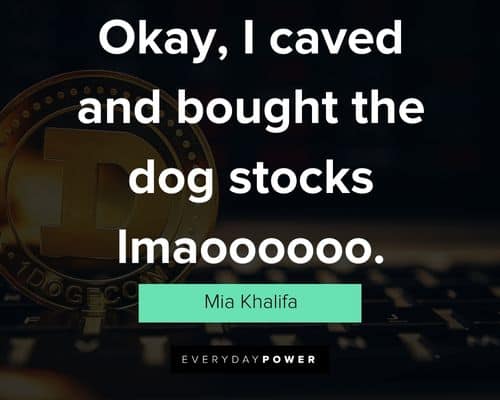 14. "$DOGE TO THE MOON AND WE NOT COMING BACK." ― Lil' Yachty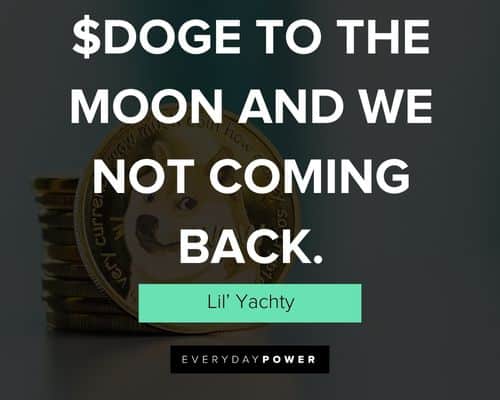 15. "I'm not recommending, nor am I not recommending, but yes, I bought a big position in Dogecoin. And yes, I'm a Hodler. FUM." ― Gene Simmons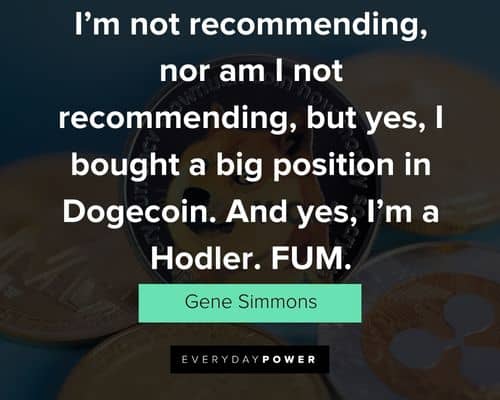 16. "When I was 16 I invested my entire first Vine brand deal into #Bitcoin when it was worth $100. After 8 years of holding, it's now worth $46,000. #Doge is Bitcoin's younger brother… they have the same potential… it's still early." ― Jake Paul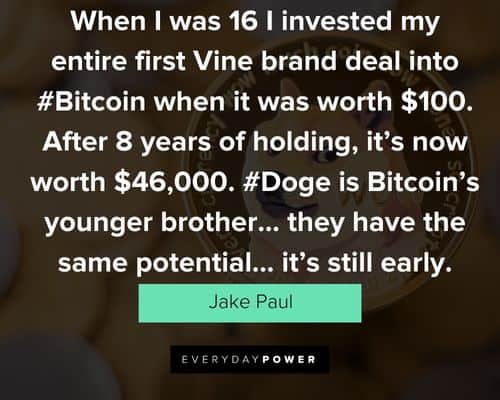 Dogecoin quotes from financial experts
17. "The sentiment seems to be: Bitcoin is for the wealthy, Ethereum for the middle class, and Dogecoin is for the people." ― Eric Berman, senior legal editor of US finance at Thomson Reuters Practical Law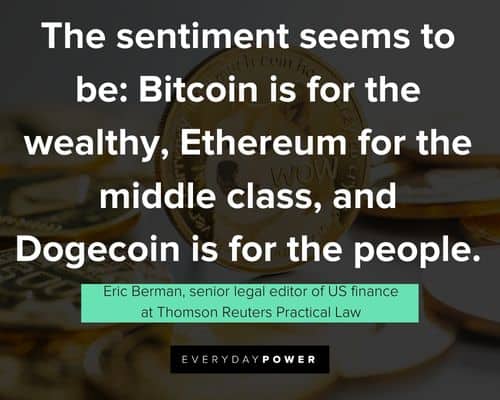 18. "Dogecoin is gaining traction because it is still relatively cheap and people who may feel like they missed out on the upside of Bitcoin are thinking that perhaps this is their shot." ― Eric Berman, senior legal editor of US finance at Thomson Reuters Practical Law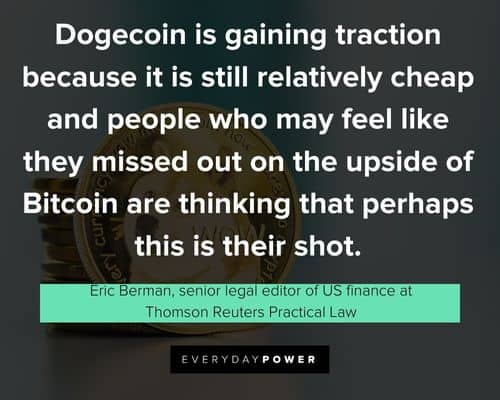 19. "While the Coinbase listing brought attention to crypto as a whole, for DOGE, it was a combination of Elon Musk's tweets, as well as WallStreetBets' recent interest in crypto that really kicked off this rally." ― Jason Lau, the chief operating officer at OKCoin, an exchange based in San Francisco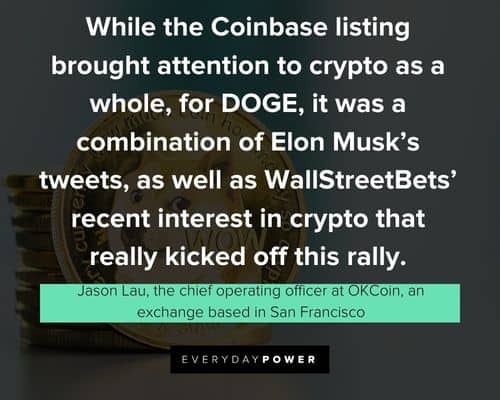 20. "Many people view Doge as the 'people's cryptocurrency' because it was created as a joke. Major players and corporations are unlikely to buy in and manipulate the market or understand that it could be a viable currency. Elon has echoed this sentiment. These factors have created a perfect storm for Doge, pumping the price to where it is today." ― Ben Weiss, CEO at the bitcoin ATM operator CoinFlip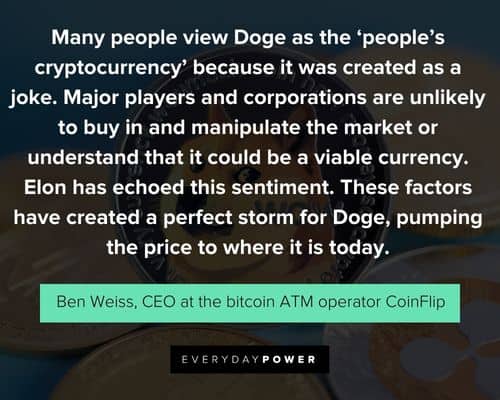 21. "Dogecoin is a lighthearted and authentic community built upon a serious cryptocurrency infrastructure. It fills a niche that BTC and ETH do not. Its lightheartedness also makes it perfect for sending a message to the current financial establishment, which is anything but lighthearted. The more that the financial establishment is dismayed, the better." ― Richard Smith, investing and risk expert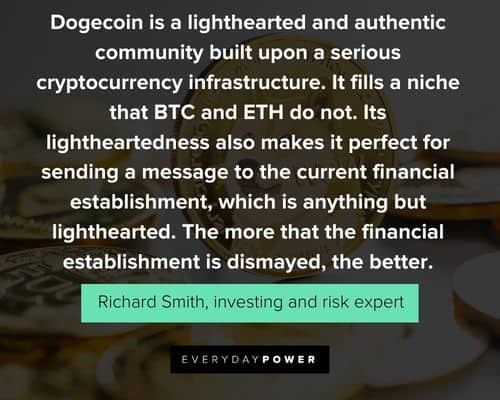 22. "The overarching narrative behind the coin's 30x run this year is a protest against systemic inequities in the traditional financial industry – Dogecoin is, after all, the original 'meme asset.' This is an extension of the value that cryptocurrencies derive from vibrant and growing communities that give rise to network effects." ― Thomas Perfumo, head of business operations and strategy at Kraken Digital Asset Exchange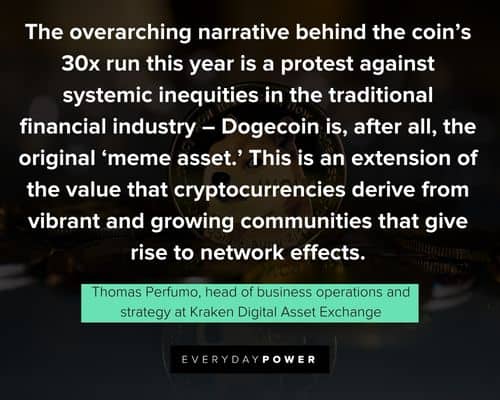 Dogecoin quotes that illustrate how investing in the stock is either emotional or fun
23. "Doge was really started to poke fun at Bitcoin." ― Pat White, CEO of Bitwave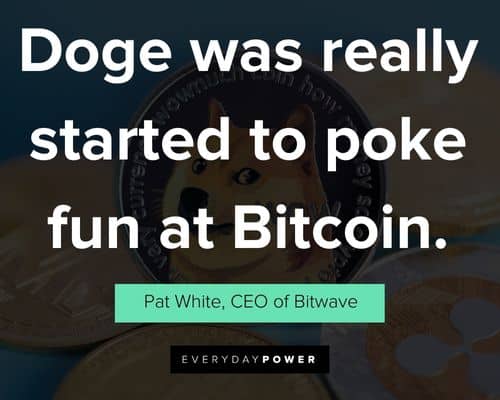 24. "Dogecoin has been an interesting development for traders. It's funny when you think about the fact that Dogecoin was initially created as a joke based off a meme." ― Julian Hosp, CEO, and co-founder of Cake DeFi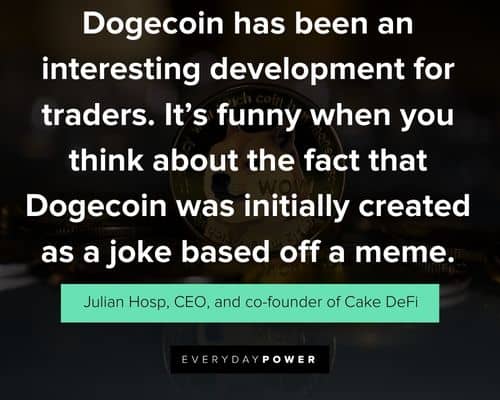 25. "It really goes to show the power and influence of social media and the 'meme community' as a legitimate driving force behind the currency's adoption and enduring popularity." ― Julian Hosp, CEO, and co-founder of Cake DeFi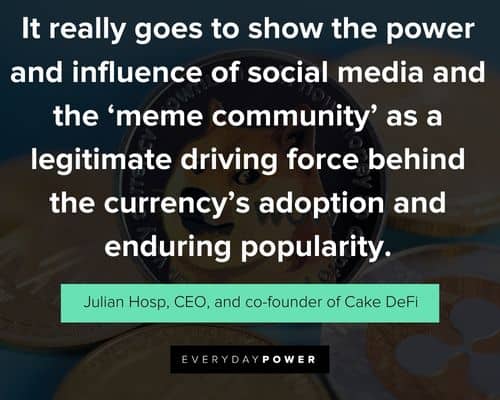 26. "It's a testament to how far narratives, memetic themes, and flows drive markets rather than fundamentals. In the old paradigm, fundamental value would provide a magnet for prices to gravitate towards. In the new paradigm, it is all about flows – the order book, the buyers and the sellers." ― Roshun Patel, a vice president at the digital-currency prime broker Genesis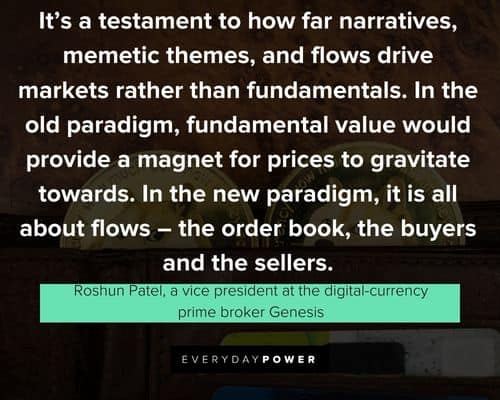 27. "I am quite confident that there is no real background to the current phase of Dogecoin's growth. The rate is currently related to the general mood of investors on the crypto market and is a kind of indicator of the emotional state of market participants, reflecting their expectations." ― Maria Stankevich, the chief business development officer at the crypto exchange EXMO UK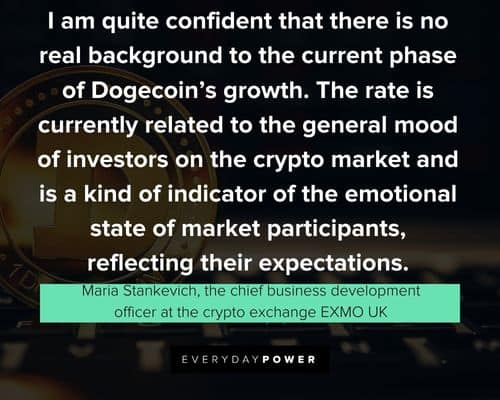 28. "The latest uptick in Dogecoin's price isn't indicative of any meaningful value the cryptocurrency offers, it's just a surge in interest from people looking to get rich quick. That can make for a fun bet, but it's not good investing. And if you're the one left holding on to the coins when the market tanks, you may regret taking a punt in the first place." ― David Kimberley, an analyst at the UK investing app Freetrade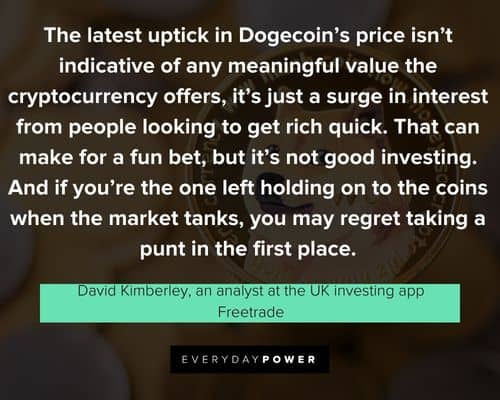 29. "It's moved by headlines, tweets, celebrity, or corporate endorsements and while that's likely belittled by 'traditional' investors, it's what brings the masses to cryptocurrencies. The masses understand headlines, tweets, and endorsements and the masses will likely mature as crypto enthusiasts and begin to appreciate the movement for its more technical nuances." ― Michael Kamerman, CEO of the Scandinavian-owned brokerage Skilling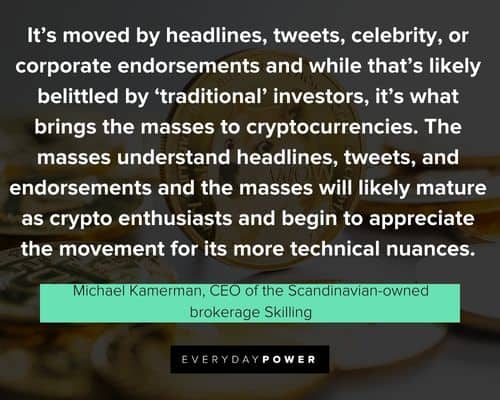 Cautionary Dogecoin quotes
30. "It's somewhat disconcerting to see Elon Musk so enthusiastic about it." ― Nic Carter, venture capitalist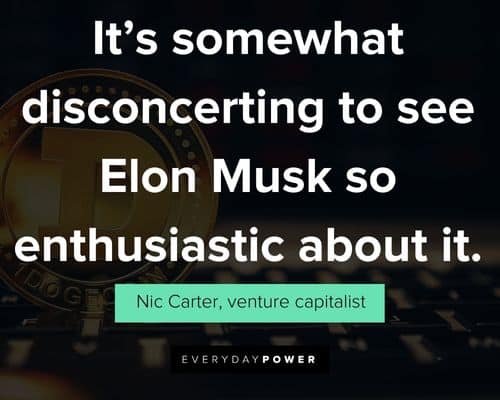 31. "The only thing it can really do is be zombified and stick around and be an empty shell for people's expectations and for their entertainment." ― Nic Carter, venture capitalist
32. "I look at Dogecoin as more of a speculative play that when this bubble bursts, it will probably cease to exist." ― Eddie Ghabour, managing partner at Key Advisors Group
33. "Unfortunately, a lot of retail punters are going to lose money on Dogecoin in the long term because there's really not much there in terms of interesting technology." ― Nic Carter, venture capitalist
34. "Without a proper team, technological development, and road map, Dogecoin will likely not be a reliable investment in 2021." ― George Chrysochou, investor and global marketing manager for Financer.com
35. "As much as we like the attention and growth that these moments bring, we also need to be careful to educate new users on assets' risks with little to no value or utility. There are over 15,000 projects in crypto." ― Alex Mashinsky, CEO of Celsius Network
36. "First, I will not be investing in Dogecoin, but it's not because Dogecoin was originally a joke, nor because its sudden rise was bizarre, nor because electronic currencies are an illusion, and certainly not because Dogecoin's astonishing spike in value was the result of an eccentric billionaire's tweet. I'm not investing because, despite their apparent newness, cryptocurrencies have too much in common with primitive money." ― Frederick Kaufman, financial expert
Dogecoin Quotes For Cryptocurrency Investors
37. "Dogecoin is the people's crypto" — Elon Musk
38. "When dogecoin goes to the moon, I'll adopt a Shiba Inu" — Diana
39. "The Mavs have what we sold in merch. I personally own $494 worth of DOGE." — Mark Cuban
40. "Even though it was created as a silly joke, Dogecoin is better suited for transactions" — Elon Musk
41. "The point about DOGE that people miss is that DOGE's imperfections and simplicity are it's greatest strengths." — Mark Cuban
42. "The total transaction flow that you do with Dogecoin is transactions per day has a much higher potential than Bitcoin." — Elon Musk
43. "BUT, the DOGEsphere is fun. Their memes are great. They have fun. They make fun of themselves. It's fun to be part of" — Mark Cuban
44. "It's much more difficult for a single person or even a few to affect the price of Bitcoin as much as the price of Dogecoin," — Hanna Halaburda
45. "People like to spend Dogecoin for the purchase of goods and services because it does appreciate so much at frequent intervals." — Mark Cuban
46. "The fact that Musk can tweet one thing and send Dogecoin's price up or down is evidence that the meme cryptocurrency is a more risky and volatile asset than cryptocurrencies like Bitcoin." — Hanna Halaburda
What did you learn from these Dogecoin quotes?
After the whole GameStop craziness, the market is leery of people investing in Dogecoin.
That didn't stop me from buying 8 shares the other day, because like some of these Dogecoin quotes showed, it's a fun investment with the hope of it making us all rich.
Now, whether it will, I can't say, but the experts seem to think it will not.
And that's ok with me because I spent $2.28.
If Dogecoin performs even a tenth as well as Bitcoin did, I will make a sizeable profit.
Elon Musk seems pretty determined to make it moon currency, and that's a pretty wild thought by itself.
As far as investing goes, you should do whatever makes you comfortable and weigh the risks and decide for yourself.
Billy Markus would like people to know that he is not involved in Dogecoin any longer and put out this statement: "I'm no longer part of the Dogecoin project, I left around 2015 as the community started to strongly shift from one that I was comfortable with.
I don't currently own any Dogecoin except what has been tipped to me recently, I gave away and/or sold all the crypto I had back in 2015 after being laid off and scared about my dwindling savings at the time, for about enough in total to buy a used Honda Civic."
If I earn enough money to buy a used car with my $2 investment, I will call it a win.
What are your thoughts?
Do you have any other Dogecoin quotes and sayings to add?
Let us know in the comment section below.