50 Jewelry Quotes About The Popular Fashion Accessory
Jewelry is a pretty common fashion accessory, as noted by these jewelry quotes!
It can help compliment your outfit, make a statement, or glam up a dressed-down look!
What kind of jewelry is trending in 2022?
Well, large chunky gold chains have been popular on the fashion runways this year.
Earrings are perhaps the most popular form of jewelry, with many styles trending this year!
If you are looking for a trendy earring, try out some of these styles: hoops, modern pearl earrings, or colorful statement earrings.
Gold jewelry is always a timeless choice!
If you are looking for the perfect jewelry quote to help caption your Instagram posts, then you have come to the right place!
Some of these funny jewelry quotes will also have you laughing out loud.
Diamonds and pearls are popular stones for jewelry pieces like rings and earrings.
If you are looking for a present, you probably can't go wrong with either of those!
Keep reading to learn more about the history of jewelry.
Also, check out our most popular quote article, a list of short inspirational quotes for daily wisdom.
See the rest of our quote database for even more inspirational ideas and thoughts.
Jewelry quotes for Instagram
1. "Jewelry first, clothes second." — Gem Hunt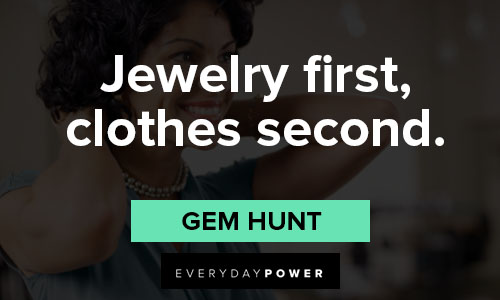 You will also enjoy our article on Grinch Quotes.
2. "I love rhinestones, faux jewelry." — Adriana Trigiani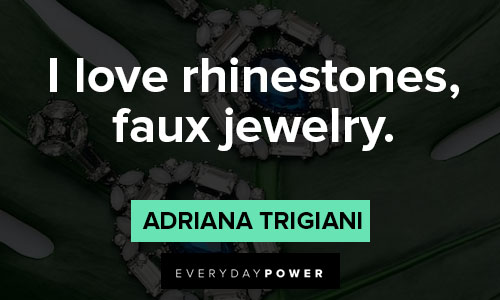 You will also enjoy our article on fashion quotes.
3. "I am happy to receive any items of jewelry." — Katie Price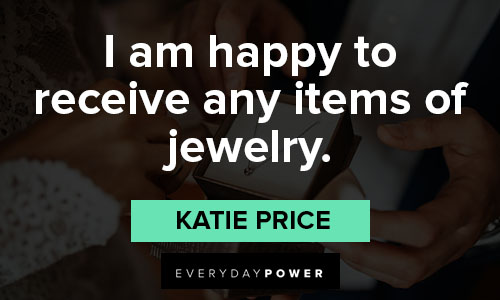 You will also enjoy our article on diamond quotes.
4. "You wear your jewelry, don't let it wear you." — Masaba Gupta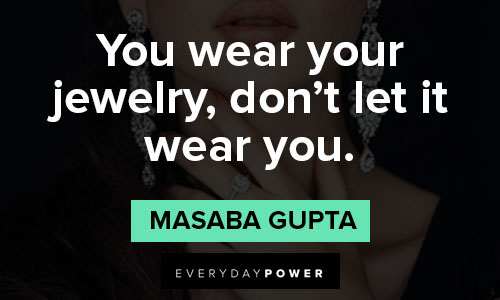 You will also enjoy our article on Moneybagg Yo quotes.
5. "Into every girl's life, a little diamond should fall." — Elizabeth Taylor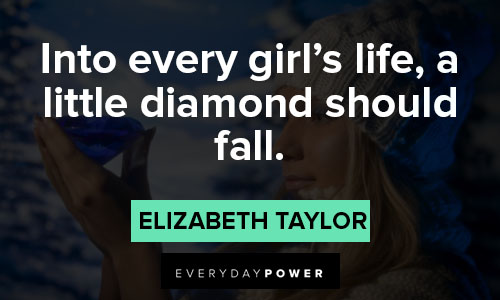 6. "I love jewelry—gold and diamonds. I'm a woman." — Monica Bellucci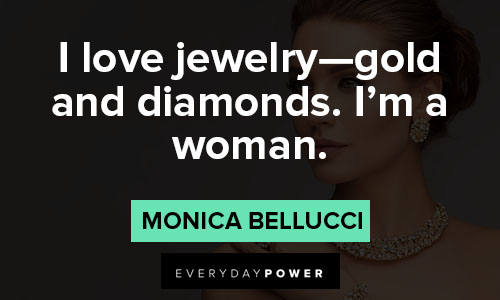 7. "At a flea market I always head for the junk jewelry table first." — Ethel Merman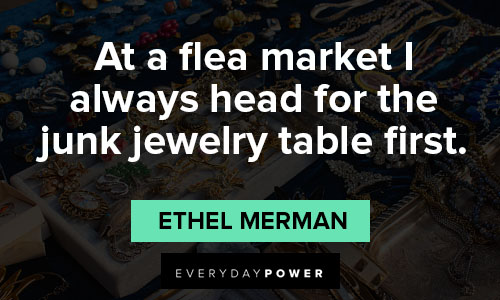 8. "Jewelry has the power to be the one little thing that makes you feel unique." — Elizabeth Taylor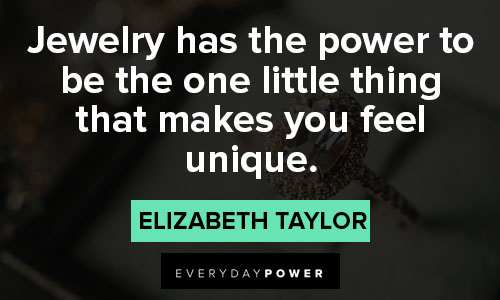 9. "Jewelry is like the perfect spice—it always compliments what's already there." — Diane von Furstenberg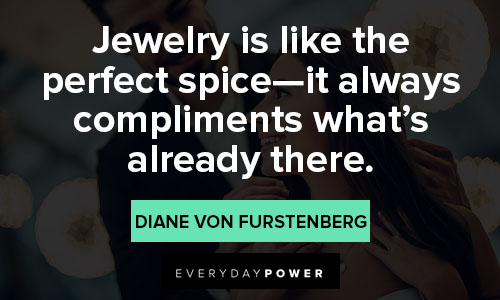 10. "I never understood girls who give away jewelry just because it came from an ex. I consider it compensation." — Georgina Bloomberg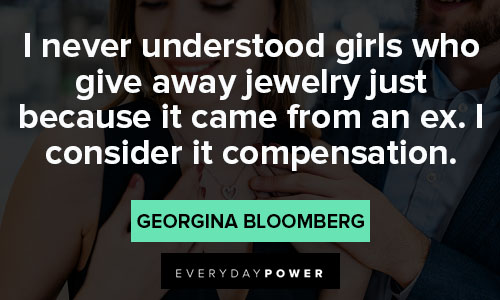 If you enjoy this article, check out our collection of earring quotes that will make your day.
Jewelry quotes about it being a fashion statement or trend
11. "I love accessorizing with jewelry." — Dylan Lauren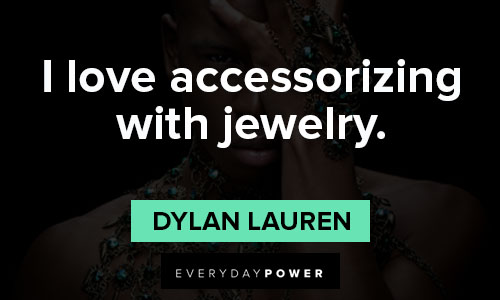 12. "My favorite thing in my wardrobe is my jewelry." — Kate Reardon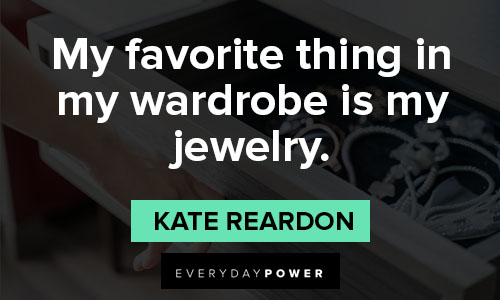 13. "I like different statement jewelry, especially around the ears." — Kat Graham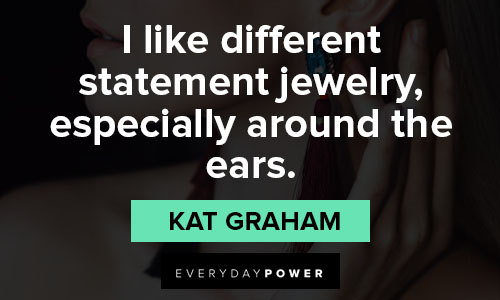 14. "I love big jewelry trends and moments, especially some gold hoops." — KiKi Layne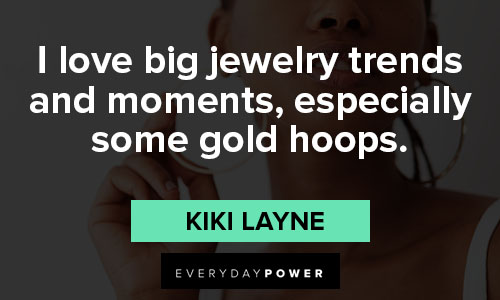 15. "If I had my way, I'd wear jewelry, a great pair of heels and nothing else." — Jada Pinkett Smith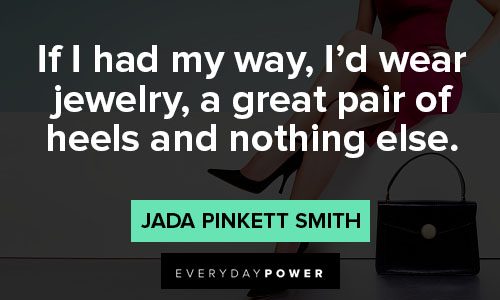 16. "I feel naked without jewelry. If I'm having a bad hair day, I pick something from my huge collection of hats." — Olivia Thirlby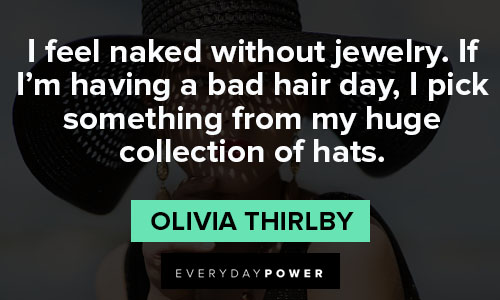 17. "If I'm not feeling super confident about an outfit or a little insecure—I'll probably accessorize my outfit with some jewelry." — Amber Le Bon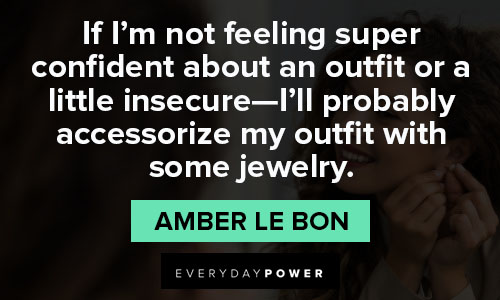 18. "I like for jewelry to tell a story and to be able to talk about what I'm wearing. That's more important to me than a name, brand, or label." — Nikki Reed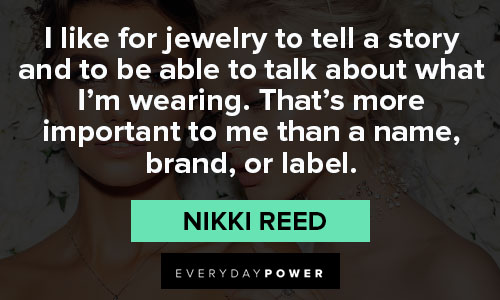 19. "Trends come and go, and style evolves. It's important to have pieces of jewelry that are timeless and look chic despite ever-changing fashions." — Karen Elson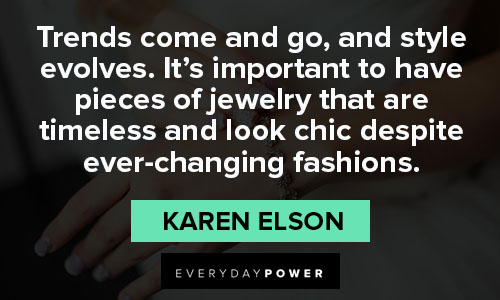 20. "I treat clothing or a piece of jewelry like it was a piece of art, even though people who collect clothes get a bad rap because they're told it's all vanity." — Daphne Guinness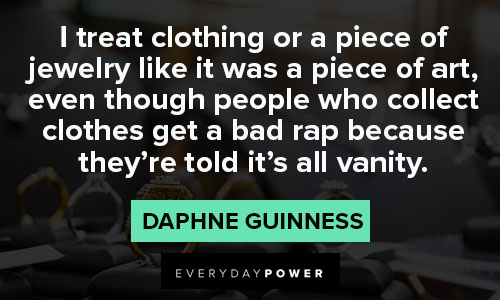 Jewelry quotes from celebrities and famous people
21. "Be careful with the man jewelry. A little goes a long way." — Ashton Kutcher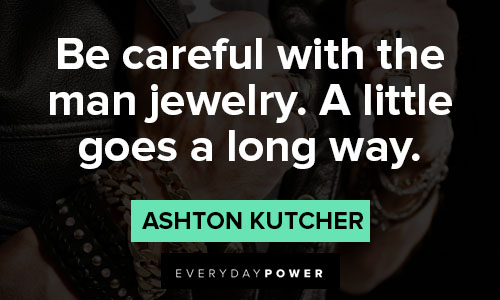 22. "I love jewelry—rings, earrings, bracelets, necklaces, you name it." — Sofia Vergara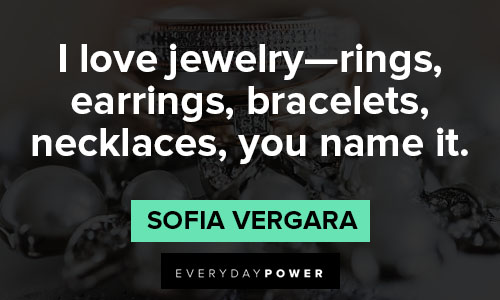 23. "I carry a little collection of jewelry I love with me, in case I need diamonds." — Liv Tyler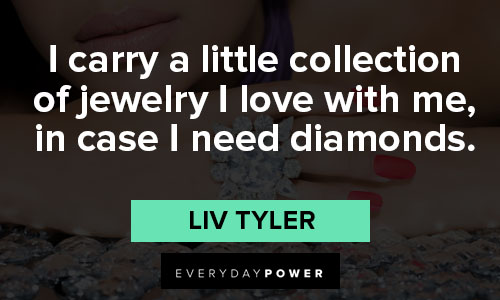 24. "My jewelry's all fake—from Claire's. Or I get it from my mom's boutique in Barbados." — Rihanna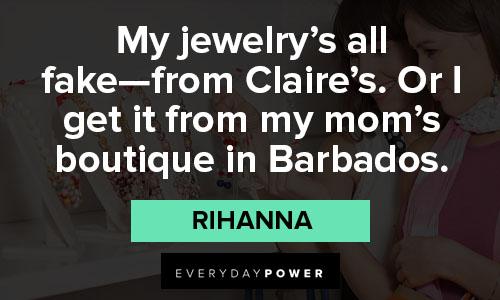 25. "Ever since I've been saving money and not spending it on jewelry, I've been getting way richer." — 21 Savage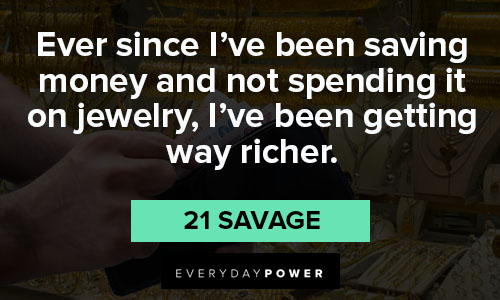 26. "Keep da money, cars, fame, and jewelry, and just give me all the happiness—I'll be good forever." — 21 Savage
27. "I've decided that I am totally against jewelry. So I have all fake. There's no reason to have real diamonds. People think it's real anyway." — Liza Minnelli
28. "The kinds of things I like with crystals are the really beautiful costume jewelry, vintage pieces, and they usually have that diamond shape." — Zoe Kravitz
29. "I always wear the same thing at home. I can't be bothered with jewelry. My pants have elastic waists. I like to be comfortable. There are so many more important things to worry about." — Barbra Streisand
30. "Well, I ain't even gonna lie I used to wear fake jewelry when I was coming up, like trying to get on. But I just understood that you had to have that image as a rapper, as an artist, just to have the attention." — Moneybagg Yo
Funny Jewelry quotes to make you laugh
31. "Jewelry takes people's minds off your wrinkles." — Sonja Henie
32. "Jewelry is like ice cream, there's always room for more." — Unknown
33. "Trust and love are wonderful, but don't forget the earrings." — Estee Lauder
34. "I never hated a man enough to give him his diamonds back." — Zsa Zsa Gabor
35. "You can't buy happiness but you can buy jewelry and that's kind of the same." — Unknown
36. "Jewelry, to me, is a pain in the derriere, because you have to be watching it all the time." — Eartha Kitt
37. "I don't exercise. If God had wanted me to bend over, he would have put diamonds on the floor." — Joan Rivers
38. "Men who have a pierced ear are better prepared for marriage – they've experienced pain and bought jewelry." — Rita Rudner
39. "A man's got two shots for jewelry: a wedding ring and a watch. The watch is a lot easier to get on and off than a wedding ring." — John Mayer
40. "You don't want your jewelry to make you look fat. A lot of what's out there now does – you just wind up looking like a Christmas tree." — Padma Lakshmi
Jewelry quotes that prove jewelry is deeper than fashion
41. "Jewelry is a very personal thing… it should tell a story about the person who's wearing it." — Garance Doré
42. "Jewelry tells a story without even a single word – a non-verbal communication of style." — Michael Rosey West
43. "Jewelry is something that has to do with emotion. That aspect of jewelry really interests me." — Ann Demeulemeester
44. "I think part of the beauty of our relationship with jewelry is that it can change and evolve as we do ourselves." — Erika Christensen
45. "Jewelry adds richness, another layer in the storytelling. Think of Elizabeth Taylor and Jackie Kennedy. Jewelry can make moments iconic." — Kelly Framel
46. "If someone gives you a belt buckle, it's like a piece of jewelry. It has the same sort of emotional significance. It would be something you would intend to keep forever." — Lyle Lovett
47. "Growing up, I was a bit of a tomboy; feminine things took a while to find their place in my world. But diamonds made me understand the magic and beauty of jewelry." — Erika Christensen
48. "Someone gives jewelry, and there's a bit of romance. If you buy it from a store, the store is trying to romance you. Even when I'm making the jewelry, I have to be romanced." — Waris Ahluwalia
49. "My inspiration is always love and history, and my passion to a fault is craftsmanship and responsibility. Those are the simplest things. It goes beyond jewelry. It's every part of my life." — Waris Ahluwalia
50. "When I give my jewelry as a present, I feel like I'm giving protection to someone I care about… I've given pieces to my mom, my aunts, my friends. I've even made bracelets for my dad and my uncle." — Sofia Boutella
The history and meaning of jewelry
Jewelry has been a part of human life since the beginning of humankind.
The earliest proof of jewelry was dated around 25,000 years ago.
It was a necklace made of fish bones found in a cave in Monaco.
In some cultures, they fashioned jewelry from animal parts like bones and teeth to signify that the people wearing them were skilled hunters.
This gave the wearer a sense of worth and pride and a feeling of belonging within their village and community.
Then there was the mystical element that became tied to jewelry.
In early societies, people would wear jewelry in the form of amulets to protect against bad luck and illness.
They also thought luck and fortune were bestowed on a person because of gemstones and jewelry.
From these stories, the magical properties of jewelry became symbols thought to give the wearer control over fertility, wealth, and love.
In more modern times, jewelry also signifies wealth, commitment, and connection.
What does jewelry mean to you? Are you a fan?
Let us know in the comment section below.