Joe Exotic Quotes from The Tiger King
If you are looking for some good entertainment look no further than these Joe Exotic quotes.
Joe Exotic is a media personality best known for being on the television show Tiger King: Murder, Mayhem and Madness, which began airing during the start of the pandemic in 2020.
Exotic's real name is Joseph Allen Maldonado-Passage.
He was a chief of police for a short time before opening a pet store and, eventually, the G.W. Zoo.
He left the zoo in 2018 and was arrested shortly after for the attempted murder of Carole Baskin.
Baskin, who is Big Cat Rescue's founder, had a complicated relationship and rivalry with Exotic.
He was found guilty and convicted to 21 years in prison after a sentence reduction in 2022.
Buckle up and get ready for some fun with these Joe Exotic quotes.
Check out our most popular quote article, a list of short inspirational quotes for daily inspiration.
Check out our entire collection of motivational quotes here.
Funny Joe Exotic Quotes
These Joe Exotic quotes are funny and extreme. Take a look and see what you think.
1. "I went to work every day prepared to die in a tiger cage. Dying doesn't scare me. At all." – Joe Exotic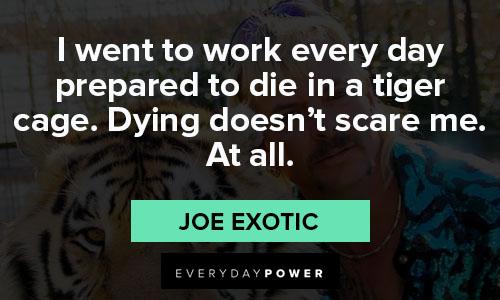 2. "I can almost promise you some of you will be urinated on. If that happens, we have t-shirts in the gift shop that says, 'I got peed on by a tiger.'" – Joe Exotic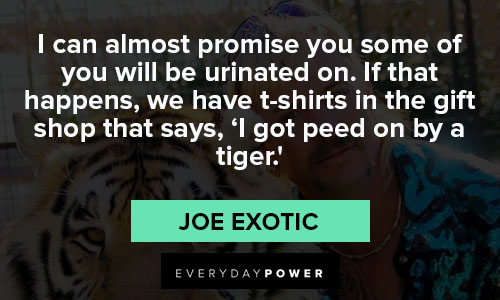 3. "I'm outspoken, good-looking, love to party and have fun." – Joe Exotic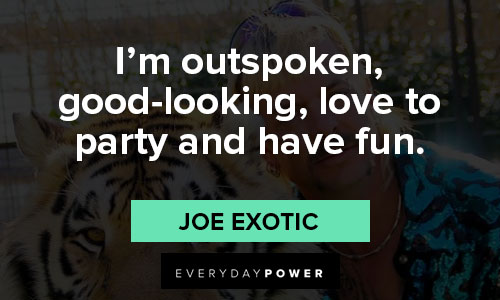 4. "Does it feel good to stand on my stage with 500-pound tigers, and everybody envies you? Absolutely." – Joe Exotic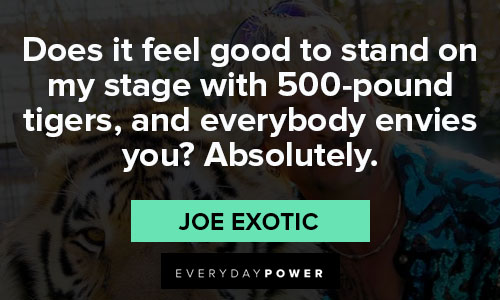 5. "Carole Baskin's third husband, they can't find his body. We believe that she fed him to the tigers." – Joe Exotic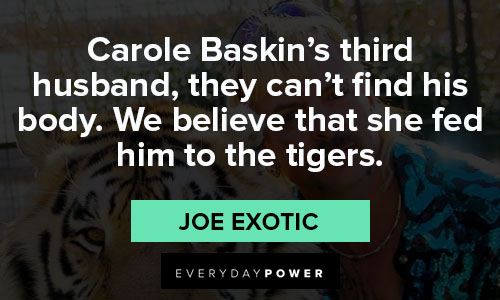 6. "I'm never going to financially recover from this." – Joe Exotic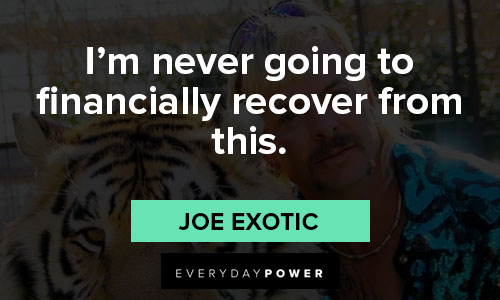 7. "People every day are like, 'You must have the most incredible life to live with 187 big cats.'" – Joe Exotic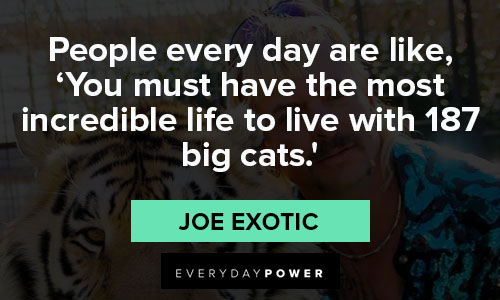 8. "Come here, love me! Come here, love me!" – Joe Exotic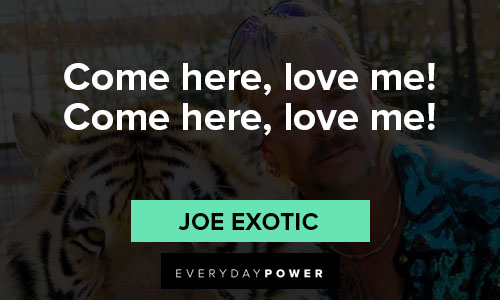 9. "Animals just wasn't enough, okay? So then I started adding magic". – Joe Exotic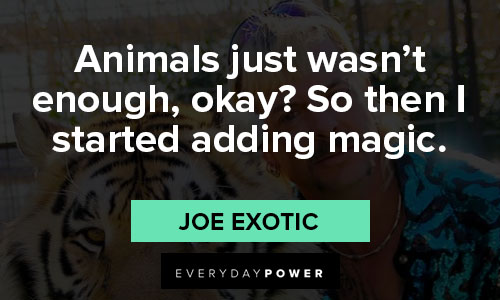 10. "This is the thing you don't want when you have tigers, folks. It's a real-life tornado, and there ain't nothin' you can do besides protect yourself." – Joe Exotic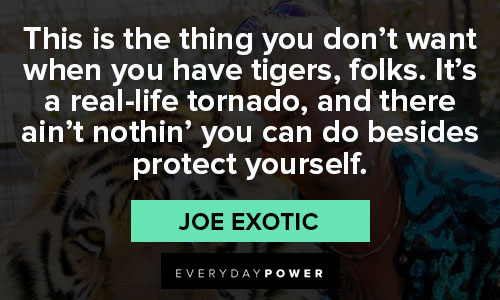 Extreme Joe Exotic Quotes
Joe Exotic is not into mediocre. Take a look at some of his extreme quotes below.
11. "I'd shoot you before I shot my cat." – Joe Exotic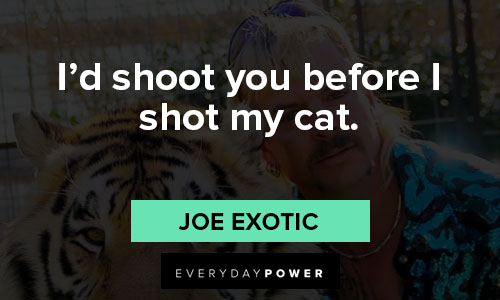 12. "Oh, I know what happened. I've got three felons that want my zoo." – Joe Exotic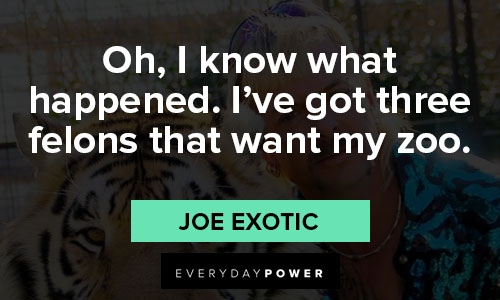 13. "Before you bring me down, it is my belief you will stop breathing." – Joe Exotic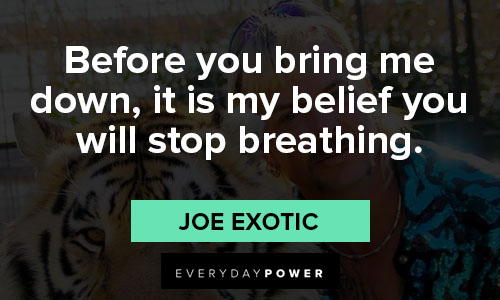 14. "Just about an hour ago, we had an incident where one of the employees stuck their arm through the cage, and the tiger tore her arm off… I can give you your money back, or I can give you a rain check." – Joe Exotic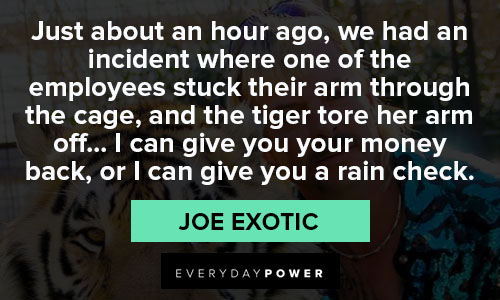 15. "She is not a stupid woman. She makes everybody else do her dirty work." – Joe Exotic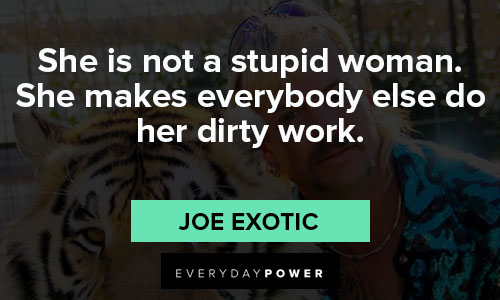 16. "Animals don't judge you, as long as you're really good at heart. They don't care who you are or what you've done in the past." – Joe Exotic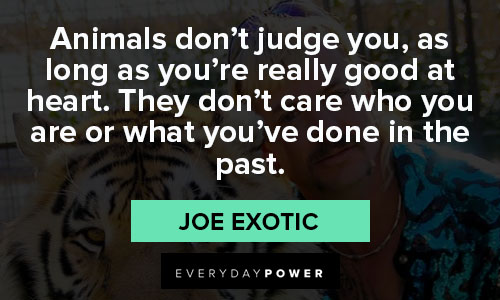 17. "This is my little town. I'm the mayor. The prosecutor. The cop, and the executioner." – Joe Exotic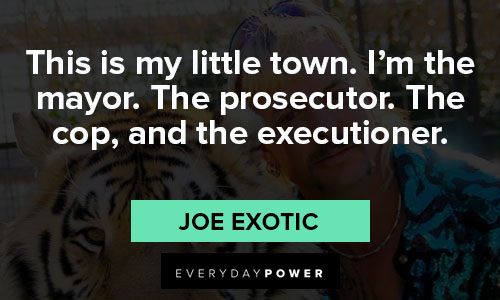 18. "The animal's rights people keep saying I can't have these tigers." – Joe Exotic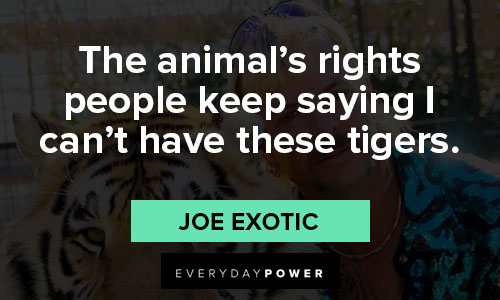 19. "The woman's just obsessed with me." – Joe Exotic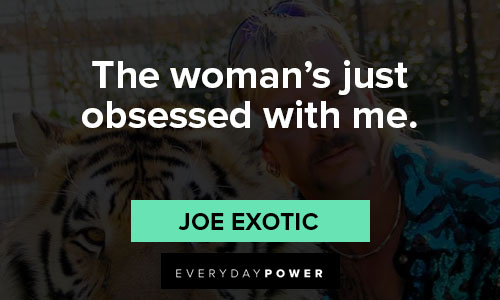 20. "People don't come to see the tigers; they come to see me." – Joe Exotic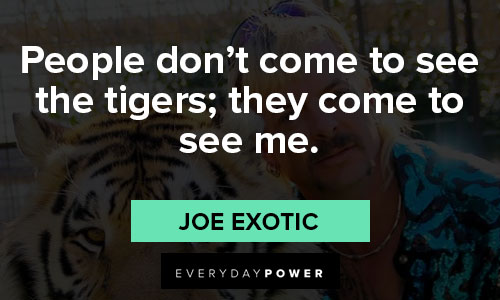 Did The Joe Exotic Quotes Make You Laugh Or Gasp?
During his time leading the G.W. Zoo, Joe Exotic helped fund the zoo by doing magic shows around the country and offering people a chance to take pictures and hold cubs.
He began to take on more of a persona to garner attention onstage, which he is famously recognized for now, including a bleached mullet and wild clothing.
Over the years, the G.W. Zoo and Exotic received multiple citations from the United States Department of Agriculture.
As a result, the zoo was shut down in 2021.
In addition, Exotic's opinions on caged animals have changed since he went to prison.
He no longer believes that animals should be kept in cages.
After enjoying these Joe Exotic quotes it is time to ask: Are you a fan of Joe Exotic?
Share with your friends and see what their opinions are.
Post comments below to keep the conversation going.