50 Past Quotes Celebrating What You've Learned
Looking for wise past quotes that will make you a better person?
We can all learn a lot from our pasts. For us to live life to the fullest in the present, we must be prepared to ask the right questions about our pasts.
The past is there for you to study and learn from it so that you can make your future better. You can use your past experiences to become more effective, more productive, and even wiser.
For you to understand what's happening in your present and before you decide what will happen in your future, try and reflect on your past. Recall your strengths from the past and learn from the weaknesses that frustrate you.
But although many people tend to live defined by their past choices, you should not let it hold you back. Always remember that each new day brings an opportunity for you to create a brighter future.
The past is filled with learning opportunities for our present and future. In that respect, below is our collection of inspirational, wise, and thought-provoking past quotes, past sayings, and past proverbs, collected from a variety of sources over the years.
For more inspiration, don't miss our compilation of the best quotes about life as well as these wise Wizard of Oz quotes.
Wise Past Quotes Celebrating What Life Taught Us
1. "The present changes the past. Looking back you do not find what you left behind." ― Kiran Desai

2. "Scars have the strange power to remind us that our past is real." ― Cormac McCarthy

3. "Every relationship must have a starting point so that past errors may remain in the past." ― Mary Lydon Simonsen

4. "The past does not define me, it ignites me. The past is not a piece of me, it has placed me" ― Ricky Maye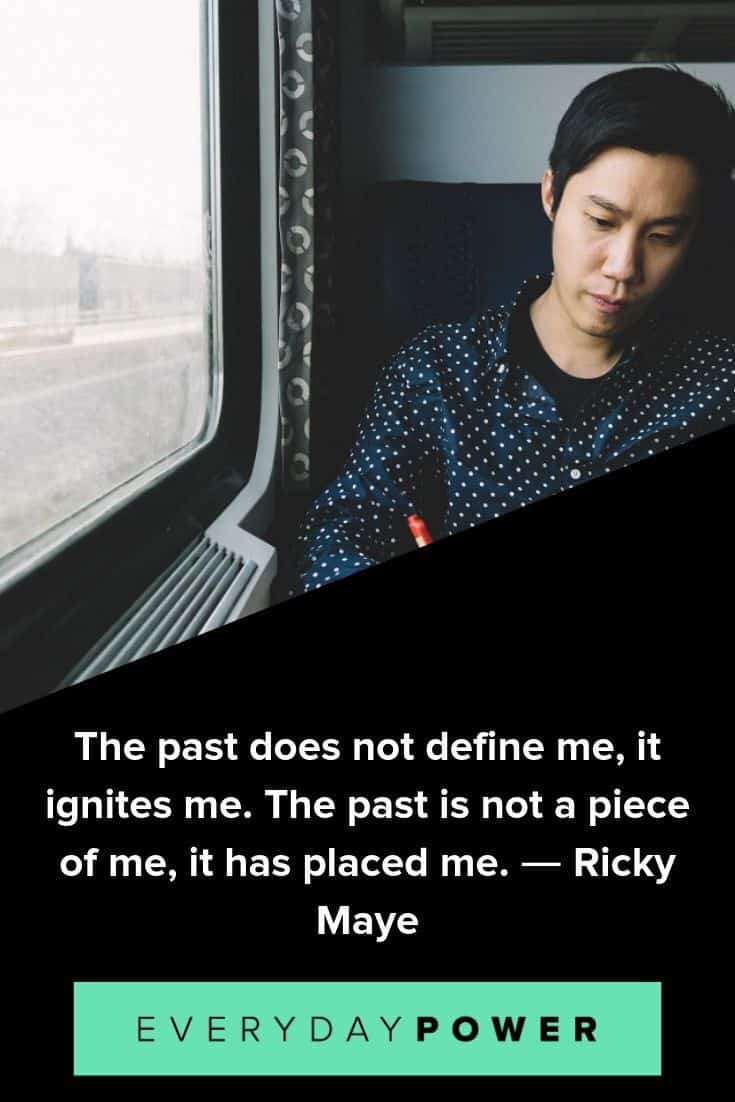 5. "When you accept things as they are, you allow yourself to make choices, that will help create the change you seek." ― Patricia Dsouza

6. "You couldn't erase the past. You couldn't even change it. But sometimes life offered you the opportunity to put it right." ― Ann Brashares

7. "The hardships that I encountered in the past will help me succeed in the future." – Philip Emeagwali

8. "Today I am leading because yesterday I was reading." ― Amit Kalantri

9. "If we wish to see where our future is headed, all we need to do is have a look at our past and that will tell us all the answers." ― Anthony T. Hincks
10. "When I think of what I already lived through it seems to me I was shedding my bodies along the paths." ― Clarice Lispector
Past quotes that will make you a better person

11. "When the uncertain future becomes the past, the past, in turn, becomes uncertain" ― Mohsin Hamid

12. "Don't torture yourself over the past. Use it as a teacher. Whatever happened to you in the past, has only prepared you for now." ― Robert Tew

13. "The past is but the beginning of a beginning, and all that is and has been is but the twilight of the dawn." ― H.G. Wells

14. "I saw this was the way of the future, to leave the past behind as if it were a dream." ― Alice Hoffman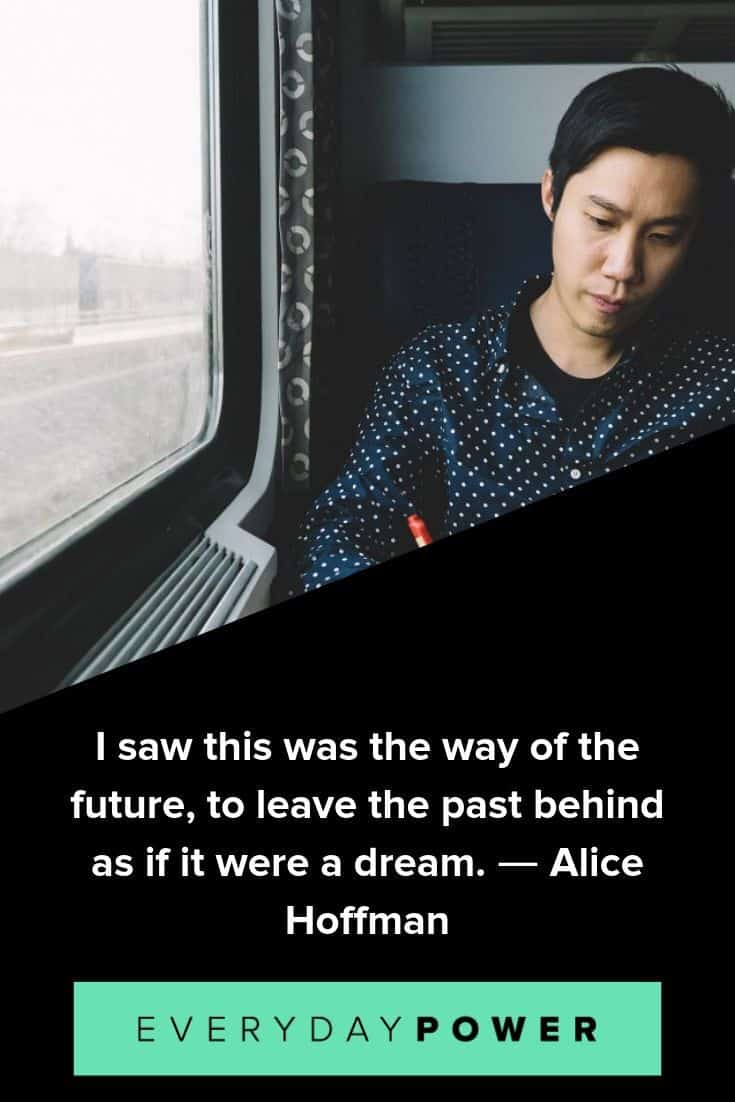 15. "You know that old phrase 'Those who don't remember the past are condemned to repeat it'? Well, I think those who remember the past are even worse off." ― Chuck Palahniuk

16. "It has shown me that everything is illuminated in the light of the past. It is always along the side of us…on the inside, looking out." ― Jonathan Safran Foer

17. "Walk with me, memory to memory, the shared path, the mutual view. Walk with me. The past lies in wait. It is not behind. It seems to be in front. How else could it trip me as I start to run?" ― Jeanette Winterson

18. "History would be a revelation of the future as much as it was a study of the past." ― Arundhati Roy

19. "The past is a demon that not even death can shake." ― Steven Erikson

20. "Those who cannot remember the past, are condemned to repeat it."― George Santayana

Past quotes to help increase your awareness and understanding
21. "The distance to the corner shops of childhood becomes unfathomable, immeasurable; the candy bars have changed. And change has changed." ― Ilse Aichinger

22. "What a burden it must be to know all the terrible things you've done and supported it with arms unfit to carry it all." ― K. Weikel

23. "The past, which as always did not know the future, acted in ways that ask to be imagined before they are condemned. Or even simplified." ― Paul Fussell

24. "If you do not cultivate your life's environment, you will not captivate the worlds enlightenment." ― Ricky Maye

25. "What you had yesterday is only memories; what you will have tomorrow is your dreams and what you will do today, let it be love." ― Santosh Kalwar

26. "Why ruin the present by talking about the past?" ― Victor Robert Lee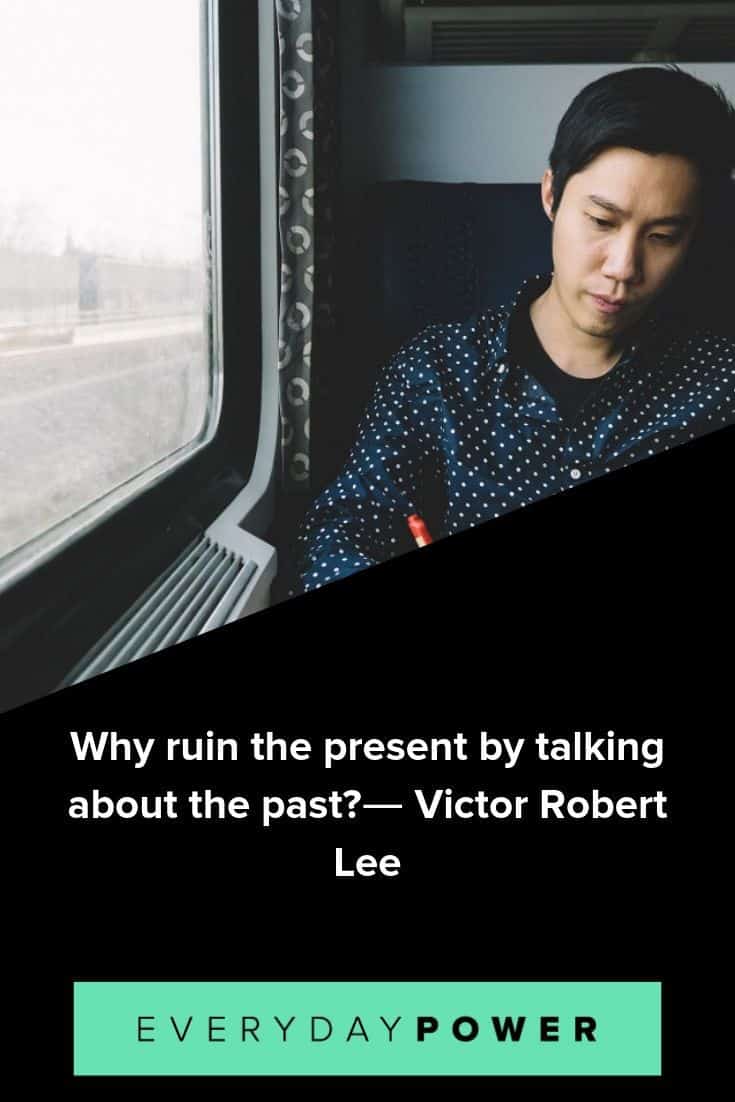 27. "Provide for her Future—if you can!—That's my motto!—But a man's just a plain bum who doesn't provide for his own Past!" ― Eleanor Hallowell Abbot

28. "We cannot change the past. We can only take action in the present and, therefore, change the future." ― Ken Poirot

29. "I can't. You can't rewrite the past." ― Jay Asher,

30. "One cannot and must not try to erase the past merely because it does not fit the present." ― Golda Meir
Wise past quotes to help you learn from your mistakes
31. "Bitterness and blame only imprison us and prevent us from moving forward." ― Miquel Reina

32. "You cannot build an empire on a graveyard. The ghosts of the past will it down." ― Shreya Naik

33. "Love can only be true and free when you are fully healed from painful past and any form of brokenness." ― Kemi Sogunle

34. "Leaders build the future with clays of the past. Every good moment gives them ideas; every bad moment gives them lessons." ― Israelmore Ayivor

35. "It was strange how the future seemed tied inseparably to the past, so that both revolved through the present, like a great wheel…" ― Tad Williams

36. "If only. Those must be the two saddest words in the world." ― Mercedes Lackey

37. "Life can only be understood backwards; but it must be lived forwards." ― Søren Kierkegaard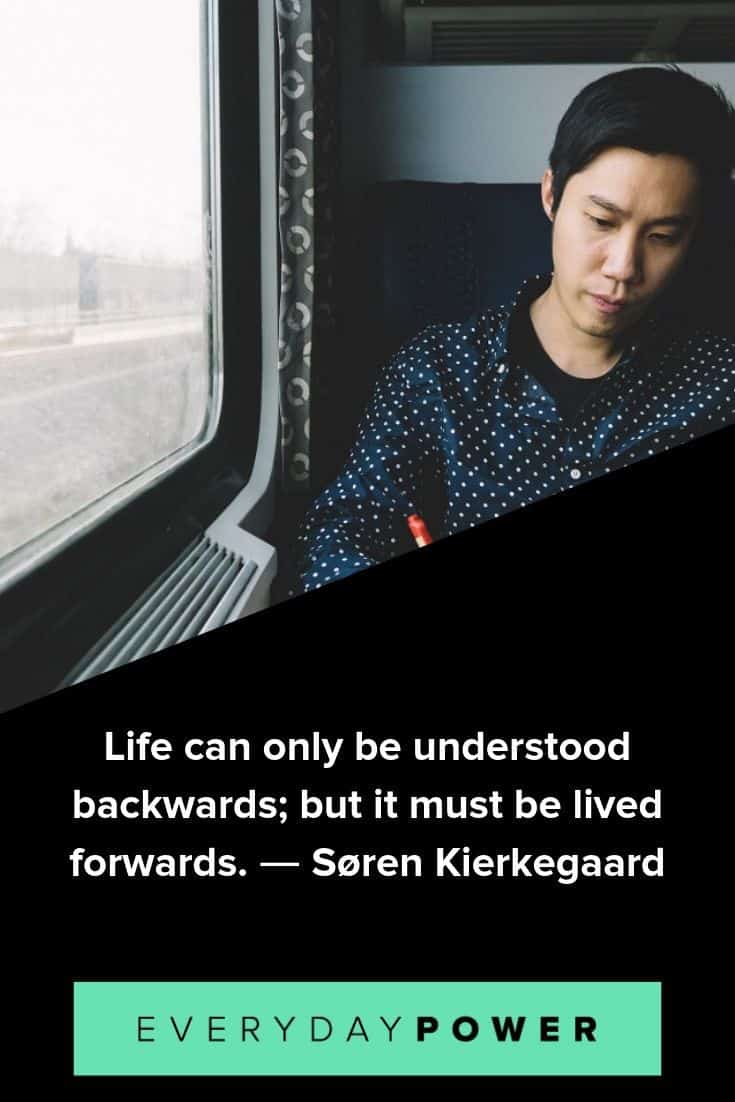 38. "Everything you think you know or feel is based on an attachment to the past." ― Akiroq Brost

39. "If it's over, then don't let the past screw up the rest of your life." ― Nicholas Sparks

40. "People tend to look on the beliefs of the past as being primitive and unintelligent, yet we are seeing more truth in the past every day." ― Jennifer L
More inspirational past quotes
41. "The only real battle in life is between hanging on and letting go." ― Shannon L. Alder

42. "Where you come from, what you look like, and what your past holds do not define you as an individual–you are what you make yourself to be." ― Kat Von D

43. "How can we prepare for the future if we won't acknowledge the past?" ― N.K. Jemisin

44. "It was no good to look back, to apologize for what had happened, or to wonder what could have been different." ― Lily Blake

45. "People from the past have a tendency to walk back into the present and run over the future." ― Anthony Liccione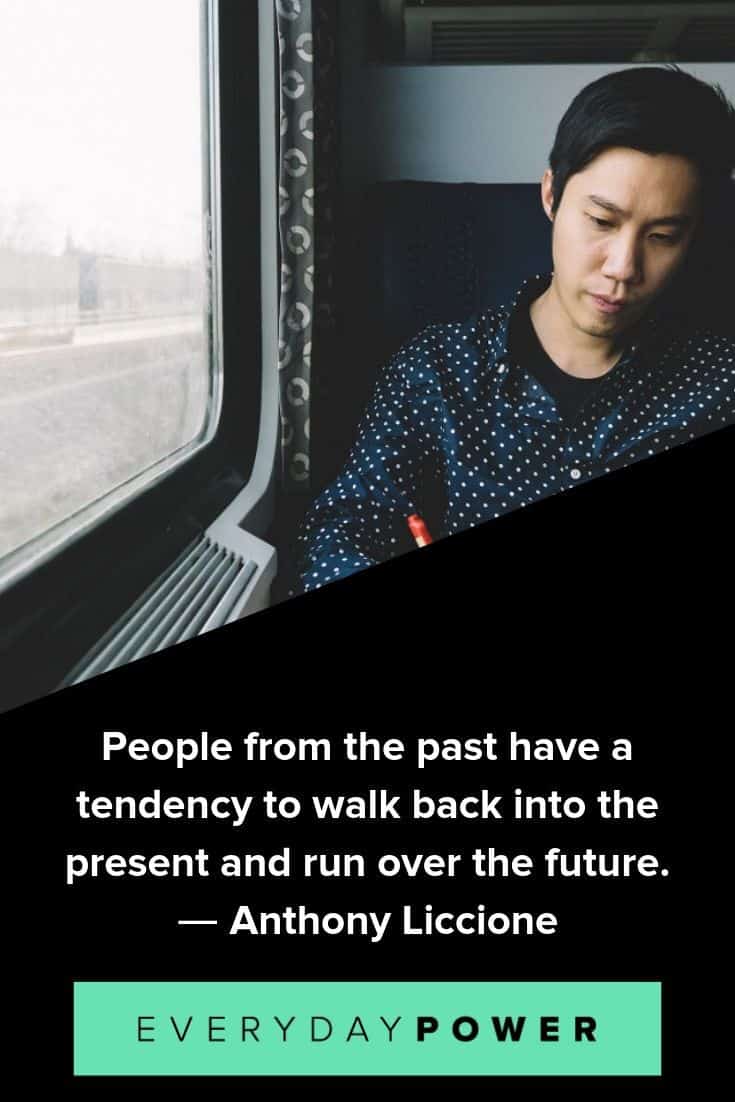 46. "Of this I am certain, that if we open a quarrel between the past and the present, we shall find that we have lost the future." ― Winston S. Churchill

47. "Even if you time travel your past, it can't be changed, likewise, you can't possibly change your future, it is always the present which matters." ― Pushpa Rana

48. "Life's all about balance. To move on in life you have to strike a balance between your past, present, and your future; you may either be jerked off or left behind." ― Richmond Akhigbe

49. "Everyone has a story; everyone hides his past as a means of self-preservation. Some just do it better, and more thoroughly, than others." ― Jodi Picoult
50. "The past is important for all the information and wisdom it holds. But you can get lost in it. You've got to learn to keep the knowledge of the past with you as you pursue the present." ― Lauren Kate
What did you learn from these past quotes?
As human beings we can only ever learn from the past. Looking at the past can teach us valuable lessons that will help us make the most of the present we are living in today.
Although you should never let your past define you, you should equally not forget the potential it offers for the present and the future. We hope the above quotes will help you find and use the treasure hidden in the past.
Which of these past quotes was your favorite? What did you learn from them? Let us in the comment section below. Also, don't forget to share with your friends and followers.
May 5, 2019 8:00 AM EST
Be the first one to leave a comment!