Kid President Quotes to Inspire You
To see how we can all promote good in this world check out these kid president quotes!
Kid President was a character played by Robby Novak, who went on to give pep talks and motivational speeches that would inspire not only kids but also adults.
Robby Novak began to gain internet fame as Kid President in 2012, and he eventually got his own television show, Kid President: Declaration of Awesome, in 2014.
Kid President's tv show and motivational speeches were meant to inspire people around the country, and that's what they did.
With his positive attitude and motivational words, Kid President's pep talks gained much popularity and attention.
Kid President even published a book in 2015 called Kid President's Guide to Being Awesome.
To see the impact a young person can make take a look at the kid president quotes below.
Check out our most popular quote article, a list of short inspirational quotes for daily inspiration.
Explore our complete collection of motivational quotes here.
Positive Kid President Quotes
We can all use some more positivity each day. For a quick pick me up, check out the quotes below.
1. "If you can't think of anything nice to say, you're not thinking hard enough." – Kid President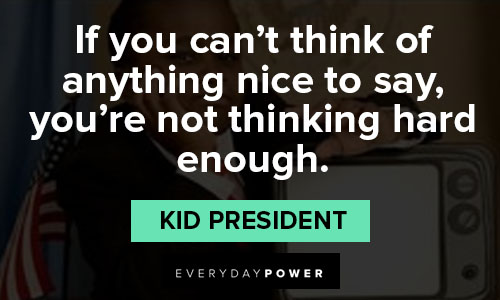 2. "Call me crazy, but I still believe in you grownups!" – Kid President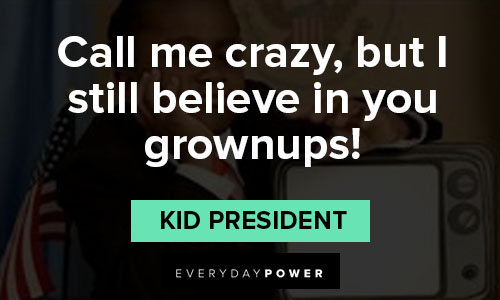 3. "This is life, people…you got air coming through your nose…you got a heartbeat… it's time to do something!" – Kid President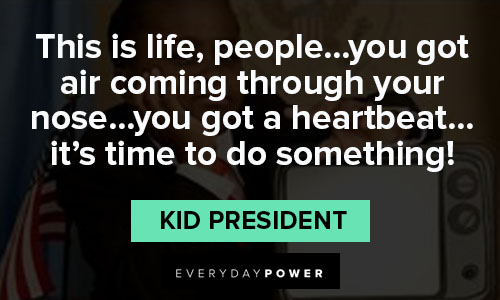 4. "It's simple math, together we are louder!" – Kid President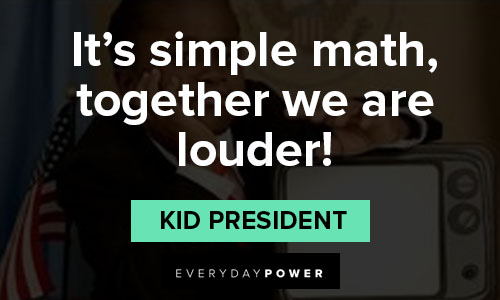 5. "You can cry about it, or you can dance about it." – Kid President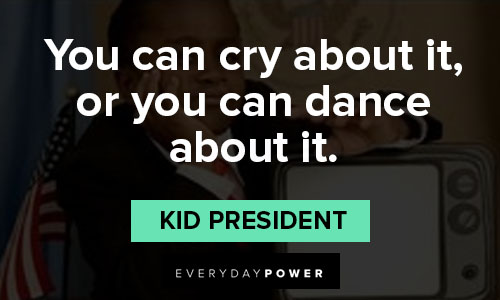 6. "Being a person is hard sometimes." – Kid President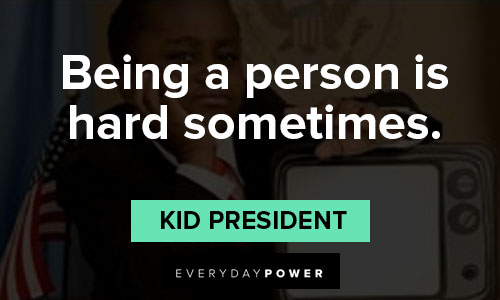 7. "Open your heart more than your mouth." – Kid President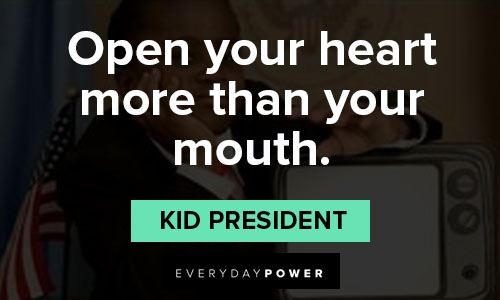 8. "Fill the blanks of your day with awesome." – Kid President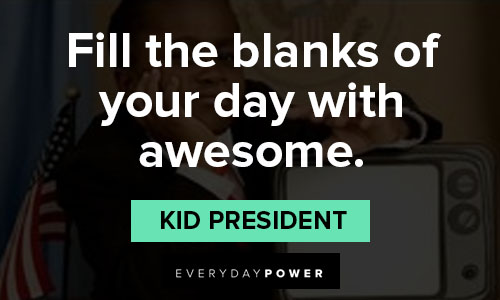 9. "If we all make today awesome for somebody else, today will be awesome for everybody." – Kid President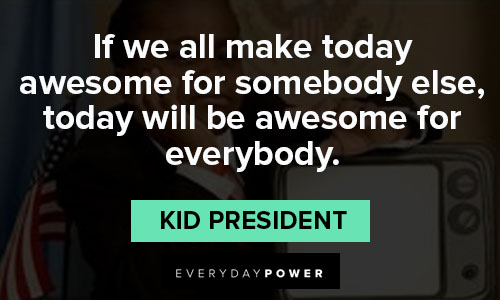 10. "Listen to one another." – Kid President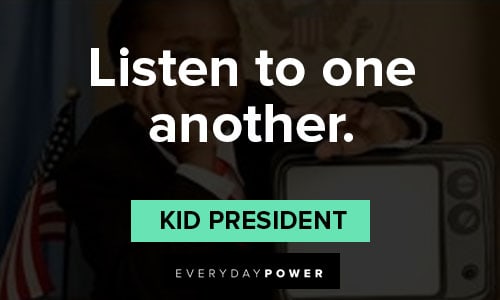 You will also enjoy our article on motivational quotes for kids.
Inspirational Kid President Quotes
Kid President was all about inspiring people and these quotes do just that. Take a look below and see what you think.
11. "Things won't always be awesome, but our response can be." – Kid President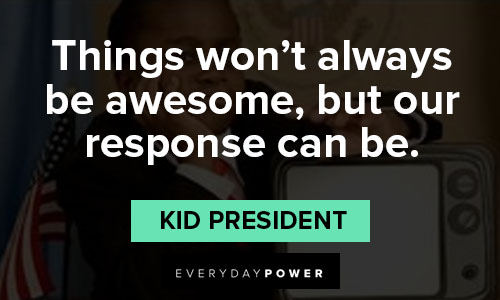 12. "Thank you to grown-ups out there who keep dreaming!" – Kid President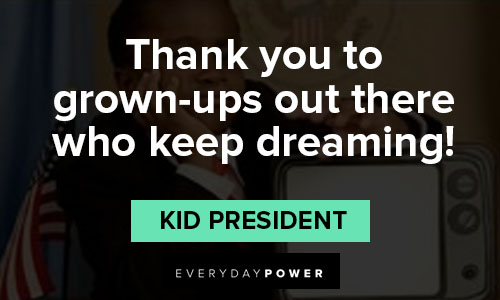 13. "Nobody wins when all we want to do is win." – Kid President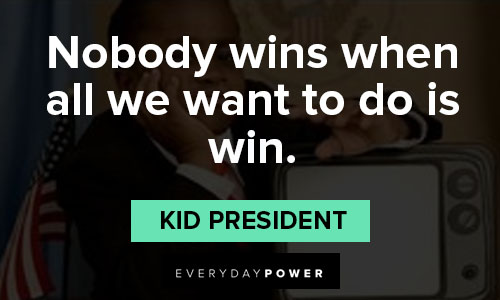 14. "On the planet we live on, there is also potential, possibilities, and puppies. Yeah, I said puppies!" – Kid President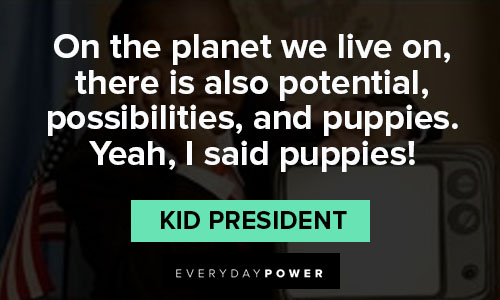 15. "Don't be a bully. Don't even be a bully to bullies. It will create more bullies!" – Kid President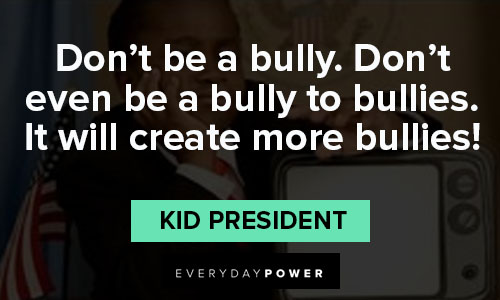 16. "Heroes don't always know that they are heroes. We all require reminders. Little things that we do are a big deal. Heroes are people in our lives who see us for what we really are – awesome!" – Kid President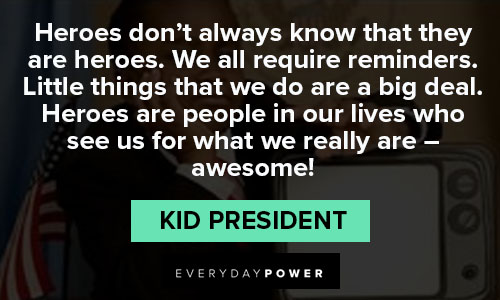 17. "Hello, person I've never met before. Here's a high five!" – Kid President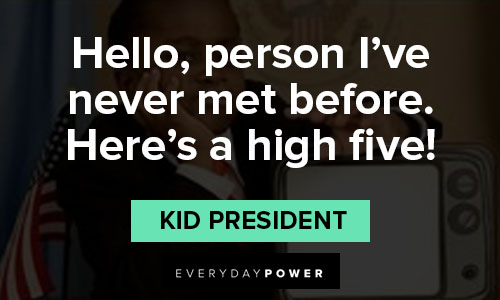 18. "Pep talks are nice, but they're not a one-time thing. We all need them again from time to time because people grow, days pass, times change, challenges come, and we all need little reminders." – Kid President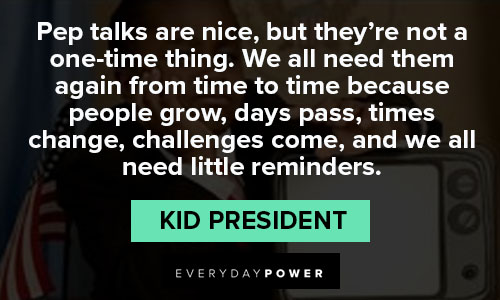 19. "We can remind each other of all the reasons there are to dance, and there are lots of reasons to dance if you're looking for them. So look for them, because your dance moves, they're needed." – Kid President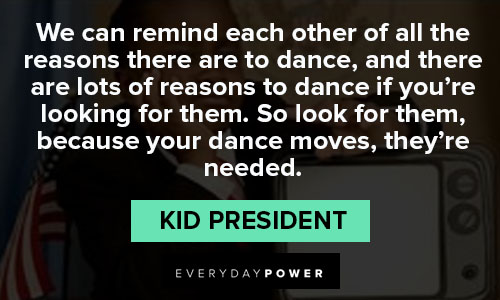 20. "You're more than your problems. And you're more than your mistakes." – Kid President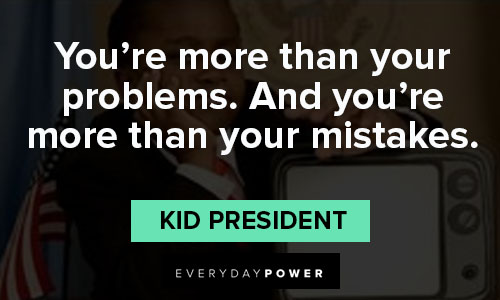 Did The Kid President Quotes Inspire You?
Kid President had a very successful career for a few years, even getting to interview and speak with people such as Tom Hanks and the president of the United States at the time, Barack Obama.
Both kids and adults can be inspired by and motivated by these conversations, even now, by rewatching them.
Kid President is especially an inspiration to teachers and students with his pep talks and motivational speeches.
With his kid-friendly interviews and lectures, quotes by Kid President can be featured in classrooms all around the country to motivate students to remember just how awesome they really are.
Do you know someone that could use these kid president quotes?
Share with friend and family and post comments below to keep the conversation going!