Led Zeppelin Quotes About Death and the Stairway to Heaven
August 10, 2022 5:00 AM EST
Listen to article
4 minutes
These Led Zeppelin quotes and songs will put you in the mood to rock out!
Led Zeppelin was a world-famous rock band from England that began in 1968.
The music group consisted of Robert Plant as vocalist, Jimmy Page as guitarist, John Bonham as drummer, and John Paul Jones as bassist and keyboardist.
These Led Zeppelin quotes come from the minds of each of these members and have been expressed in songs, interviews, and other sources.
Don't forget to also read these Stevie Nicks quotes and lyrics that will unleash your inner rockstar.
Who is considered the greatest band of all time?
If Led Zeppelin is your favorite musical artist, you'll love these quotes from the famous rock band.
Music is a universal language that connects us all.
When you hear these uplifting Led Zeppelin lyrics, you'll understand why their songs have remained so popular over the years.
The powerful words from these Led Zeppelin songs will stick in your mind and the beat will get stuck in your head.
Check out our most popular quote article, a list of short inspirational quotes for daily inspiration.
Our inspirational quotes category page has all of our motivational quotes for all the different areas of life.
Led Zeppelin quotes about death and the stairway to heaven
1. "Mellow is the man who knows what he's been missing." – Led Zeppelin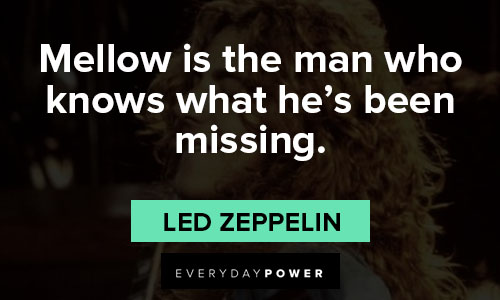 You will also enjoy our article on quotes about death.
2. "Let me wander in your garden, and the seeds of love I'll sow." – Led Zeppelin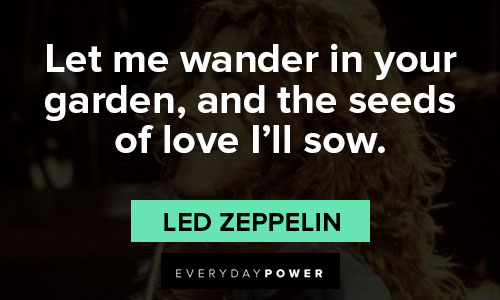 You will also enjoy our article on Rock & Roll quotes.
3. "As it was, then again it will be; though the course may change sometimes, rivers always lead to the sea." – Led Zeppelin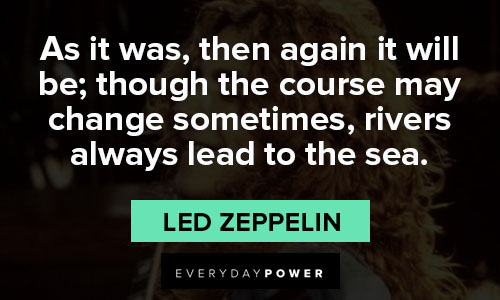 4. "Sing loud for the sunshine. Pray hard for the rain." – Led Zeppelin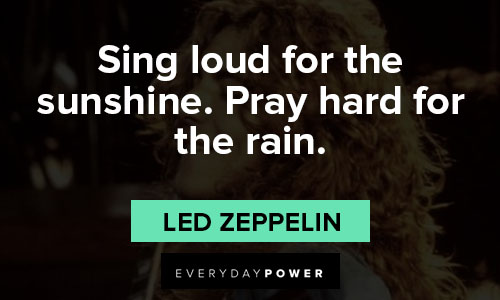 5. "Yes, there are two paths you can go by, but in the long run, there's still time to change the road you're on." – Led Zeppelin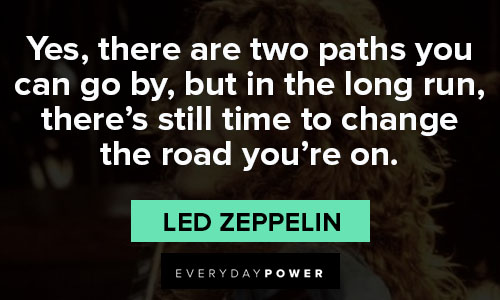 6. "These are the seasons of emotion, and like the winds, they rise and fall." – Led Zeppelin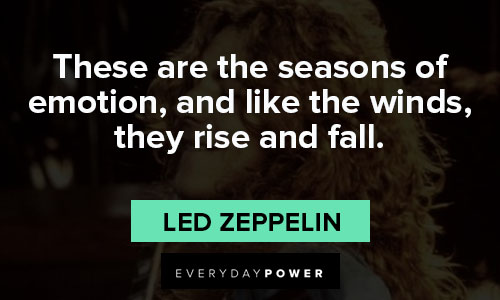 7. "If the sun refused to shine, I'd still be loving you. If mountains crumble to the sea, there will still be you and me." – Led Zeppelin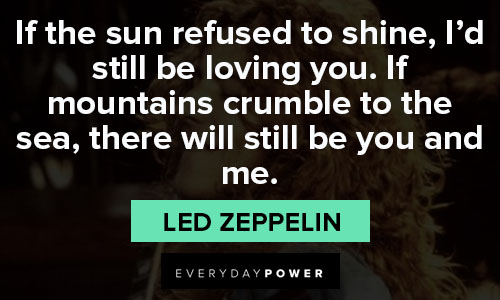 8. "So, if you wake up with the new sunrise and all your dreams are still as new. And happiness is what you need so bad, girl, the answer lies with you." – Led Zeppelin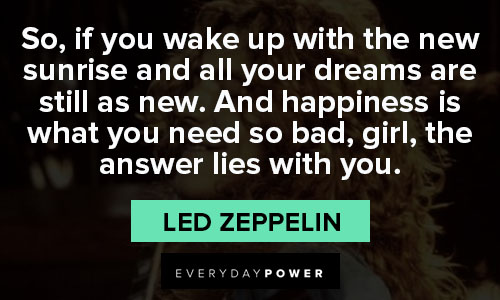 9. "Many times I've lied, many times I've listened, many times I've wondered how much there is to know." – Led Zeppelin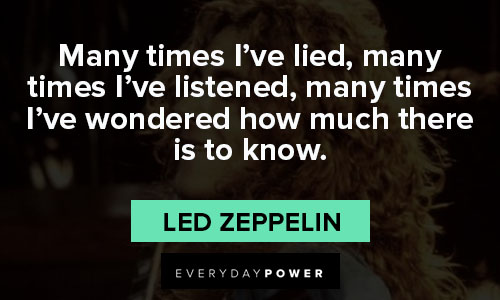 10. "Well, there's a light in your eye that keeps shinin', like a star that can't wait for the night." – Led Zeppelin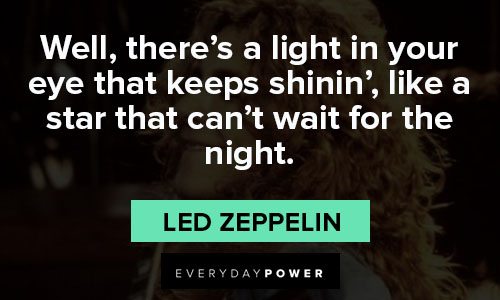 Led Zeppelin quotes that will put you in the mood to rock out
11. "Many dreams come true, and some have silver linings." – Led Zeppelin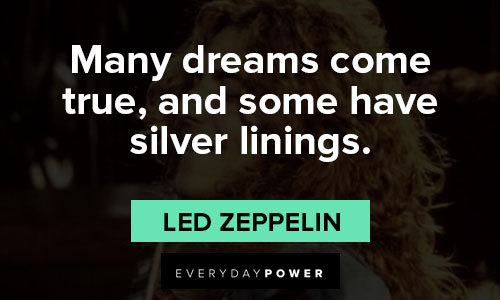 12. "There's a feeling I get when I look to the west, And my spirit is crying for leaving. In my thoughts, I have seen rings of smoke through the trees, And the voices of those who standing looking." – Led Zeppelin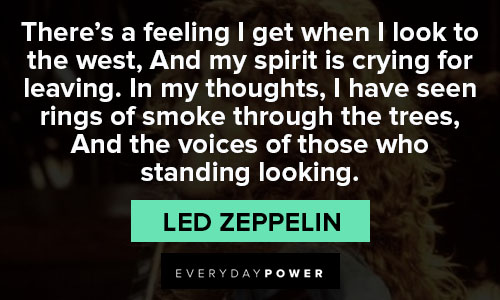 13. "Nobody hears a single word you say, but you keep on talkin' till your dying day." – Led Zeppelin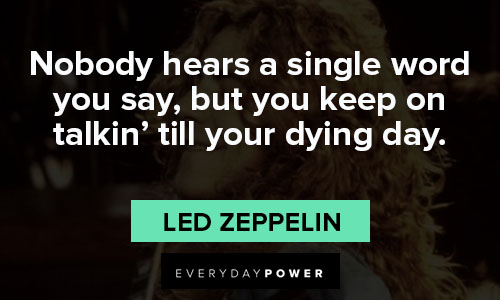 14. "Rest now within the peace. Take of the fruit, but guard the seed." – Led Zeppelin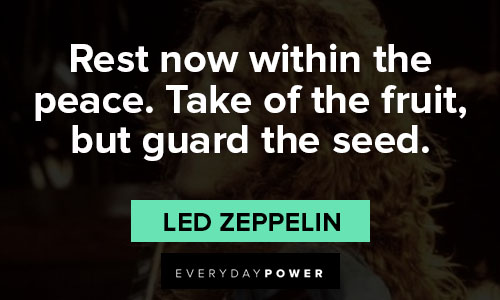 15. "Upon us all, a little rain must fall." – Led Zeppelin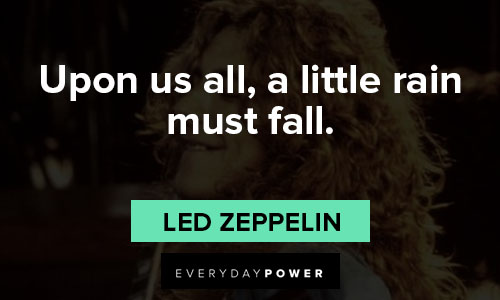 16. "There's a lady who's sure; All that glitters is gold. And she's buying a stairway to heaven. And when she gets there she knows; If the stores are closed. With a word she can get what she came for." – Led Zeppelin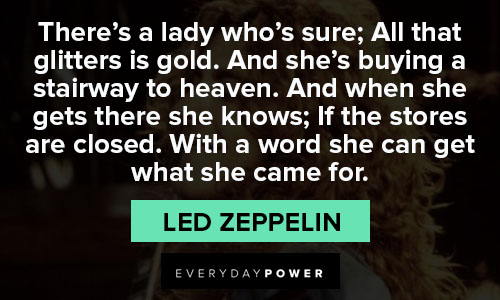 17. "To be a rock, and not to roll." – Led Zeppelin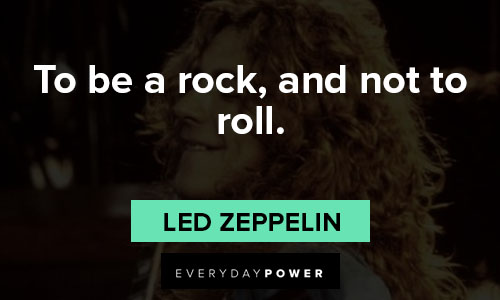 18. "You built my hopes so high; Baby then you let me down so low." – Led Zeppelin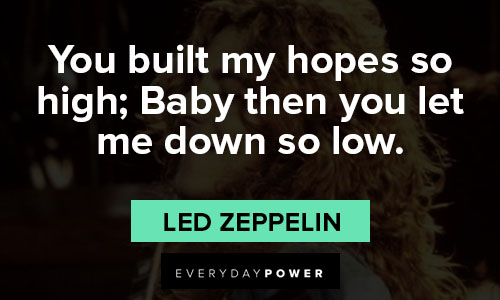 19. "There's a sign on the wall, But she wants to be sure. Cause you know sometimes words have; Two meanings. In a tree by the brook there's a songbird; Who sings sometimes. All of our thoughts are misgiven." – Led Zeppelin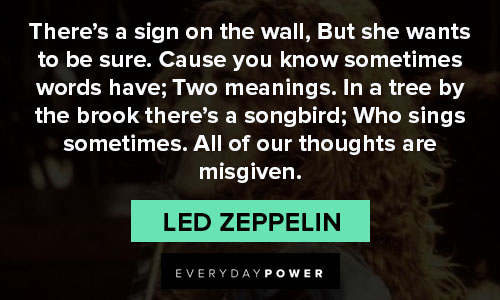 20. "And it's whispered that soon If we all call the tune; Then the piper will lead us to reason, And a new day will dawn; For those who stand long; And the forests will echo with laughter." – Led Zeppelin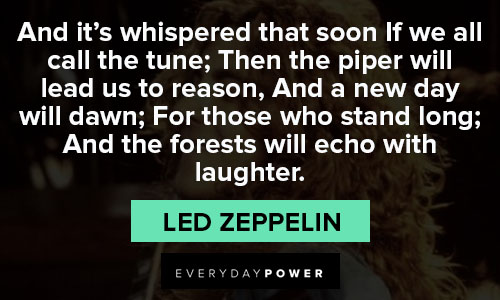 Memorable Led Zeppelin quotes
21. "Let the music be your master. Will you heed the master's call?" – Led Zeppelin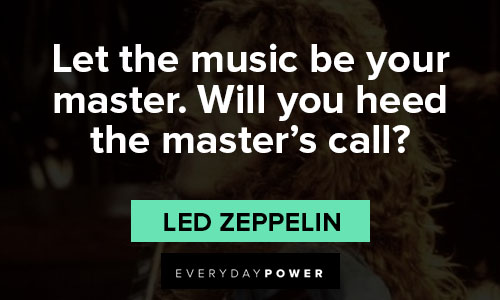 22. "Woman I can't quit you babe; I think I'm gonna put you down for a while." – Led Zeppelin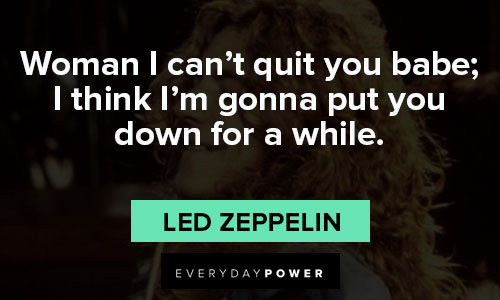 23. "This is the wonder of devotion; I see the torch; We all must hold." – Led Zeppelin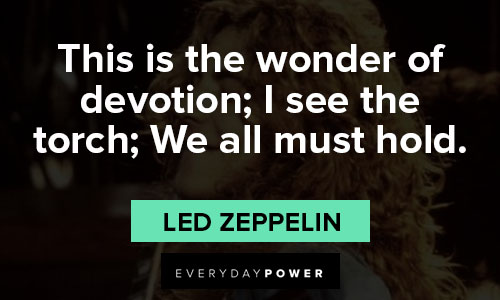 24. "Spent my days with a woman unkind; Smoked my stuff and drank all my wine; Made up my mind to make a new start; Going To California with an aching in my heart." – Led Zeppelin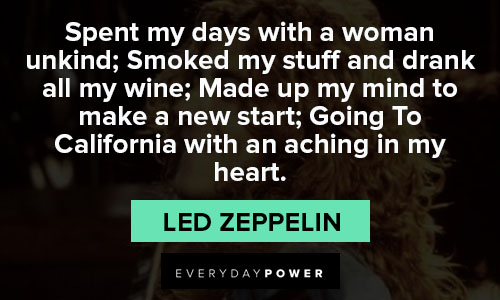 25. "Been dazed and confused for so long it's not true." – Led Zeppelin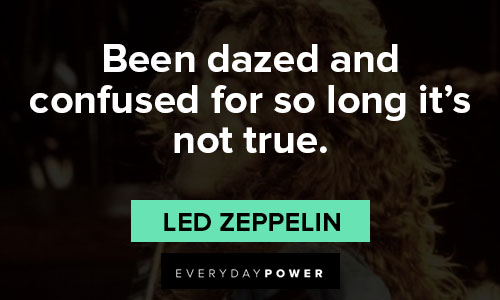 If you're enjoying these quotes, make sure to read our collection of confused quotes to help you make a big decision.
What are your favorite Led Zeppelin quotes about death and music?
This collection of uplifting Led Zeppelin lyrics and profound Led Zeppelin quotes about death will make you think deeply about every aspect of life.
This iconic band from London, England has forever redefined the genres of hard rock and blues-rock.
They are best known for their song Stairway to Heaven, but they also have many other classic hits.
When you read this list of Led Zeppelin quotes, try to think of your favorite songs that they've performed.
Whether you own every album or you've only heard them play on the radio, these Led Zeppelin quotes will have you ready to rock.
Words are powerful, and they can seem even more emotional and meaningful as a part of a song.
Share these Led Zeppelin quotes and lyrics with your loved ones.
What are your favorite Led Zeppelin quotes about death and life?
Let us know in the comment section below.