Stevie Nicks Quotes and Lyrics That Will Unleash Your Inner Rockstar
January 4, 2021 7:00 AM EST
Listen to article
4 minutes
These Stevie Nicks quotes will help you tune into your quirky self and unleash your inner rocker.
Stevie Nicks is famous for her extremely successful career as a musician.
Nicks began her career by front lining for The Rock band, Fleetwood Mac in 1967.
A master at self-branding, Nicks created a romantic, hippie image for herself in her early stages of fame that has now become her iconic style.
Throughout her career, Nicks has been nominated for 22 Grammys and has won 7 for both her work with Fleetwood Mac and her solo career.
She was inducted into the Rock and Roll Hall of Fame in 1998.
A songwriter since childhood, Nicks is famous for writing beautifully poetic lyrics about love, relationships, and drug abuse.
Still active at 72 years old, Stevie Nicks has lived her life committed to her passions and has always been unapologetically herself.
We hope this list of Stevie Nicks quotes will inspire you.
Don't forget to also check out these Elton John quotes that remind you you're still standing.
Check out our most popular quote article, a list of short inspirational quotes for daily inspiration.
Explore our complete collection of motivational quotes here.
Stevie Nicks quotes about rock and roll and writing songs
1. "What has Rock and Roll ever done for us? Everything." — Stevie Nicks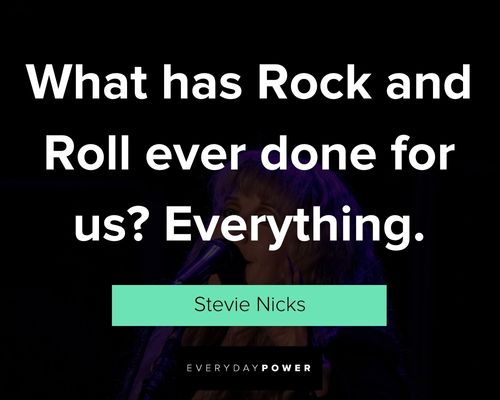 You will also enjoy our article on Rock & Roll quotes.
2. "Twenty years ago I sat down and decided that I would create a really wonderful image, an unforgettable image. And now I'm kind of stuck with it. It's like when I don't wear my fringy, gypsy stuff, people kind of look at me like, 'What's wrong?" — Stevie Nicks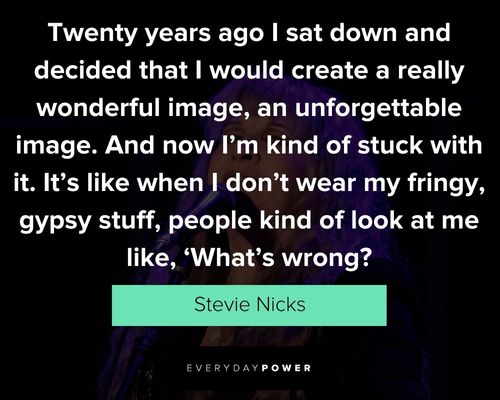 3. "If you have stage fright, it never goes away. But then I wonder: is the key to that magical performance because of the fear?" — Stevie Nicks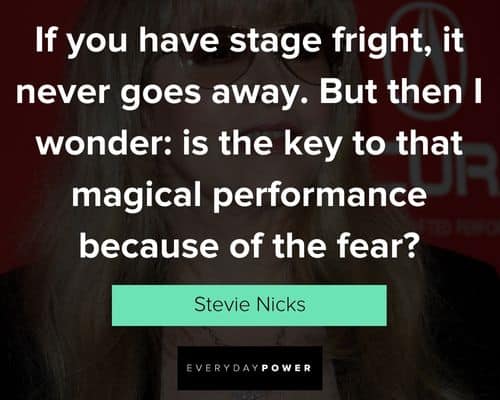 4. "I'm going to be singing Dreams and Rhiannon when I'm 75 – and that's just fine with me. I just hope my chiffon doesn't get tangled in my rocking chair." — Stevie Nicks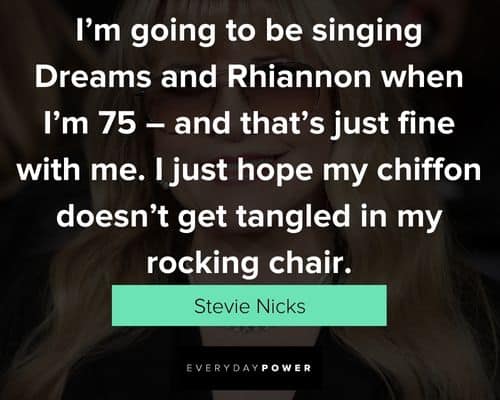 5. "My life is a testament to believing that if you want something you can make it happen." — Stevie Nicks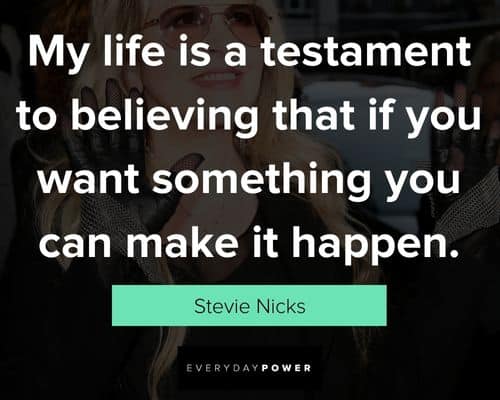 6. "I'm going to spend my life writing poems, turning them into music that will affect people and touch their hearts." — Stevie Nicks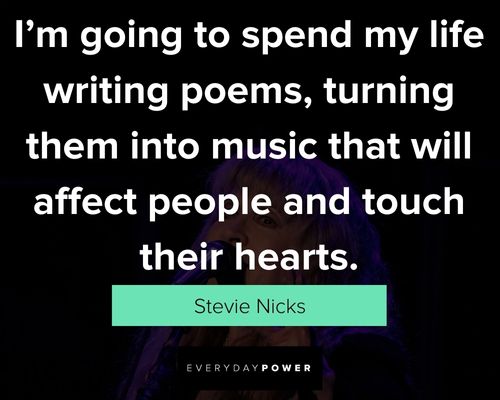 7. "But when something does happen to me … I feel that it's my duty to actually share that with all of you guys. I want to immediately go to my desk and start writing about it." — Stevie Nicks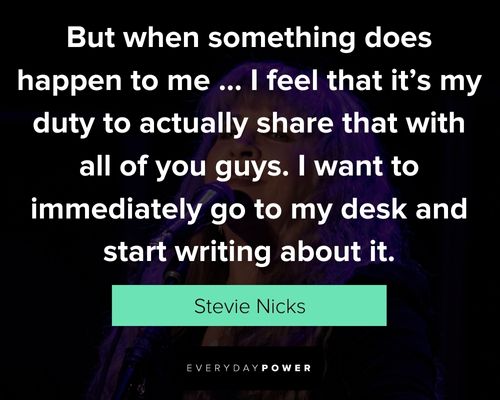 8. "There is a part of me that has to depend on fantasy, because if you can't be somewhat of a fantasy person, then you can't write." — Stevie Nicks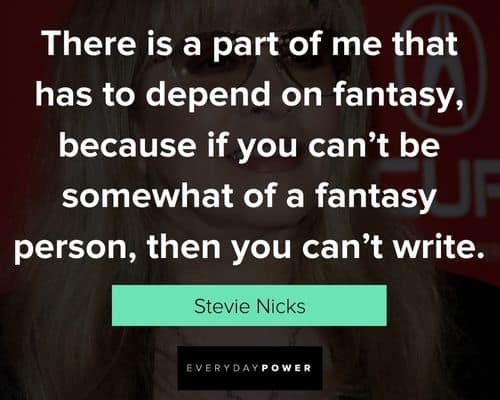 9. "I'm going to write the songs that people can't write for themselves." — Stevie Nicks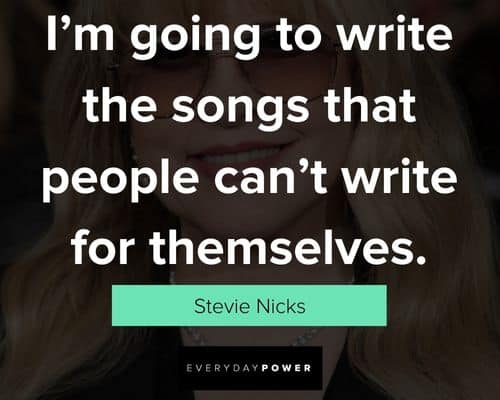 Stevie Nicks quotes about love and relationships
10. "I have no fear, I have only love." — Stevie Nicks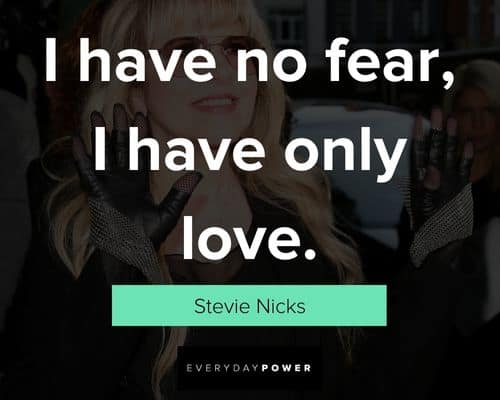 11. "If you really want to save yourself a whole lot of heartache, do not fall in love with somebody in a band. Just don't." — Stevie Nicks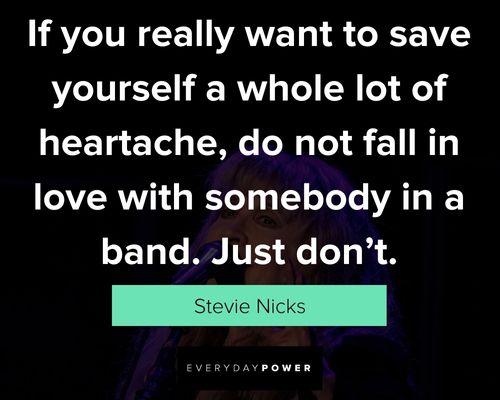 12. "Love is only one fine star away." — Stevie Nicks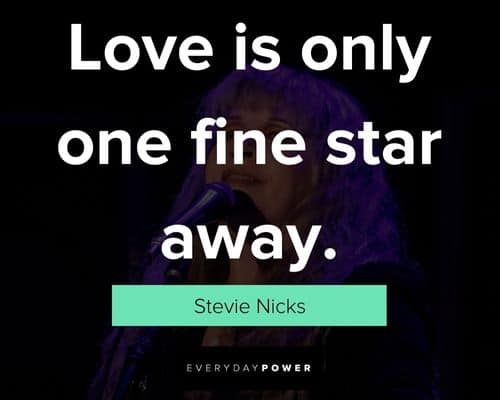 13. "Love is a word that some entertain. If you find it you have won the game." — Stevie Nicks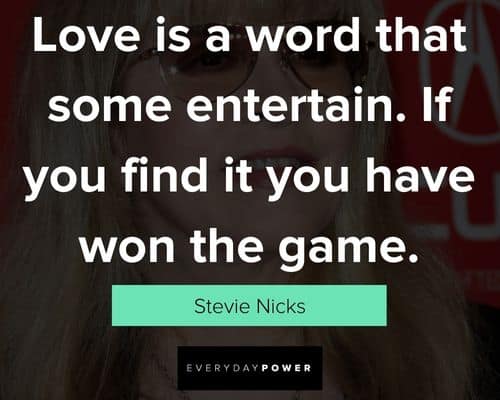 14. "I live in the realm of romantic possibility." — Stevie Nicks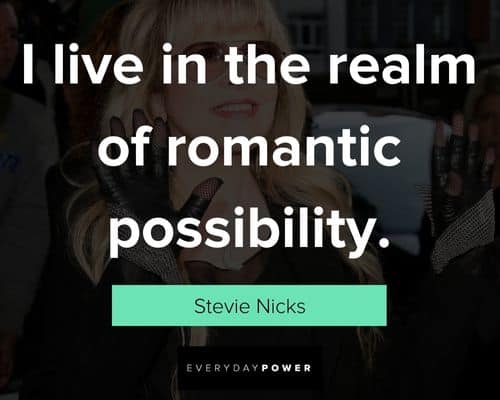 15. "Stop dragging my heart around." — Stevie Nicks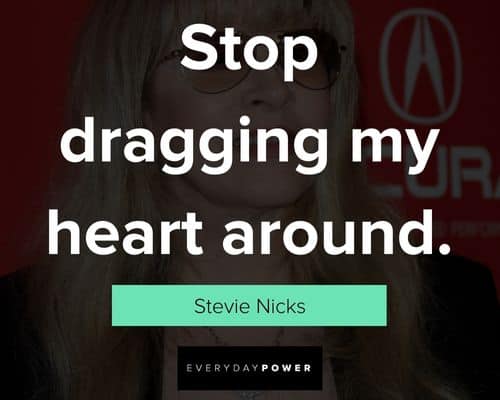 16. "Why does the greatest love become the greatest pain?" — Stevie Nicks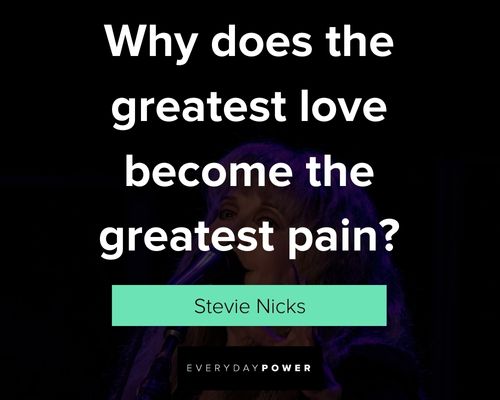 Stevie Nicks quotes about having grace
17. "When you're hurt or angry, let go by tapping into your humbleness." — Stevie Nicks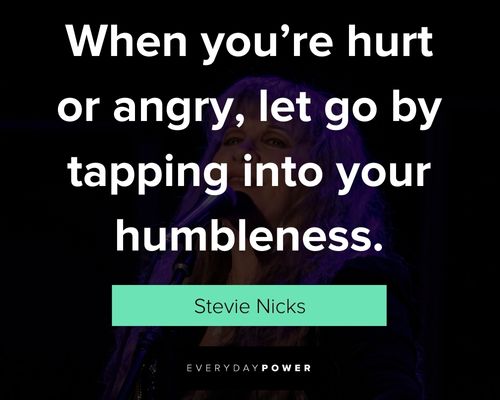 18. "You want people to remember you for your grace." — Stevie Nicks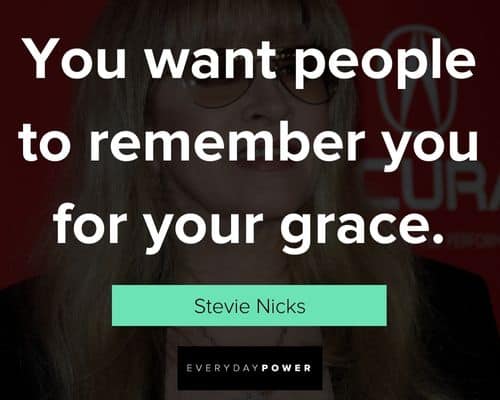 19. "Your graciousness is what carries you. It isn't how old you are, how young you are, how beautiful you are, or how short your skirt is. What it is, is what comes out of your heart. If you are gracious, you have won the game." — Stevie Nicks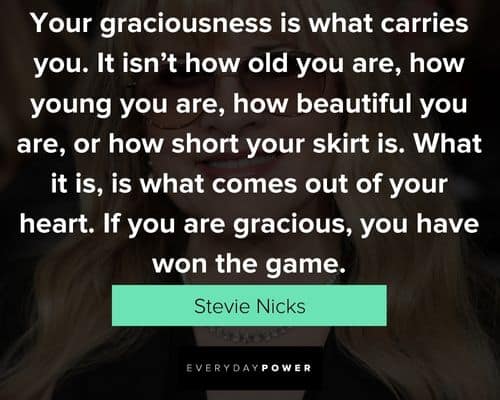 20. "I believe that there is a certain amount of mysticism that all women should have, that you should never tell all your secrets, that you should never tell everybody all about you." — Stevie Nicks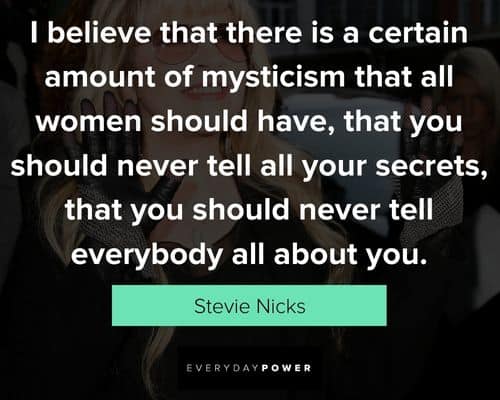 21. "When you grow up as a girl, the world tells you the things that you are supposed to be: emotional, loving, beautiful, wanted. And then when you are those things, the world tells you they are inferior: illogical, weak, vain, empty." — Stevie Nicks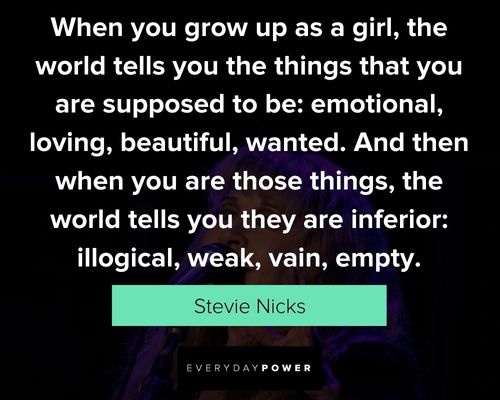 Stevie Nicks quotes about being unapologetically your quirky self
22. "But never have I been a blue calm sea I have always been a storm." — Stevie Nicks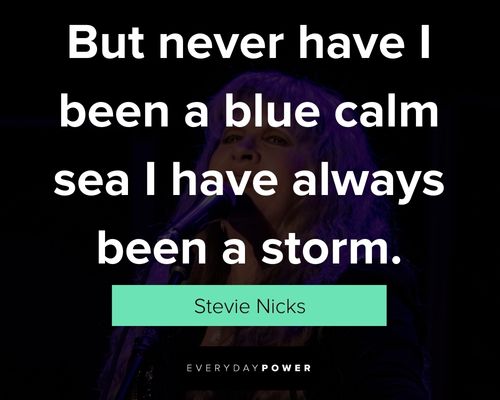 23. "There is always magic to be summoned at any point." — Stevie Nicks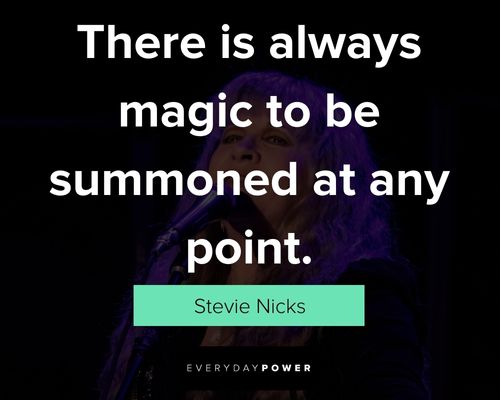 24. "I'm not a witch, I just like Halloween, and I thought that blondes look skinnier in black." — Stevie Nicks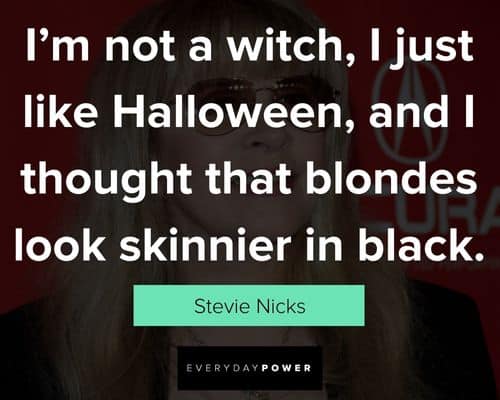 25. "If you can find a passion at a young age, somewhere between fifteen and thirty, if you can find that passion, I can pretty much guarantee you that you can be sixty-five and still love that passion and still have a reason to dance out of bed and down the hall every morning." — Stevie Nicks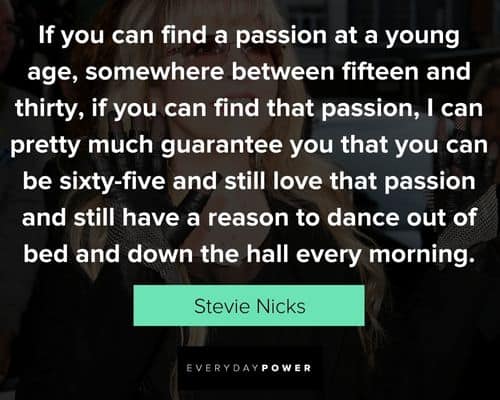 26. "By the time I was five, I was a little diva." — Stevie Nicks
27. "I've always liked long, flowing clothes,…I used to rummage around in my grandmother's trunks trying to find them. I love the feeling of chiffon and lace." — Stevie Nicks
28. "I love leather and I love lace, but not necessarily together. I'm probably happiest in a long black velvet dress, black suede boots, and some kind of really beautiful wrap than I am in anything else. I don't even own a pair of jeans." — Stevie Nicks
29. "I'm obsessed with lighting. I'm constantly shopping for different lightbulbs. I love rainbow lightbulbs. And also, one should not live without dimmers. Life is all about lighting." — Stevie Nicks
Stevie Nicks quotes about ambition and success
30. "I totally believe in magic. Because my life, I think, has been very magic, and magical things have come true for me time after time after time." — Stevie Nicks
31. "There are days when I swear I could fly like an eagle And dark desperate hours that nobody sees My arms stretched triumphant on top of the mountain My head in my hands down on my knees." — Stevie Nicks
32. "I do not walk away in the face of adversity and never have." — Stevie Nicks
33. "I was not going to be a stupid girl singer. I was going to be way more than that." — Stevie Nicks
34. "Do you want to be an artist and a writer, or a wife and a lover? With kids, your focus changes. I don't want to go to PTA meetings." — Stevie Nicks
35. "And I knew then, as I know now, that I still have so much to do." — Stevie Nicks
More Stevie Nicks quotes
36. "I love to live in a world of magic, but not a fake world of magic. We all really basically have a lot of magic… It's only those of us who choose to accept it, that really understand it. It's there for everyone. That's the only thing that I feel I am able to give to people and that's why I know that they respond to me because I try to give them only their own magic… not mine, but theirs." — Stevie Nicks
37. "Timeless is the creature who is wise. And timeless is the prisoner in disguise." — Stevie Nicks
38. "The sea changes color, but the sea does not change." — Stevie Nicks
39. "You live by the light of the moon, and I live by desire." — Stevie Nicks
40. "All I ever wanted Was to know that you were dreaming." — Stevie Nicks
41. "Time makes you bolder, children get older. I'm getting older, too." — Stevie Nicks
42. "You can't just be a wimp and then a year and a half or two years later decide to not be a wimp anymore. Because people will always treat you like a wimp once they have decided that's what you are." — Stevie Nicks
43. "You have to be strong and tough and intelligent and smart and kind of plan out what you're going to say and know who you are. So that people will get that right away. Because then they're always going to be great to you. And they're always going to treat you with respect." — Stevie Nicks
44. "A wound gets worse when it's treated with neglect." — Stevie Nicks
45. "I am stronger than you know." — Stevie Nicks
46. "Nobody's right all the time." — Stevie Nicks
47. "You know, the man of my dreams might walk round the corner tomorrow. I'm older and wiser and I think I'd make a great girlfriend." — Stevie Nicks
48. "If I had my life to live over, I would never dream." — Stevie Nicks
49. "I think they all went too far. Their jeans got too low, their tops got too see-through. Personally, I think that sexy is keeping yourself mysterious. I'm really an old-fashioned girl, and I think I'm totally sexy." — Stevie Nicks
50. "Being able to take care of myself is something that my mom really instilled in me." — Stevie Nicks
Which Fleetwood Mac song is your favorite?
Stevie Nicks is a perfect example of a person who knows what they want and who was never going to accept not getting it.
Nicks' career has lasted over 50 years and is still going strong.
The singer and songwriter is internationally famous for her image and her bluesy, folky, rock and roll style of music.
She is an inspiration to other musicians, artists, writers, and anyone with a dream.
If you know what you want out of life, be like Stevie Nicks.
Do not accept no for an answer.
Did you enjoy these Stevie Nicks quotes and lyrics?
Which quote was your favorite?
Let us know in the comments below.