25 Lee Iacocca Quotes About Leadership, Business, and Taking Action
Businessman, visionary, and strong leader, Lee Iacocca is best known for reviving Chrysler in the 1980s.
These Lee Iacocca quotes will inspire you to be a great leader so that you can find success in your dreams.
Lee Iacocca was hired at Ford as an engineer after receiving a Masters Degree in engineering from Princeton University.
The company soon realized that Iacocca was better suited for sales and from there Iacocca quickly moved up the ranks until he became President of the company.
Unfortunately, he was dismissed from this role due to his unorthodox attitude.
In 1979, Iacocca became the Chairman of Chrysler and famously acquired the largest amount of federal assistance ever granted to a company at that time, which saved the Chrysler Corporation from bankruptcy.
He was later named the 18th Greatest CEO of All Time by Portfolio.
We hope these quotes from one of the most successful business leaders of all time will inspire you to take action on your dreams.
Don't forget to also check out these wise JP Morgan quotes on success and life.
If you like this article, we suggest you explore our most popular quotes article, a list of short inspirational quotes for daily encouragement.
Look through our complete collection of inspirational quotes here.
Lee Iacocca quotes about taking action
1. "If you want to make good use of your time, you've got to know what's most important and then give it all you've got." — Lee Iacocca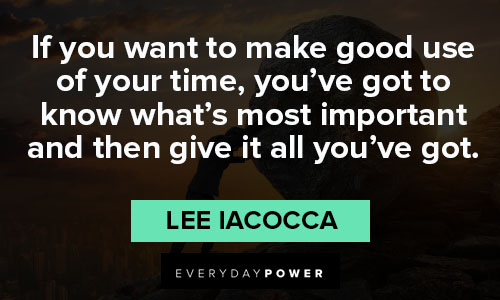 2. "The ability to concentrate and to use your time well is everything." — Lee Iacocca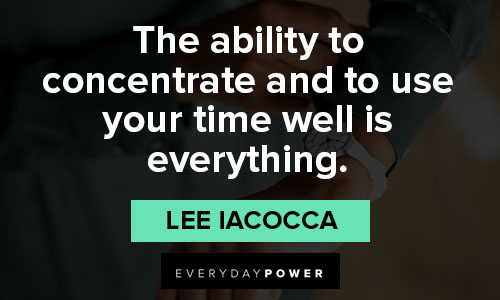 3. "There ain't no free lunches in this country." — Lee Iacocca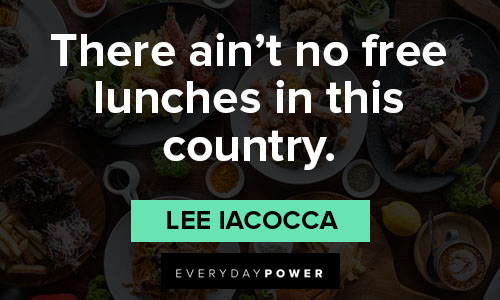 4. "Don't go spending your whole life commiserating that you got the raw deals." — Lee Iacocca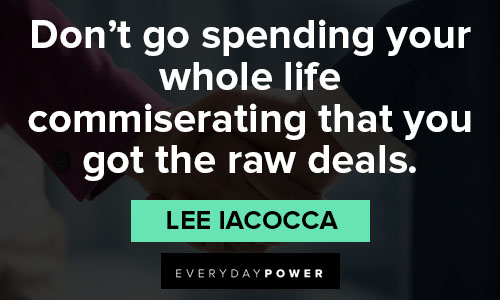 5. "You've got to say, "I think that if I keep working at this and want it bad enough I can have it." It's called perseverance." — Lee Iacocca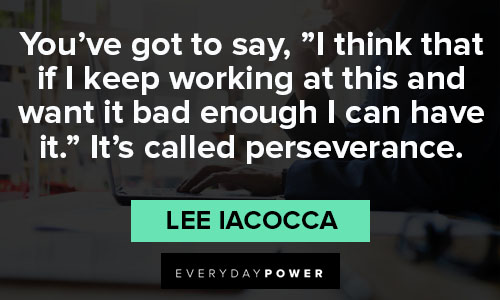 6. "In times of great stress or adversity, it's always best to keep busy, to plow your anger and your energy into something positive." — Lee Iacocca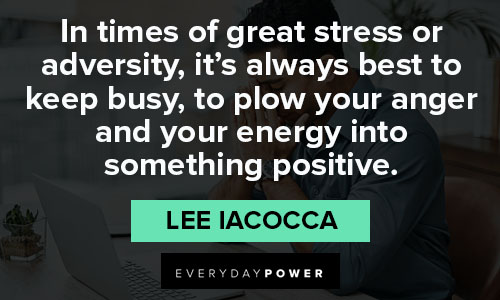 7. "If we screw it up, start over. Try something else. If we wait until we've satisfied all the uncertainties, it may be too late." — Lee Iacocca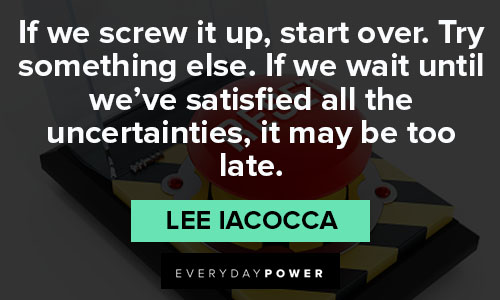 8. "I have to act to live." — Lee Iacocca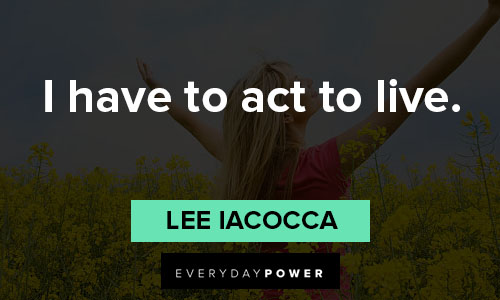 Lee Iacocca quotes about business
9. "When the product is right, you don't have to be a great marketer." — Lee Iacocca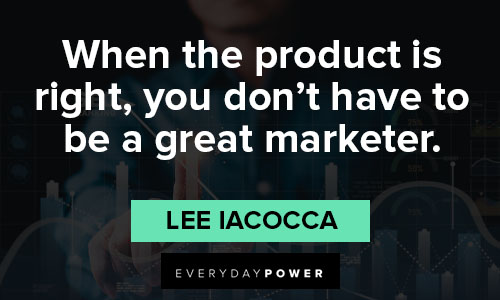 10. "There is no substitute for accurate knowledge. Know yourself, know your business, know your men." — Lee Iacocca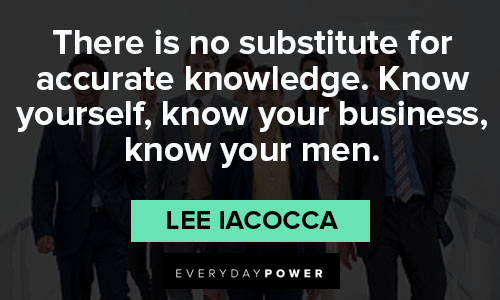 11. "We at Chrysler borrow money the old-fashioned way. We pay it back." — Lee Iacocca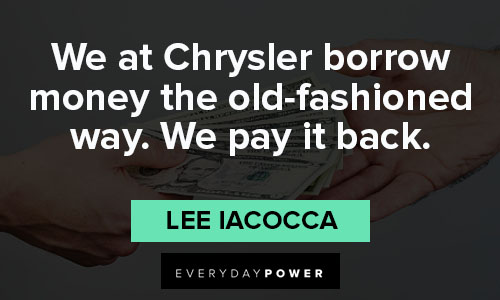 12. "If it hadn't been for Henry Ford's drive to create a mass market for cars, America wouldn't have a middle-class today." — Lee Iacocca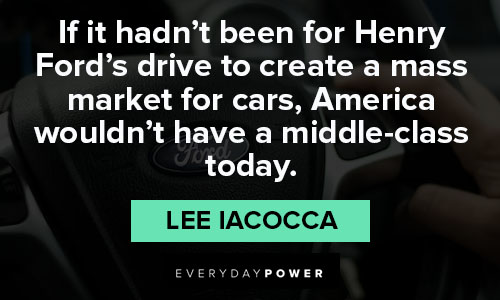 13. "One of the things the government can't do is run anything. The only things our government runs are the post office and the railroads, and both of them are bankrupt." — Lee Iacocca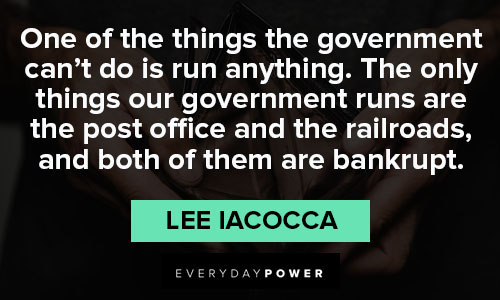 14. "In the end, all business operations can be reduced to three words; people, product, and profits. Unless you've got a good team, you can't do much with the other two." — Lee Iacocca
If you're enjoying these quotes, you'll love our collection of team quotes that will inspire you and your teammates to collectively meet your goals.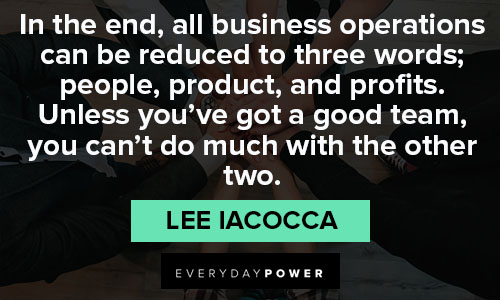 15. "Why is our free-enterprise system so strong?- Not because it stands still, frozen in the past, but because it has always adapted to changing realities." — Lee Iacocca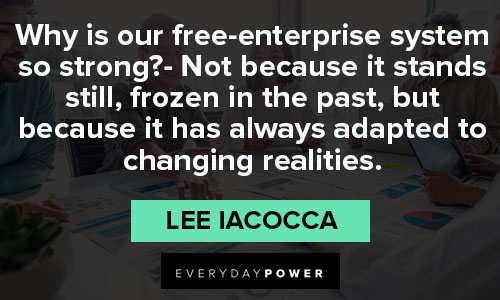 16. "People want economy and they will pay any price to get it." — Lee Iacocca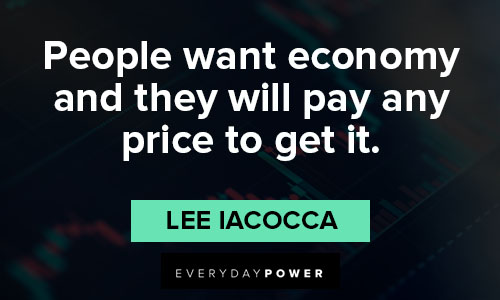 17. "If a guy is over 25 percent jerk, he's in trouble. And Henry was 95 percent." — Lee Iacocca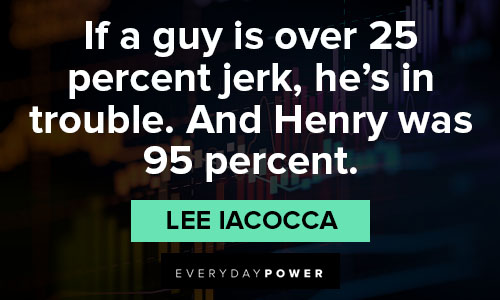 18. "Start with good people, lay out the rules, communicate with your employees, motivate them, and reward them. If you do all those things effectively, you can't miss." — Lee Iacocca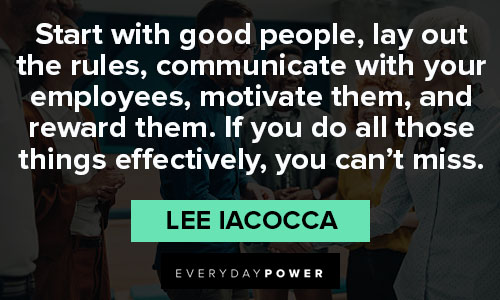 19. "Every business and every product has risks. You can't get around it." — Lee Iacocca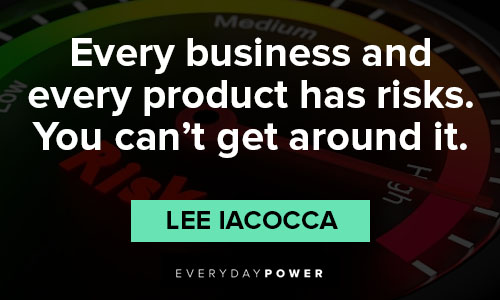 Lee Iacocca quotes about creating happiness
20. "How to gain, how to keep, how to recover happiness is in fact for most men at all times the secret motive of all they do, and of all, they are willing to endure." — Lee Iacocca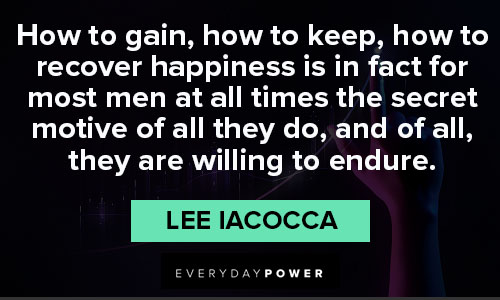 21. "The thing that lies at the foundation of positive change, the way I see it, is service to a fellow human being." — Lee Iacocca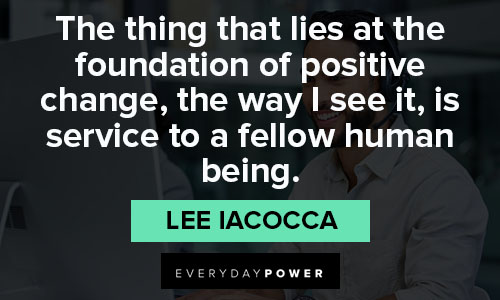 22. "The trick is to make sure you don't die waiting for prosperity to come." — Lee Iacocca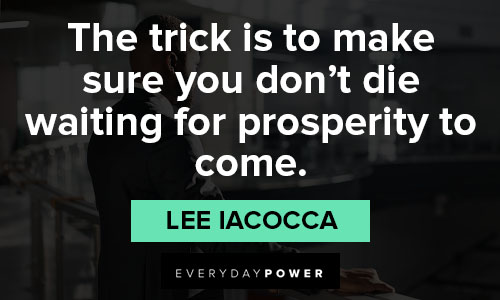 23. "The greatest discovery of my generation is that human beings can alter their lives by altering their attitudes of mind." — Lee Iacocca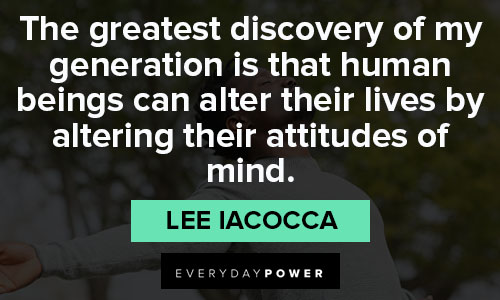 24. "Something useful is always born out of happiness." — Lee Iacocca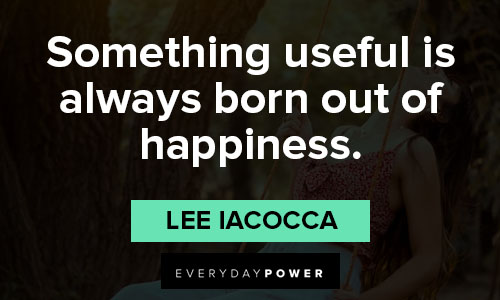 Lee Iacocca quotes about working towards success
25. "The discipline of writing something down is the first step toward making it happen." — Lee Iacocca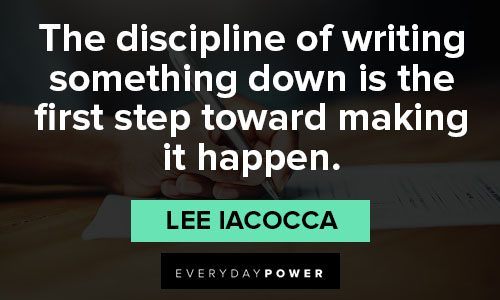 Are great leaders born or made?
To answer that question, we first must ask: what traits make up a great leader?
A great leader is someone who can adapt to new situations and challenges quickly and make tough decisions for the betterment of the company and their team.
Someone who shows empathy and who can empower their team to succeed together.
Anyone can become a great leader.
As long as you're willing to step out of your comfort zone and take direct actions towards a goal, you're halfway there.
The rest can be learned along the way.
Lee Iacocca was a great leader.
His leadership style led to the success of Chrysler and granted him a prosperous career.
We hope these Lee Iacocca quotes inspired you to bring out the leader in you so that you can take action and succeed in your dreams.
Did you enjoy these Lee Iacocca quotes and sayings?
Which quote was your favorite?
Let us know in the comments below.