25 Legacies Quotes for Fans of the Vampire Diaries
These Legacies quotes will make you feel enchanted and crave more of these types of fictional stories.
Legacies is a fantasy drama series created as a spin-off of the Originals and even featured the same characters and events from Vampire Diaries.
It follows the story of Hope Mikaelson, a descendant of the most powerful vampire, werewolf and witch bloodlines.
She is basically one of the most overpowered beings in the series but has yet to unlock her true potential due to her young age.
As the story unfolds, she attends a special school called Salvatore School for the Young and Gifted.
This is where kids with supernatural abilities try to learn how to control their own powers.
Enjoy these Legacies quotes!
Don't forget to also check out these Vampire Diaries quotes from the CW's teen drama.
Also, check out our most popular quote article, a list of short inspirational quotes for daily wisdom.
See the rest of our quote database for even more inspirational ideas and thoughts.
Legacies quotes from Lizzie
1. "I'm trying to rise above it so let me freaking rise." — Lizzie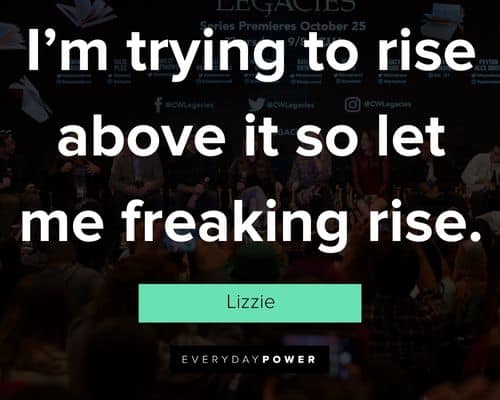 2. "I just have this feeling that everything is going to work out just fine." — Lizzie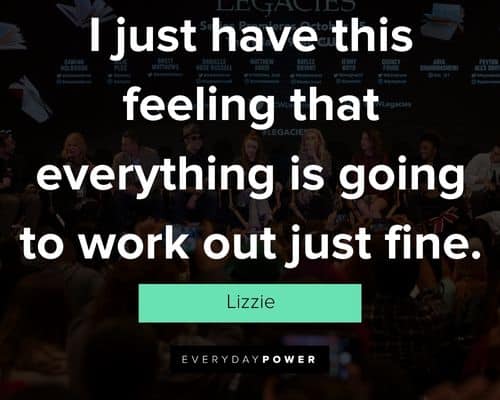 3. "Whoever she is, she doesn't hold a candle to Hope Mikaelson." — Lizzie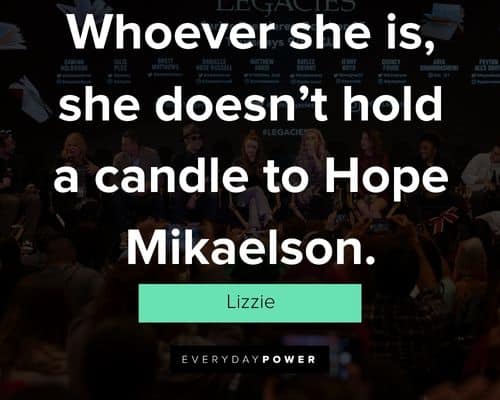 4. "Anyone who won't dissolve into a puddle of goo when they have sex will do." — Lizzie
5. "I'm still a work in progress, but I'm definitely a better version of Lizzie Saltzman." — Lizzie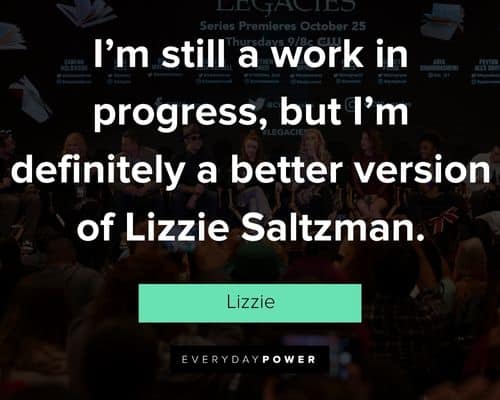 6. "Don't make me unplug you." — Lizzie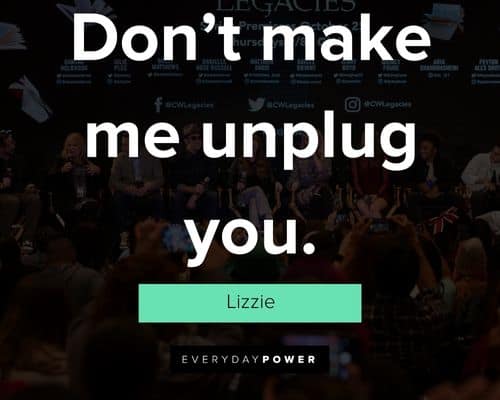 7. "What I told you is that I wrote this story when I was a kid in my diary. I don't remember much of it, obviously, especially any no name space junk hoarders, so I don't even know what you're doing here, Hope." — Lizzie
8. "We are tripping balls, man." — Lizzie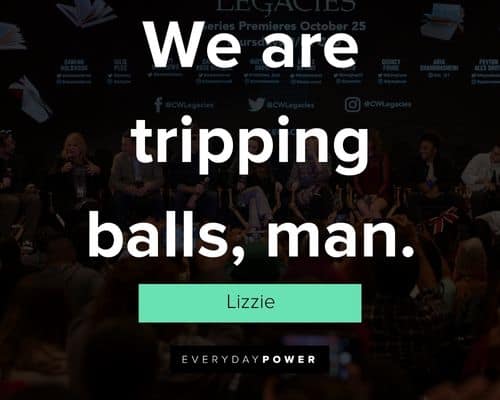 9. "My sister has terrible taste in women as it is, but there's no way that I'm letting her near a cold-blooded killer!" — Lizzie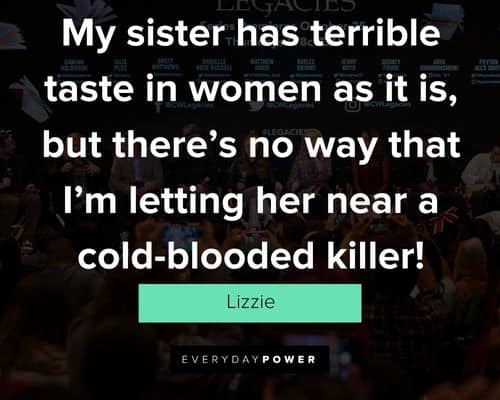 10. "You forgot your sweater. I thought you might need it after the ice-cold way you violated twin code." — Lizzie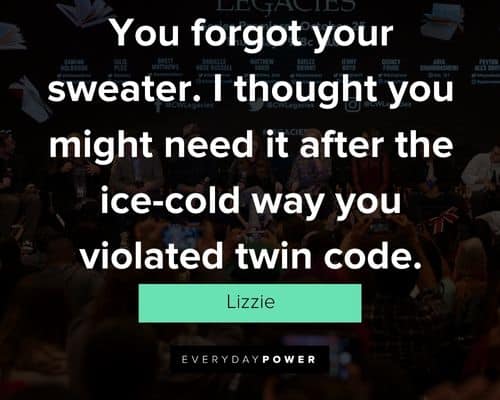 11. "We almost lost this school because every parent was scared that if they sent their kids back, they'd be forced to fight monsters." — Lizzie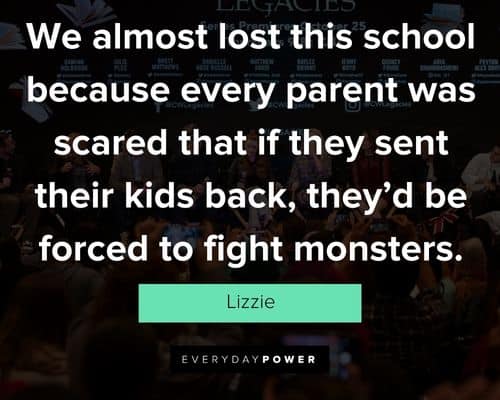 Legacies quotes from Josie
12. "Everyone has issues of their own that they're dealing with. We're all in this together." — Josie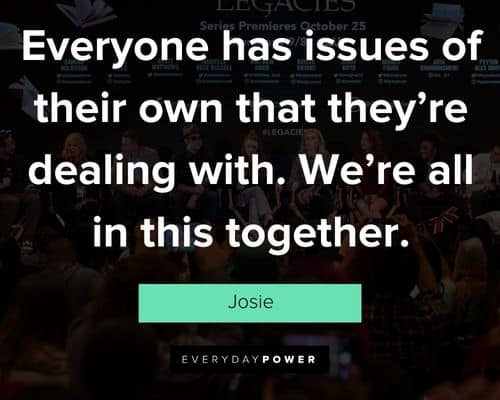 13. "Every single person here, we look out for each other, so, yeah. It's worth it." — Josie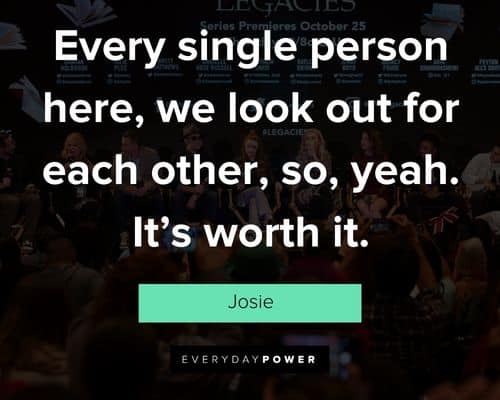 14. "I'm getting back to me. I am who I am." — Josie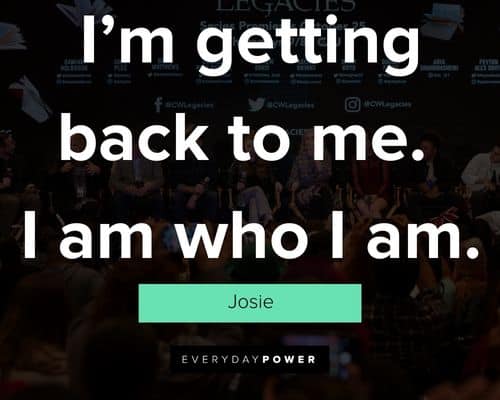 15. "Hope, we were literally on drugs. Some stupid story you two wrote when we were kids doesn't mean anything in it is actually going to happen, or that your fate is sealed." — Josie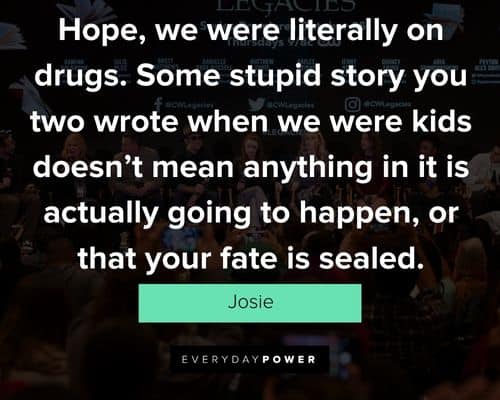 16. "I am so good at cleaning up your messes and supporting you. It's almost as if I was written to have no wants or needs of my own." — Josie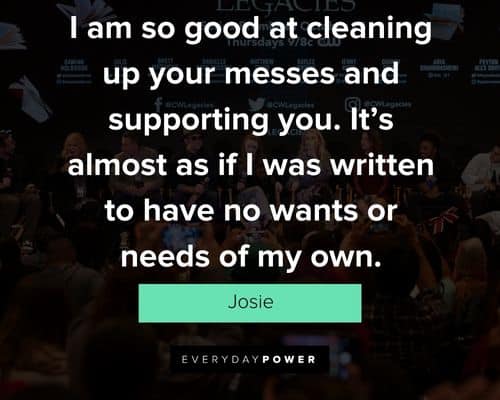 17. "Wait, I hate that I have to do this because all I've ever wanted for you is happiness, but just because Andi's a fraud, even though she is, you're lying to yourself because you're mad at Landon." — Josie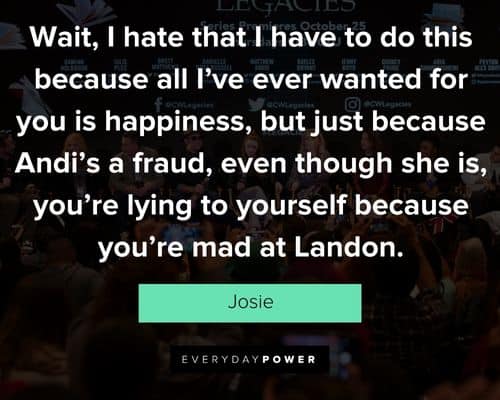 18. "That crystal doesn't work on you and blue isn't your color." — Josie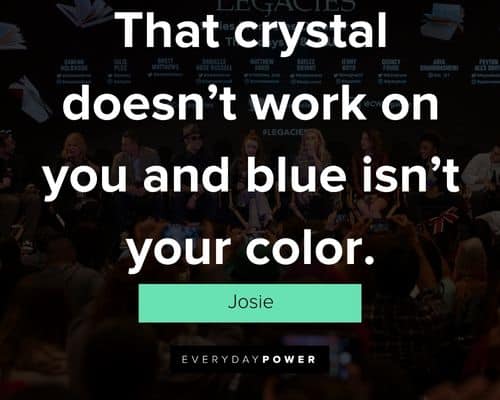 19. "I think I can find the courage to come back if you come with me." — Josie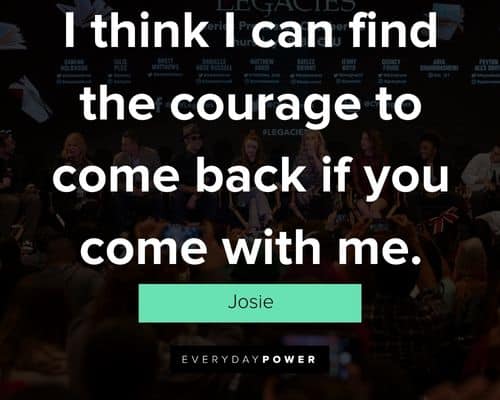 20. "He just bah'd! No one genuinely bah's except the Necromancer!" — Josie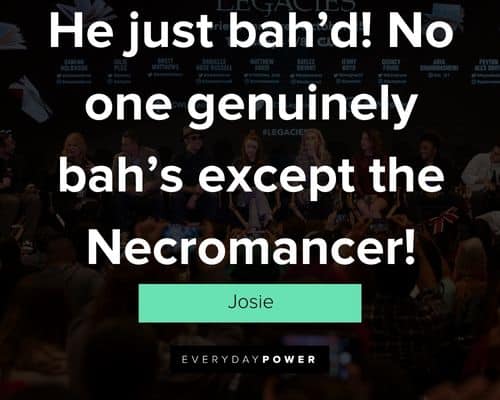 21. "We both know you can never have a real relationship if you're suppressing an essential part of yourself." — Josie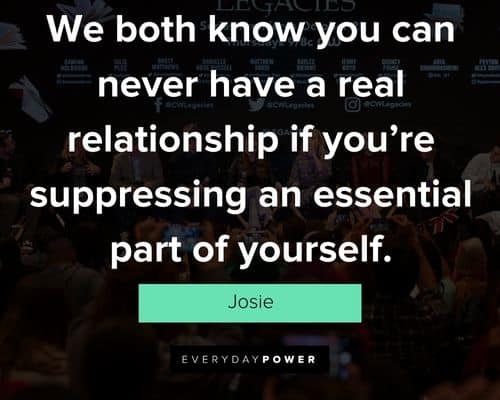 Legacies quotes from Hope
22. "My name is Hope Mikaelson, the entire world that I exist, and the boy that I love has moved on, and I have absolutely no idea what to do next." — Hope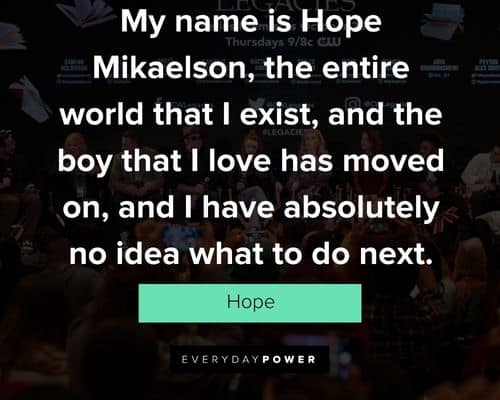 23. "What if the only difference is just who's telling the story?" — Hope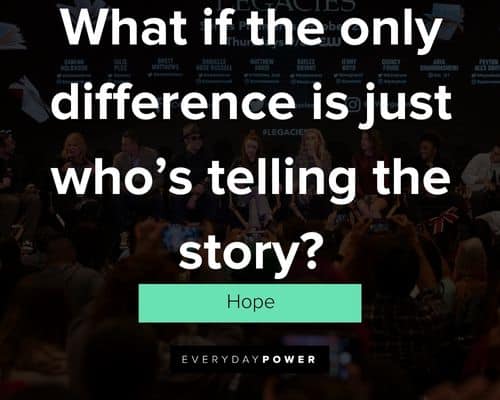 24. "I never wanted to before because I would have to do it alone, but now I have you. And we make up our own faction." — Hope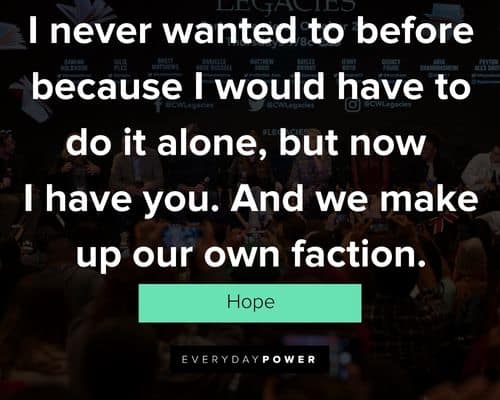 25. "And not a moment too soon. I'm pretty sure you were about to tell me how babies are made." — Hope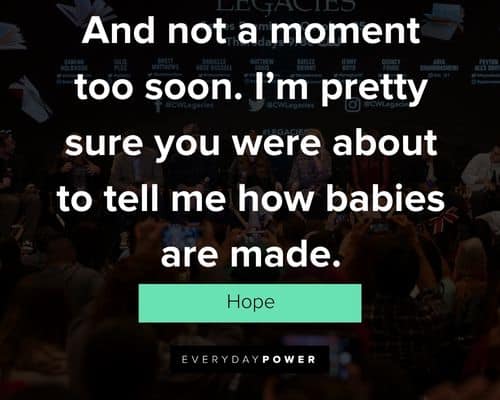 Which of these Legacies quotes is your favorite?
Being enrolled in Salvatore is not as cool as it seems.
There are rules that you must absolutely follow and secrets you must never uncover.
In addition, supernatural beings in Salvatore are still creatures of darkness and have villainous intentions.
Hope will find herself struggling to control her powers and fight off his natural affinity to evil to live in harmony with humans.
This series is a captivating fiction story to allow your mind to be filled with fantasies about magic and mystic lore.
Of course, there's never a shortage of drama and romance for this series which will keep the general audience engaged throughout the episode.
Now is an excellent time to share these Legacies quotes and sayings with a friend.