The Vampire Diaries Quotes From the CW's Teen Drama
This collection of The Vampire Diaries quotes will take you back to some of the show's funniest moments.
The dialogue in this show was fantastic, with some great quotes coming from characters like Damon (Ian Somerhalder) and Stefan Salvatore (Paul Wesley), a pair of vampire brothers.
The Vampire Diaries, an American supernatural teen drama television series, was based on the popular book series of the same name written by L. J. Smith.
The series, which premiered on The CW on September 10, 2009, aired 171 episodes, and concluded on March 10, 2017, after eight seasons.
The story is set in Virginia, in a fictional town with a supernatural history, called Mystic Falls.
The show follows the life of teenager Elena Gilbert (Nina Dobrev), who has just lost both parents in a car accident.
She falls in love with Stefan, who is a 162-year-old vampire.
Of course, these teenage dramas are full of twists and turns and love triangles.
It is no surprise that there is no shortage of The Vampire Diaries quotes about love and relationships!
The Vampire Diaries is no different and their relationship becomes complicated when Stefan's mysterious older brother Damon Salvatore returns.
Keep reading to find out just what kind of chaos Damon brings with his plans.
Don't forget to also check out these Klaus Mikaelson quotes from one of the "original vampires"
Check out our most popular quote article, a list of short inspirational quotes for daily inspiration.
Our inspirational quotes category page has all of our motivational quotes for all the different areas of life.
The Vampire Diaries quotes about love and relationships
1. "Love's always going to require a huge leap of faith. A big, scary leap over a hot pit of lava. And, you might end up heartbroken, but you might be the happiest person on the face of the earth." ― Jo Parker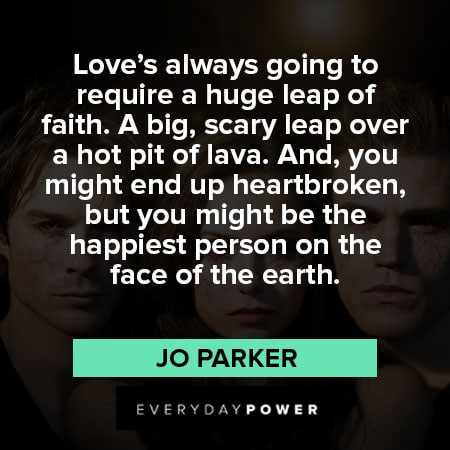 You will also enjoy our article on Rebekah Mikaelson quotes.
2. "It's not a crime to love what you cannot explain." ― Klaus Mickaelson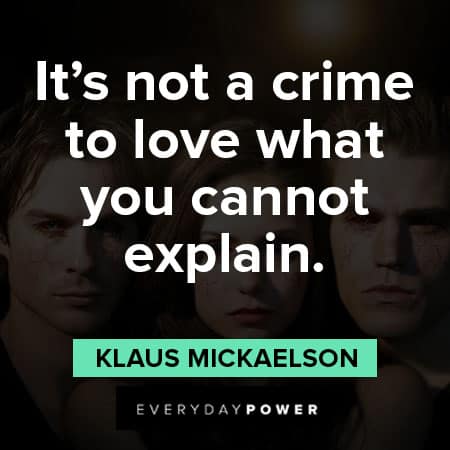 3. "I need to say it once. You need to hear it. I love you, Elena." ― Damon Salvatore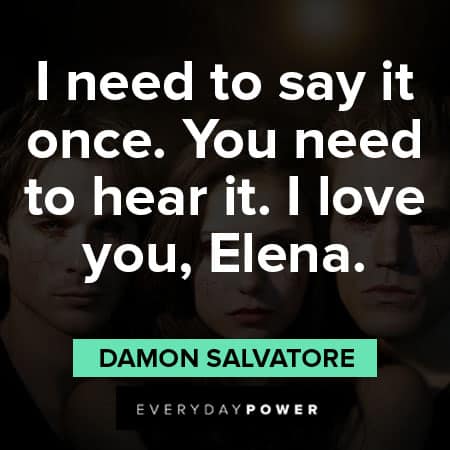 4. "I'm not gonna be one of those pathetic girls whose world stops just because of some guy." ― Elena Gilbert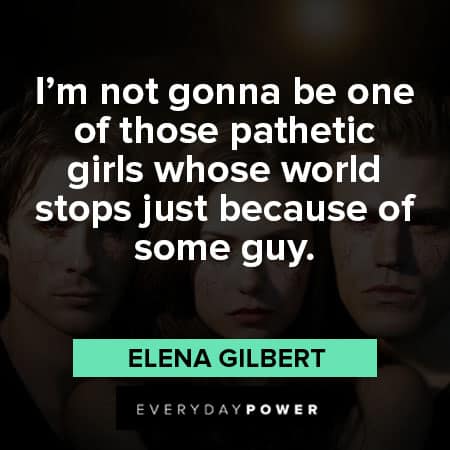 5. "Sex wasn't good because we didn't care. It was good because you were crazy. Crazy sex is always good." ― Stefan Salvatore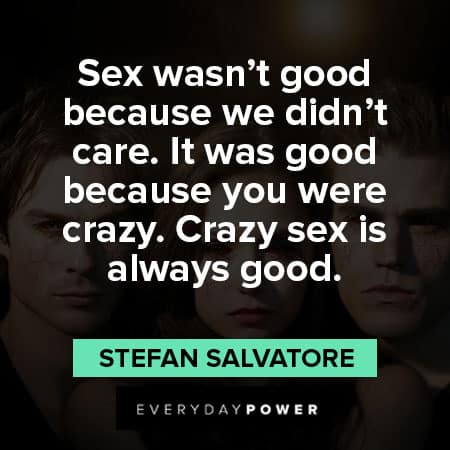 6. "I didn't sleep with Damon because of the sire bond. I slept with Damon because I'm in love with him." ― Elena Gilbert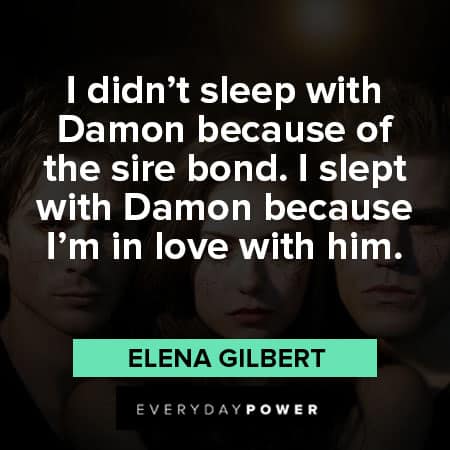 7. "It's the most real thing I've ever felt in my entire life. I love you, Damon." ― Elena Gilbert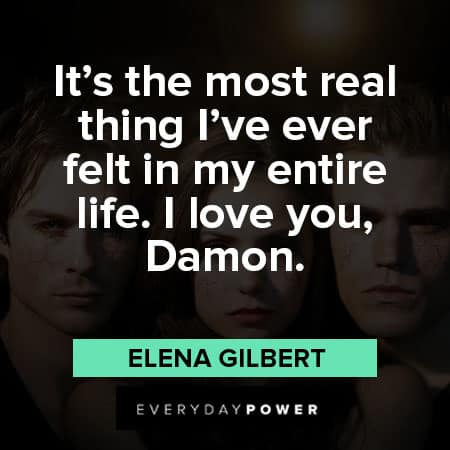 8. "Anybody capable of love is capable of being saved." ― Caroline Forbes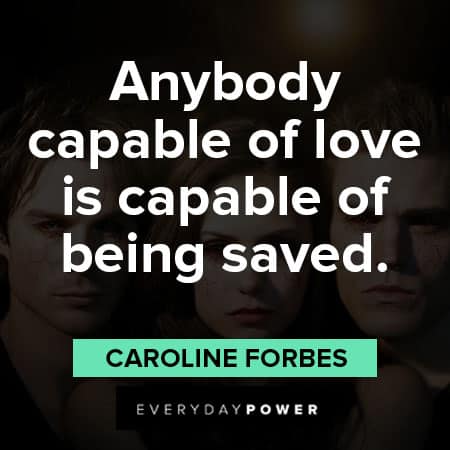 9. "My blood can literally destroy him. If that's not a sign that we're in a toxic relationship…" ― Elena Gilbert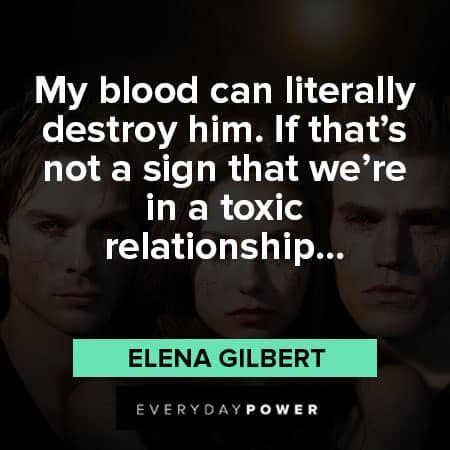 10. "I've been in love. It's painful, pointless, and overrated." ― Damon Salvatore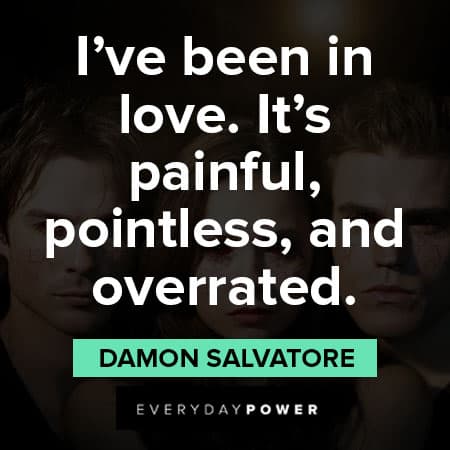 11. "When you lose someone, it stays with you. Always reminding you of how easy it is to get hurt." ― Elena Gilbert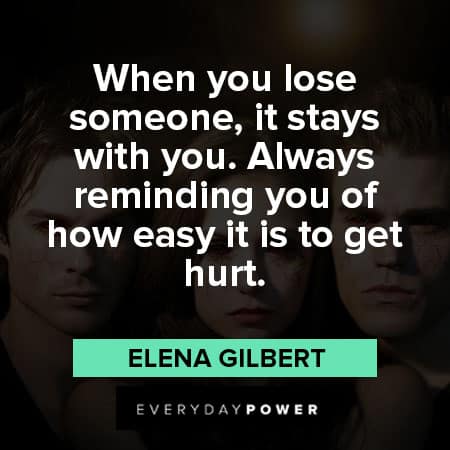 12. "I've sworn off men forever, but it doesn't mean I can't observe them from a safe distance." ― Jenna Sommers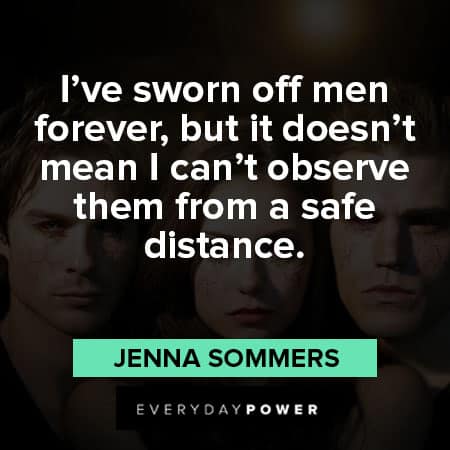 If you enjoy this article, check out our collection of Legacies quotes for fans of the Vampire Diaries.
The Vampire Diaries quotes from Damon
13. "Your life is pathetic. Your after-life doesn't have to be." ― Damon Salvatore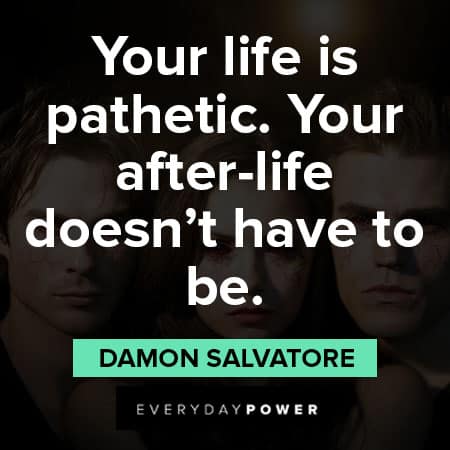 14. "I was ambushed. I was shot. Now, I'm vengeful." ― Damon Salvatore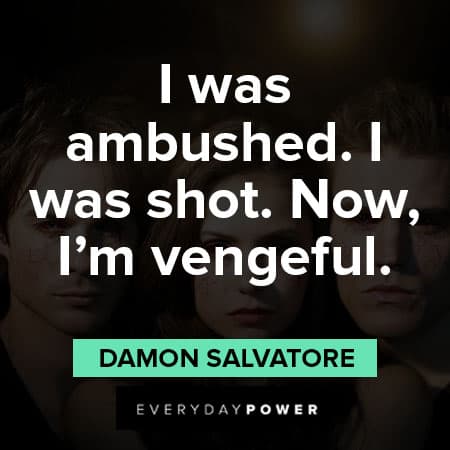 15. "If I see something I haven't seen before, I'll throw a dollar at it." ― Damon Salvatore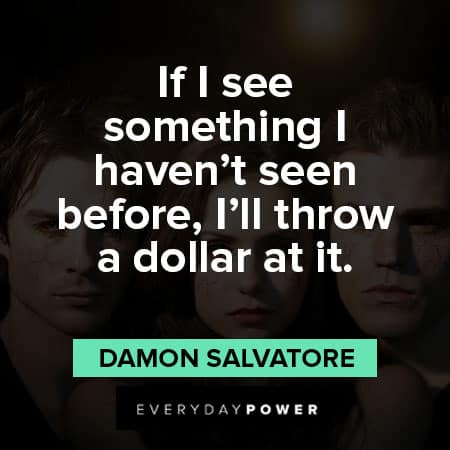 16. "The only one I can count on is… me." ― Damon Salvatore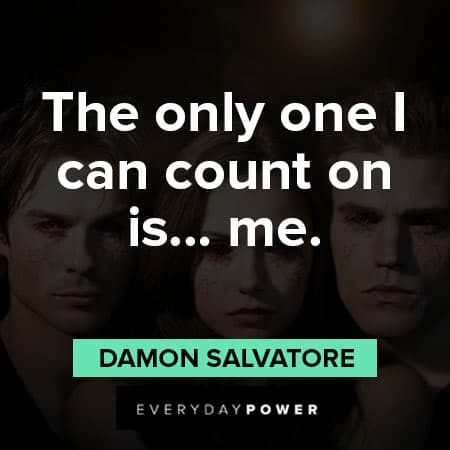 17. "You spent the last century and a half being the poster child for Prozac. Now you want me to believe this new you has nothing to do with human blood." ― Damon Salvatore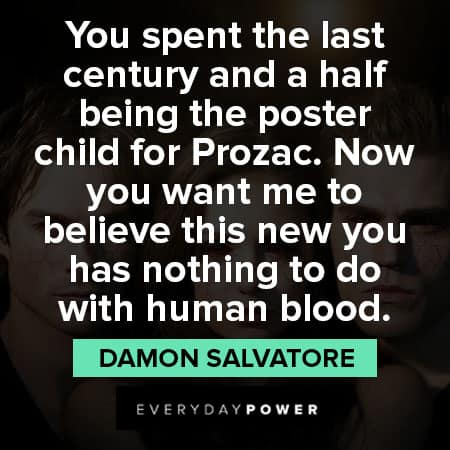 18. "Life sucks either way, Jeremy. At least if you're a vampire, you don't have to feel bad about it if you don't want to." ― Damon Salvatore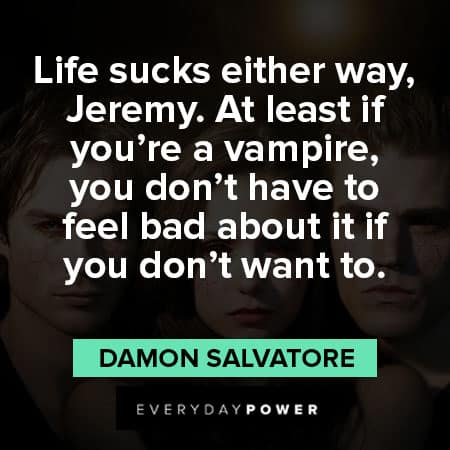 19. "Your search for life's purpose is as obvious as it is tragic." ― Damon Salvatore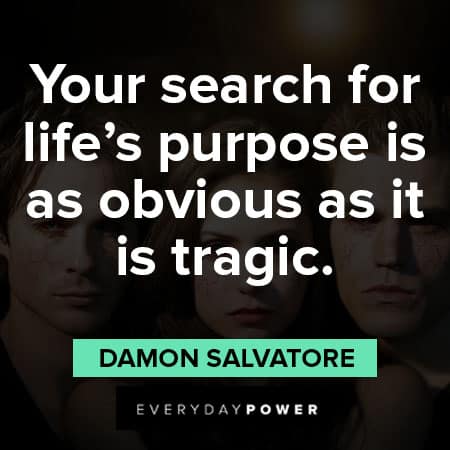 20. "I've been dead before. I got over it." ― Damon Salvatore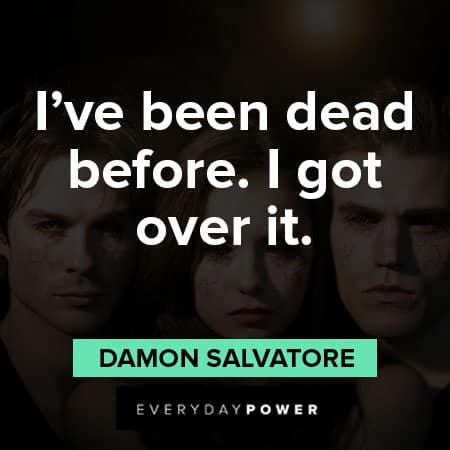 21. "I'm lost… metaphorically, existentially." ― Damon Salvatore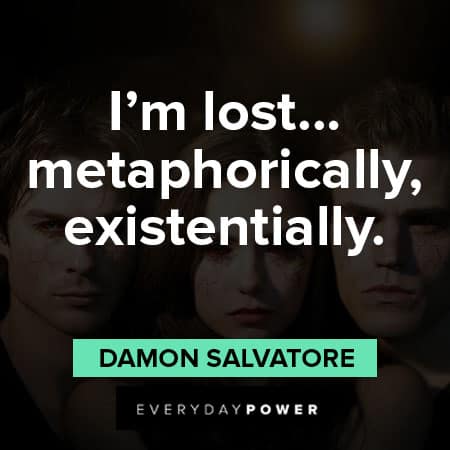 22. "We're in hell. My own person, custom-built hell." ― Damon Salvatore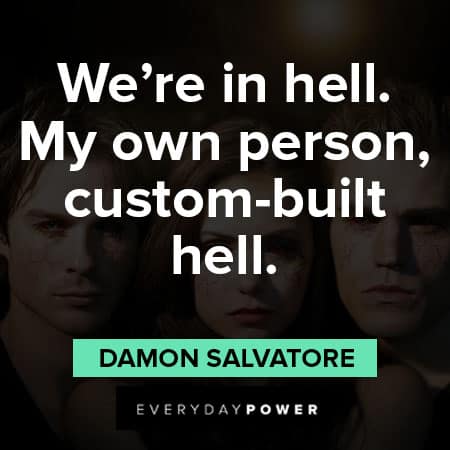 23. "Everything changes tomorrow. It'll be all unicorns and rainbows." ― Damon Salvatore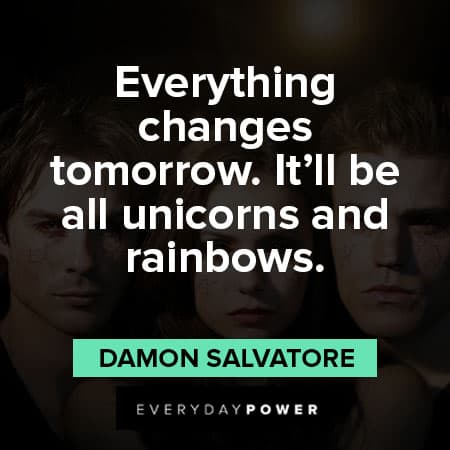 24. "I do not go behind people's backs and torture them. I like my enemies to look me in the eye and see the depth of my rage." ― Damon Salvatore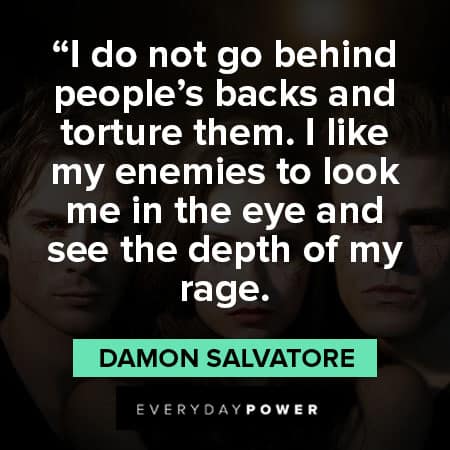 If you enjoy this article, check out our collection of Teen Wolf quotes for fans of the teen drama.
Funny The Vampire Diaries quotes amidst the gloom
25. "There's more to me than just gloomy grave yard girl." ― Elena Gilbert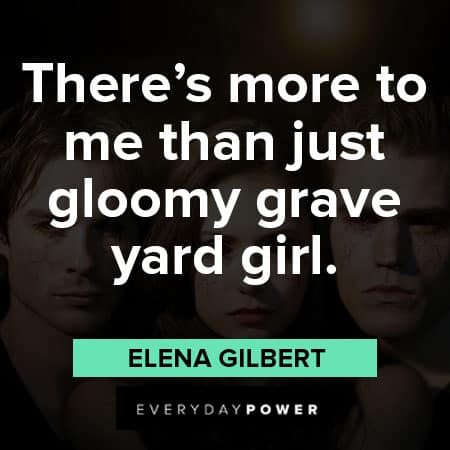 Did you enjoy this list of The Vampire Diaries quotes?
Damon plots to bring back his and Stefan's past love Katherine Pierce, a vampire who looks exactly like Elena, and is played by the same actress.
Damon's motives to cause trouble stems from the grudge he holds against his brother for forcing him to become a vampire.
Later in the series, he forgives Stefan but falls in love with Elena.
Of course, it wouldn't be good TV without other protagonists.
Both brothers end up protecting Elena from various villains (including Katherine) and threats to their town, including werewolves and ghosts.
The show also portrays storylines about the other people who live in the town, like Elena's little brother Jeremy Gilbert.
Elena's friends are also an integral part of the plot, as their history teacher, who turns out to be a vampire hunter.
Were you a fan of the show?
Were you Team Damon or Team Stefan?
Do you have any other favorite The Vampire Diaries quotes and lines to add?
Let us know in the comment section below.