Lovecraft Country Quotes from the Dark Fantasy Series
These Lovecraft Country quotes will tickle your imagination for more Lovecraft fiction.
Lovecraft Country is a horror drama series streaming on HBO.
It's based on a connecting story of a novel by Matt Ruff.
The series follows the story of Atticus Freeman, a young black man in a 1950s segregated United States.
His goal is to search for his missing father together with his friend Letitia and his Uncle George.
The series revolves around the complex history of racism in America and the unworldly horror surrounding a mysterious town in which H.P Lovecraft based his fictional creations and dark imaginations.
Enjoy these Lovecraft Country quotes!
Don't forget to also check out these H. P.
Lovecraft quotes from the horror fiction author.
Check out our most popular quote article, a list of short inspirational quotes for daily inspiration.
Explore our complete collection of motivational quotes here.
Lovecraft Country quotes from Atticus
1. "I'm not scared because fear is not gonna save us right now. You are." — Atticus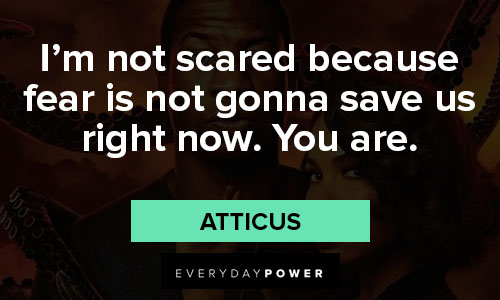 You will also enjoy our article on Jabba the Hutt quotes.
2. "Stories are like people. Loving them doesn't make them perfect. You just try and cherish them, overlook their flaws." — Atticus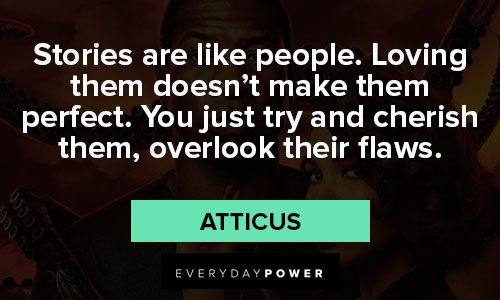 3. "Look what we been through to get here: monsters, ghosts, a-a magical treasure hunt, curses, the past, the future. We can't stop fighting now." — Atticus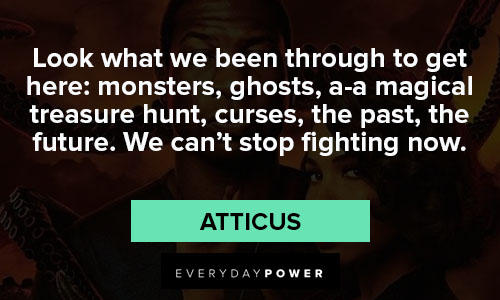 4. "The mysterious stranger I heard about my entire life, swinging the bat like Jackie Robinson, saving you, Mama, and Uncle George was me. This book belongs to our family, and together, we're gonna use this book to protect our family." — Atticus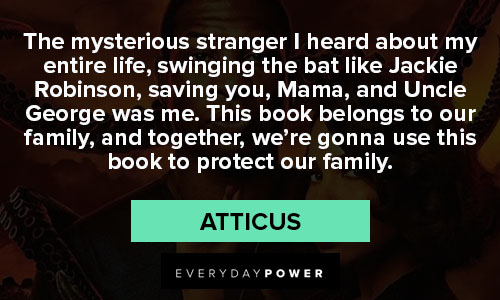 5. "My entire life, my father's been trying to turn me into someone I'm not. I've gone halfway across the world to get out from under his thumb, and now… Being here, this war, it's done his job better than he could ever imagine." — Atticus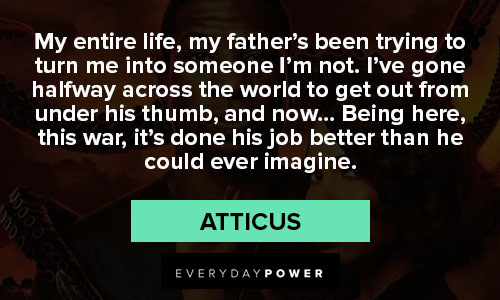 6. "I don't know if what I had with Ji-Ah was love. I never had any good examples of it growing up. My parents' love was… enduring, but unknowable." — Atticus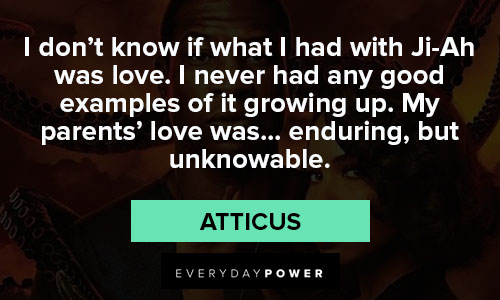 7. " I've done some horrible things, things I've tried to forget. When I'm with you, that seems possible. Cause you see the good in me, I know it's there." — Atticus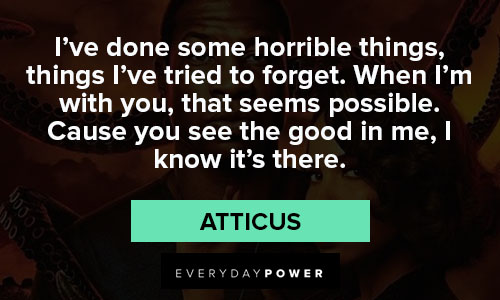 If you enjoy this article, check out our collection of Corpse Bride quotes from the movie.
Lovecraft Country quotes from Ji-Ah
8. "We've both done monstrous things, but that does not make us monsters. We could be the people we see in each other. We just have to choose to be." — Ji-Ah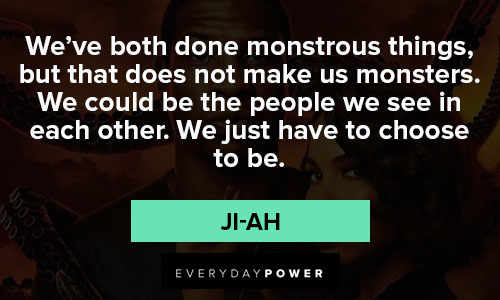 9. "We have to stop letting their fear shape us." — Ji-Ah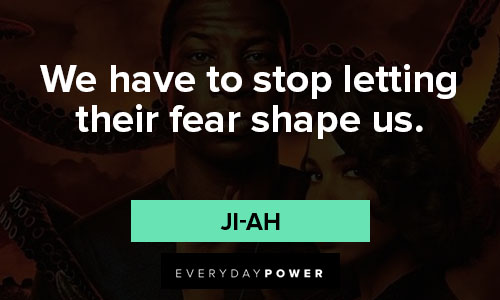 10. "I don't care that you're different. I am too." — Ji-Ah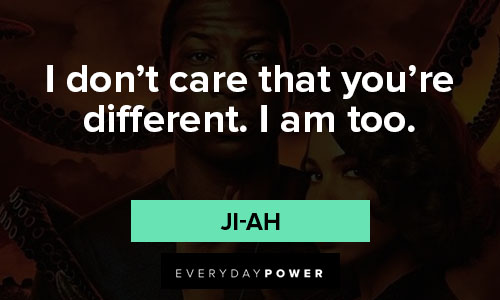 11. "I remember everything. When I absorb their souls, I see their entire lives before they die. All of his memories are in me." — Ji-Ah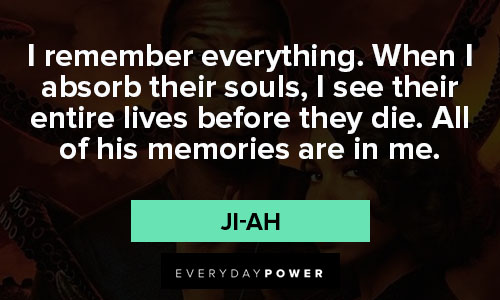 Lovecraft Country quotes from Christina Braithwhite
12. "The things they've done, it's unforgivable. We still come running when they need help. It's pathetic. And we call it family to make it seem okay?" — Christina Braithwhite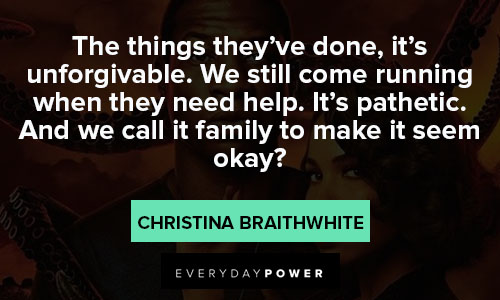 13. "The smallest, most inconsequential thing can take you on a new course. You just have to see it, and seize it." — Christina Braithwhite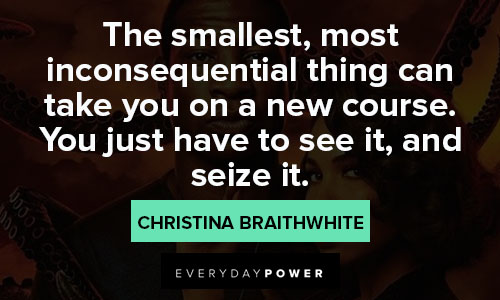 14. "That's the currency of magic: Unmitigated freedom." — Christina Braithwhite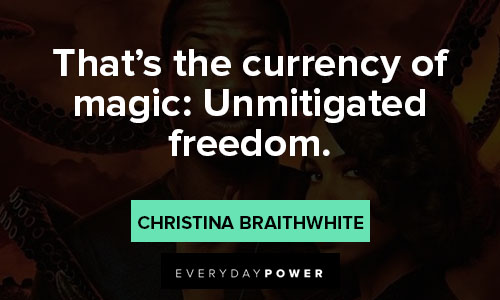 15. "Most men with god complexes wanna live in heaven, but not hell, failing to understand that God is both." — Christina Braithwhite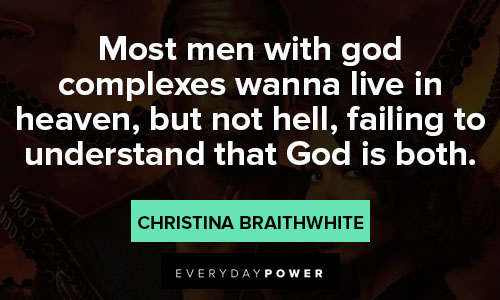 16. "Challenging entropy is perilous work, and the Language of Adam is a tricky thing to get right. Many men have suffered greatly trying to wield it. But the spelled blood of the man who wielded it best might just give my father's spell the advantage it needs." — Christina Braithwhite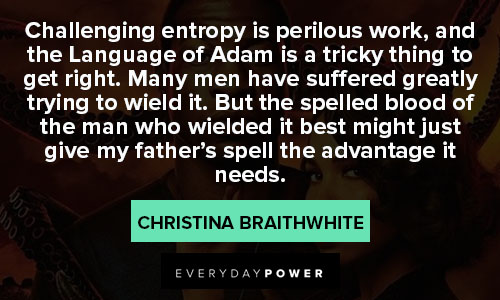 17. "What I know is, our destinies are not decided by our fathers or grandfathers or, in your case, great-great-great-great grandfather. The smallest, most inconsequential thing can take you on a new course.You just have to see it… and seize it." — Christina Braithwhite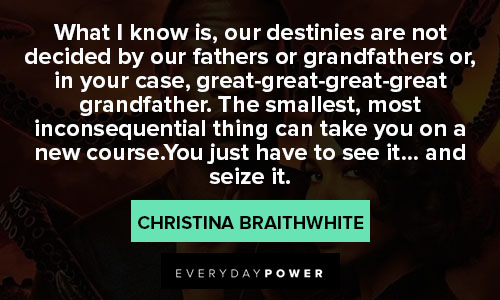 18. "I can't remember the last time someone made me wait. But at least I had family to keep me company." — Christina Braithwhite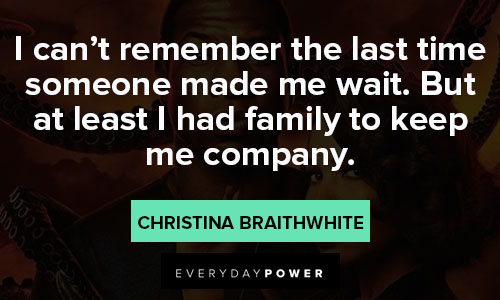 19. "Don't let the men fool you into thinking it's always about them." — Christina Braithwhite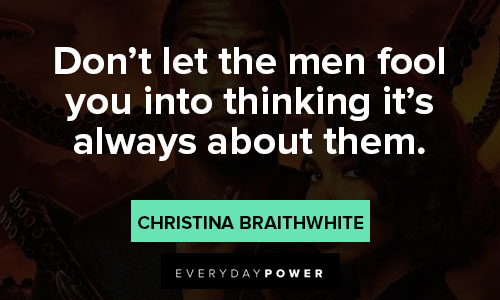 20. "Tic, you have to be smarter than this. You just can't go around killing white women." — Christina Braithwhite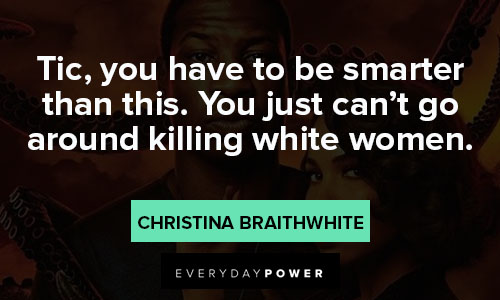 You might also like these Practical Magic quotes from the movie.
Lovecraft Country quotes from Letitia Dandridge
21. "Growing up, I… Felt love wasn't special. My mama fell into it every two seconds. And Ruby was just like her. I didn't wanna be with a man if I… if it didn't mean something." — Leticia Dandridge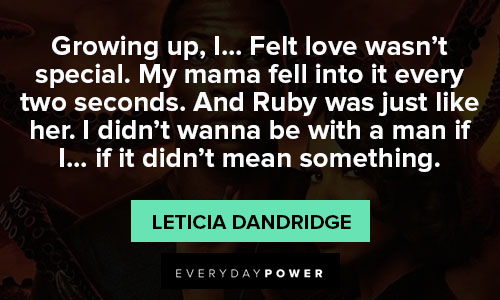 22. "Well, you done fucked up because everybody but you done died since you been back." — Leticia Dandridge
23. "I guess I've just seen so much bad that I'm trying to find something good." — Leticia Dandridge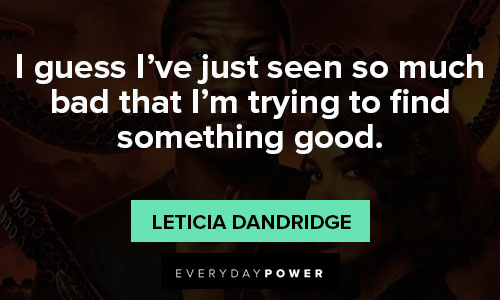 24. "It didn't just get dangerous. He was kidnapped. I died. Can you stop acting like this is only happening to you? You're not the center of the fucking universe." — Leticia Dandridge
25. "You really gonna let [Tic] chase his tail, looking for answers you already have? Now I see where your son gets it. You're a real asshole." — Leticia Dandridge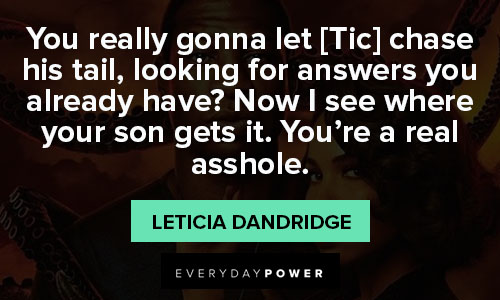 Which of Lovecraft Country quotes is your favorite?
Each episode emphasizes several recurring themes, such as the struggle between race and the amazing blood bond of family, which makes the Lovecraftian story more exciting and dramatic.
Furthermore, the atmosphere and political narrative of the series surprisingly mixed well with the horror genre.
Fans of Lovecraftian novels and artworks will definitely love the portrayal of vicious monsters and uncanny creatures in this series.
In addition, the series gave justice to the most iconic horror characters in history, such as the Cthulhu, Shoggoth and Kumiho.
Hopefully, you enjoyed these Lovecraft Country quotes and sayings, and if you like Lovecraftian materials, you can share this with your friends.