Mr. Robot Quotes that Challenge the Way You View Hacking
These Mr. Robot quotes tell a television story about the other side of cybercrime and security.
The television series Mr. Robot aired on the USA network for four seasons.
The show followed the life of Elliott Anderson.
He is an engineer working in cybersecurity who also struggles with living with several different mental health challenges.
He is eventually recruited by and begins working for a hacktivist group that views themselves as somewhat of vigilantes.
They're working on several goals including deleting consumer debt by hacking the system of one of Elliot's clients.
If you're not sure if this show is for you, these Mr. Robot quotes will help you decide.
Don't forget to also check out these The Umbrella Academy quotes to enjoy between seasons.
If you like this article, we suggest you explore our most popular quotes article, a list of short inspirational quotes for daily encouragement.
Look through our complete collection of inspirational quotes here.
Memorable Mr. Robot quotes
1. "When we lose our principles, we invite chaos." ― Mr. Robot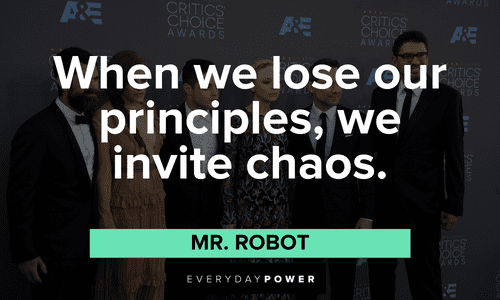 You will also enjoy our article on Dr. Evil quotes.
2. "I have burrowed underneath your brain. I am nested there. I am the scream in your mind. You will cooperate." ― Mr. Robot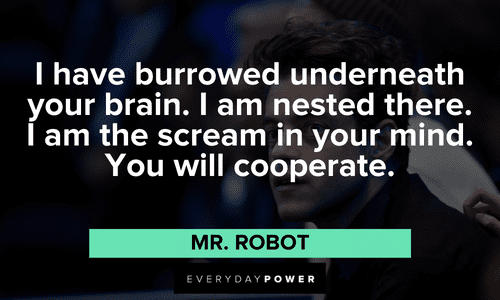 3. "The concept of waiting bewilders me. There are always deadlines. There are always ticking clocks. That is why you must manage your time." ― Mr. Robot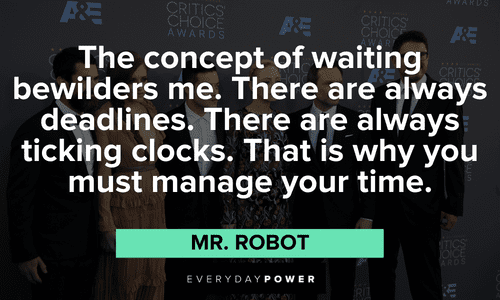 4. "I've never found it hard to hack most people. If you listen to them, watch them, their vulnerabilities are like a neon sign." ― Mr. Robot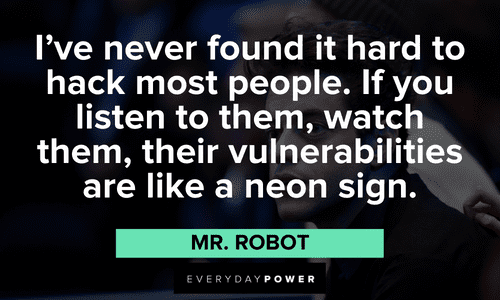 5. "Control can sometimes be an illusion. But sometimes you need illusion to gain control." ― Mr. Robot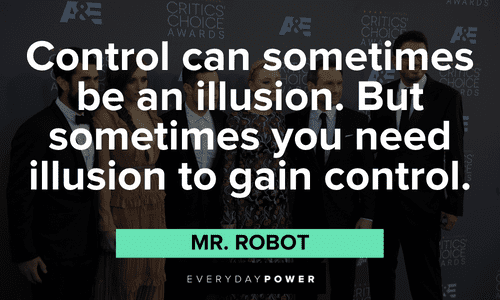 6. "They will die in debt for things they didn't want to do." ― Mr. Robot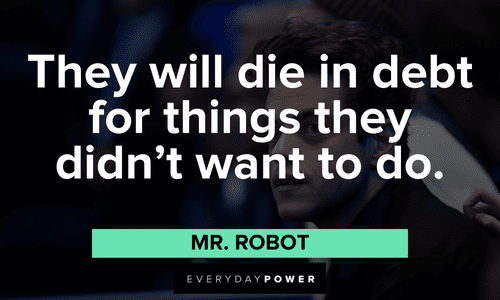 7. "Getting into the mind of a woman, it's the toughest route for even the best sources." ― Mr. Robot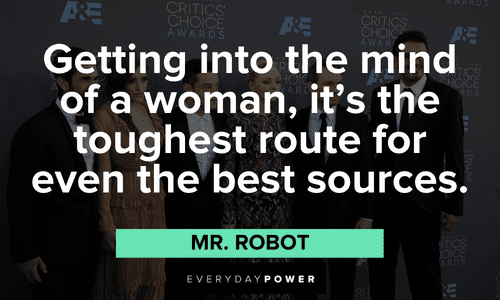 8. "Most kids get scared shitless when they're alone, but I wasn't. I loved it." ― Mr. Robot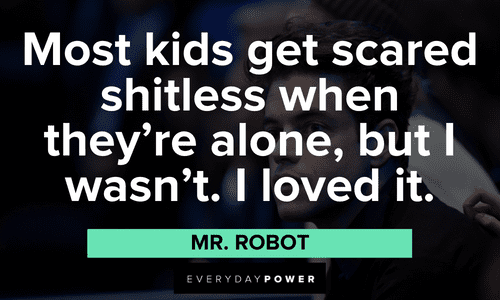 9. "Don't mistake my generosity for generosity." ― Mr. Robot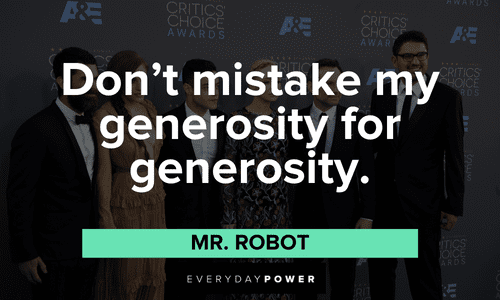 10. "When you see a good move, look for a better one." ― Mr. Robot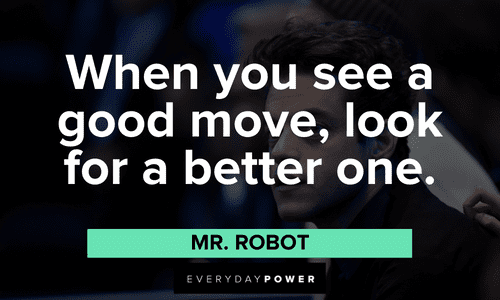 11. "People always told me growing up that it's never about the destination. It's about the journey. But what if the destination is you?" ― Mr. Robot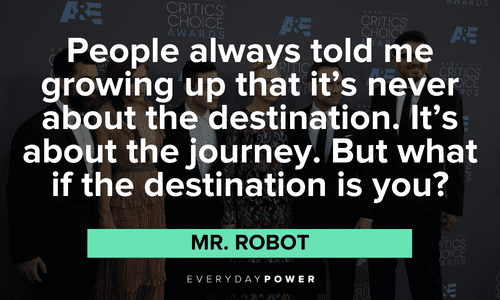 12. "Power belongs to the people that take it. Nothing to do with their hard work, strong ambitions, or rightful qualifications, no. The actual will to take is often the only thing that's necessary." ― Mr. Robot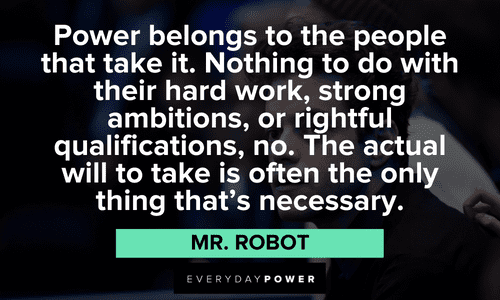 13. "Sure, there are grays… But when you come right down to it, at its core, beneath every choice, there's either a one or a zero. You either do something or you don't." ― Mr. Robot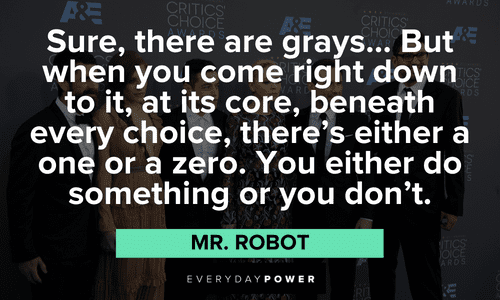 14. "You walk out that door, you've decided to do nothing, to say no, which means you do not come back. You leave, you are no longer a part of this. You become a zero. If you stay, if you want to change the world, you become a yes. You become a one." ― Mr. Robot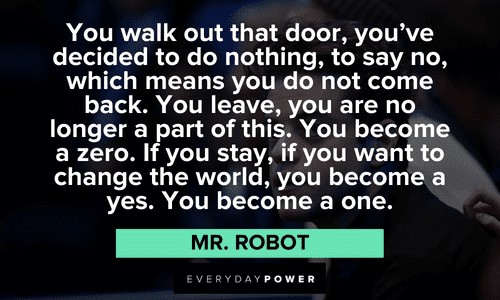 15. "The world is a dangerous place, Elliott, not because of those who do evil, but because of those who look on and do nothing." ― Mr. Robot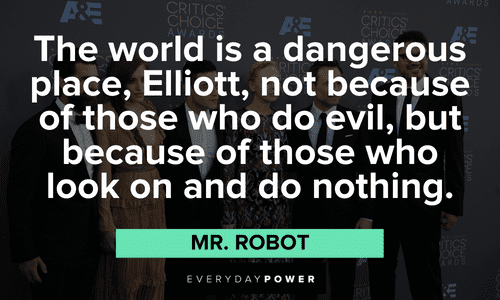 16. "My dad was a… petty thief. Never could hold down a job, so, he just robbed. Convenience stores, shops, small-time stuff." ― Mr. Robot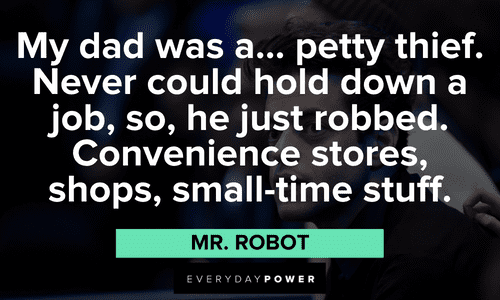 17. "She doesn't love the people who love her. She loves the people who don't." ― Mr. Robot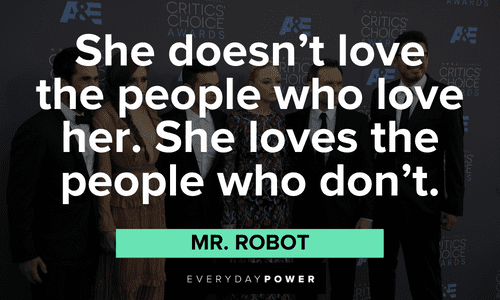 18. "I believe in fate. There's a reason we met. There's something between us. I can see it." ― Mr. Robot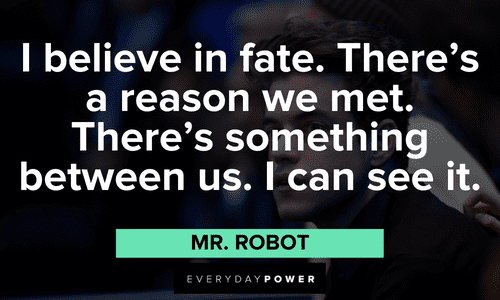 Mr. Robot quotes by Elliot
19. "Though she's a psychologist she's really bad at reading people but I'm good at reading people. My secret? I look for the worst in them." ― Elliot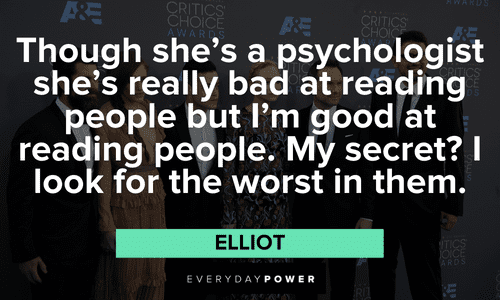 20. "We're all living in each other's paranoia." ― Elliot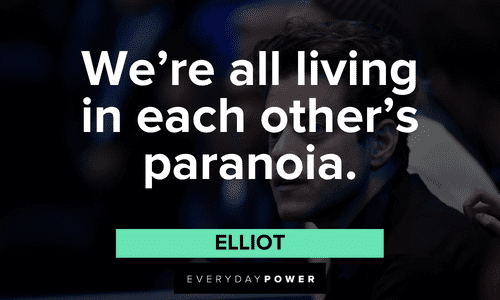 21. "It's good. So good, it scratched that part of my mind. The part that doesn't allow good to exist without a condition." ― Elliot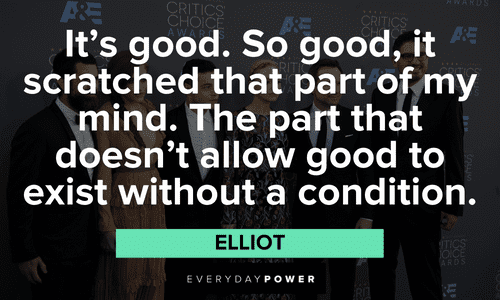 22. "Maybe wars aren't meant to be won, maybe they're meant to be continuous." ― Elliot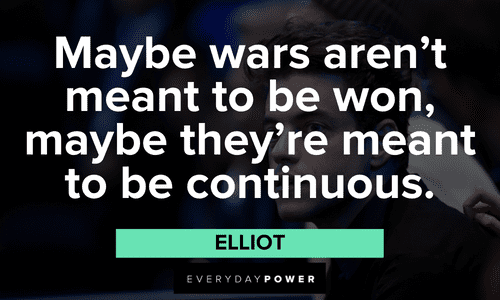 23. "Though she's a psychologist she's really bad at reading people but I'm good at reading people. My secret? I look for the worst in them." ― Elliot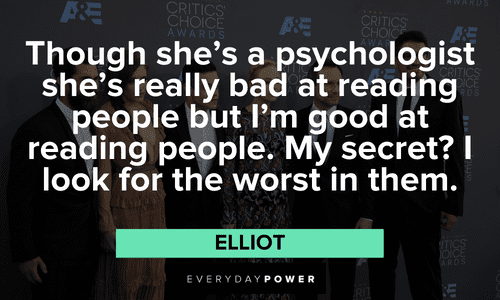 24. "I never want to be right about my hacks, but people always find a way to disappoint." ― Elliot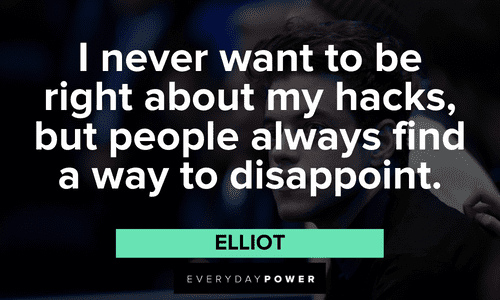 25. "I'm good at reading people. My secret, I look for the worst in them." ― Elliot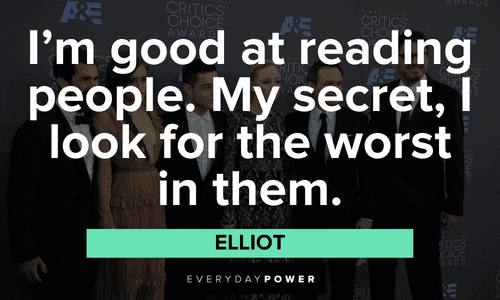 Which of these Mr. Robot quotes is your favorite?
Mr. Robot was praised for the acting by lead actors, Rami Malek as Elliott and Christian Slater as "Mr. Robot".
The show won many awards and was nominated for many more.
The show puts an interesting and unique spin on what modern-day vigilantes might look like.
It also shows the other side of the cyberhacking story and how some might even view themselves as somewhat of a "Robin Hood" by doing something like deleting all debt in order to bring relief to consumers.
The Mr. Robert series was known for pushing the boundaries while telling a story different than other shows.
If you've been watching shows that are all starting to feel too similar, try switching it up with Mr. Robot.
You can reread the Mr. Robot quotes and sayings above to get a feel for what you'll be watching.