80 Inspirational Quotes For Work Celebrating Your Career
There's no reason why you shouldn't celebrate all your professional achievements, and these quotes for work allow you to do just that.
When was the last time you took time from your busy schedule to celebrate your career accomplishments?
As a busy professional, you're probably obsessed with reaching the next level in your career.
Yet, when you achieve a significant goal, you quickly move on to the next goal rather than celebrating your wins.
Celebrating your wins is important to your success.
It not only feels great, but it also reinforces the positive attitude you need when new challenges and opportunities arise.
Not all of us experience work burnout when we're crushing career goals, and these quotes for work might be exactly what you're looking for.
They will help you reflect on your progress and set you up for future success.
It's crucial to be forward-thinking and to focus on achieving your career goals.
However, it's also important to take a look back to see how far you've come.
When you fail to celebrate your wins, you increase your chances of burning out.
To help you honor your career, below is our collection of inspirational, wise, and thoughtful quotes for work, collected from a variety of sources over the years.
Check out our collection of happy labor day quotes as well.
Check out our most popular quote article, a list of short inspirational quotes for daily inspiration.
Check out our inspirational quotes category page for more inspirational life quotes.
Inspirational quotes for work celebrating your career
1. "Earning happiness means doing good and working, not speculating and being lazy. Laziness may look inviting, but only work gives you true satisfaction." ― Anne Frank

2. "If you care about what you do and work hard at it, there isn't anything you can't do if you want to." ― Jim Henson

You will also enjoy our article on Service quotes.
3. "Everyone has been made for some particular work, and the desire for that work has been put in every heart."- Rumi

4. "The secret of joy in work is contained in one word – excellence. To know how to do something well is to enjoy it." – Pearl S. Buck

5. "Do what you love. When you love your work, you become the best worker in the world." – Uri Geller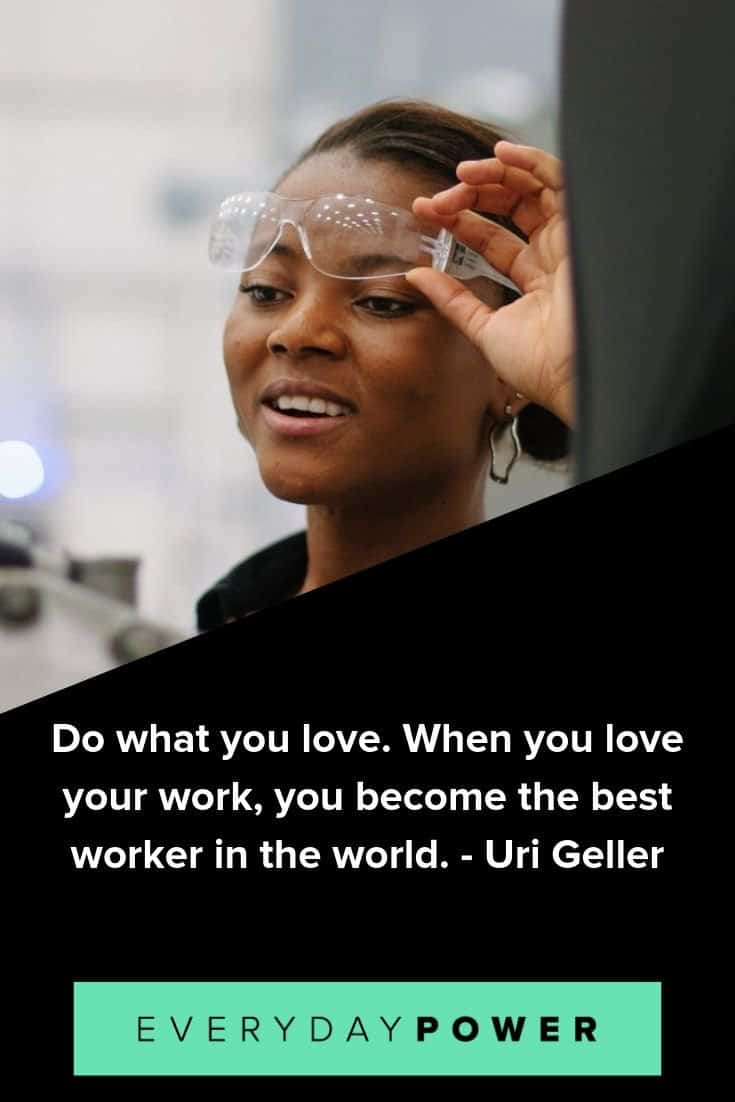 You will also enjoy our article on motivational work quotes.
6. "When you play, play hard; when you work, don't play at all." ― Theodore Roosevelt

You will also enjoy our article on new job quotes.
7. "Doing what you love is the cornerstone of having abundance in your life." –  Wayne Dyer

8. "Without ambition one starts nothing. Without work, one finishes nothing. The prize will not be sent to you. You have to win it." ― Ralph Waldo Emerson

9. "Be true to your work, your word, and your friend." – Henry David Thoreau

10. "I think the foremost quality – there's no success without it – is really loving what you do. If you love it, you do it well, and there's no success if you don't do well what you're working at." – Malcolm Forbes
You will also enjoy our article on achievement quotes.
Quotes for work to help you enjoy what you do
11. "The secret of joy in work is contained in one word – excellence. To know how to do something well is to enjoy it." – Pearl S. Buck

12. "Inspiration usually comes during work, rather than before it." ― Madeleine L'Engle

13. "The law of work seems unfair, but nothing can change it; the more enjoyment you get out of your work, the more money you will make." – Mark Twain
If you're enjoying this article, you might also like these empowering collaboration quotes on teamwork & success.

14. "The artist is nothing without the gift, but the gift is nothing without work." ― Émile Zola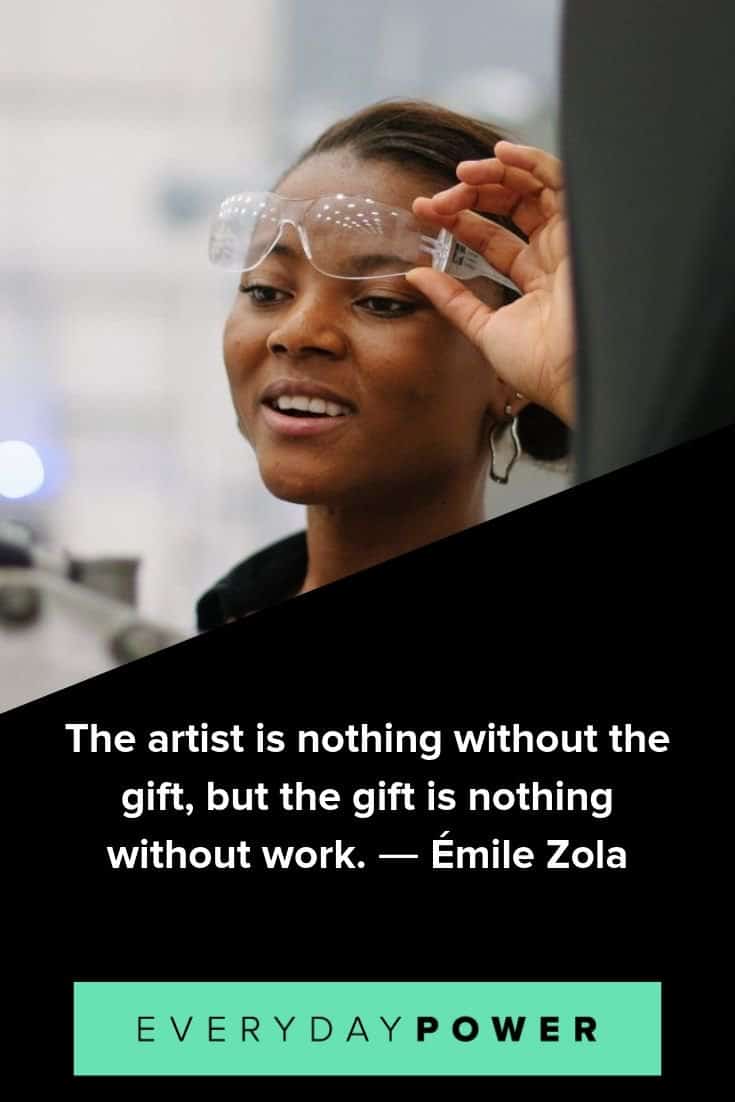 15. "A person who has not done one half his day's work by ten o'clock, runs a chance of leaving the other half undone." ― Emily Bronte

16. "Laughter in the workplace leads to employees who are genuinely happy to go to work every day." – Jeffrey Briar

17. "Without hard work, nothing grows but weeds." ― Gordon B. Hinckley

18. "Never continue in a job you don't enjoy. If you're happy in what you're doing, you'll like yourself, you'll have inner peace. And if you have that, along with physical health, you will have had more success than you could possibly have imagined." – Johnny Carson

19. "All happiness depends on courage and work." ― Honoré de Balzac

20. "Life has been kind to me. I am happy with the love and appreciation that I have been getting throughout my career. I feel blessed." – Vidya Balan
Also, check out these inspiring employee appreciation quotes to motivate your team.
Quotes for work to inspire a positive mindset
21. "Be steady and well-ordered in your life so that you can be fierce and original in your work." ― Gustave Flaubert

22. "If you love your work, if you enjoy it, you're already a success." ― Jack Canfield

23. "I want to do it because I want to do it. Women must try to do things as men have tried. When they fail, their failure must be but a challenge to others." ― Amelia Earhart

24. "You will always have ups and downs in your life and your career, but just stay positive and go for it." – Angelique Kerber

25. "Pleasure in the job puts perfection in the work." ― Aristotle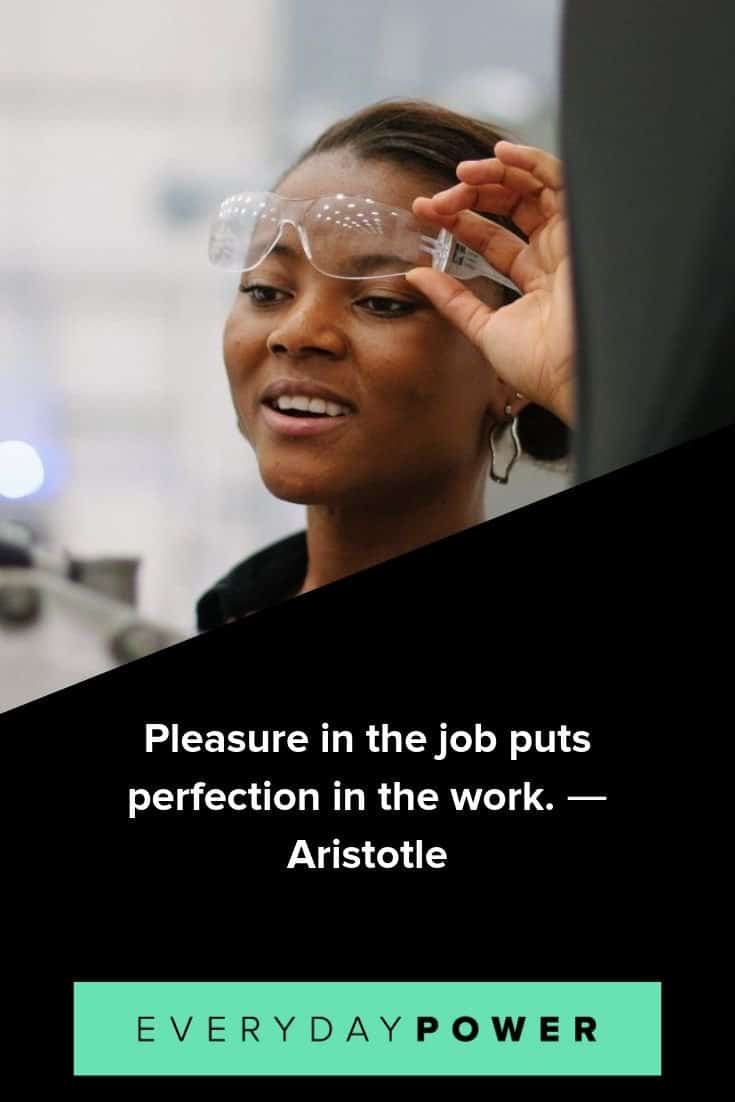 26. "Success is no accident. It is hard work, perseverance, learning, studying, sacrifice and most of all, love of what you are doing or learning to do." – Pele

27. "Leave your ego at the door every morning, and just do some truly great work. Few things will make you feel better than a job brilliantly done." – Robin S. Sharma

28. "We often miss opportunity because it's dressed in overalls and looks like work" ― Thomas A. Edison

29. "I think there's no higher calling in terms of a career than public service, which is a chance to make a difference in people's lives and improve the world." – Jack Lew

30. "Happiness does not come from doing easy work but from the afterglow of satisfaction that comes after the achievement of a difficult task that demanded our best." – Theodore Isaac Rubin
Quotes for work to celebrate your career accomplishments
31. "My mission is to make the world happy and cute and to love everyone. I think I'm doing a pretty good job." – Poppy

32. "I like work: it fascinates me. I can sit and look at it for hours." ― Jerome K. Jerome

33. "Anyone can like their job… To love your job is not enough, you must give your passion to your job." – Zahi Hawass

34. "Happiness is the real sense of fulfillment that comes from hard work." – Joseph Barbara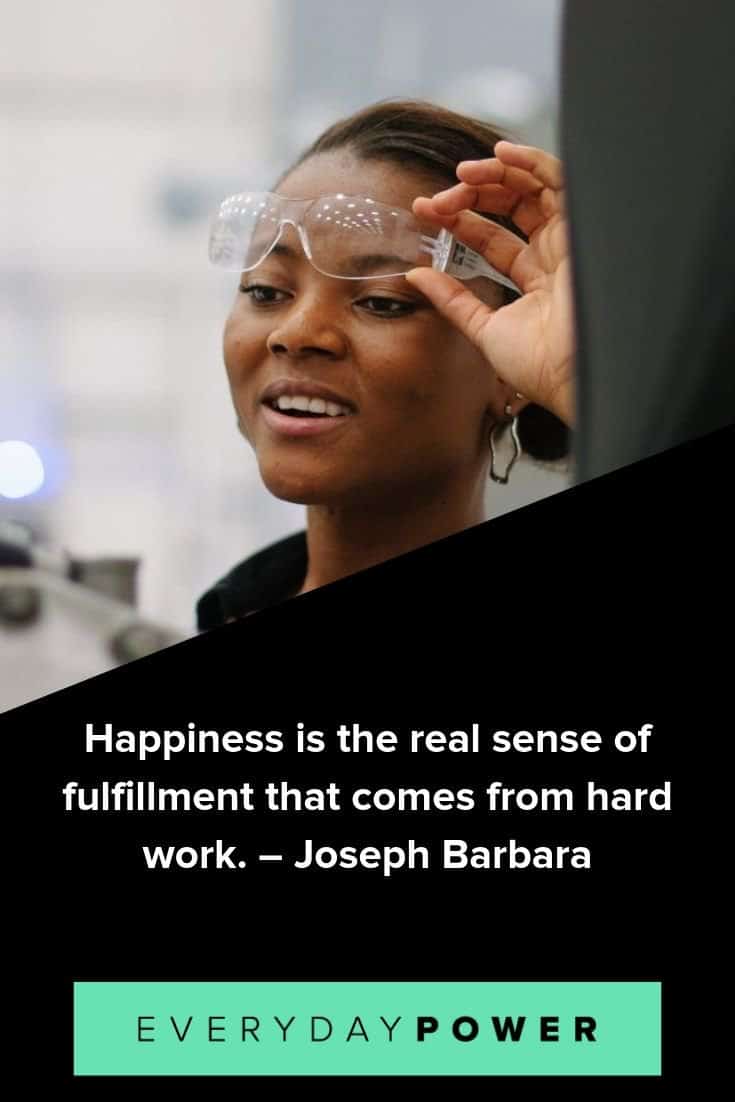 35. "When you feel passionate about your work, you do not set rigid boundaries between work time and personal time, because the work itself is personal." – Larry Smith

36. "Your purpose in life is to find your purpose and give your whole heart and soul to it" ― Buddha

37. "I think for anybody, regardless of what industry you work in, when you get a new job, and it's progressive in terms of your career, that is one of the best feelings in the world." – Will Poulter
If you're enjoying this article, you might also like our collection of short inspirational quotes to fuel your day.
38. "It is hard work and great art to make life not so serious." ― John Irving

39. "Some women choose to follow men, and some women choose to follow their dreams. If you're wondering which way to go, remember that your career will never wake up and tell you that it doesn't love you anymore." ― Lady Gaga

40. "A dream doesn't become reality through magic; it takes sweat, determination and hard work." – Colin Powell
If you're enjoying these quotes, make sure to read our collection of Wednesday quotes to help you get through the week.
Quotes for work to inspire and motivate
41. "Work pressure arises only when you don't enjoy your work." ― Haresh Sippy

42. "One of the symptoms of an approaching nervous breakdown is the belief that one's work is terribly important." ― Bertrand Russell

43. "If you love your job, you haven't worked a day in your life." – Tommy Lasorda

44. "You can only become truly accomplished at something you love. Don't make money your goal. Instead, pursue the things you love doing and then do them so well that people can't take their eyes off of you." – Maya Angelou

45. "The only way to do great work is to love what you do. If you haven't found it yet, keep looking. Don't settle." – Steve Jobs
You might also like these Colin Powell quotes that will inspire and motivate you to work hard for your dreams.

46. "Work hard, be kind, and amazing things will happen." – Conan O'Brien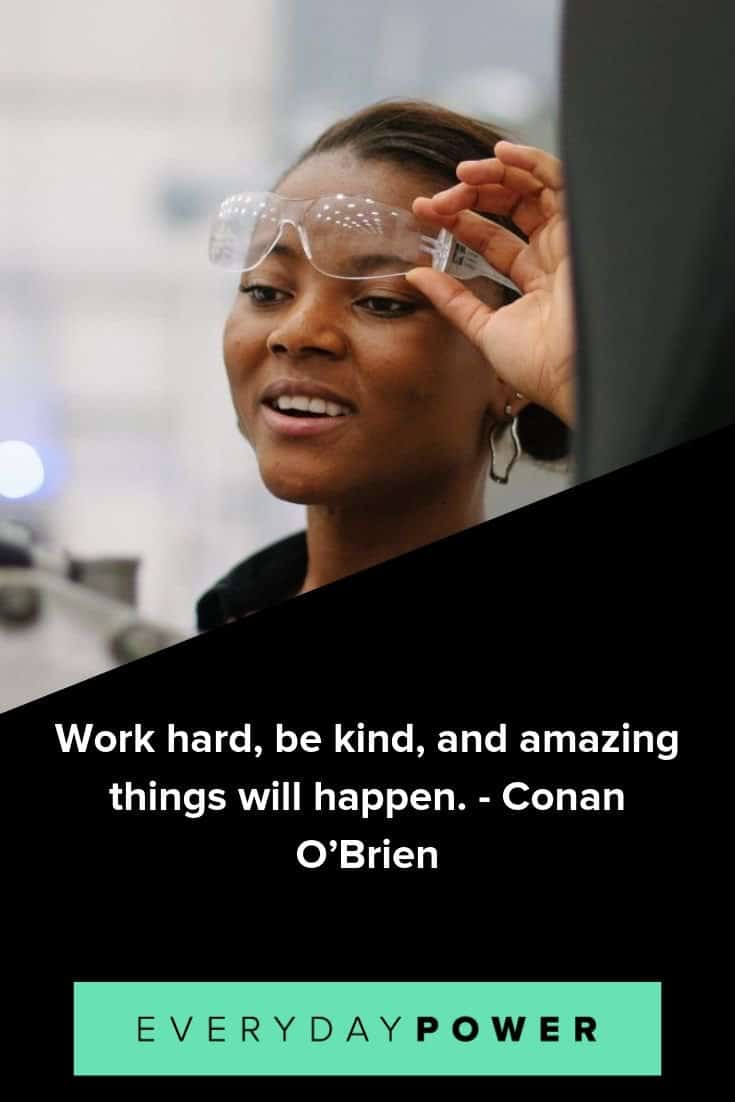 47. "I do believe that God blessed me in life with a wonderful family, a successful career, and a loving marriage, and remain thankful for that blessing." – Bonnie Tyler

48. "Happiness doesn't come from being rich, nor merely from being successful in your career, nor by self-indulgence. One step towards happiness is to make yourself healthy and strong while you are a boy so that you can be useful and so you can enjoy life when you are a man." – Robert Baden-Powell

49. "Play your strengths. Success will come if you love what you're doing." – Bobby Genovese

50. "Stay positive and happy. Work hard and don't give up hope. Be open to criticism and keep learning. Surround yourself with happy, warm and genuine people." – Tena Desae
Also check out these hustle quotes that will challenge you to be the best version of yourself.
More work quotes and sayings
51. "Earn Nicely, spend wisely and you will live happily." – Auliq Ice
52. "The best learners are the best earners." – Matshona Dhliwayo
53. "Make your work to be in keeping with your purpose." – Leonardo da Vinci
54. "We must work together on a common vision and a common goal." – Lailah Gifty Akita
55. "Work reveals worth. Your work is an extension of you. Where your work is found is where your worth is defined." – Benjamin Suulola
56. "You have to work hard in the dark to shine in the light." – Kobe Bryant
57. "The Less I Say The More My Work Gets Done." – Elton John
58. "…all work is worth doing well. And there are things to be enjoyed about most jobs…" – Cynthia Voigt
59. "Keep doing good work. The job, business opportunities and money will find you." – Linsey Mills
60. "It's a long journey, filled with highs and lows, but if we find something we love doing and are able to create a way to do it for the rest of our lives, it's all worth it." – Kio Briggs
We also have a selection of Tuesday quotes to pump you up for the rest of the week!
More encouraging work quotes
61. "I put my heart and my soul into my work, and have lost my mind in the process." —Vincent Van Gogh
62. "The reward for work well done is the opportunity to do more." — Jonas Salk
63. "Far and away the best prize that life has to offer is the chance to work hard at work worth doing." — Theodore Roosevelt
64. "All life demands struggle. Those who have everything given to them become lazy, selfish, and insensitive to the real values of life. The very striving and hard work that we so constantly try to avoid is the major building block in the person we are today." — Pope Paul VI
65. "Nothing ever comes to one, that is worth having, except as a result of hard work." — Booker T. Washington
66. "The harder I work, the luckier I get." — Samuel Goldwyn
67. "Nothing will work unless you do." — Maya Angelou
68. "By working faithfully eight hours a day you may eventually get to be boss and work twelve hours a day." — Robert Frost
69. "Let us realize that: the privilege to work is a gift, the power to work is a blessing, the love of work is success!" — David O. McKay
70. "Whatever your life's work is, do it well. A man should do his job so well that the living, the dead, and the unborn could do it no better." — Martin Luther King, Jr.
Inspiration Quotes For Work To Boost Your Morale
71. "Don't judge each day by the harvest you reap but by the seeds that you plant." — Robert Louis Stevenson
72. "Amateurs sit and wait for inspiration, the rest of us just get up and go to work." — Stephen King
73."Nothing is really work unless you would rather be doing something else." — J.M. Barrie
74. "With hard work and effort, you can achieve anything." — Antoine Griezmann
75. "Laziness may appear attractive, but work gives satisfaction." — Anne Frank
76. "Concentrate all your thoughts upon the work in hand. The sun's rays do not burn until brought to a focus." — Alexander Graham Bell
77. "Don't judge each day by the harvest you reap but by the seeds that you plant." — Robert Louis Stevenson
78. "Work is when you confront the problems you might otherwise be tempted to run away from." — Rolf Pott
79. "Be a worthy worker and work will come." — Amit Kalantri
80. "Finding the right work is like discovering your own soul in the world." — Thomas Moore
Which of these quotes for work was your favorite?
Taking time to celebrate your career accomplishments not only feels good, but it also puts you in a positive mindset as you set future goals.
As much as it's important to strive for higher achievements, never forget to acknowledge just how far you've come and all the progress you've made.
Celebrate your successes – you deserve it!
Hopefully, the quotes above have inspired and motivated you to go for it.
Which of these quotes for work resonated with you best?
Do you have any other favorite quotes to add?
Feel free to share with us in the comment section below.