25 Never Have I Ever Quotes from the Coming-of-Age Series
Remember what it's like to be a teenager with these Never Have I Ever quotes.
Never Have I Ever is a coming-of-age comedy-drama series created by Mindy Kaling and Lang Fisher that premiered on Netflix on April 27, 2020.
The story is loosely based on Kaling's childhood experiences.
It is about an Indian-American high school student who is dealing with the sudden death of his father and coping with the life of being an adolescent.
This series had been a turning point as it represented a South Asian in Hollywood and received praises for breaking Asian stereotypes.
This series has the perfect balance of comedy, teen romance, and family.
The Never Have I Ever quotes below will make you reminisce on your teenage years.
Don't forget to also check out our collection of The Edge of Seventeen quotes many people will relate to.
If you like this article, we suggest you explore our most popular quotes article, a list of short inspirational quotes for daily encouragement.
Look through our complete collection of inspirational quotes here.
Never Have I Ever quotes from Devi
1. "I'd like to be invited to a party with alcohol and hard drugs. I'm not gonna do them, I'd just like the opportunity to say, 'No cocaine for me, thanks. I'm good'." ― Devi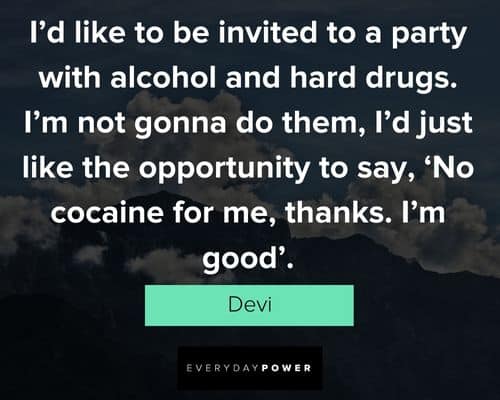 2. "I'd love for my arm hair to thin out. I know it's an Indian thing, but my forearms look like the frigging floor of a barbershop." ― Devi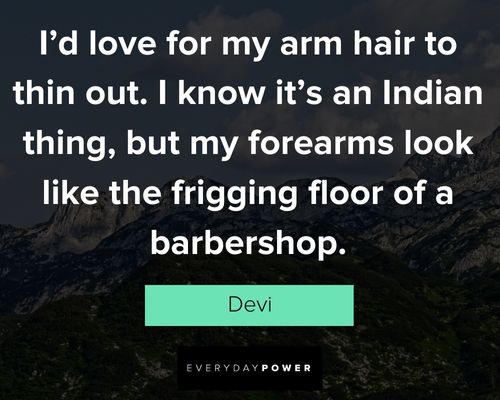 3. "If Women didn't accept each other's apologies, The View would grind to a halt." ― Devi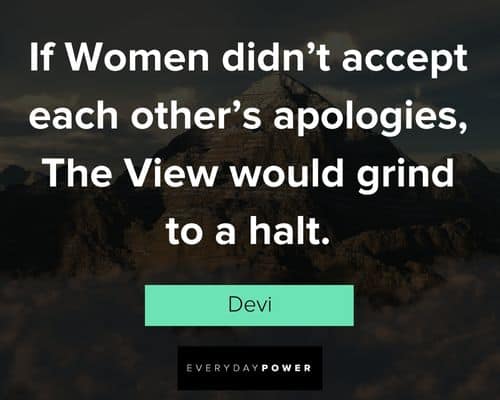 4. "Indian people love Trader Joe's." ― Devi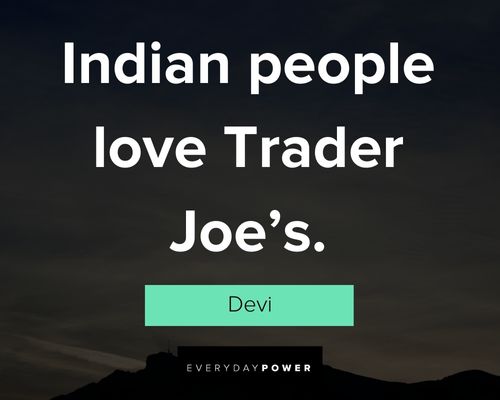 You will also enjoy our article on Heathers quotes.
5. "Do you work at the Apple Store cause you're a freaking genius." ― Devi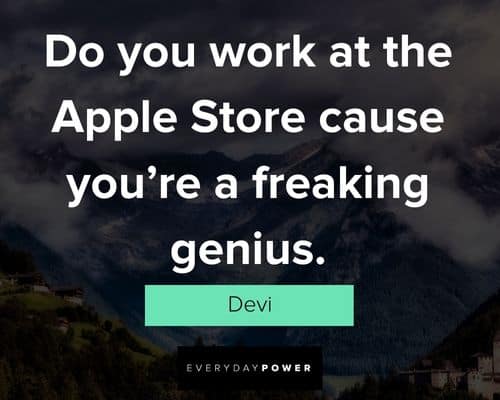 6. "Ben and I have a past…a sordid past." ― Devi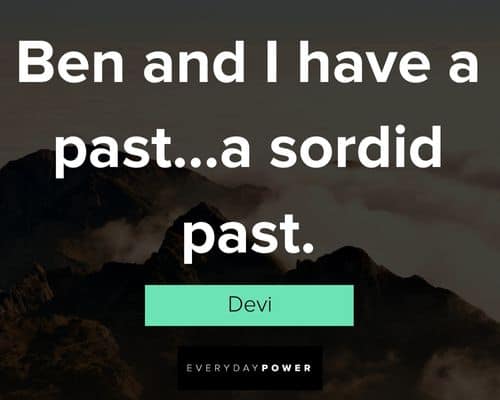 7. "You deserve Daniel-Day Lewis making his wife live with him in character as Abraham Lincoln." ― Devi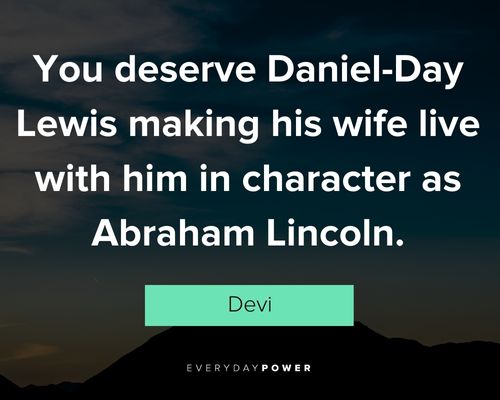 8. "Hey gods, it's Devi Vishwakumar, your favorite Hindu girl in the San Fernando Valley. What's a-poppin'? It's the first day of school, and I thought we should have a check-in. I think we can all agree that last year sucked for a number of reasons." ― Devi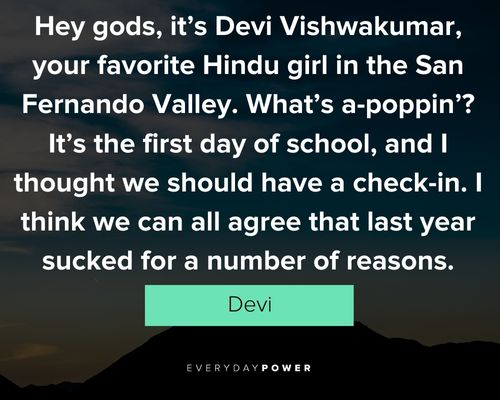 9. "Peace out, virgin." ― Devi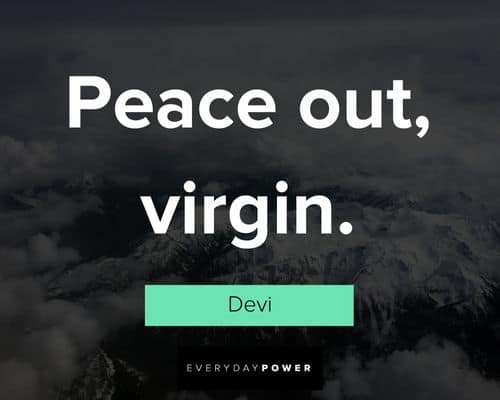 You will also enjoy our article on Boyz n the Hood quotes.
10. "It's like, I think about sex 24/7, but I don't really know how to do it. In the movies, you always see the girl kiss her way down the guy's body, but then, she moves off-screen. Is she stopping at the penis or kissing all the way to the foot?" ― Devi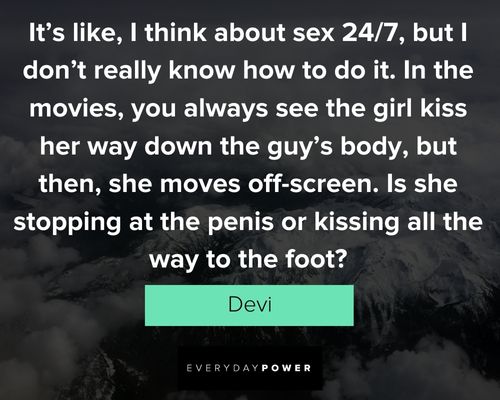 11. "I don't bring lunch on Tuesdays. It's square pizza day." ― Devi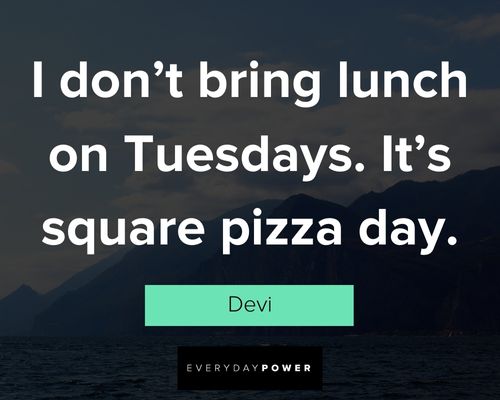 12. "I don't negotiate with terrorists, Ben. And honestly, I'm mature enough to be on my own. Now, if you'll excuse me, I'm gonna Google how to buy a credit card." ― Devi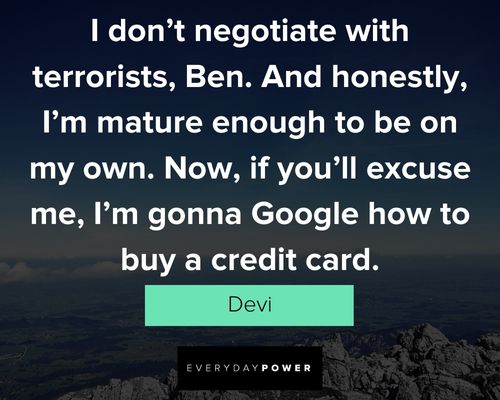 13. My mom doesn't tell me how to live my life Megan Thee Stallion does." ― Devi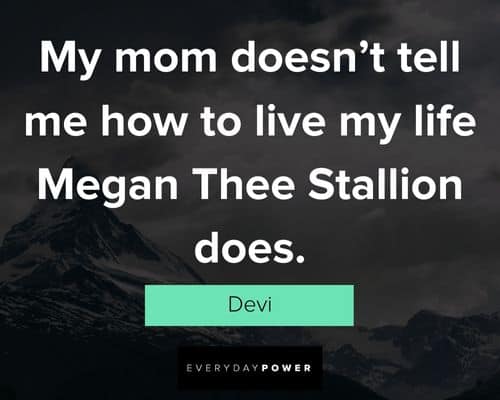 14. "One hot girl nose ring, please." ― Devi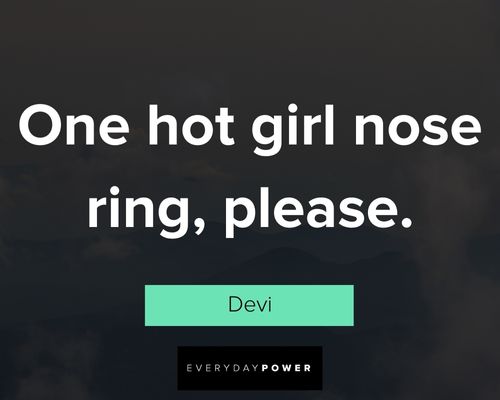 15. "I'm chill as a slurpee, bro." ― Devi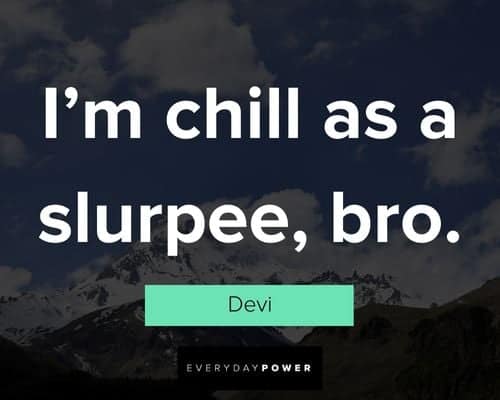 16. "I just want him to be a stone cold hottie, who could rock me all night long." ― Devi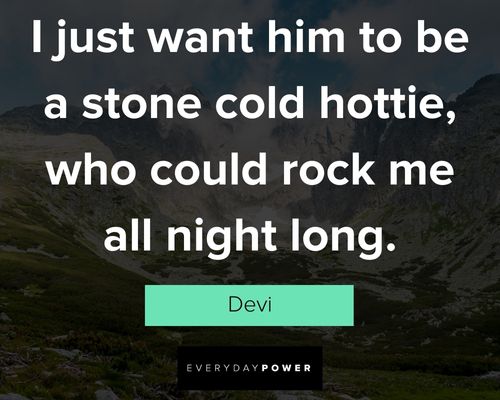 17. "Sociopaths get shit done, Fab." ― Devi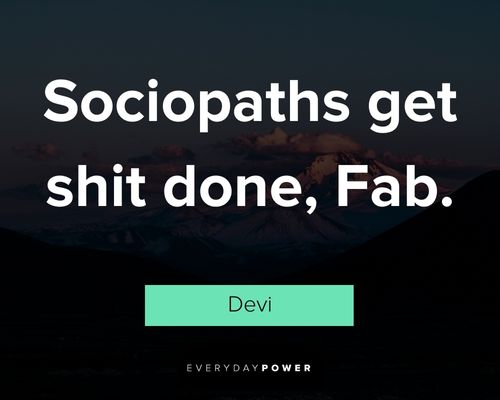 18. "Dinner? At your house? You and me? Eating together? At the same table?" ― Devi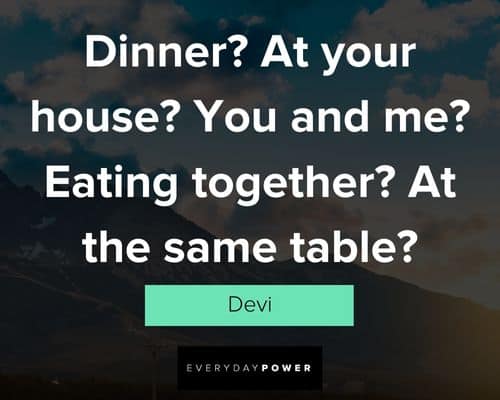 You will also enjoy our article on Spontaneous quotes.
Never Have I Ever quotes from Fabiola
19. "What's a Bebe Rexha?" ― Fabiola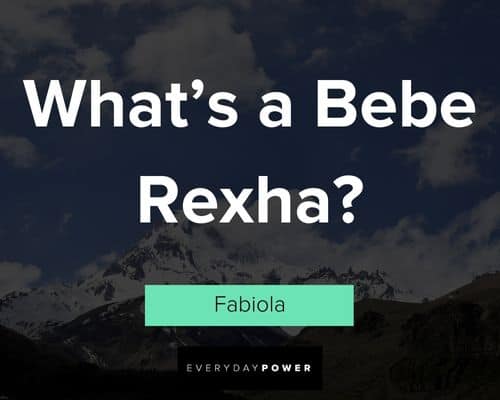 20. "I left a funeral to be by your side after Nick Jonas married an Indian woman that wasn't you." ― Fabiola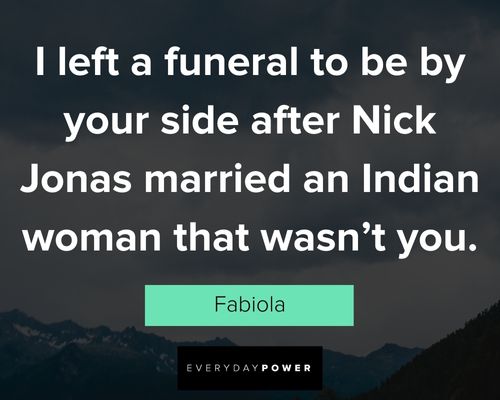 21. "One day, you will walk again. If not, I will build you legs." ― Fabiola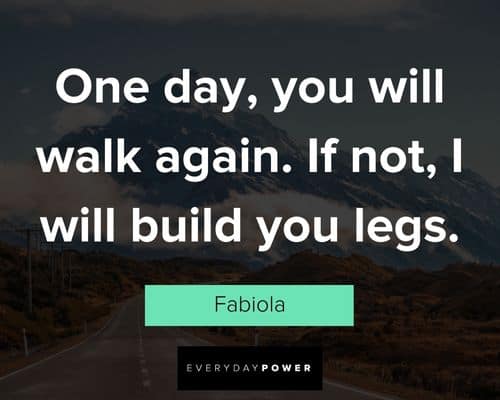 22. "You look like an Indian Kardashian." ― Fabiola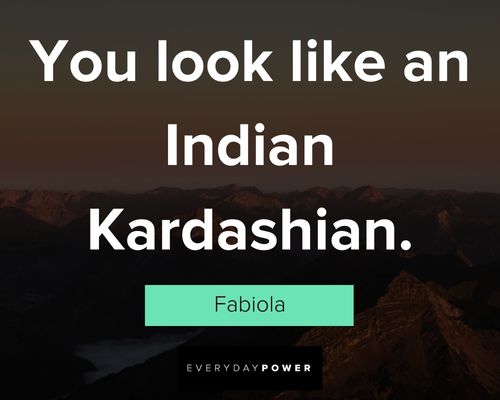 23. "I had a dream the other night that Dua Lipa was feeding me grapes." ― Fabiola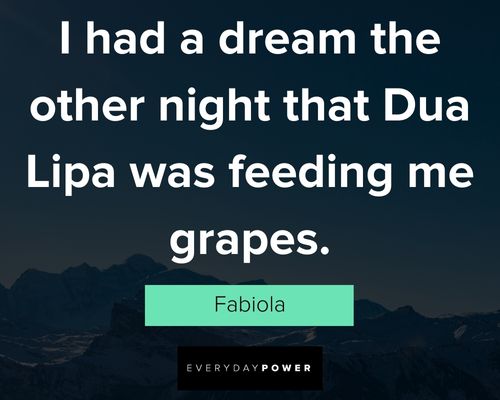 24. "We are smart. And idiots are banging all the time. We can learn how to do it, too." ― Fabiola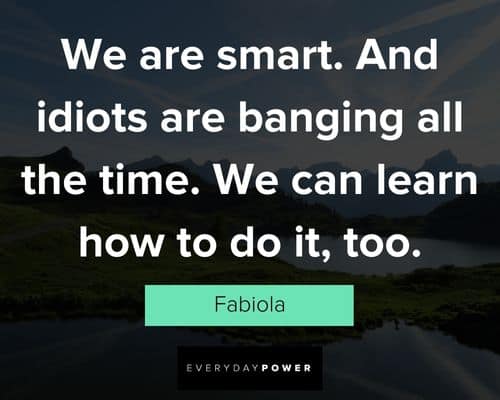 Never Have I Ever quotes from Nalini
25. "Yeah, you better go to your room before I give you a smack. Smacking is still an acceptable punishment in many minority cultures." ― Nalini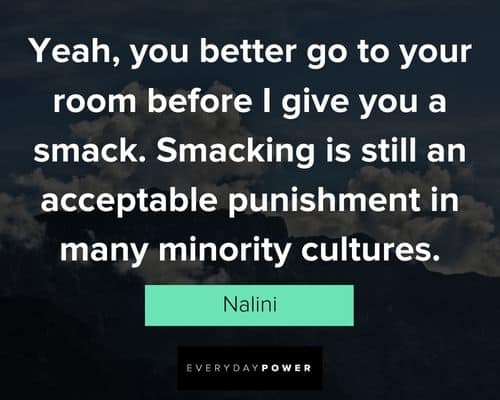 Which of these Never Have I Ever quotes is your favorite?
Never Have I Ever received a lot of positive reviews from fans especially with its great concept and captivating story that is based on real-life experiences.
Anyone, especially teens, could easily relate to the dilemma and flights of emotion this series packed in.
After all high school is arguably both the worst and best year of our lives.
Although coming-of-age dramas are becoming more popular, this show is a refresher that you should not miss.
So let these Never Have I Ever quotes and sayings take you back to a time where your life was an uncharted road and experience the fun and excitement of teenage years once more.