Neil Armstrong Quotes From the American Astronaut
These Neil Armstrong quotes can inspire you to reach for the stars and achieve your own dreams.
Neil Armstrong was an American astronaut who became the first person to walk on the moon when he set foot on it during an international television program in 1969.
Armstrong first became an astronaut in 1962. In March 1969, it was decided that Armstrong would become the first person who would walk on the moon.
Before becoming an astronaut, Armstrong served as a naval aviator in the military.
Armstrong flew a total of 78 combat missions during the Korean War before he went to the Navy Reserve to serve until 1960.
Armstrong's time serving in the Korean War earned him two gold stars and the Air Medal.
The following Neil Armstrong quotes tell more of his story.
Check out our most popular quote article, a list of short inspirational quotes for daily inspiration.
Our inspirational quote category page has even more inspirational and educational quotes.
Neil Armstrong Quotes From the Famous Astronaut
You probably know Neil Armstong's most famous quote listed below. But there are more of his quotes we can learn from.
1. "That's one small step for a man, one giant leap for mankind." – Neil Armstrong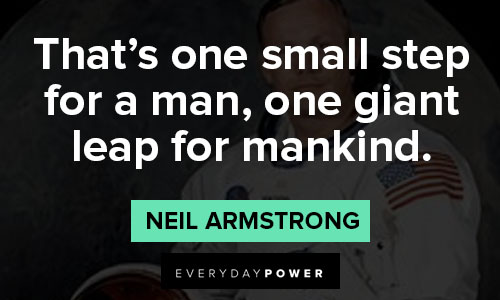 2. "Well, I think we tried very hard not to be overconfident because when you get overconfident, that's when something snaps up and bites you." – Neil Armstrong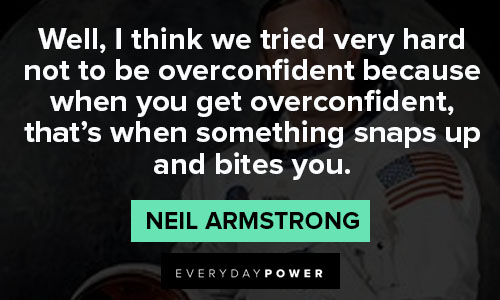 You will also enjoy our article on full moon quotes.
3. "I am, and ever will be, a white socks, pocket protector, nerdy engineer." – Neil Armstrong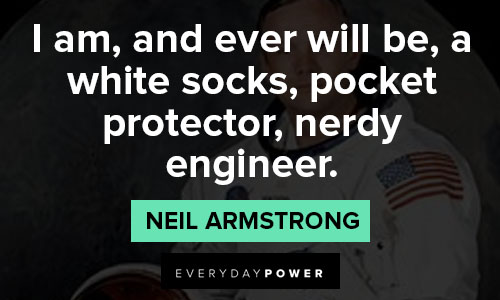 4. "I was elated, ecstatic, and extremely surprised that we were successful." – Neil Armstrong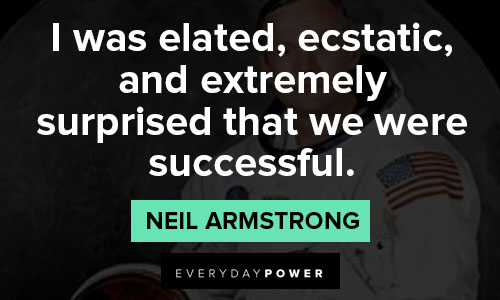 5. "I fully expected that, by the end of the century, we would have achieved substantially more than we actually did." – Neil Armstrong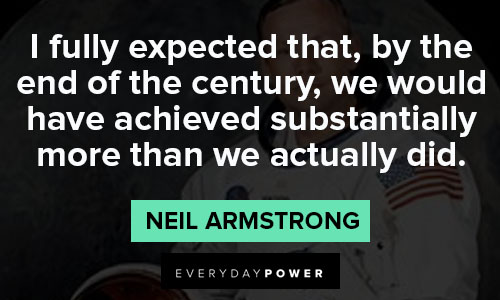 6. "As a boy, because I was born and raised in Ohio, about 60 miles north of Dayton, the legends of the Wrights have been in my memories as long as I can remember." – Neil Armstrong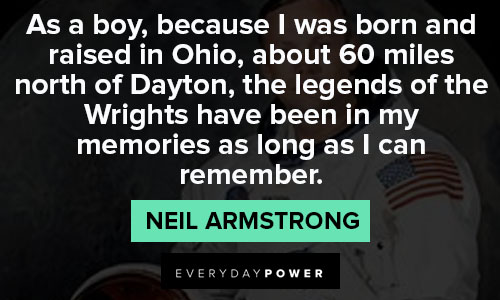 7. "I can honestly say – and it's a big surprise to me – that I have never had a dream about being on the moon." – Neil Armstrong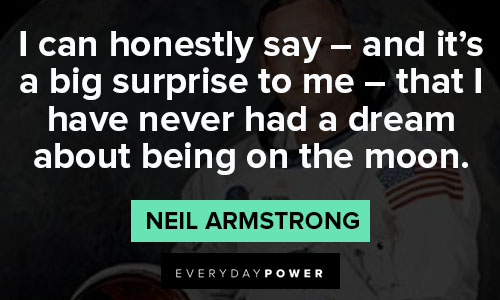 8. "The one thing I regret was that my work required an enormous amount of my time and a lot of travel." – Neil Armstrong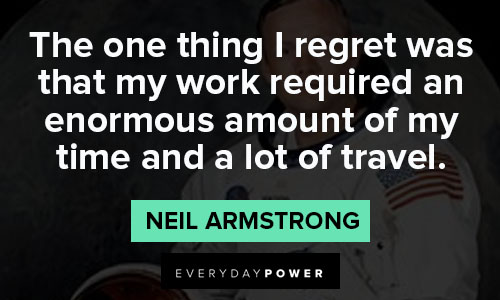 9. "Houston, Tranquillity Base here. The Eagle has landed." – Neil Armstrong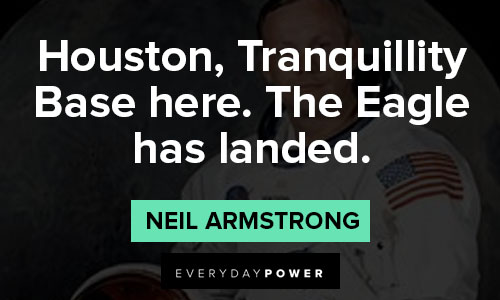 10. "I'm substantially concerned about the policy directions of the space agency. We have a situation in the U.S. where the White House and Congress are at odds over what the future direction should be. They're sort of playing a game, and NASA is the shuttlecock that they're hitting back and forth." – Neil Armstrong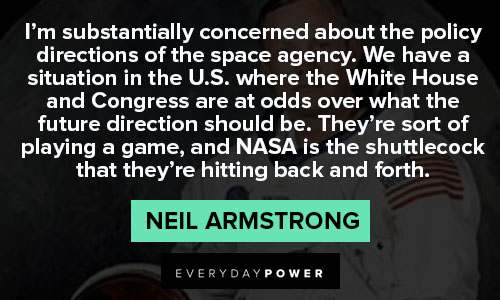 You will also enjoy our article on Ellen Ochoa quotes.
Neil Armstrong Quotes That Share His Perspective
While Neil Armstrong wasn't necessarily trying to be the first man to walk on the moon, his story is inspirational. Use the following quotes to motivate you forward in your life.
11. "NASA has been one of the most successful public investments in motivating students to do well and achieve all they can achieve." – Neil Armstrong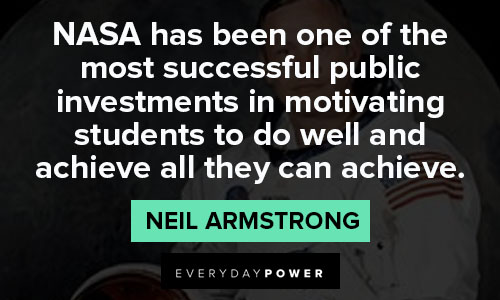 12. "I put up my thumb, and it blotted out the planet Earth." – Neil Armstrong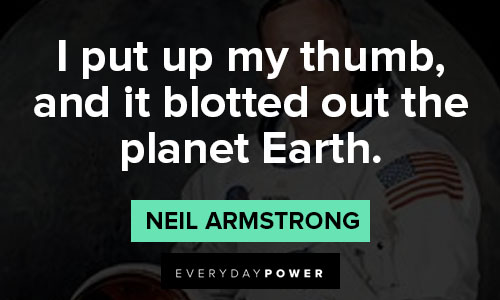 13. "I guess we all like to be recognized not for one piece of fireworks, but for the ledger of our daily work." – Neil Armstrong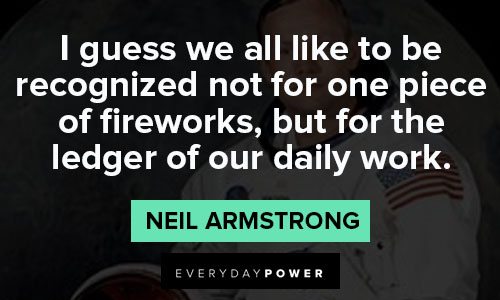 14. "People love conspiracy theories." – Neil Armstrong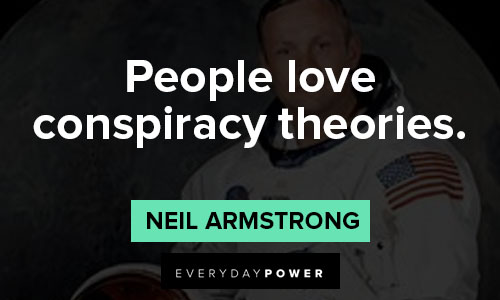 15. "We had hundreds of thousands of people all dedicated to doing the perfect job, and I think they did about as well as anyone could ever have expected." – Neil Armstrong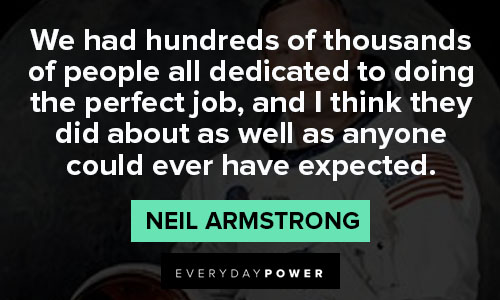 16. "Gliders, sail planes, they're wonderful flying machines." – Neil Armstrong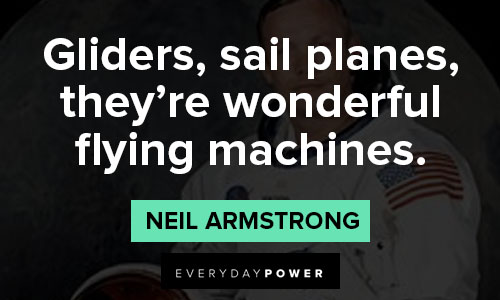 17. "Pilots take no special joy in walking. Pilots like flying." – Neil Armstrong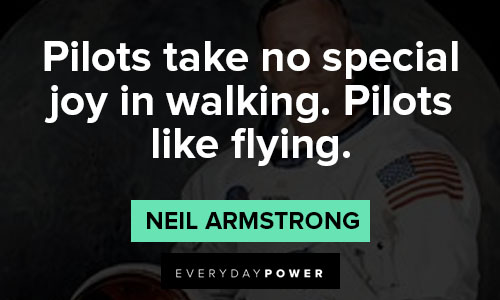 18. "I thought the attractions of being an astronaut were actually, not so much the Moon, but flying in a completely new medium." – Neil Armstrong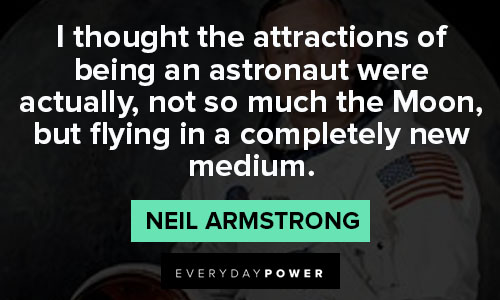 19. "It's a brilliant surface in that sunlight. The horizon seems quite close to you because the curvature is so much more pronounced than here on earth. It's an interesting place to be. I recommend it." – Neil Armstrong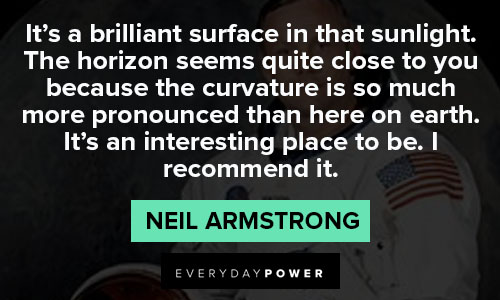 20. "Here, men from the planet Earth first set foot upon the Moon. July 1969 AD." – Neil Armstrong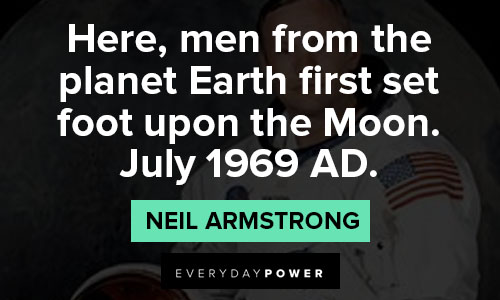 Are you inspired to tackle your own goals?
Neil Armstrong won many awards throughout his lifetime, including a Congressional Gold Medal in 2009, a Collier Trophy in 1969, and the Congressional Space Medal of Honor in 1978.
Armstrong was also inducted into the National Aviation Hall of Fame in 1991 and the U.S. Astronaut Hall of Fame in 1993.
In addition, he got his own star on the Hollywood Walk of Fame in 1993.
After Armstrong went to the moon for Apollo 11, he did not return to space. Instead, Armstrong took up the position of Deputy Associate Administrator.
Which Neil Armstrong quote inspires you to work toward your dreams and goals?