Olaf Quotes From Disney's Iconic Snowman from Frozen
There are many great things about Disney's Frozen and Frozen 2.
There's the acting, the story, the music, and the voice talent.
However, the best part about the movies might just be everyone's favorite snowman, Olaf.
If you are wondering why he should be everyone's favorite, just keep reading these funny Olaf quotes about love, life, and random 'facts'!
Little Elsa and Anna build him as kids before magic makes their lives a little crazy.
Then, poor Anna spends years asking Elsa, "if she wants to build a snowman?"
Olaf is a fond memory of both girls, as evidenced by Anna trying to get her sister to interact with her and Elsa recreating the snowman of her childhood when she felt confused and lost after turning Arendelle into a winter wonderland.
Ever wonder why they named him Olaf, though?
Well, the name Olaf is Norse for "ancestor's relic."
The name is 'sainted and regal' in Norway, but gets used in a more oafish manner in the US.
Once Olaf is brought to life, he says many funny and absurd things.
However, he also says some endearing and insightful things too.
Olaf was created by Chris Buck and Jennifer Lee and was voiced by Josh Gad.
These Olaf quotes highlight the keen observational power, innocence, and wit that make him such a wonderful addition to the movies.
Don't forget to also check out these Frozen quotes that will thaw your heart.
Check out our most popular quote article, a list of short inspirational quotes for daily inspiration.
Our inspirational quote category page has even more inspirational and educational quotes.
Funny Olaf quotes that remind you to laugh when life is tough
1. "Hey Anna! Sven! Where'd you guys go? We totally lost Marshmallow back there!" ― Olaf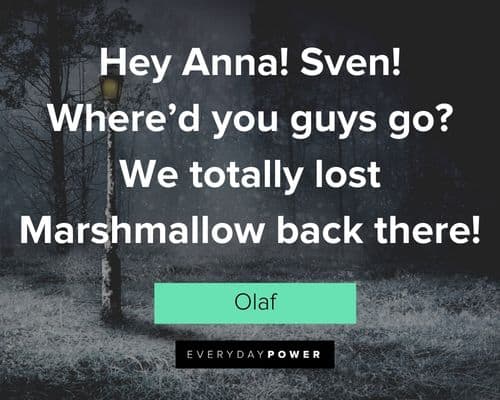 You will also enjoy our article on Disney quotes.
2. "Hey, we were just talking about you! All good things, all good things." ― Olaf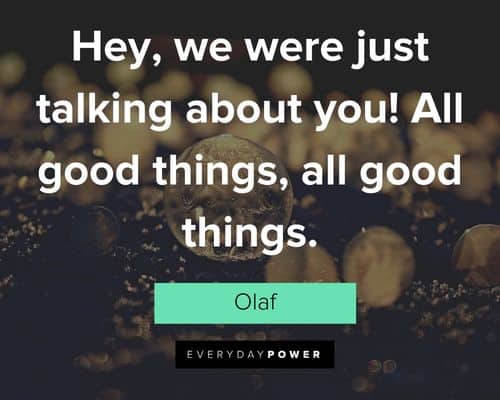 You will also enjoy our article on Princess and the Frog quotes.
3. "Oh, look at that. I've been impaled." ― Olaf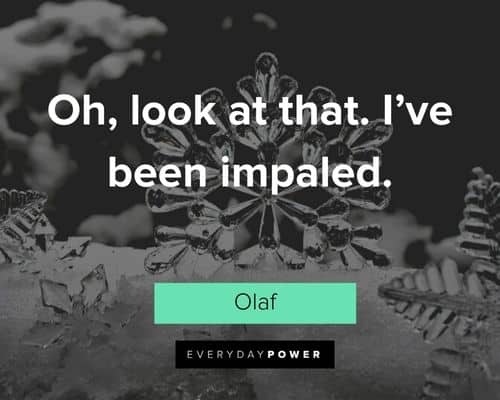 You will also enjoy our article on Evangelion quotes.
4. "Don't chew that; You don't know what I stepped in." ― Olaf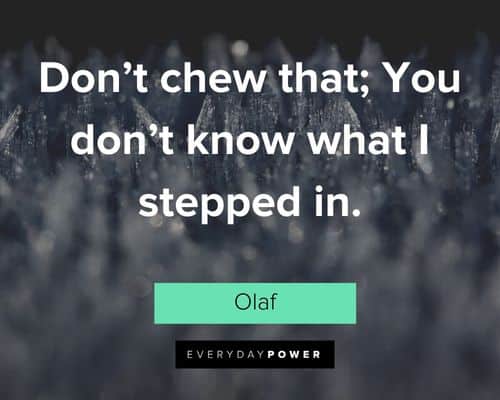 5. "Look, the sky's awake." ― Olaf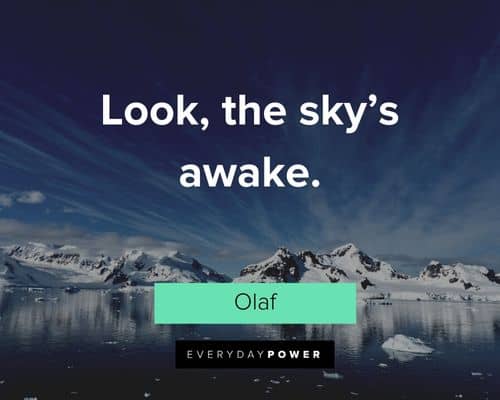 6. "Knock. Just knock. Why isn't she knocking? Do you think she knows how to knock?" ― Olaf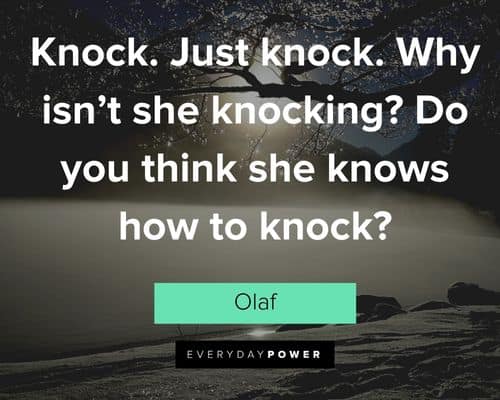 You will also enjoy our article on Mighty Ducks quotes.
7. "Oh, I love it. It's so cute. It like a little baby unicorn." ― Olaf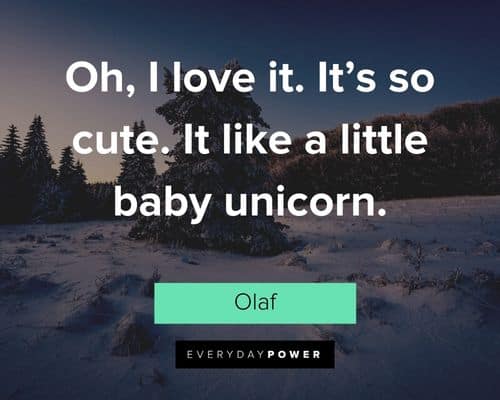 8. "Watch out for my butt!" ― Olaf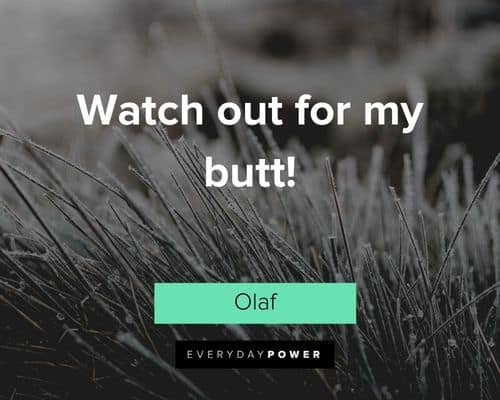 9. "Sorry, I just found clothes restricting." ― Olaf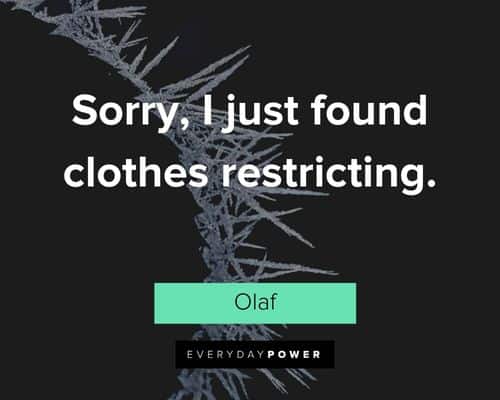 10. "Quick question. Is this whole, "putting us in mortal danger" going to be a regular thing?" ― Olaf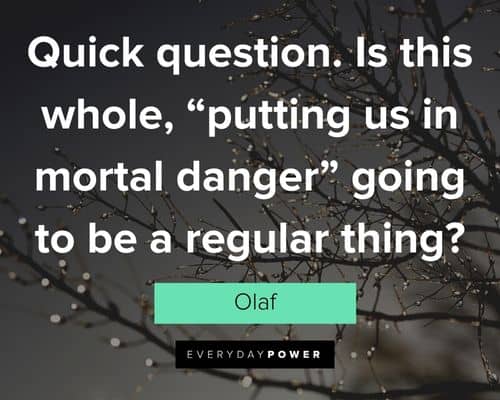 11. "Sven promised to read me a bedtime story." ― Olaf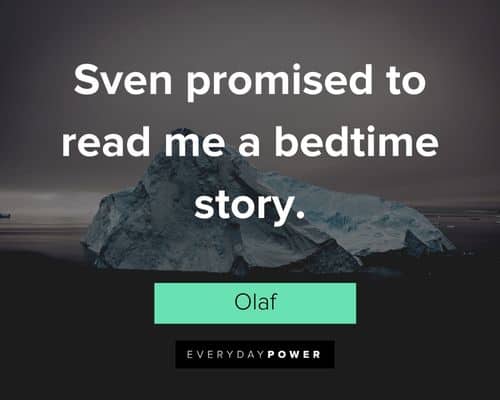 12. "You do the best voices! Like when you pretend to be Kristoff." ― Olaf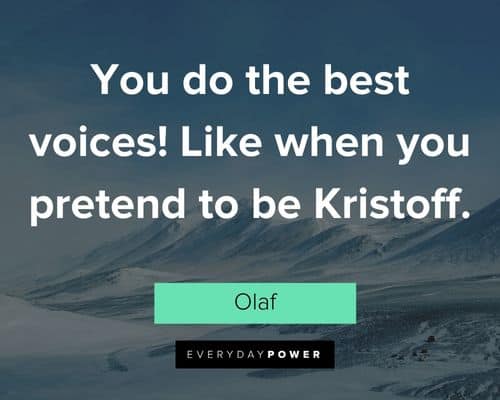 Check out our collection of Snow White quotes if you enjoy this article.
Best Olaf quotes and sayings about love, hugs, and kisses
13. "I guess I was wrong. I guess Kristoff doesn't love you enough to leave you behind." ― Olaf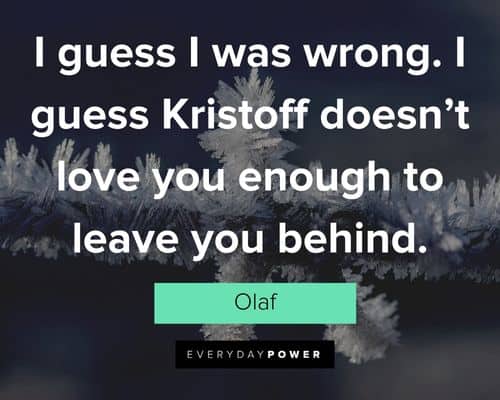 14. "I'm not leaving here until we find some other act of true love to save you! Do you happen to have any ideas?" ― Olaf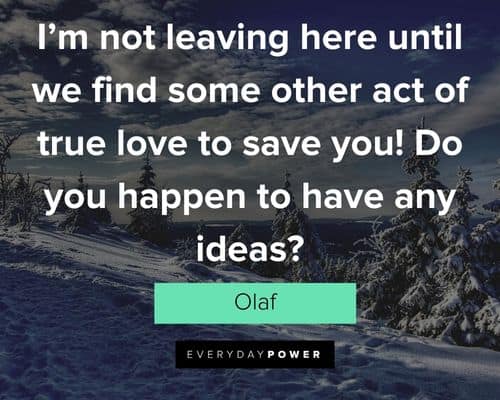 15. "Because I love you, Anna, I insist you run." ― Olaf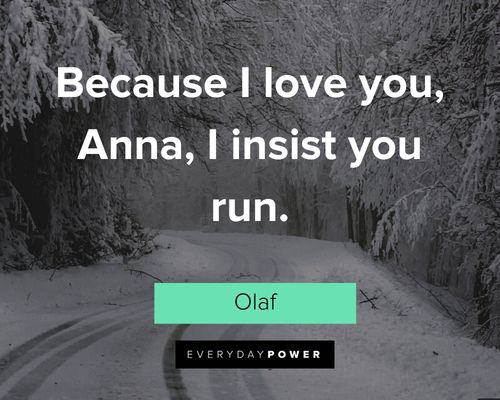 16. "Whoa, you really don't know anything about love, do you?" ― Olaf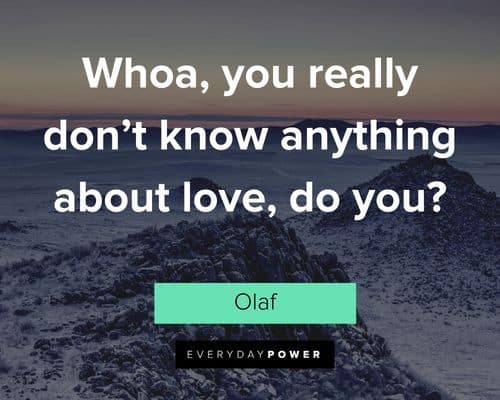 17. "Love… is… putting someone else's needs before yours. Like, you know, how Kristoff brought you back here to Hans and left you forever." ― Olaf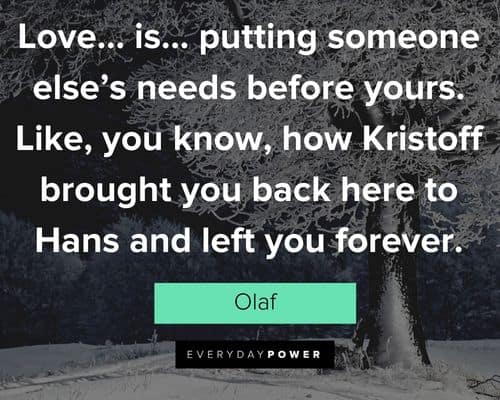 18. "I just thought of one thing that's permanent. Love." ― Olaf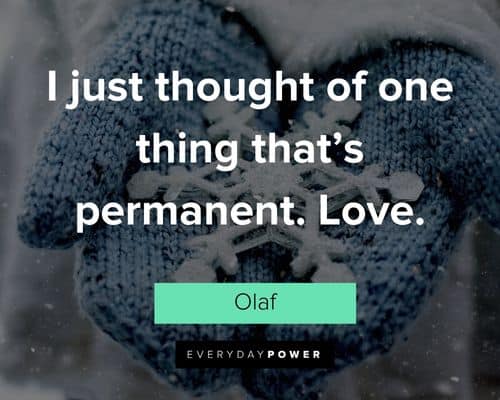 19. "I understand, you're love experts." ― Olaf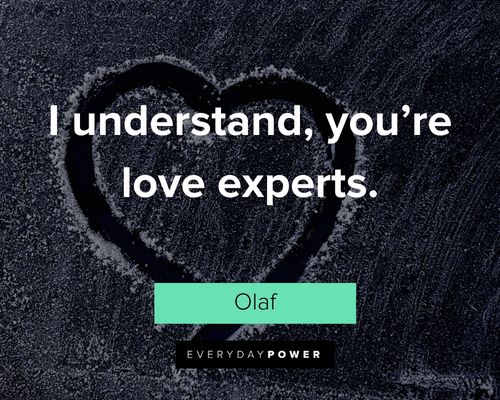 20. "Only the act of true love will thaw a frozen heart." ― Olaf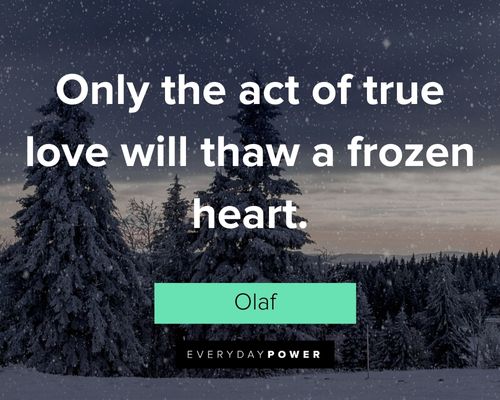 21. "Let's go kiss Hans! Who is this Hans?" ― Olaf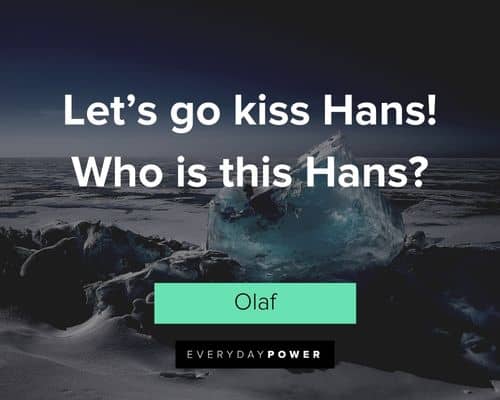 22. "Hi, everyone. I'm Olaf and I like warm hugs!" ― Olaf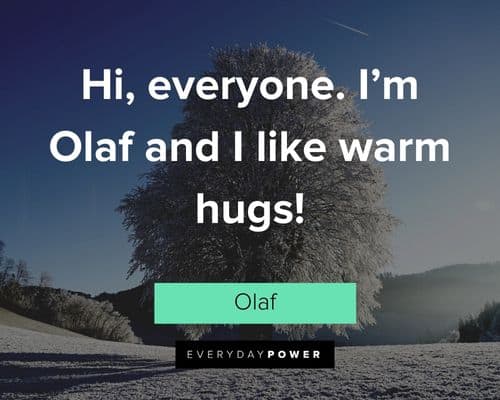 Olaf quotes about seasons and the weather
23. "Oh, I don't know why, but I've always loved the idea of summer, and sun, and all things hot!" ― Olaf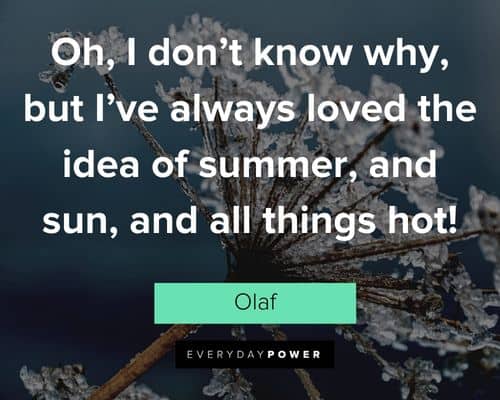 24. "Whoa, so this is heat. I love it! Ow, but don't touch it!" ― Olaf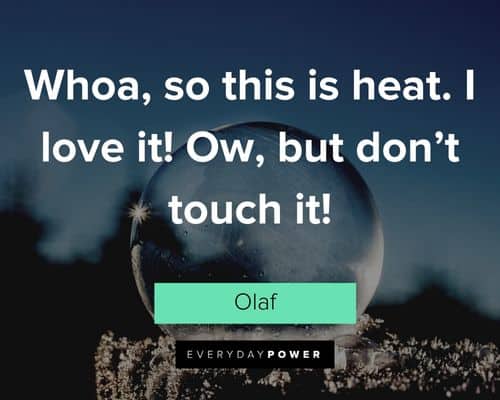 25. "Yeah, it really is beautiful, isn't it? But it's so white. How about a little color?" ― Olaf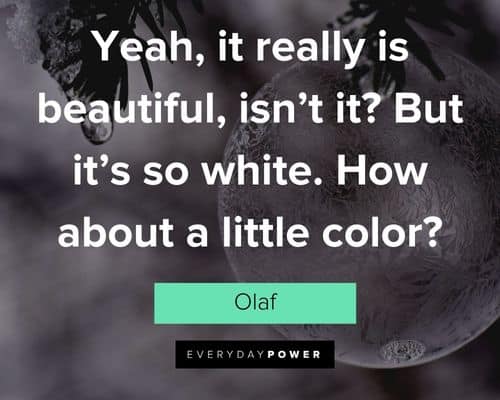 Which of these Olaf quotes is your favorite?
Here are few genuine Olaf facts that you might not be aware of!
Once I learned who it was though, I couldn't unhear it or fathom how I didn't realize it sooner!
Josh Gad, who does a spectacular job playing LeFou in Disney's live-action Beauty and the Beast voices Olaf.
If you are like me, when you watched Beauty and the Beast, LeFou's voice sounded familiar to you, but you couldn't place it.
Now, I can't watch one movie without thinking of the other character!
Early in the film's conception, when the idea of Elsa controlling an army of scary snowmen was being thrown around, Olaf was originally written to be one of the guards at her castle.
However, when the creators realized the story worked much better with Anna and Elsa as sisters, Olaf quickly became something that bonded them together and reminded them of love and happier times.
He gives viewers that same love, innocence (while still making the adults laugh), and joy.
What are your favorite Olaf quotes and lines?
Use the comment section below to let us know!