20 Pancho Villa Quotes About Revolution and Leadership
Share your thoughts on these Pancho Villa quotes in the comments below.
These Pancho Villa quotes from a prominent figure in the Mexican Revolution will remind you of the importance of freedom and democracy.
General Pancho Villa was an important leader in the Mexican Revolution in the early 20th century.
In addition to achieving military victories that helped lead to the expulsion of Victoriano Huerta from the presidency, Villa managed to set himself up with a global reputation as a military hero.
Hollywood created a deal with Villa that they would film his movements during the revolution and 50% of the profits would be paid in support of the revolution.
This, in addition to giving interviews to foreign journalists like John Reed, gave Villa the reputation as an international war hero.
This is our list of Pancho Villa quotes.
Don't forget to also check out these Che Guevara quotes to ignite your revolutionary spirit.
If you enjoy this article, check out our most popular quote article, a list of short inspirational quotes for daily motivation.
If you want more motivational quotes, check out our motivational quotes category page.
Pancho Villa quotes on revolution
1. "Humble people like me fight for justice and for better luck." — Pancho Villa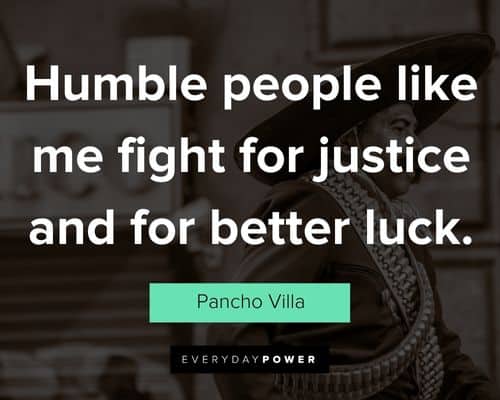 You will also enjoy our article on Guy Fieri quotes.
2. "My sole ambition is to rid Mexico of the class that has oppressed her." — Pancho Villa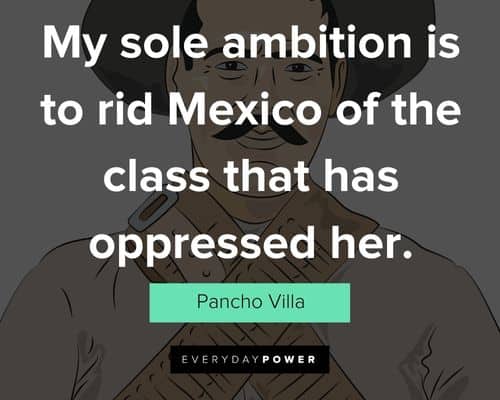 You will also enjoy our article on Emiliano Zapata quotes.
3. "When the new republic is established, there will be no more army in Mexico." — Pancho Villa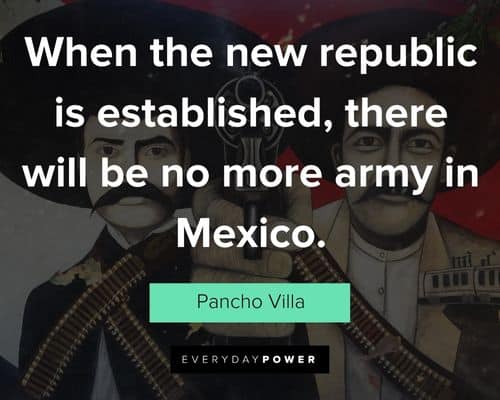 4. "I am not an educated man. I never had an opportunity to learn anything except how to fight." — Pancho Villa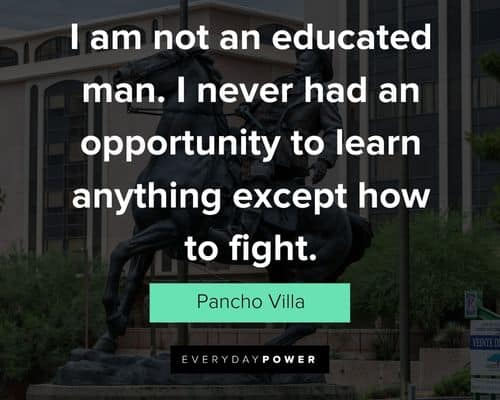 5. "It is the Revolution, the magical word, the word that is going to hang everything, that is going to bring us immense delight and a quick death." — Pancho Villa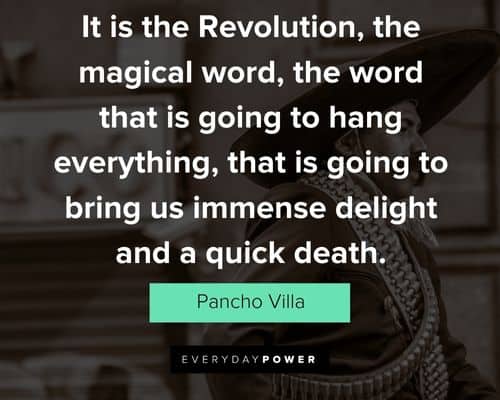 6. "You, sir, have destroyed the revolution. It's simple: this bunch of dandies have made a fool of you, and this will eventually cost us our necks, yours included." — Pancho Villa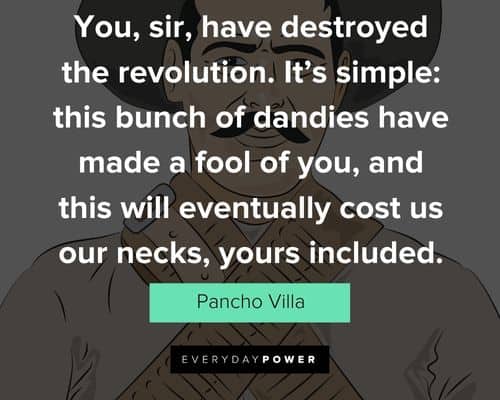 7. "The brutality and uncouthness of many of the revolutionary leaders has not prevented them from becoming popular myths. Villa still gallops through the north, in songs and ballads; Zapata dies at every popular fair." — Pancho Villa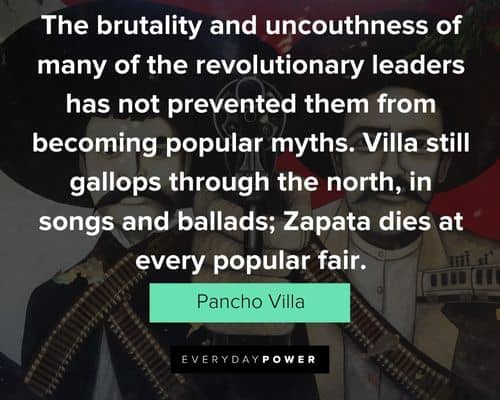 Pancho Villa quotes on leadership
8. "Men will not forget that Pancho Villa was loyal to the cause of the people." — Pancho Villa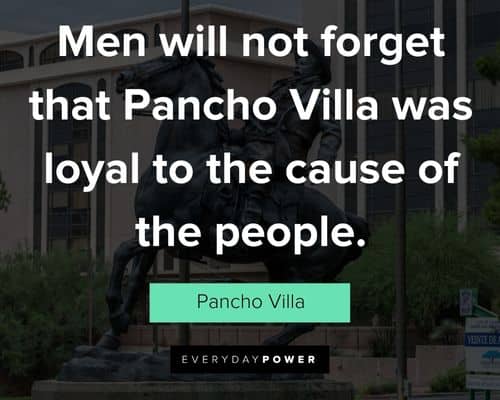 9. "It is just that we all aspire to be more, but also that we all make use of our actions." — Pancho Villa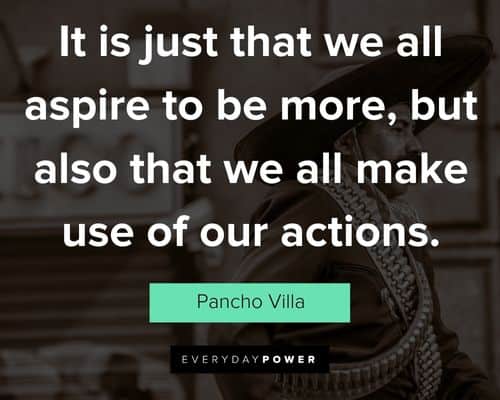 10. "I, Pancho Villa, was a loyal man that destiny brought the world to fight for the good of the poor and that I will never betray nor forget my duty." — Pancho Villa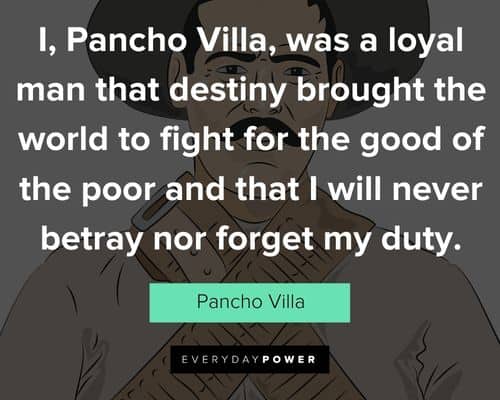 11. "The country must be governed by someone who really loves his people and his land, who shares wealth and progress. I have all that, only that I am ignorant" — Pancho Villa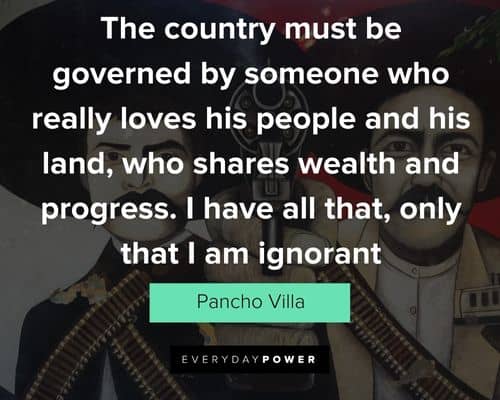 12. "Companions of arms and lords. Do not believe that the one who is going to speak to them is a philosopher, I am a man of people, but you will understand that these men when they speak, speak with the heart." — Pancho Villa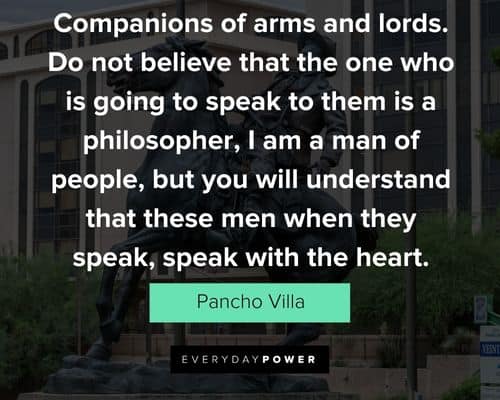 Pancho Villa quotes on politics
13. "There can be no dictator without his army." — Pancho Villa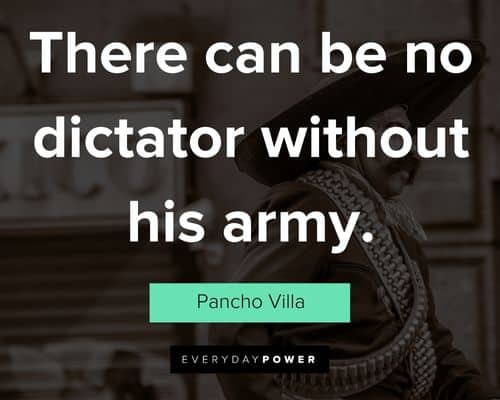 14. "Armies are the greatest supports of tyranny." — Pancho Villa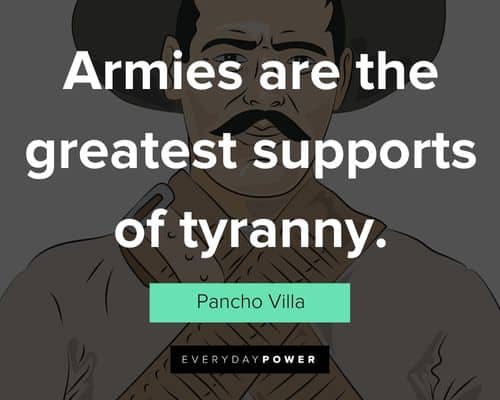 15. "What would be of the world if we were all generals if we were all capitalists or we were all poor?" — Pancho Villa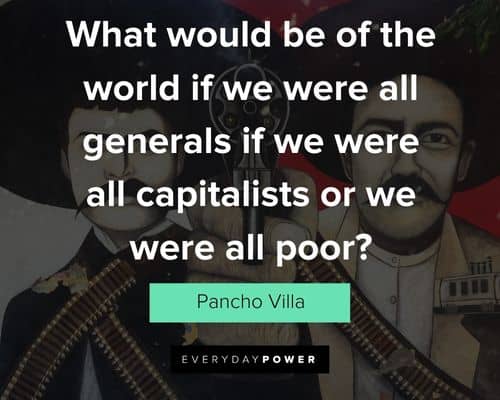 16. "[Politicians] spend their time discussing nonsense and stealing money that belongs to the people." — Pancho Villa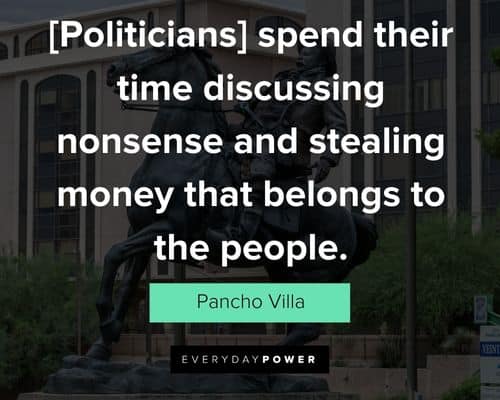 More Pancho Villa quotes
17. "Don't let it end like this. Tell them I said something." — Pancho Villa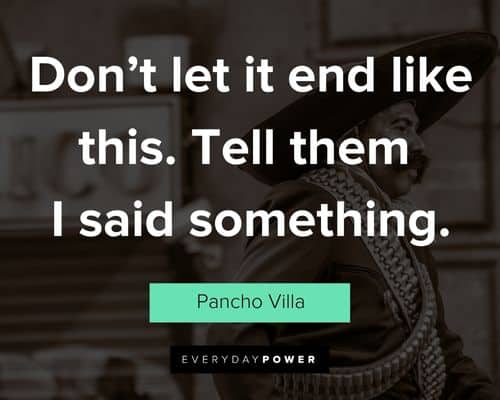 18. "If I could bring that about today by giving up my life, I would do it gladly." — Pancho Villa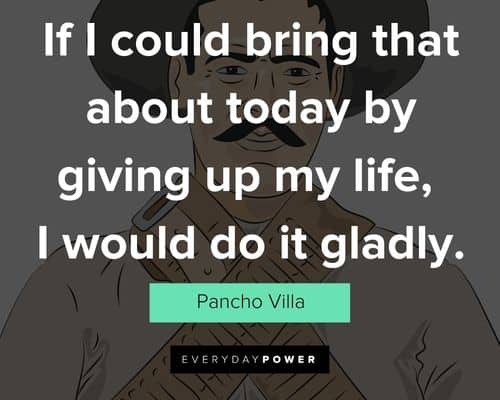 19. "What else is there for the rich to do, If not to relieve the poor of their misery?" — Pancho Villa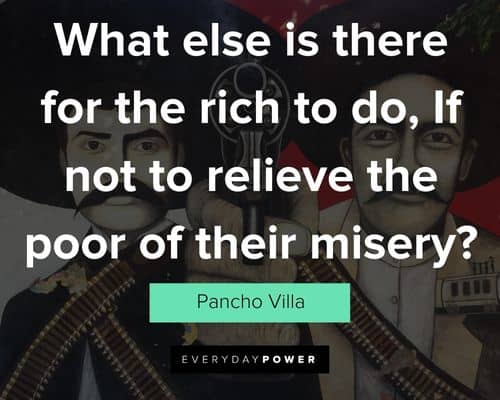 20. "You Americans don't take off your hats when you come to my headquarters, do you?" — Pancho Villa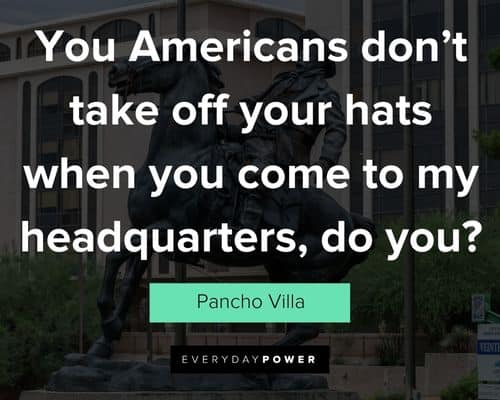 What did you learn from these Pancho Villa quotes?
In 1920, Pancho Villa was assassinated by a group of seven gunmen.
While running an errand in a nearby town close to his ranch, the gunmen fired 40 rounds into Villa's car.
Nine dumdum bullets, which are usually used for hunting large game, hit Villa in the head and killed him instantly.
After his death, Villa was excluded from the official narrative of the revolution, which, naturally, gained him even more acclaim.
He was celebrated in films and novels about his life, long after his death.
Did you enjoy these Pancho Villa quotes and sayings?
Which quote was your favorite?
Let us know in the comments below.