25 Pokemon Quotes From The Popular 90s Franchise That Will Have You Trying to 'Catch 'em all!'
Reading through these Pokemon quotes will have you feeling nostalgic, for sure!
Pokemon, also known as Pocket Monsters, is a 90s phenomenon that just keeps delivering.
Nintendo, Game Freak, and Creatures founded the Japanese media franchise, which is managed by The Pokémon Company.
Satoshi Tajiri created the franchise back in 1995.
The initial launch was a Gameboy game and featured fictional monsters called "Pokemon."
Humans, dubbed Pokemon Trainers, could catch and train their monsters to battle each other for sport.
It didn't just stop there, branching off into a TV Show, movies, more video games, and tradable cards.
Pokemon has become the highest-grossing media franchise of all time and holds the record of second-best-selling video game franchise.
(The number one selling video game franchise title belongs to Mario Bros., in case you were wondering).
Pokemon kept adapting to technology and created the ever-popular Pokemon Go app for smartphones.
The frenzy around that app was insane, but it got people moving and playing together!
Enjoy these Pokemon quotes!
Don't forget to also check out these video game quotes that show how video games relate to the world today.
Check out our most popular quote article, a list of short inspirational quotes for daily inspiration.
If you enjoy this collection, check out our inspirational quotes category page.
Funny Pokemon quotes from the original TV show
1. "Hey, I know. I'll use my trusty frying pan as a drying pan." — Brock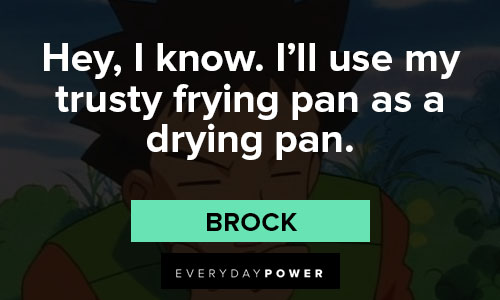 You will also enjoy our article on gamer quotes.
2. Meowth: "Don't worry that pretty blue head of yours, I've got a plan."
James: "It's lavender."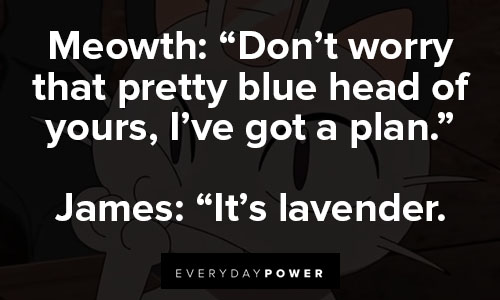 3. Ash: "Err…my name is…Tom Ato!"
Misty: "What!? Err…well…my name is Ann…Chovi."
Brock: "And my name is Caesar Salad."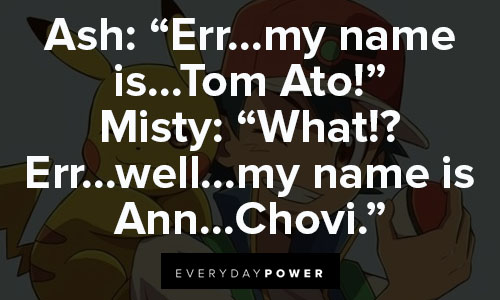 You will also enjoy our article on Moneybagg Yo quotes.
4. Brock: "I didn't know Vikings still existed…"
Ash: "They mostly live in Minnesota!"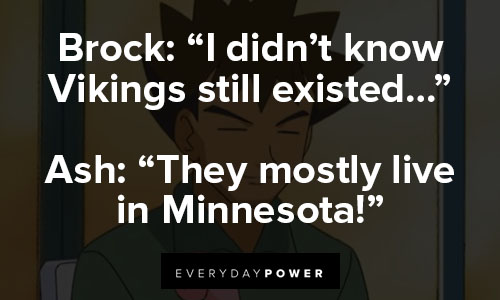 5. James: "I am the Flaming Moltres!"
Jessie: "Where on Earth did he get that costume?"
Meowth: "Straight outta his closet."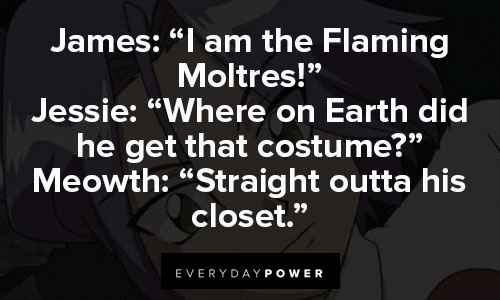 6. Ash: "It's following Pikachu around like it's a streaker or something."
Brock: "Ash, you mean a STALKER!"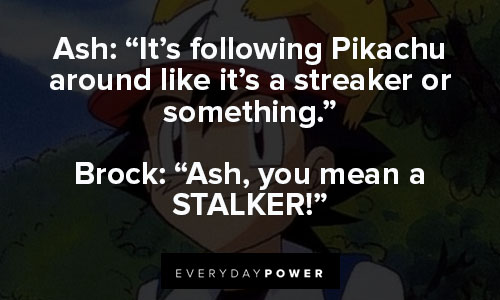 You will also enjoy our article on Tropic Thunder quotes.
7. "That's ok, Brock—you'll find lots of other girls to reject you!" — Ash Ketchum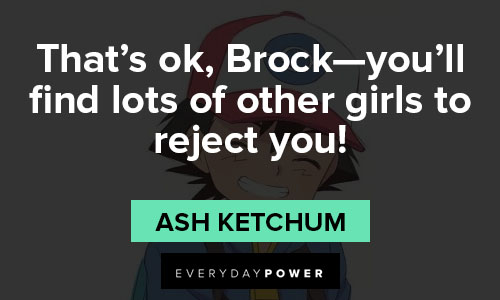 8. "If anybody's out there, you can come out. And if you're a monster or a ghost, you can stay where you are." — Ash Ketchum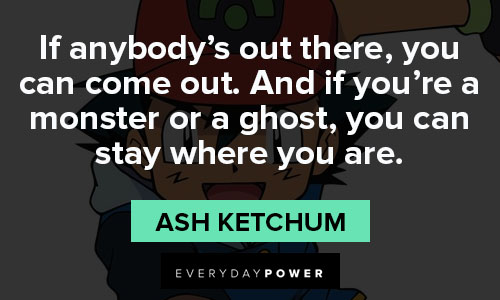 9. "Sometimes I look at that psyducks face and I get a headache." — Misty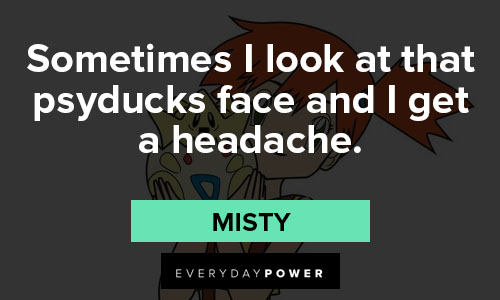 10. "Drat. We just wasted this whole episode cheering for the good guys." — James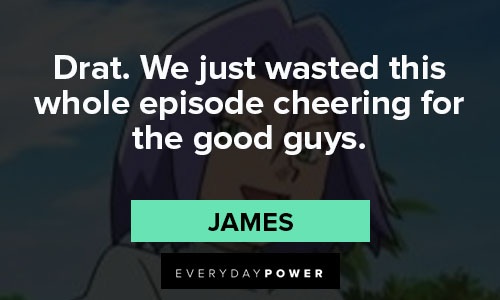 Pokemon quotes and lines from Mewtwo
11. "Humans may have created me, but they will never enslave me. This cannot be my destiny." — Mewtwo
12. "You humans are a dangerous species. You brought me into your world with no purpose but to be your slave. But now I have my own purpose. My storm will create my own world, by destroying yours." — Mewtwo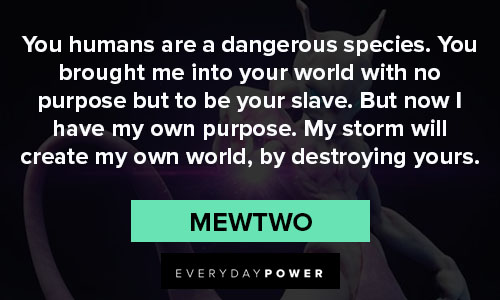 13. "I see now that one's birth is irrelevant. It's what you do that determines who you are." — Mewtwo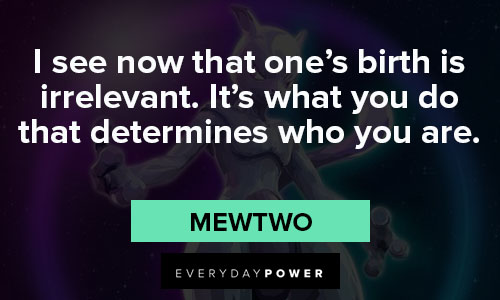 14. "Perhaps you are unique, a unique human. One of a kind." — Mewtwo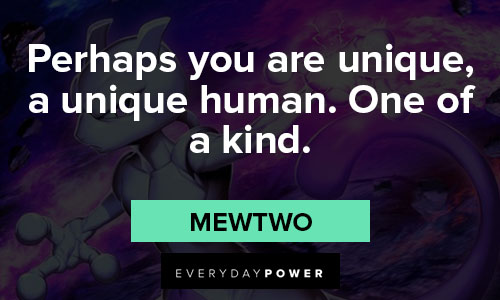 15. "I see now that the circumstances of one's birth is irrelevant. It's what you do with the gift of life that determines who you are." — Mewtwo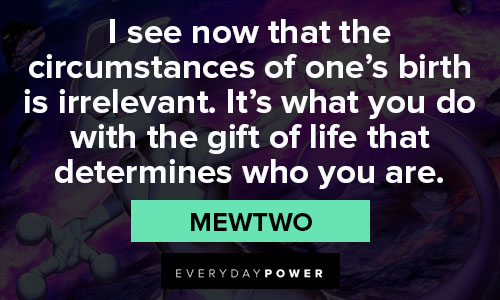 16. "So, this is my power… but what is my purpose?" — Mewtwo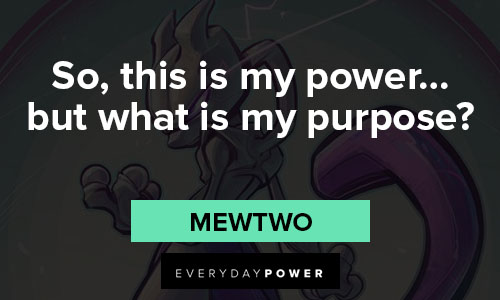 17. "So I am simply the end result of your experiment. What becomes of me now that your experiment is over?" — Mewtwo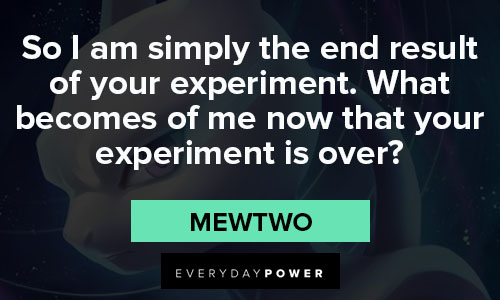 18. "Behold my powers! I am the strongest Pokemon in the world. Stronger even than Mew." — Mewtwo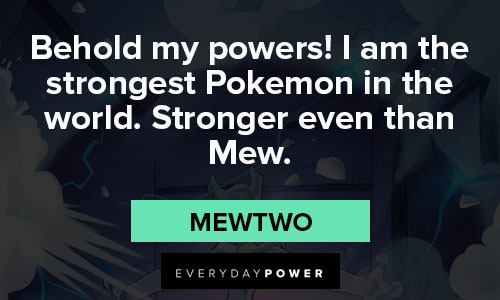 19. "Human and Pokemon can NEVER be friends." — Mewtwo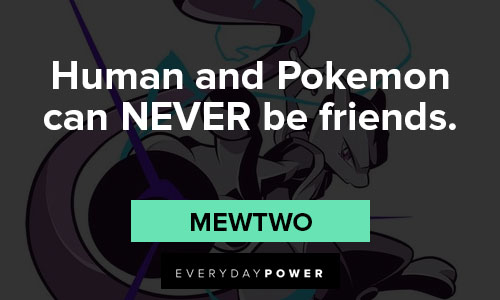 Pokemon quotes from Meowth and other talking Pokemon
20. "We do have a lot in common. The same earth, the same air, the same sky. Maybe if we started looking at what's the same, instead of looking at what's different, well, who knows?" — Meowth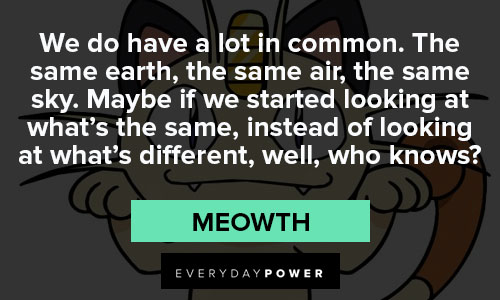 21. "Do you think we'll get a bigger part in the next movie?" — Meowth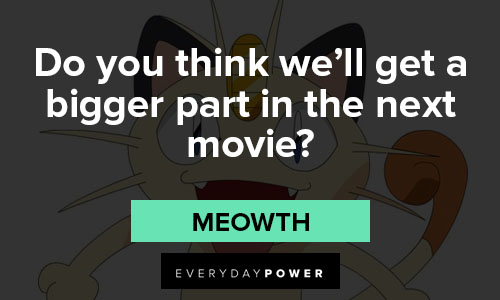 22. "I know we gotta grab some rare Pokemon for the Boss… but it wouldn't be such a bad idea if we grabbed a little bite to eat." — Meowth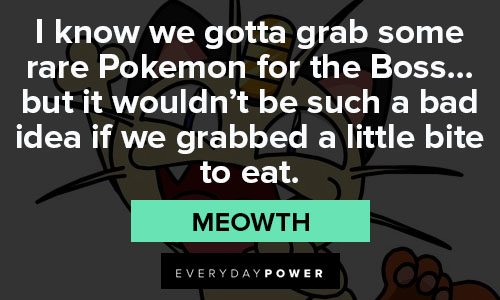 23. "I'm totally unprepared to deal with life's realities." — Meowth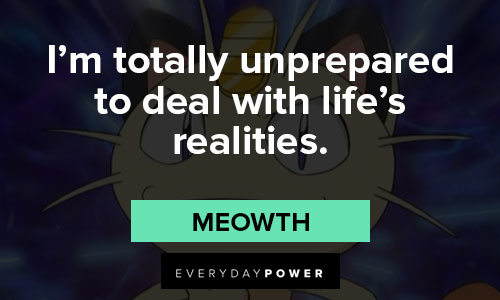 24. "Take charge of your destiny." — Rayquaza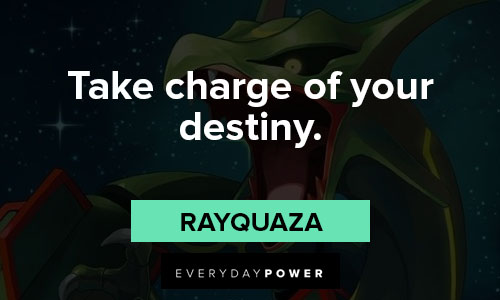 25. "The important thing is not how long you live. It's what you accomplish with your life." — Grovyle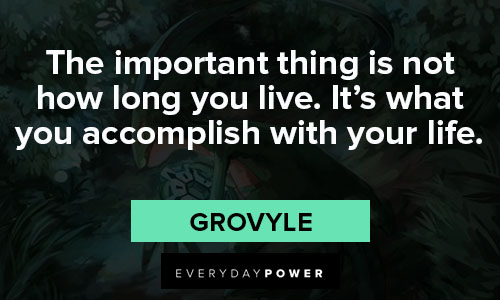 Which of these Pokemon quotes is your favorite?
Why is Pokemon still so popular after all this time?
When it came out, the gameplay featured addicting mechanics, like the need to 'Catch 'em all!'
That is still around in the app, and like the original, it encourages you to play with your friends!
Everyone had Pokemon, and trading them was a lot of fun.
The show, featuring the adorable Pikachu, didn't hurt its popularity any either!
There aren't very many Pikachu quotes on the list, because originally Pikachu responded to anything with "Pika Pika."
However, he shocked fans when he spoke to Ash in English, in Pokemon the Movie: I Choose You!
I wonder what other surprises they have in store for fans this time around!
The latest in the Pokemon movies, Pokemon the Movie: Secrets of the Jungle, will be here soon!
If you need a Pokemon fix while you wait though, download Pokemon Go, and give it… well a, go!
Did you enjoy these Pokemon quotes and lines?
Which of the quotes is your favorite?
Let us know in the comment section below.